A Gluten-Free Heart Bundt Cake!
It's Valentine's Day! Already! It's my most favorite Holiday! February is my favorite month! We have Valentine's, my birthday, and my anniversary all in one month! I call February the love month!
Although we should show each other every day and all year long how much we love and care for each other. Valentine's Day just makes it more real. It really makes us put an effort to do something extra special for those special someones!
When I was a little girl I would get so excited to buy my valentine's cards for my classmates, family, and friends. I would try to pick a card best suited to the person. Making sure to address it with their name so it would be more personal.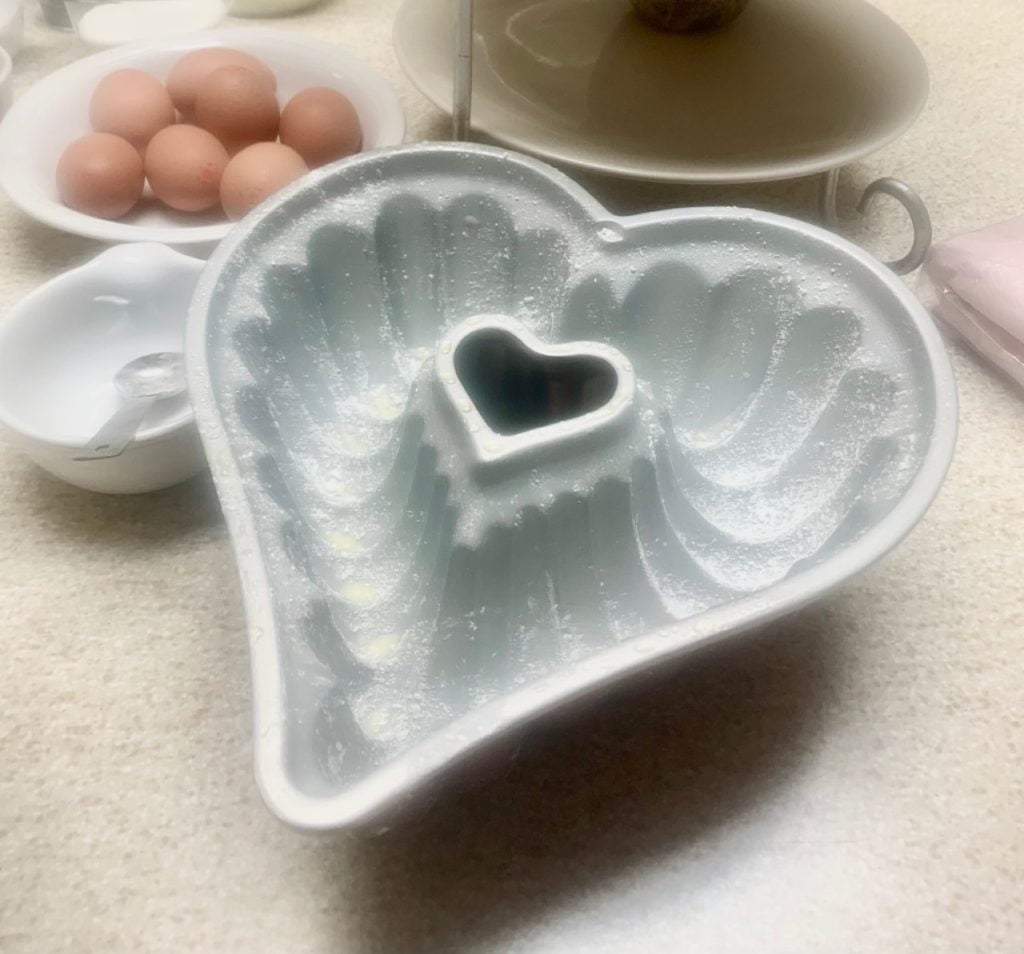 Do you remember the little candy hearts that came with the cards and they had special sayings on them Lol! I still enjoy those conversation heart candies!
My mom knew how much I loved Valentines and she would always decorate the house with red and pink heart cutouts. She would make a special dinner and dessert. I have kept that tradition with my own family.
We actually have Valentine's week or weekend however it falls. This year was no different, well maybe a little. I really didn't decorate as much as I usually do but I did make sure to make a few extra treats for my family. I made gluten-free cupcakes with pink and white icing and added a few sugar sprinkles. Everyone thought they were so good! But the star of Valentine's was my heart cake!
I made it last year and it was such a hit so I decided to make it again this year. Last year I saw the heart cake pan on one of the blogs I follow. I ordered it from amazon and let me tell you it is a quality pan!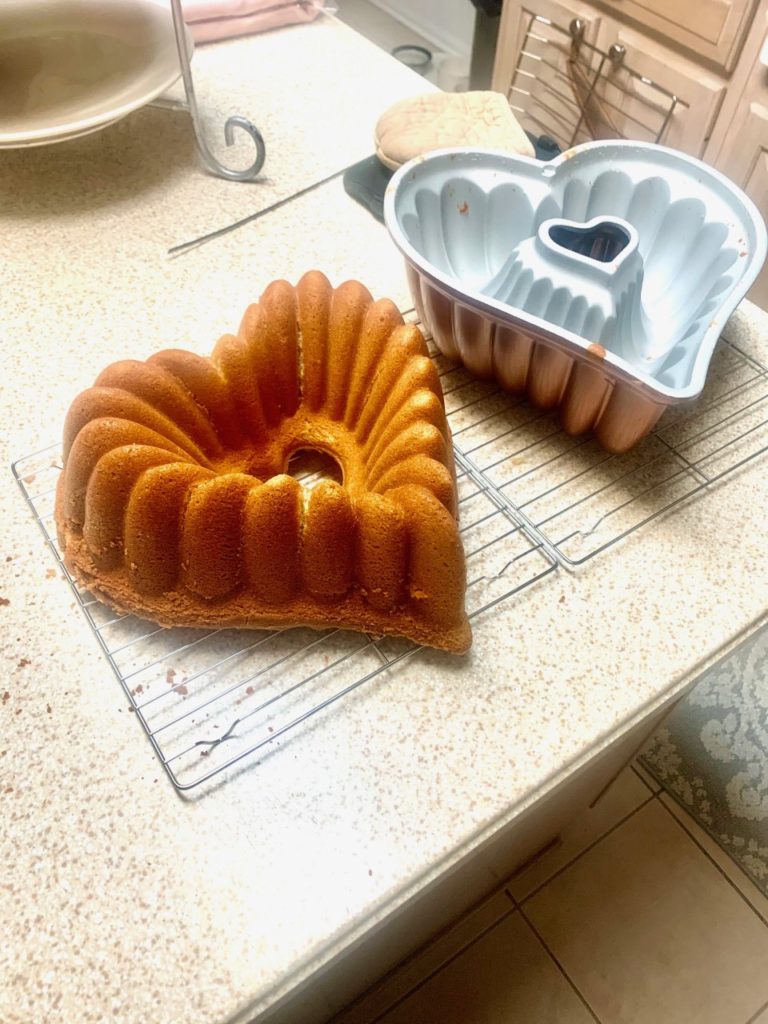 The pan actually reminds me of a heart-shaped cake pan that my mom had and she used it for Valentine's as well! I found a recipe on the King Arthur baking website. This cake is so yummy, it's like a great coffee cake although it is a bundt cake recipe. It turned out so lovely, we really enjoyed our cake after dinner with tea and coffee.
I did set the table using pink napkins, pretty cream china dishes, stemware, and a flower arrangement. I tried to make our dinner table a little pretty and special for us.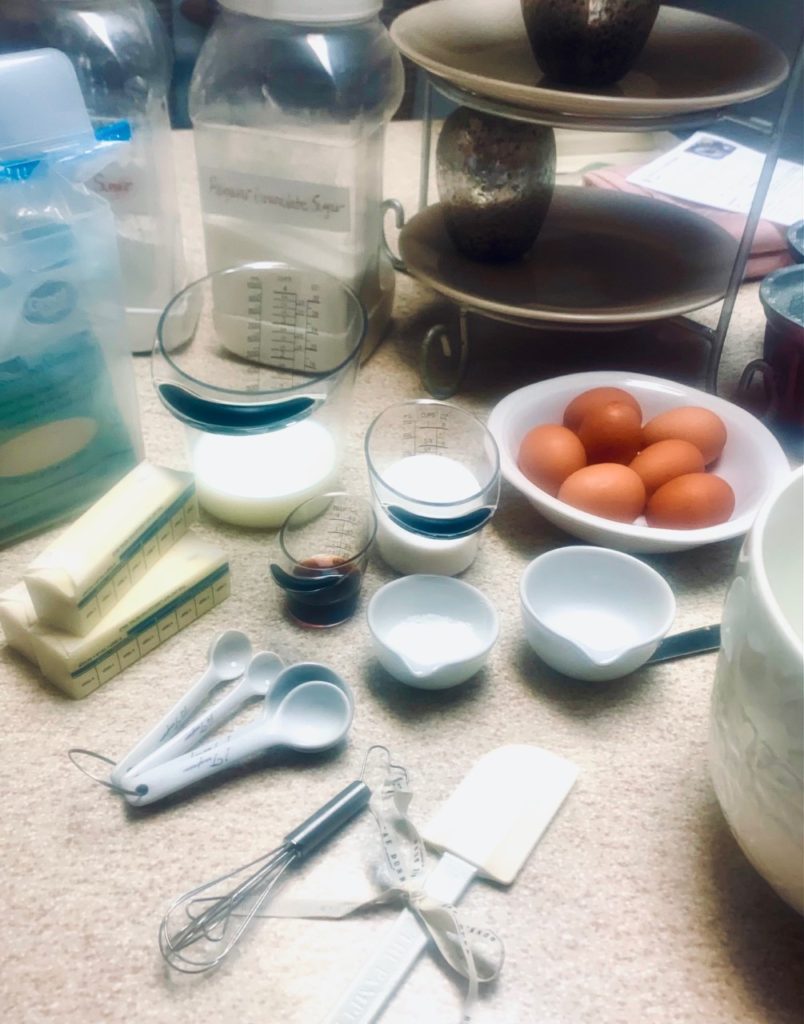 When making this gluten-free cake a few tips, use a measure for measure flour. King Arthur has a good flour as does Bob's, Red Mill. You'll want your butter, eggs, milk at room temperature. Use real vanilla extract. There is more flavor in the real vanilla versus the imitation vanilla. You can purchase a smaller bottle it is a little pricey, but the flavor is so worth it.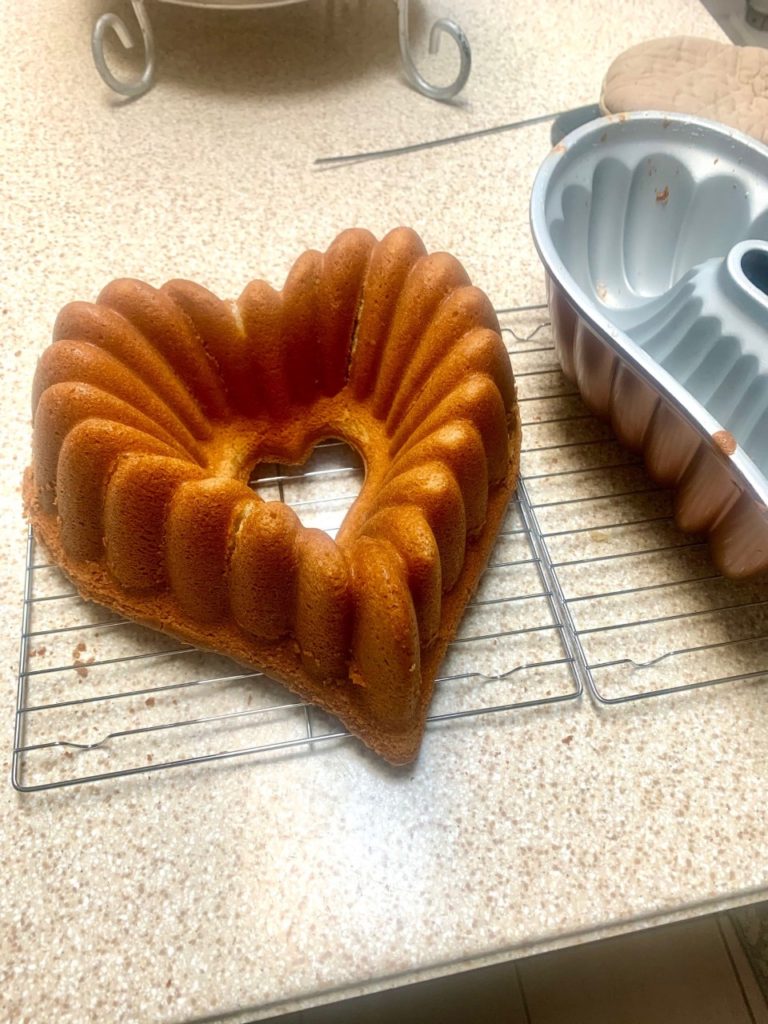 I'm including the receipe just in case you are not able to find it on the King Aurthur site.
Gluten-Free Vanilla Bundt Cake:
Ingredients
Cake
24 tablespoons unsalted butter, at room temperature ( equals 3 sticks of butter)
1 1/2 cups sugar
2 1/4 teaspoons baking powder
1 1/2 teaspoons salt
6 large eggs, at room temperature
3 cups Gluten-Free measure for measure flour ( I used King Arthur Measure for Measure flour)
1 tablespoon gluten-free vanilla extract ( I added an additional 1/4 teaspoon)
optional 1/4 teaspoon of almond extract
3/4 cup milk, at room temperature ( I used lactose-free skim milk)
Clear vanilla glaze
1/3 cup sugar
5 teaspoons water
1/8 teaspoon salt
2 teaspoons gluten-free vanilla extract
1) Preheat oven to 350 F
2) Place butter and sugar in a large mixing bowl. Beat together at medium speed until the mixture lightens in color and looks fluffy.
3) Add baking powder and salt mixing to combine
4)With the mixer running at medium speed add the first three eggs to the butter and sugar mixture, one at a time. Wait until each egg is absorbed into the mixture before adding the next.
5) Weigh out the flour or measure it by gently spooning it into a measuring cup, sweeping off the excess with a straigh edge such as a butter knife.
6) Add 2 tablespoons of measure flour to the bowl after the third egg, mix until combined. Add the fourth egg, mix until absorbed, then mix in another 2 tablespoons of flour. Continue in this fashion with the fifth and sixth eggs, alternating the addition of the egg with 2 tablespoons of flour from the recipe.
7) Add the gluten-free vanilla and almond extract to the milk. ( I omitted the almond extract and used vanilla extract)
8) Add one-third of the remaining flour to the batter, beating gently to combine. Gently beat in half the milk. Mix in another third of the flour, then the remaining milk. Stir in the remaining flour. Scrap the sides and bottom of the bowl, then beat until the batter is smooth and fluffy, about 20 – 30 seconds at medium-high speed.
9) Thoroughly grease 10 – to 12 cup Bundt pan, using a non-stick vegetable spray or shortening (do not use butter, butter tends to increase sticking) Scoop the batter into a prepared pan smoothing the top with a spatula.
10) Bake cake for 50-60 minutes or until it appears brown on top, test with a toothpick or metal skewer inserted into the center of the cake and it comes out clean, ( if your baking in a dark-interior pan, start checking at 45 minutes. You can also tent the cake with foil if the cake starts browning to quickly, tent for 15 minutes of baking.
11) Remove the cake from the oven and gently loosen the edges using a spatula, heatproof, turn the pan over onto a cooling rack, after 10 minutes lift the pan off the cake.
12) While the cake is cooling make the glaze, combine sugar, water, and salt, heat briefly in the microwave just to dissolve the sugar then stir in the gluten-free vanilla. Once you have turned the cake out of the pan onto the rack and lifted off the pan, gently brush the cake with the glaze all over the cake.
Optional sprinkle a little powder sugar on the cake
13) Allow the cake to cool completely before cutting and serving.
Cake will keep for several days if wrapped, and freezes well.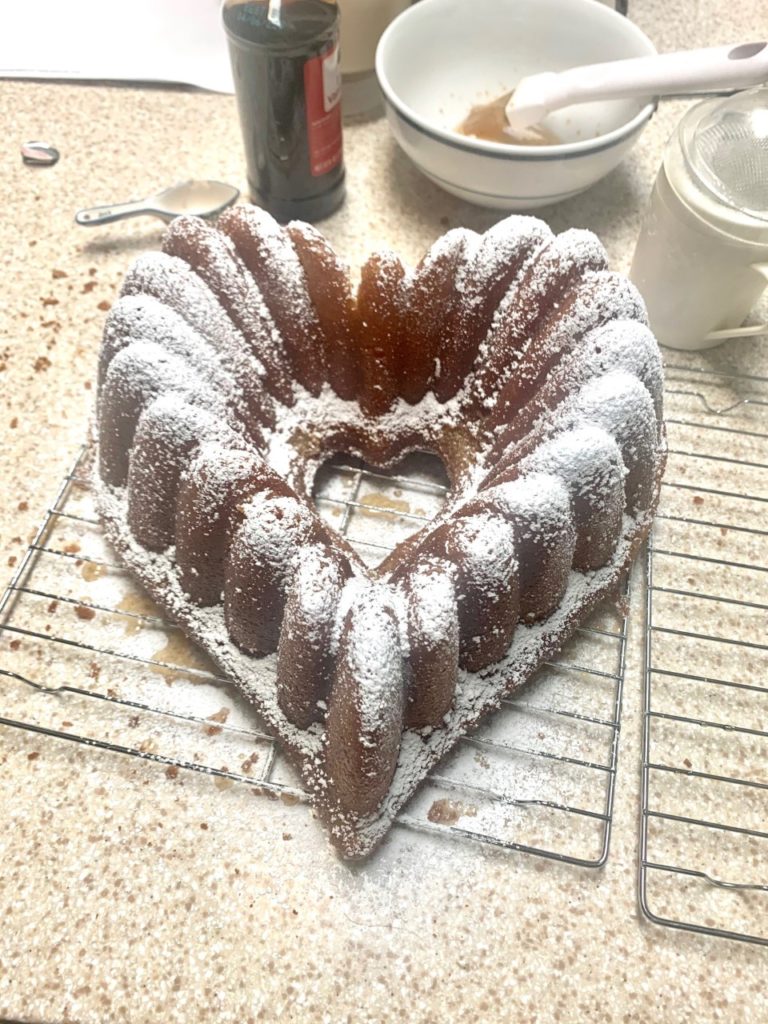 13) Allow the cake to completely cool before serving. You could serve it with some fresh berries and coolwhip.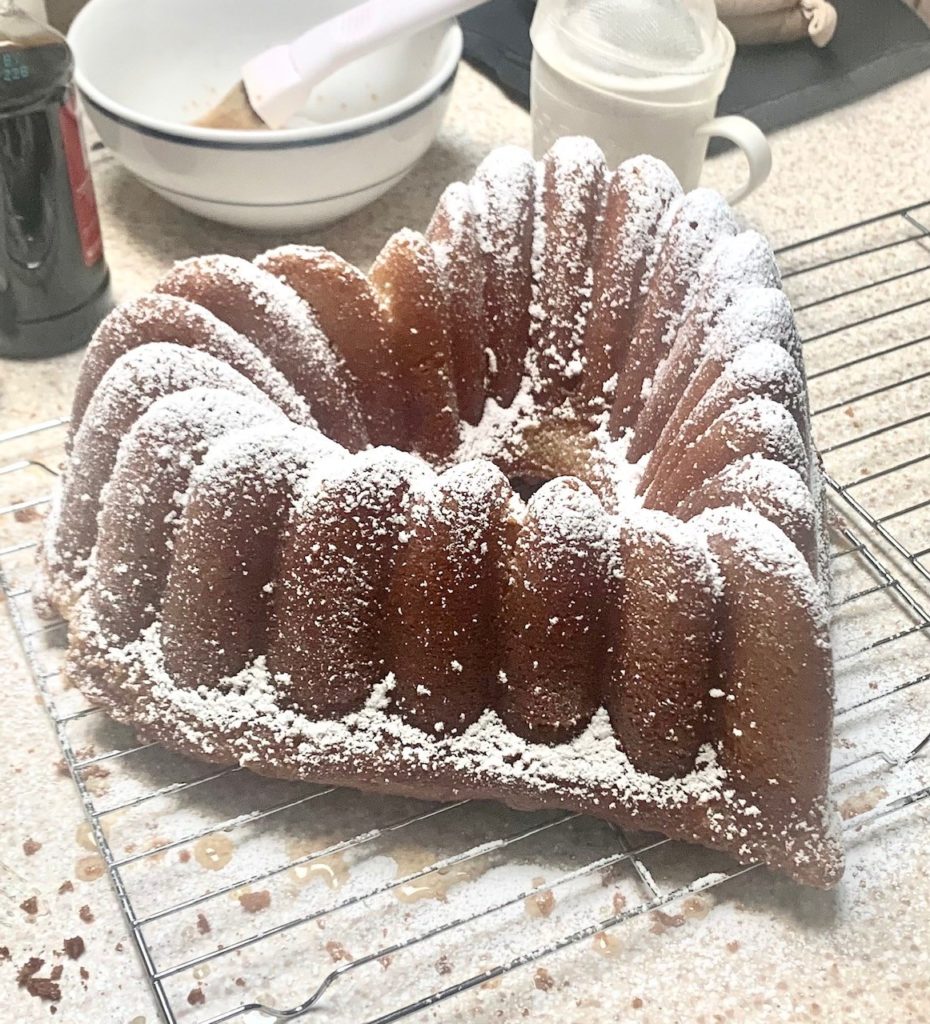 We really enjoyed the cake with our coffee and tea, I hope you will as well!