How to create the best gingerbread house Party
Oh, it's the busy season again but I have a fun family party planned for you, How to create the best gingerbread house Party! It's an evening for family and or friends to celebrate the holidays and create the best memories.
But first I want to welcome you to the Amazing Creators Holiday Blog Hop! As a special treat, I'm joining together with a group of friends to share Holiday Ideas! There is so much inspiration in this blog hop today! I have links to all my friend's creative posts at the end of the blog!
Around the holidays creating a gingerbread house is a favorite at my home and it's a wonderful time to get together with family and friends and be creative.
We make it a celebration event almost every year making our gingerbread houses. It's an event I look forward to year after year.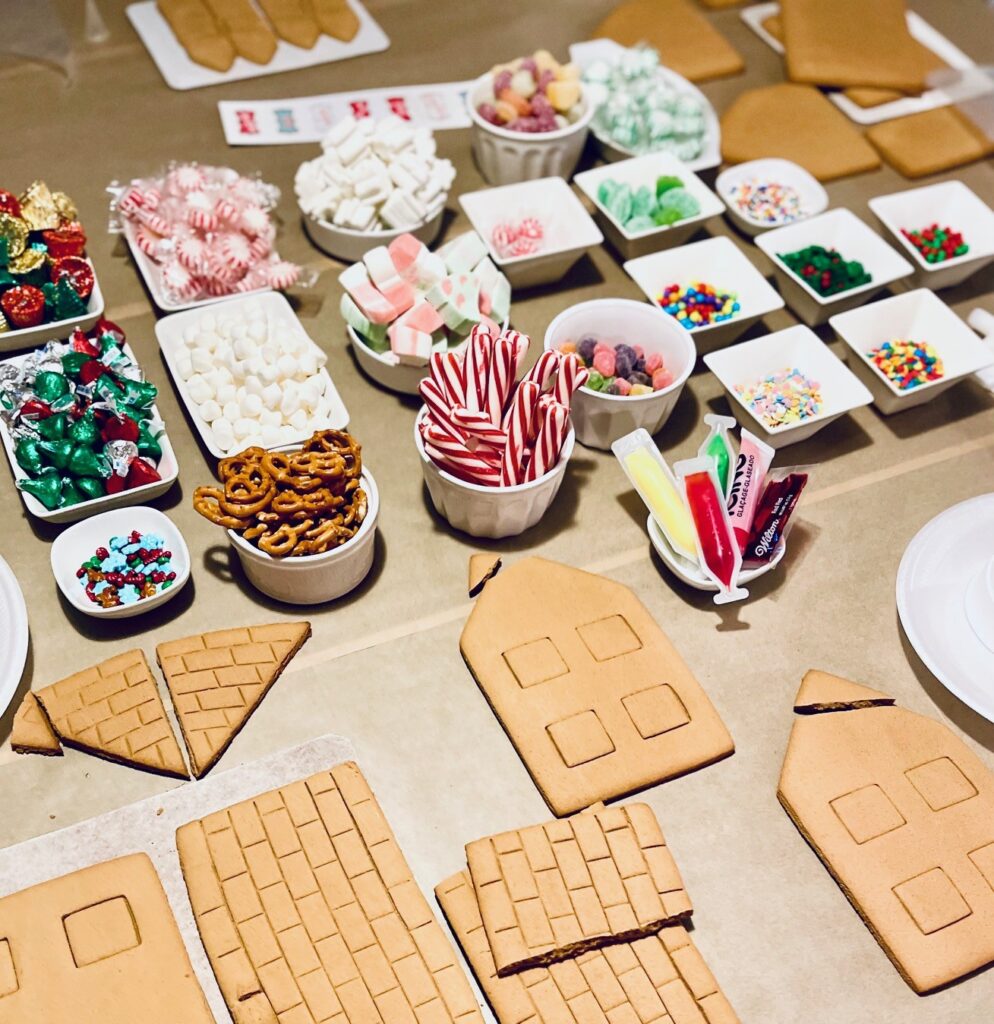 Simple Gingerbread House
I also make it simple by purchasing the gingerbread house kits. In the past, I have made the gingerbread houses myself, but it is some work but the creation is fun!
Today's post and pictures are from pre-made gingerbread kits which work just as well especially if you don't have the time to bake the gingerbread.
I usually order my gingerbread kits from Amazon or Target. I do try to order the kits early because I think you get a better selection if you do. We order allergen-free gingerbread house kits and candies too. We always add extra candies and fillers to our houses. The gingerbread kits have great supplies so you don't need to order extra candy unless you want to. I do because for some reason the candy seems to disappear!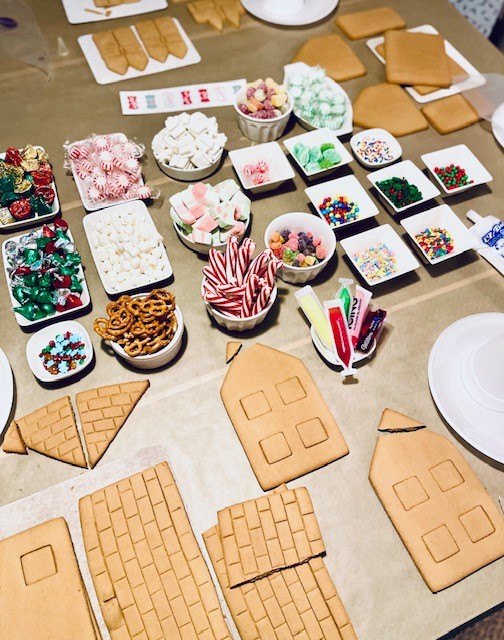 Our gingerbread party is set up in our basement because we have more room downstairs. But you could create your party in any room. I will say it can get a little messy so be mindful of that.
This post contains affiliate links, which won't cost you any more to purchase, but does help support this site.
Ideas of How to Create The Best Gingerbread House Party
Invitation: First of all decide how you would like to invite your guest to the gingerbread house party. You could do an internet invite, a mailing, or a funny text or phone call. Either way, you could get very creative with the invite.
Use a drop cloth: I like to add a drop cloth under the table and chairs we use to create the gingerbread houses. The party can get a little messy and this helps to contain the mess. This also helps to save time on the party clean up. I can just fold the cloth up when done and empty it over a sink, or the garbage can.
Cover your table: A plastic cover protects the table you use. I use an inexpensive plastic Christmas table cloth that protects the table and I can just wipe up the mess.
Little dishes: I use little dishes to place the candies in, clear plastic cups work as well, and this way you can see the candies through the cups. But any type of little dish or cup will work for the gingerbread house candies.
Disposable plastic pastry bags: These are a great idea to use for this party. They work well for the piping around the gingerbread house. I purchase mine online at Amazon or Target, a link is provided at the bottom of this post. You can also find pastry bags at cake-baking stores or craft stores. Even using sandwich baggies and clipping the end it can be used as a pastry bag as well.
Little paper bowls: or styrofoam bowls are placed on the table. These bowls are great for mixing the mixture for the piping, setting the pastry bag in, or the candies.
Cake boards: are great to use to place the gingerbread houses on for creativity. The kits usually come with a little board for each gingerbread house and they work fine. If you like a little more room to create around the house a cake board works better. You could also use an old box and cut the size that you would want just make sure it is thick enough to hold the house. (Make sure to attach your home to the board with some icing)
Candy, Candy, Candy, At our home we have allergies so I'm very careful about the candy supplies we use. We cannot have nuts or wheat products so our gingerbread house kits are allergen-free too. There are still so many kits and candies supplies to choose from. The kits do come with candy and supplies so you don't need to purchase these items seperate. When trying to save money the dollar stores offer many different candies to purchase, but make sure to read the ingredient label for allergens.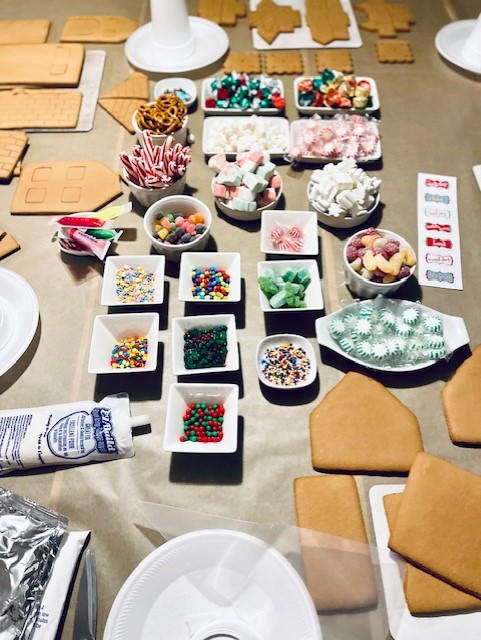 List of Items To Use At The Gingerbread House Party
1) Gingerbread House Kit ( or a pre-made house)
2) Candy
3) Cups
4) Bowls
5) Cake Boards
6) Disposal Plastic Pastry Bags
7) Drop Cloth
8) Plastic Table Cloth
9) Tooth Picks ( to move candy or clean up frosting)
10) Extra Frosting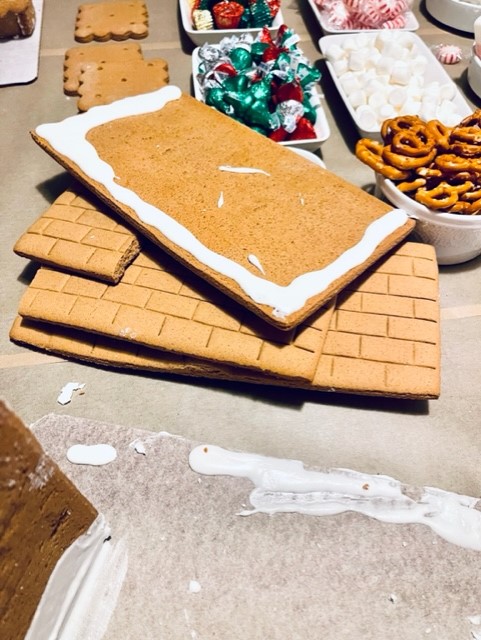 The Best Icing For Making Gingerbread Houses
1 pound confectioner's sugar, sifted, plus more as needed
1/2 teaspoon cream of tartar
1/2 cup (3 large) pasteurized egg whites, at room temperature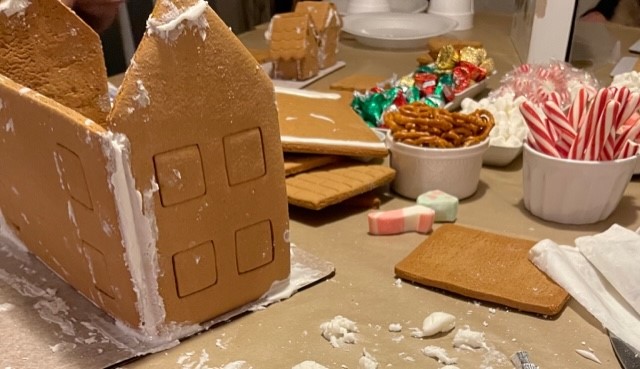 Make sure to wrap the frosting with saran wrap and have it touching the frosting. Keep frosting wrapped because it dries out very quickly.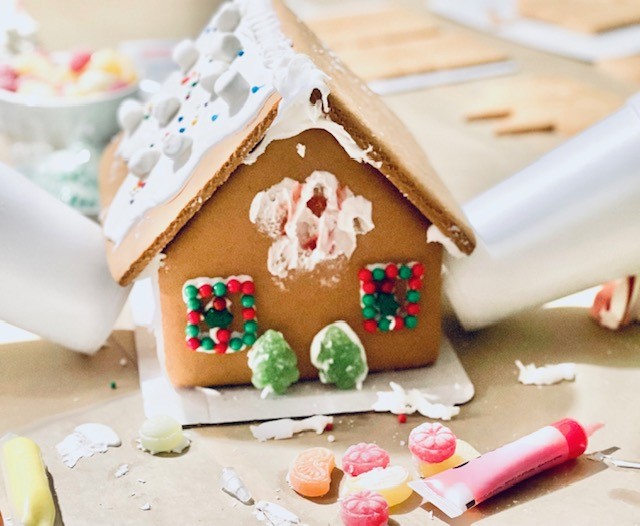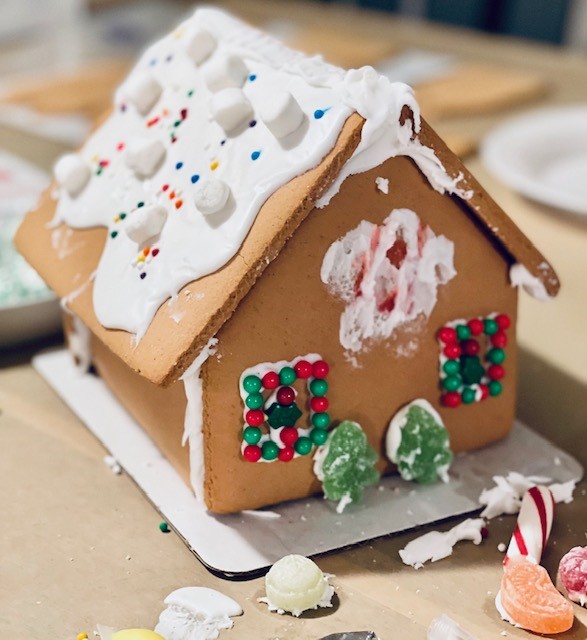 The Best Gingerbread House Toppings
Gummi Bears
M & M's
Gum Drops
Candy Canes
Mini Marshmellows
Sprinkles
Prezels
Hersey Kisses
Mints
Candy Green Leaves
Chocolate Cups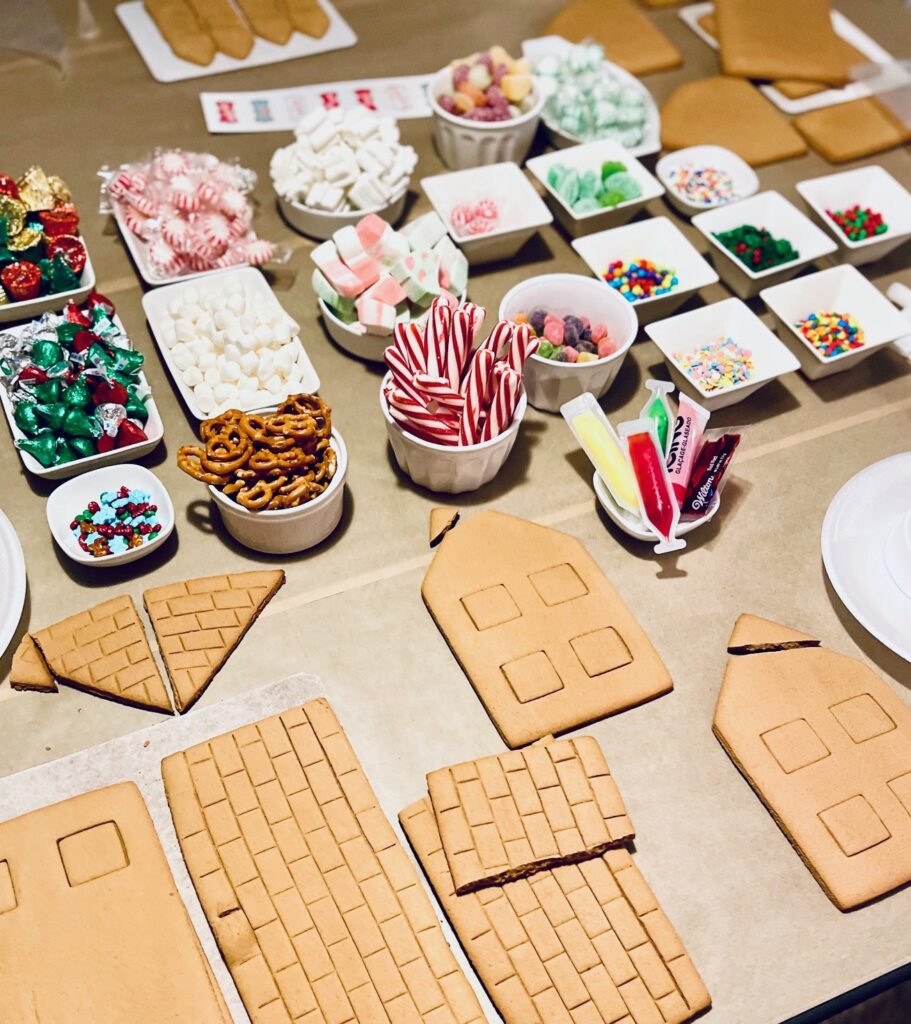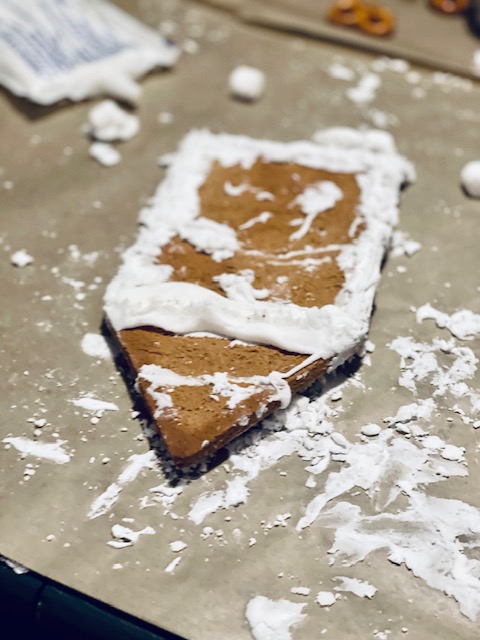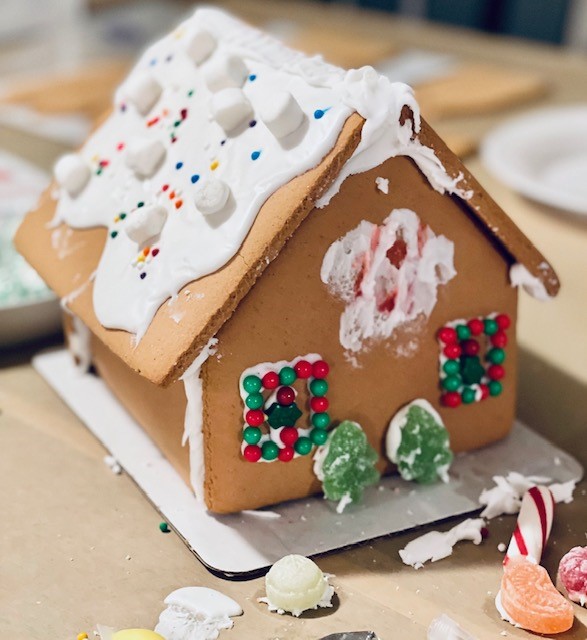 How to wrap a gingerbread house,
When everyone is done crafting the gingerbread house and the guest would like to take it home it's important to wrap the home properly. It is best to use a large clear cookie bag or saran wrap or even foil will work.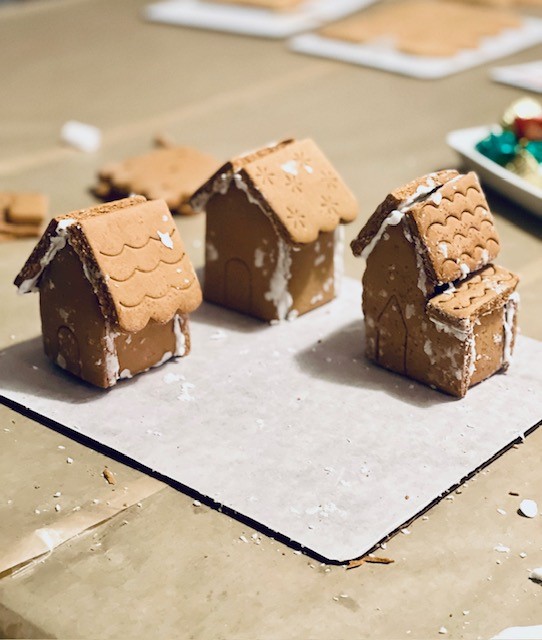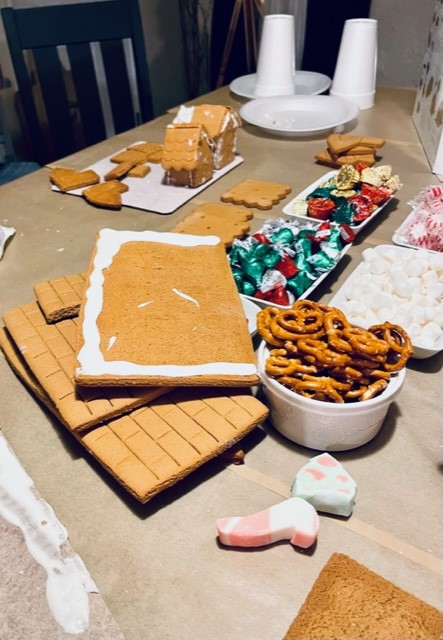 5 Tips For Making Gingerbread Houses
1.) Buy pre-made kits, it's a lot of work to make the gingerbread houses from scratch.
2.) Have extra candy because everyone likes to eat it!
3.) Frosting is key, make sure to make extra it always seems like more is needed.
4.) Piping, this is important because this is what holds the gingerbread house together, here's Martha Stewart's piping basics https://www.marthastewart.com/8049006/piping-frosting-basics
5.) Set each space to make sure there is enough elbow room for each guest. People will need room to spread out their items and to create their gingerbread home.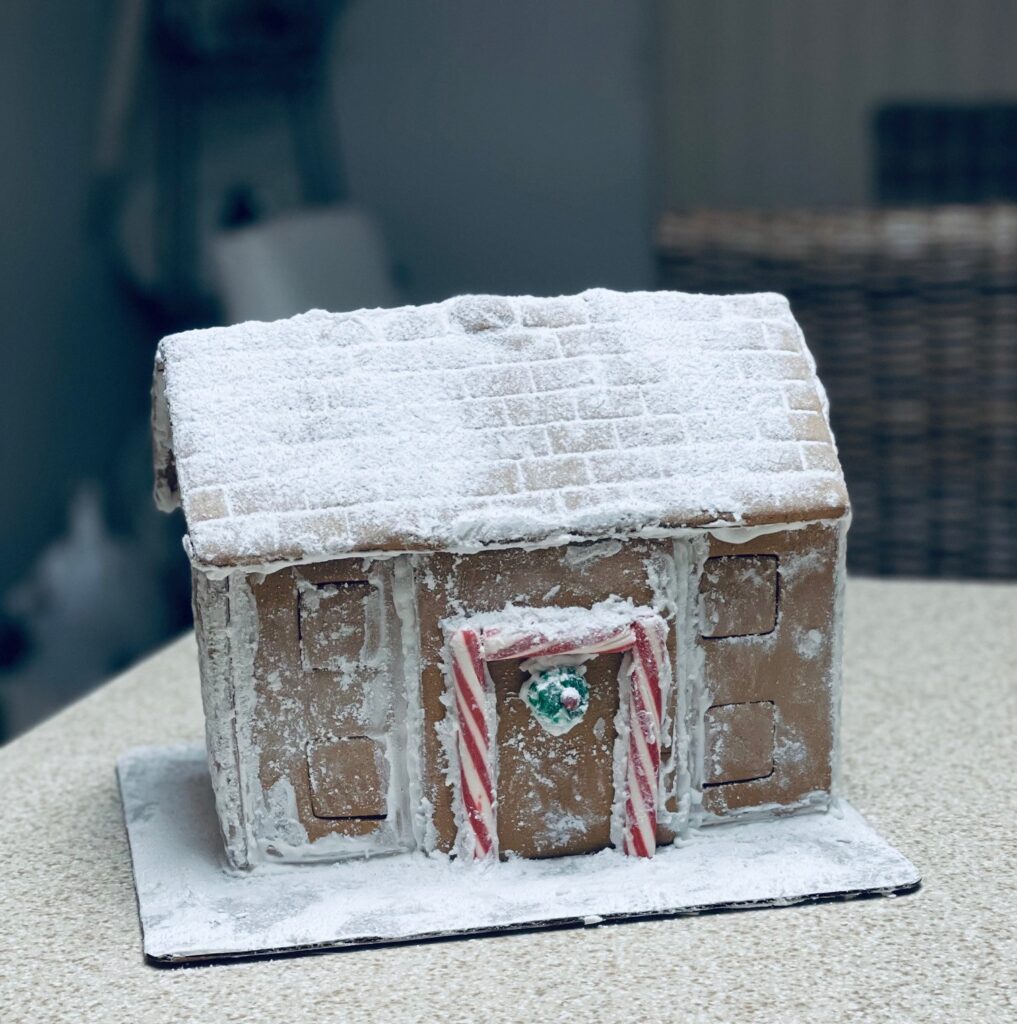 I hope this post on How to create the best gingerbread house party inspires you to get creative and host a gingerbread house party this season!
Also don't forget to click the links from my blogging friends' there is so much Christmas Inspiration in all of these posts!
For More Holiday Inspiration, Please Visit My Friends' Posts!

Merry Christmas