Gluten Free Easter Braided Egg Bread
Gluten Free Easter Braided Egg Bread is a special holiday treat my husband's Italian family makes. Every year at Easter dinner there are different Easter breads. Some of the bread will have beautiful eggs atop of the bread, and some are drizzled with a sweet glaze and sprinkled with nonpareils. All of the bread is beautifully display throughout the dinner table for the Easter holiday dinner.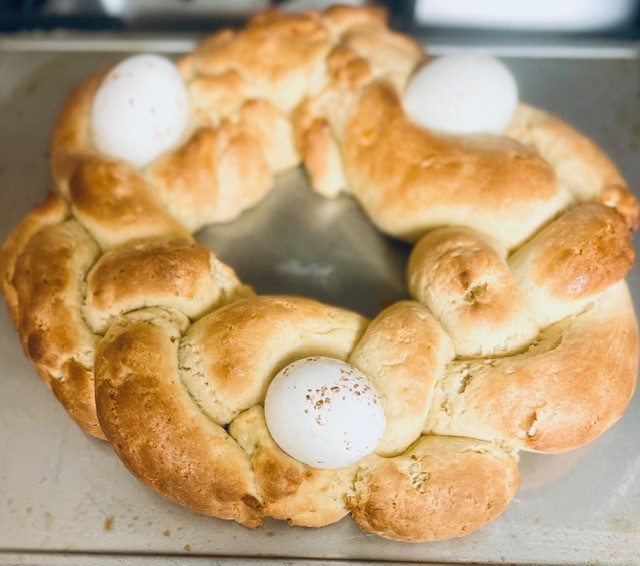 Last year I made a Gluten Free Easter Braided Egg Bread. If was the first time I had made a holiday bread. Before I started I texted my brother-in-law to get a few baking tips. He's the family baker and has owned a few bakery's through the years. His response to me…. have you baked bread before? I responded… no… he says call me!
So I did, and he shared some valuable baking tips with me that I'm sharing with you today.
All of these tips can be found at the bottom of this post.
Even though this bread is gluten free and is made like regular flour Easter Bread there are a few adjustments to be made.
Here's a little history on Easter Bread https://www.thepriest.com/2021/03/15/the-history-of-the-holy-bread-of-easter/
Let's Make Gluten Free Easter Braided Egg Bread!
Ingredients:
Ingredients
2 Packages of Gluten Free Dry Active Yeast
1/2 Cup Sugar
1 Orange grated
1 tbsp Gluten Free Vanilla
1 tsp Salt
6 1/2 Cups Gluten Free Flour The gluten free flour must be able to accept yeast. (Read the gluten free packaging of the flour to make certain). I used Arrow Root Gluten Free All baking flour for this recipe
1 1/2 Cup Milk I used 2 percent Lactose Free Milk
6 tbsp. unsalted room temperature butter cut
4 Large eggs, (keep one egg aside for the egg wash)
3 Hard boil egg/ (you could dye the eggs if you choose) These eggs are to place in and around the bread.
Egg wash, 1 egg with 1 tsp water, mix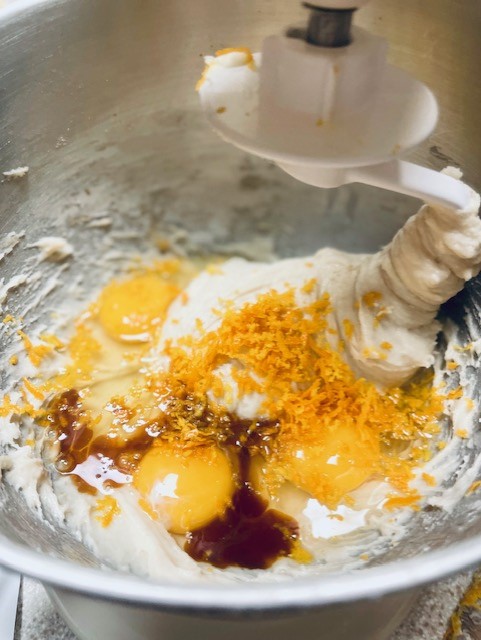 Instructions:
Heat oven to 375, my oven cooked on 350 convection baking so it took a little bit longer for the bread to bake.
In a mixing bowl, combine yeast, sugar, salt and 2 cups flour using the hook attachment of a kitchen aide mixer. ( you can use any mixer)
Heat milk (1-2 minutes in the microwave) and then place cut butter pieces into the hot milk and let melt.
Once the mixture is lukewarm, pour milk & butter mixture into the flour mixture. Mix for 3 minutes
Add in 3 eggs and grated orange peel,1 tablespoon of gluten free vanilla, mix on medium for an additional 3 minutes
Pour in the rest of the gluten free flour and mix for 3 more minutes at a medium speed. Dough will be somewhat sticky. Gluten free dough will be a little more stiff, it's okay you'll work with it.
Next turn dough onto a very lightly floured surface and knead for 4-5 minutes, until the dough is soft and elastic. Place dough in greased bowl, turn in the bowl to grease the dough, cover and allow to rise somewhere warm for 45 minutes to 2 hours. Depending on the temperature of your home.
Push down on the dough and turn out. Cut dough into three equal pieces and roll each piece into a rope evenly
On a greased baking sheet, braid dough ropes and then pull ends together to form a wreath by braiding each rope together.
Place hard boiled eggs into the braided wreath. You can use colored eggs, Coat each of the eggs with oil and the bread with an egg wash.
Bake for 25 min at 375 or 350 convection baking. Allow to cool on the baking sheet! When cool cut and enjoy!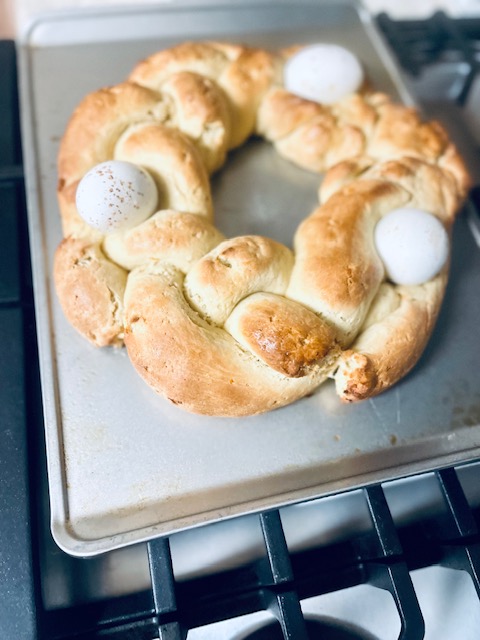 Tips For Making Easter Bread
Tips For Making Easter Wreath Bread:
Important tips for making Easter Wreath Bread
You need time and patience when making Easter bread, this bread is made with yeast. The dough needs to rise three times the size.
A warm room is great for the dough to rise. If the room is cooler it make take the dough more time to rise.
Don't over mix the dough or the bread will not be moist.
White hard boiled eggs were used in this recipe because I didn't want the dye from the egg to get on the bread.
I have heard if you use distilled vinegar when dying the eggs the color will not run onto the bread.
Bread
This was the first time I made this recipe. As you will see gluten free bread does not rise as well as regular flour bread. I am working on this Lol!
I'm making a traditional Calabrese Easter bread this year so come back to see how it turns out!
Last year I shared about my gluten free brunch you can read about it here https://houseofmar.com/gluten-free-easter-brunch/
Enjoy!
Blessings,