My gluten-free lemon vanilla cake is so refreshingly good! I made it to serve to my family for our Easter dessert, and it was a hit!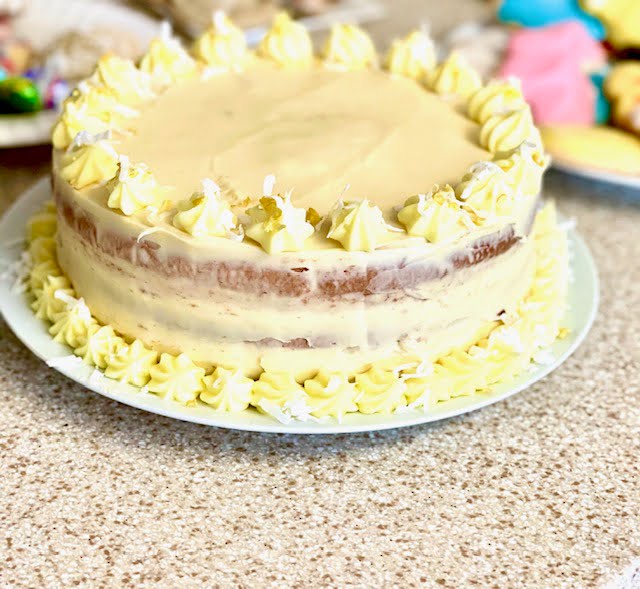 It's simple to make!
But… I do have a little secret… It's a box cake!… You may be surprised at how good a cake from a box really tastes. And this cake mix has the best flavor!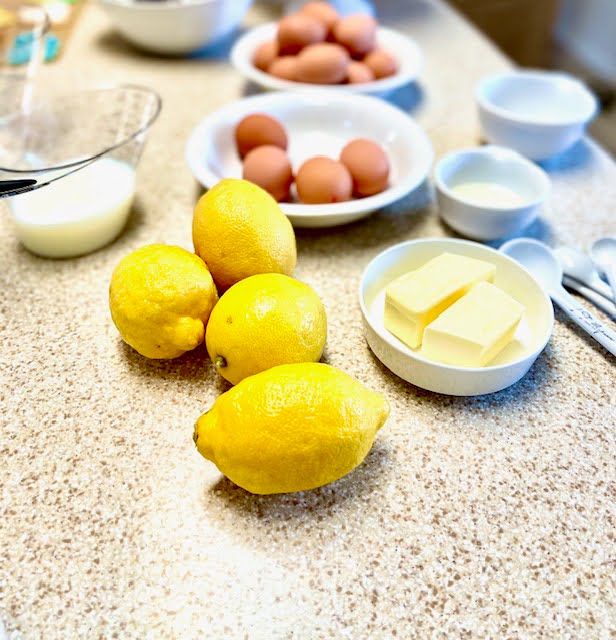 The texture of the cake is almost like a regular floured cake! King Arthur's yellow gluten-free cake mix is one of the best! King Arthur has so many gluten-free products! When I found out I had celiac disease some years ago it was difficult to find good-tasting gluten-free products. Now there are so many to choose from, and that's exciting to us that have gluten issues!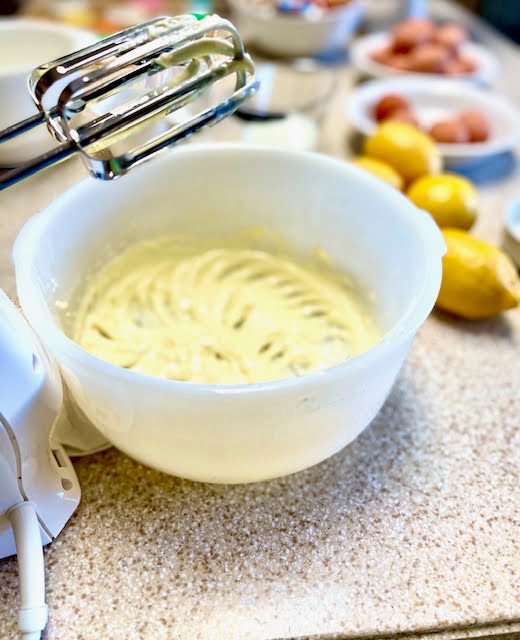 The King Arthur products I've used have all been wonderful! This is not a sponsored post. I want to share this brand with you because I've had great success with the products.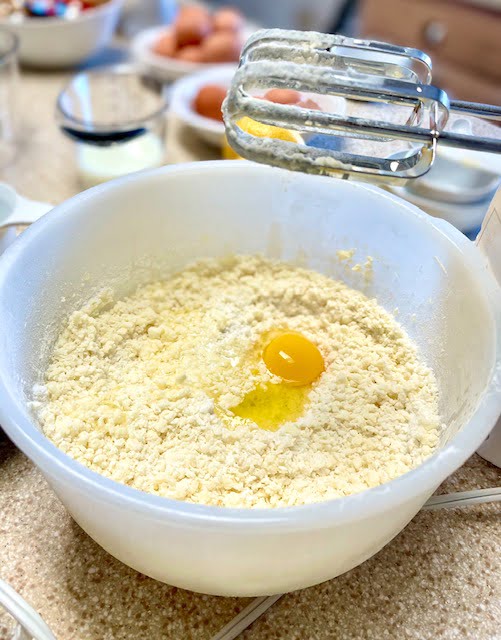 Directions on how to make the cake are on the back of the cake box. Do make sure to follow the directions exactly.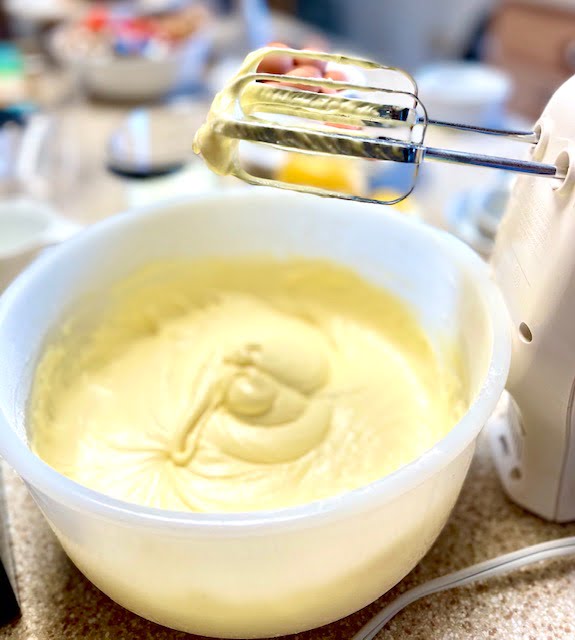 I do like to add a few little adds on to the cake mix.
Adding in a few little extras to the recipe:
When making my cake I add lemon jello instant pie filling and 1/4 tsp of lemon juice to my mix to give my cake a little extra lemon flavor.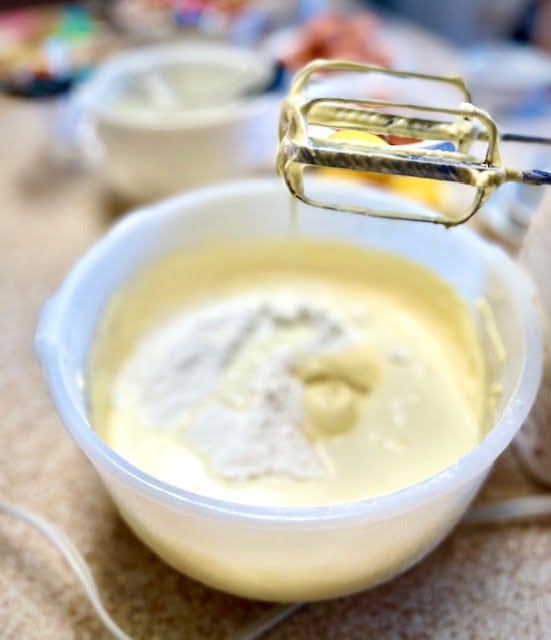 I also like to add jello instant pie filling mixes to many of the cakes I make, it makes the cake really moist. The jello pie filling mixes I have found to be gluten-free, but make sure to check the ingredients each time as they can change.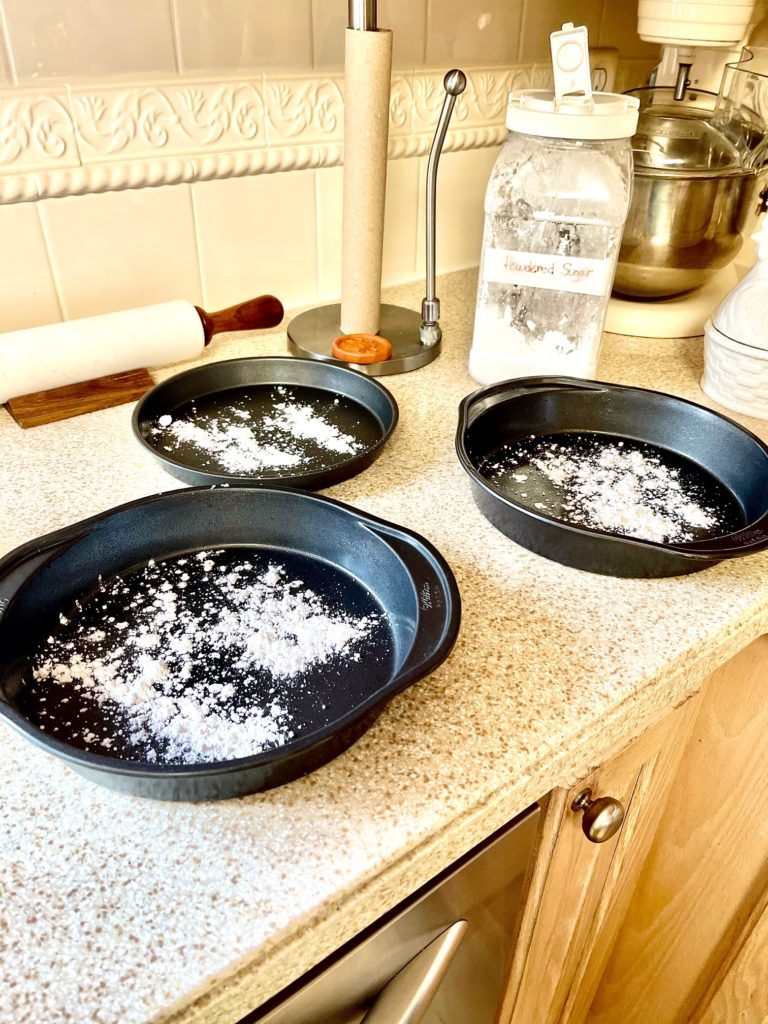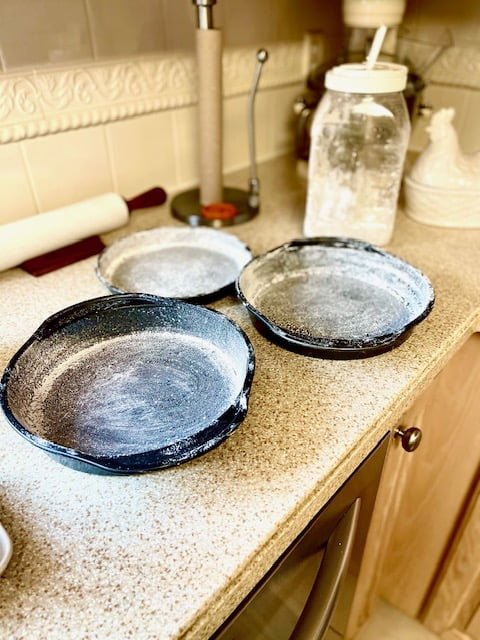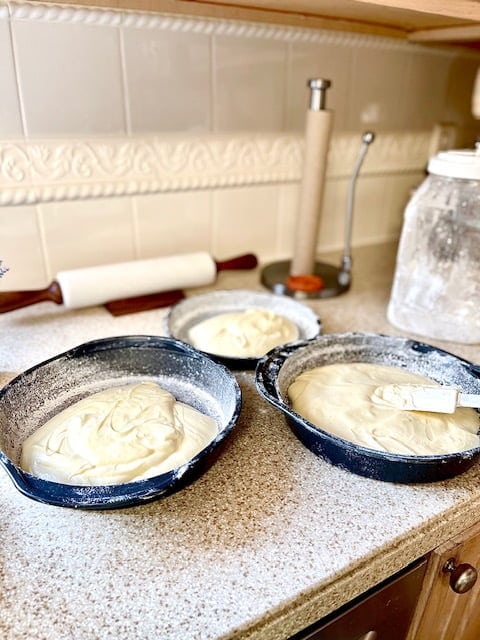 So because I didn't have time to make buttercream frosting I used a store-bought frosting instead. Thank goodness I keep frosting on hand for times like this! Make sure to stir the frosting really well, it makes it much smoother and easier to spread.
And you know what…my family didn't even know the difference!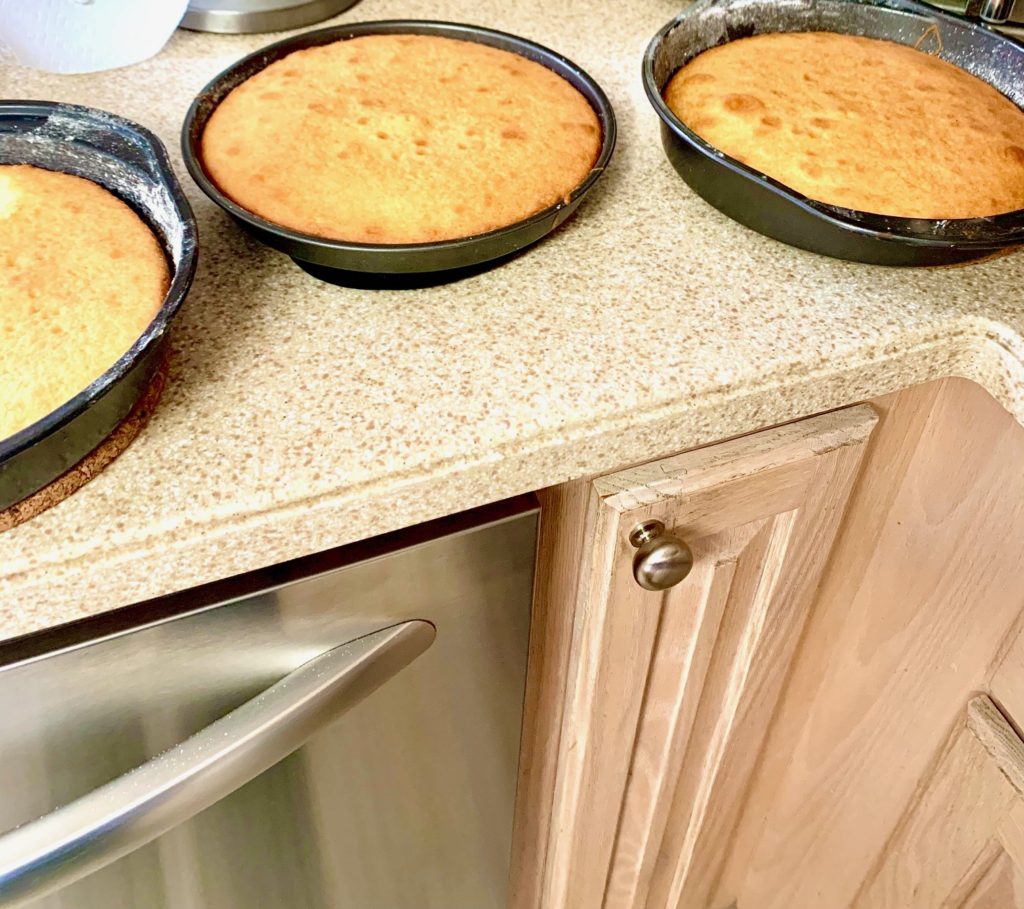 After the cake has cooled, remove the cake from the pans, lightly using a spatula around the sides to loosen the cake. Be careful to not press too hard, the cake will come out of the pan easily.
The buttercream frosting and lemon frosting were quick, easy to use, and so tasty! I used buttercream frosting to frost the cake and the lemon frosting on the little pipping florets around the cake. The lemon frosting added an extra sweetness to the cake.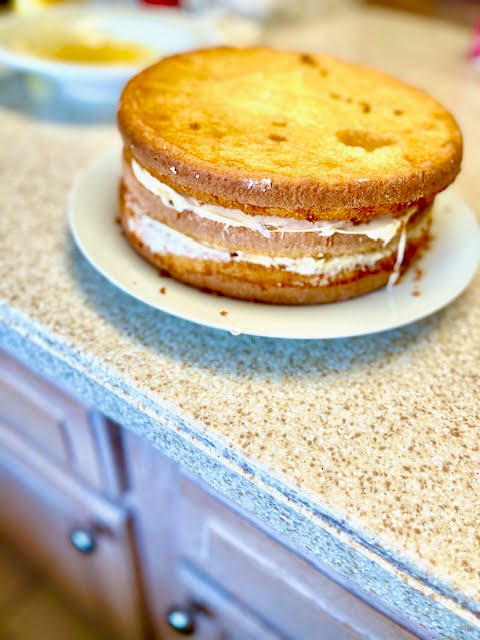 Frosting two of the three layers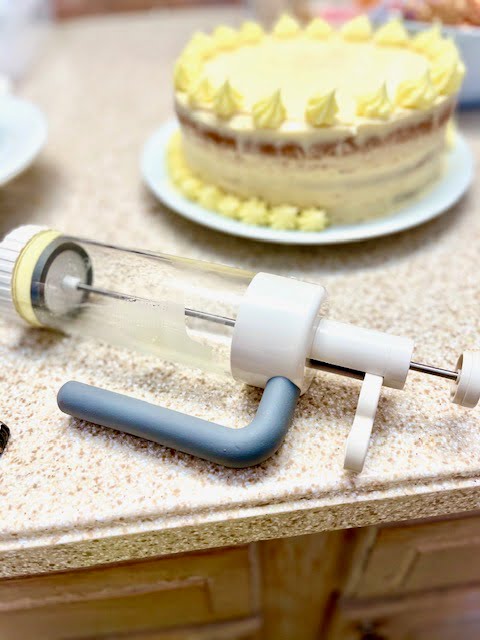 Using store-bought frosting on your cake:
I used a store-bought buttercream frosting and it worked just fine. I also used a store-bought lemon frosting for pipping the florets on the cake. Make sure to stir the frosting well so it will be smoother to spread on the cake. I put the lemon frosting in my cake frosting tube to add the little florets around the cake. My decorating tube is from Pampered Chef. I really like their baking tools!
You could also use a sandwich bag or freezer bag, just snip off a little pointe at the corner of the bag. Your florets may look a little different than mine, but you could get creative!
Frosting: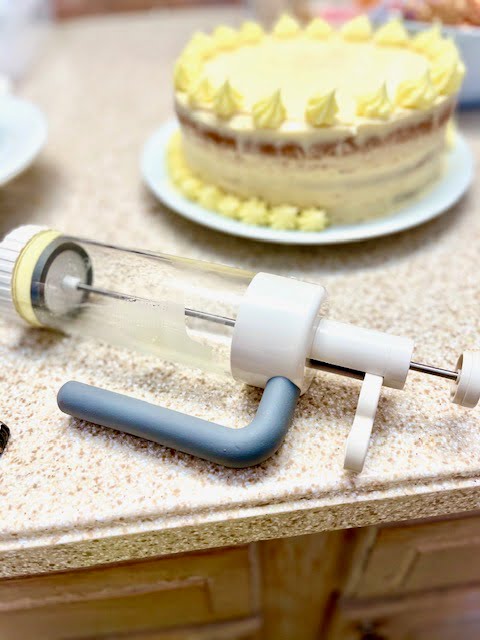 Using a spatula I frosted the cake rotating it around to smooth the frosting.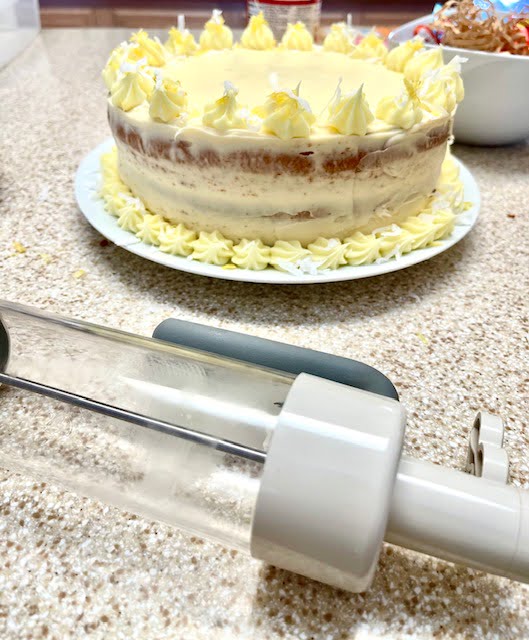 I also shredded the lemon and used a little lemon on the top of the florets and added some coconut, just a little on top of the florets. I thought it added a little something special to the top of the cake.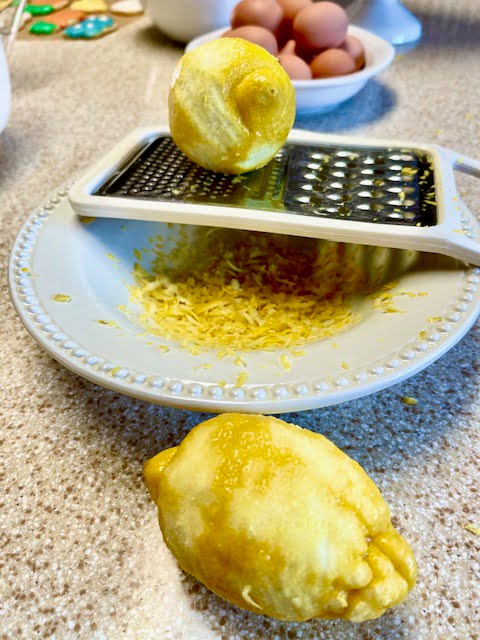 My Finished Gluten Free Lemon Vanilla Cake!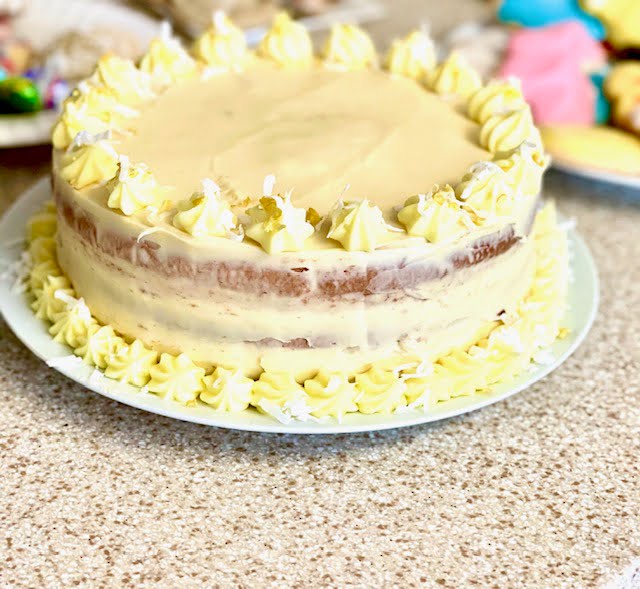 I hope you and your family enjoy this Gluten Free Lemon Vanilla cake as much as my family and I have!
Ingredients:
Cake ingredients:
1 box gluten free yellw cake mix ( I used King Arthur)
1/2 cup real butter, softened (not melted)
2 tablespoons vegetable oil
4 large brown eggs
2/3 cup milk ( I used lactose free skim milk, you could use almond, oak or soy )
1/2 box of lemon jello instant pie filling ( 3.4 oz size)
1/4 tsp lemon juice ( I use the juice from a lemon)
2 lemons ( for shredding a little lemon on the cake optional)
1 tablespoon of shredded coconut (optional)
Baking:
Preheat the oven to 350
1.) Grease 3 round cake pans , also dust with powdered sugar
2.) Use an electric mixer to blend butter and oil together, then blend in half the cake mix using the lowest speed, also adding in the lemon jello instant mix a little at a time.
3.) Add eggs one at a time, mixing until blended
4.) Continuing to use the lowest speed, add 1/2 of the milk at a time alternating with the other half of the dry cake mix, add 1/4 tsp of fresh lemon juice.
5.) Mixing just until smooth
Pour evenly into your three cake pan's
Bake for 22 minutes, each oven is different, check with a cake tested to see if done,
Cool completly in pan on a wire rack.
After the cake has cooled, remove the cake from the pans, lightly using a spatula around the sides to loosen the cake. Be careful to not press too hard, the cake will come out of the pan easily.
Frosting:
Butter Cream Frosting- 2 can's
Lemon Frosting- 1 can ( betty crocker or what brand you prefer will work well)
I frosted two layers, sides, and top of the cake with the butter cream frosting, and used the lemon frosting for the little florets.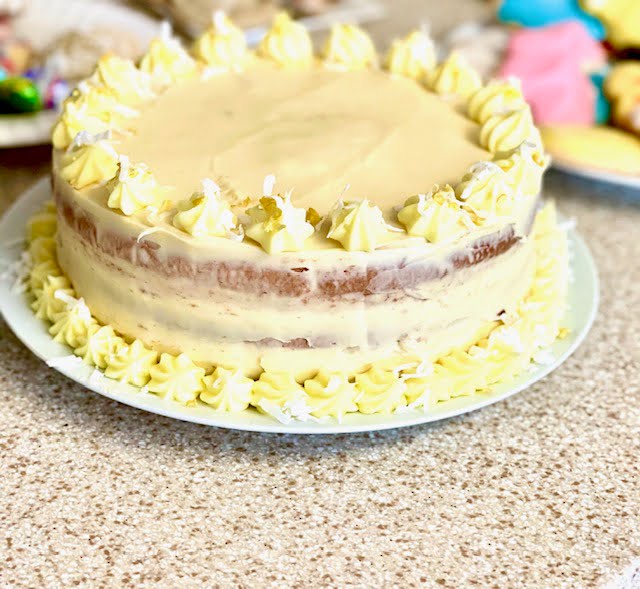 This cake would also make a great dessert for Mothers Day!!!
Happy Spring!!!