Welcome Back!
This is my new project!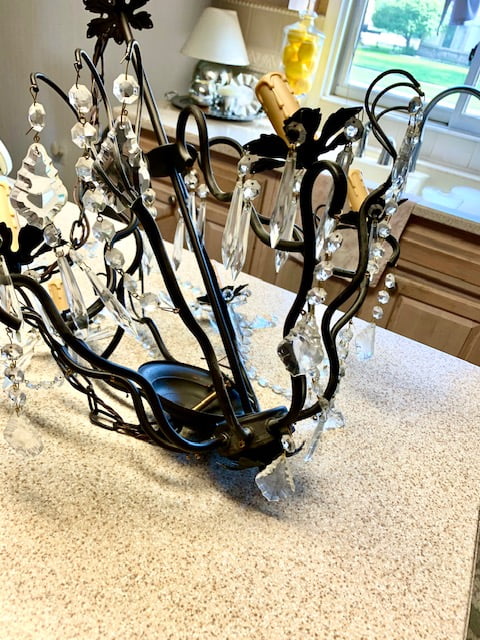 My Thrifty Thursday finds are so much fun! A great inexpensive way to decorate when you are on a budget, or not on a budget!
I really like the hunt of trying to find that special something i maybe can't find in a store or at a good price!
Since the pandemic I haven't been visiting the resale stores for my thrifty finds. I've been using the face book market place site…
This site has so much! The site has items for sale set up in categories. This makes it much easier to find an item. The communication between the seller of the item and yourself is very comfortable. You can message the seller about the item right from the site.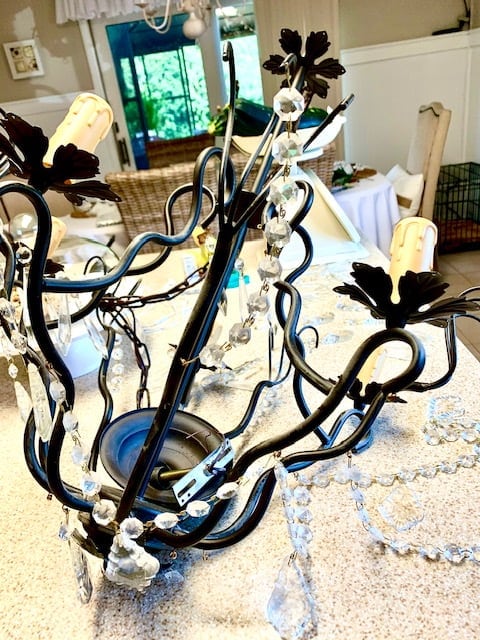 The seller will contact you through the site letting you know if the item or items are available. There are a few different ways to pick up your item. You can do a porch pick up, meeting at a secure location such as a police station or a busy parking lot. Also sometimes the seller will meet with you at their home. I would suggest bringing someone with you and staying outside for safety precautions.
When paying for your item:
I pay by cash by putting the money in an envelope and placing it in the mailbox or under a doormat. You could also use Venmo and send the money to the seller's Venmo account. But I would wait until you are there picking up the item.
As you know I have been sprucing up my home now that I'm an almost empty nester. I'm adding a few touches I have envisioned for our home.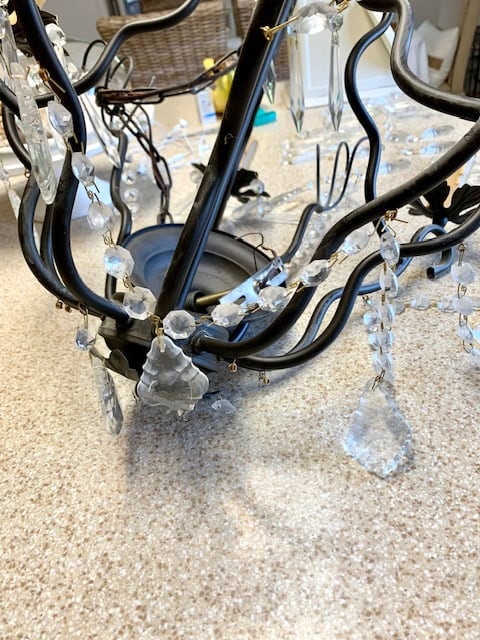 So I have been looking for a new chandelier for my dining room. Something sparkly, not too over the top, but just enough to dress it up a bit!
Well, I found it!!!!!!!!!!! The color wasn't quite what I was looking for, although it is a nice color just not what I had envisioned. But for $40.00! Yes, $40.00 I could change the color!
That's just what I did!!!! I changed the color!!!!!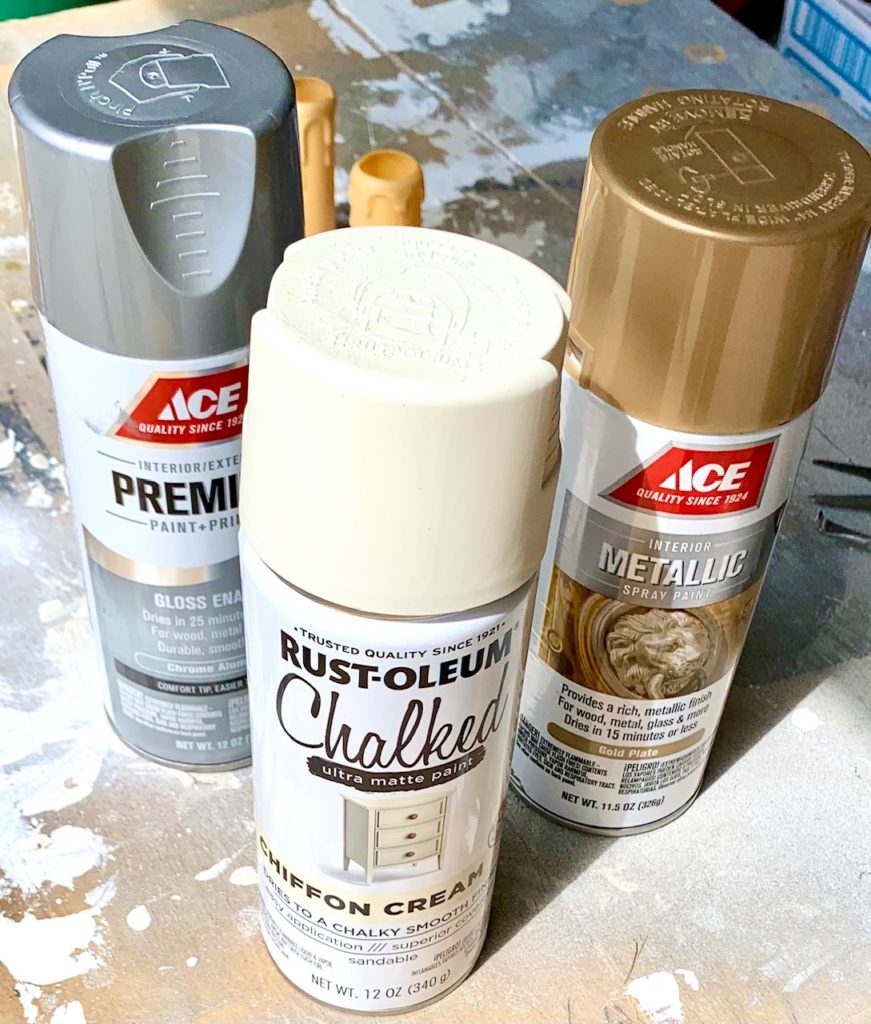 Spray paint works wonders!!!!!! I used three different colors of spray paint to give the chandelier the look I wanted. Also, it dry's quickly and this project only took a few hours to complete!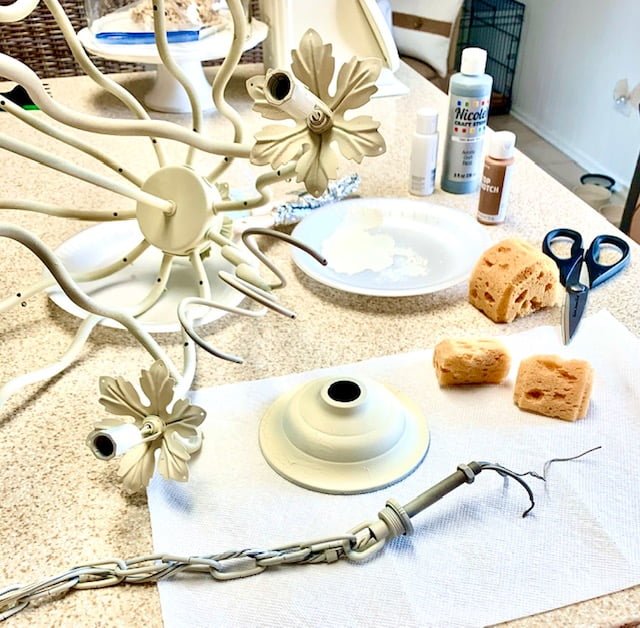 Hanging the chandelier on a ladder help so much and I was able to spray at all angles. When spraying the paint I did the gold paint first, then silver, and added the cream spray paint last. I did not do a complete coverage with any of the paint colors. Just spraying a semi coverage so each color shows through.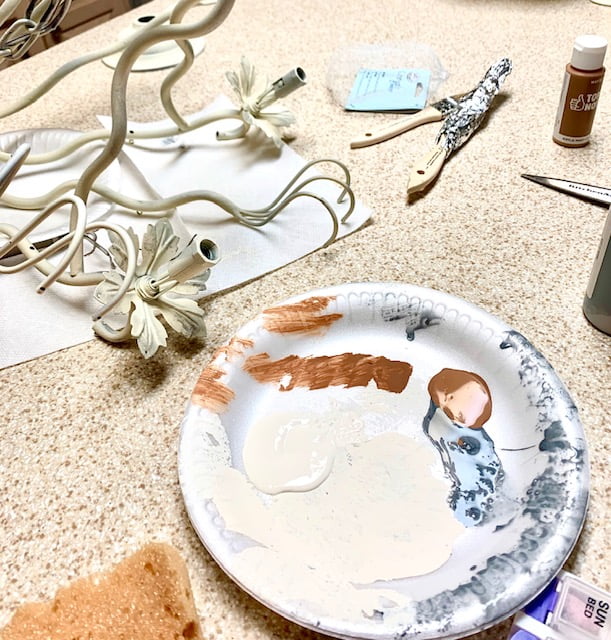 When I finished spray painting the chandelier it wasn't quite the texture I wanted. So I decided to take a sponge and add more paint by using some art paint I had. I used a paper plate to hold my paint so I could dab the paint on the sponge. I used three different color paints staying in the same color tones as the spray paints. Gold, silver, and cream. I blotted the chandelier using the sponge and tipped the leaves with a paintbrush with silver paint to give it a little bit of glam!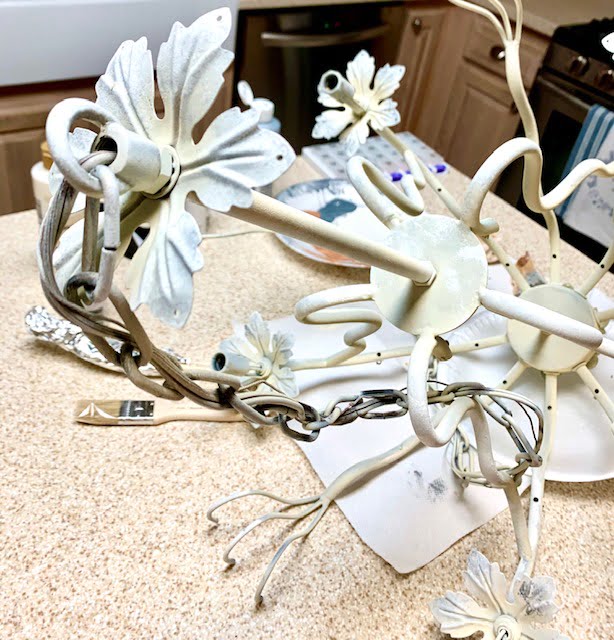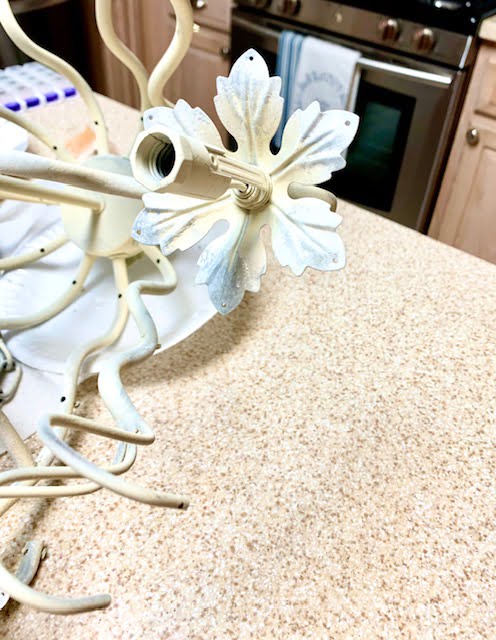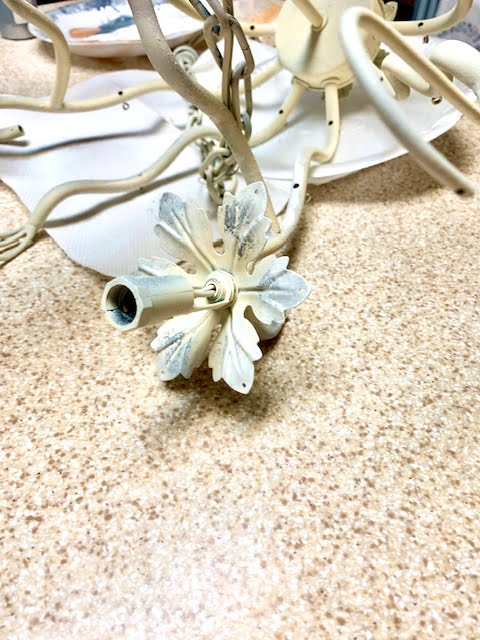 Bronze on the chandelier was very charming but I have decided to go with a lighter canvas for my home. I cleaned the crystals on the chandelier with some soap and water and then sprayed with a vinegar and water mix and wiped each one.
They sure sparkled from the vinegar mix!
Adding on the crystals was like doing a puzzle. I should have taken better pictues of where the crytals orginally hung.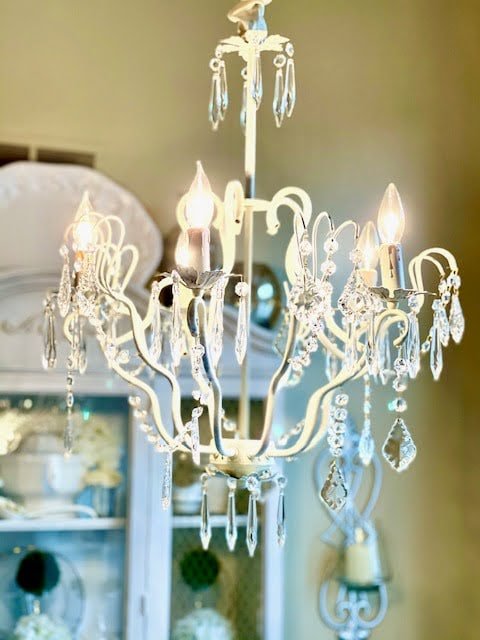 I'm so happy with it!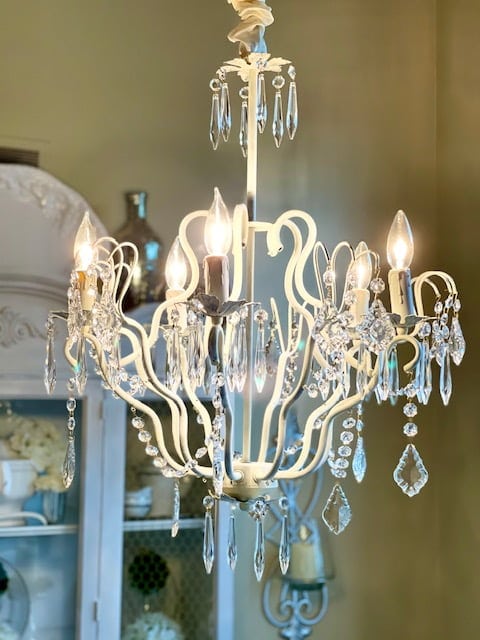 Love the way the crystals hang and they have such a pretty cut to them!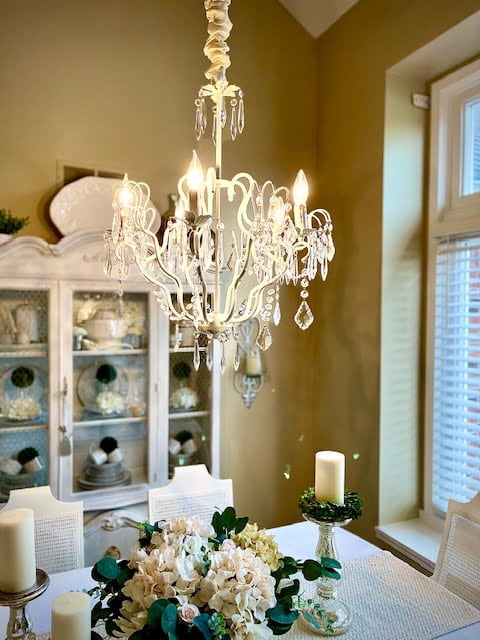 The chandelier gave my dining room the little something extra I was looking for!!!!
I'm sharing a few other projects in the coming weeks that have been so fun to put together, I can't wait to show you!
Items I used to complete this project
Spray paint:
Gold, Silver and Cream
Art Paint
Gold, Silver and Cream
Tools:
Sponge, Paint Brush, Paper, and Plate
Thank you for taking the time to read my redo! Enjoy your day!!!