Fall Home Tour 2021
Welcome to my fall home tour 2021. I am so excited Fall is here! It's my most favorite season!
How about you, do you like fall too? I hope so! I love all the colors, smells, food's and everything about fall!
Today I'm sharing my fall home tour 2021.
My home has an open floor plan so one room leads into the next. I feel like the seasonal decor should blend from one room to the other with this type of floor plan.
Last year I used blue tones in my fall decorations. It was a new decorating color for me! I really like how the blue pumpkins and gourds looked with my mercury glass pumpkins. You can see my fall tour 2020 here https://houseofmar.com/fall-home-tour/ I also share a few recipe's that I served at a small fall dinner party I gave!!!
This year I went with earthier tones for my fall decor! I used cream and whitish pumpkins, grays, a little burnt orange, also browns, and my favorite mercury glass pumpkins!
Please come in so we can get started!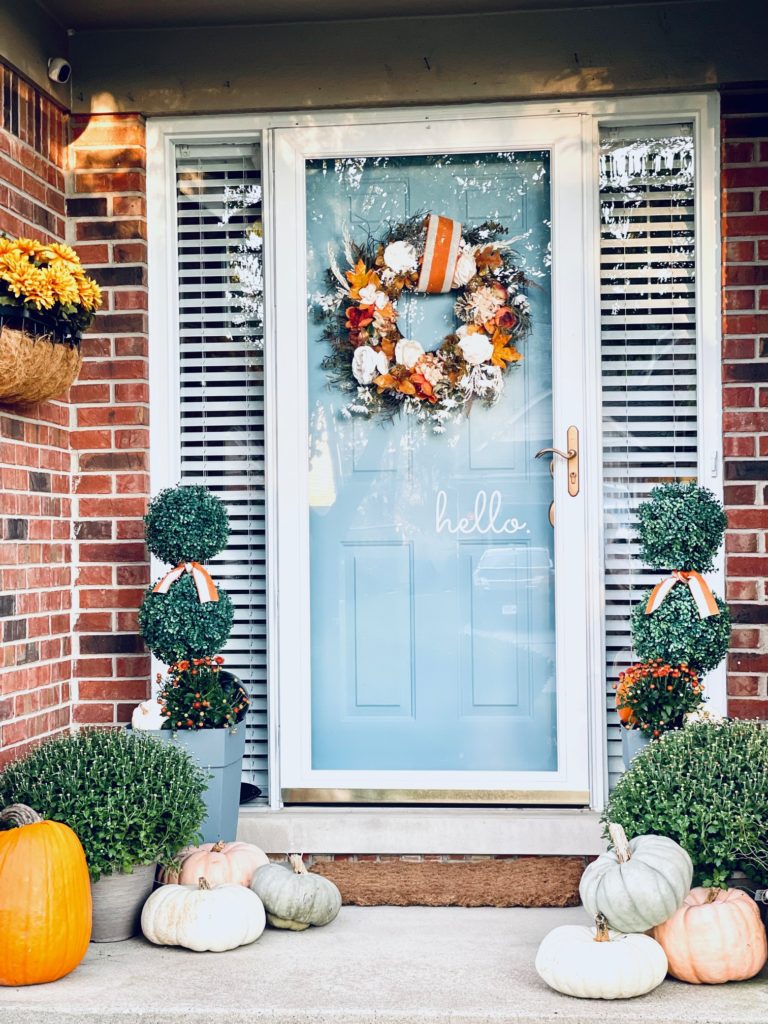 My front porch is small, so I added just a few little seasonal touches. I added a few mum's, pumpkins, and ribbon to my topiary's.
The wreath on my door I made with some faux fall flowers from a few wreath's I no longer use. I have a tutorial in my stories on Instagram. It was so easy to do and it add's so much to my fall front door.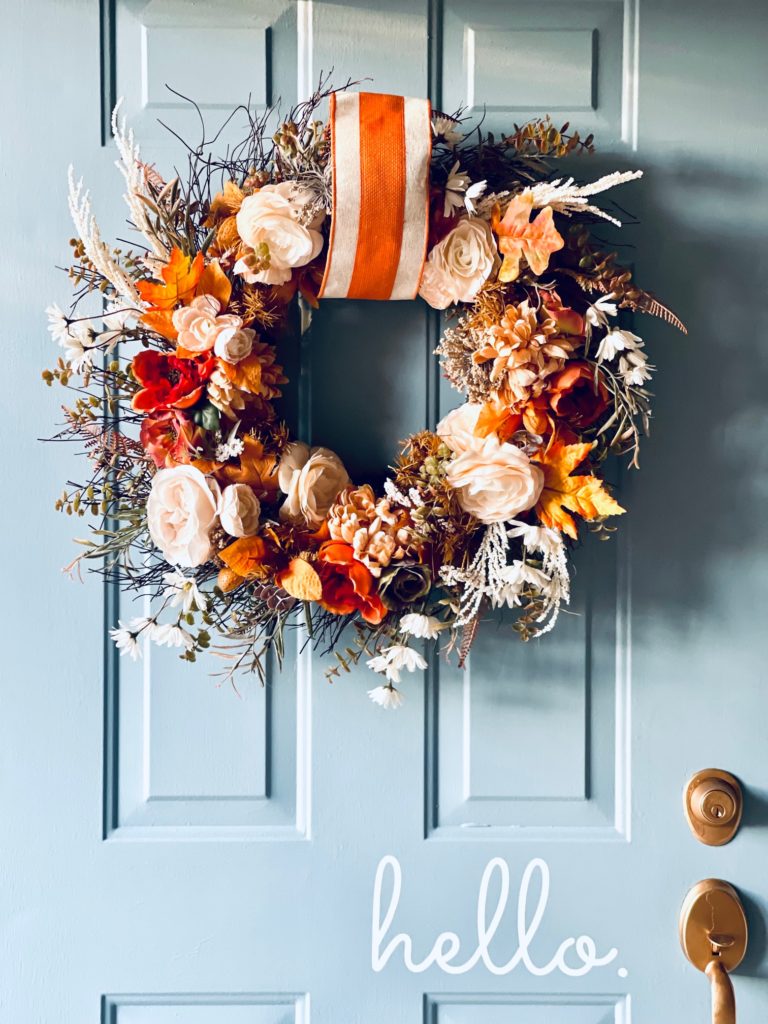 Stepping into my foyer you'll see my home has a very open concept…
Fall Foyer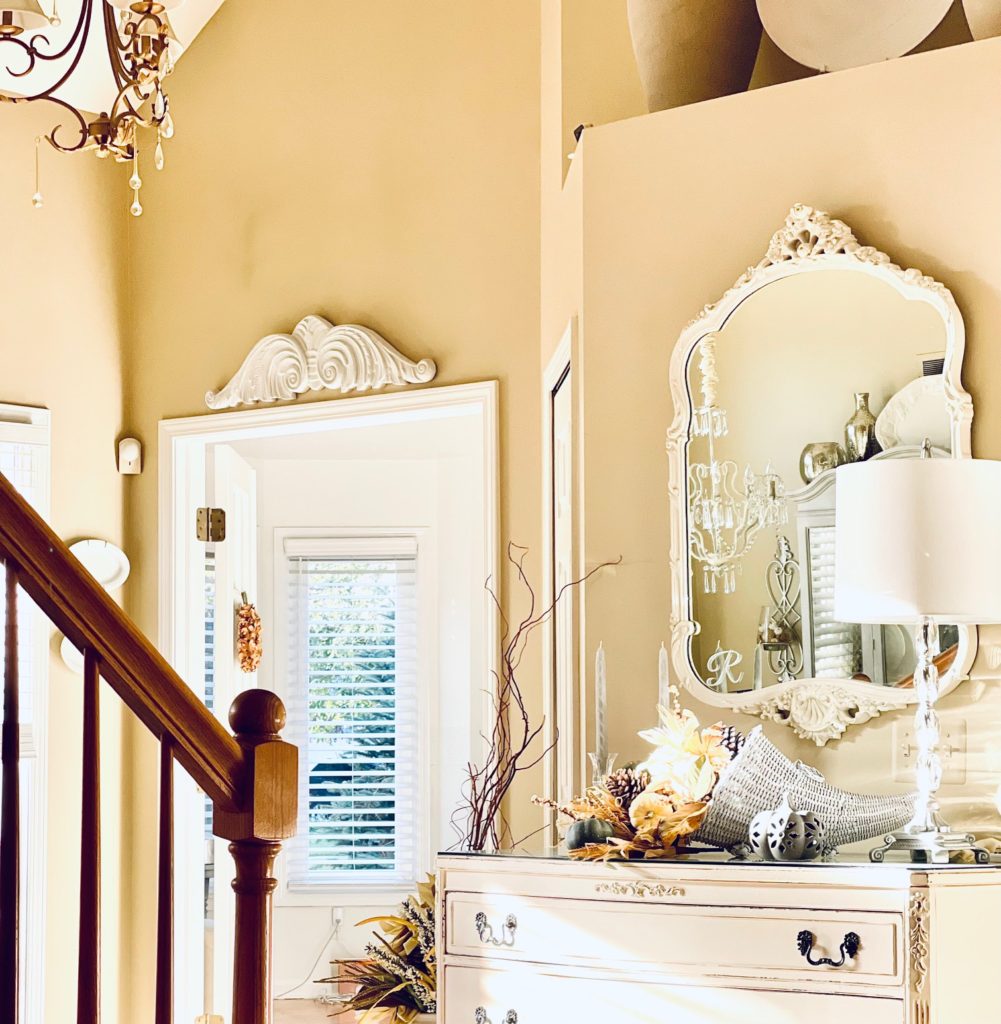 I used a cornucopia on my bureau in the foyer and added some earth tone faux fall florals, pumpkins, and pinecones were also added. I painted the cornucopia using some left over white spray paint I had. The color is much better with my decor. I like to use decorating items I can interchange for the holidays seasons.
I found the cutest gray candles, the design on the candle looks like a wool sweater. I love the way their made! I actually found these last fall.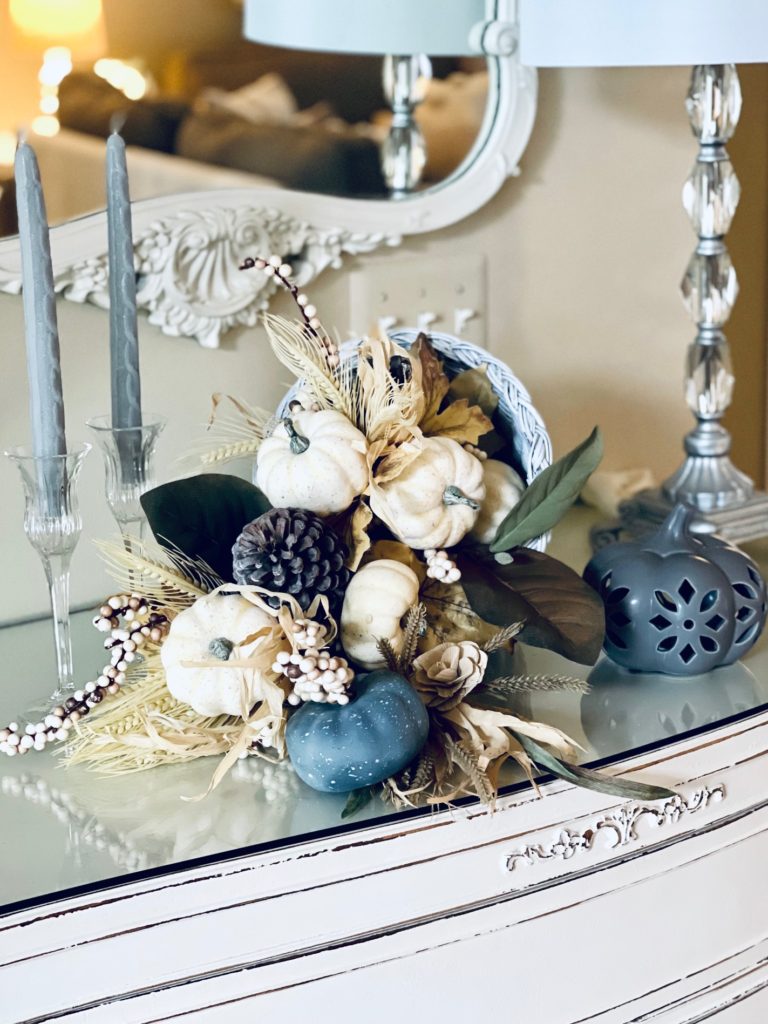 My dinning room…
For my dinning room I added lots of cream pumpkins to my new dough bowl. I was so excited to find this dough bowl at an antique sale. I also placed a few mercury glass pumpkins in my china cabinet and added some pinecones and faux flowers. My china cabinet is an area I really enjoy decorating for the holidays. I just kept it simple for this fall season.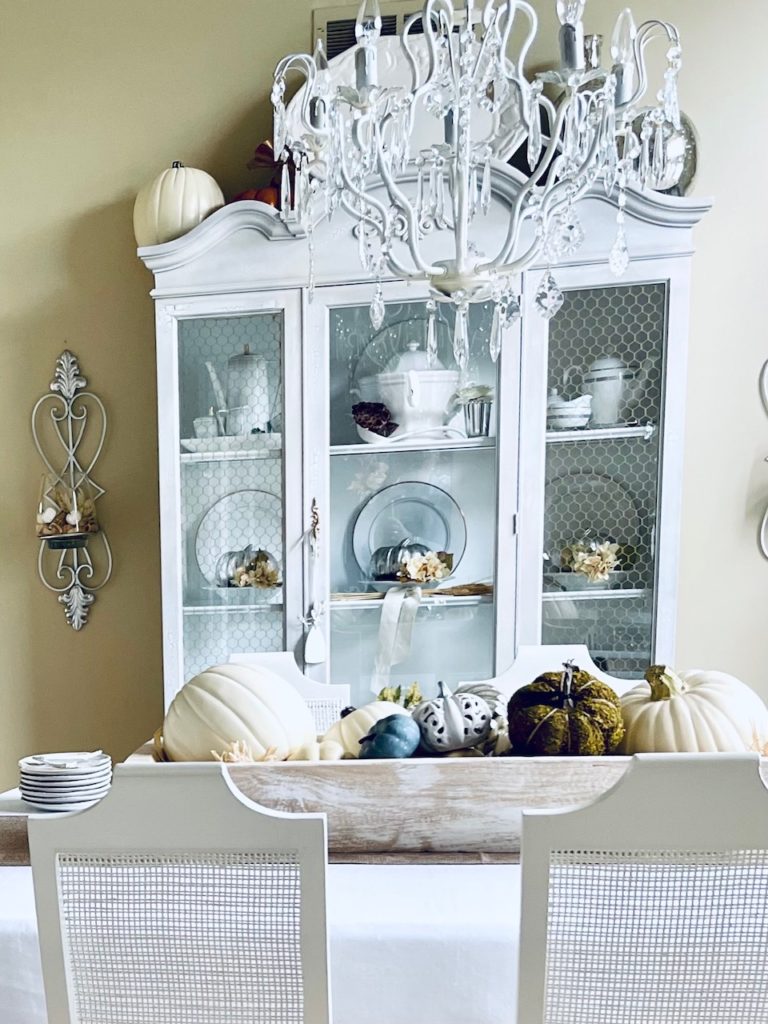 I also placed a few pumpkins on top of the china cabinet!
My Office
Of course I had to place a few pumpkins on the shelves in my office !!! I like to add a little fall everywhere!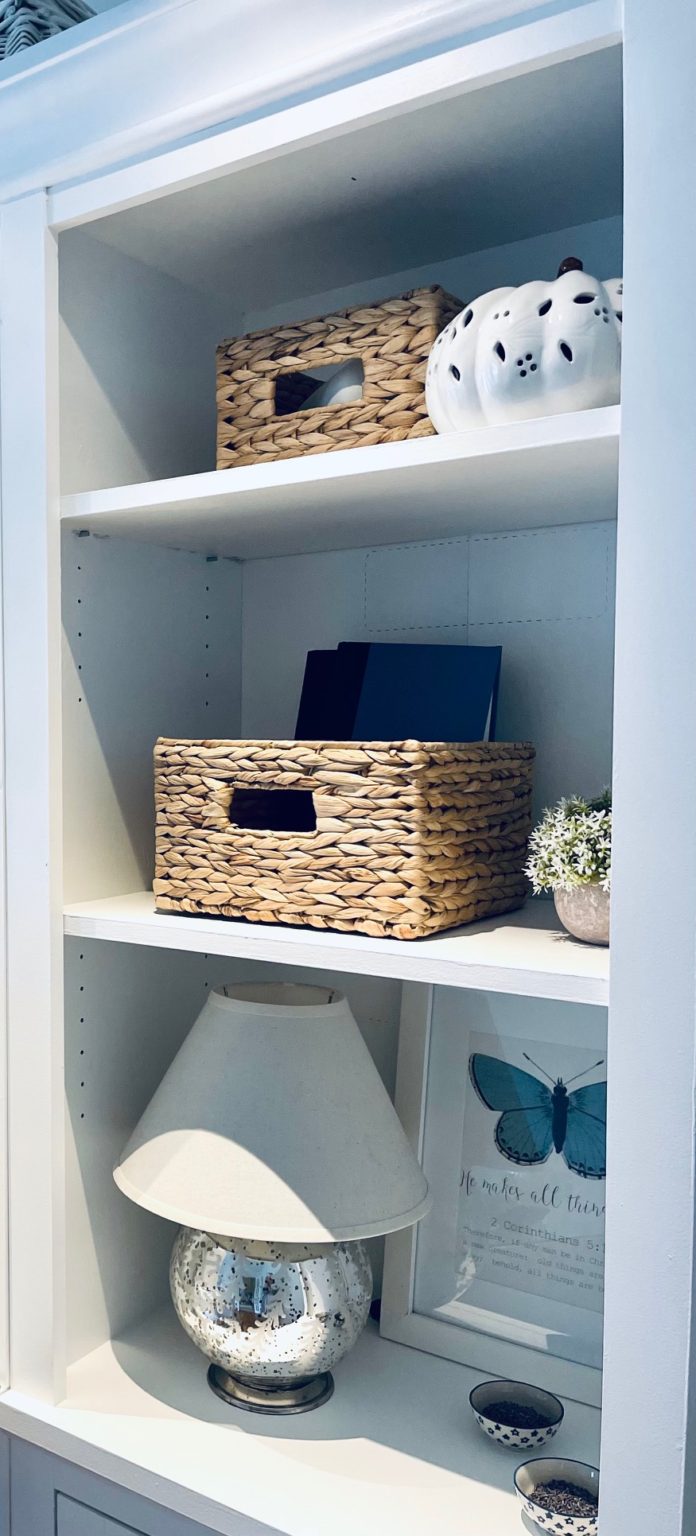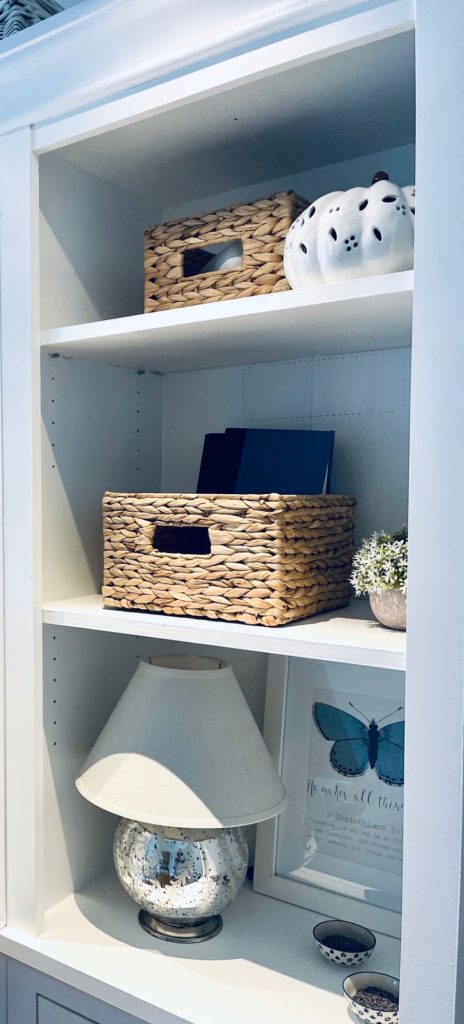 Great Room
The great room is where we gather most days and my fireplace is the main focal pointe of the room so adding fall there is a must! I'm still working on revamping this room but adding a few simple fall decorations kept with the fall feel through out my home.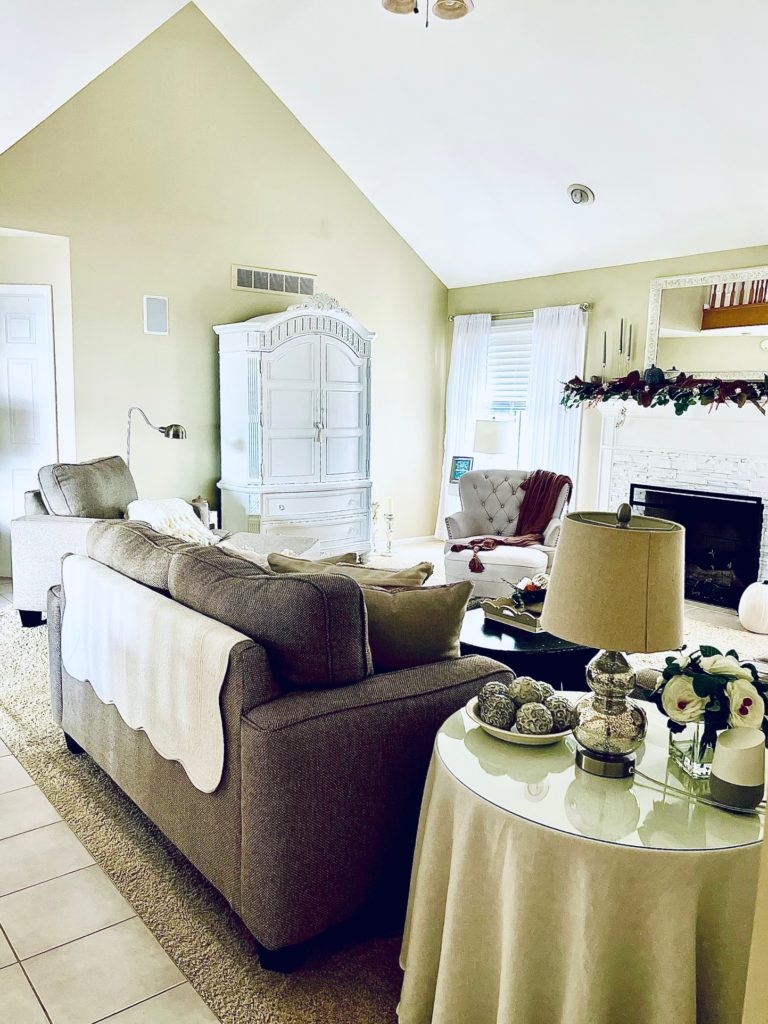 I added faux flowers and pumpkins to my fireplace mantel and added a rust color throw to a chair to enhance with the leaves on the fireplace. I used the same gray style candles on the fireplace that I placed in the foyer. I also added a gray pumpkin to the mantle and this one lights up as well!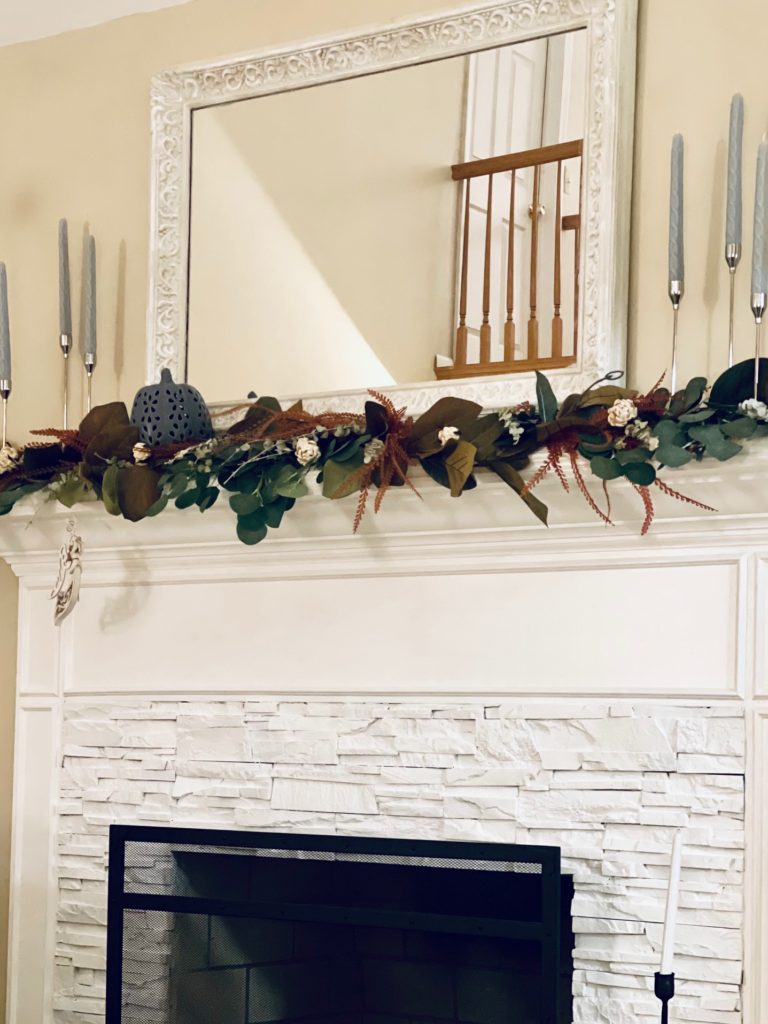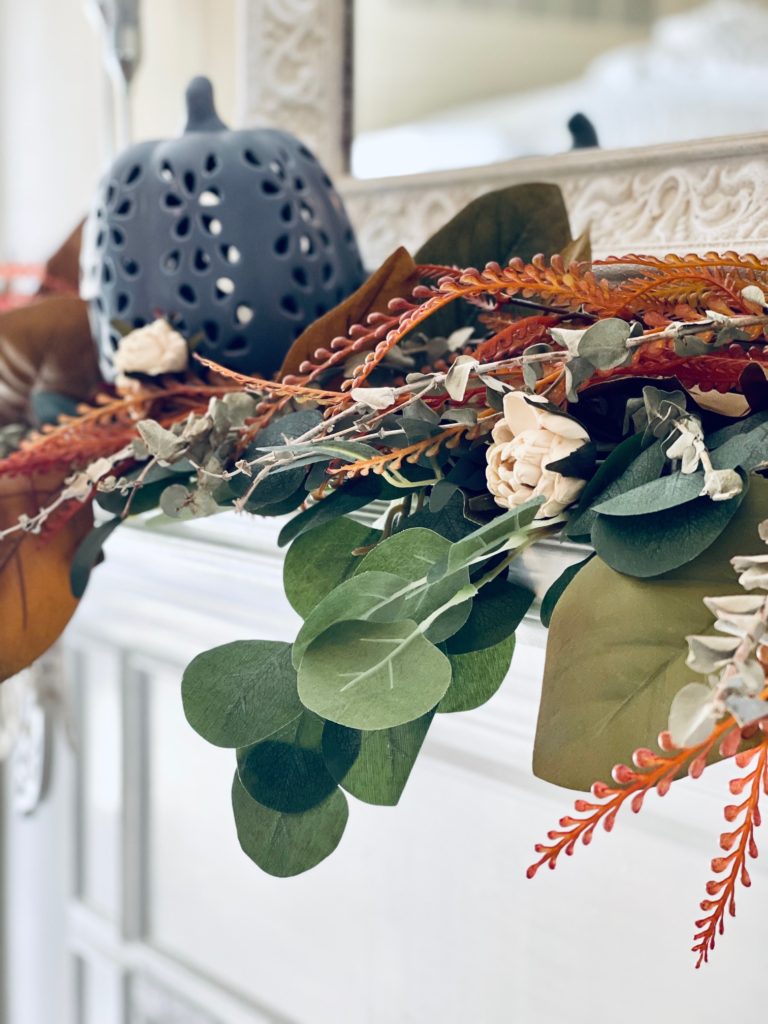 Layering different leaves, vines, faux and real eucalyptus leaves gave my mantel that fall statement I was looking for. Adding a few flowers I think gave it that subtle something that was missing.
Creating little centerpiece's around the house add's some fall touches all through my home.
The little bowl on my coffee table with a mercury glass pumpkin and fall foliage is an example of a little centerpiece I like to create and place around my home.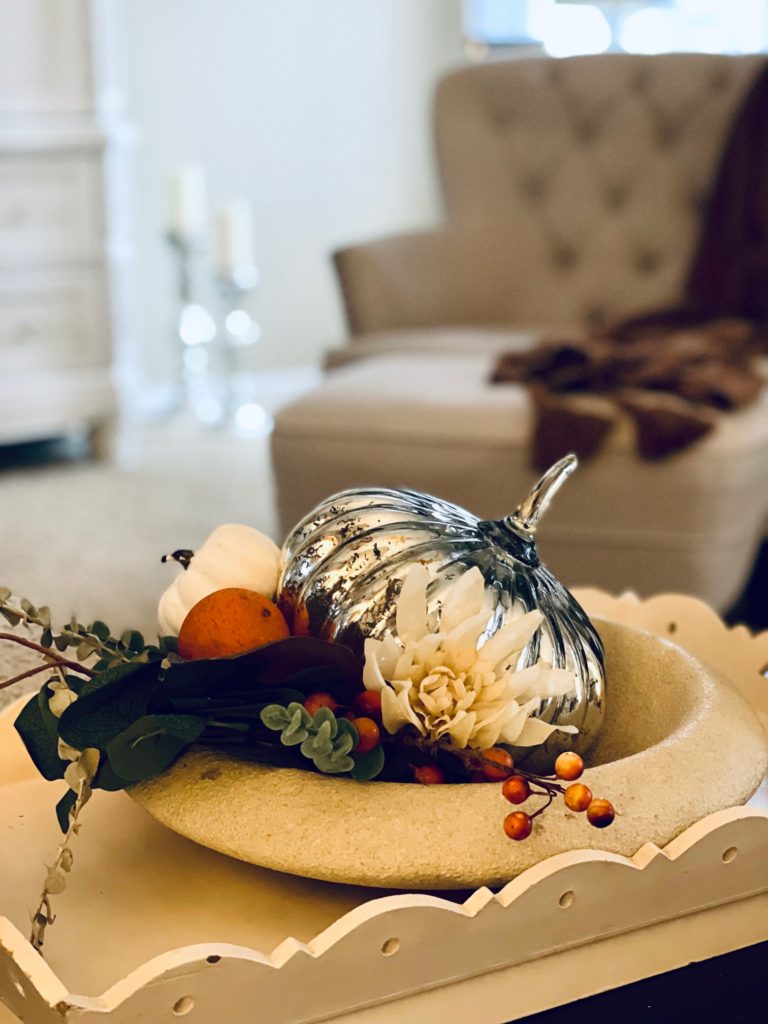 Kitchen
The kitchen is the room I spend most of my time and I wanted to add fall there as well, but still be able to use my counter's and the island for preparing meals. I cook and bake often during the holidays, especially fall baking!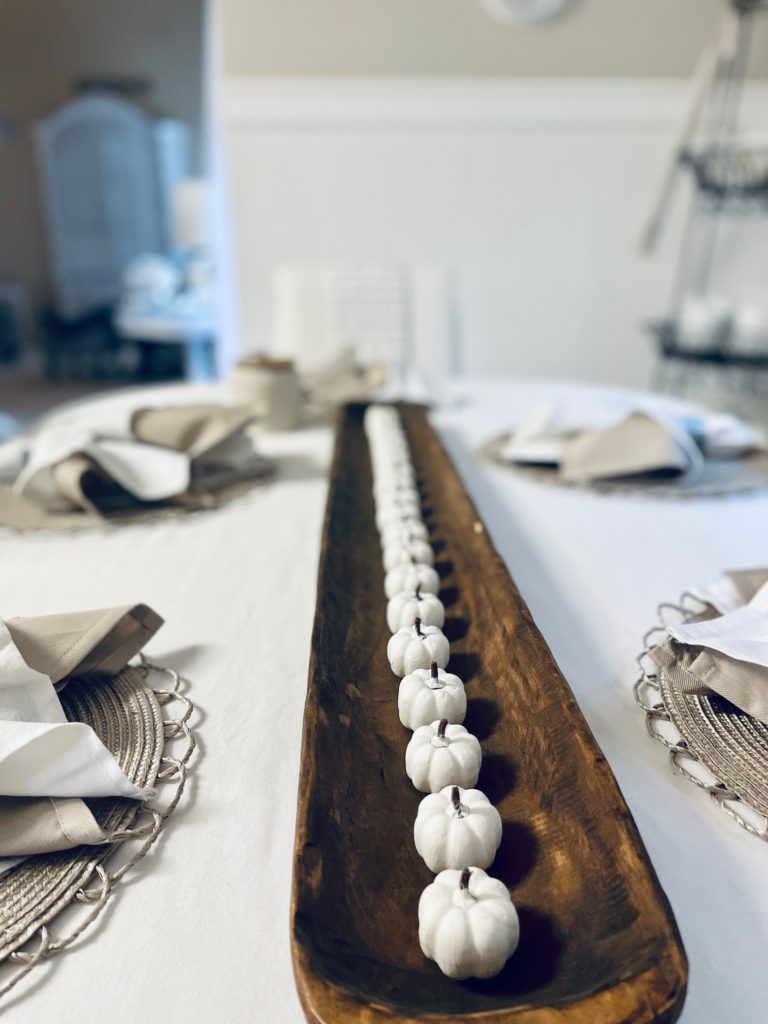 I added a cute little pumpkin and tucked in the corner of the counter with a pretty plate for fall!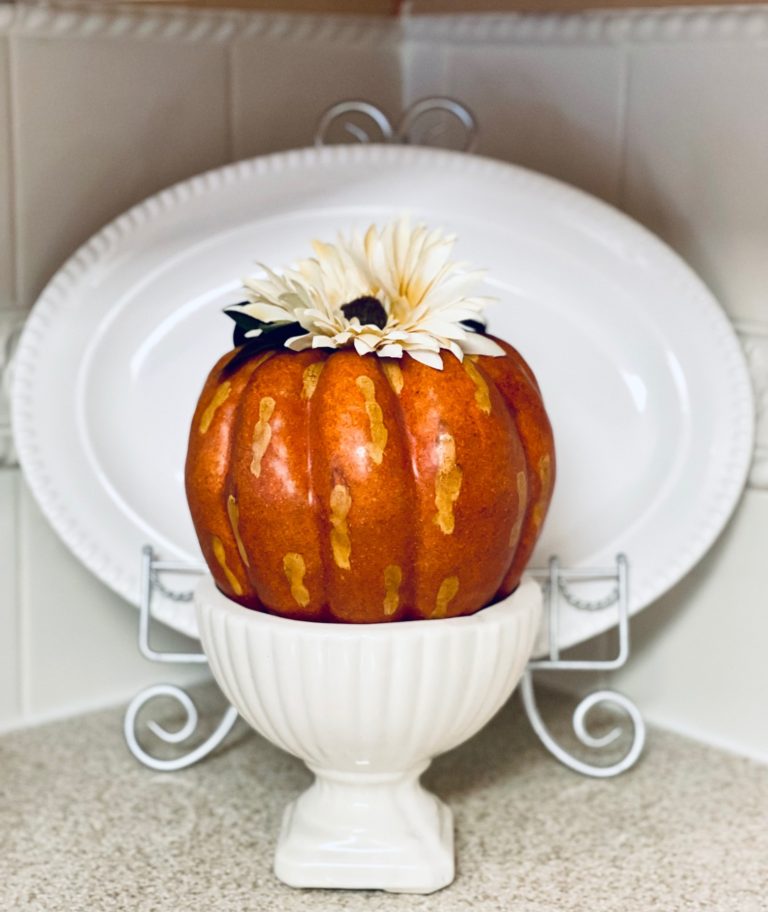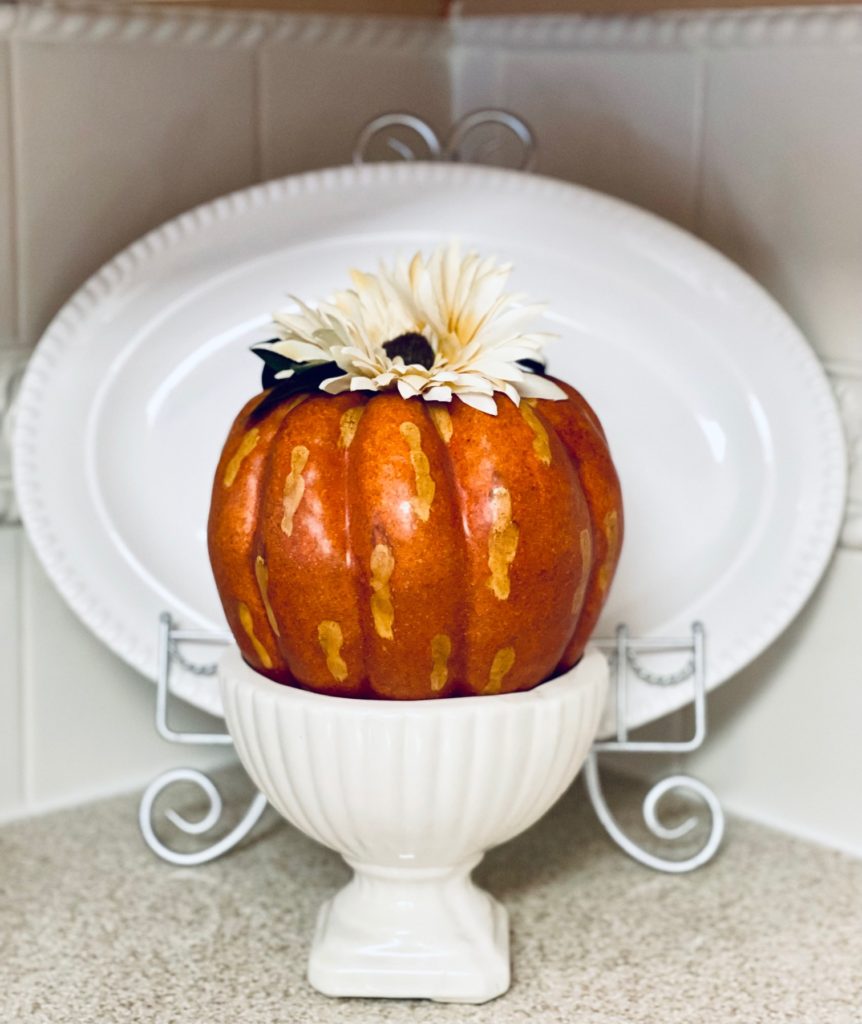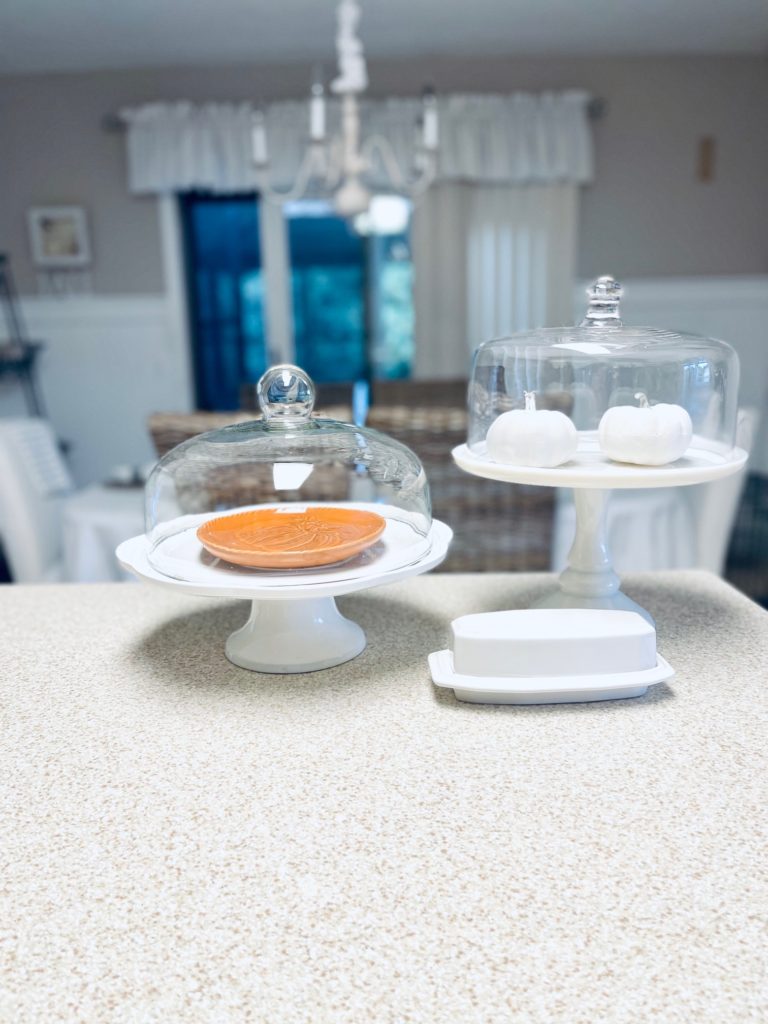 I added a few pumpkins in my little corner dish holder. I always add something seasonal to my cake domes at the end of my counter. Sometimes there are desserts in there when I make them Lol!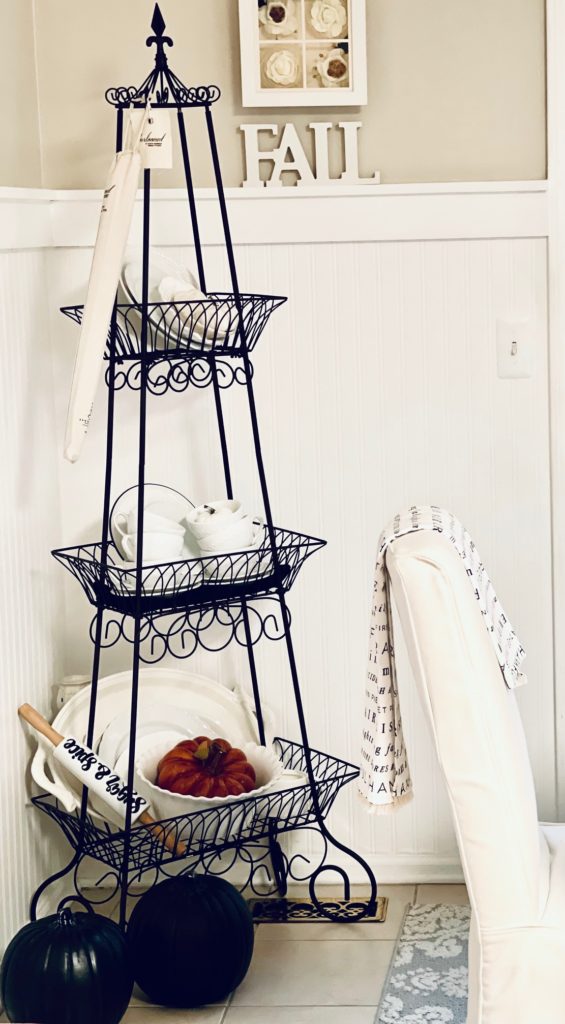 Adding fall to a little stand I have in the kitchen and as you can see I like to decorate with lots of pumpkins for fall!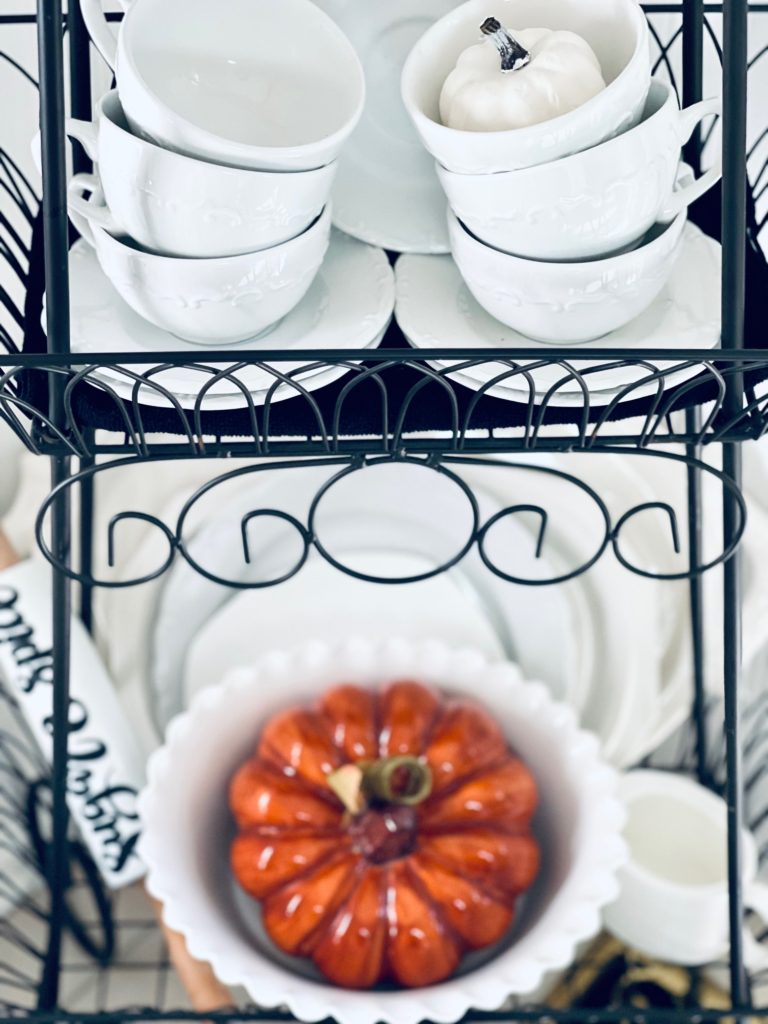 Bedroom
Touches of fall are in the bedrooms too! Pumpkins, gourds and fall flowers add a nice touch to any room!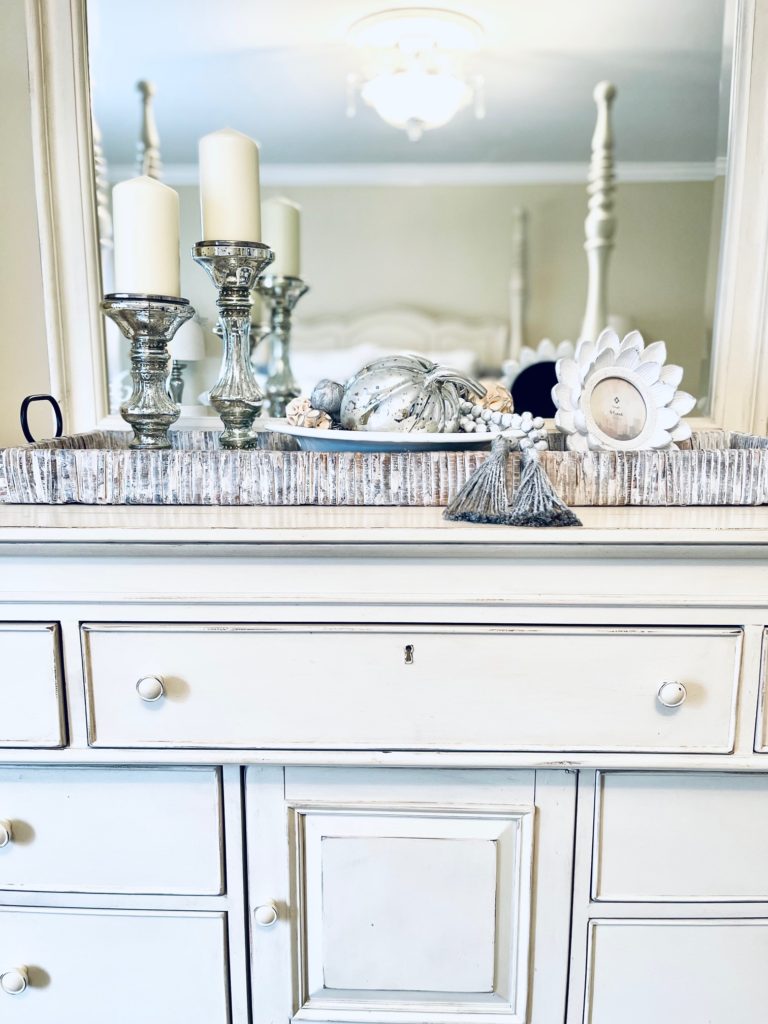 Fall Decorating Ideas
Pumpkins: are a great idea to use around the house inside and outside. Using different sizes and colors. Place pumpkins in a china cabinet, on a shelf, in a bowl or place on a plate with a flower.
Fall Florals: Using fall flowers, foliage and stems with your decor is a great way to spread fall! For a centerpiece place in vases or even tie florals with a ribbon and placed on a table will add fall through out the home.
Throw Blankets: Fall color throw blankets make a room so cozy. Also add some fall pillows.
Dishes: So many way's to use dishes in your holiday decor. Place them in a stand on the island or on counters in the kitchen, lean against the backsplash wall and add a seasonal decor item in front.
Bowls: Add bowls to the decor with a candle placed in a bowl as a holder for a candle and place on a table.
Candles: I like soft light's in the fall, add candles that are battery operated which are my favorite because it's safer. Place them through out the home in dishes, hurricane lanterns, and or wall sconces.
So many ideas to add the fall season around the house!
I always try to keep it simple but sometimes I keep adding a few extra touches, lol! I was going to keep it simple this year but everyday I find I add something new! Pretty sure I'm done now!
I hope you are enjoying the fall season so far!
I've actually been busy planning our little Halloween dinner party I have every year. Of course I'm keeping it with a fall theme! I love all the entertaining the holiday seasons offers!
Blessings for a happy fall season!!!!
Mary Anne,