Welcome To My Fall Home Tour 2020
Happy Fall!
Fall is my most favorite season! I love the smells of fall and all the colors, the crisp weather, the time change, and the fall fashion!!!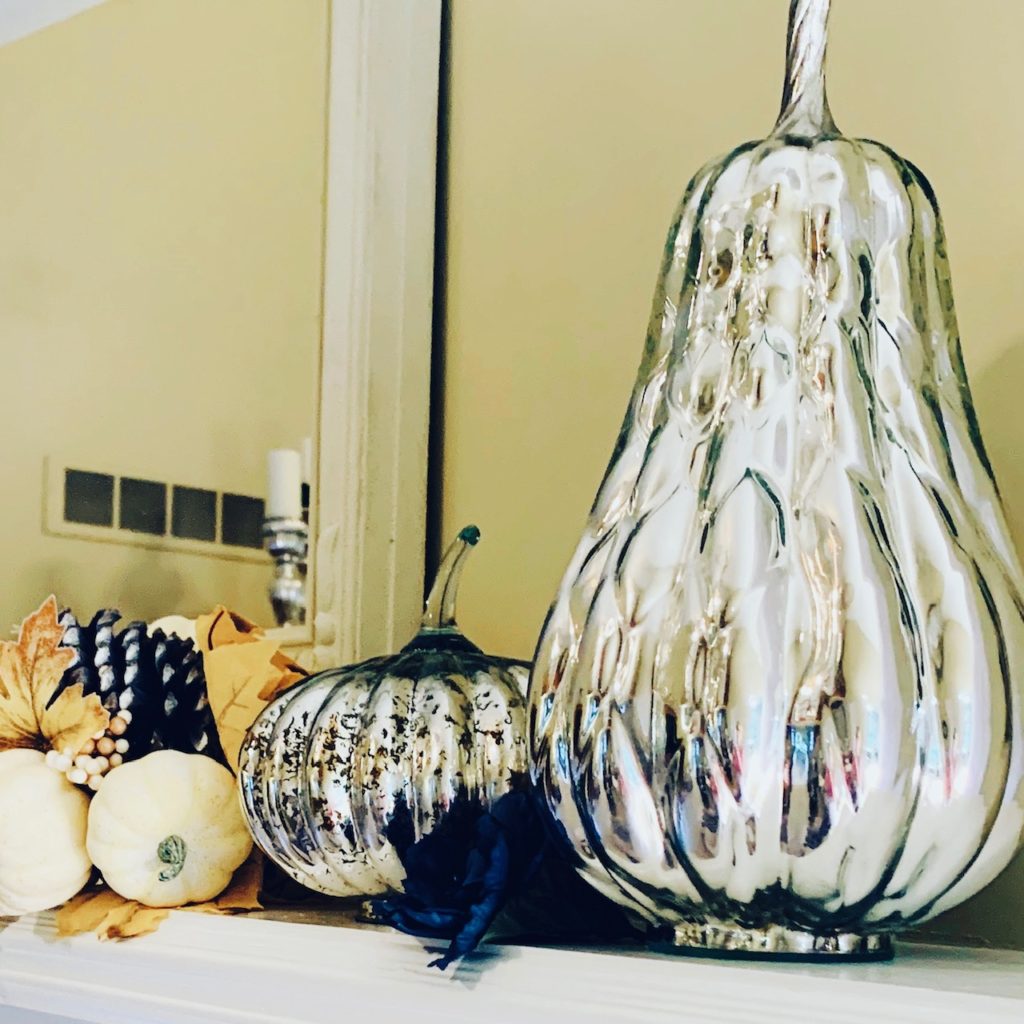 I love everything about fall and 2020 will be no different. The apple orchards are all open with apple picking, the sweet taste of cider, and the seasonal donuts!!! I'm not sure if you know but I have to eat gluten-free and now the cider mills have gluten-free donuts. This is so exciting! I can enjoy a donut with my family now!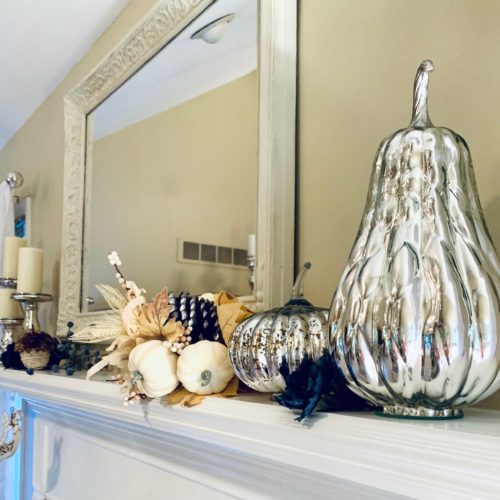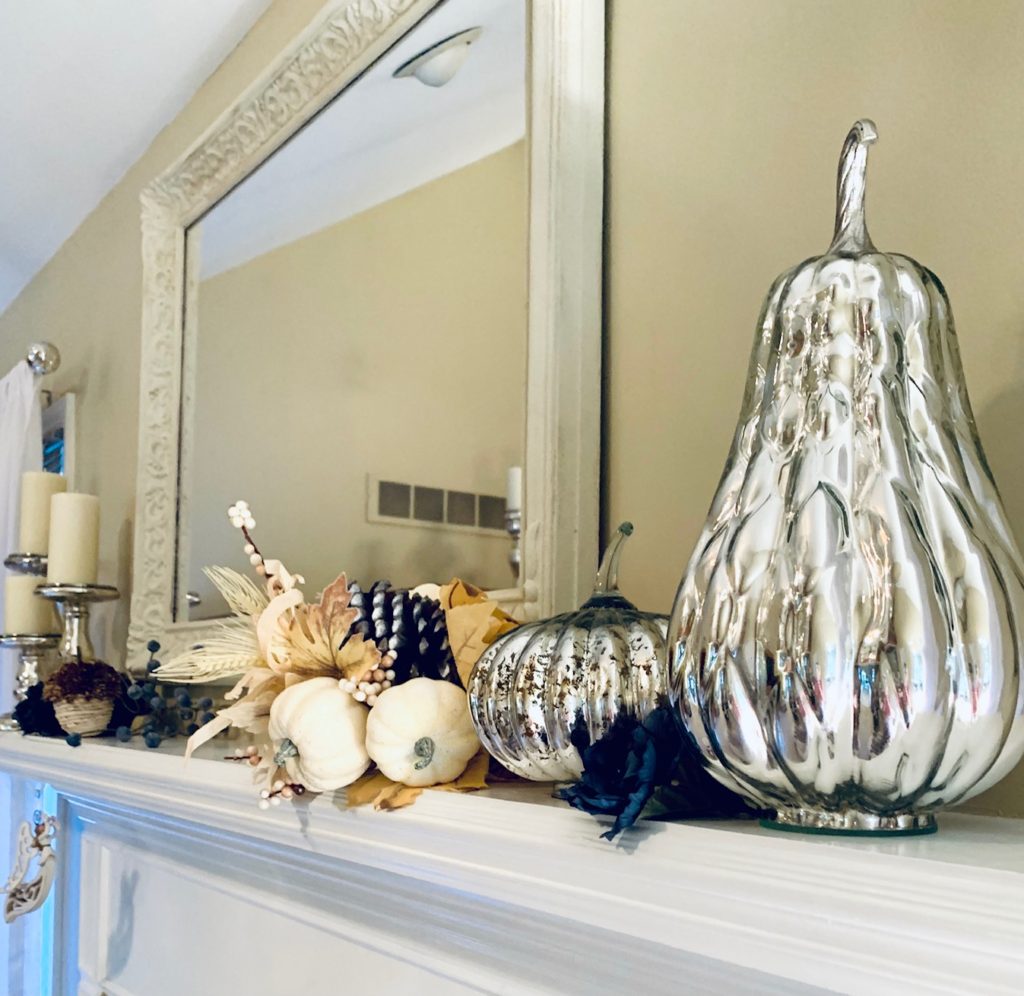 This year I really kept the fall decorating very simple. I added a little fall to each of the rooms in my home with just a few light touches of decor.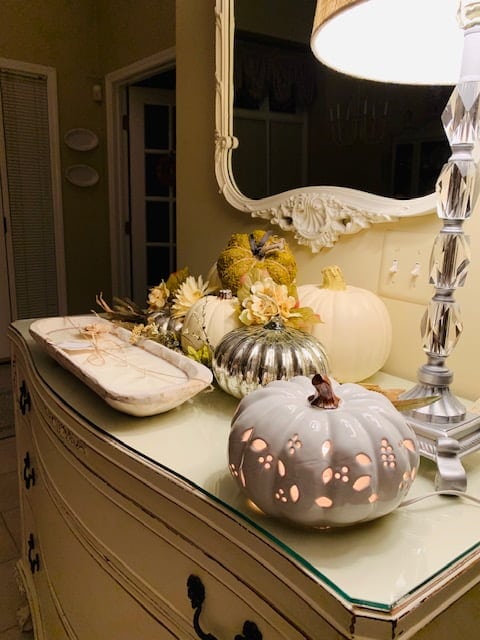 Fall Home Tour 2020
This evening we are having guest over to our home for a fall dinner. Something we haven't done in a while. So this little fall display in my foyer was just thrown together. I actually was running out of time, our guest were due to arrive at our home any minute and I just pulled this fall vignette together!
Adding fall decor to my home I like to add a mixture of pumpkins, scented candles of pumpkin and vanilla, with dough bowls, faux florals, pinecones and some fun mood lights!
We also had our first 2020 fall fire in the fireplace! The weather has been unseasonably warm during the day but that's okay because the evenings have been cooler!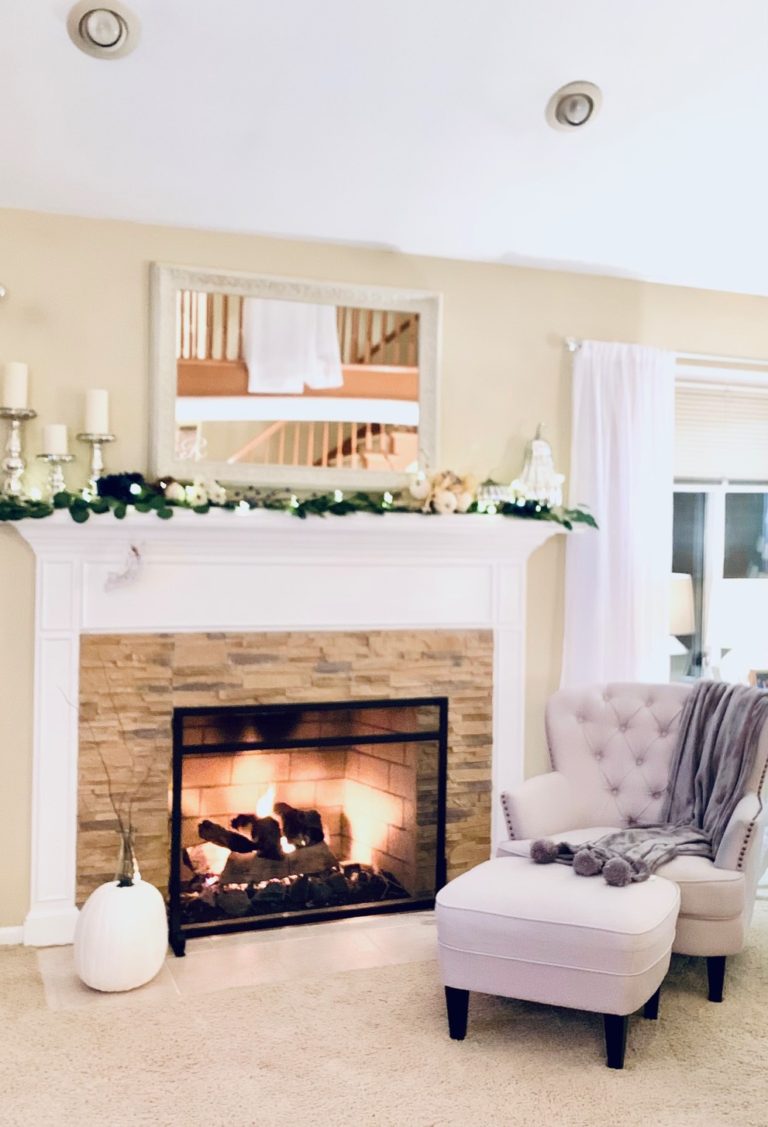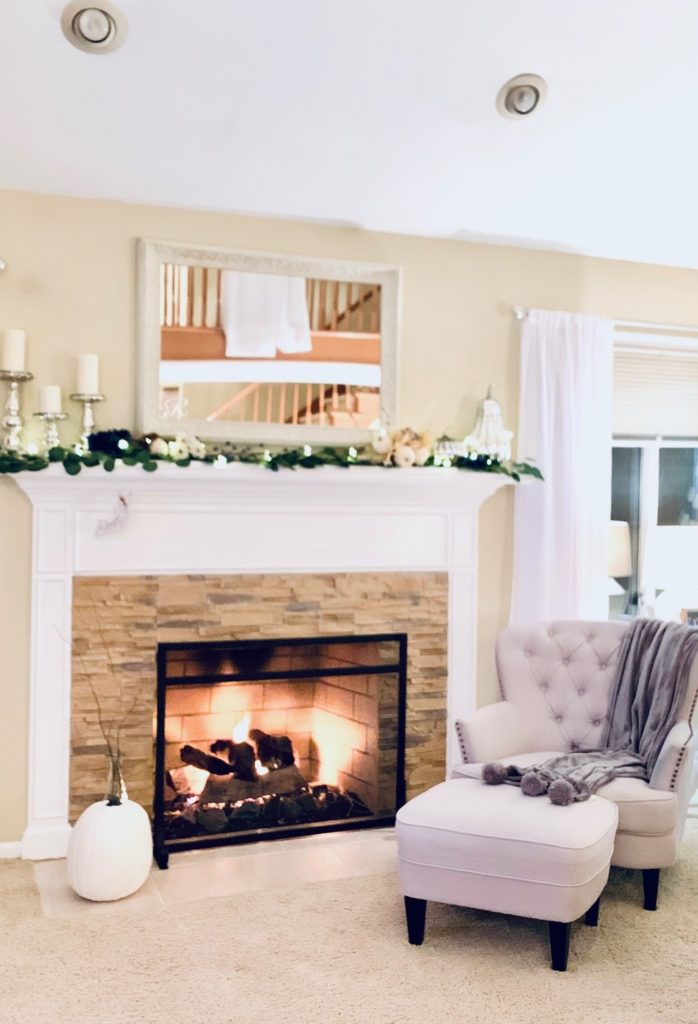 As I said this year I've kept the season's decor simple for 2020. Well except for the dinning room. I did set a special table scape for our dinner party. For the centerpiece I used pumpkins in different sizes and colors, added faux fall florals, a few faux acorns, all displayed in my dough bowl. I placed little votive candles at each place setting, this really set the mood for a cozy fall evening.
Fall Table Scape 2020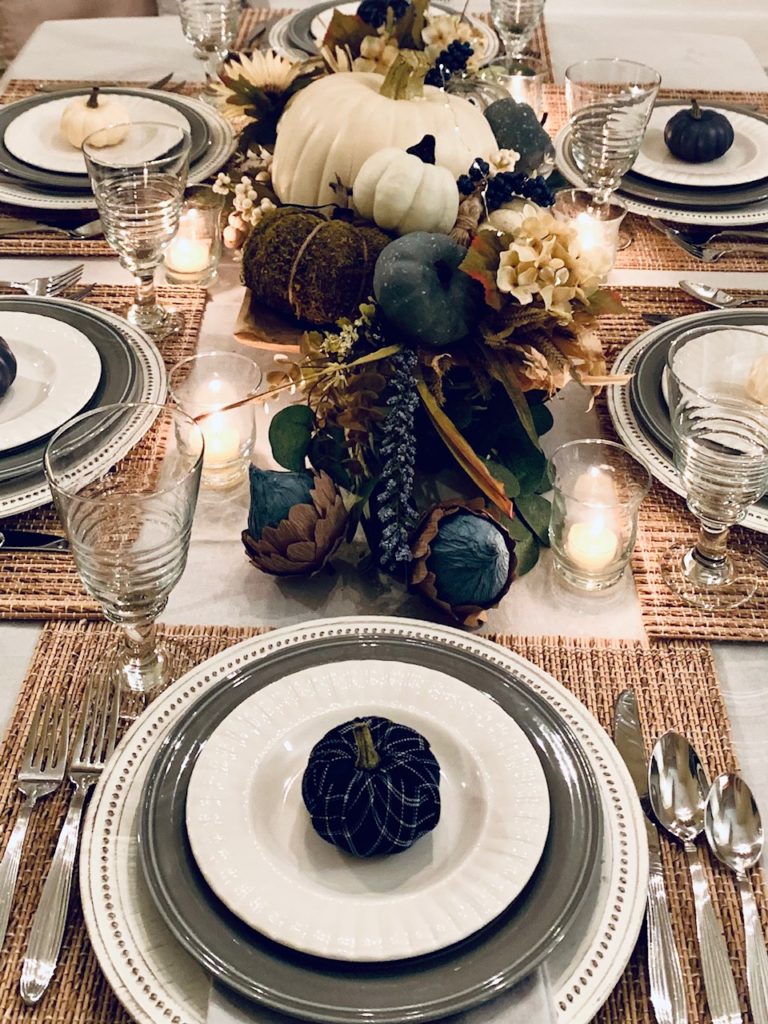 Let's take a little tour around my fall dinning room table scape. I like to use a low centerpiece on the dinning room table so my guest are more comfortable have conversation. I also choose candles with little glass votives, these also are set low.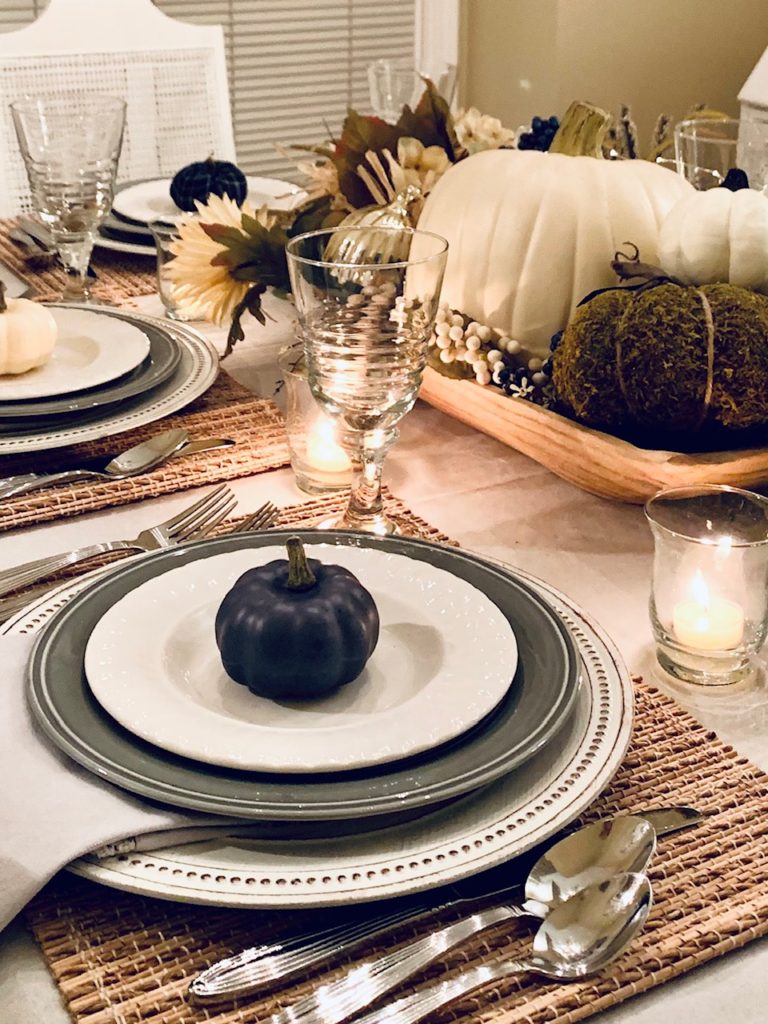 Mixing up the dishes for the each place settings, place mates with different textures and fall colors make this table scape comfortable! I think the crystal goblets compliment the china plates and stone wear beautifully and the bamboo texture of the placemat.
Adding a texture bamboo placemat keeps with the casual feel of the fall table scape.
I placed a little pumpkin at each place setting for a little special fall cuteness. A few of the pumpkin were decorated with plaid fabric and a few were painted.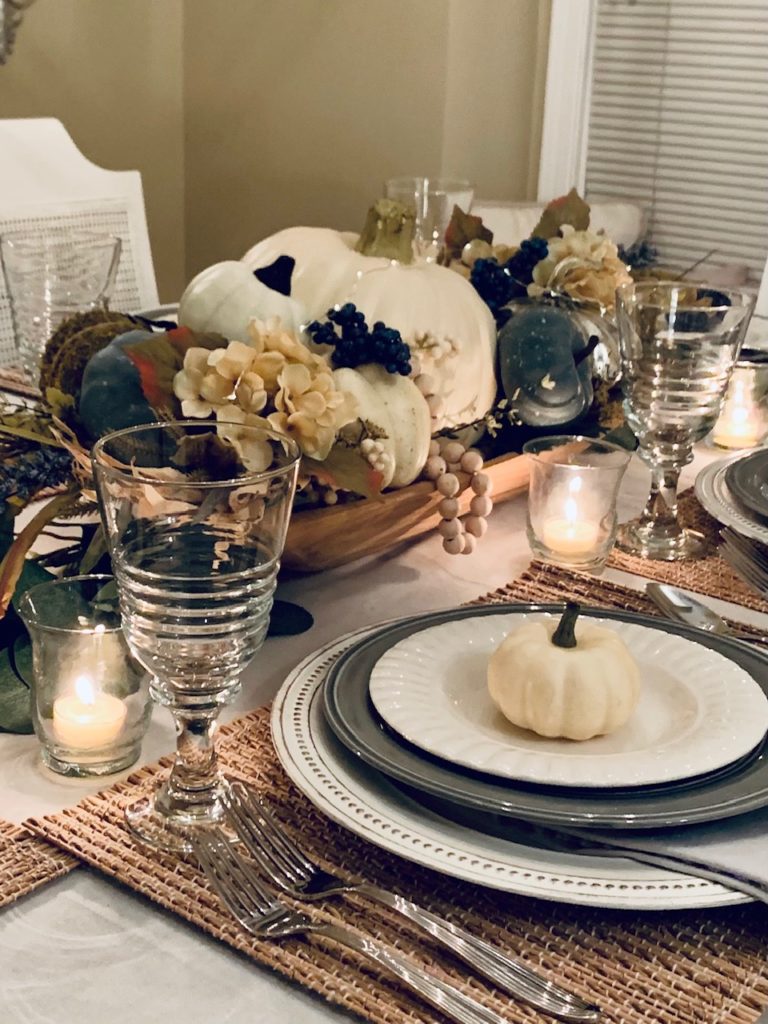 Items I Used For My Fall Home
Pumpkins: Use faux pumpkins in different colors and sizes through your home.
Faux Florals: Flowers real or faux for fall placed in the rooms will brighten any home.
Different Textures: Creating a fall table scape with different textures adds depth to your decor.
Mixing Patterns: Using color combinations of mixed fall patterns will give a seasonal beautiful look.
Adding something special: A little something unexpected a special touch such as a pumpkin at each place setting gives a table scape that extra feel.
All About Our 2020 Fall Dinner
Our fall meal was simple. We had a pear salad with mixed greens, a balsamic vinaigrette dressing, homemade zucchini bread, and red wine braised short ribs with buttered mashed potato's!
We really enjoyed this seasonal evening. Sometimes when having guest over or a party at my home it gets me moving and I get things done!
I've added other little touches of fall throughout my home, it makes me so happy to see the season added to the rooms in my home!
I'm always excited for a wardrobe change from summer clothes to fall clothes, The sweaters, boots, light jackets and jeans are perfect for the Michigan fall weather!
Adding all the fall warmth to my home makes me so excited and happy!
I hope you enjoyed my Fall Home Tour 2020!
Wishing you the best this season and all that fall has to offer!
Happy Fall To you!
Blessings,
Mary Anne,
I'm sharing the recipes from out dinner party just in case!
Pear Salad with Balsamic Vinaigrette Dressing
Pear salad with mixed lettuce and balsamci vinaigrette dressing
Equipment
Plater or salad plates

Strainer

Grater

Cutting board

Knife

Salad Tongs

Dressing shaker

Measuring cups

Measuring spoons
Ingredients
2

cups

Mixed lettuce per person

12 cups total for 6 people

4 oz

bag

Spinach

2

Bosc pears

warm cinnamon color

4

Persian cucumbers 

Optional

8 0z

Wedge of parmesan cheese

I used BelGioioso for it's sweet and nutty flavor

1

pinch

Salt and Pepper
Balsamic Vinaigrette Dressing
2/3

cup

Olive Oil

extra virgin/ light

4

tsp

Dijon mustard

4

tsp

Maple syrup

6

tbsp

Balsamic vinegar

1

tsp

Kosher salt

Add to taste

1

tsp

Pepper

Add to taste

1

small garlic peeled and smashed
Instructions
Wash and drain the mixed salad greens

Wash, dry and thinly slice the pears

Wash, dry and thinly slice the Persian cucumbers 

Lay the lettuce on a plater or salad plates

Next add the Persian cucumber and pears laying them on the bed of lettuce

Optional, pinch the salt and pepper over the salad

Shave the wedge of parmesan cheese over the salad into nice thin slices
Balsamic Vinaigrette Dressing
Peel, crush or smash the garlic gloves

Add all ingredients to either a salad shaker or bowl and shake or stir until well blended

Pour over salad and serve
Notes
This recipe makes 6 servings with 2 tablespoons of dressing for each serving.
The pears will brown quickly so it is best to add the pears right before you serve the salad.
The Balsamic vinegar is the star ingredient in balsamic vinaigrette dressing so you'll want to use good quality. 
You could also use honey in place of maple syrup.
Gluten Free Zucchini Bread
Equipment
Bowl

Wooden Spoon

Hand mixer or Kitchen aid mixer

Whisk

Measuring cups

Measuring spoons

Grater

Bread pan or mini bread pan

Oven at 350 degree
Ingredients
1 1/2

cups

King Arthur Gluten Free 1:1 Flour

1/2

cup

Gluten Free Oat Flour

I use Bob's Red Mill Gluten Free Oat Flour

2

tsp

Gluten Free Baking Powder

1

tsp

Gluten Free Baking Soda

1/2

tsp

Salt

1 1/2

tsp

Cinnamon

1/2

cup

White sugar

1/4

cup

Brown Sugar

2

Eggs

1/2

cup

Apple Sauce

1/4

cup

Milk

I use lactose free, you could use coconut milk as well

3

tsp

Gluten Free Vanilla

2

cups

Grated Zucchini

Make sure the zucchini is dry by pressing out any liquid

1/2

cup

mini chocolate chips

Optional

1/3

cup

walnuts or pecans

Optional
Baking Pan/ Pans
1/2

cup

Powdered Sugar

use for baking pan

2

tbsp

Vegetable Oil

use for baking pan
Instructions
In a bowl mix together all dry ingredients and set aside

Then mix together with a mixer the wet ingredients except for the zucchini

Next fold in the wet ingredients to the dry ingredients with a wooden spoon

Add in the zucchini by folding into the mixed ingredients

Add in the optionals by folding into the mixture
Preparing baking pans
Grease your bread pan or pans and dust with powder sugar

Pour mixture in the bread pan or pans if using mini bread pans
Notes
When making the zucchini bread you'll want to add all of your dry ingredients together using a whisk to blend the dry ingredients.
Blend all of your wet ingredients together except for the zucchini, you add the zucchini after you have stir you wet ingredients into the dry ingredients by folding the dry and wet together.
Then add in your zucchini by folding into the mix and add in your options in the same manner.
This mixture makes one loaf or 6 mini loafs of bread.
I really like the mini loafs texture, they will cook for 25 to 30 minutes in a 350 degree oven placed in the center rack. 
If you make a one loaf bread it will cook for 45 to 50 minutes in a 350 degree oven placed in the center rack.
Buttery Mashed Potato
Creamy buttery mashed potato
Equipment
Bowl/Pot

Hand Mixer

Spoon

Measuring spoons
Ingredients
8

Potatoes

I used Russet potatoes

4

tbsp

Butter

or yogurt butter,

1

can

Evaporated milk

or regular milk, lactose free milk,

1

tsp

Salt

Add to your taste

1

tsp

Pepper

Add to your taste
Instructions
Boil the russet potato's 10 to 15 minutes or until soft

Drain the water from the potato's

Add can milk, a little at a time, you may not use the whole can, it depends on how creamy you like your mashed potato's

Mix on high speed until you reach the consistency or thickness you like

Add salt and pepper and serve
Notes
Buttery Mashed Potato's 
8 Russet Potato's
4 Tablespoon's of Butter
1 Can of

Evaporated milk
Salt and Pepper to taste
Boil 8 potato's for 10 to 15 minutes, or until soft
Drain the water from the potato's, make sure to drain well and let potato's sit for five minutes before adding the other ingredients to the potato's.
Add butter, half can of milk, using a hand mixer on medium to high speed, mix potato's butter and half of the can milk, you can add more milk as you're mixing depending on the

consistency or thickness you like.
When done mixing add the salt, pepper and serve. 
Red Wine Braised Short Ribs
Red Wine Braised Short Ribs
Equipment
8 quart sauce pot

Slotted spoon

Cutting board

Measuring cups

Measuring spoons
Ingredients
5

lbs

Beef Short Ribs

1/3

cup

Gluten Free Flour

1

tbsp

Olive Oil

3

Large Carrots

2

Stalks of celery

1

tbsp

Fresh rosemary chopped

4

cups

Gluten Free Beef Broth

1 1/3

cup

Gluten Free Vegetable Broth

2

tbsp

Tomato paste

1

cup

Gluten Free Dry Red Wine

1/2

lbs

Parsnips

1

Cooking onion chopped

2

Garlic Cloves

2

tsp

Salt

to taste

2

tsp

Pepper

to taste
Instructions
Season the beef with salt and pepper and half the flour

Heat the oil in an 8-quart sauce-pot over medium-high heat.

Add the beef in 2 batches and cook until well browned on all sides. Remove the beef from the sauce-pot.

Add the onions and tomato paste to the sauce-pot and cook for 5 minutes, stirring occasionally. 

Stir in the carrots, celery, chopped garlic and rosemary, parsnips, and cook for 3 minutes. 

Stir in the stock- broth's, wine and remaining flour and heat to a boil. Return the beef to the sauce-pot.

Reduce the heat too low. Cover and cook for 1 hour 35 minutes or until the beef is fork-tender.
Notes
This recipe I found on the all-recipe site.
Make sure you purchase good cuts of beef. Brown the ribs on all sides.
You could omit the red wine if you would like and add more broth, measuring the amount of the red wine.