This Gluten Free Sweet and Sour Chicken is a sweet tangy mixture of goodness with simple healthy ingredients!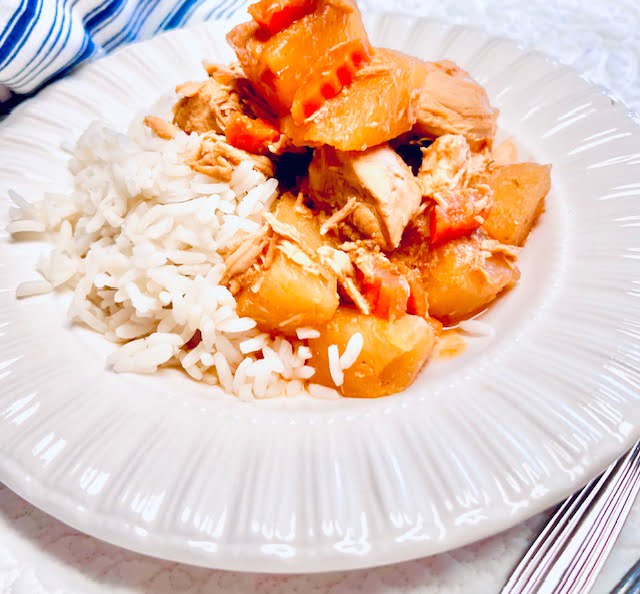 This recipe I found on line some years ago. I started googling Sweet and Sour Chicken recipes because I was missing some of my popular Chinese food. Sweet and Sour chicken has been my favorite Chinese foods since I was a little girl!
A person with food allergies or intolerance's can find it challenging to eat out at a restaurant. If you're like me and have Celiac Disease or even a gluten intolerance than you know this challenge is real!
The recipe is so easy to make and it's really delicious!
When I make this recipe I feel like I'm able to have one of my favorite meals and I know it's safe!
I did change a few ingredients from the original recipe to adapted it more to my food allergies and preferences.
This recipe is made in a crock pot! Which is heaven to me!! I love to use a crock pot when I can! One pot and it's east peasy clean up!
Some simple ingredients are all that's need in this yummy recipe! Chicken breast, carrots, peppers, pineapple, and a few other ingredients to make a delicious savory sweet sauce! And… did I mention it's all made in a crock pot!!!!
This dish is made a little healthier than the original version. It has protein, vegetables, and pineapples with a sweet tangy sauce that's not loaded with sugar!
Using the crock pot allows all the flavors of the sauce to enhance the chicken. The chicken comes out so tender! I add the vegetables and pineapple during the last hour of cooking to hold the texture and nutrients.
What you'll need to make this recipe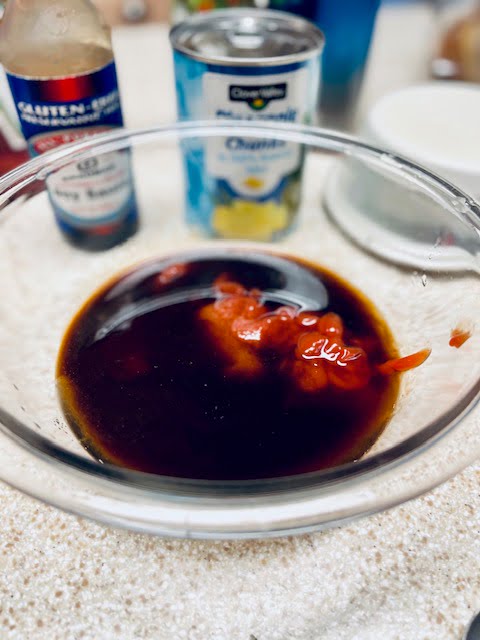 Chicken- chicken breast, I used chicken breast tenders, easier to cut into pieces.
Balsamic Vinaigrette- gives a nice sweetness, but make sure to use a gluten free brand. I used Walden Farms. I really like that it has zero calories.
Soy Sauce- add's a tangy taste. I used gluten free Kikkoman, it has a nice flavor and is a little lower in sodium.
Ketchup- Hunts ketchup is gluten free, they also make a gluten free low sodium ketchup.
Minced Garlic- fresh garlic is great, or I buy it already crushed It saves some time.
Salt
Sweetener of choice- I used Trader Joe's organic brown sugar, low sugar maple syrup, or any sweetener will work.
Water
Pineapple- Fresh or can pineapple work, I used chuck pineapple from a can, packed in pineapple juice. Save 2 tablespoon of juice to add to the recipe.
Carrots- whatever brand you prefer, in this recipe I used cut up carrot chips
Green Bell Pepper or Red Bell Pepper
How To Make Gluten Free Sweet and Sour Chicken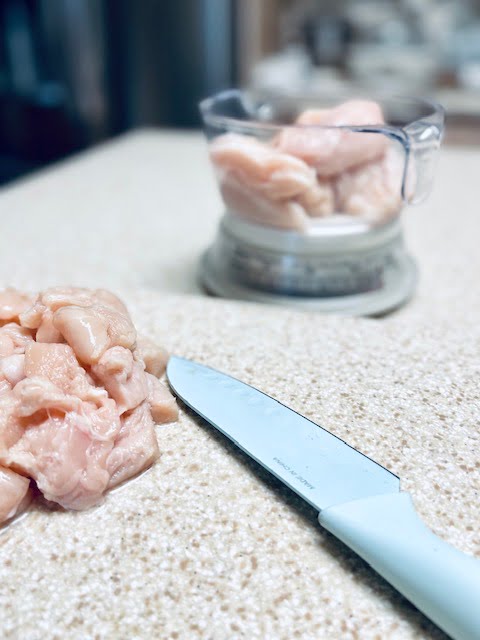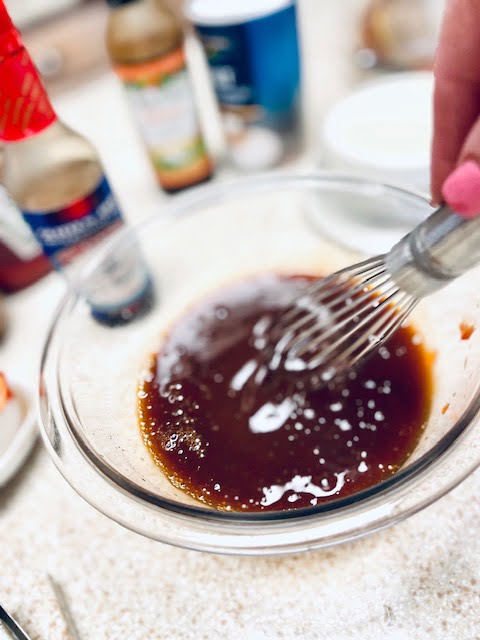 Spray crockpot with a gluten free cooking spray.
Prepare your vegetables by chopping into small pieces.
Cute the chicken breast into small pieces.
Add chicken pieces to the crock pot and turn on the temperature to either low heat, cooking for 6 hours or high heat and cook for 3 hours.
In a medium bowl whisk together the ingredients for the sauce and add it to the crockpot. Place the cover on the crock pot and cook.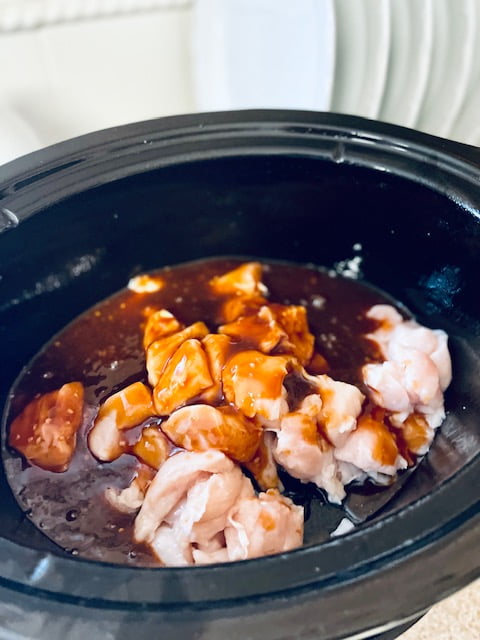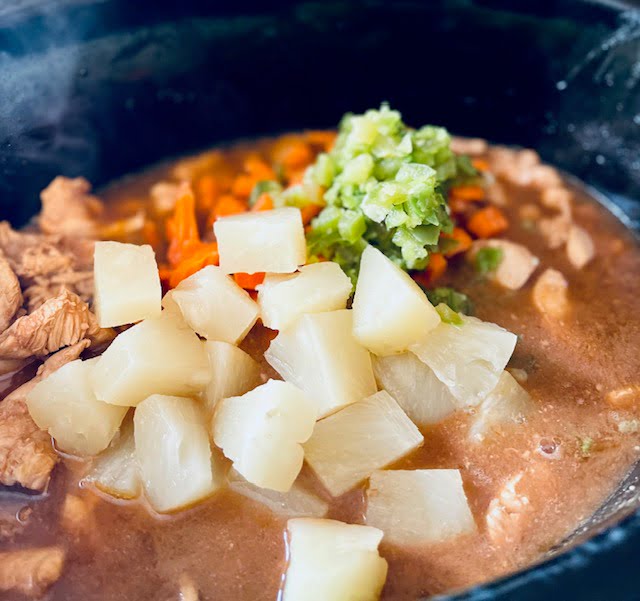 6: One hour before the recipe is done place vegetables in the crock pot.
When done serve over long grain rice, gluten free orzo, or quinoa.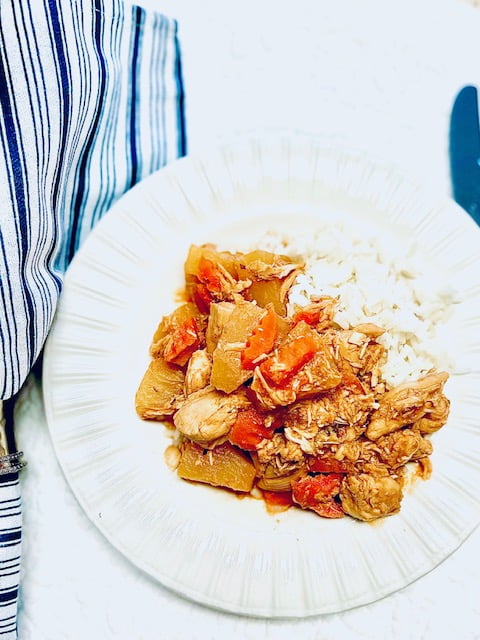 Tips:
Apple Cider Vinegar works well in place of the balsamic vinaigrette as well as white vinegar.
Sweetener of choice, I used brown sugar but sugar free maple syrup works well, as does honey or a sugar free syrup.
For a thicker sauce leave the lid off for an half hour before serving or remove a half cup of liquid and mix with 1 1/2 tablespoons of gluten free cornstarch. Then add it back to the crock pot.
Add the vegetables an hour before recipe is done for the best texture.
Optional, you could add water chestnuts and sesame seeds for a nutty taste.
All the items I used to help create this recipe you can find at Amazon https://www.amazon.com/b?tag=houseofmar6-20&linkCode=ur1&node=5622719011
I've started to share some of my gluten free recipes on my blog. Here's a peach cobbler family recipe that is a great summer dessert.https://houseofmar.com/gluten-free-peach-cobbler/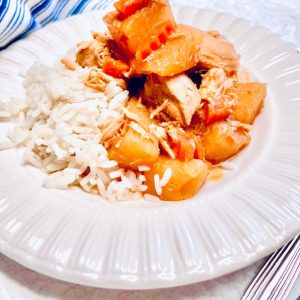 Gluten Free Sweet and Sour Chicken
Equipment
1 Crock Pot

1 Bowl

1 Wooden Spoon

1 SPATULA

Measuring cups

Measuring spoons

Food Scale
Ingredients
2

lbs

Chicken Breast

4

tbsp

Gluten Free Balsamic Vinaigrette

2

tbsp

Gluten Free Soy Sauce

1/2

cup

Gluten Free Ketchup

1

tbsp

Sweetener of choice

1/4

Salt

2

tsp

Minced garlic

2

tbsp

Pineapple juice

2

tbsp

Water

1

cup

Carrots

1

Can chunky pineapples

1

Bell pepper red or green
Instructions
Whisk together the ingredients for the sauce

Balsamic Vinaigrette, Soy Sauce, Ketchup, Sweetener of choice, Salt, Minced Garlic, Pineapple juice, Water.

Set aside,

Cut up vegetables into bite size pieces.

Cut up chicken breast into bite size pieces.

Spray crockpot with cooking spray,

Place chicken in the crockpot and then pour sauce over the chicken.

Cover crockpot and set temperature to cook on low for 6 hours or on high for 3 hours.

When done serve over long grain rice, orzo, or quinoa
Notes
Tips,
Depending on the crockpot the recipe could cook a little longer.
To thicken the sauce remove lid for about a half hour before recipe is done, or remove 1 cup of sauce and mix together with 1 1/2 tablespoon of cornstarch and replace to crockpot.
Choice of sweetener , brown sugar, low sugar maple syrup, sugar free syrup, honey,
Optional: add water chestnut for a nutty taste or sprinkle sesame seeds on top. Garnish with green onions.
If you add vegetables in too early they will become very soft.