How to make The Best Gluten Free Pumpkin Bread!
Gluten Free Pumpkin Bread is one of my favorite's in the fall! I just love the aroma that flows through the house when baking pumpkin bread in the oven! It smells like fall!
This gluten free pumpkin bread recipe is so easy to put together! It's such a yummy treat and you can add a little extra goodness to it too! The health ingredients in this bread are sure to please anyone! Adding a little bit of chocolate to pumpkin is so… well what's not to love! Chocolate and pumpkin are great ingredients to combine.
It's the best!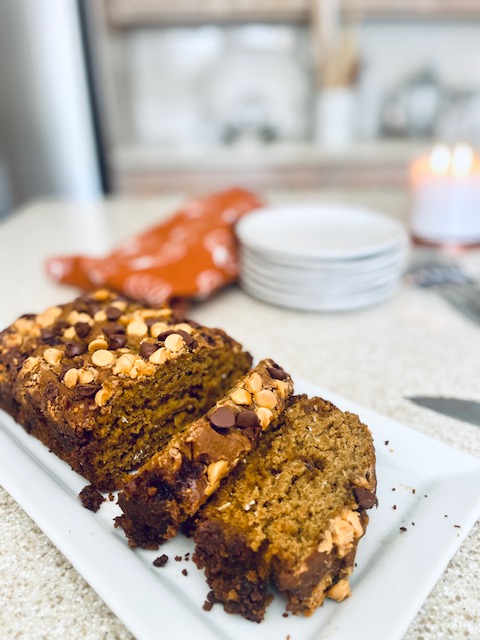 I've also added butterscotch chips to this recipe and yum!
If you've been reading my post for a bit you may notice I will add other ingredients in place of chocolate. I don't tolerate chocolate as well, oh but I do love the taste of chocolate especially with pumpkin. So you'll see in many of my recipes I add in other ingredients in place of chocolate.
Okay so lets get started making our Gluten Free Pumpkin Bread!
Ingredients:
Ingredients you'll need to make The Best Gluten Free Pumpkin Bread:
Bod' Red Mill Gluten Free Old Fashioned Oats: These are certified gluten free oats. Not all oat's are certified.
Maple Syrup or Honey: Either of these will work in this recipe. I used Maple Syrup because I'm allergic to Honey.
Egg's: I always use brown cage free range eggs their more tolerable.
Apple Sauce: I used unsweetened because of less sugar. You could also use 2/3 cup of banana's.
Milk: I used oat milk, lactose free milk works great, as does almond milk.
Vanilla Extract: Any vanilla extract will work, I did use pure vanilla extract. I always make sure to check that it's gluten free.
Baking Soda: Make sure to use gluten free baking soda it is such an important ingredient to use when baking, it binds all ingredients and it also helps to make the bread rise.
Salt: salt is a binding agent in baking.
Cinnamon: The ingredient cinnamon enhances the taste of pumpkin. The cinnamon most people purchase is from the bark of the tree. Cinnamon has many health benefits, did you know it also contains fiber!
Pumpkin Pie Spice: Usually pumpkin pie spice mix with contain a mixture of the pumpkin spice, cinnamon, ginger, nutmeg, cloves, and sometimes all spice. If you have nut allergies you would not want to use the mix because of the nutmeg.
Chocolate Chips: Milk Chocolate is most sweet, In this recipe you can use dairy free as well also butter scotch works great! I'm using both in this recipe because I like the flavor!
Preparing Mixture:
Preparing the mixture:
Heat oven to 325
Line or spray with cooking spray a 9 x5 loaf pan.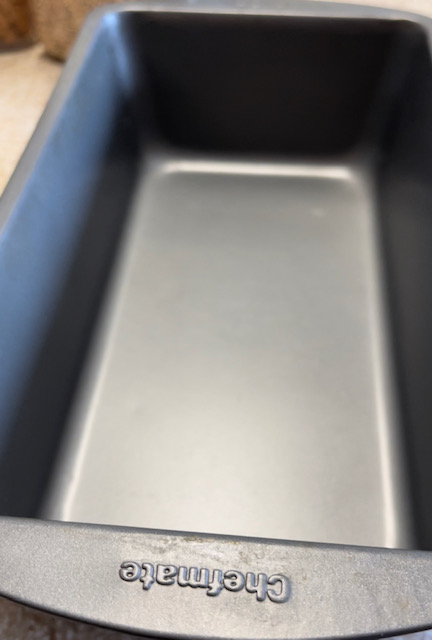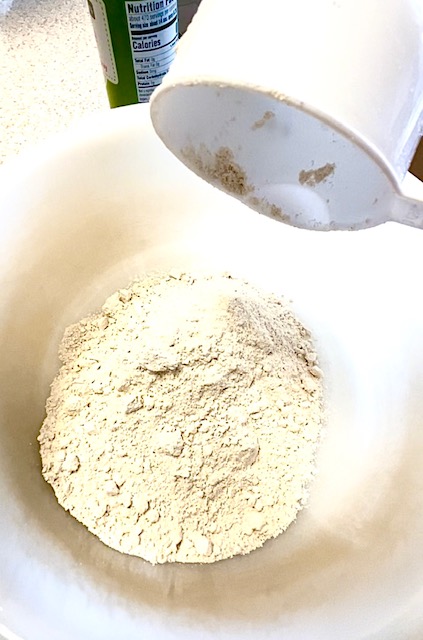 1.) Place 2 cups of gluten free Bob's Red Mill Old Fashioned Oats in a blender or food processor. You could also use the Bob's Red Mill Gluten Free Oat Flour for this recipe, measuring 2 cups.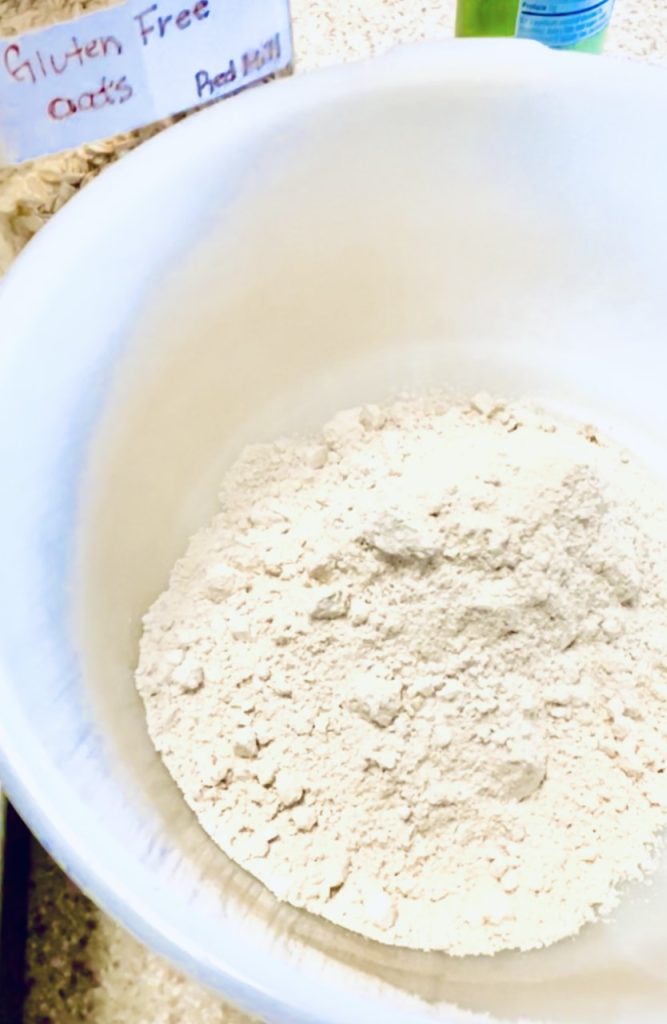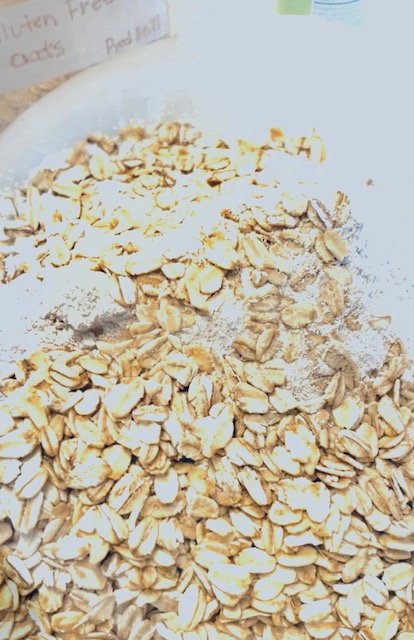 2.) In a large bowl whisk together pumpkin, unsweetened apple sauce, maple syrup, and vanilla.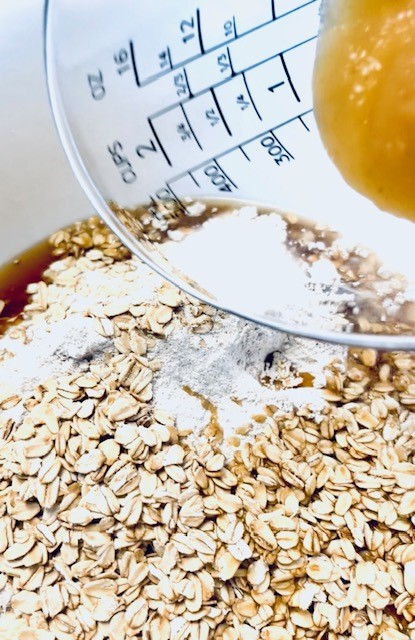 3) Whisk together eggs, and milk of choice.
4.) Add eggs and milk mixture to the the pumpkin mixture and whisk together.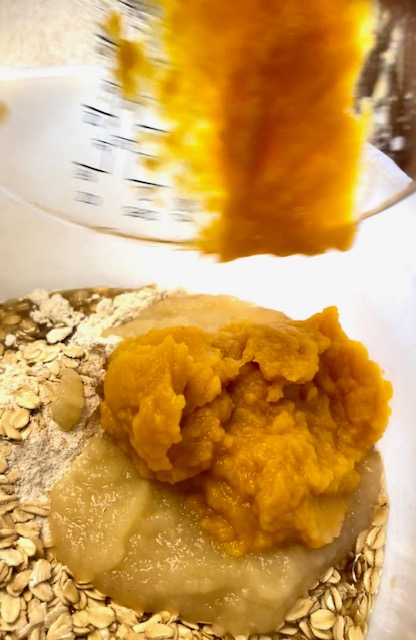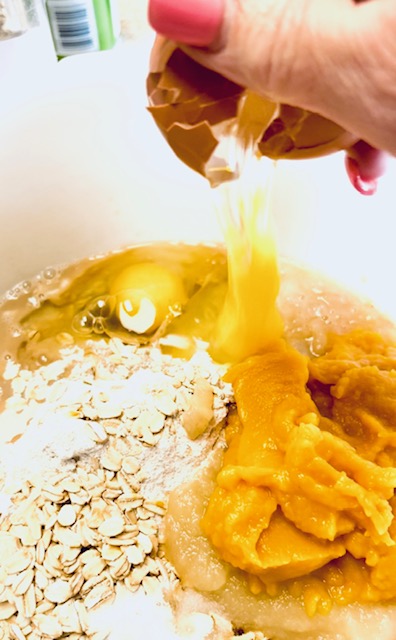 5.)In a small bowl combine all dry ingredients, including the 1/2 cup of gluten free oats and whisk together.
6.)Next combine dry ingredients to the wet ingredients, fold in the chocolate chips and any add in ingredients. Pour into prepared baking loaf pan.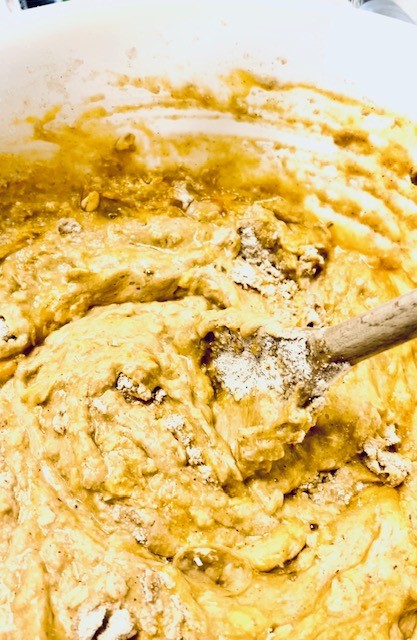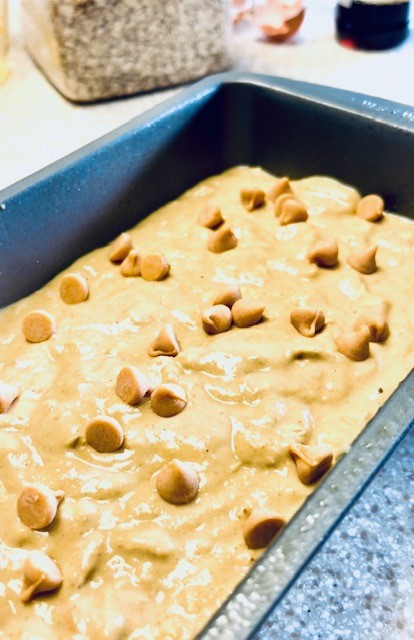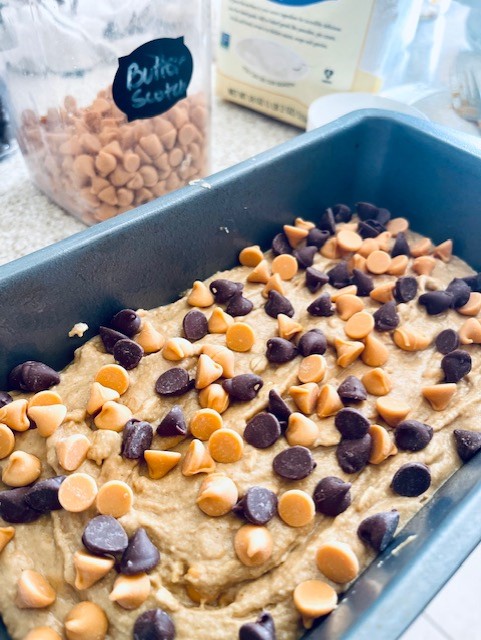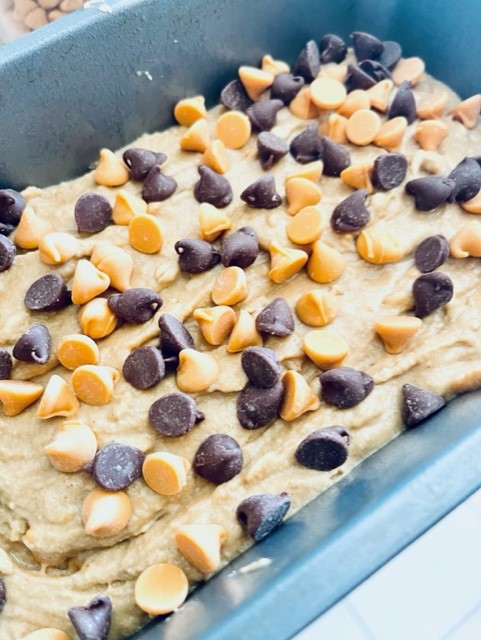 Bake for 30-40 minutes or until a cake tester comes out clean.
Let bread cool before slicing.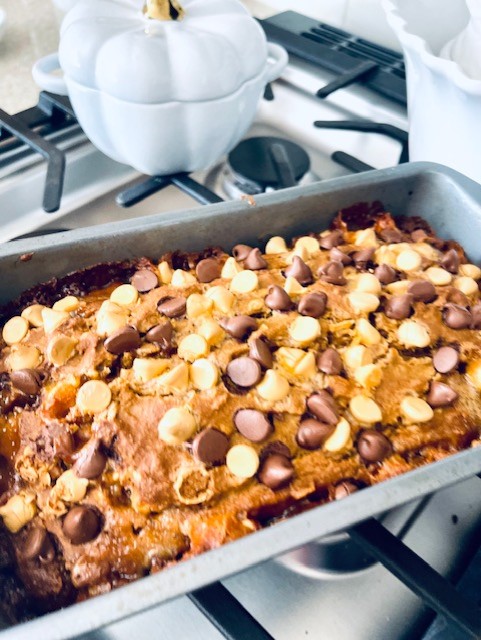 I hope you enjoy this gluten free pumpkin bread as much as my family and I do!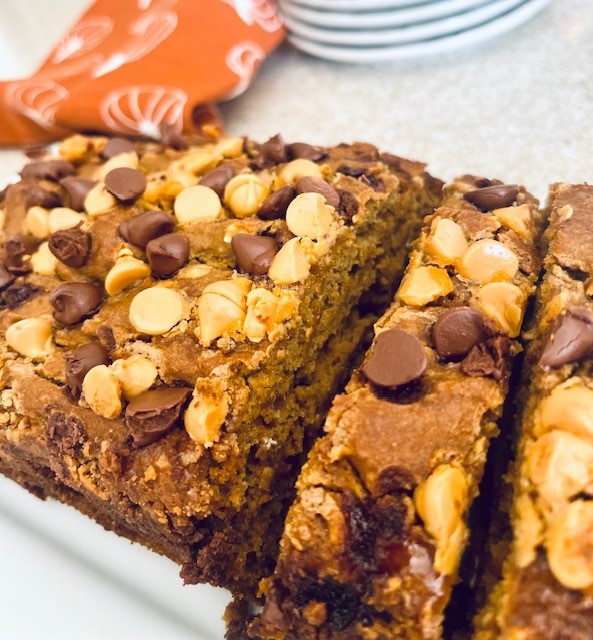 I'm working on a list of gluten free products that I use and trust. It's so important when you need to eat gluten free to have products that you trust when baking and cooking your recipes. I should have the list up on my site soon!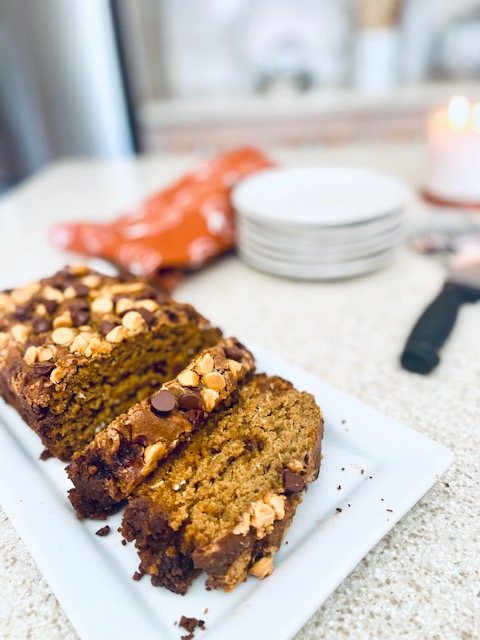 Tips For Making This Recipe
It is best to whisk the wet ingredients together and in a separate bowl whisk the dry ingredients together. This really does make for a more bread consistence texture to the Gluten Free Pumpkin Bread.
Adding in the add in's such as the chocolate chips, butterscotch chips, raisins, and or nuts, do fold them in once the other ingredients have all been added and mix to a good consistence.
If the ingredients are refrigerated it is best to bring them to room temperature. 1 to 2 hours would be a good time line to follow.
Milk substitutes, oat milk, almond milk and lactose free milk work very well in this recipe.
Remember to always check the Ingredients in the products you use in your baking and cooking to make certain they are certified gluten free. Ingredients can change in products.
If you like this recipe you may like my recipe for Gluten Free Turkey Tuscany Soup. It's also low calorie! https://houseofmar.com/turkey-tuscany-soup/
How to store the Gluten Free Pumpkin Bread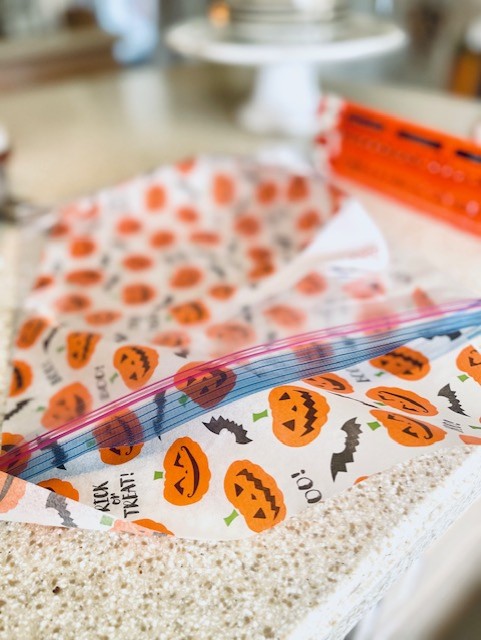 I use a freezer bag with wax paper and seal tightly. Store up to a week in the refrigerator or one month in the freezer.
Many of the items I use to prepare my recipes I order from Amazon, here's a link in case you find you need an item or two to prepare the recipe.https://www.amazon.com/b?tag=houseofmar6-20&linkCode=ur1&node=5622719011
Thank you for taking the time to read about my The Best Gluten Free Pumpkin Bread Recipe!
Please don't forget to sign up for my emails that include The Saturday Scoop! I share so much more about House of Mar in the Scoop!!!
Have a blessed week!
Mary Anne!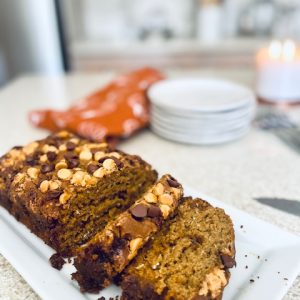 The Best Gluten Free Pumpkin Bread
Equipment
1 Large mixing bowl

1 Small mixing bowl

1 Mixing Spoon

Measuring cups

Measuring spoons

1 9 x 5 loaf pan / bread pan

1 Whisk

Food processor or smoothie blender

1 Cake tester
Ingredients
2

cups

Bob's Red Mill Gluten Free old fashioned oats

or Bob's Red Mill Gluten Free Oat Flour

1/2

cup

Gluten Free pure oats

Bob's Red Mill Gluten Free old fashioned oats

1

tsp

Gluten Free Baking Soda

1/4

tsp

Salt

1

tsp

Cinnamon

1

tsp

Pumpkin Spice

1/3

Maple Syrup

2

Eggs

2/3

cup

Unsweetened apple sauce

or banana's

2/3

cup

Pumpkin puree

1/4

cup

Oat milk

Lactose free milk works well or almond milk

1 1/2

tsp

Pure vanilla extract

1/2

cup

Gluten Free chocolate chips

I also added 1/2 cup of butter scotch chips

Cooking spray

to use to coat the 9 x 5 loaf pan
Instructions
Preheat oven to 325 or to convection baking

Spray with cooking spray or line a 9 x 5 baking loaf pan

Place oats in a food processor pulse until a fine flour. Measure should be 2 cups

Whisk together maple syrup, pumpkin, apple sauce and vanilla in a large bowl

add to the mixture whisk eggs, and milk

In a small bowl whisk together dry ingredients, cinnamon and pumpkin spice, baking soda, salt, and 1/2 cup gluten free oat flour.

Combine dry ingredients to the wet ingredients and then fold in chocolate chips and any add ins. Sprinkle some chips on the top as well.

Bake for 30-40 minutes or until a cake tester comes out clean.

Cool before slicing and then enjoy!
Notes
A few tips,
Because gluten free flours tend to stay more moist it is better to let the bread completely cool before cutting. This will give a more bread like texture. 
I used my Ninja smoothie maker to blend the oats. It worked great! 
Bob's Red Mill does have a gluten free oat flour that is wonderful. So you could save a step and use it instead of blending the oats.
Brown Sugar works just as well as the maple syrup in this recipe. 
Use pumpkin puree not the pumpkin mix