Good morning! Welcome to my 2021 Christmas Home Tour Part One!
I'm so excited to share with you my 2021 Christmas Home Tour Part One! Are you all ready for Christmas? I'm still working on it, and everyday I tell myself I should have started earlier! I'm waiting on a few packages to arrive!. Some gifts I did order early. A few were for my son who lives in Seattle, these were delivered. We won't be seeing him again this year, I'm so sad about it, I want him to stay healthy and for now this is the best way! I've said it before, I am so thankful for technology! We do Skype and with phone calls and texting it's keeping us connected!
My other kids were over the other night so we started menu planning! Everyone has given their input and we are keeping it simple this year. We're having a small gathering, and that's okay. I'll make some of our favorites but will keep it simple as I have our decorating! This year I've had to dig deep to get into the spirit of the holiday. Actually I'm feeling a little guilty about this. It's usually such a magical time of year for me. I love Christmas! My mom always made it so special and I have really tried to do the same for my family. The last few years I've found it difficult to motivate myself.
But I have for my family and to share my 2021 Christmas Home Tour Part One with you! So this home has been decorated! I've done a little baking, our gingerbread house party is this week, we moved it back a week due to work… There will be pasta at the party, if you remember I didn't make any for Thanksgiving and people were not happy!
So let's get started on our 2021 Christmas Tour part One!!!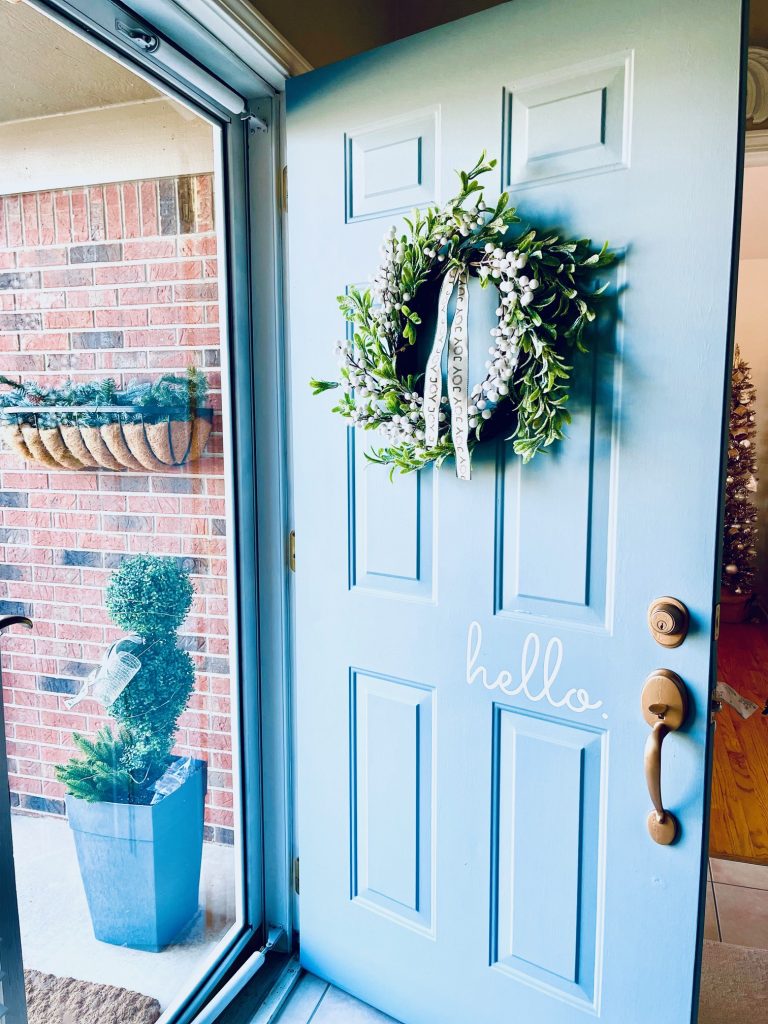 As you can see I kept the front porch and our front door simple. I added a little ribbon to the wreath, ribbon to the topiary's, and little remote control lights to the topiary's!
My foyer has an open concept, it leads to all the rooms on my first floor. To the stair railings I added ribbons and spruce. Adding ribbon is such a fun an inexpensive way to add more to your decor! I just twisted the ribbon for a dropping effect. Wire ribbon works best for bending and twisting the ribbon.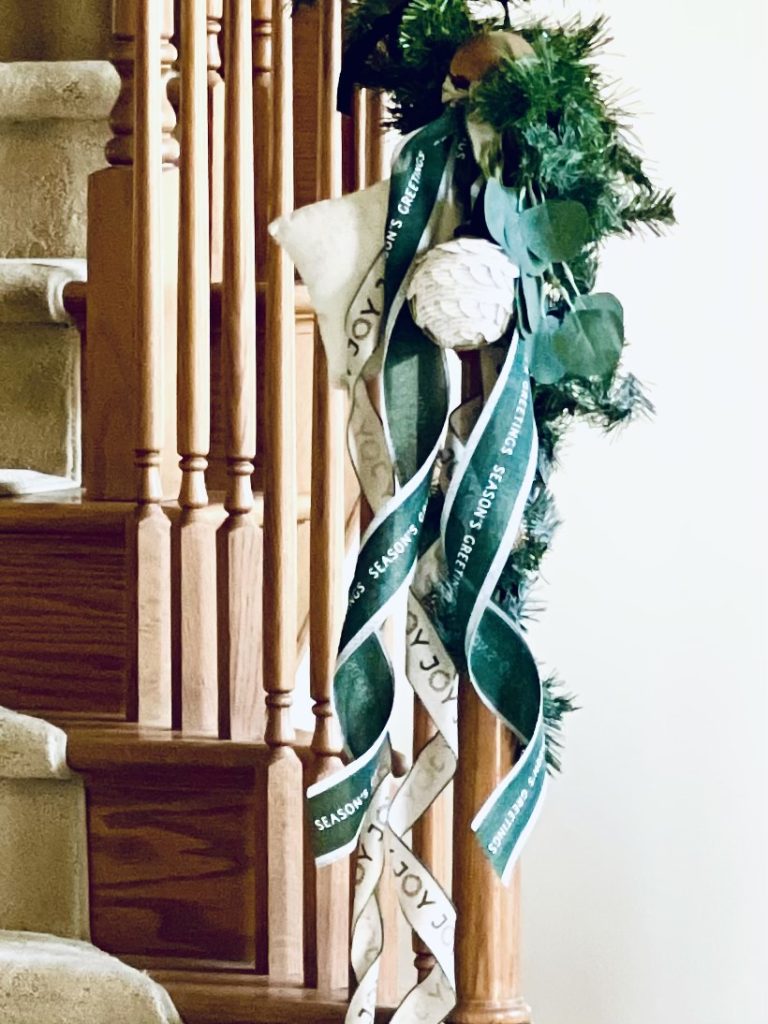 Our nativity set is usually set up in our foyer for Christmas. This was a gift some years ago from my husbands parents. It's so special to our family. Last year I changed the color, if you click this link you can see how I did this simple project.https://houseofmar.com/updating-a-vintage-nativity-set/ Adding a little green and a few little ornaments set's the stage for this special nativity set!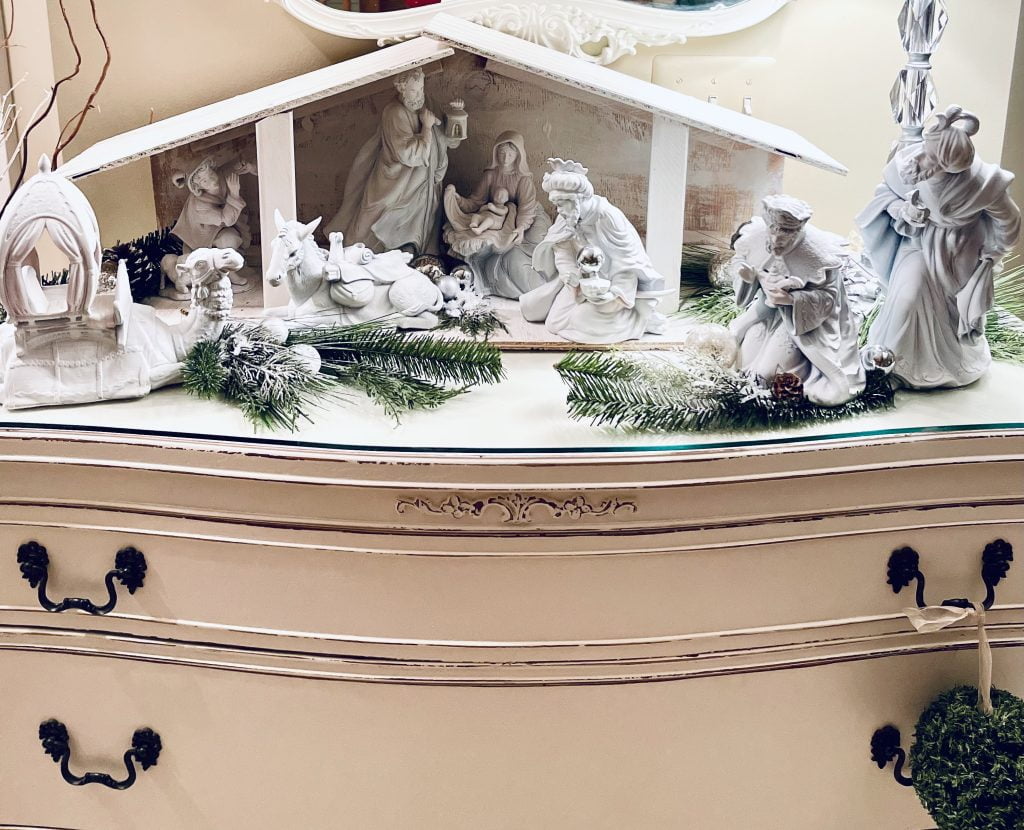 I hung a little green topiary on the drawer pull with a tiny ribbon. A little extra touch! The dinning room is to the right of our foyer, it's not a very large room but I'm happy to have it! For thanksgiving we ate in the dinning room and the table scape looked so pretty. In case you missed my Thanksgiving post you can see it here just click the link. https://houseofmar.com/how-to-set-a-table-for-thanksgiving/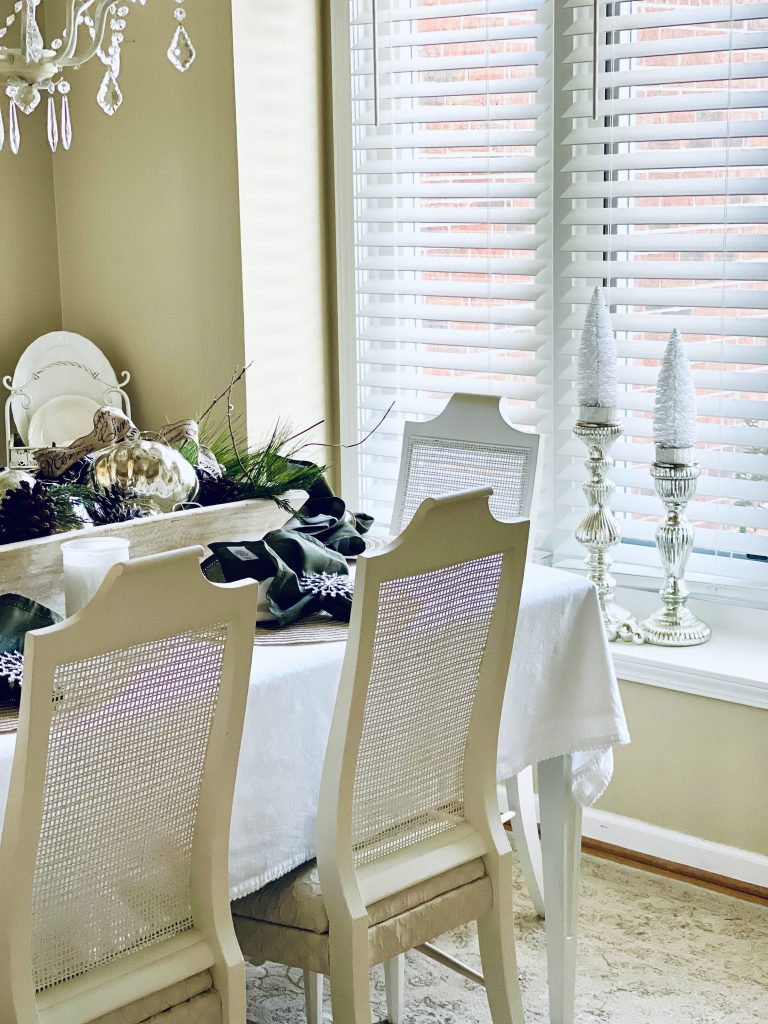 Adding my larger mercury ornaments to the dough bowl made a nice center piece for our table. The way the light hits the mercury glass is beautiful! A ribbon tied to an ornament dresses it up! I also added pinecones, tree branches, and some faux spruce greens. My bottle brush tree's to the top of these mercury glass candle sticks gives it a different look. I also added a few silver ornaments in front of the candlesticks. I didn't forget to add a little Christmas to my china cabinet.
My china cabinet is all dressed for Christmas! I used green bottle brush trees that are touched with a little sparkle of snow. Adding a few silver ornaments and a touch of green to the shelves spreads the Christmas cheer!
The master bedroom and "en-suite" are on the first floor. Our bedroom quilt was my inspiration for my Christmas decorations this year! Olive green with a brocade medallion inlay is just so special! I love beautiful linens, duvets, shams and comforters! When I saw this duvet it reminded me of snow flakes and it was so inexpensive! I purchased it on Amazon. I have it linked in my shop my home tab or you can click here if your interested! https://houseofmar.com/shop-my-house/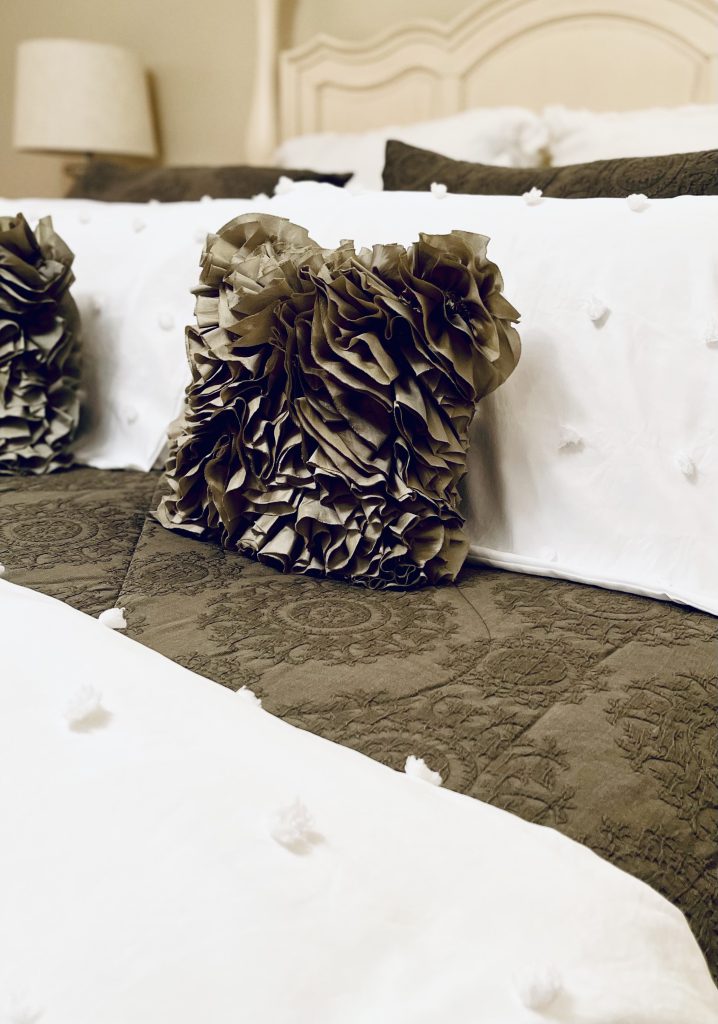 I added a ribbon to our bedpost!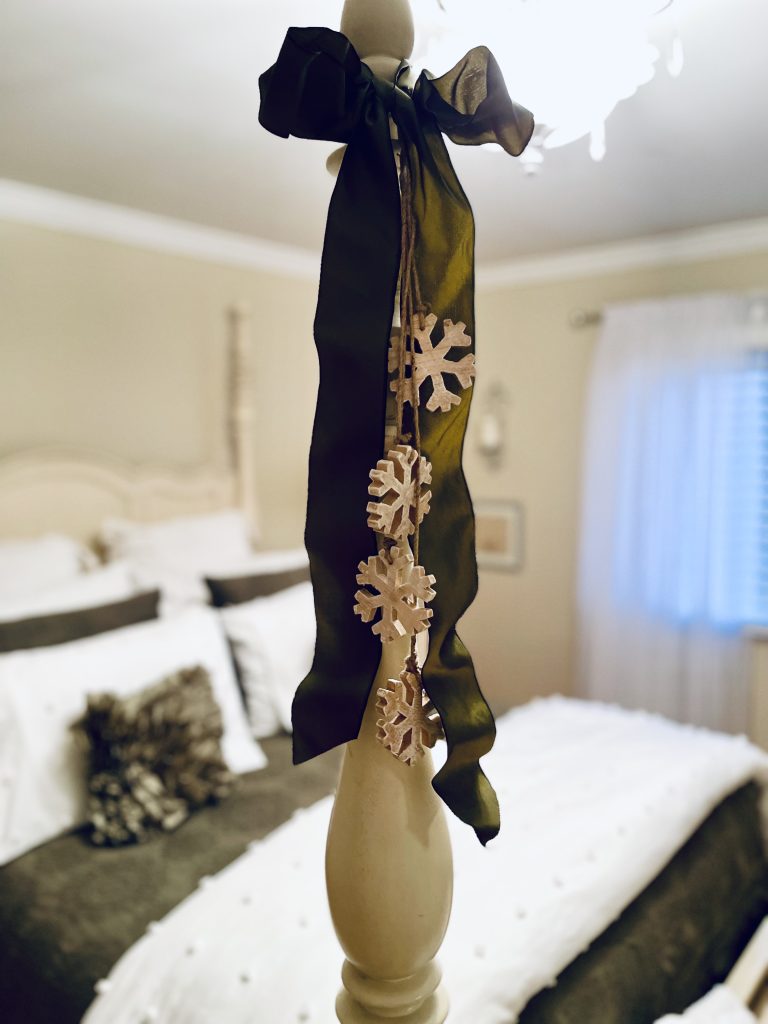 Putting a Christmas tree in our room was not going to work! My bedroom doesn't have floor space for one. So… I added it to the top of my dresser! This tree is 4 f.t tall. I added olive green ornaments, white hydrangea's because they reminded me of snow balls, and battery operated lights! Which I love! They are great to use around the house and there are on timers! These are in my favorites tab just in case you are interested or you can click this link to view them.https://houseofmar.com/shop-my-house/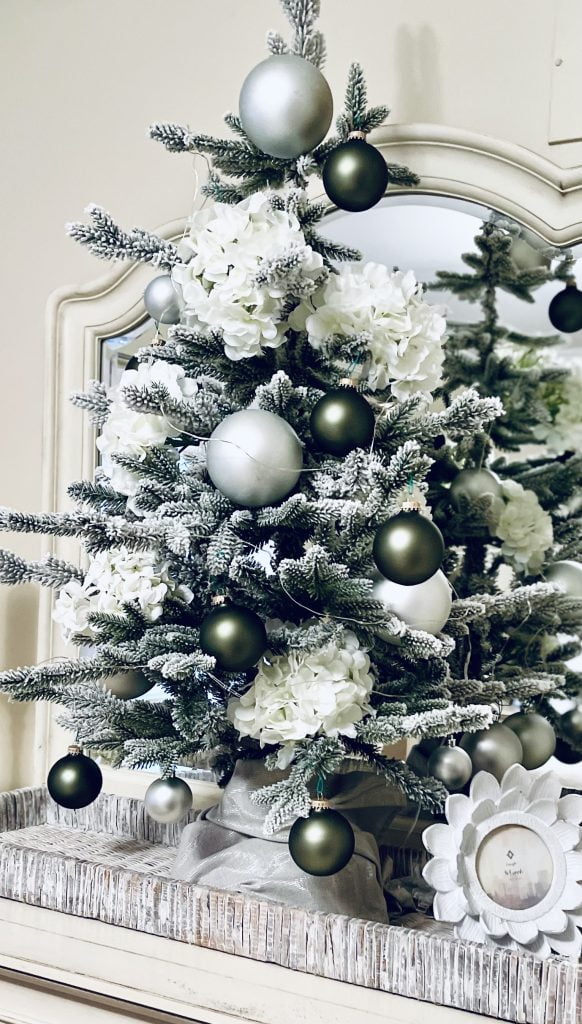 Adding a few silver ornaments help to lighten the tree. The color's are really festive and soft! I'm so pleased with the feelings this little tree brings to our bedroom! The great room is in the center of our home. It's where everyone gathers. Our big tree is in this room as well as our fireplace. This past fall I painted the fireplace white and I'm so happy with it!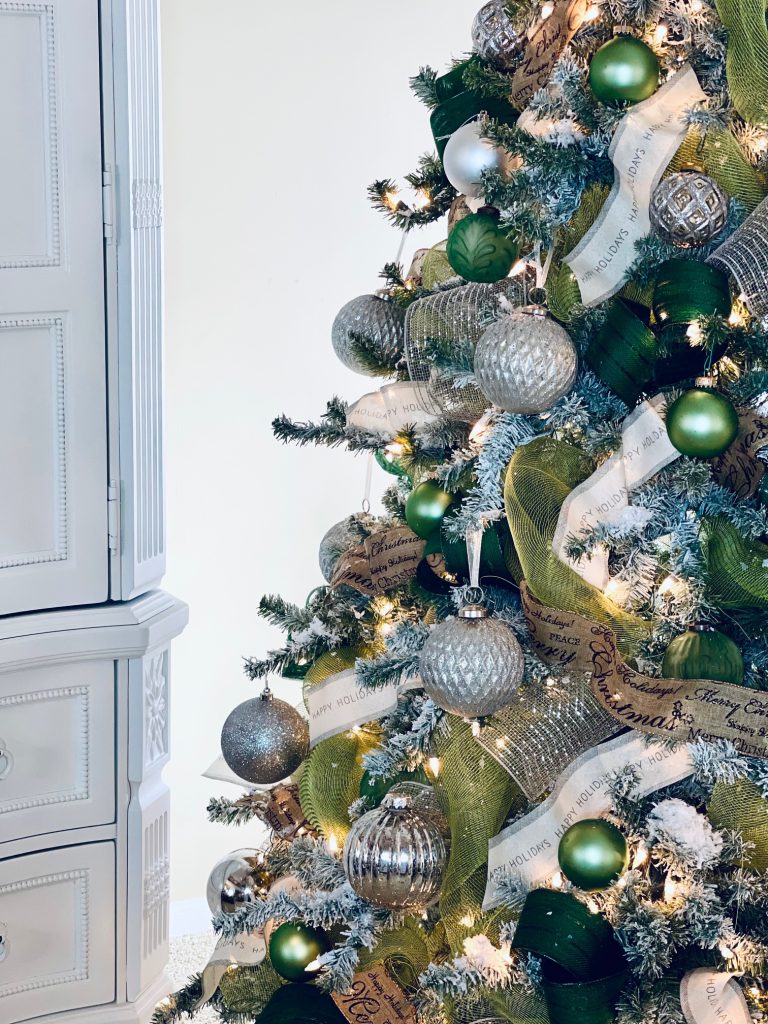 I added touches of greens and silver. As you can see I used five different patterns of ribbon on the tree. Ribbons help to fill in a tree especially if there are not as many ornaments. You can cut ribbon into strips and tuck them into the tree. Writing on a ribbon just seems to get me to buy it!
Our fireplace I kept very simple this year, I added green spruce and a few pine leaves with some lights. These candles are wax, flameless, battery operated and will stay on for six hours. Their linked in my shop my home tab and shop my favorites tab.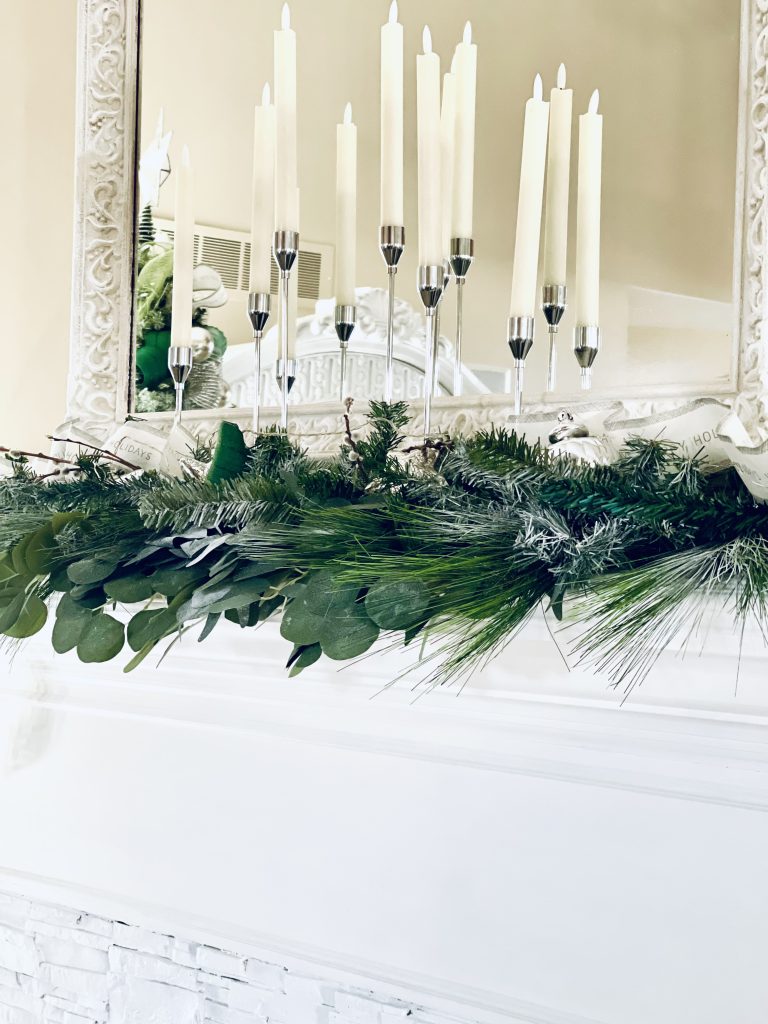 Another item I like to decorate in our great room is our coffee table. This year I created a dough bowl with the left over ornaments, greens, and pinecones. I also add cinnamon sticks to all my table arrangements, floral arrangements so the house smells of Christmas!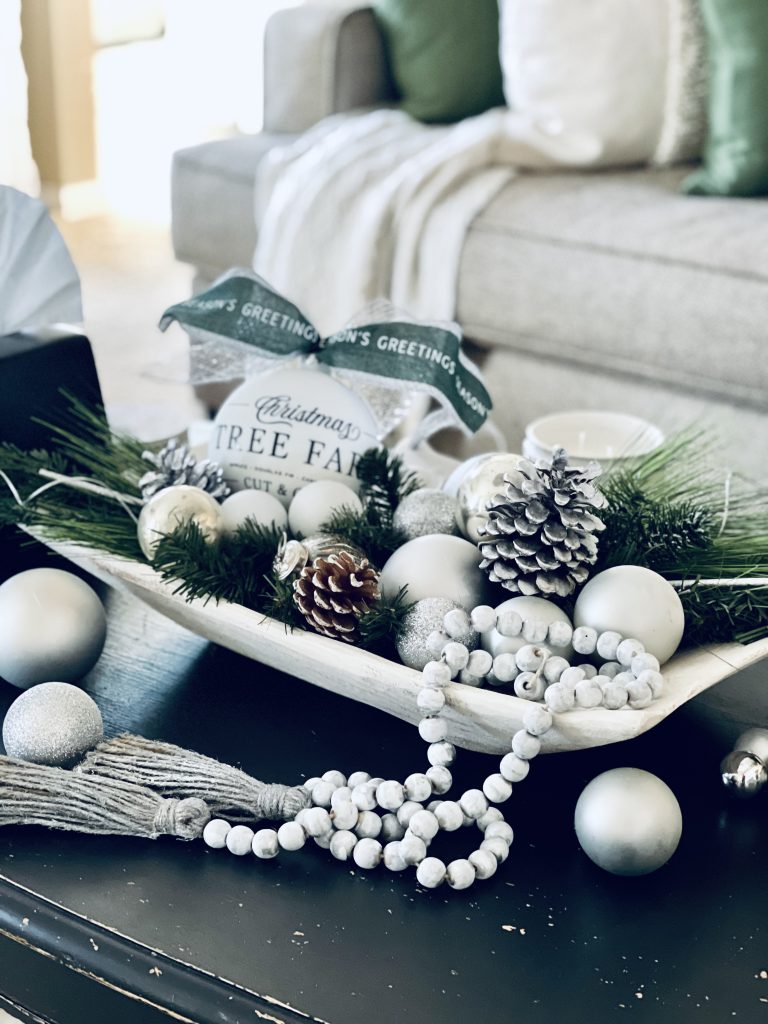 Another item I like to add or I should say change is our pillows. Using pillow covers, it saves money and storage of pillows. I don't know about you but I really don't have the room for all those pillows nor do I want to store them. Amazon has great pillow covers and great prices. These covers I bought for this season are so nice!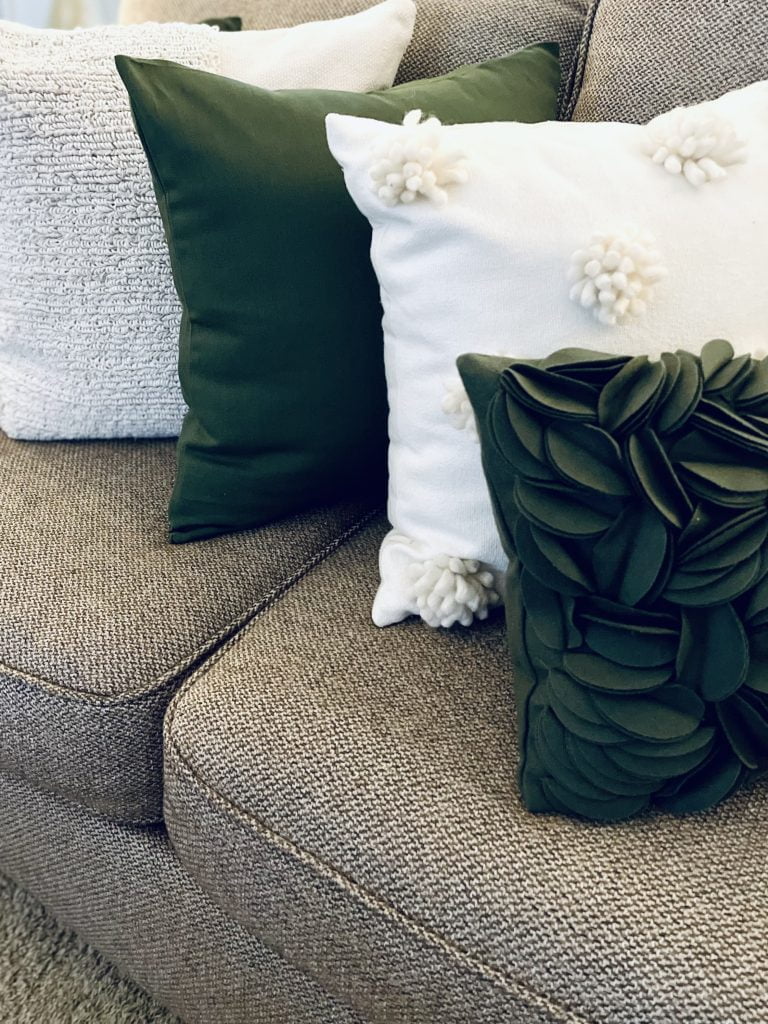 Well this concludes are 2021 Christmas Home Tour part One . I share part two on Thursday if you have time stop back by. I really appreciate you reading my blog and checking in on my Facebook and Instagram pages. You all mean so much to me!
Thank you so much and have a great day!!!