The Saturday Scoop!
I have so much to share with you today on The Saturday Scoop! I have some good finds, ways to make life a little easier, a little craft project, and the best sugar cookie recipe!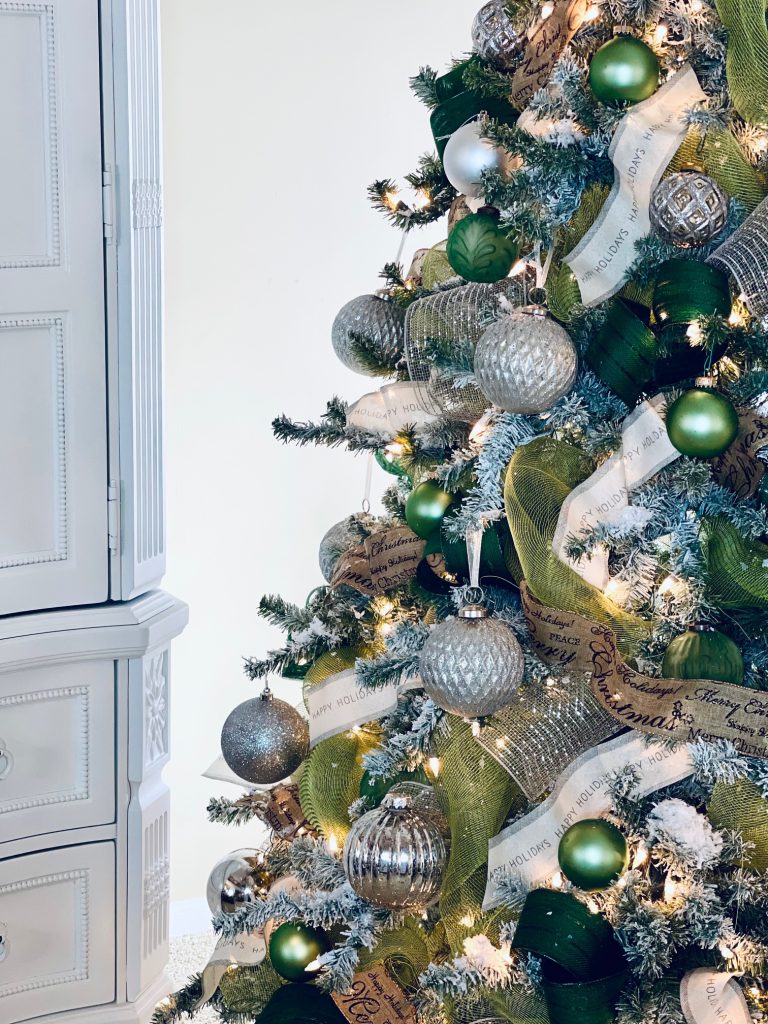 It's beginning to look a lot like Christmas at my house! I've been playing Christmas music, decorating and I also did a little baking! The bake goods went in the freezer for us to have closer to Christmas. I'm hoping we don't get into them!
Are you done decorating? I'm just about done. I'm working on my guest rooms, you know, just in case… I really don't think we'll have guest, but you never know. I can only hope, but then with everything going on I want everyone to be safe so….
Let's talk shopping!
The finds this week have been great! Have you been shopping? Amazon had some really good deals! I bought something this week for me! I know, I'm not even done shopping for everyone else! But don't you agree, this time of year there are so many great finds and items you won't find any other time of year! So I had to buy it and it's for Christmas! I bought a Christmas tree collar!!! I'm so excited!! I wanted one last year but didn't find one I liked. Even though it's late in the season for decorations, I found one! It was on Amazon and It was delivered in two days! I linked it in my Gift Giving tab so you can see what it looks like. Just click this link https://houseofmar.com/gift-giving/
I think it gives the tree the added jewel it needs! Have you seen the wooden box collar's for the Christmas tree? Oh these are so nice too! I couldn't decide which to go with, but I like what I choose!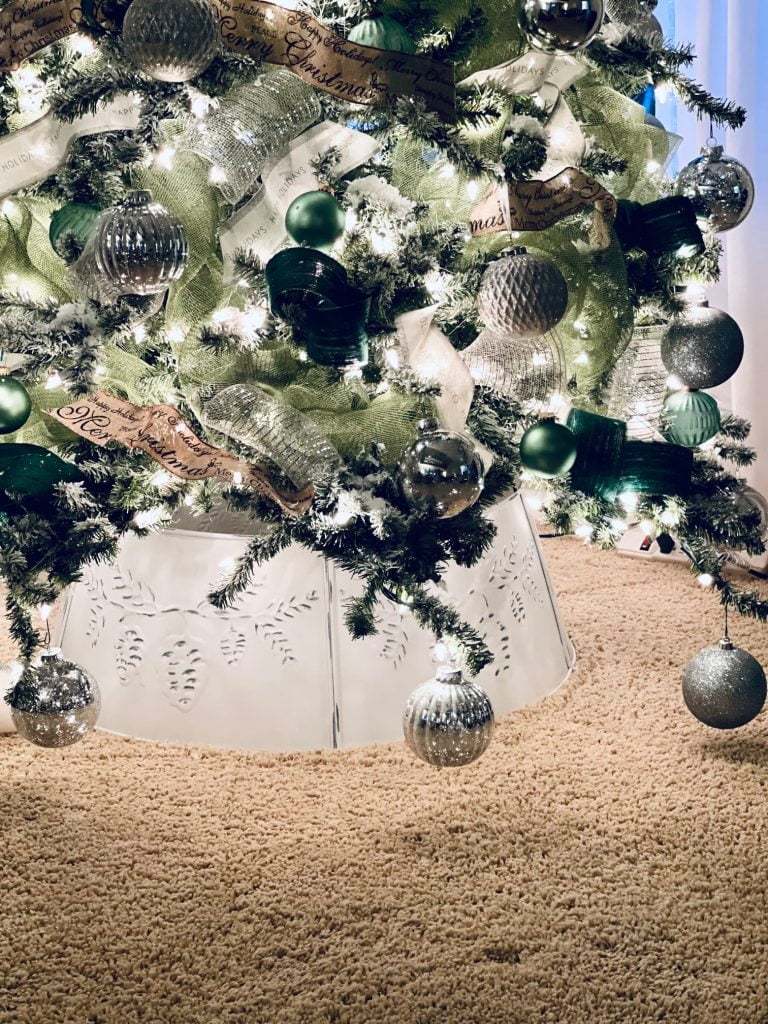 The Scoop on Command Strips!
Did you see my story post on Instagram about command strips? I was a little embarrassed to post that I didn't know how to use command strips. Here's a little tutorial on how to use command strips https://youtu.be/6bTdtnzPmOE I also shared on my Instagram stories how to use them.
So for the past few years I haven't wanted to hang the stocking's because we have been using the fireplace a lot. I'm so afraid of catching the stockings on fire! This is how the command strips came about. This year I've hung the stockings off to the side using the command strips! I feel so much better about hanging the stockings! Now I've been using them all over the house, for so many things! The garland on the fireplace and stairs. A few pictures I needed to hand. I bought larger hooks and used them to hang some purses in my closet instead of keeping them on the floor! I even hung a few in the pantry for my aprons, bread baskets, and bags! These are great now that I know how to use them!!!
A little tutorial on how to use the command strips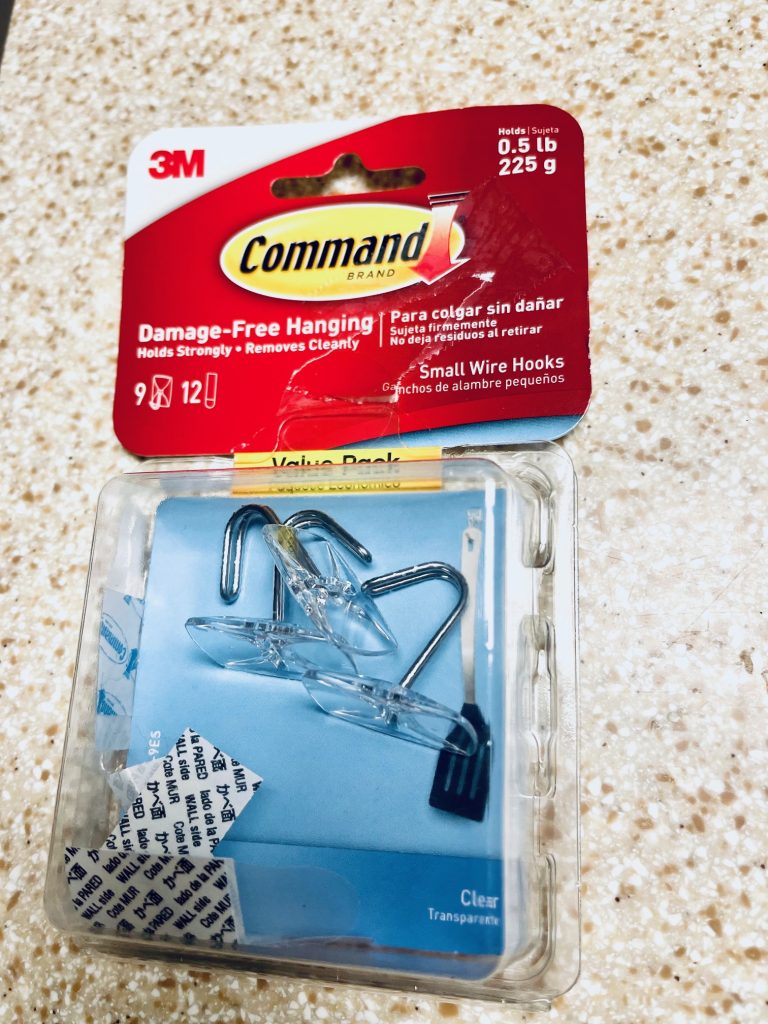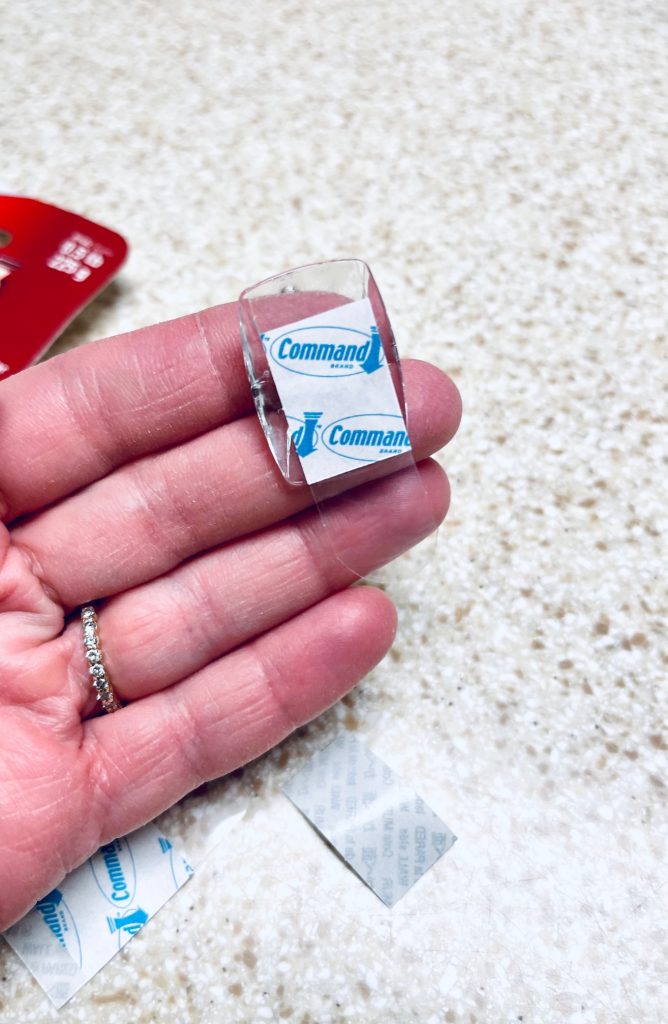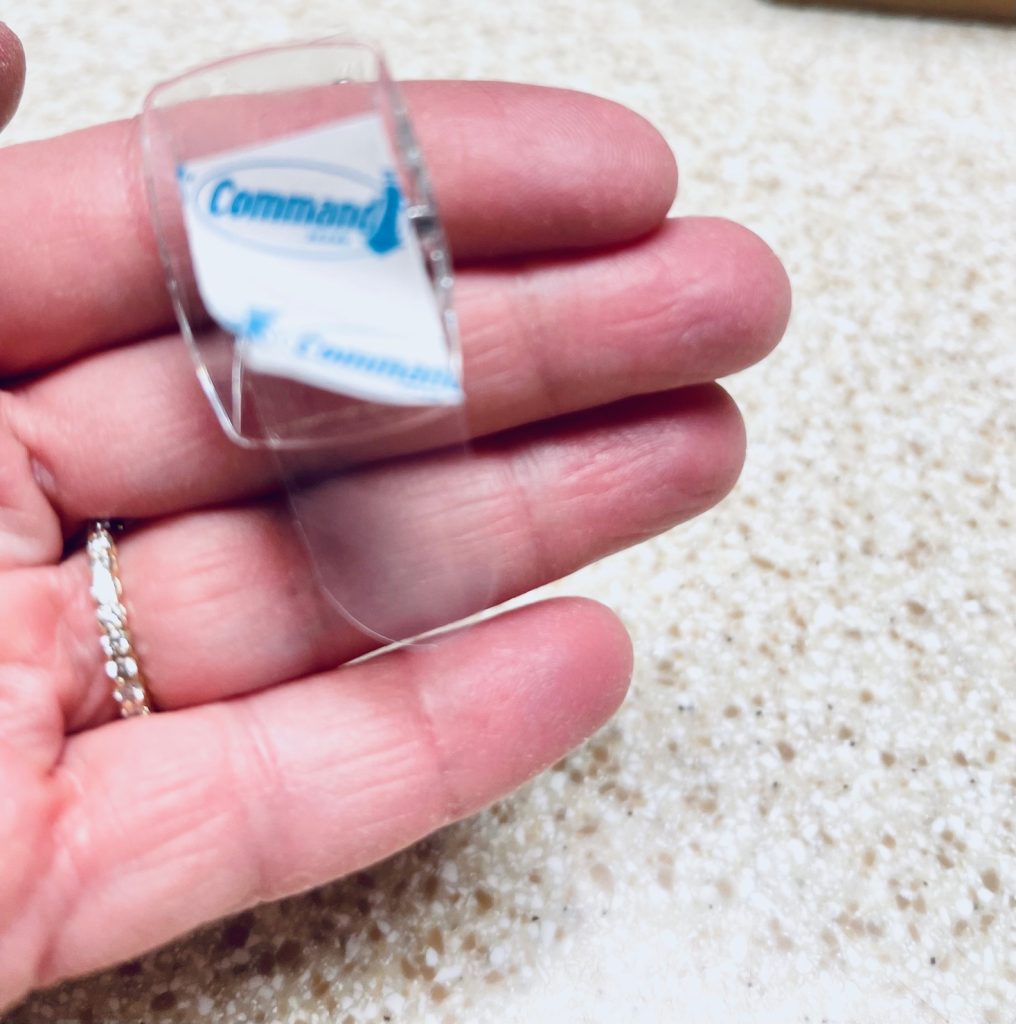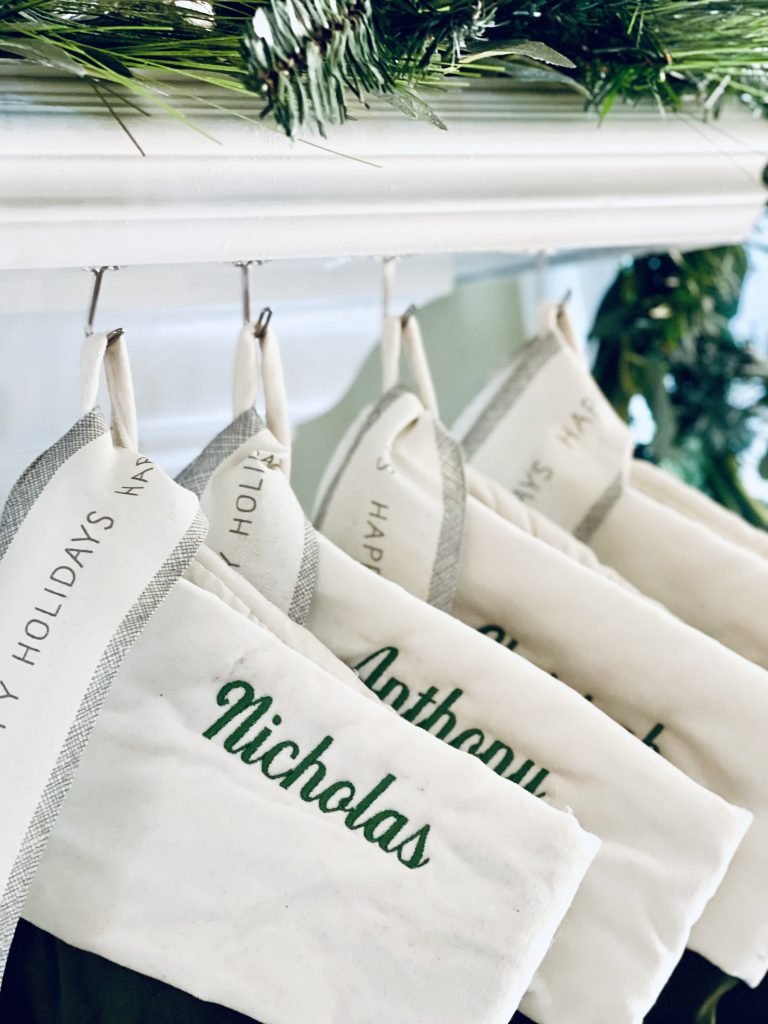 A simple craft project
Looking for a little green wreath turned into a big project! I searched everywhere, well except for the Dollar General! I had an inspiration to use a little green wreath on my wall sconces in my kitchen I just found on the market place. Do you do that too! Get inspired so late in the season and then you can't find what inspired you? These little wreaths are so cute and so perfect! Well they will be! I had to redo them a little bit, to fit my vision.
They had red bells on them and red and white ribbon. This didn't match with the colors I'm using this year. So I took the bells and ribbons off and I'll use them at another time. The wreath's also had little red berries, I took those off as well. Simple fix right!!! These wreaths are the perfect size! So I fluffed them, and tied a green ribbon on and that was it! I sprayed the bells with silver spray paint and will use them on my doors. I love the sound of the bells ringing when the door opens!
Project
Little green Christmas Wreaths
1) Cut the ribbon underneath at the little hook to remove the ribbon
2) Remove the bell's from the strings
3) Remove the berries
4) Fluff the wreath
5) Tie new green ribbon on the wreath and hang
I'm so happy with the way they turned out! Their so cute!!!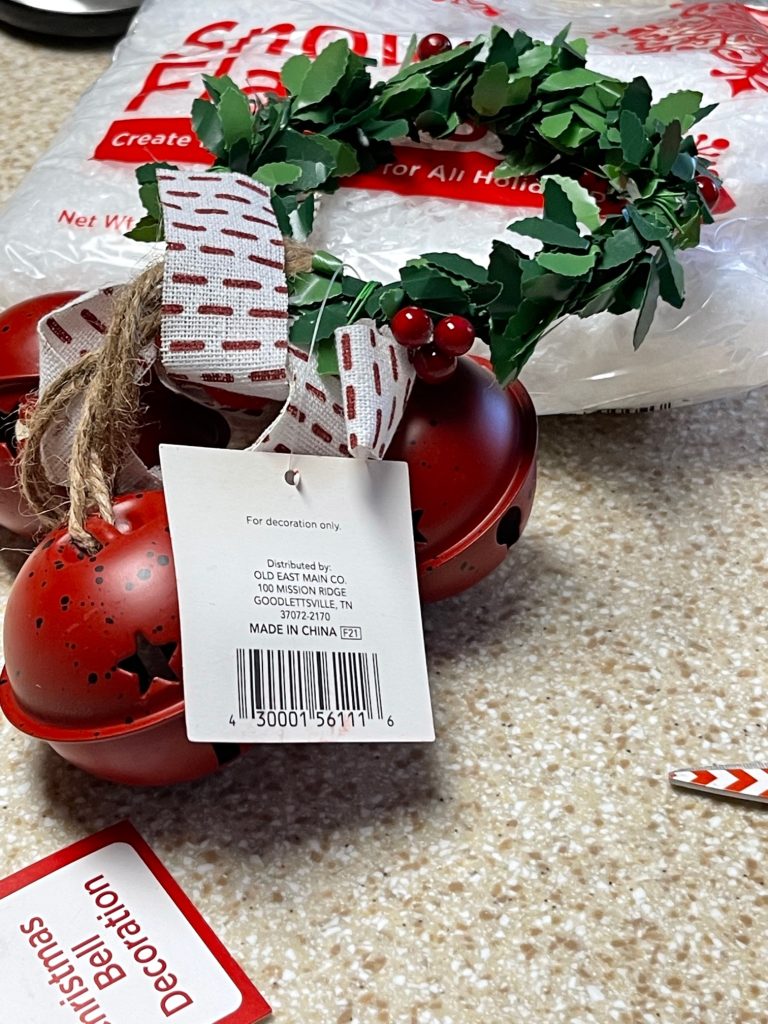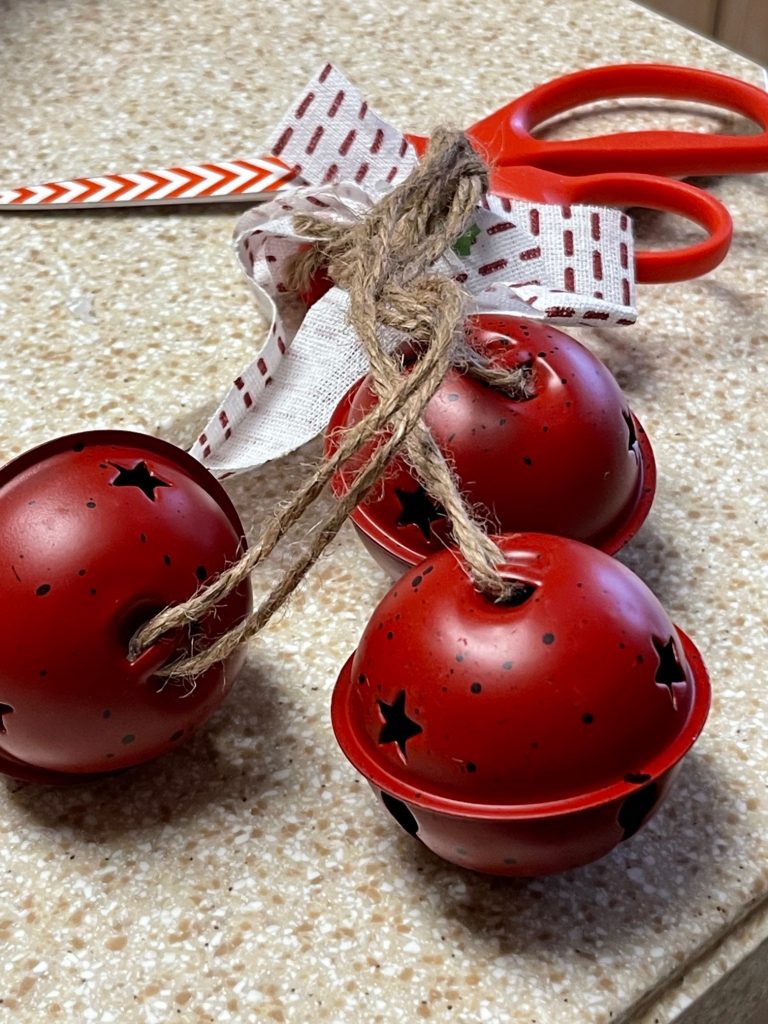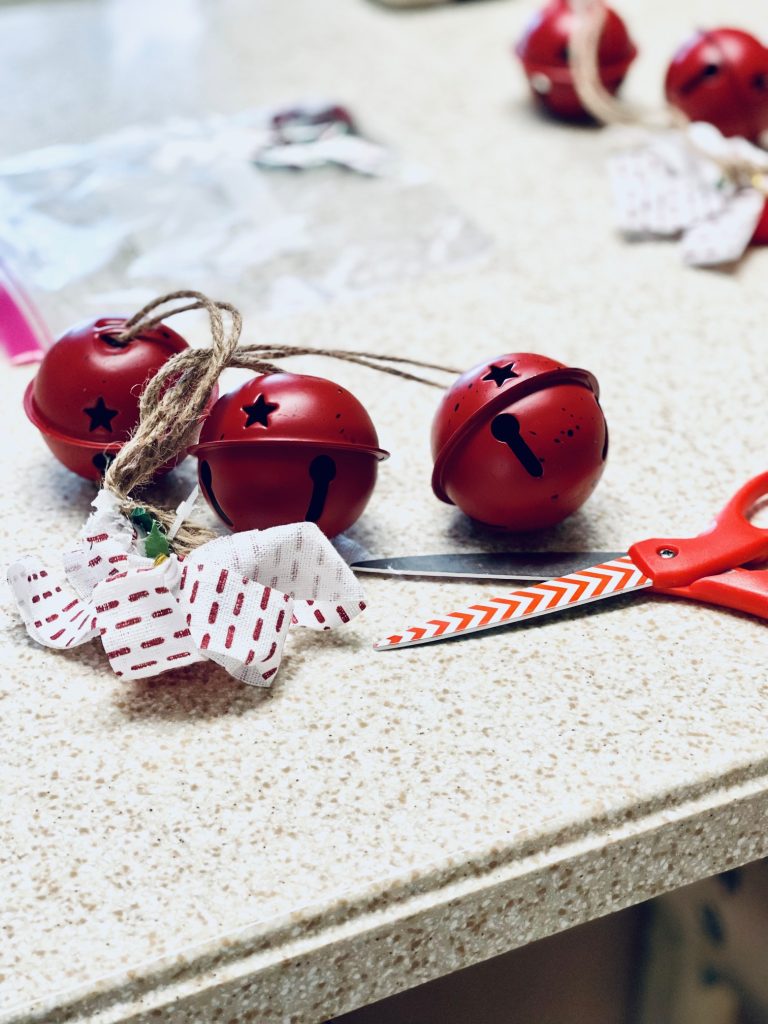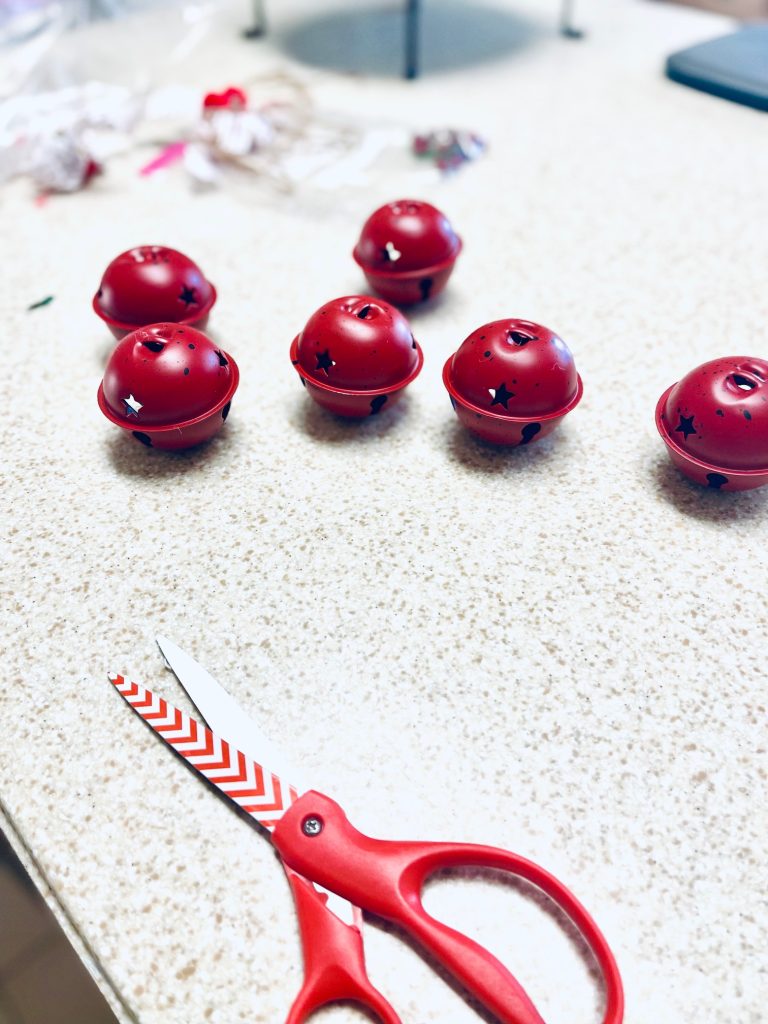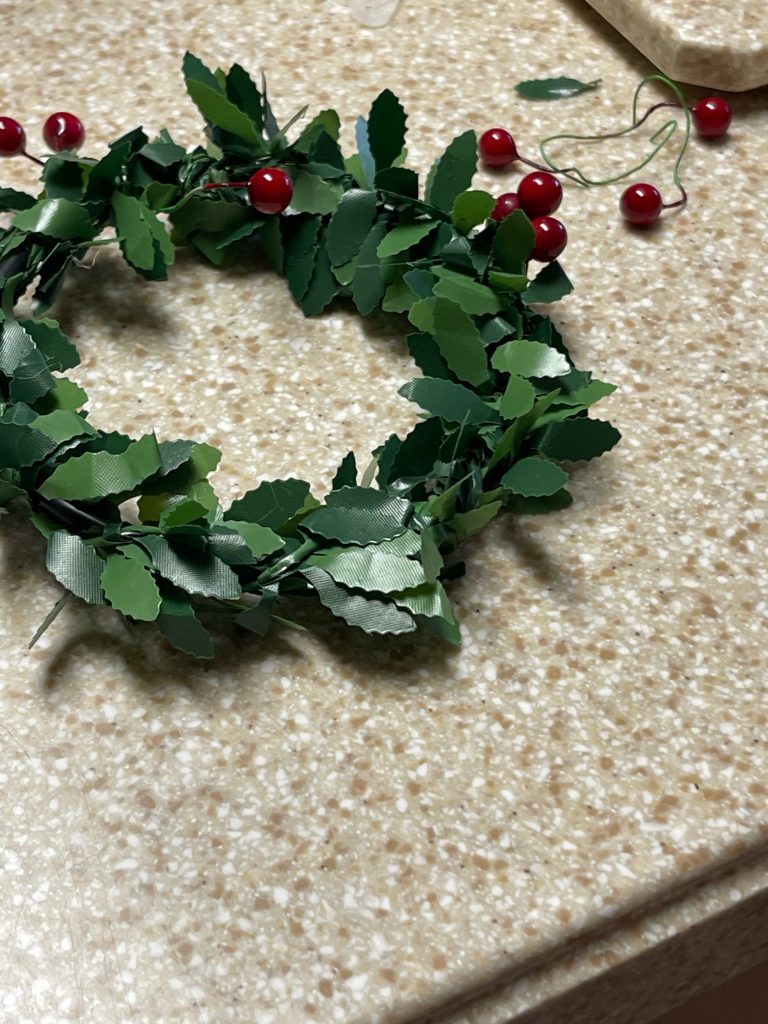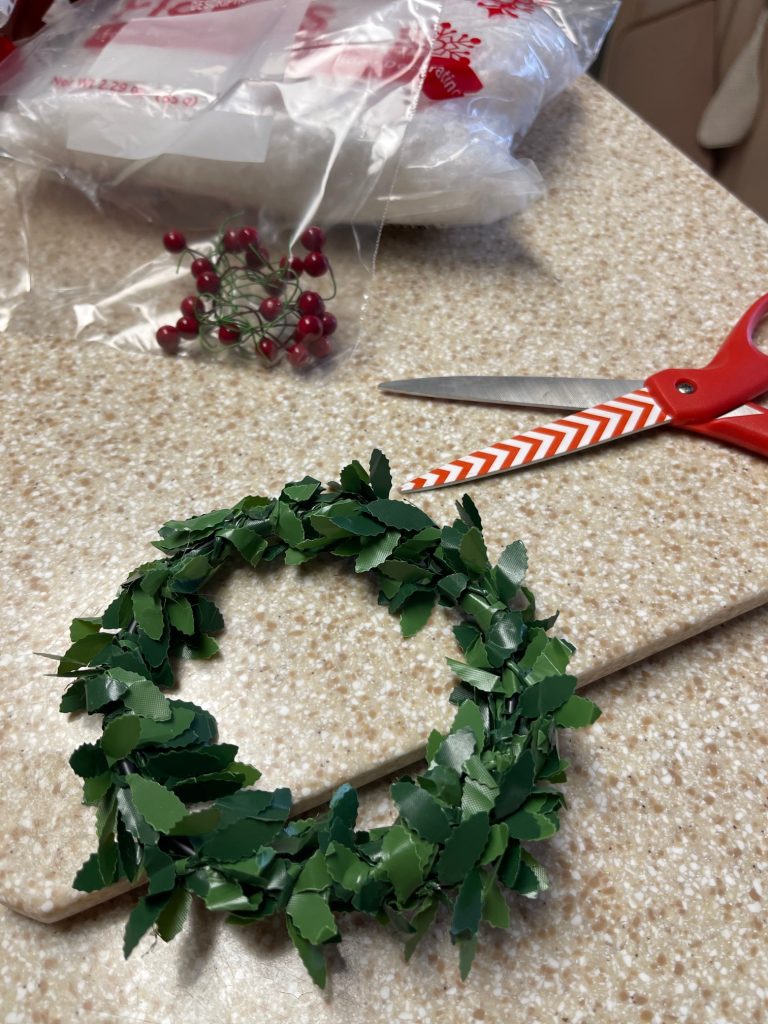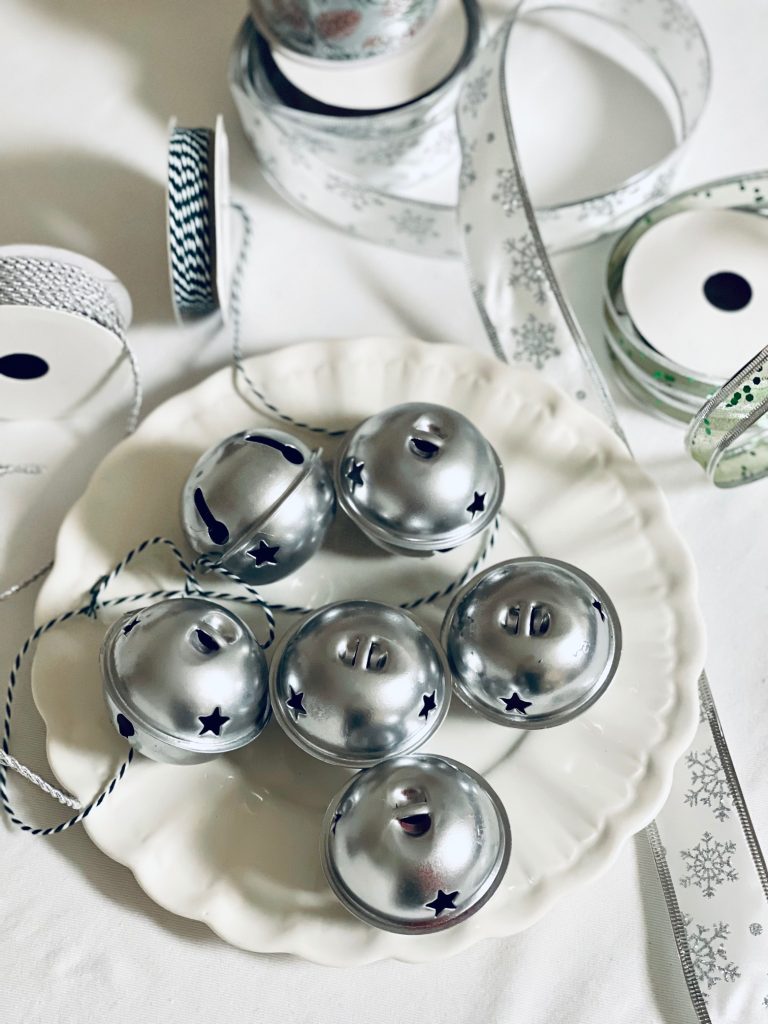 Baking on The Saturday Scoop!
I have the best sugar cookie recipe! You can make it gluten free or regular! These cookies are so moist! Soft in the middle a little crunchy around the edges! This recipe is also so simple and you won't use too many ingredients. It's a recipe we've had in our family for years! This recipe also makes a good cutout recipe as well.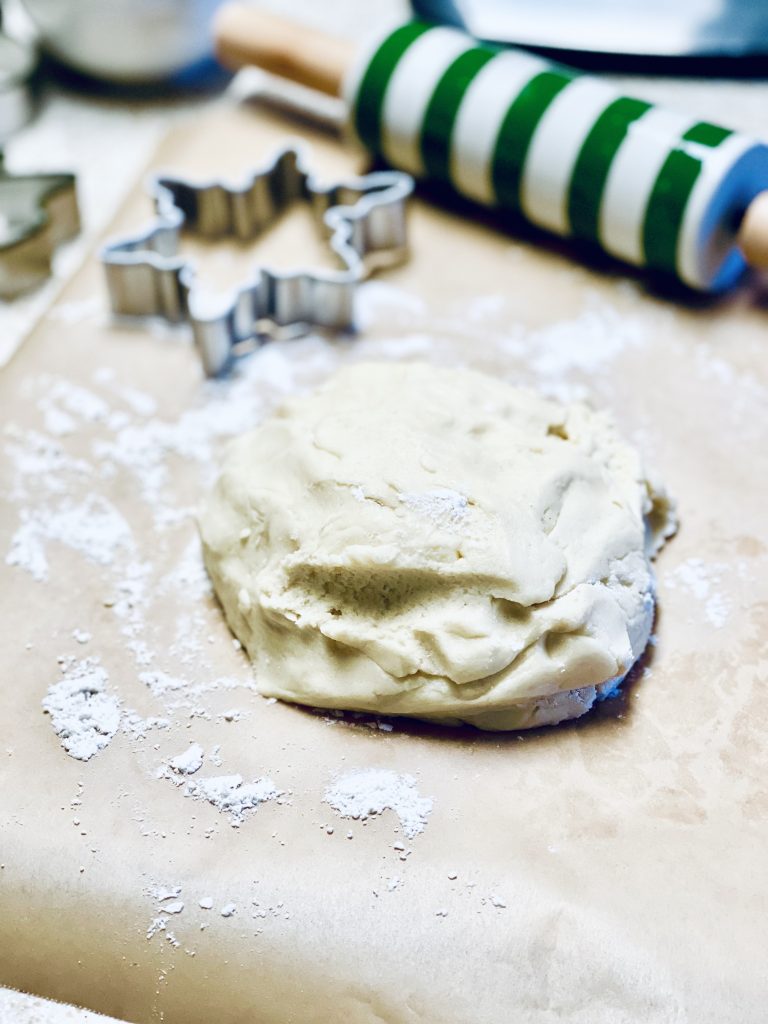 Sugar Cookie Recipe
Ingredients
3 Cups of all purpose flour ( plus 4 tablespoon's divided) ( using gluten free flour measuring the same)
3/4 teaspoons of baking powder
1/2 teaspoon of baking soda
1/2 teaspoon salt
1 1/4 cup sugar
1 cup ( 1 stick crisco shortening stick)
2 eggs
1/4 cup maple syrup or 1/4 cup light corn syrup
1 tablespoon vanilla ( gluten free if your making gluten free cookies)
Directions
Heat oven to 375
Combine Sugar and the Crisco stick in a large bowl on medium, mix until well blended, add eggs, syrup, and vanilla, beat until fluffy and creamy.
Combine 3 cups of flour, baking powder, baking soda and salt, add it gradually to the cream mixture on a low speed until mixed well,
Refrigerate for 1 hour
Place on baking sheet 2 inches apart I use a 1/2 inch scooper for the dough
Bake on 375 for 5-9 minutes depending on your oven
If making cutout sugar cookies divide dough into 4 quarters wrap each quarter of dough in plastic wrap and refrigerate for 1 hour
When your ready to start your cut out cookies use 1 tablespoon of flour spread on wax paper place 1 -4 quarter on floured paper and flatten with hands slightly, turn the dough to the other side using a large piece of wax paper place over dough roll dough with a rolling pin to about a 1/4 thickness. Use flour cutouts when cutting out the dough for cookies. Transfer to an un-greased cookie sheet, you could use a pancake turner to place the cookie on the baking sheet, place 2 inches apart, sprinkle with sugar or colored sugar crystals or leave plain to frost when cooled.
I've included a print out of the recipe just in case you would like to try it!
I'm sorry Tuesday's post didn't post, and I think the The Saturday Scoop didn't get out until Sunday! I have a new host for my web-site and they were working on converting my site over. We are all good now! This Tuesday I will be sharing my Christmas home tour so if you have time stop back by! This week also begins my baking for family and friends. I bake ginger bread houses and wrap them, I add a bow they look so cute! We deliver them to our family and friends! It's just a little gift! This weekend the kids will come over and we'll make our traditional ginger bread house's! This is to include a pasta dinner as you know because I didn't make any pasta for our Thanksgiving dinner. I love traditions they are so important to me and us as a family! Do you have any traditions you share as a family? If so please leave them in the comments I would love to know about your traditions!
Next week I'll be sharing all about our ginger bread making on The Saturday Scoop! Oh and don't forget to catch me on Instagram I share all week what's going on!
It's been so great chatting with you today! I hope some of these ideas I've shared will help you with this season's decorating, shopping and baking! I also have added a few gifts in my gift giving tab that are pretty popular this season, take a peek! Can you believe we only have one more Saturday before the big day!!! Hoping to finish this weekend with all my shopping!
Thank you for stopping back by for The Saturday Scoop!
Enjoy your Saturday!
Sugar Cookie
Equipment
Big bowl

Measuring spoons

Measuring cups

Mixer

Wood spoon

Spoon

Wax paper

Rolling Pin
Ingredients
3

cups

Flour plus 4 tablespoons divided

3/4

tsp

Baking powder

1/2

tsp

Baking soda

1/2

tsp

Salt

1 1/4

cup

Sugar

1

cup

Crisco Shortening Stick ( 1 stick)

2

eggs

1/4

cup

Maple syrup or light corn syrup

1

tbsp

Vanilla
Instructions
Combine sugar, crisco stick in a large bowl beating at medium speed until well mixed

Add eggs, syrup and vanilla, blend until creamy and fluffy

Combine 3 cups of flour, baking powder, baking soda and salt blend well

Place in refrigerator for 1 hour

With a rounded scooper place dough on to baking sheet 2 inches apart, add sugar or crystal sugar or leave plain to decorate when cooled, bake for 5-9 minutes depending on your oven, don't over bake, let cool on the baking sheet for 2 minutes

If your making cutout cookies then follow these directions

Divide dough into 4 quarters, wrap each quarter with plastic wrap place in refrigerator for 1 hour

Place 1 tablespoon of flour on wax paper and place dough press lightly turn dough over and place a large piece of wax paper on dough and roll out with rolling pin about a 1/4 thickness cut out with flour cut out transfer to an un-greased baking sheet, use a pancake turner to place dough on baking sheet 2 inches apart sprinkle with sugar or colored crystal sugar or leave plain to frost when cooled

Bake only one baking sheet at a time for 5-9 minutes depending on your oven don't over bake, cool 2 minutes on baking sheet, remove cookie to cool and frost if desired.
Notes
Make sure your baking sheet is on the middle rack. Don"t over bake,