It's almost here!
Are you ready for it!
November has gone by so fast and Thanksgiving is less than a week away!!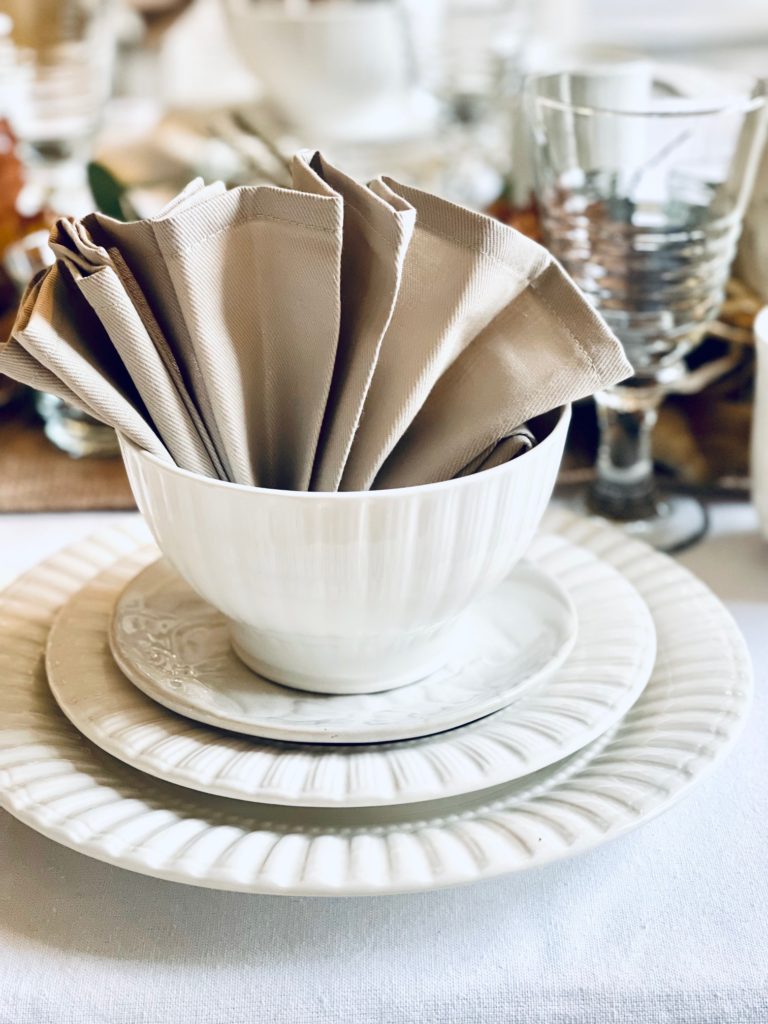 I'm hosting a small gathering this year. My kids will be here, well, three of them, and my brother is coming! He's back from Florida and we are all so happy he's home! We will SKPE with my son who lives in Seattle. Last year we cooked together on SKPE! It was so much fun! Thank goodness for technology!
Yesterday I set my table for our dinner. I really like setting a nice table for the holidays. This year I'm using my bone china, my antique mixed silverware, some older glassware and I'll set a centerpiece display for our table.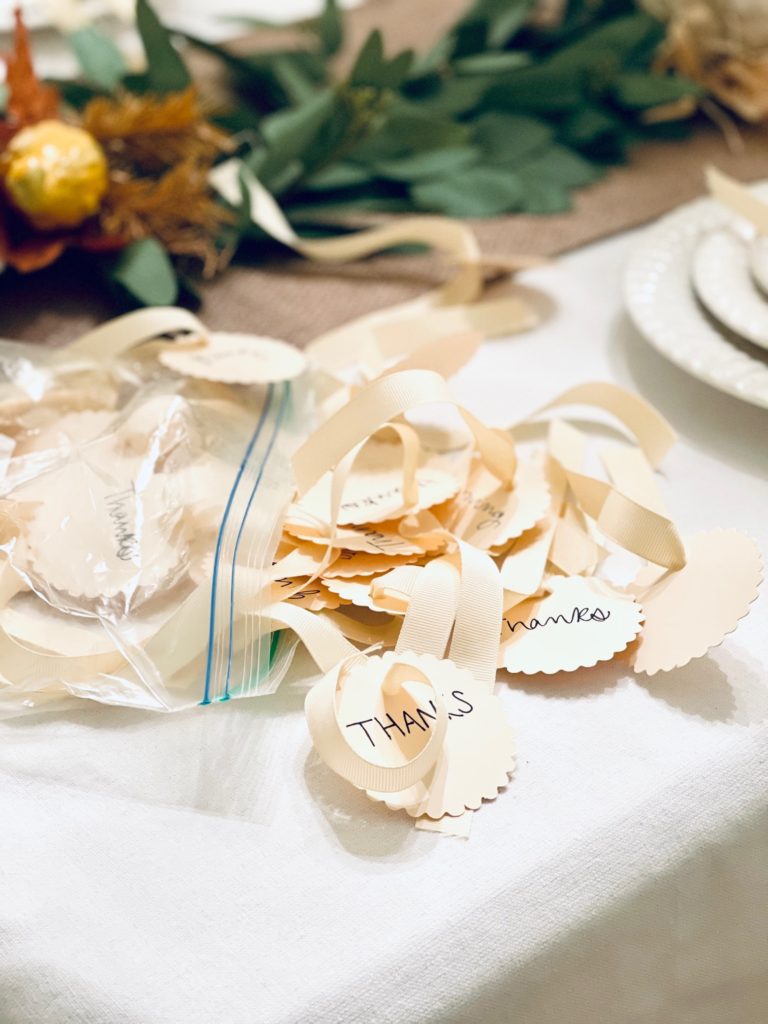 This Thanksgiving I'm setting up the dinning room for our dinner. I'm so excited to have it in the dinning room! We usually eat in the kitchen or our crowd is too large and we set up in our basement. I really don't use my dinning room as much as I would like.
When I'm setting a table I always think what am I going to do for the center piece! So the other day I was on Instagram and I saw a turkey in the back ground of a post by The Mitin Collective
Well I contacted them right away! The owner was kind enough to hold it for me and I went and pick it up! The turkey is the cutest!!! The Mitin Collective is a darling boutique.This beautiful boutique is filled with vintage decor, kitchen essentials, gifts, furniture and so much more! If you live in the area you should check out! It's located in Shelby Township.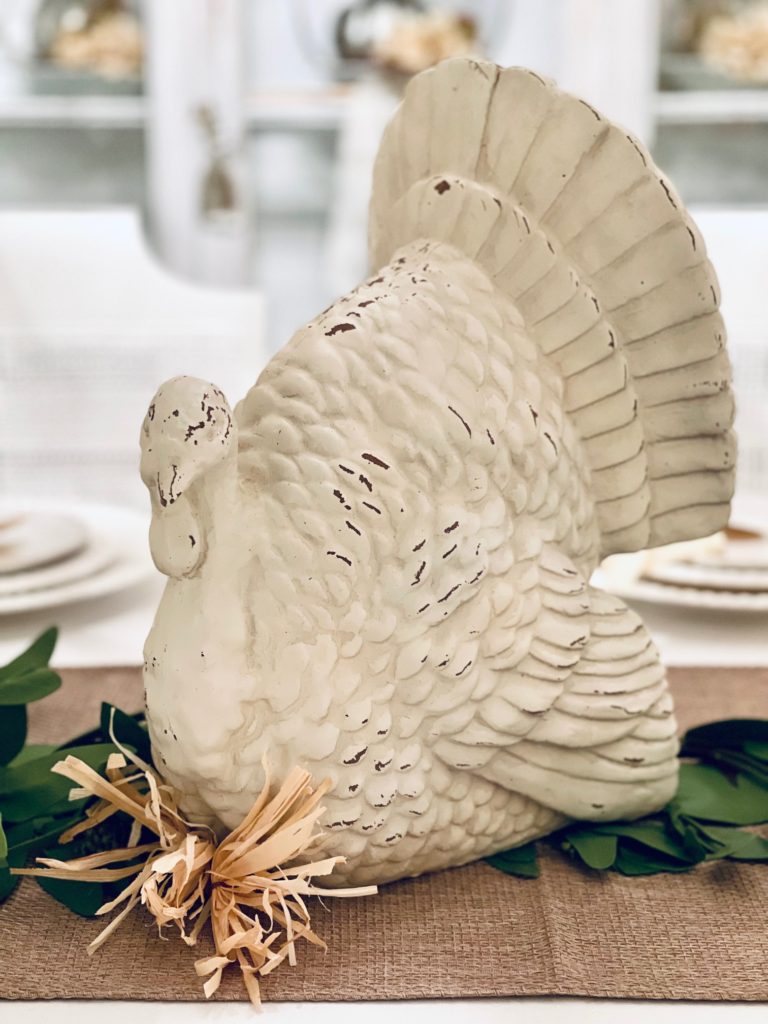 With my inspirational turkey I decided to keep my table simple this year.
For my center piece I've added candles, greenery, a pumpkin and a few dry hydrangea's.
I like to reuse what I have, so I've used the green spray from my Friendsgiving luncheon. In case you missed it you can click this link and read the post here.https://houseofmar.com/how-to-host-a-friendsgiving-luncheon/ I actually found the spray on Amazon. It's such a pretty spray of greens and it lay's so well on the table. I'm using a burlap table runner on top of a white tablecloth to center my table scape.
If you've been here for a bit you know I like to layer fabrics!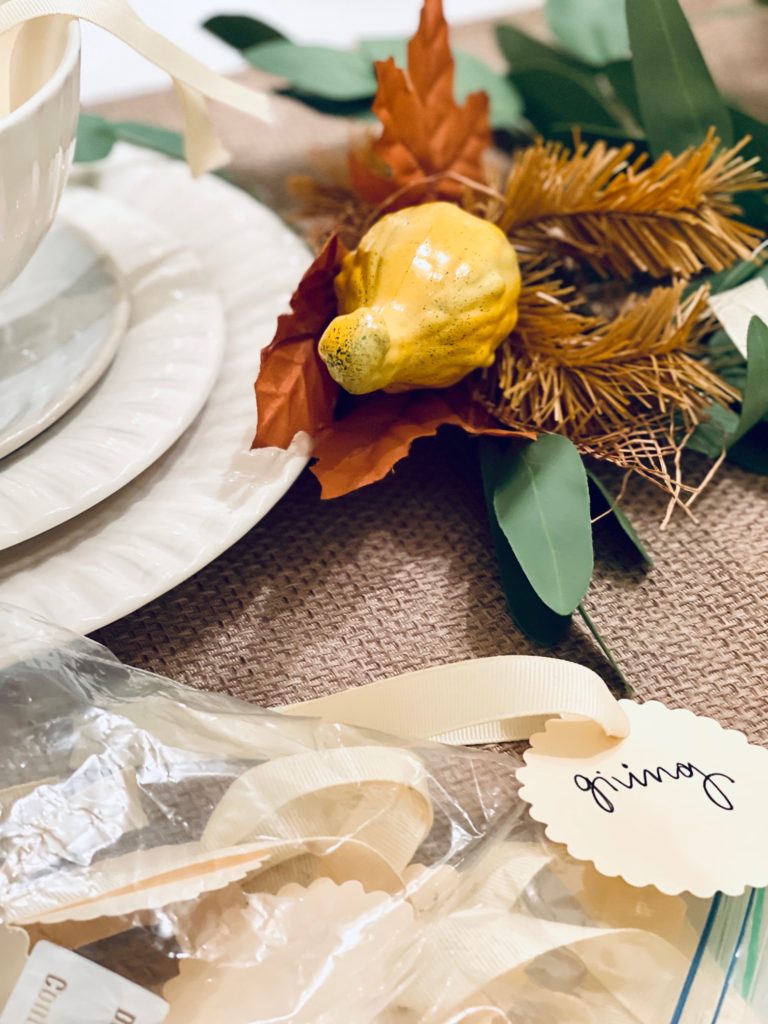 I added some faux corn husks, and dried hydrangea's from my yard. I went around my house and took a snip of magnolia leaves I used on the fireplace, pulled a pumpkin from the dough bowl I had on the dinning room table. I also grabbed some of the corn husks from a display in my foyer. It wasn't even noticeable that I did this!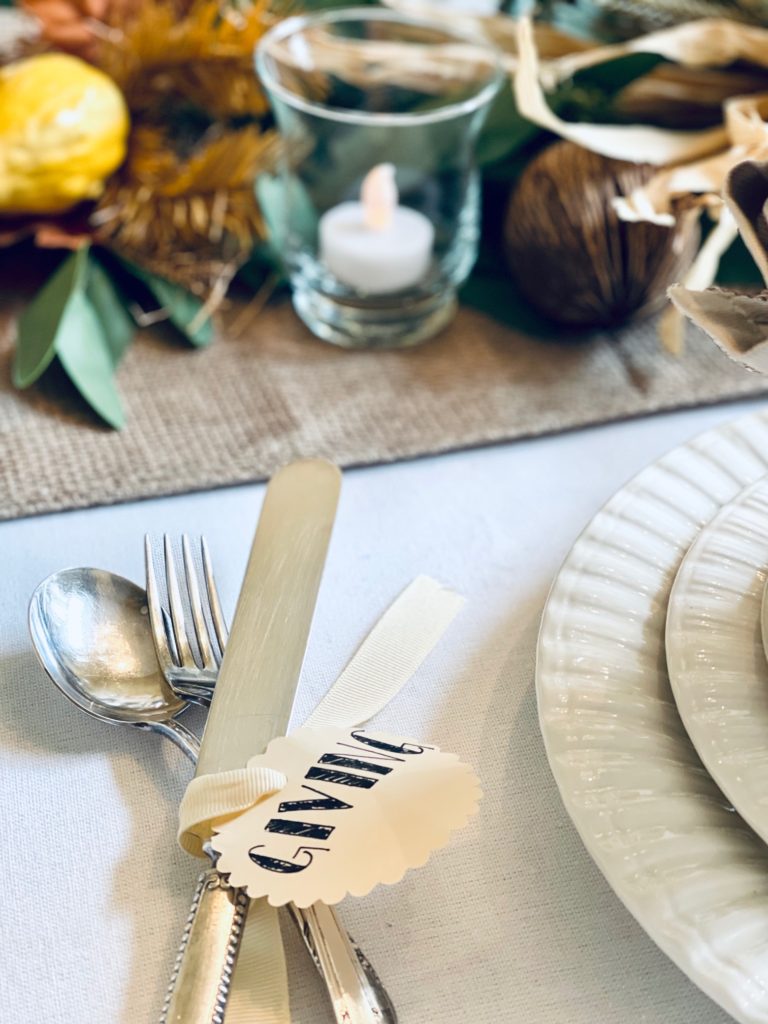 I like adding a few candles as well, it just set's the mood, but the star of the table is the Turkey!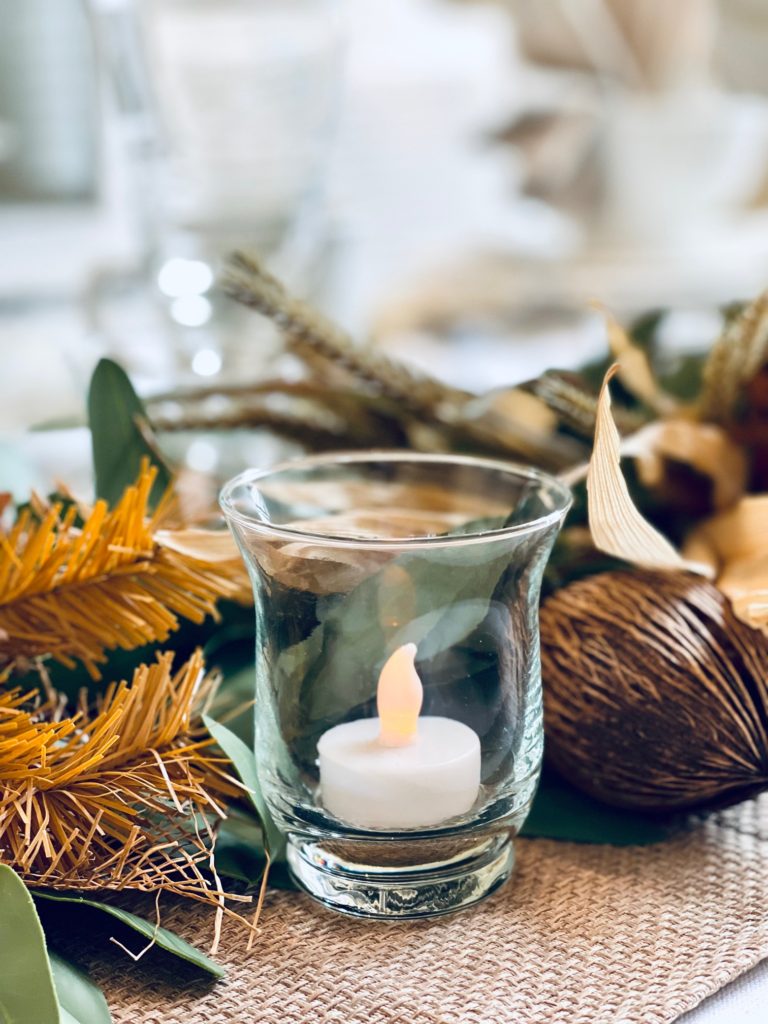 Soup bowls are included in my setting! I'm making soup to go along with our meal. I found the cutest little plates at target for $3.00! They have a pumpkin design that is so adorable! The plates I'll use as our bread plates! We are all about bread in this house! I've included a salad plate and our dinner plate!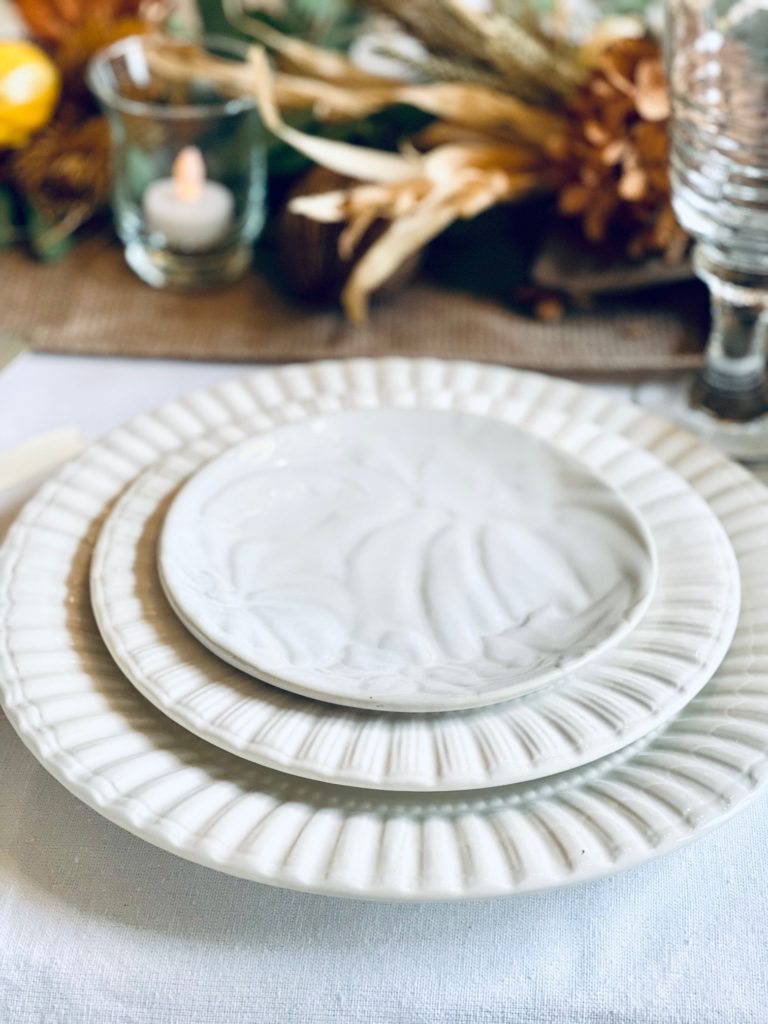 I'm placing the coffee cups with our setting, it's so much easier to already have the cups at the table. I'll just bring a craft of coffee to the table with the desserts. Do you see I said desserts!!!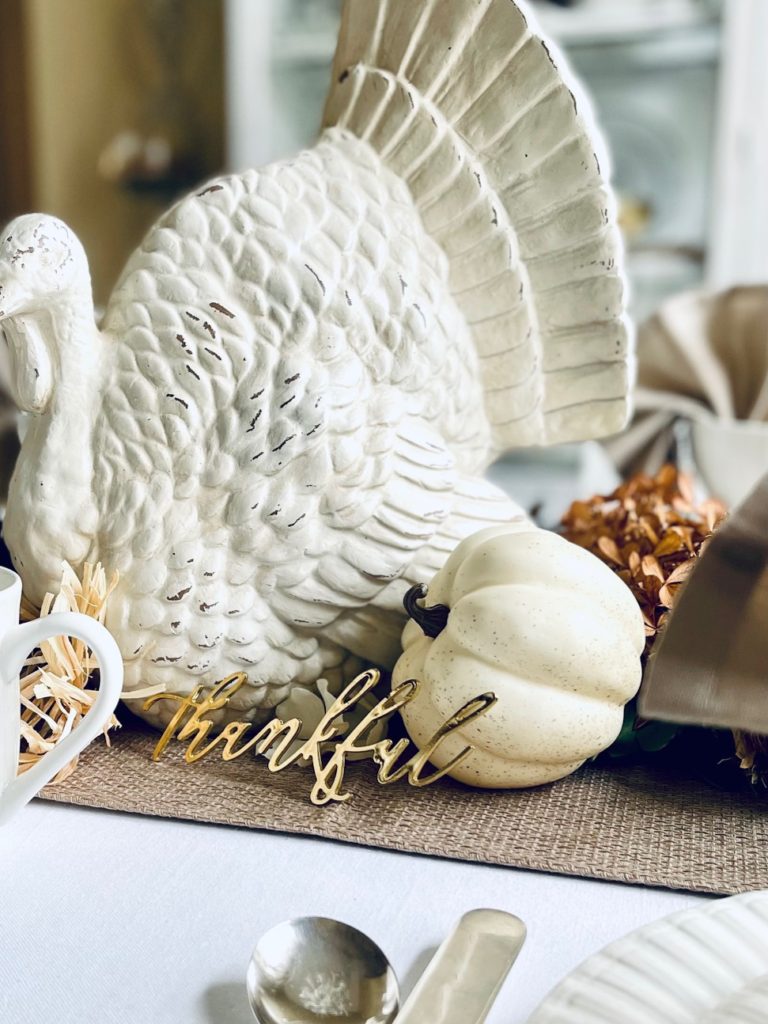 I think the holiday should be enjoyable for the host as well. I try to prepare and set up as much as possible before the big day, so I can enjoy the day as well! I think if your host is enjoying the day so will your guest!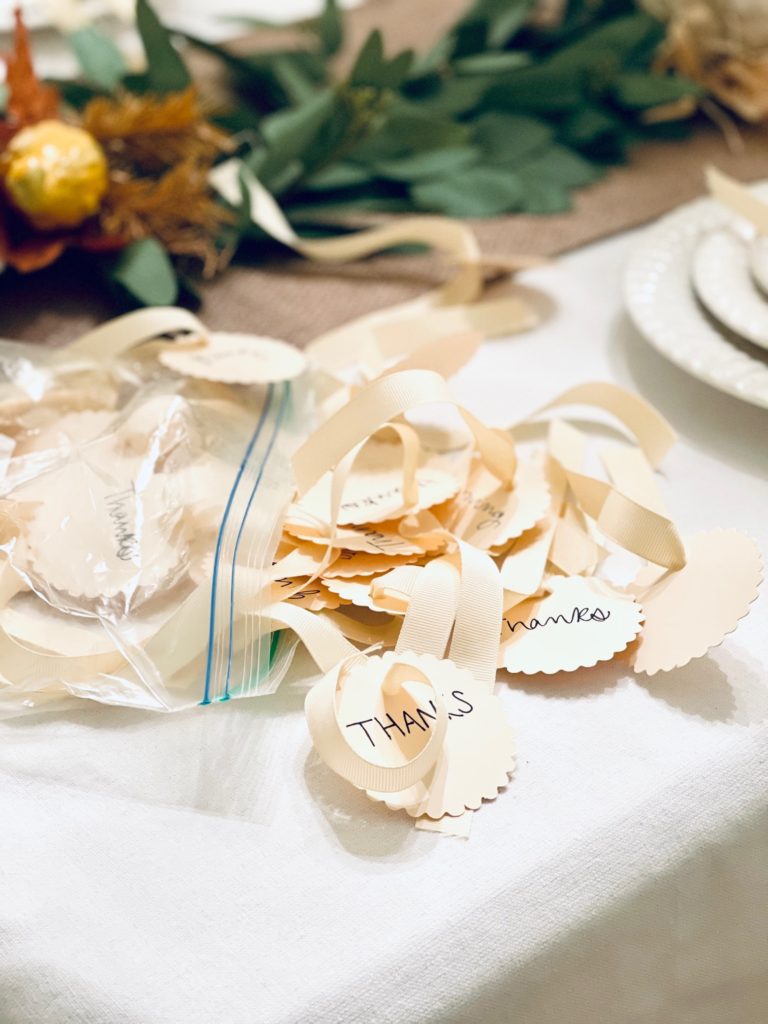 A few years ago my daughter and I made these little napkin holders out of stock paper. We cut the paper into a circle with crafting scissors and used a hole punch so we could add a ribbon. We wrote on the round circle words of thanksgiving, such as thanks, giving, blessed etc. I'm using a few this year for my table to hold the silverware together.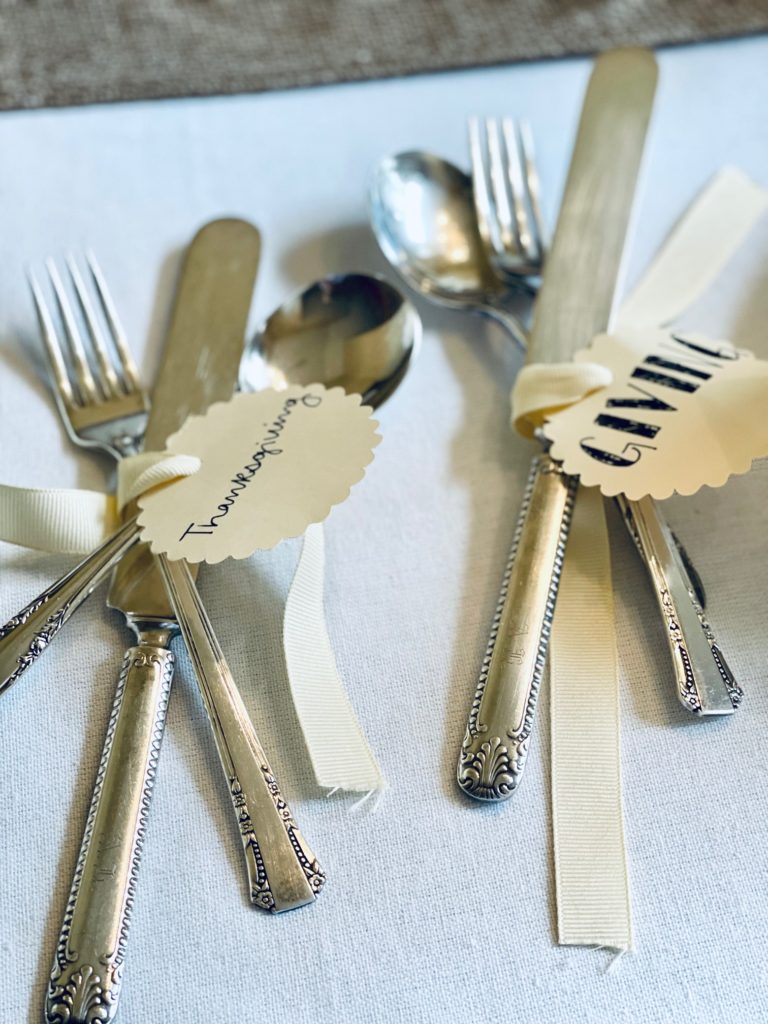 If you notice my silverware is mismatched. I've been collecting old silverware for so many years! Thrift stores are where I usually find them. Do you know it is so hard to find forks, there are plenty of knives and spoons but forks are always missing!
I didn't use chargers, I'm keeping it simple. You can set a beautiful table with items you have. Your dishes don't need to match, I think mixing patterns, styles and colors give a table more depth and interest!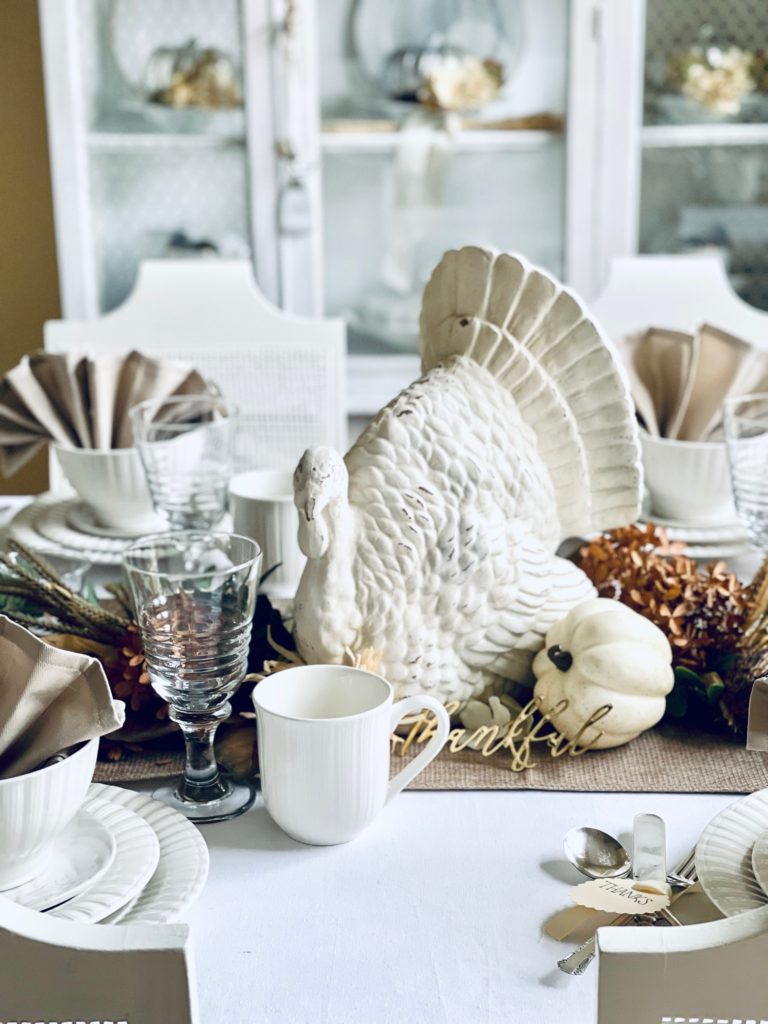 I found it fun to go around the house and take items from my other fall displays.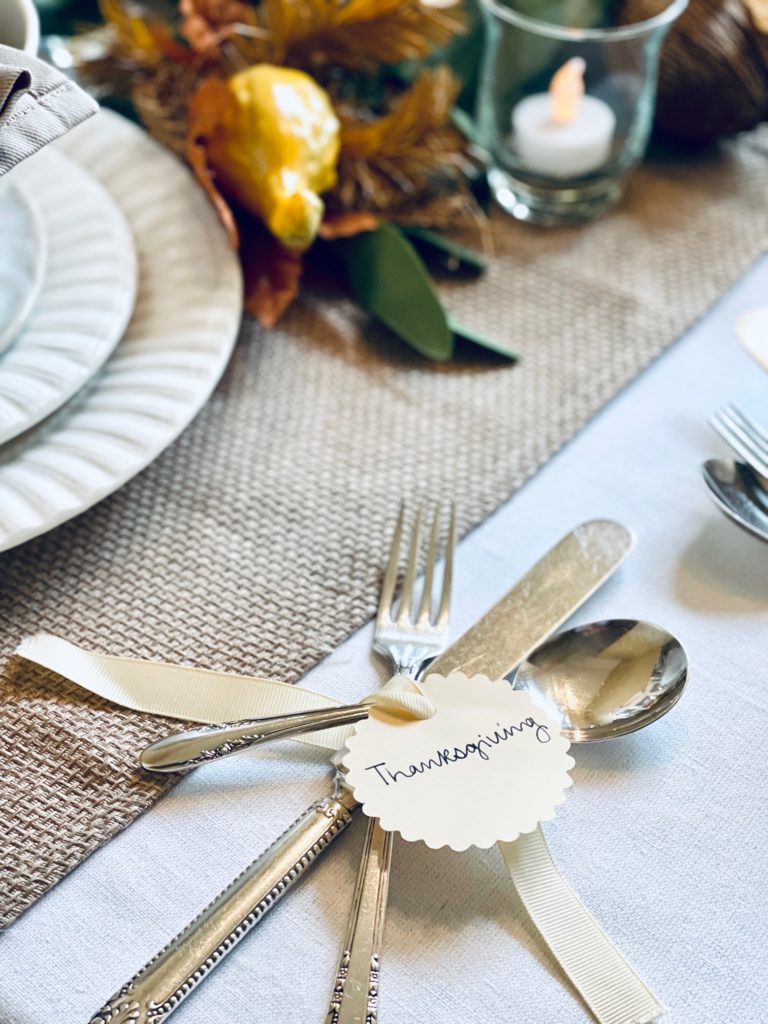 Real silver is a little bit of an upkeep but I did find using baking soda and warm water cleaned these pretty good!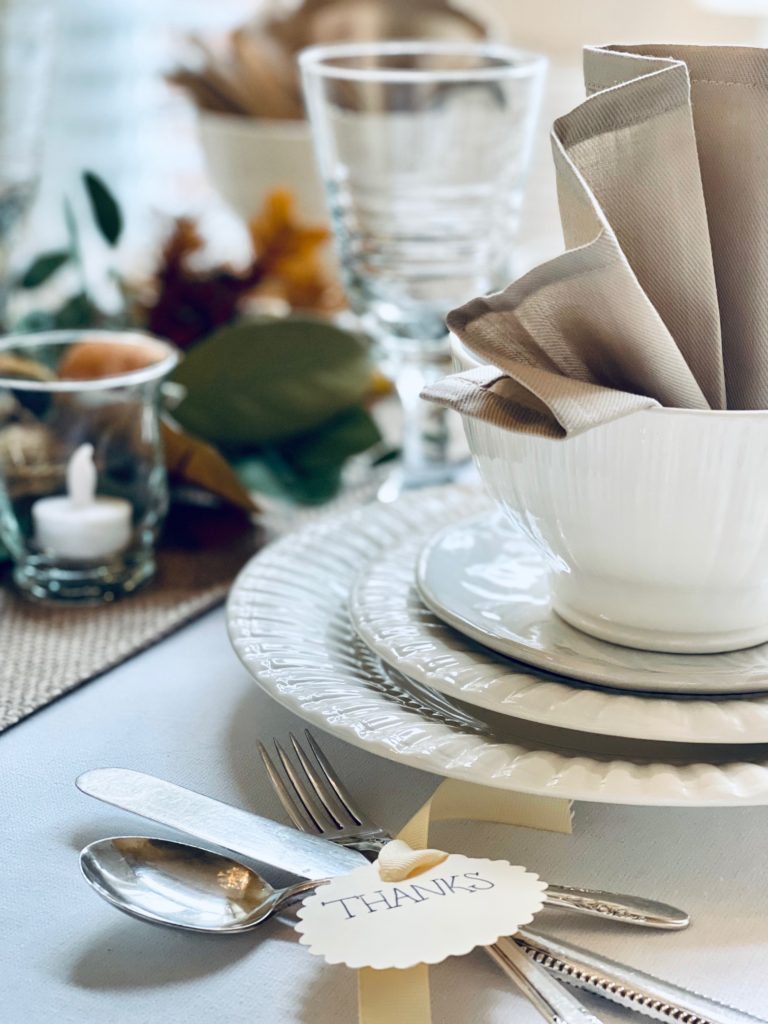 Sometimes I'm not sure where to add a napkin, over to the side, folded on the plate, under the plate. For this setting I did an according style napkin for my husband Lol. He plays the accordion and will play after dinner, he'll play Christmas music for us!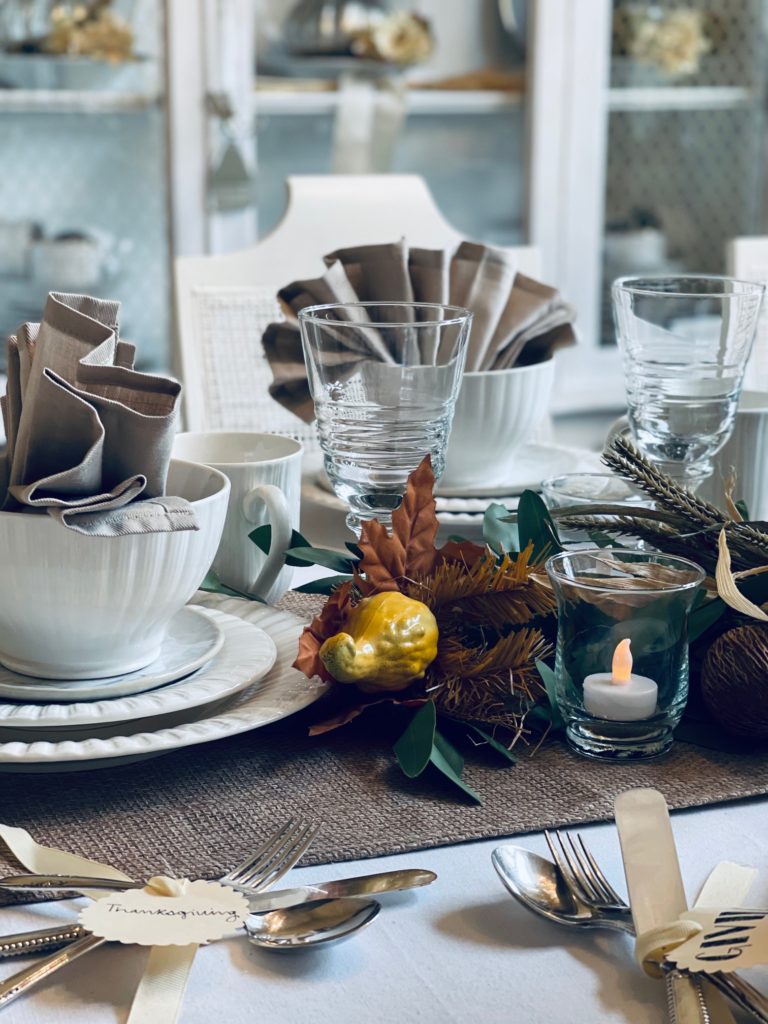 When having a smaller dinner party it can be more intimate and simple.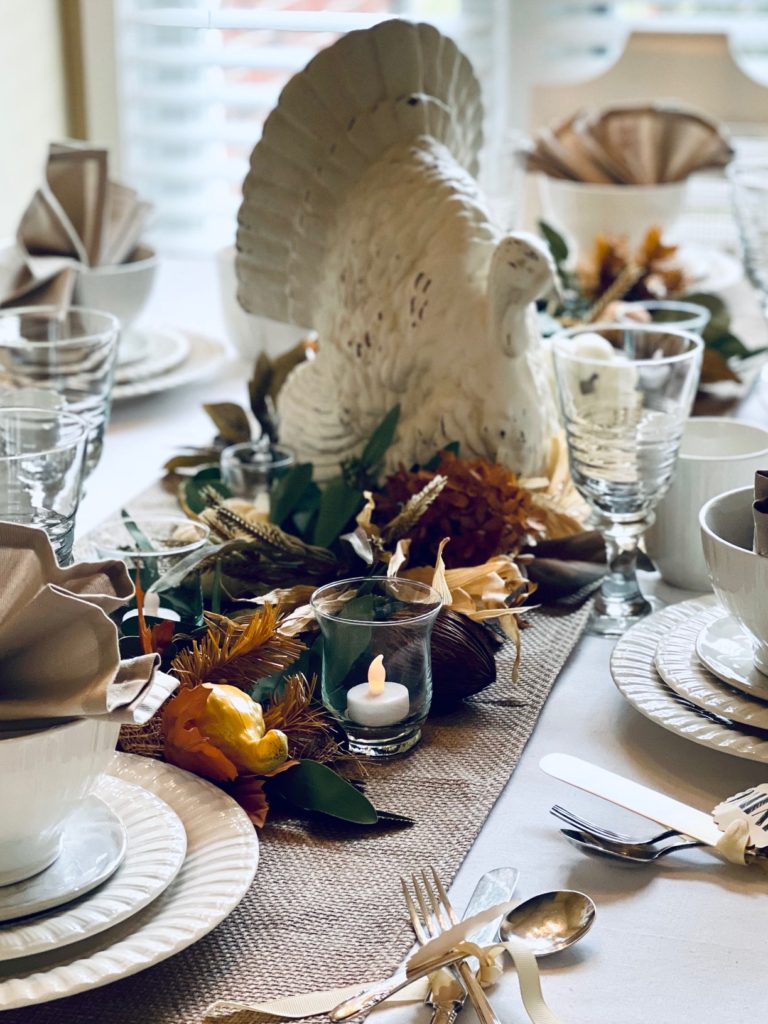 You know the real reason I kept this table very simple, it will be very easy to put it all away… because… I need to get busy decorating for Christmas!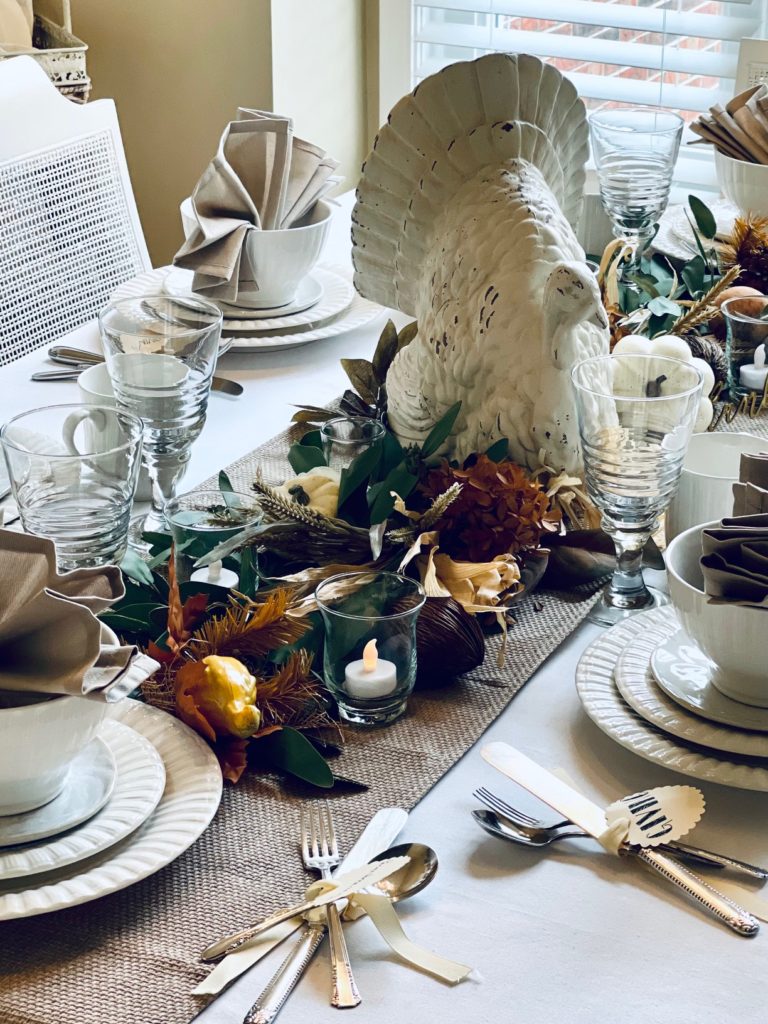 Just a little something I do when I set an early table. I will tip the glasses over and the coffee cups. I'll cover my table with a long tablecloth so no dust get's on my table setting. I'll remove the tablecloth the morning of Thanksgiving and turn the glasses and cups over and all will be good!!
Thank you for stopping back,
I hope you have the best blessed Thanksgiving!!!
I have also included a recipe for a very tasty fall cake, I hope you'll enjoy it!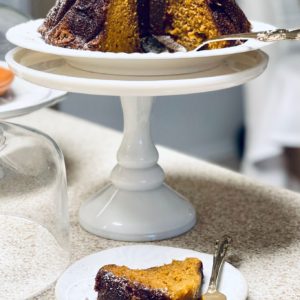 GLUTEN FREE PUMPKIN SPICE CAKE
GLUTEN FREE MOISTE PUMPKIN SPICE CAKE
Equipment
BUNDT PAN

KITCHEN AIDE MIXER/ HAND MIXER

SPATULA

Spoon

MEASURNING CUPS

Measuring spoons

MIXING BOWL
Ingredients
2

CUPS

GLUTEN FREE KING ARTHUR 1:1 FLOUR

2

TSP

GLUTEN FREE BAKING SODA

1/2

TSP

GLUTEN FREE BAKING POWDER

1/2

TSP

CINNAMON

1

TSP

PUMPKIN PIE SPICE

1

TSP

GINGER

1/2

TSP

GROUND NUTMEG

2 1/2

CUP

BROWN SUGAR

3

LARGE

EGGS

1/2

CUP

SOUR CREAM

1

TBSP

GLUTEN FREE PURE VANILLA

1/2

CUP

CANOLA OIL

2/3

CUP

WATER

1

15 0Z

CAN OF PURE PUMPKIN
Instructions
GREASE THE BUNDT PAN WITH OIL AND DUST WITH COCOA POWER, POWDERED SUGAR, OR GLUTEN FREE FLOUR

IN A BOWL COMBINE ALL THE DRY INGREDIENTS, FLOUR, BAKING SODA, BAKING POWDER, GROUND CINNAMON, GROUND GINGER, NUTMEG, PUMPKIN SPICE. SET ASIDE

IN A MIXING BOWL COMBINED SUGAR AND EGGS, MIX AT MEDIUM SPEED UNTIL FLUFFY NEXT ADD SOUR CREAM, OIL, VANILLA AND PUMPKIN PUREE, MIX WELL

ADD HALF THE FLOUR AND 1/3 OF THE WATER TO YOUR WET MIXTURE ADDING 1/3 OF EACH AGAIN AND THEN THE REST WHILE MIXING WELL

POUR BATTER INTO THE PREPARED BUNDT PAN

TAP PAN GENTLY ON THE COUNTER TO REMOVE ANY BUBBLES

BAKE FOR 50-60 MINUTES ON THE CENTER RACK

COOL FOR 15 MIN BEFORE REMOVING FROM THE PAN

WHEN COOLED SPRINKLE POWER SUGAR ACROSS THE TOP OF THE CAKE
Notes
EGGS SHOULD BE ROOM TEMPERATURE  
DON'T USE REGULAR COOKING SPRAY, BAKING SPRAY CONTAINING FLOUR CAN BE USED
YOU MAY NEED TO BAKE YOUR CAKE LONGER DEPENDING ON YOUR TYPE OF OVEN