Ideas for a Simple Inexpensive Engagement Party
There are so many sources and ideas for a simple inexpensive engagement party, and even though I didn't plan this party I want to share my nieces party with you!
These are some great Ideas to share for a Simple Inexpensive Engagement Party!
This past weekend my sister threw my niece a surprise engagement party. She was surprised twice that weekend. Her boyfriend surprised her with a trip to Maine where he proposed. They were engaged in Maine and flew home and were surprised by the engagement party. My sister had some wonderful Ideas for a simple inexpensive engagement party and I wanted to share this with you, It was so beautifully decorated with simple and inexpensive decor items and had the sweetest dessert table made by the guest!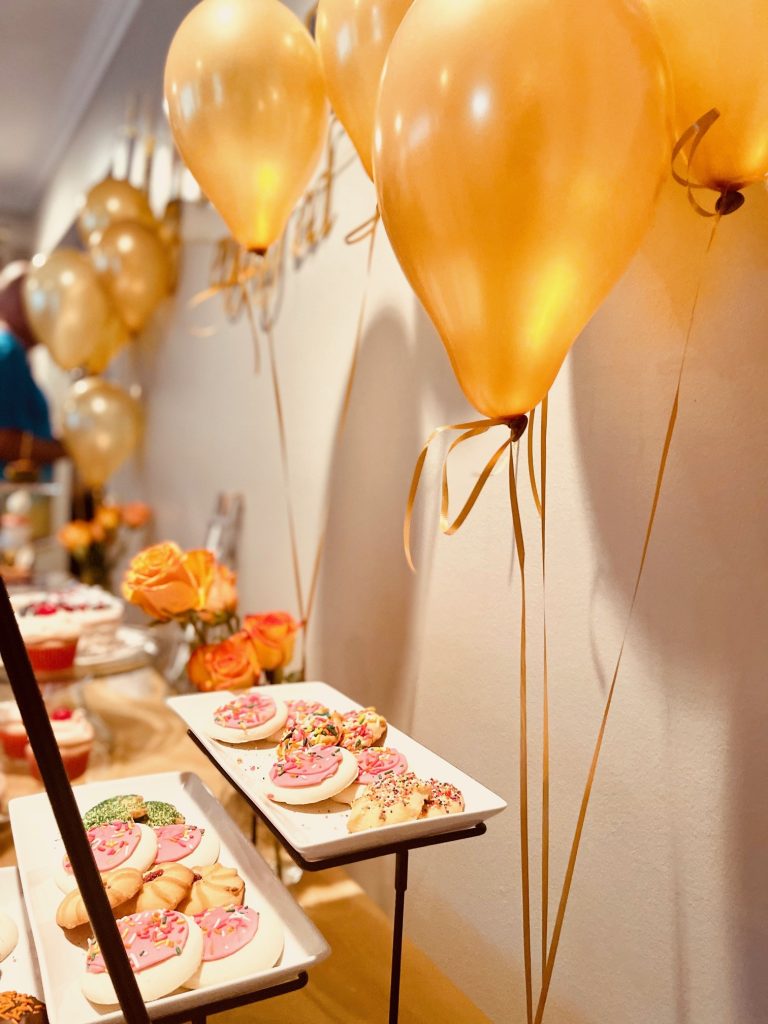 My sister wanted to keep the party simple and inexpensive and she had so many great ideas. She chose to incorporate the engaged couple's favorite colors, flowers, and some of their favorite foods. She also thought she needed to have some type of large decoration so she chose to use balloons.
Balloons are great to use because they are inexpensive and you get a lot of bang for the buck!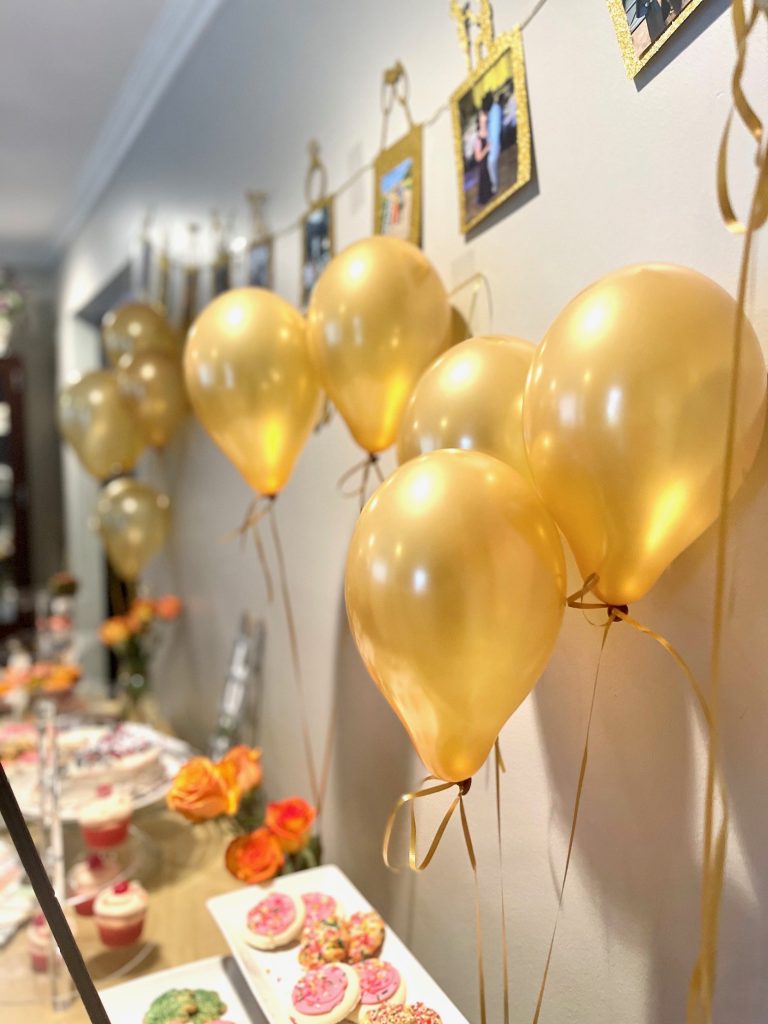 One of my niece's favorite flowers is the rose; the couple's favorite colors are orange and yellow. The roses my sister bought were so beautiful, she had the florist dye the roses orange and had a simple dip of a darker orange around the tip of the rose. There was no extra charge to do this special touch.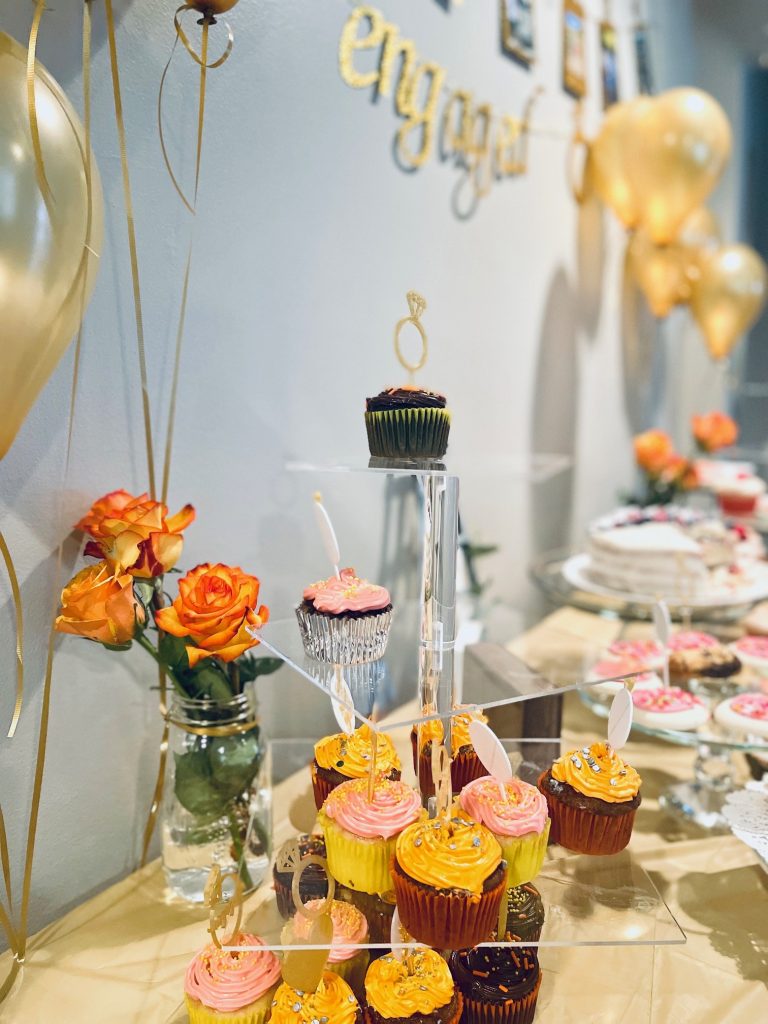 Keeping the Celebration Simple
To keep the celebration in the theme simple, inexpensive glass canning jars were used as vases. Beautiful arrangements were made and placed on each table and dessert table. Such a great idea and very inexpensive to do for this wonderful celebration. At the end of the party, guests were welcome to take the arrangement home with them.
My sister also had another great idea, she had her oldest daughter and my other niece make an engagement sign. So as we walked into their foyer to greet all the party guests was a lovely sign with the names of the engaged couple. The engagement sign was adorned with beautiful calligraphy writing and simple floral accents draped all around the sign.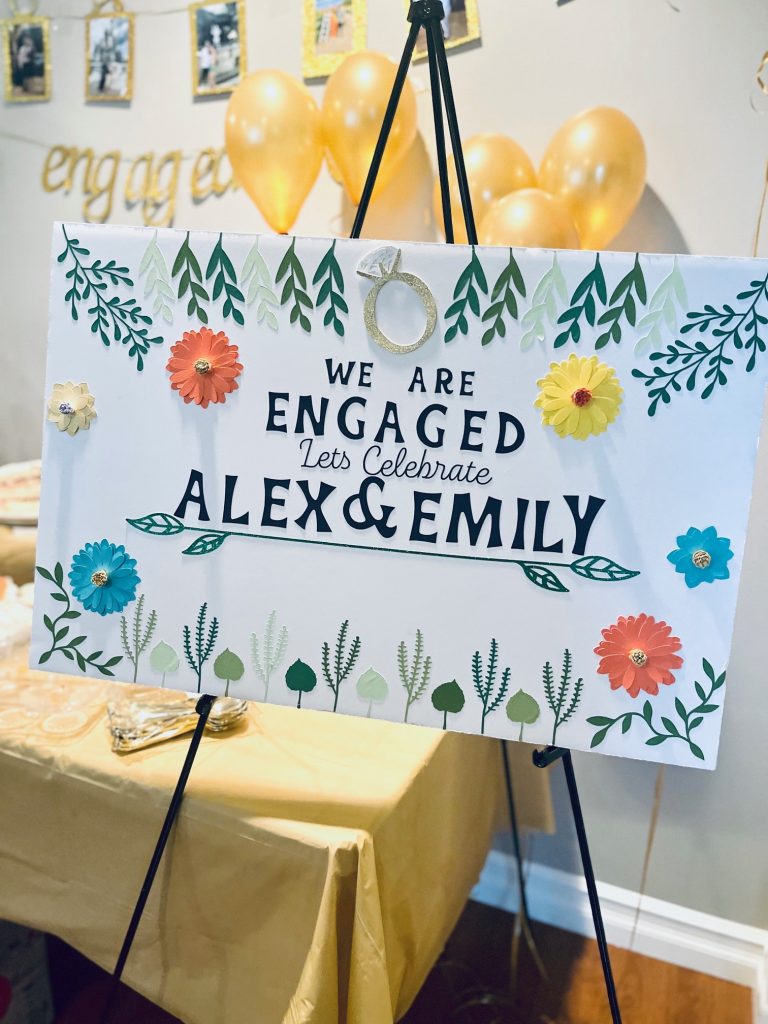 My niece didn't just make one engagement sign, she made two! There was a sign placed in the backyard celebration area as well.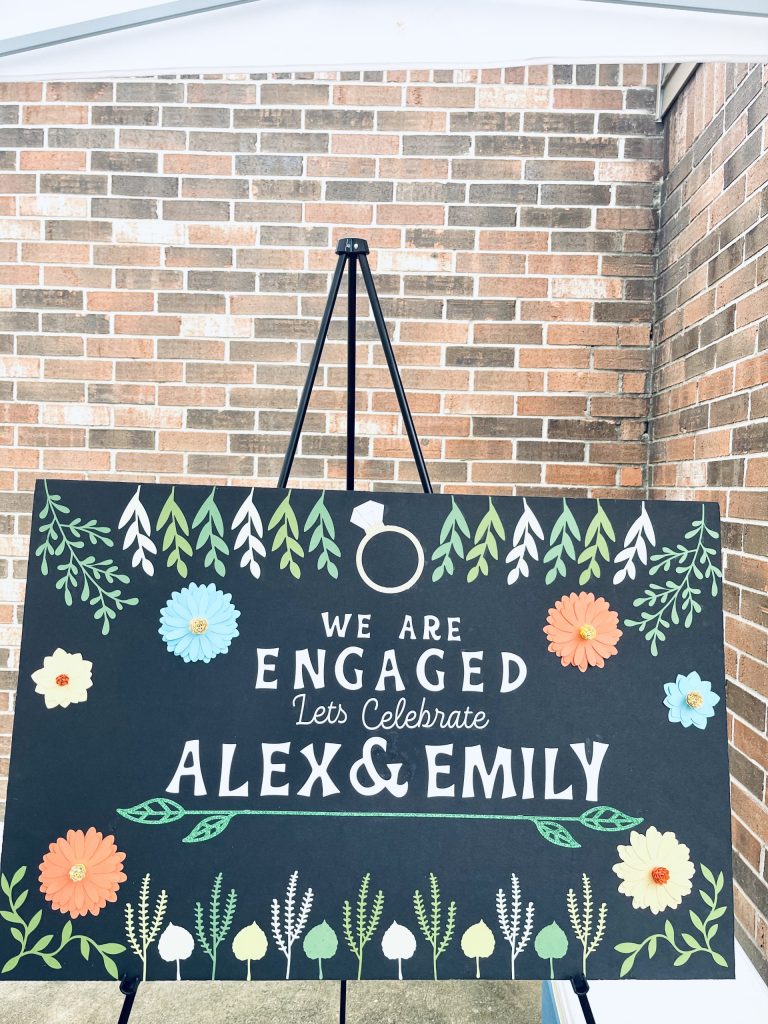 Desserts, Desserts, Desserts,
You can't go wrong with having desserts at any party! Many of the guests offered to bring desserts for the event. This is a nice way to make it easier for the hostess. We were told the bride-to-be and groom-to-be liked cupcakes and cookies! Our brother made a variety of flavored cupcakes vanilla bean, double chocolate, and carrot cake. Each dessert cupcake was adorned with an engagement ring or a little engagement quote. The brother of the groom-to-be brought cupcakes as well, Cherrie cupcakes with a cherry cream cheese frosting!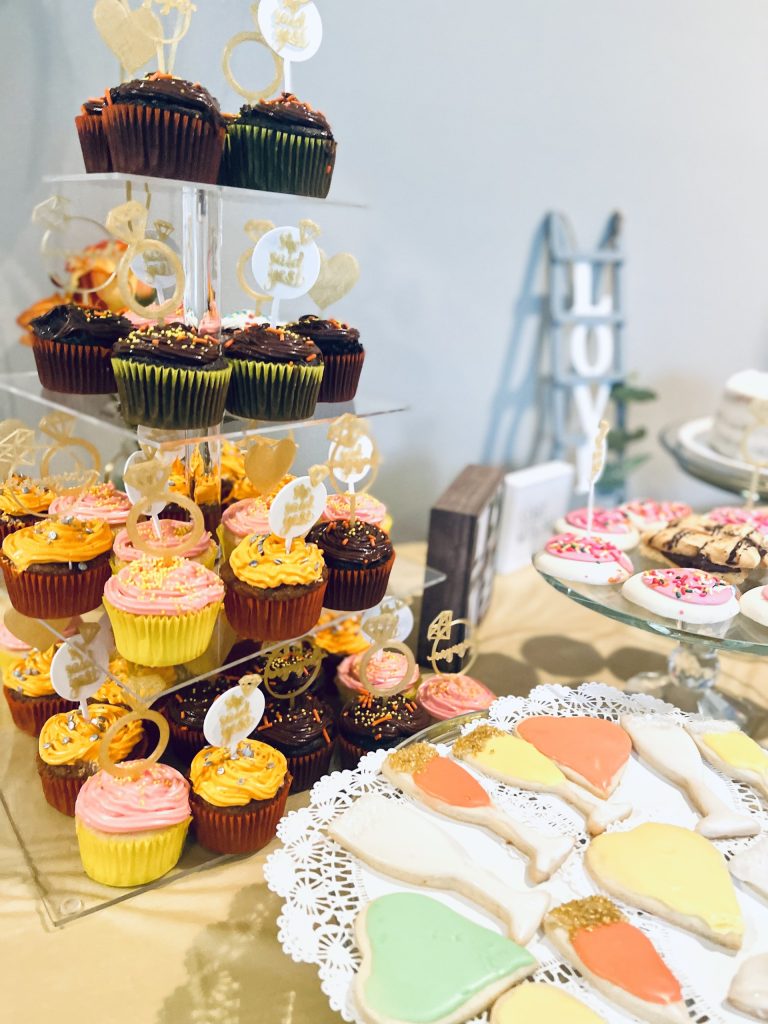 I brought two desserts, the first dessert I brought was lemon sugar cookie cutouts. These little dessert cookies were cutout cookies made into engagement rings, hearts, and champagne glasses. Each was frosted with a thin layer of lemon sugar frosting and sugar sprinkles. I used food coloring and I used the favorite colors of the engaged couple.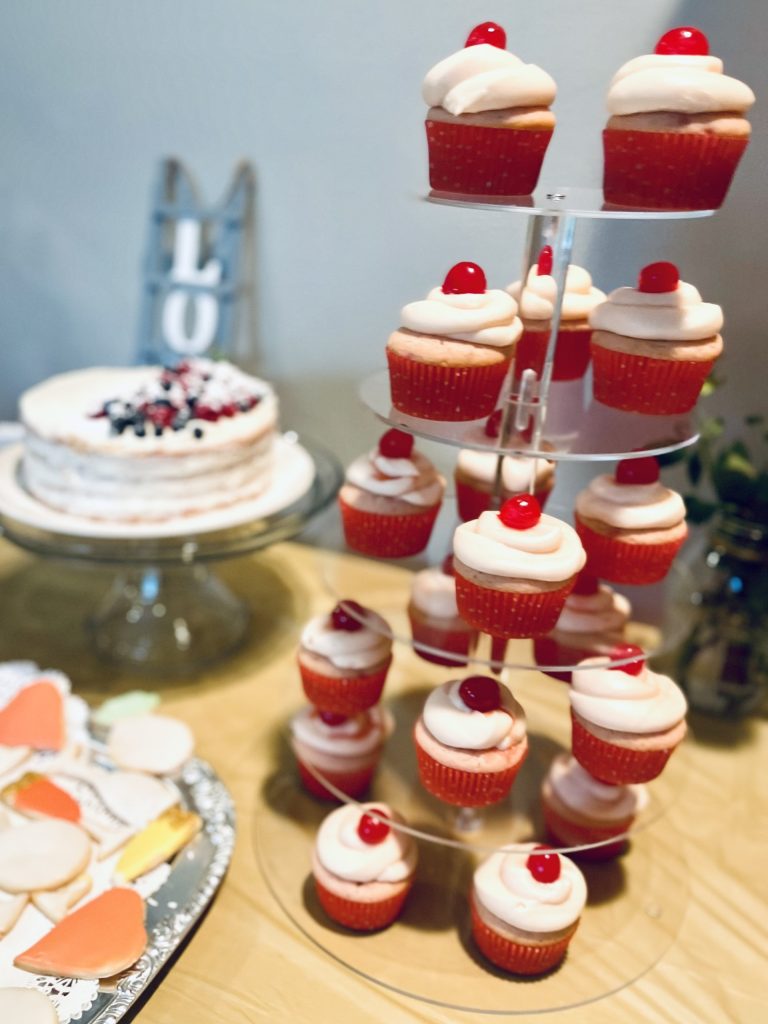 I also brought a cake at my sisters request to add to the dessert table, the Chantilly Cake I've been talking about making! This dessert was perfect for this special occasion. I have a post coming soon on the cake. In case you missed it this is the post of the cutout cookies I brought to the party.https://houseofmar.com/gluten-free-lemon-cookie-cutouts/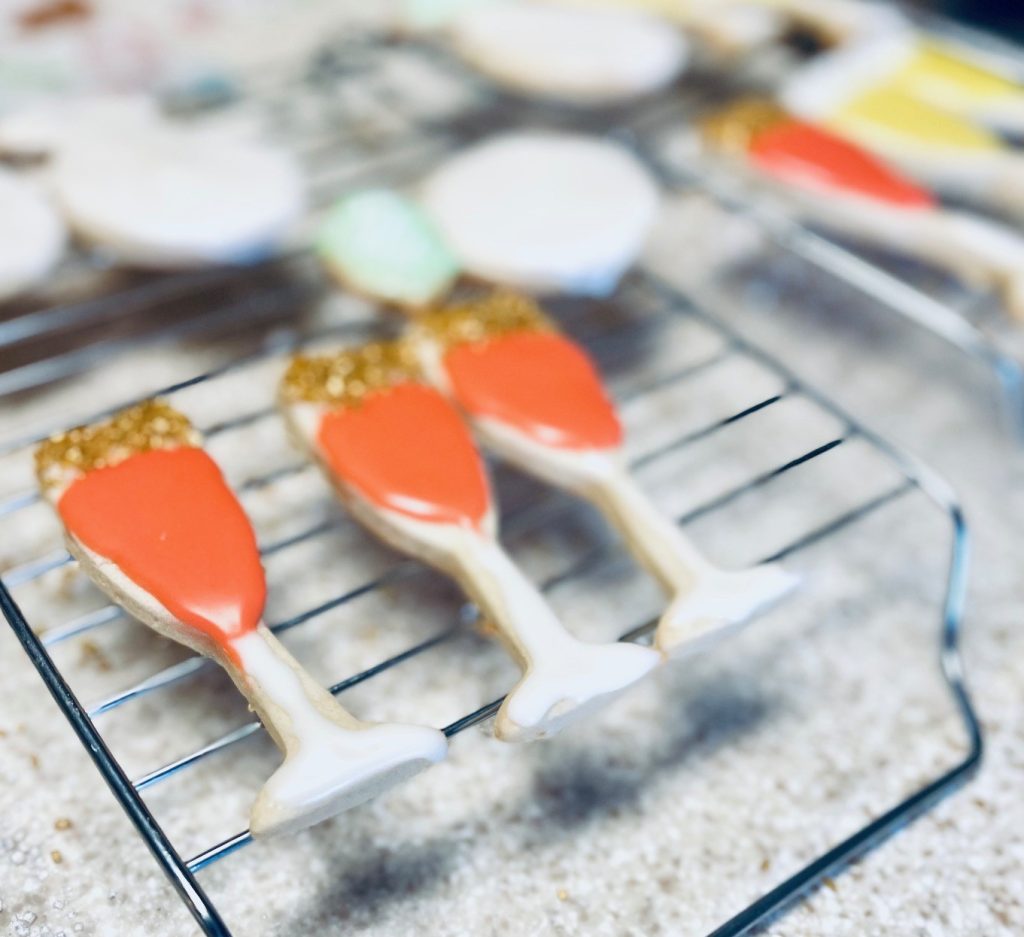 The desserts were placed on cake plates, silver platers, and cupcake towers, the table was also decorated with little signs of love.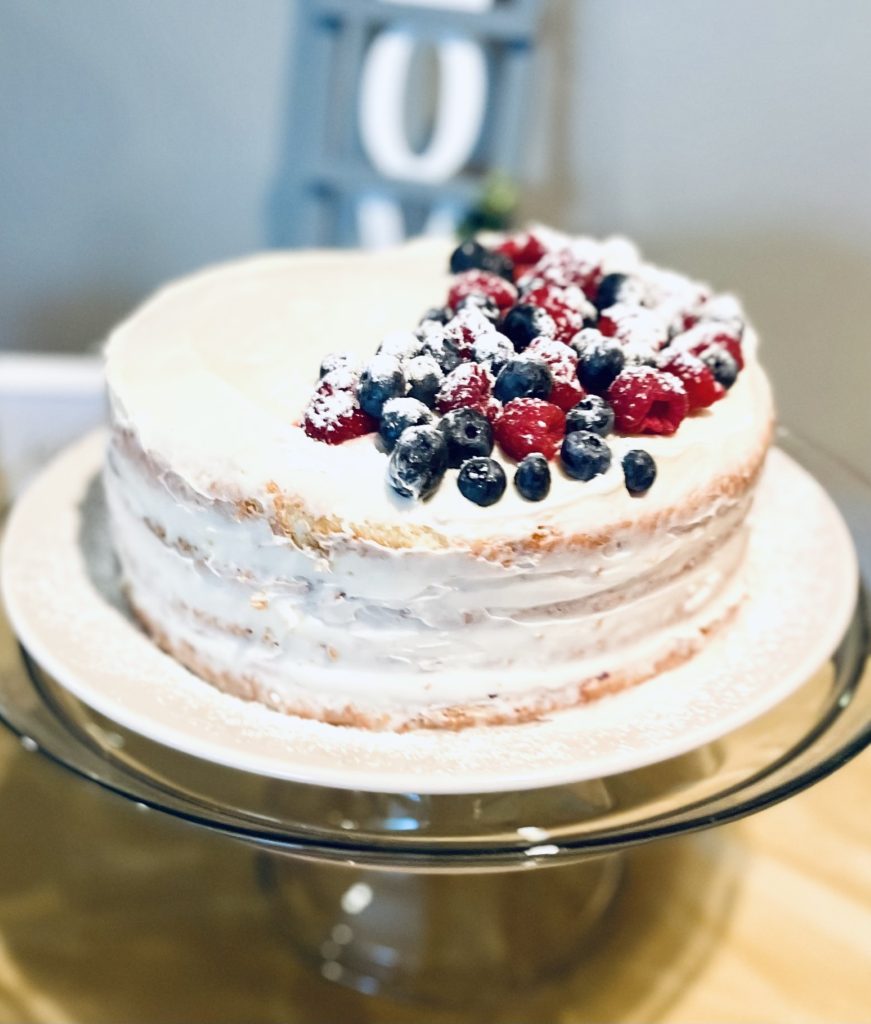 Simple Food For An Engagement Party
The party started with a simple engagment toast.
My sister and brother-in-law kept with the theme and had simple food for the engagement party. They did this by creating a barbecue meal. In keeping with the simple and inexpensive theme my sister and brother-in-law prepared the food themselves. My niece's fiance's family helped as well. The food was simply delicious and consisted of grilled marinated chicken, seasoned burgers, kosher beef hot dogs, cheesy potatoes, different salads, and corn on the cob. ! A buffet was set up for all to enjoy. There were also plenty of snacky foods as well.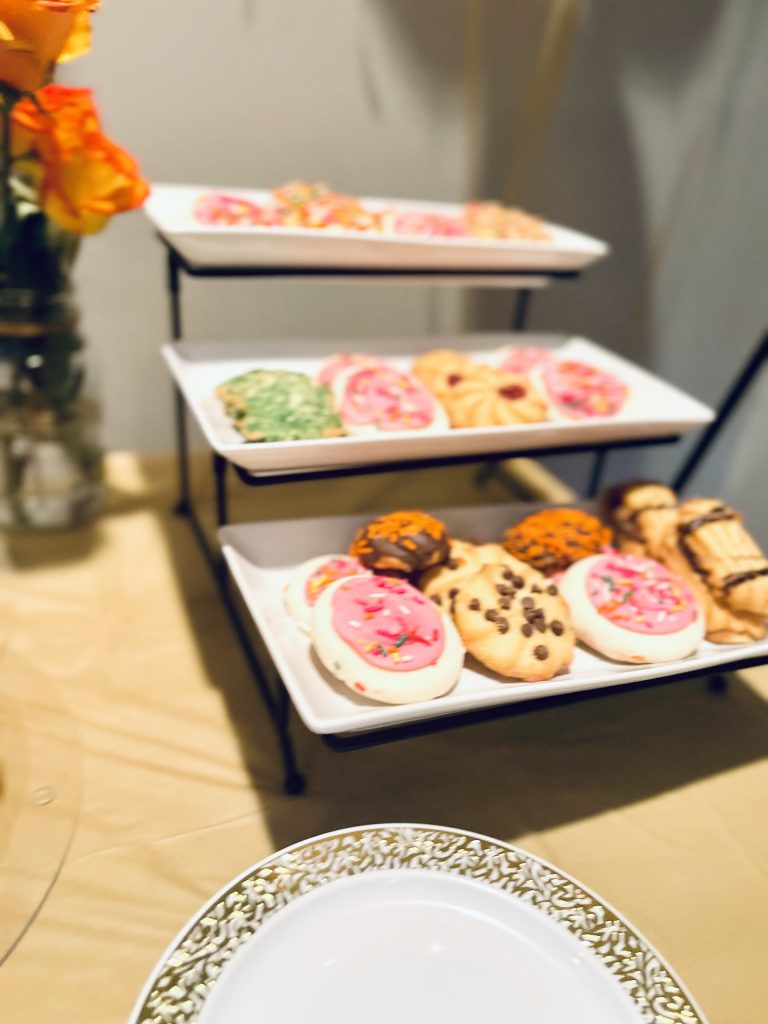 Decorating For An Engagement Party
One of the first things my sister did for the party was to create a backdrop area for decorating.
Next, she took string and strung photos of the engaged couple by placing the pictures in little frames of engagement rings. This was so cute for the party and it sure gave the guest much to talk about!
This decoration was hung above a gold engagement banner that was also draped across the backdrop decor.
My sister then incorporated yellowish-golden balloons along the backdrop of the dessert table. The balloons were just what the party needed for that extra vavhoo!
In keeping with the engagement couple color theme of orange and yellow my sister draped the dessert table with a beautiful shimmering tablecloth in yellow.
Flowers were arranged in glass mason jars and then added to the dessert table and each of the dining tables. Each dining table was dressed with a white tablecloth so as not to take away from the beautiful floral arrangements.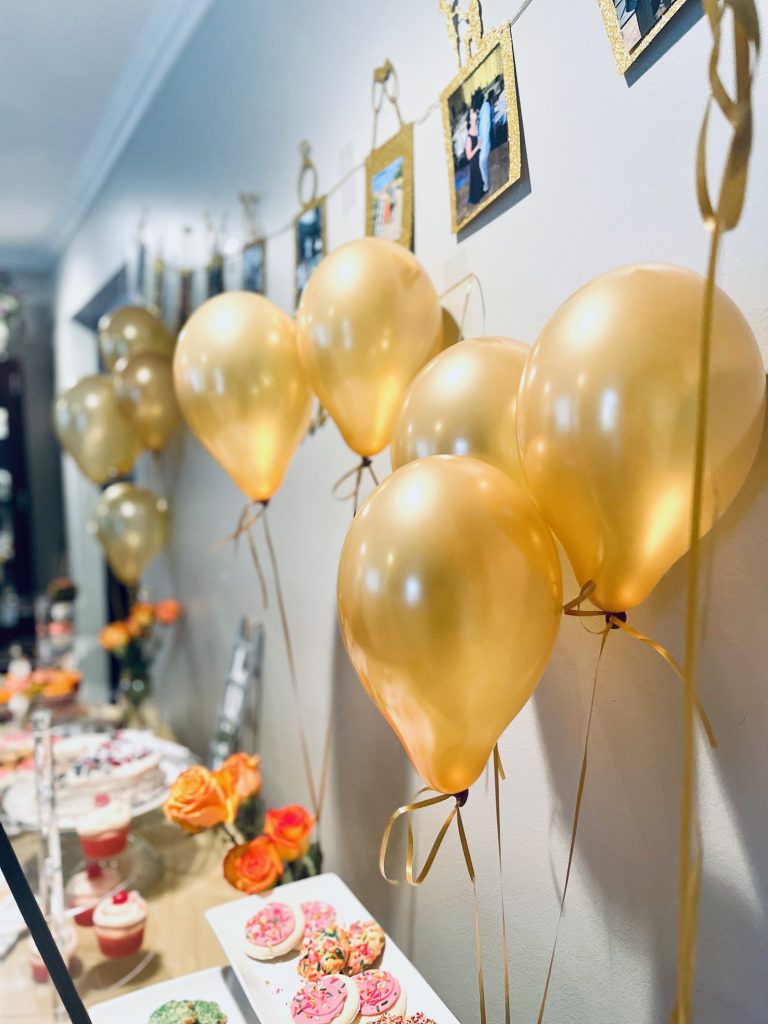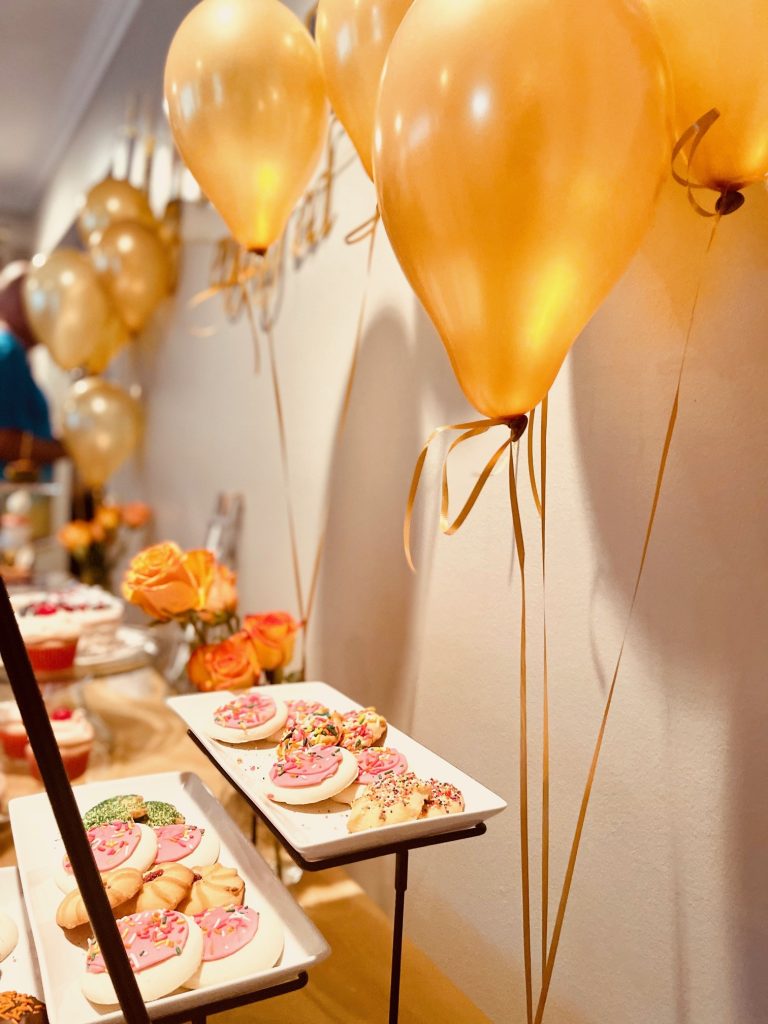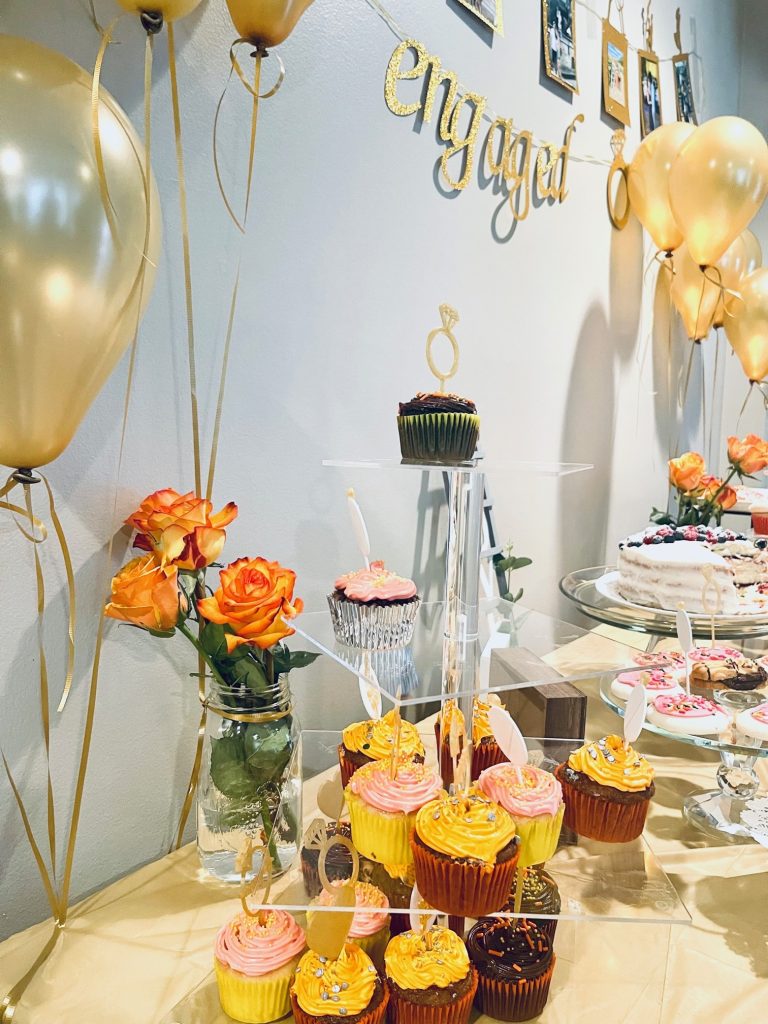 Engagement Party Decoration Items
Balloons: A nice way to add some fun to an engagement party and keep the cost down is to add some balloons.
Flowers: Favorite flowers of the bride-to-be are a nice way to personalize the party.
Vase: Use inexpensive mason jars, bud vases, bottles, or even glasses as a vase to keep within a budget.
Signs: An engagement sign is such a lovely touch and adding the couple's names printed simply is a wonderful decoration to add to the party.
Candles: Want a little romance for the engagement party use some candles, which are also an inexpensive decoration.
Personalizing the Party: Add the engagement couple's favorite colors to the decor.
Disposable plates: Use disposable plates and silverware for the party and it's easy to clean up.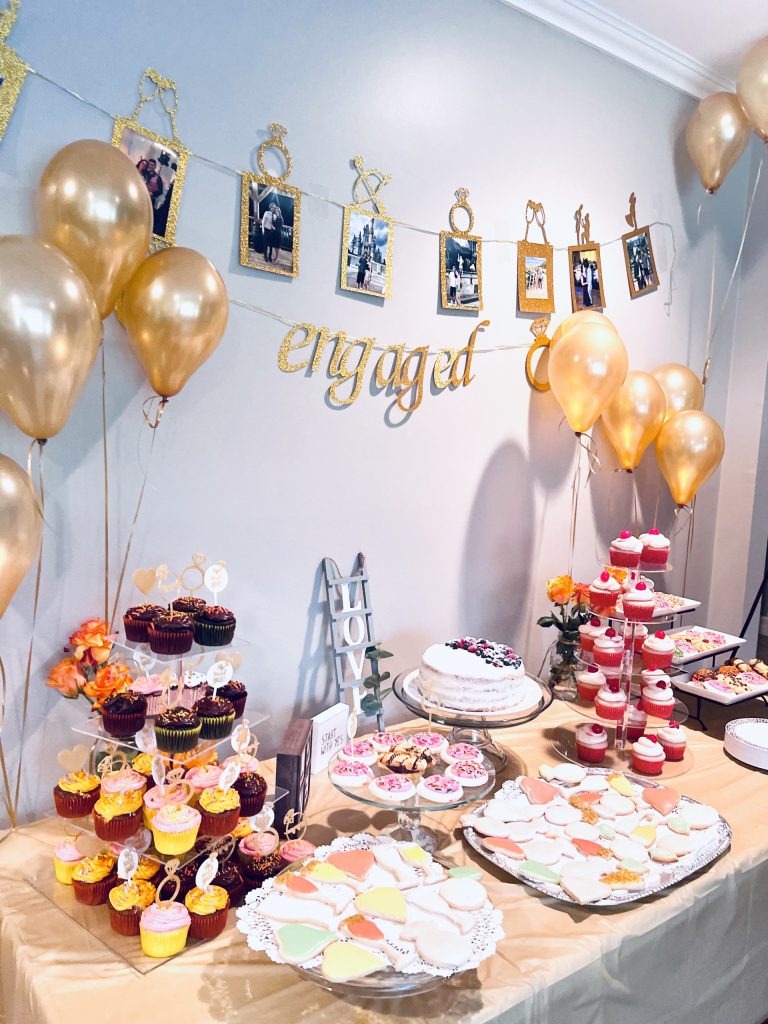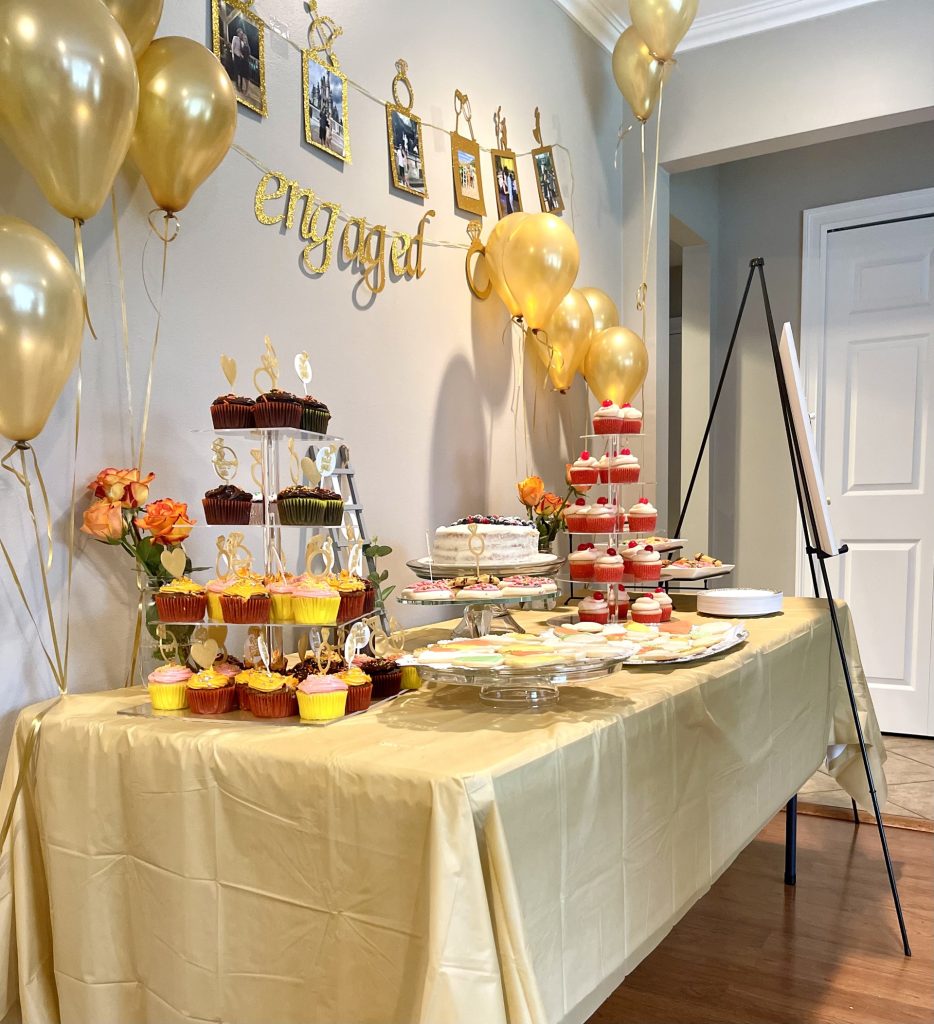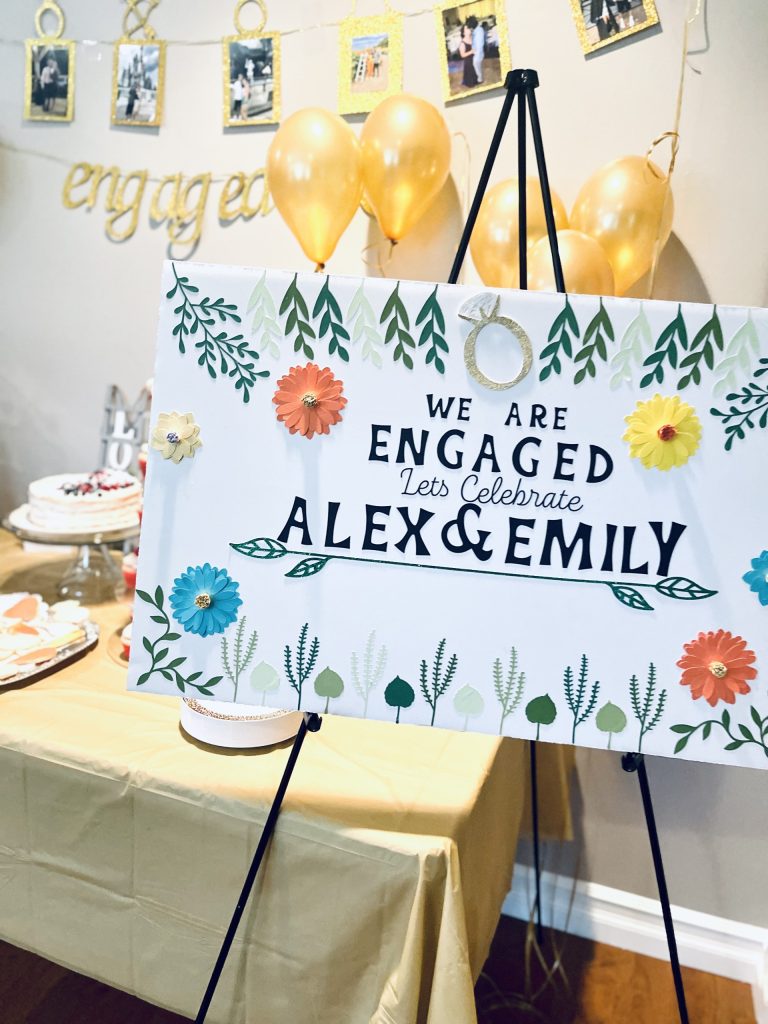 Engagement Party Gifts
Gifts for the engagement couple are not a requirement for the party. Some engaged couples do register for gifts but it is not required. The party is really about celebrating the engagement and the soon-to-be bride and groom. I did buy the engaged couple a cute little gift, just something to remember their engagement and the day. I found so many engagement gifts on Amazon, and my gifts arrived within two days! Many of the guests brought gifts to the party. There were gifts of cute coffee cups, wine glasses, wine, picture frames, and favorite treats, a bridal planner and the Knot magazine. My niece received the cutest gift from her sister-in-law to be, a sweatshirt with her new last name on it! What a darling gift to welcome her into the family!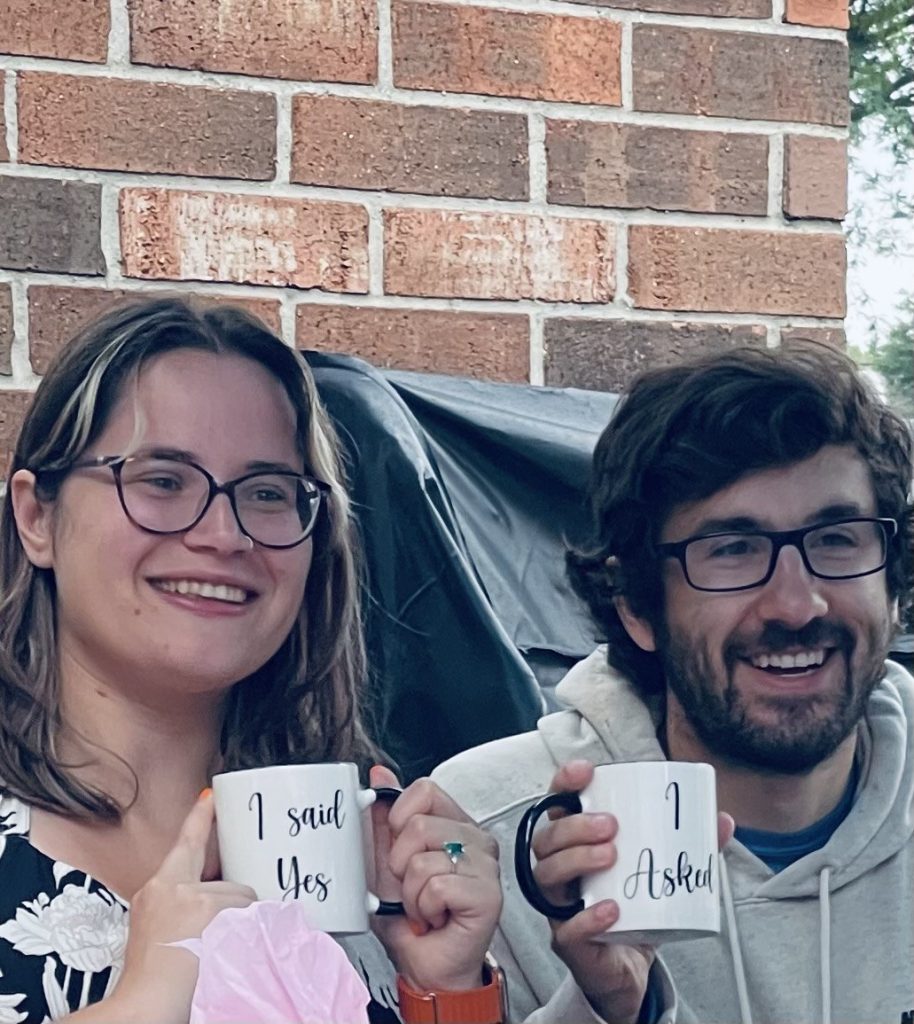 My sister, brother-in-law, and the groom-to-be parents gave my niece and her soon-to-be husband a beautiful engagement party that was simple and inexpensive. It was a gorgeous day to celebrate two beautiful people who love each other and want to share their lives and dreams!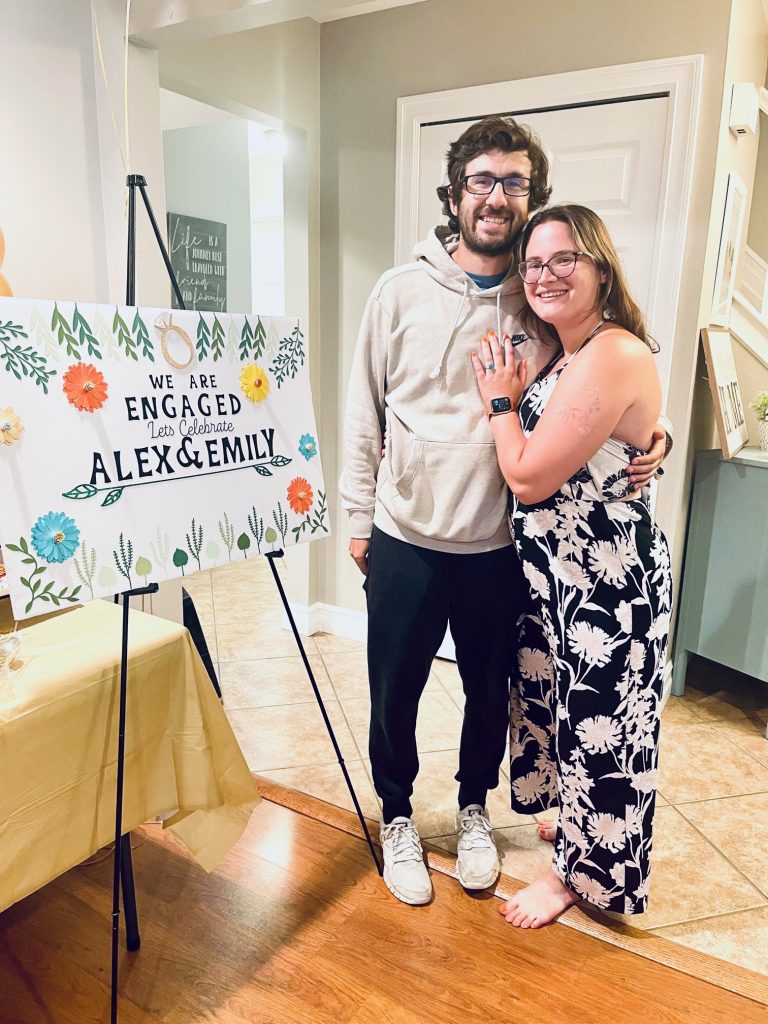 Thank you for stopping back by and reading all about the party our family shared and it was all done with simple Ideas for a Simple Inexpensive Engagement Party!
Mary Anne,
Resources from the party