How To Do A Simple Fireplace Refresh
How To Do A Simple Fireplace Refresh and get your fireplace ready for the season.
It's getting to be that time of year again! Can you feel it! I was trying to hang on to summer just a little bit longer! Not sure why fall is my favorite season! But this year I want summer to last just a little longer. It seems like it went so fast! But you can't miss what's happening all around us. Everywhere I go there's fall foods, fall decor, fall colors and smells! And you know what, it's getting to me to it's that season again!
Oh and heres how I decorated my mantel for fall. https://houseofmar.com/easy-and-simple-fall-decorating-through-out-the-home/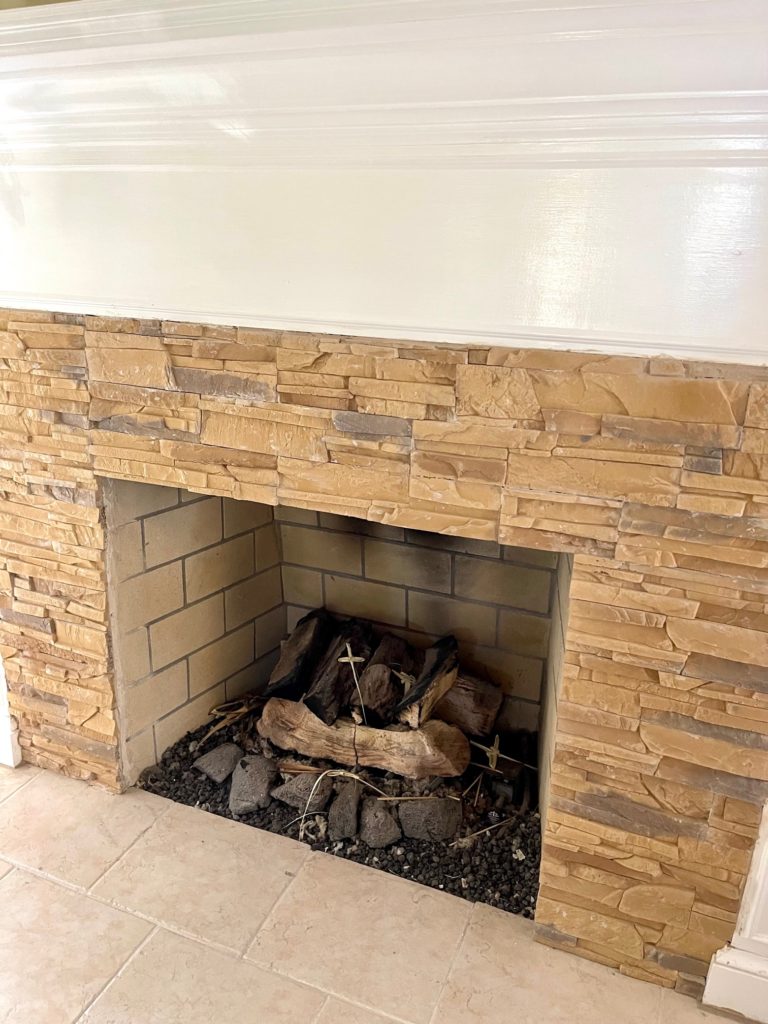 So I decided to do something that I have been wanting to do for a long time refresh my fireplace. My husband said he didn't think I should and really should leave the fireplace as it is. He thought I wouldn't like it the fireplace refresh, he didn't think it would look very good.
Well, I decided I was going to do it!
I refreshed a fireplace at a home we owned years ago, and I loved how it turned out.
My fireplace really needed an update!
Some years ago we replace the old tile with this stone and I really liked it then, but the colors in the stone made it hard to decorate. I really like the look of painted brick so I thought I would try t update the stone.
This refresh was really very easy to do and didn't take much time to do.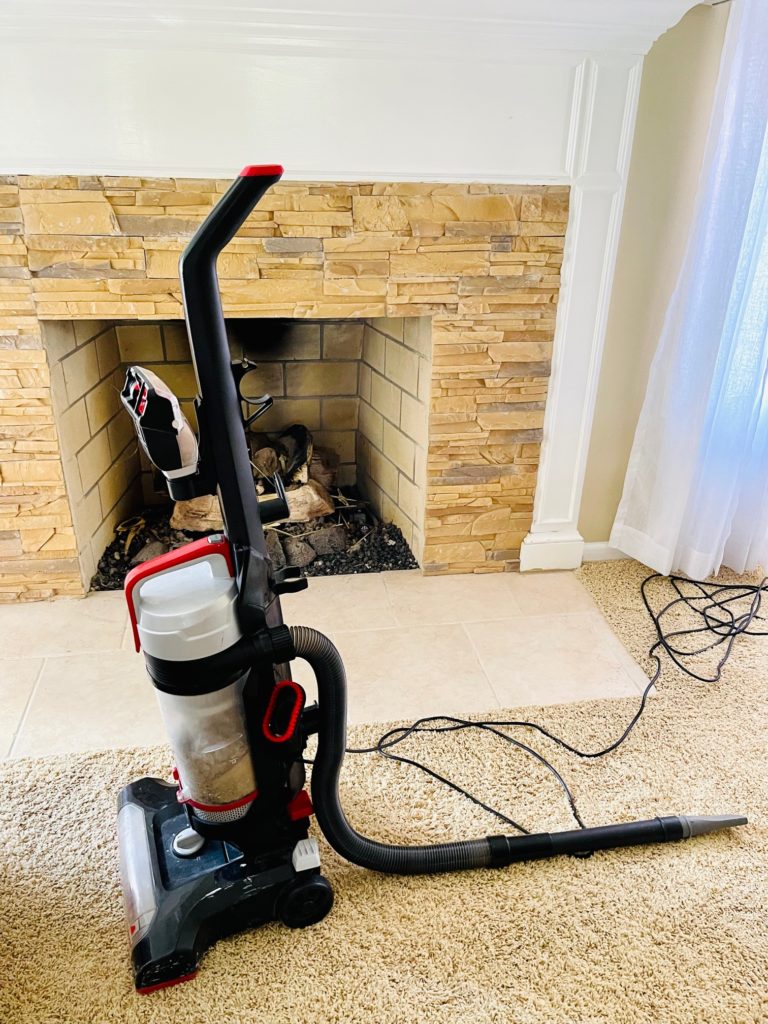 The first thing I did for my refresh was clean the stone by vacuuming the stone to make it dust free.
Next I wiped down the stone with hot soapy water making sure to do a good cleaning so there was no dust or dirt.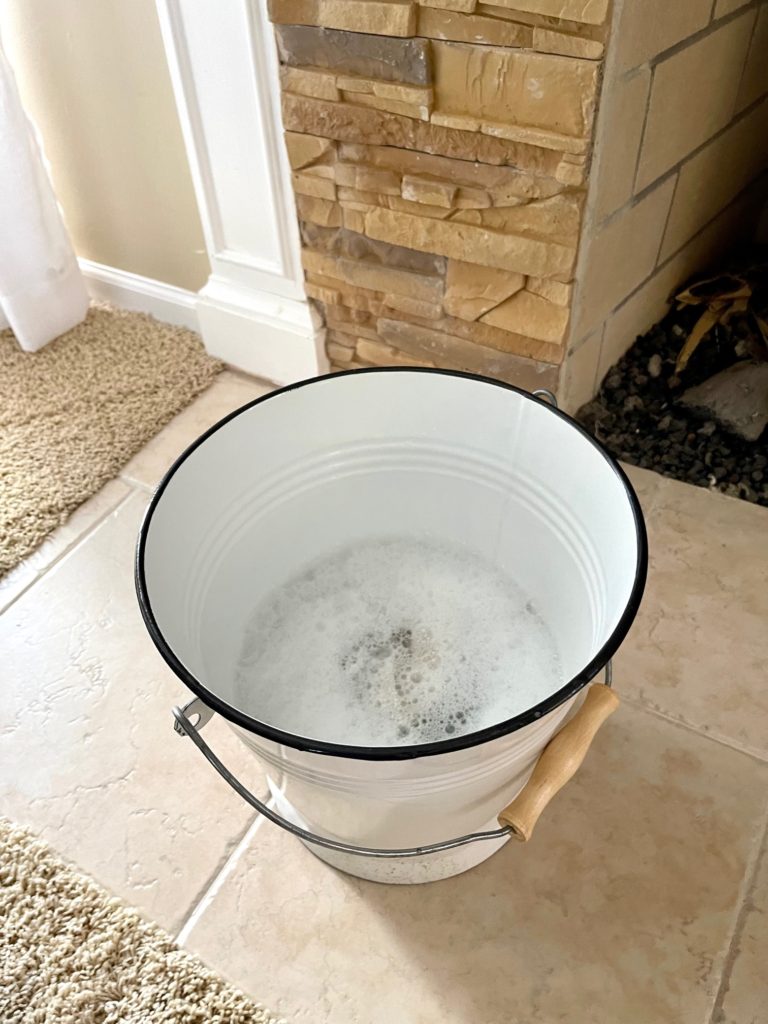 I then let it dry for just a bit.
The whole project took me a few hours to do, I had all the materials on hand… and it dried very quickly!
Painting The Fireplace Refresh
When painting the fireplace to refresh I used a mixture I found on line. I used a 1/2 cup of water and 2 cups of paint. This made the paint thinner to apply on the fireplace stone. A stiff paint brush help to apply the paint and get into the groves of the fireplace stone. I applied two coats, there was no need to let it dry between coats of paint as the stone soaked up the paint pretty quickly.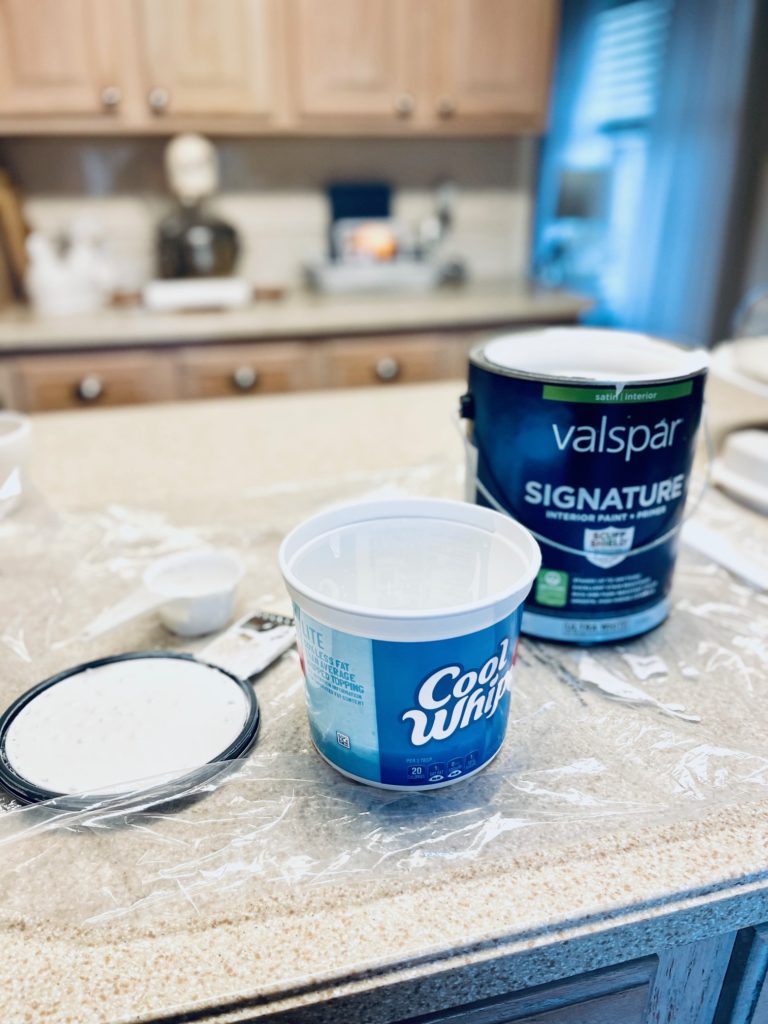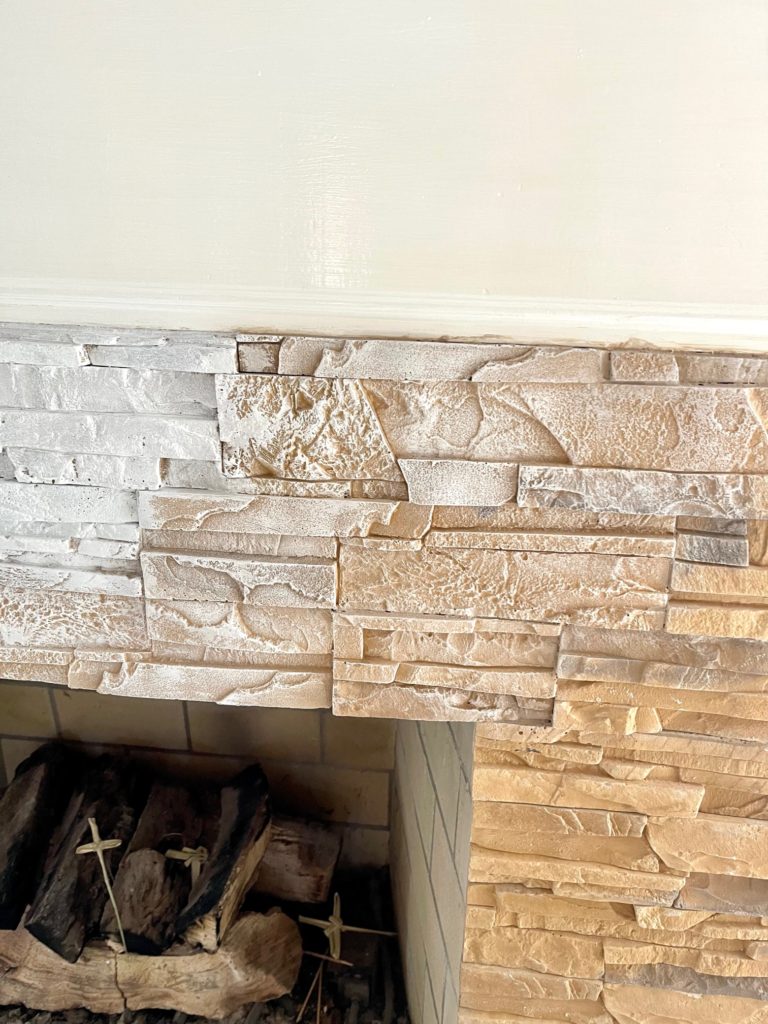 The mantel and surround also received a little update with some added paint.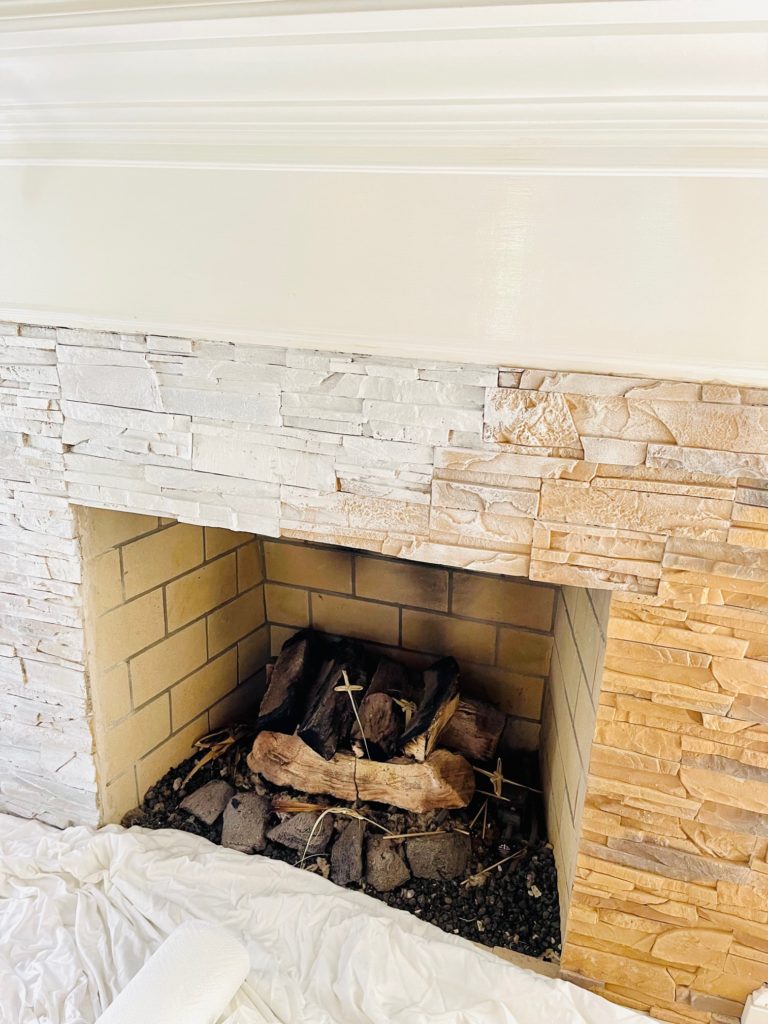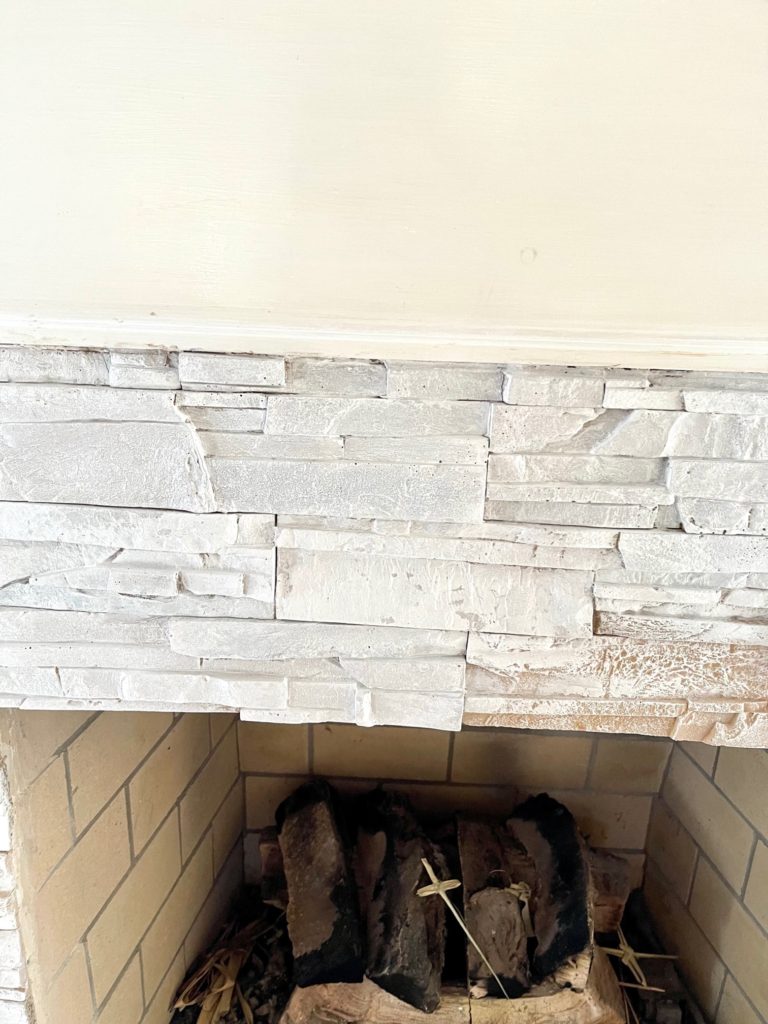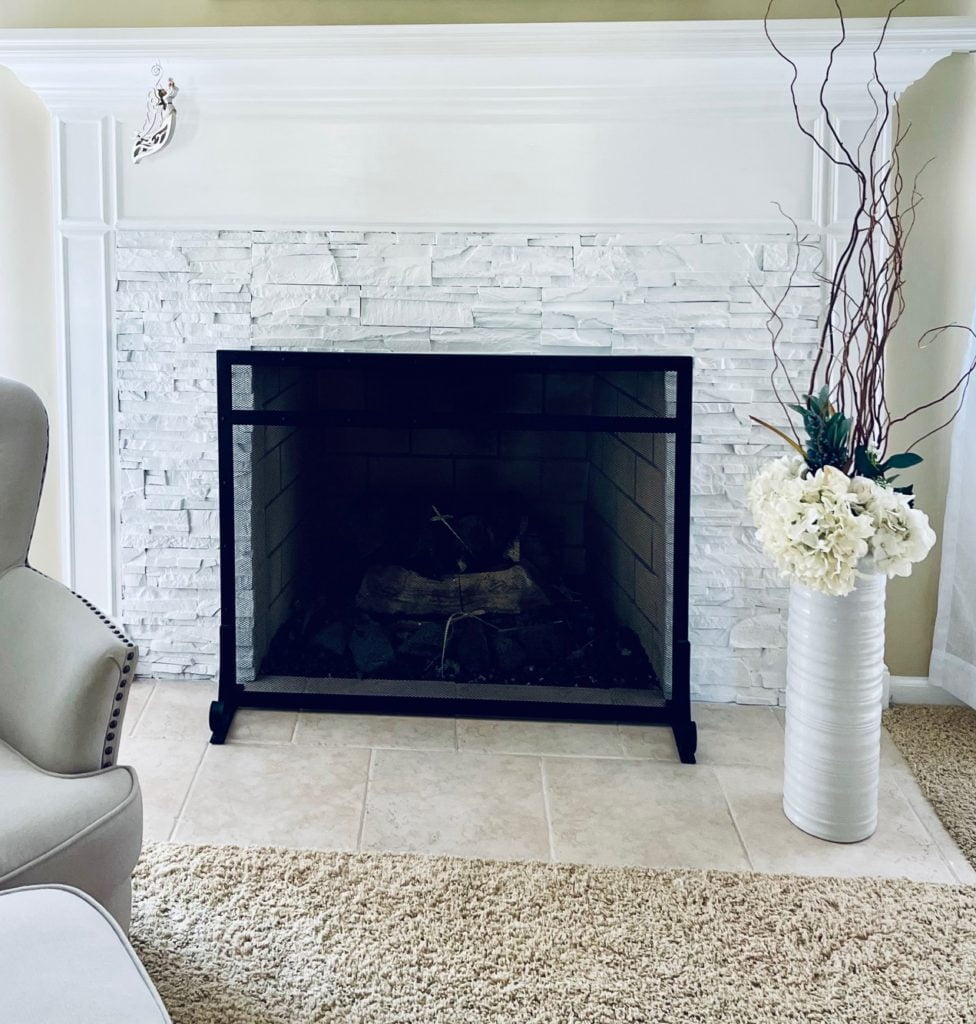 And here it is!
The fireplace refresh!
This project was really easy to do and didn't take much time at all, I also I had all the material on hand!
These are the steps I used to refresh my fireplace.
Items To Use
Vacuum
Bucket
Sponge
Dusting Cloth
Paint Tarp
Paint Tape
Paint Brush
Container to hold paint
Paint opener
Paint stick
Paint
Measuring cup
Steps To Refresh
Vacuum The Fireplace: Use a vacuum to take dust from the fireplace before you begin the refresh
Clean the fireplace: Soapy water works well on brick, stone, or tile to clean the dirt.
The surround of the fireplace: Clean the fireplace surround for a refresh as well.
Drying: Let the fireplace dry completely from the cleaning.
Paint tape: Use paint tape to protect any area's around the fireplace you are not painting.
Paint Tarp. Place a paint tarp down around the area to avoid any spills or getting paint on anything.
Paint Supplies: Set the paint supplies in the area on the tarp.
Paint: Pour the paint in a smaller container such as a plastic bowl for easier use.
Tips On How And What To Use On A Simple Fireplace Refresh
Soap: Dawn dish soap works really well to clean brick, slate, and tile.
Wood Fireplace Surround: Murphy's oil soap works well on cleaning a fireplace wood surround.
Painter Tape: Tape off an area's you don't want to get paint on. Green frog painting works great and removes easily.
Painting Tarp: Any painters tarp will work, even an old sheet or blanket will do the job.
Paint brush. Using a stiff paint brush on the brick helps the paint adhere to the porous surface.
Painting the fireplace surround: When painting the surround of the fireplace use a good brush, one that has an angle at the bristles. Backyard Boss carries a great brush.
If you choose to paint the inside of the fireplace use an approved paint. The paint must be a fire retardant paint or fire proof paint. Rust-oleum or Rutland both are good brands for this.
I hope you have gather some tips on how to do a simple fireplace refresh.
Thank you for stopping by and have the best day!
Mary Anne,
These are some links for the products I used to complete this project. They are sponsored links with Amazon. I do make a small commission if you purchase items from Amazon, this does not cost you anything, thank you!
If you like any items from my home please stop by my shop my home, I have many items tagged so you can shop my home!