Let's make a Gluten Free Pumpkin Spice Cake!
Happy Fall!
Can you believe Thanksgiving is next month! The fall month's I'm all about pumpkin! I love anything pumpkin! This gluten free pumpkin spice cake is just the perfect mix of spices for fall! The cake is so moist! It's like a coffee cake with a Bundt cake height but taste moist like a pound cake! The rich taste of cinnamon, ginger, and pumpkin spices make for a delicious moisten taste!
I'll be hosting this year and it will be a small gathering… I plan on shopping a few weeks early for my turkey and some edible sides. I'll go to the fruit market a few days before the holiday to make sure my produce is fresh!
The recipe I'm sharing with you today is just a beautiful moist cake, with so much flavor! I really think it's a great fall cake!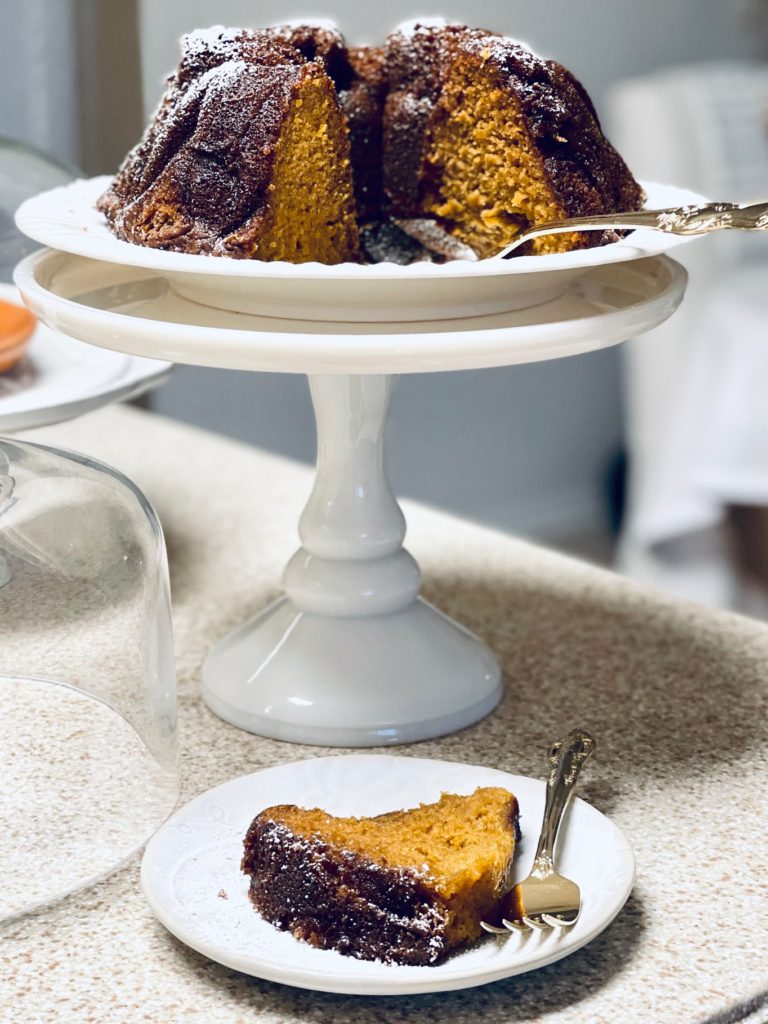 I made the cake this past weekend at my Friendsgiving luncheon! It was such a hit! I used my fall baking pan in etched with leaves and it turned out so pretty!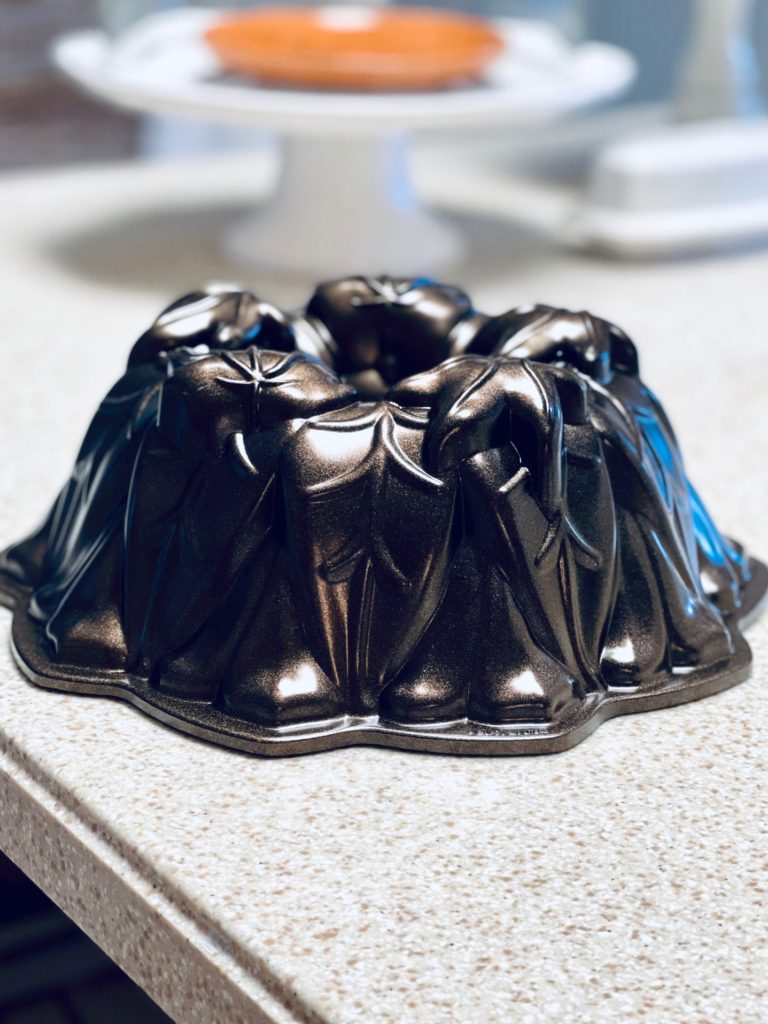 If you missed my post about my Friendsgiving luncheon you can click this link https://houseofmar.com/how-to-host-a-friendsgiving-luncheon/ I shared my table scape and how I put it all together with flowers and greenery from my yard!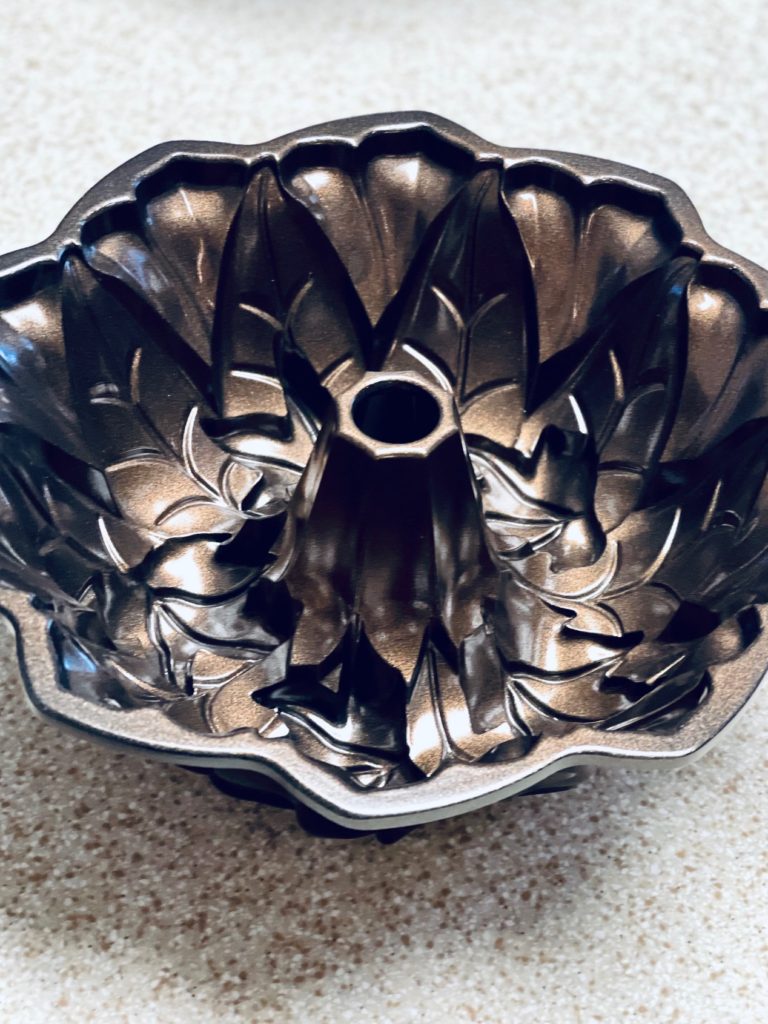 I served this Gluten Free Pumpkin Spice Cake with coffee. Adding a little powdered sugar sprinkled on the top gave it a little extra sweetness! You could also sprinkle a sweet chocolate cocoa over it!
The cake doesn't take long to put together and you most likely have all the ingredients in your pantry or cabinet!
So let's begin!
Ingredients:
Ingredients you need to make the glute free pumpkin cake.
2 Cups of Gluten Free Flour
2 tsp Gluten Free Baking soda
1/2 tsp Gluten Free Baking powder
1/2 tsp ground cinnamon
1 tsp pumpkin pie spice
1 tsp ground ginger
1/2 tsp nutmeg
2 1/2 cups brown sugar
3 large eggs
1/2 cup sour cream
1 Tbsp Gluten Free Pure Vanilla
1/2 cup canola oil
2/3 cup water
1 15 oz can pumpkin
Instructions:
Instructions:
Preheat oven to 350 Prepare the Bundt pan with a baking spray or oil and dust with flour or powder sugar.
In a bowl combine flour, powder, soda, spices, set aside.
Next in a mixing bowl combine sugar and eggs mix at medium speed until fluffy.
Add sour cream, canola oil, pumpkin puree, and vanilla.
Mix well then add 1/2 flour and 1/3 of water another third of flour and another third of water and then add the rest of the flour and water.
Combine and pour into your Bundt pan.
Make sure to tap the sides of the pan gentle, tap the bottom of the pan on the counter to remove any air bubbles.
Bake for 50-60 minutes on the center rack or until a tester is clear.
Let cool for 15 before adding any topping or un-molding.
I actually let the cake cool completely before un-molding, I gently scrape the sides with a rubber spatula, gently and place a plate on top of my pan and turning it over to un-mold.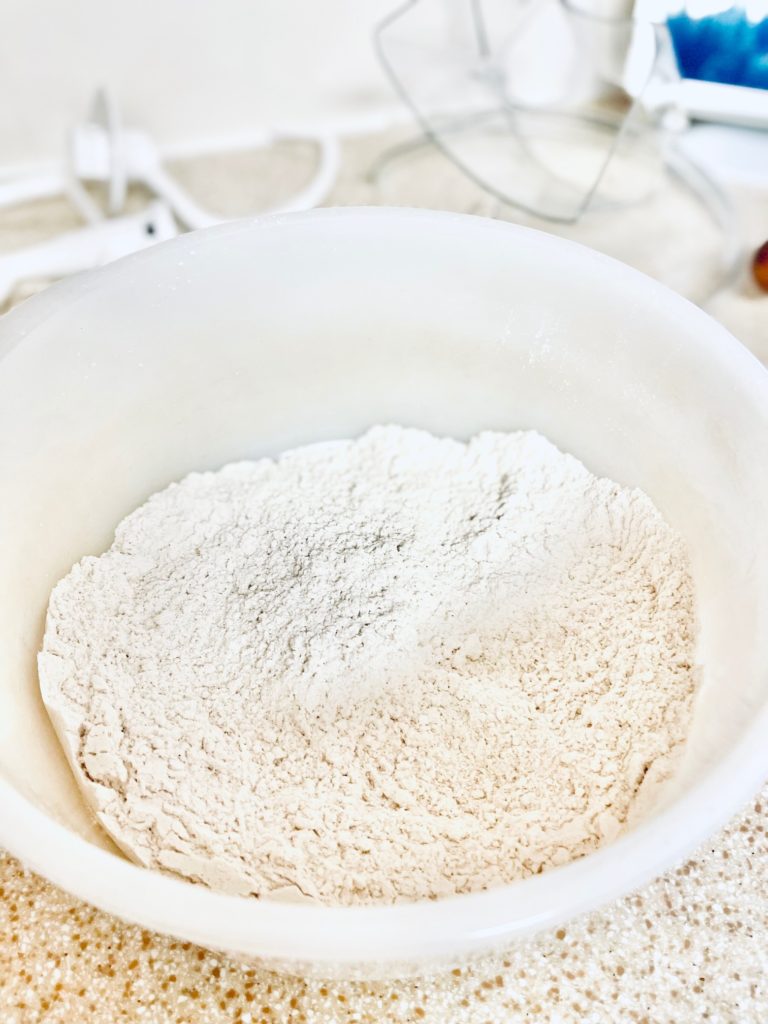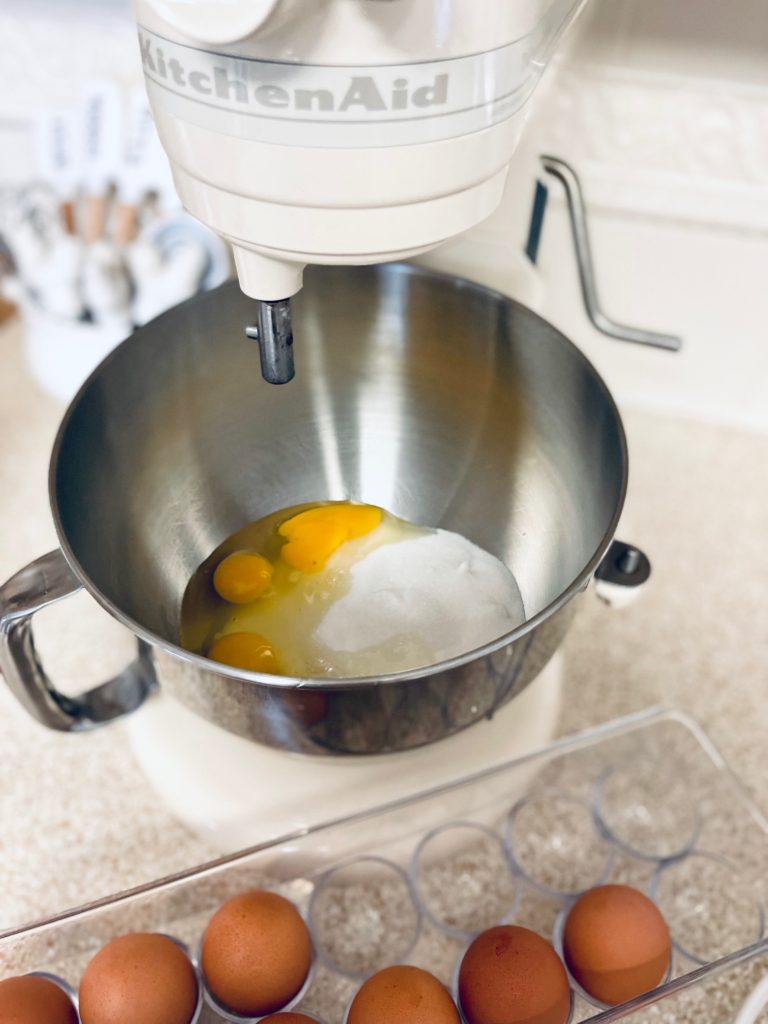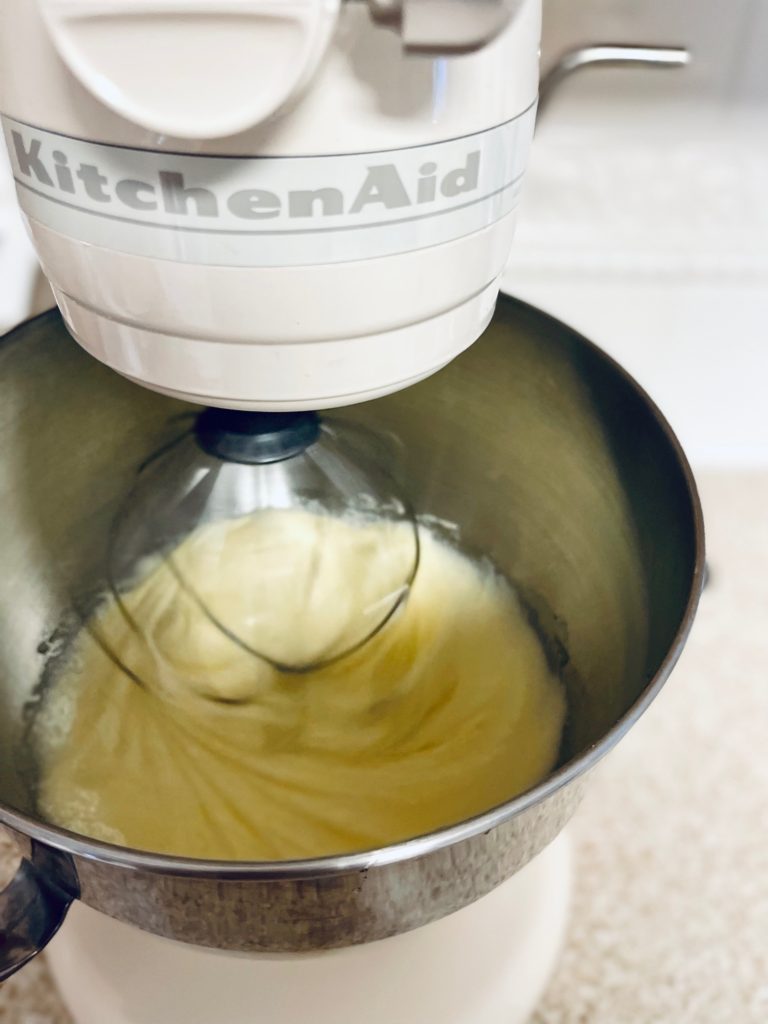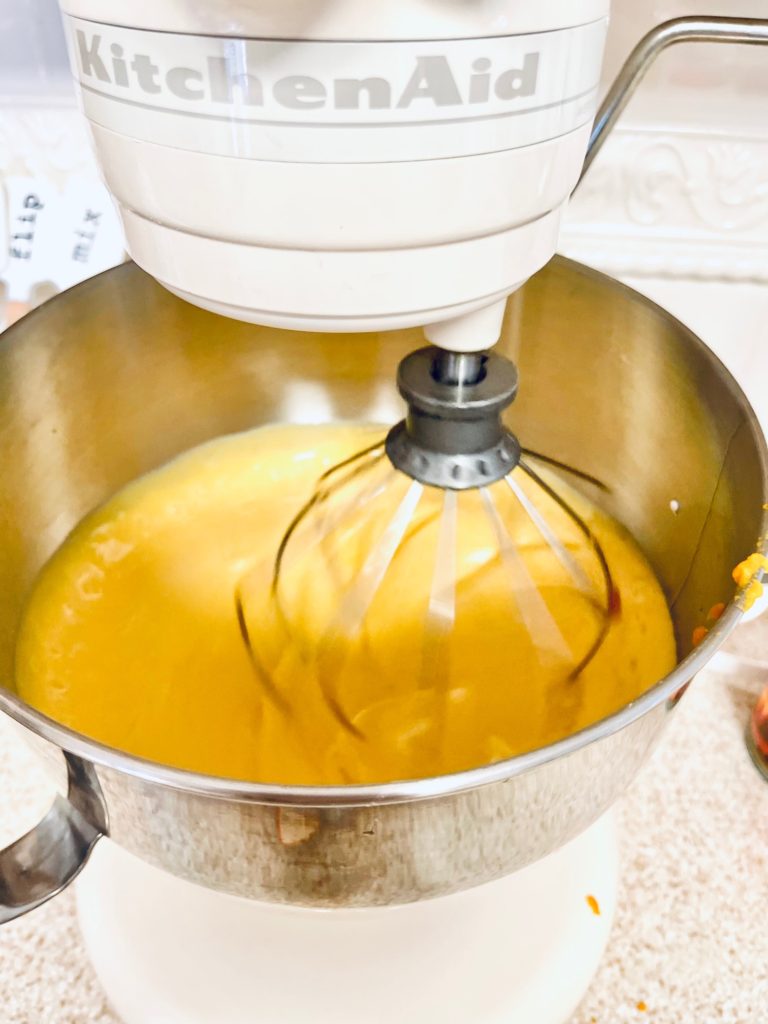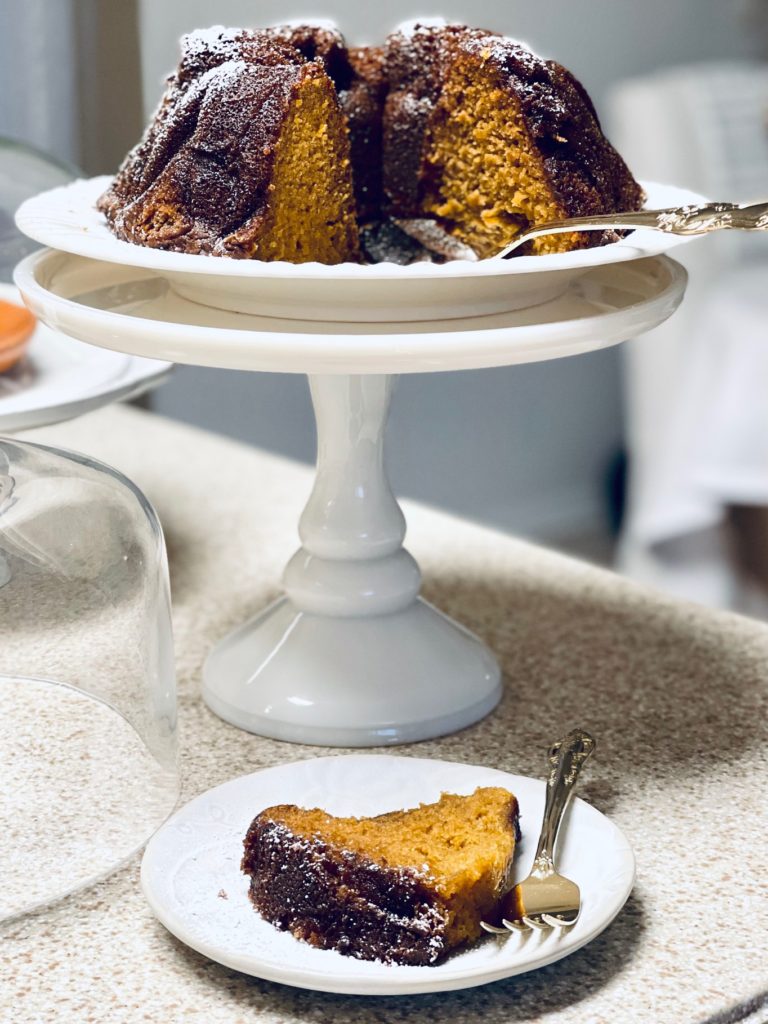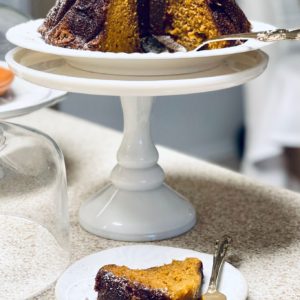 GLUTEN FREE PUMPKIN SPICE CAKE
GLUTEN FREE PUMPKIN SPICE CAKE
Equipment
BUNDT PAN

KITCHEN AIDE MIXER/ HAND MIXER

SPATULA

Spoon

MEASURNING CUPS

Measuring spoons

MIXING BOWL
Ingredients
2

CUPS

GLUTEN FREE KING ARTHUR 1:1 FLOUR

2

TSP

GLUTEN FREE BAKING SODA

1/2

TSP

GLUTEN FREE BAKING POWDER

1/2

TSP

CINNAMON

1

TSP

PUMPKIN PIE SPICE

1

TSP

GINGER

1/2

TSP

GROUND NUTMEG

2 1/2

CUP

BROWN SUGAR

3

LARGE

EGGS

1/2

CUP

SOUR CREAM

1

TBSP

GLUTEN FREE PURE VANILLA

1/2

CUP

CANOLA OIL

2/3

CUP

WATER

1

15 0Z

CAN OF PURE PUMPKIN
Instructions
GREASE THE BUNDT PAN WITH OIL AND DUST WITH COCOA POWER, POWDERED SUGAR, OR GLUTEN FREE FLOUR

IN A BOWL COMBINE ALL THE DRY INGREDIENTS, FLOUR, BAKING SODA, BAKING POWDER, GROUND CINNAMON, GROUND GINGER, NUTMEG, PUMPKIN SPICE. SET ASIDE

IN A MIXING BOWL COMBINED SUGAR AND EGGS, MIX AT MEDIUM SPEED UNTIL FLUFFY NEXT ADD SOUR CREAM, OIL, VANILLA AND PUMPKIN PUREE, MIX WELL

ADD HALF THE FLOUR AND 1/3 OF THE WATER TO YOUR WET MIXTURE ADDING 1/3 OF EACH AGAIN AND THEN THE REST WHILE MIXING WELL

POUR BATTER INTO THE PREPARED BUNDT PAN

TAP PAN GENTLY ON THE COUNTER TO REMOVE ANY BUBBLES

BAKE FOR 50-60 MINUTES ON THE CENTER RACK

COOL FOR 15 MIN BEFORE REMOVING FROM THE PAN

WHEN COOLED SPRINKLE POWER SUGAR ACROSS THE TOP OF THE CAKE
Notes
EGGS SHOULD BE ROOM TEMPERATURE  
DON'T USE REGULAR COOKING SPRAY, BAKING SPRAY CONTAINING FLOUR CAN BE USED
YOU MAY NEED TO BAKE YOUR CAKE LONGER DEPENDING ON YOUR TYPE OF OVEN
I hope you enjoy this cake as much as my guest and I did!!!