Welcome Back to House of Mar! Today I'm sharing all about the fall harvest party I hosted on a budget!
For the last few weeks I shared with you how I was going to be hosting a fall harvest party. This is a party I host every year in the fall. The last two years due to the pandemic I had skipped the party. This year I decided to host it and I'm so happy I did!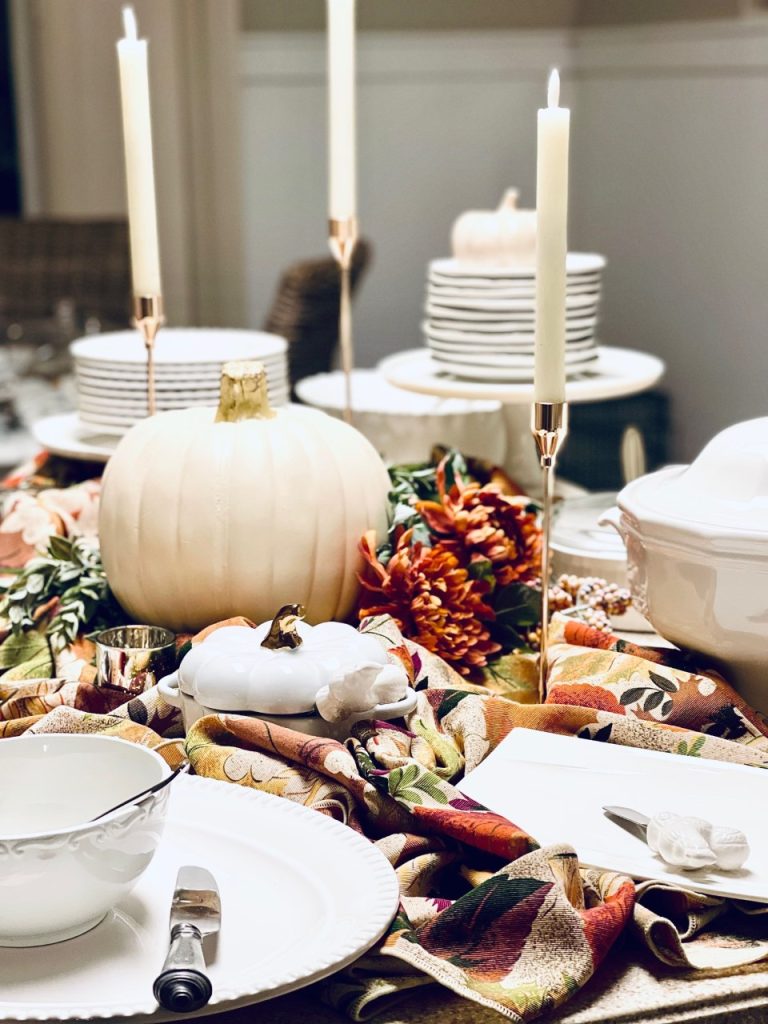 I really wanted to share this post about my fall harvest party sooner but we lost most of the pictures. We were so hopefully we would find them, we found some but not al. So I'll share with you what I do have.
How To Host A Fall Harvest Party On A Budget
How I hosted A Fall Harvest Party And Stayed With In My Budget
First I made a party guest list and decided on the invitations. To keep within my budget this year's fall harvest party invitations were designed on line and sent through the Facebook invite. The invites were sent out 4 weeks before the party. This worked out so well, no purchase of invitations, stamps, and no running to the post office. This worked out as well for my guest as they could reply right on line.
2. Next I planned the menu. I had decided to have a luncheon for my fall harvest party and to keep the meal light. I choose foods I could make ahead of time because we know how busy we can get when we host a party.
3. Deciding how to serve my guest was next. I decided on a buffet because I had 15 guest invited to the party, and I decided to use the kitchen island for the buffet. It's really comfortable to move around and the food is displayed for easy access. Also adding some elements of height to the buffet makes a pretty display. I also included little recipe cards so my guest knew what the ingredient's were in each dish I served.
4. I then planned out my fall harvest centerpiece for the buffet. I knew I would use items I already had to stay with in a budget and to create a fall vibe.
5.) Use items you already have to stay within a budget.
6.) Have a stand out food item or drink. Such as a special dessert or fun drink following with the theme of the party.
7.) Create a welcoming feel to your home by using candles, soft lighting, and cozy smells. Also most importantly is a relaxed host so your guest will feel comfortable and enjoy the party.
Menu For A Fall Harvest Luncheon
A few menu ideas for a fall harvest luncheon.
Fall soups, salads, sandwich, and desserts for the fall season are always nice.
Salads:
Cherry Kale Salad
Garden Salad
Soups:
Fall harvest vegetable soup
Pasta  fagioli pronounced ( fazool)
Sandwiches:
Chicken Salad
Provolone & Ham
Desserts:
Pumpkin Bars
Fall cake
A special fall drink
How To Make A Fall Harvest Centerpiece On A Budget
This is how I made a fall harvest centerpiece and stayed with in my budget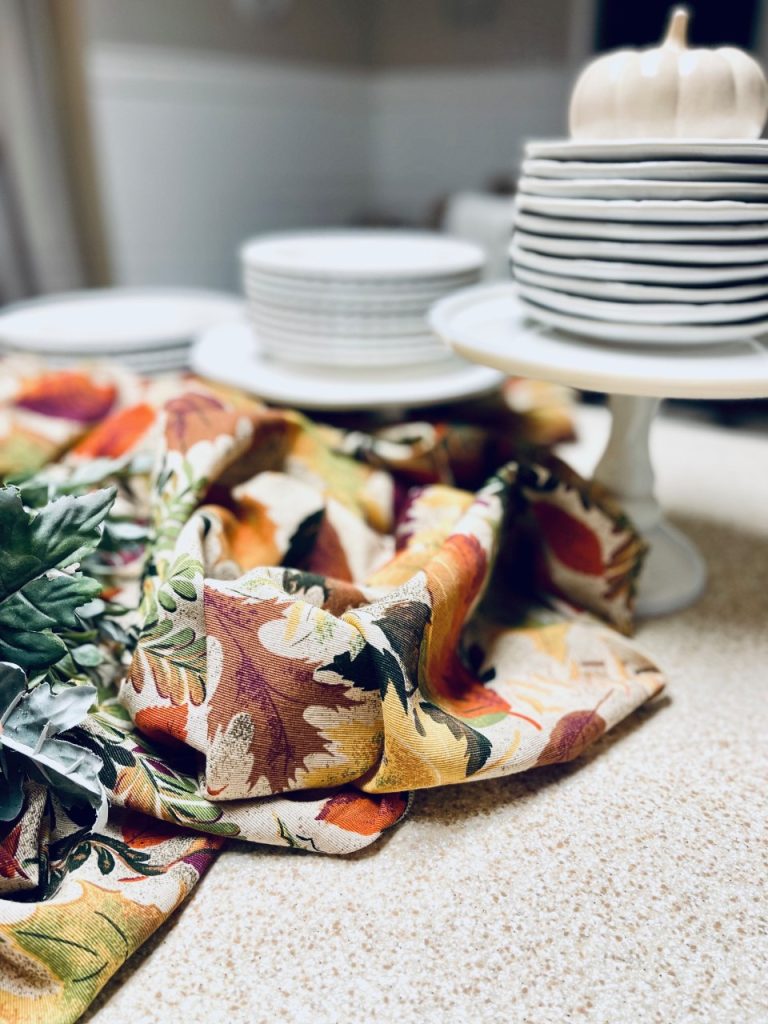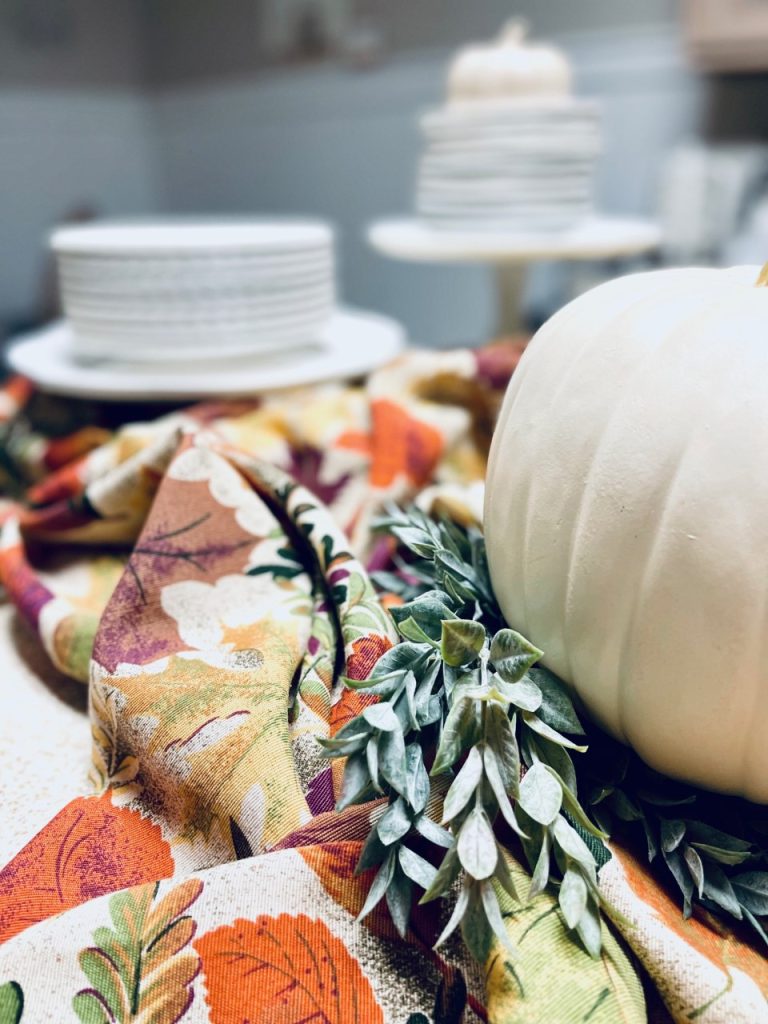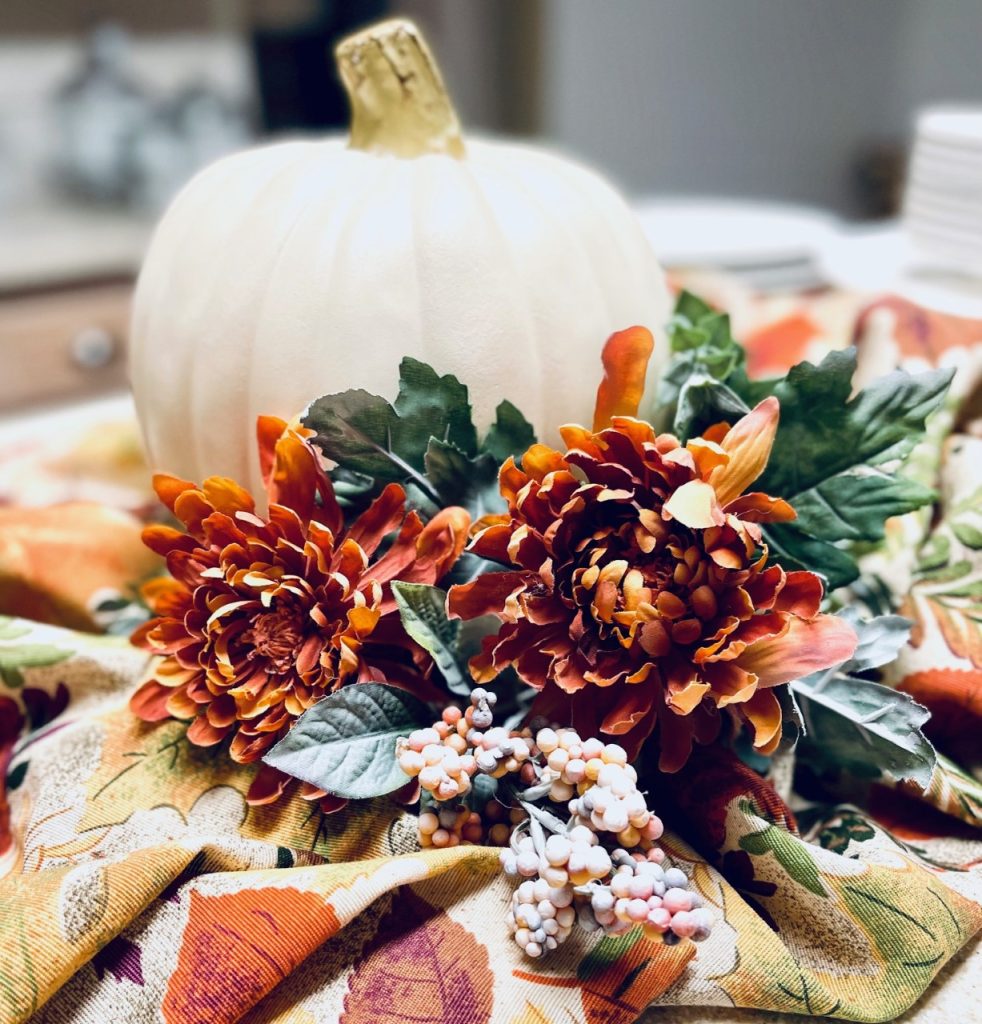 When making my fall centerpiece for the buffet I started with a fall table cloth I had. I placed it across the island like a swag. This helped to anchor the fall decorations together and keep with in my budget.
I added a cream colored pumpkin to the center to create the centerpiece and tucked some faux fall flowers, greenery, and cornstalks under the pumpkin. All the items I used to create a fall centerpiece I already had and it kept me in budget. I placed some candles and votives around the centerpiece to give a beautiful fall glow to the room.
How To Set Up A Fall Harvest Luncheon Buffet
Setting up my fall luncheon buffet for my guest.
I set up the buffet the night before my fall harvest luncheon. It's so much easier and less time consuming setting up the day before a party.
Setting up the luncheon buffet I decided to use all white serving dishes so that all the fall colors I added to the buffet could stand out. I placed serving bowls and platters around the buffet centerpiece at different heights.
I set serving utensils at each of my serving dishes.
The plates I stacked on top of a few cake pedestals for added height, giving more dimension to the fall buffet.
Each set of silverware I wrapped in a very nice napkin that was in-scripted with the words fall harvest. The napkin also had fall leaves decaled on each. It was a nice touch to the harvest luncheon décor and it made the buffet look so pretty and fall.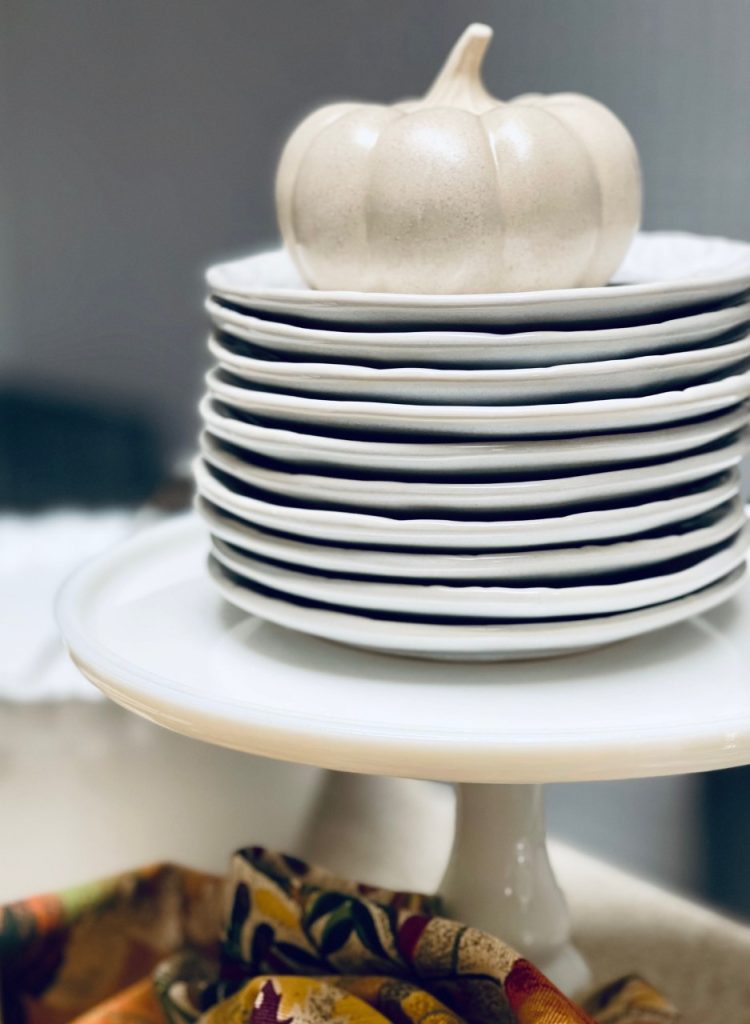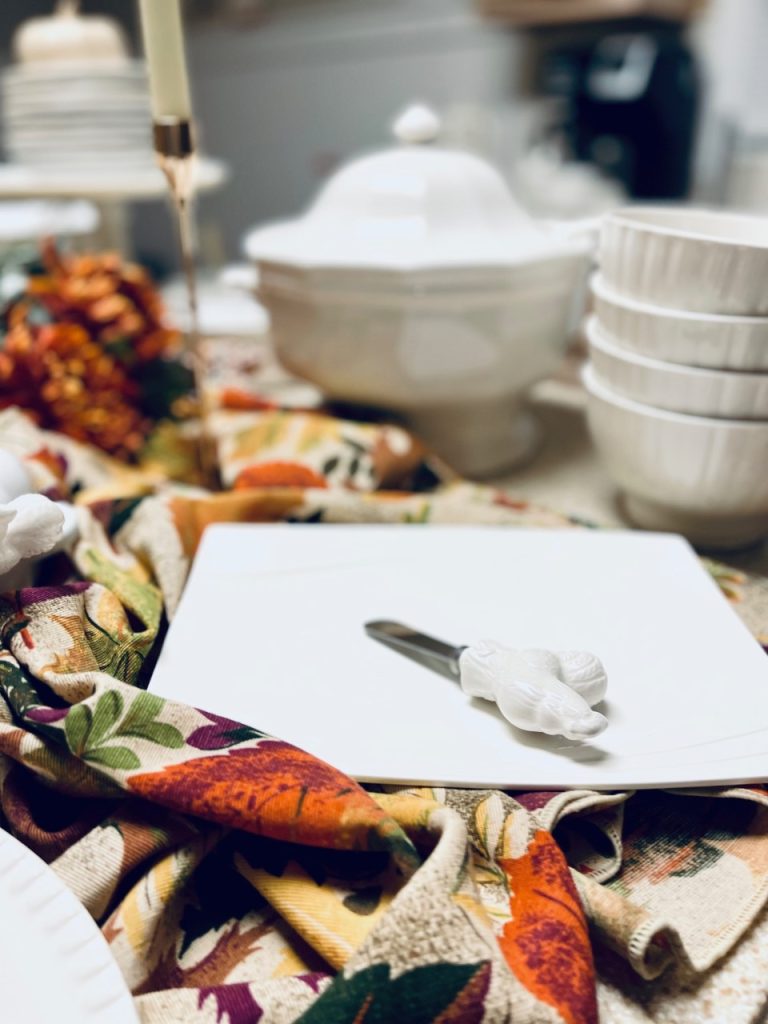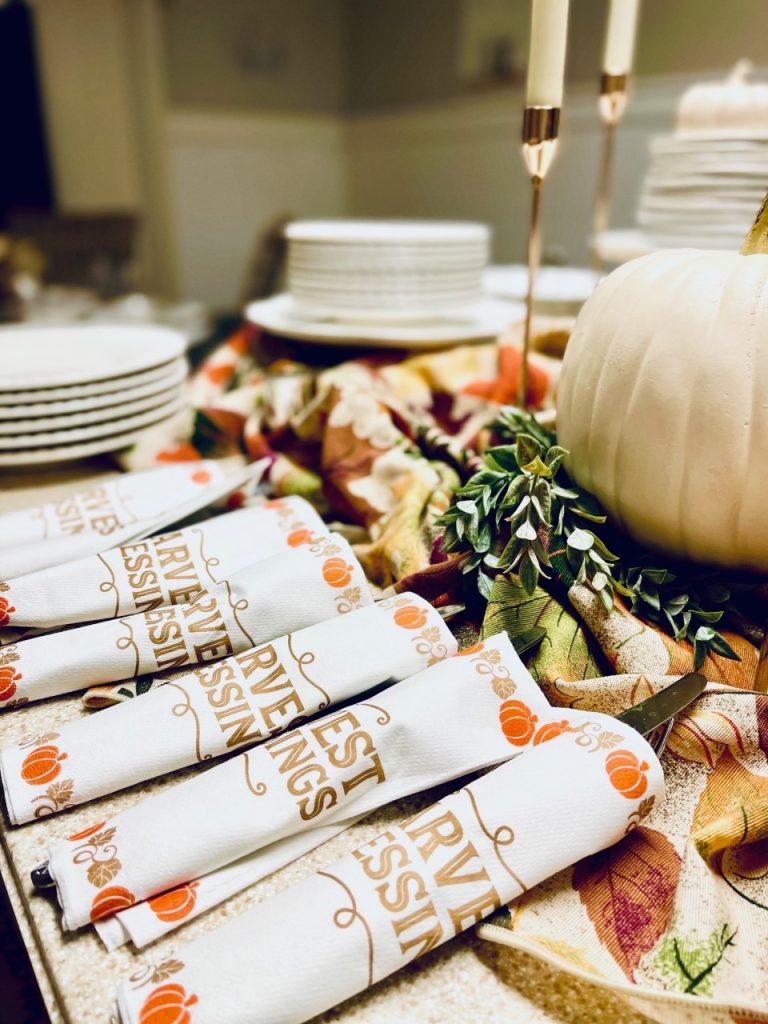 Special Signature Fall Drink
Adding a special signature drink to the fall luncheon.
This apple cider harvest drink is one that I serve at my fall harvest get together. I added a piece of sliced apple with a hint of cinnamon. I think it's special to add little signature touches to make your guest feel extra special.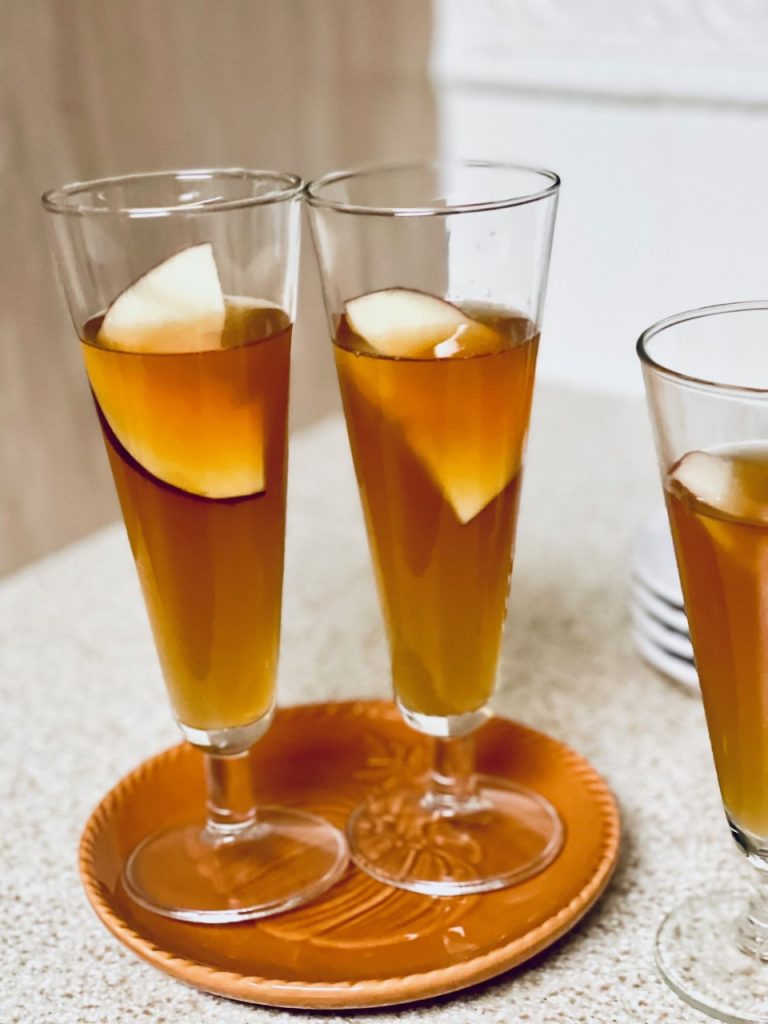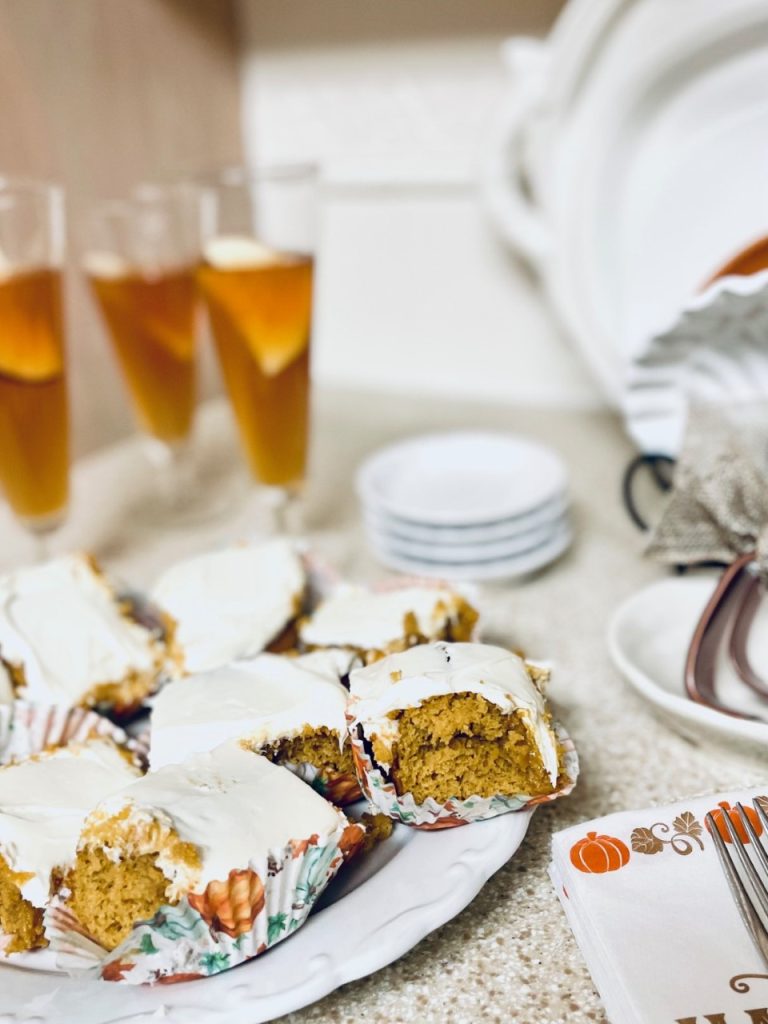 Here's a few more pictures from the fall harvest luncheon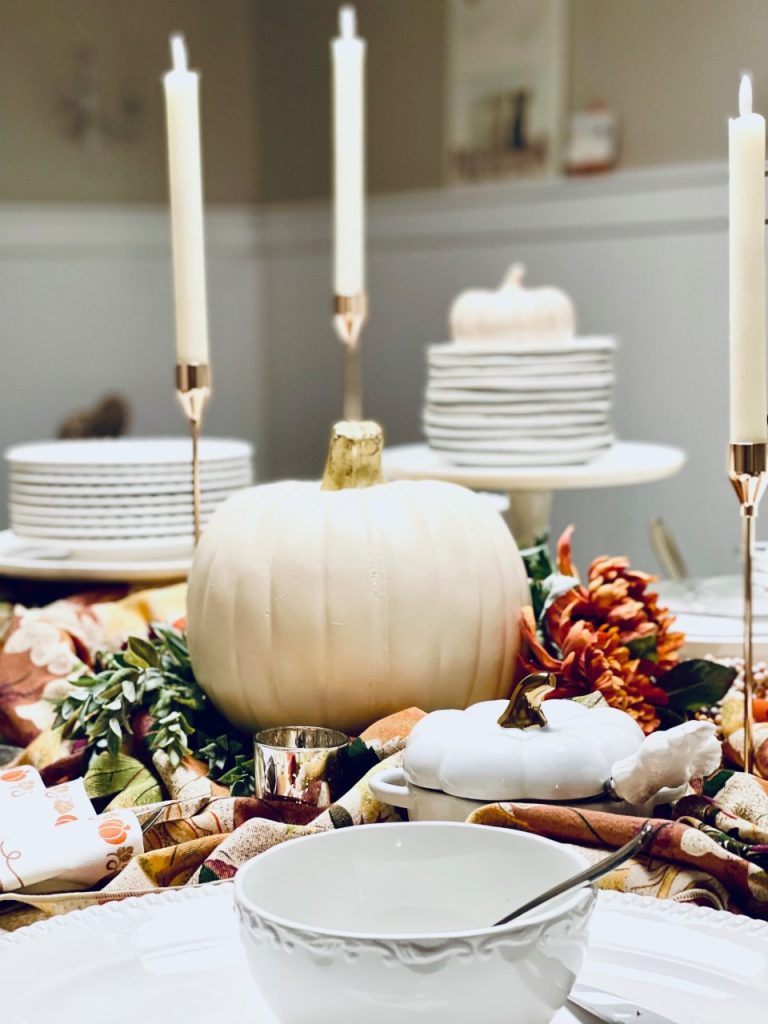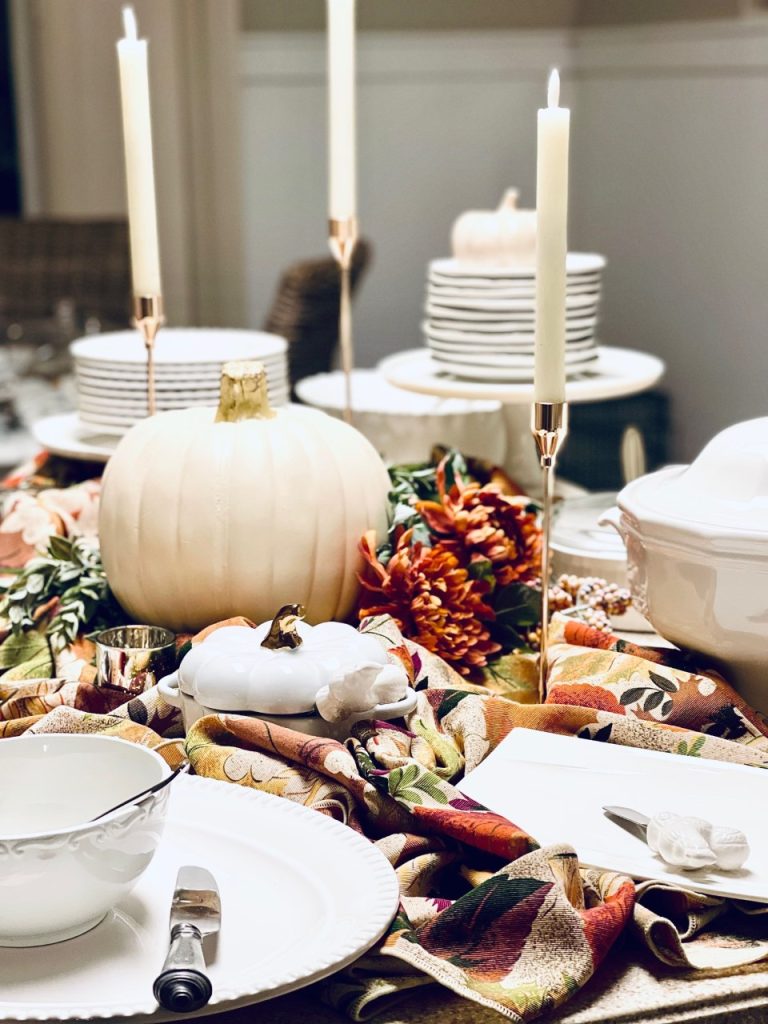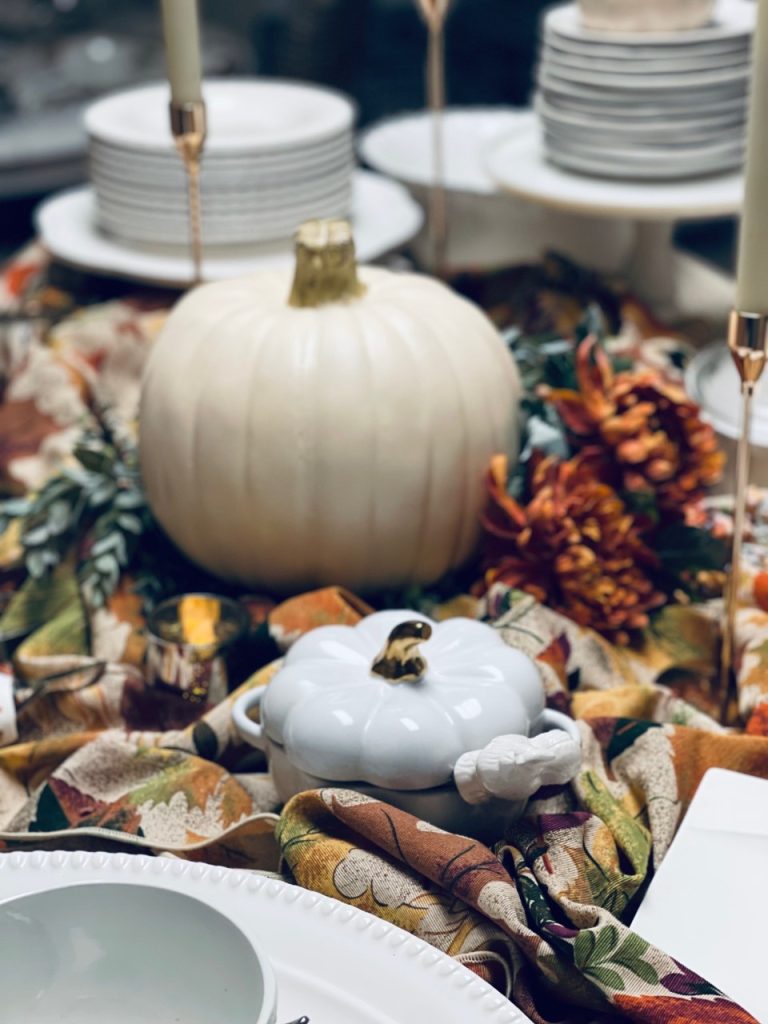 A little Fall Craft
A little Fall Craft at the Harvest Luncheon
Instead of just gifting a gift to each guest, I decide to have each of my guest participate in a little fall craft. This craft would also be a little fall gift they could use in their fall décor.
I had a table set up and each participated in painting a little fall canvas that came with an easel. I set a place setting at each guest spot with paint, a paint brush, and fall paper towel. It was so fun and each fall canvas turned out so cute!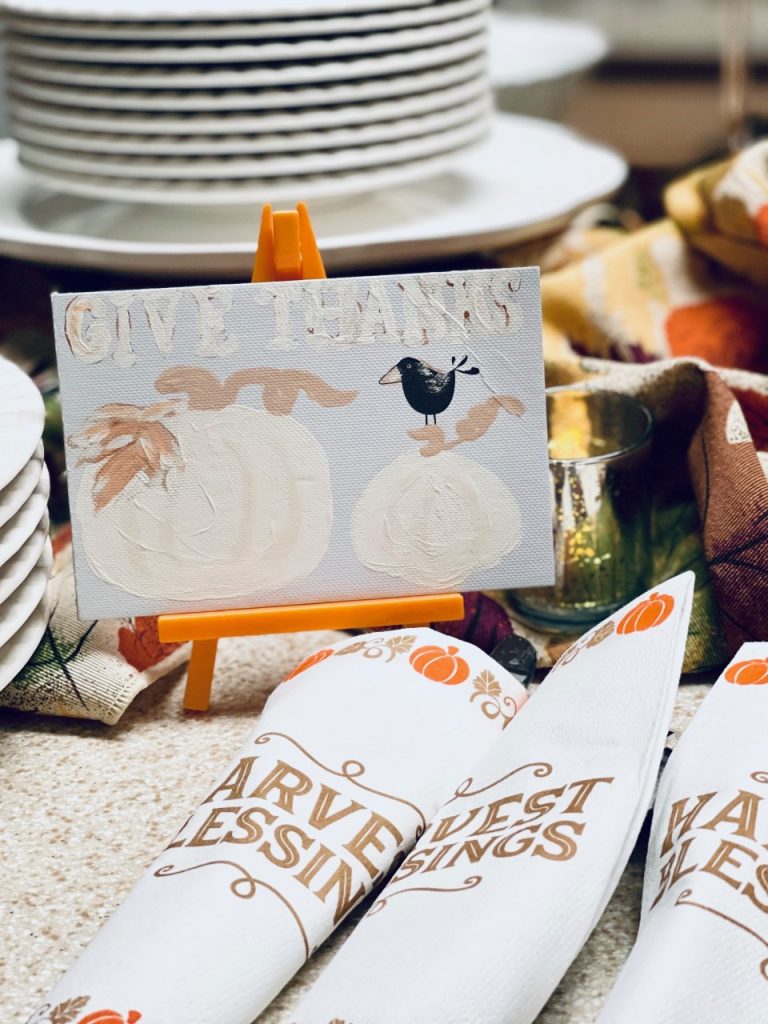 I really enjoy entertaining in the fall. I love the harvest season and all the colors and foods of fall. It was so easy to put this party together. Using items I already had kept me in budget. We all enjoyed the fall craft which was a little fall gift to each of my guest.
The Special Guest
I spoke of a special guest I had invited to the fall harvest party.
Our special guest was a psychic/medium. This was all for party fun. Each of my guest enjoyed their reading from the special guest and a few booked parties for the spring. I thought this would be the perfect guest for a fall harvest party!
Tips: How To Host a Fall Harvest Party on a Budget.
Tips on how to host a fall harvest party on a budget
Keeping with a budget may seem daunting but you can do it with a little planning and preparation.
1.) Using what items you have will keep you in budget, such as decorations and dinnerware.
2.) Invitations, card stock, stamps, and reply cards for parties can become quite expensive. On line invites
work out very nicely for parties. Even using email invites for parties are great for the budget.
3.) Keeping the food you'll serve at your party simple. Fall soups and salads are wonderful foods to serve at a fall harvest party. These foods go along way and will keep you in budget.
4.) Adding candles to a fall party or any party just brings so much obvious to the party and candles are budget friendly.
5.) A gift to guest may not be in the budget but a little craft can be. I picked up these little fall craft projects at the dollar store for $1.25. We had a fun time being creative and my guest received a fall gift and I stayed with in my budget. So do check out the dollar stores for party ideas.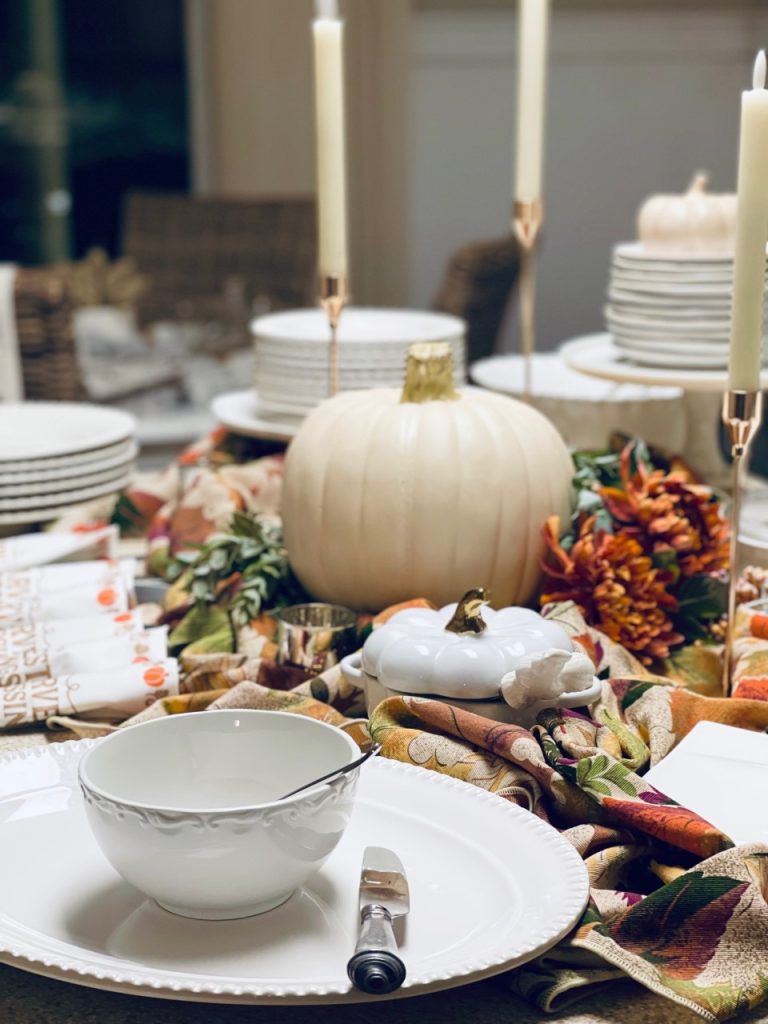 Thank you for stopping by and reading all about my How To Host a Fall Harvest Party on a Budget. I hope you were able to gather some ideas for your next fall harvest party!
I have another post you may like on fall parties just click here. https://houseofmar.com/how-to-set-a-table-for-thanksgiving/
Shop The Post