Happy Holidays!!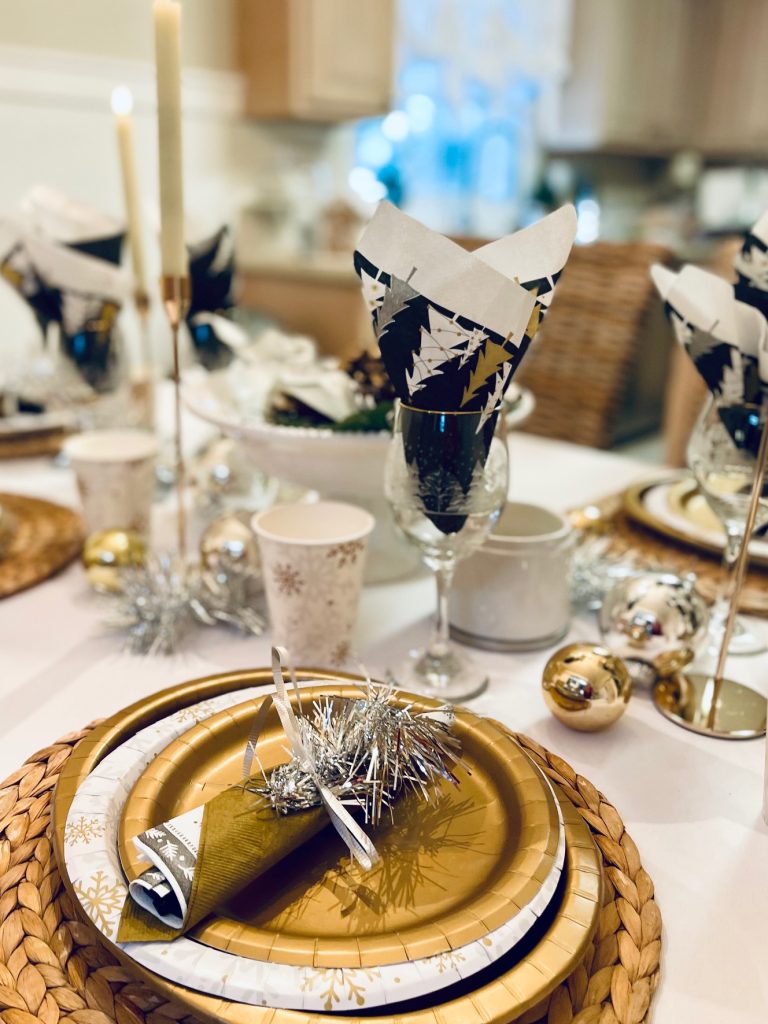 Merry Christmas and Happy Holidays! I think I can say that! We are still in the holiday season, right!
Wow didn't it go fast!!!
I can't believe how fast this year has gone or it's almost gone! New Year's Eve is almost here! With Christmas day falling on Saturday I didn't send out the Saturday Scoop! So here I'am sharing my Christmas table setting instead, but it could also be used for a New Years Eve Tablescape!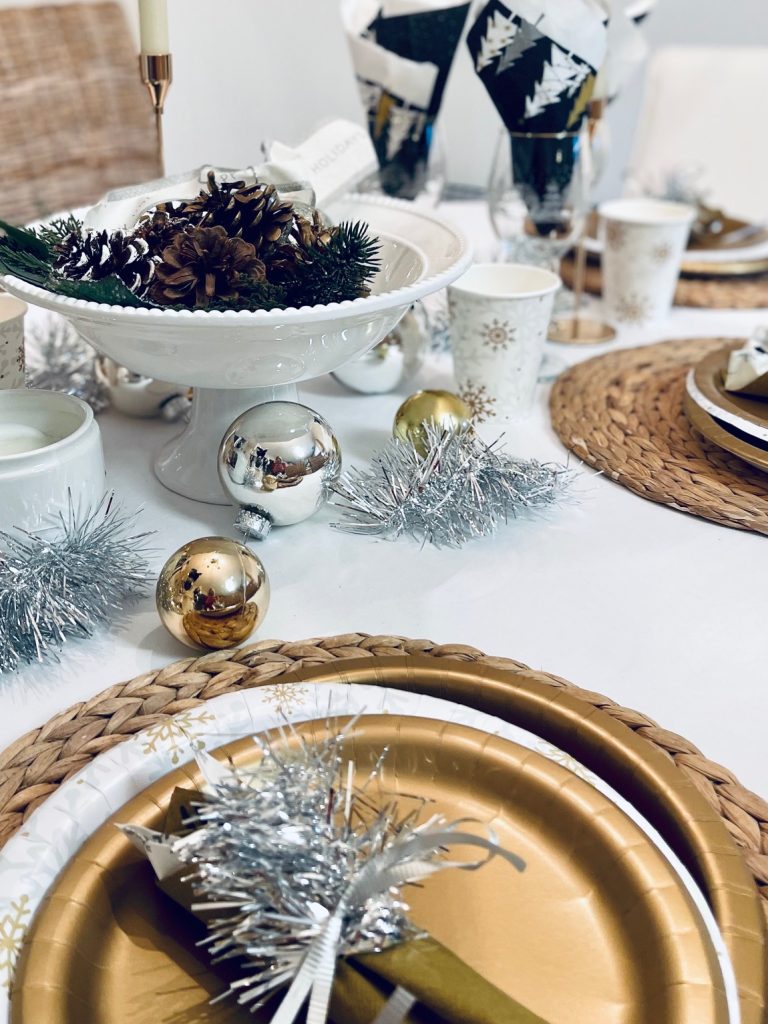 I hope you had a great Christmas! Our Christmas turned out to be a wonderful day spent with family
This table scape was put together very last minute. I used a few different paper plates. A platter plate, dinner plate, salad plate and a bamboo charger. I also added a cute snowflake paper cup and stemware. Grabbed some candles, ornaments and garland to make a centerpiece!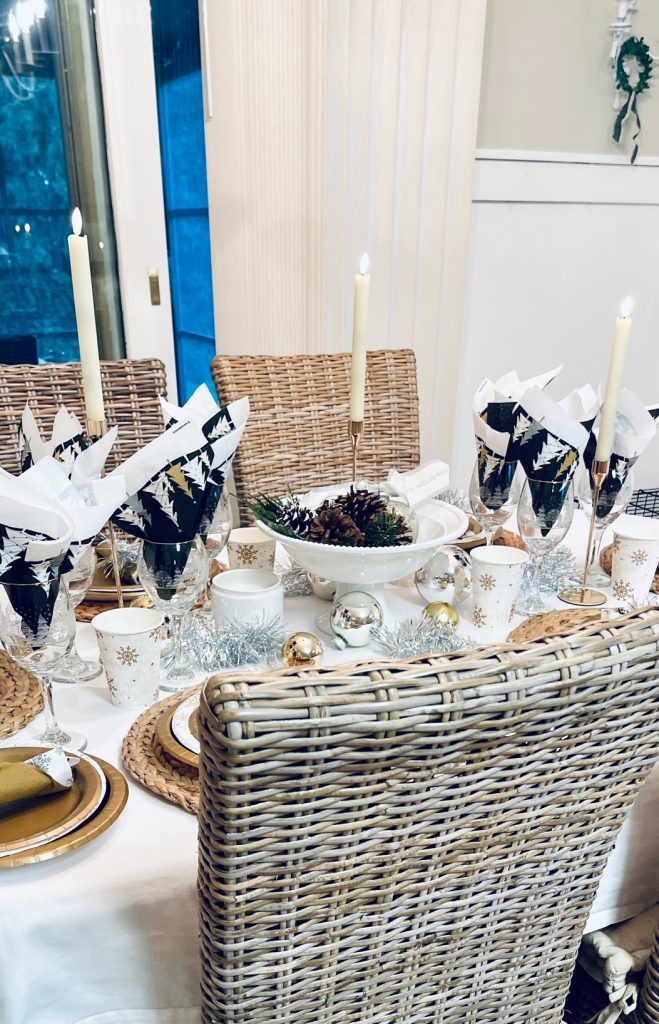 Don't these candles look real! They are wax but they are battery operated, they burn for six hours. I have them linked in my favorites tab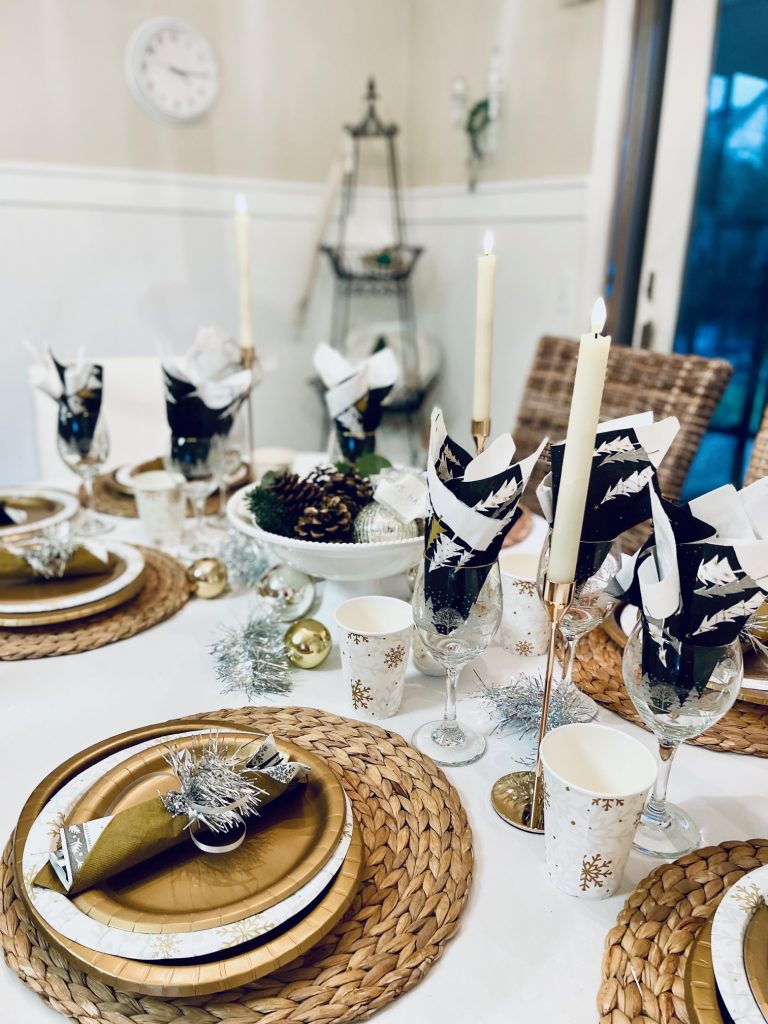 So… pulling this dinner together for 13 people, last minute, I needed some help! Something I've never done before was cater some of the meal! Oh my gosh!!! What a life saver! I made a few items and pasta!!!! Ravioli was everyone's choice for Christmas! My sister and niece brought a few dishes. My brother made a good part of the meal which came from where he works. It saved so much time and was so good! I think I like doing this! Something else I did… was to use paper products! I know, on a holiday!!!!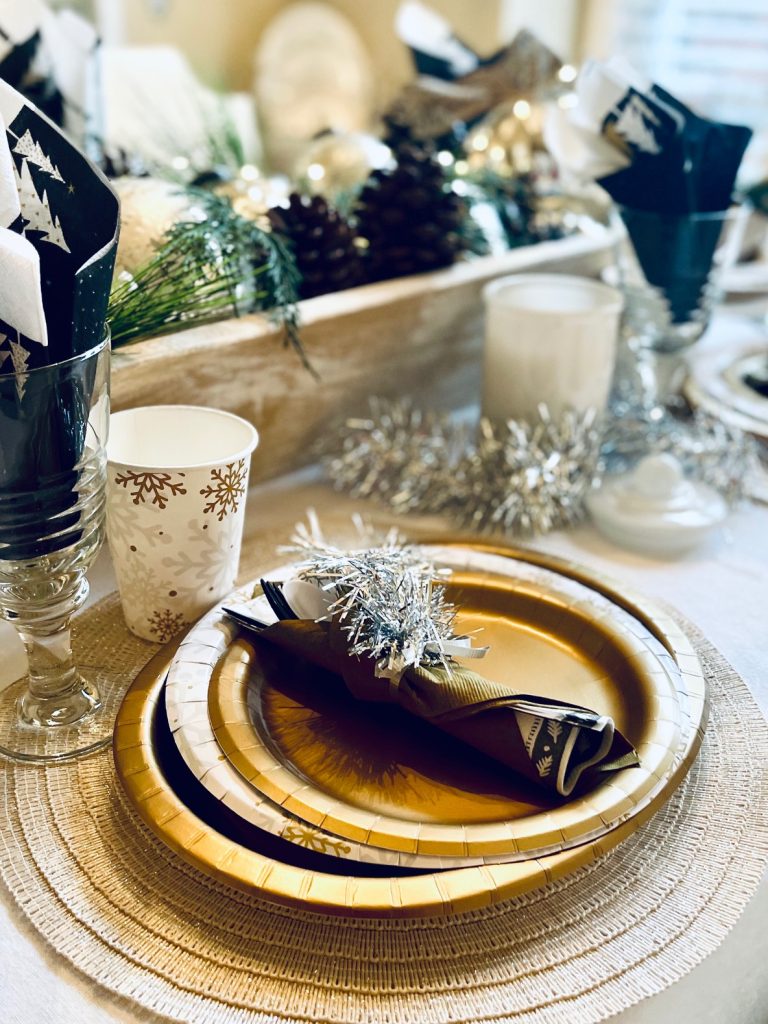 Well I set that table as if I were using fine china, Lol!!!! Everyone thought it looked so cute! I really wanted to save time from cleaning up and spend more time with my guest. It all worked out so well!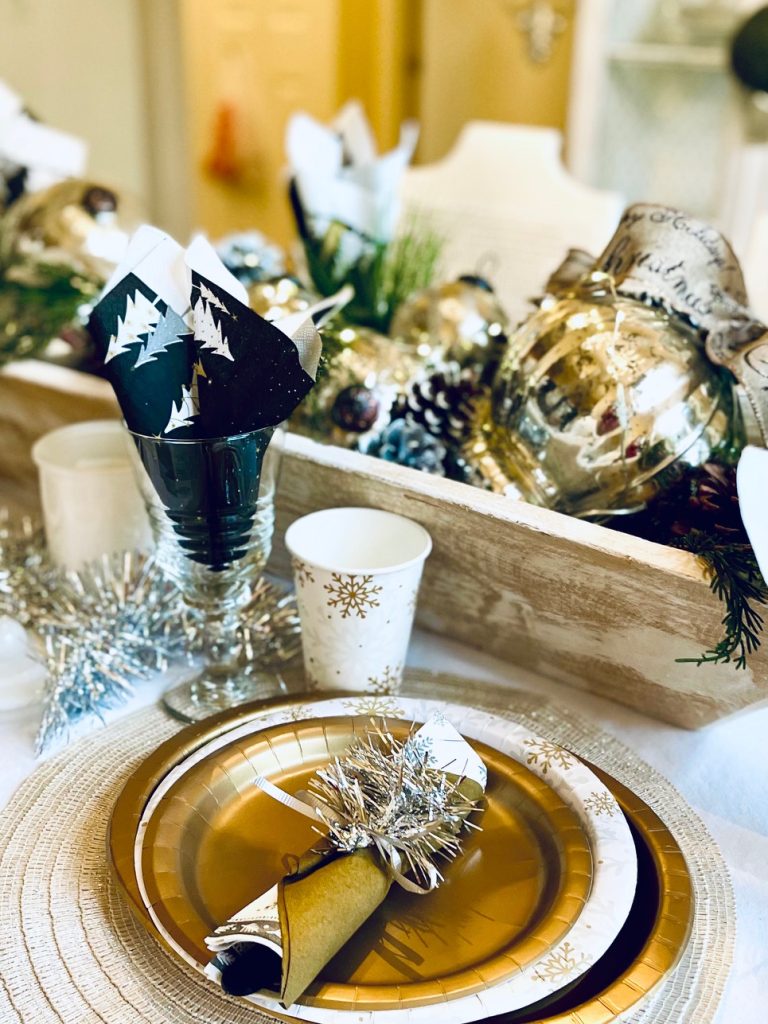 And you know what!!! I'm going to do the same setting for New Year's Eve! This will be my New Years Eve Table scape! I'll add some gold and silver ballon's with streamers to the middle of the table and some through out the house… and that will be that!!! I did use stem wear, but had little paper cups too! In case you are interested all the paper products are linked in my favorites tab at the top of my blog or you can click this link here https://houseofmar.com/shop-my-house/. Amazon has a great selection and their deliver is pretty quick! This is the link to Amazon https://www.amazon.com/b?tag=houseofmar6-20&linkCode=ur1&node=5622719011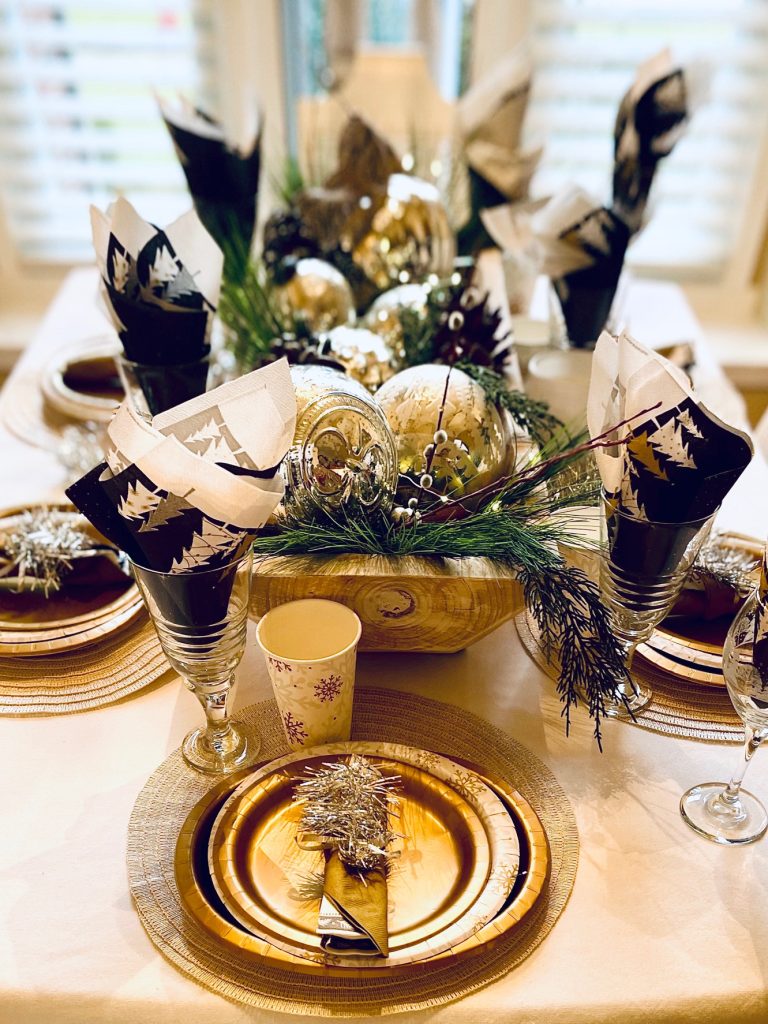 The food that was catered was in throw away tins! This saved on the clean up time, I also cleaned up as I cooked. Honestly we had the kitchen all cleaned up with in half hour!
Isn't that what we want from the holidays is to spend it with family, friends, sharing time and traditions! I'm feeling so blessed and thankful for times like these!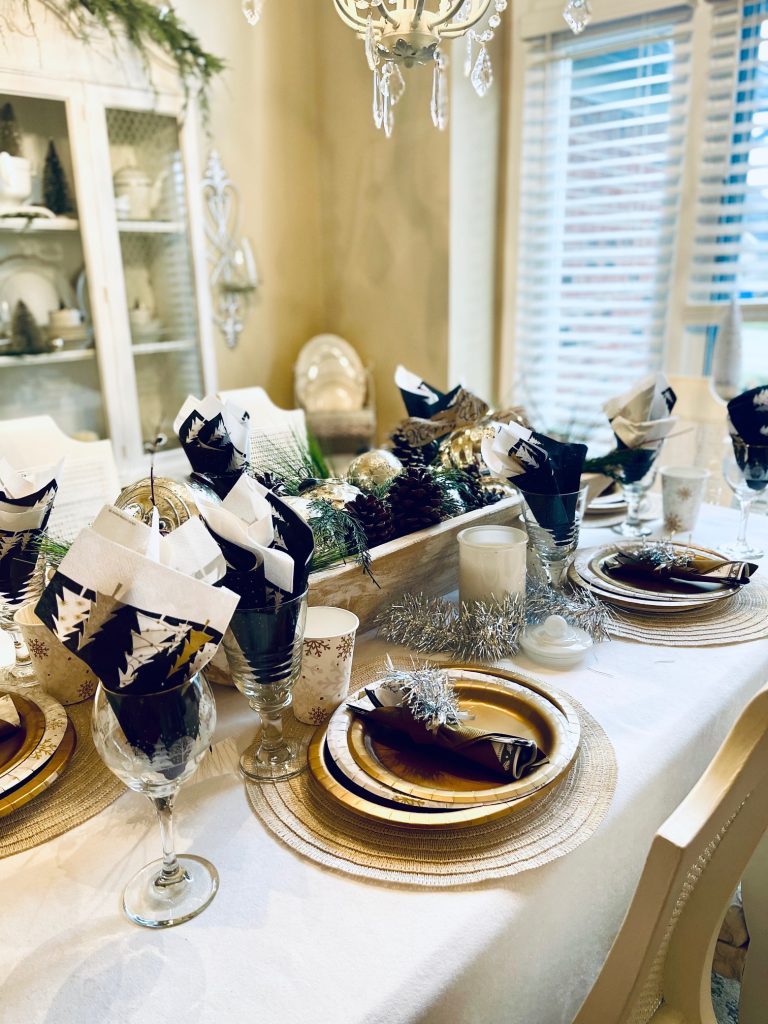 We all had so much fun being together! Using these helpful time saving products gave me the time to spend with my family. It was a blessing I needed! I've also learned something from this Christmas. To not feel bad if you don't cook all the meal and to let other's help you!
Items I used to set a festive table
Gold plater plates
White snowflake dinner plates
Gold salad plates
Two different syled napkins
Ribbon
Plastic silverware
White snowflake cups
Additonal napkins
Stemware
Chargers
Silver and Gold ornaments
Silver garland
I also used a beautiful table cloth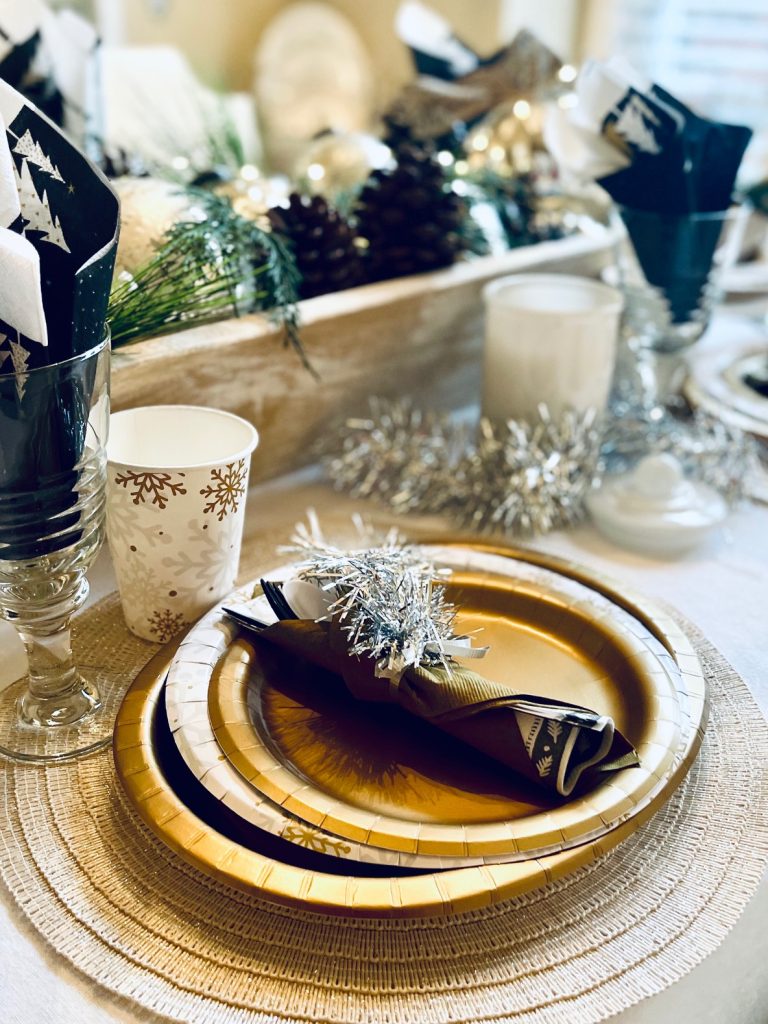 Happy Holidays! Enjoy Your New Years Eve and I'll talk with you in the new year!!
This link has all my home favorites from Amazon.https://houseofmar.com/shop-my-favorites/
I make a wish at the start of every year! This is my wish this year! My wish is for all of us to have a healthier, prosperous year with more time spent safely with family and friends!