How To Create A Spring Table Scape
How to create a Spring Table Scape by adding birds, hydrangea, greenery, placemats, plate chargers, napkins and bird napkin holders.
Please check out our spring hop with several other spring projects after this tutorial.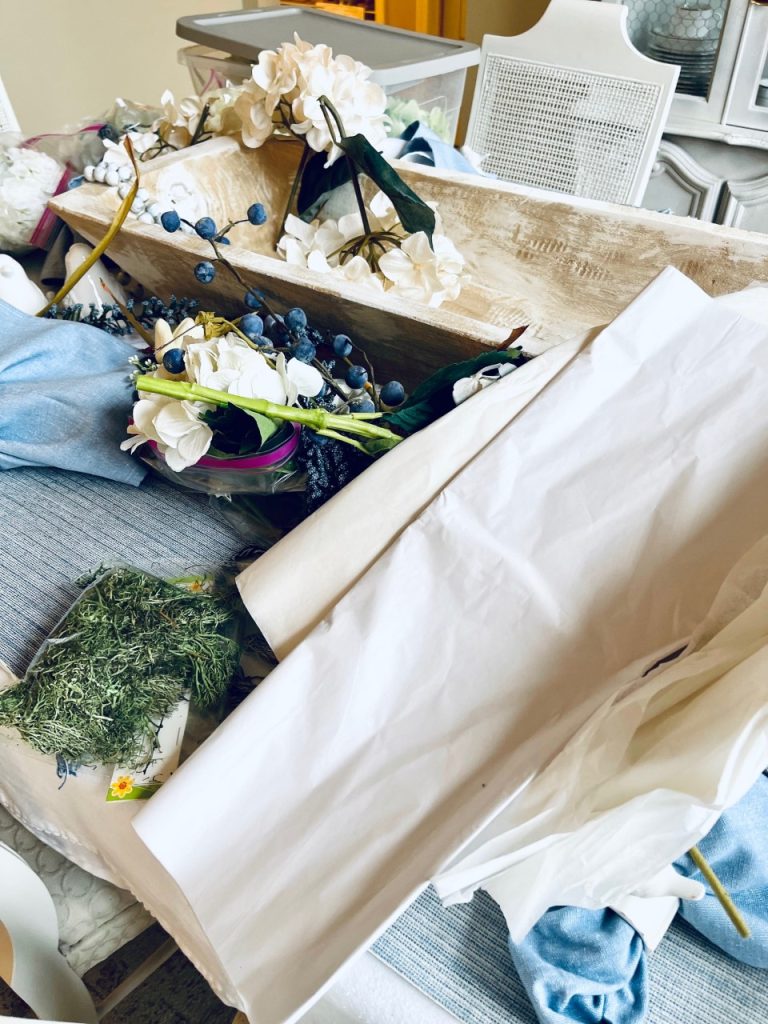 I've been busy as a bee spreading spring through out my home! I know there's snow outside but it's spring inside! I love creating a Spring Table Scape!
So Let's Get Busy And I'll Show You How To Create A Spring Table Scape!
My dinning room is a room I really enjoy decorating. For each season I set up a vignette on my dinning room table. A few weeks before I begin to change out my decor I decide on what color scheme I'll use. This year I decided to use what I have so I'm shopping my home for my Spring Table Scape!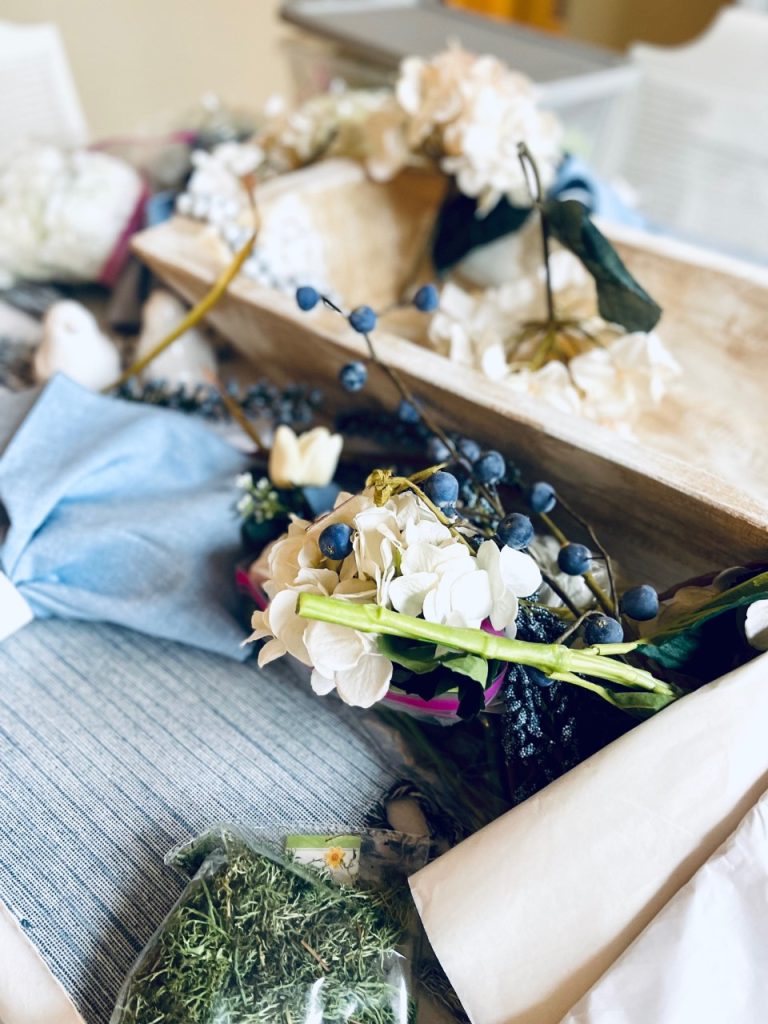 For my Spring Table Scape blue it is!!! Although I've heard green is the "it" color this season, so I'll mix a little in by adding some greenery!
Last Sunday I went to Tuesday Mornings just to browse! Look at what I found, light blue place mats on the clearance rack! I knew these would help to set the mood for my Spring Table Scape!. Searching a little more I found light blue napkins to match the place mats!!!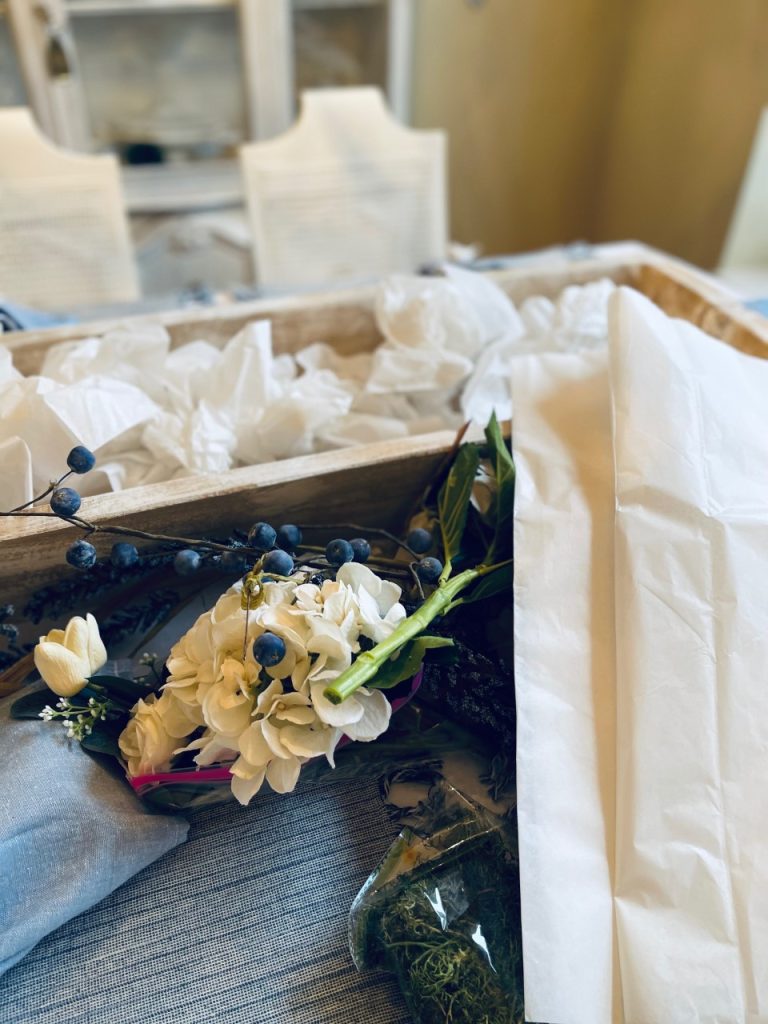 I decided to use my dough bowl on my dinning room table, as a planter box. Rummaging around my decorating room I found white and blue faux hydrangeas!
Hydrangeas are my favorite flower! So I'll been using faux hydrangeas in my arrangements for my Spring Table Scape and all around the house!
One item I didn't have was a floral block and I didn't have time to run and get one so… I used white tissue paper instead. It works great as a filler!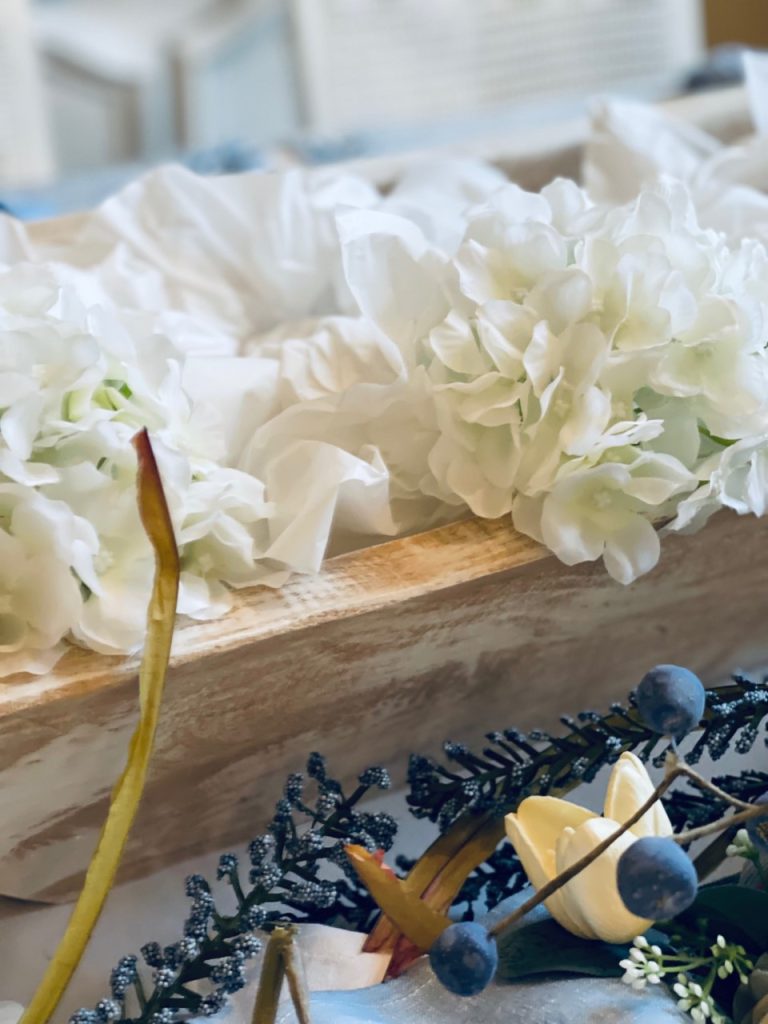 I just crushed it up in my hands a little and added it to my dough bowl. Fluffing it out a little while adding the florals also fills in gaps.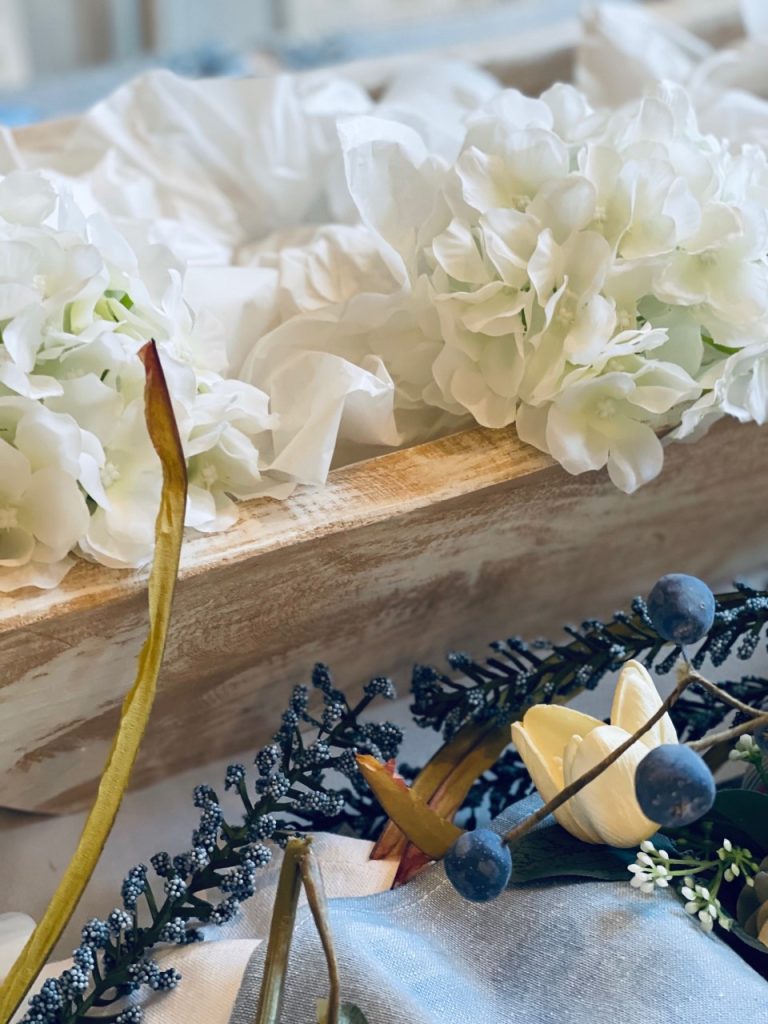 When I do an arrangement I use the larger florals first and then fill in from there by size.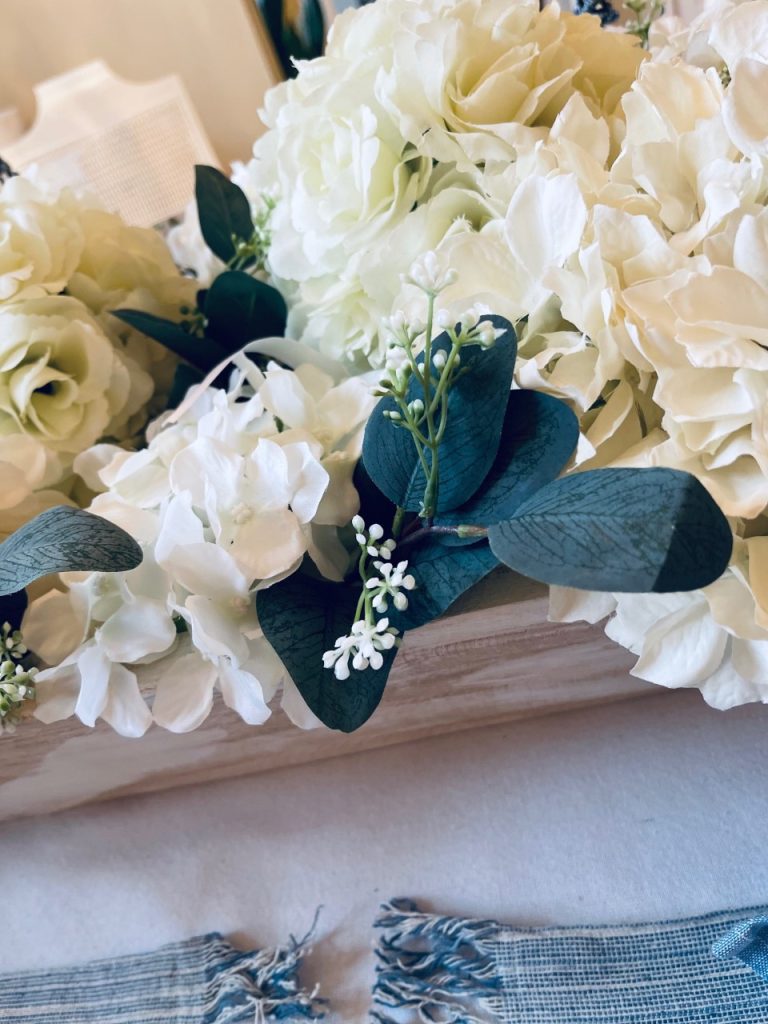 When setting my table I like to use a place mat… and the new one's have a little finge on them!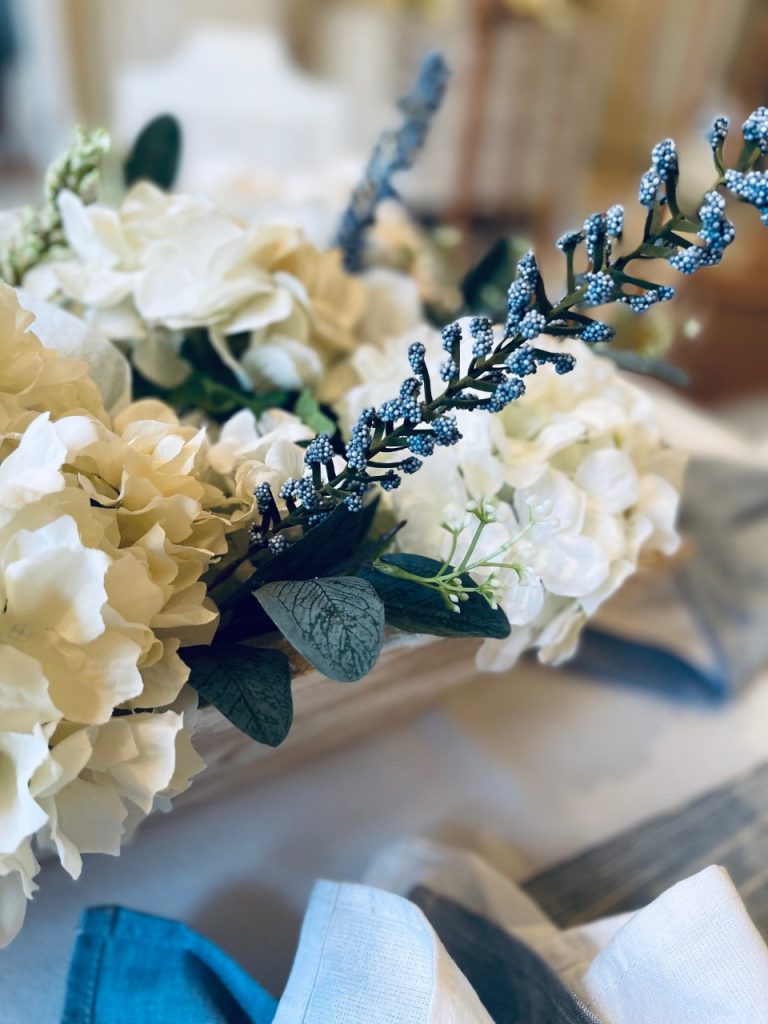 I decided to add a charger plate! They're so cute, I bought them off Amazon. The charger plate actually helps to keep my table cloth clean! It's also why I use a place mate, just in case there's a spill!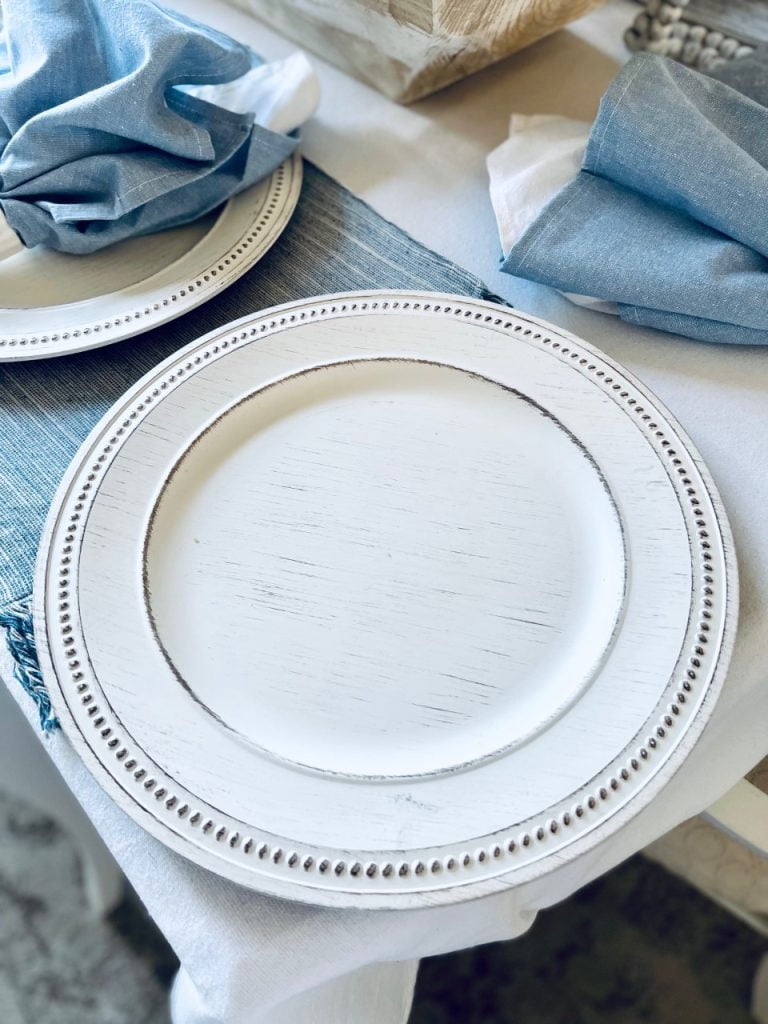 Adding The Linens To The Table Scape
Napkin's are also a nice way to dress the table. I like to use two together for more fullness. For spring I'm using my little porcelain bird napkin rings. I've had these for years! Actually one has a little crack but I glued it back together, so far it's staying! The gorilla glue it amazing!!!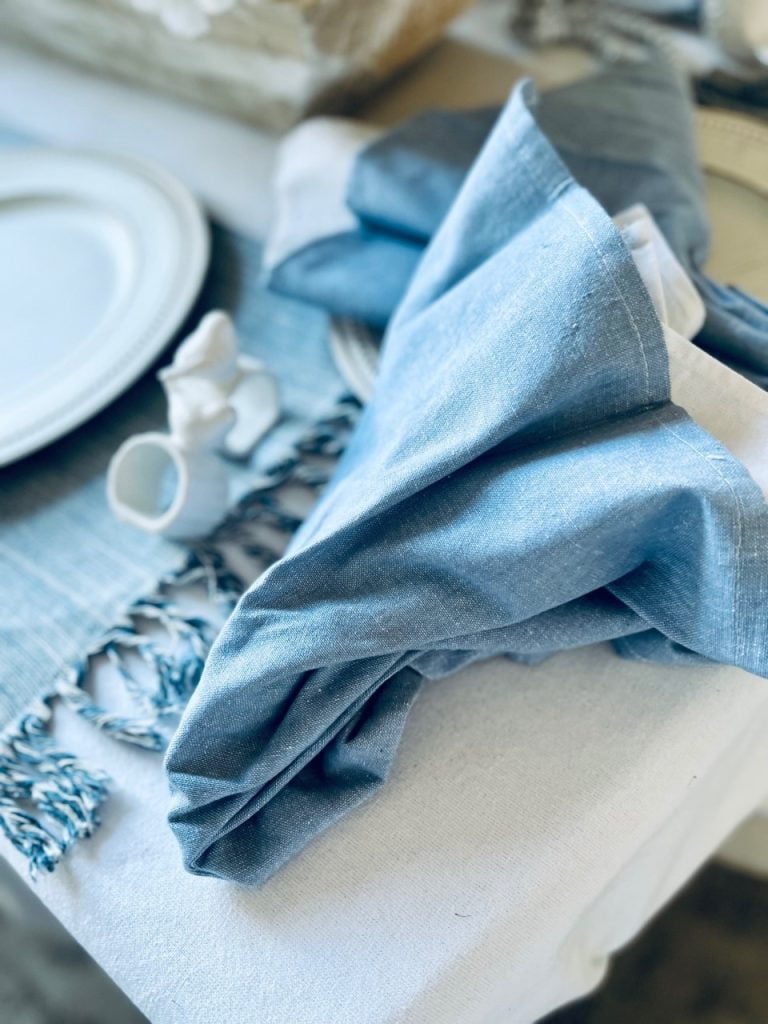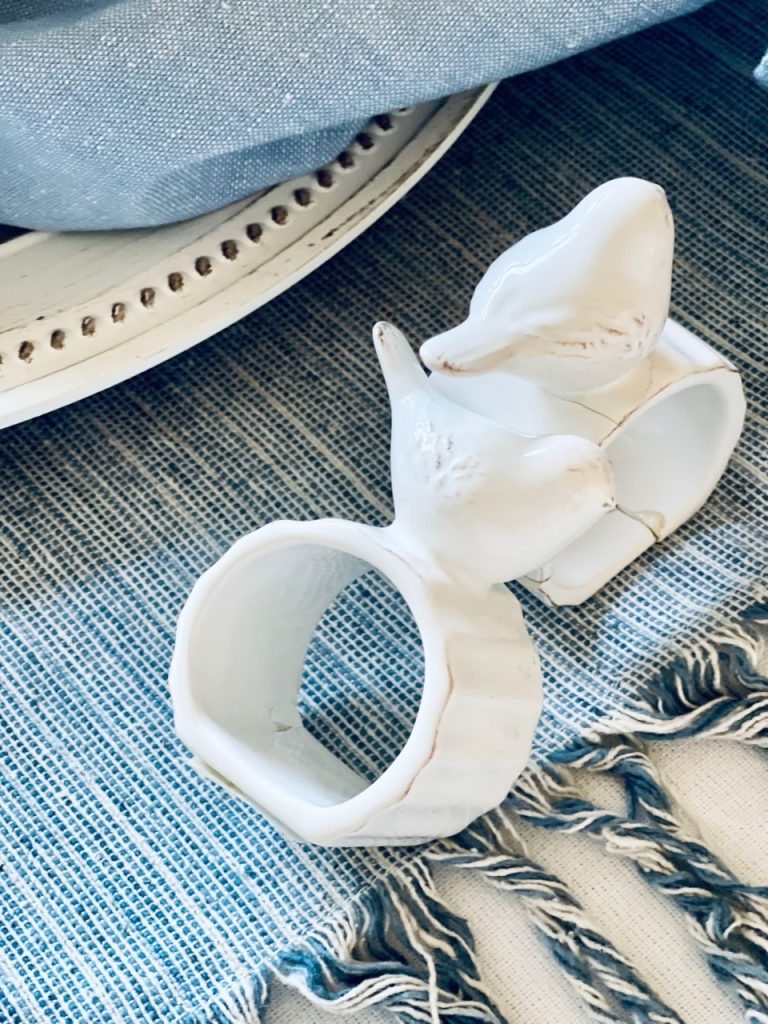 I love using birds in my spring decor. Birds just remind me of spring! My dad use to have a few bird houses and he always kept bird feeders around. Bird's chirping is such a lovely sound! The two little porcelain birds on the table add that little something extra!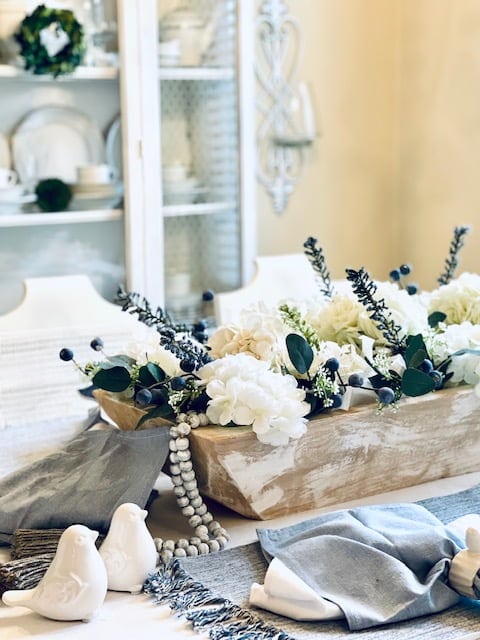 I kept my china cabinet very simple this year… by adding a few topiary's, a little bird, and a small evergreen wreath! We have a record player in the dinning room, I like to play dinner music sometimes when we have dinner.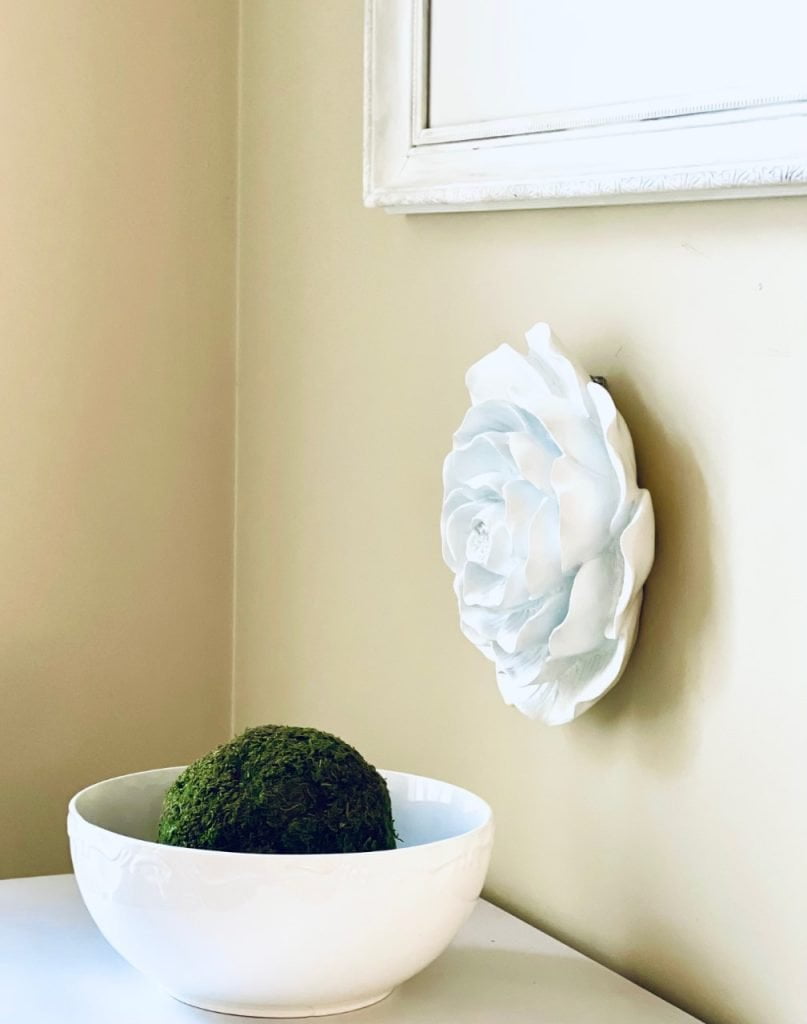 This little area was also adorned with a little spring by adding a white porcelain bowl and a green round ball topiary. Little simple touch's here and there give a happy feeling of springtime!!!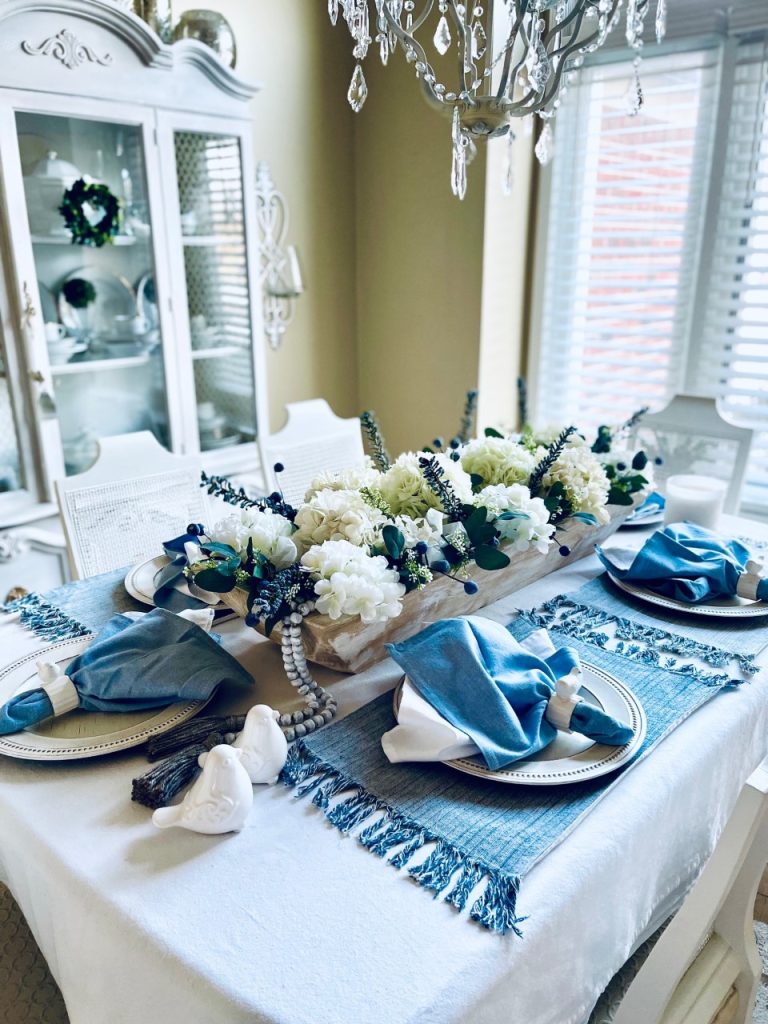 My Spring Table Scape is all ready!!!!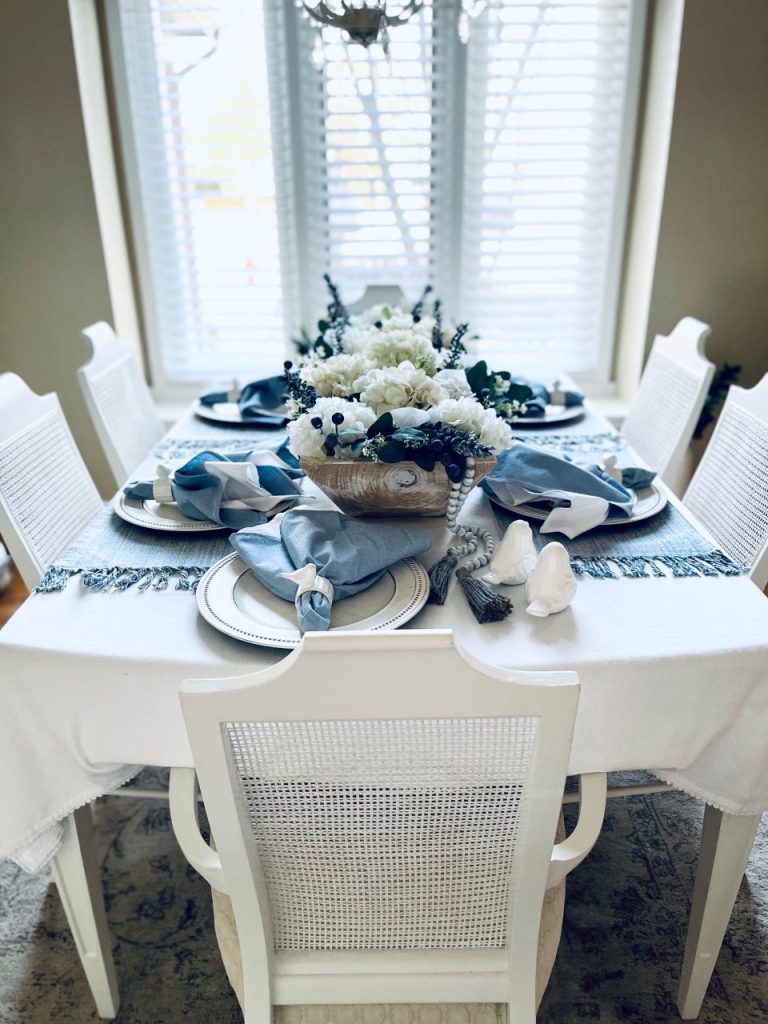 Thank you for stopping by and seeing how I put my Spring Table Scape together! Please stop back for my spring home tour happening very soon!
I would love for you to follow my on my Instagram @ house.of.mar https://www.instagram.com/house.of.mar/
And my House of Mar facebook page https://www.facebook.com/House-of-Mar-105464757950017
The Birds Nest represents the love, commitment, and effort it takes to build a happy home.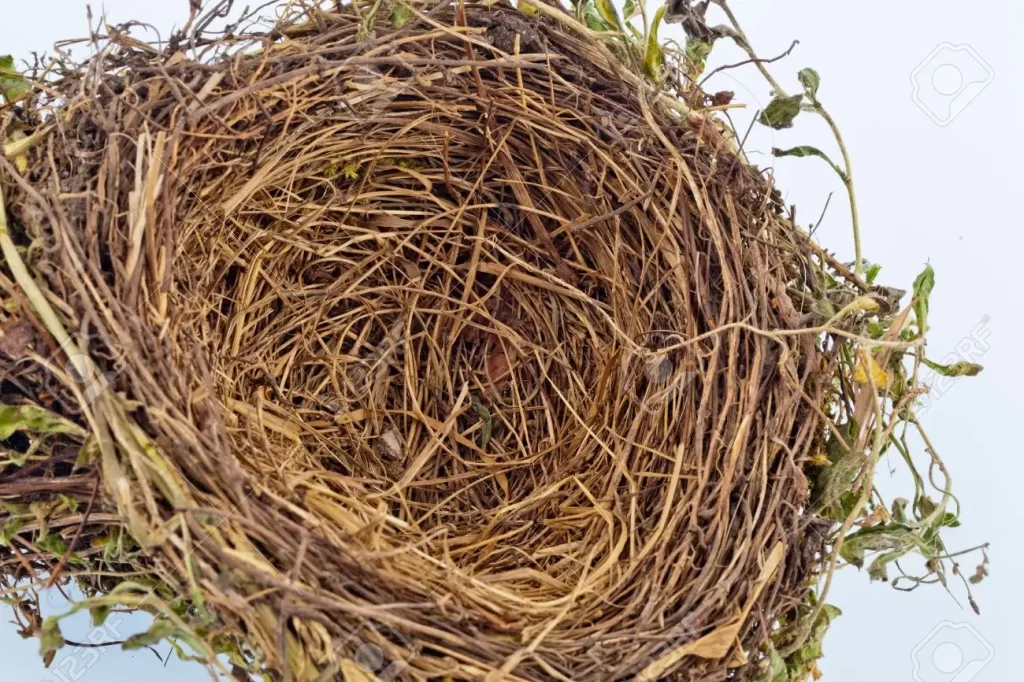 If your interested take a peak at last years spring table scape, https://houseofmar.com/easter-table-setting/
Many of the items I used to create my Spring Table Scape can be found in my shop my home tab. At the top of my blog or click here https://houseofmar.com/shop-my-house/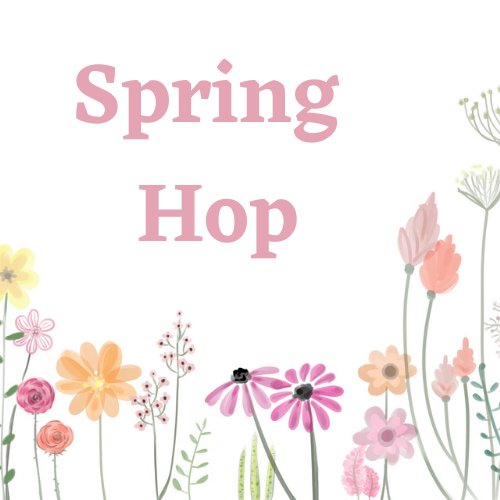 Welcome to our spring hop! Welcome if you're coming from Deanna and her spring tour, after my Spring Table Scape please head to Chas crazy creations to view her Garden Mushrooms.