How To Update A China Cabinet
Have you thought about updating your china cabinet? Do you walk past your cabinet daily and think it needs something?
Maybe just a little something, because it just doesn't look the best it could look.
This is how I had been feeling about my china cabinet. Updating my China Cabinet is what I decided to do!.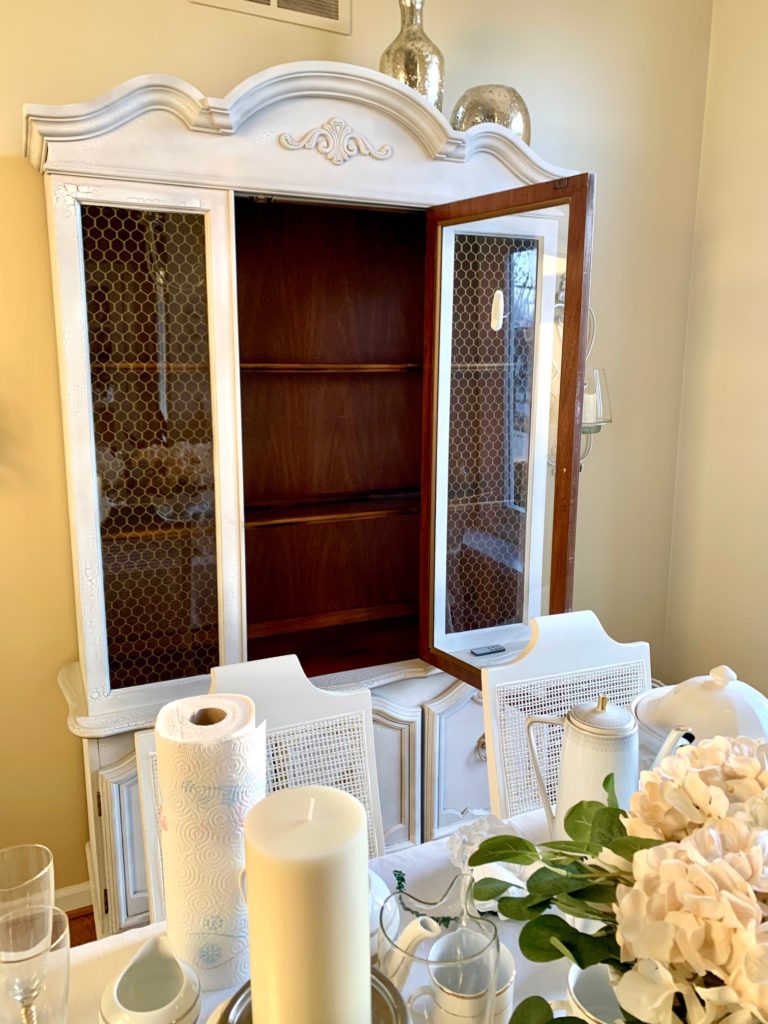 I've had my vintage china cabinet for over 20 years! The cabinet was originally a dark cherry wood color. I kept the original color for years! A few years ago I decided to update it with some paint, and I used a crackling antique white spray paint!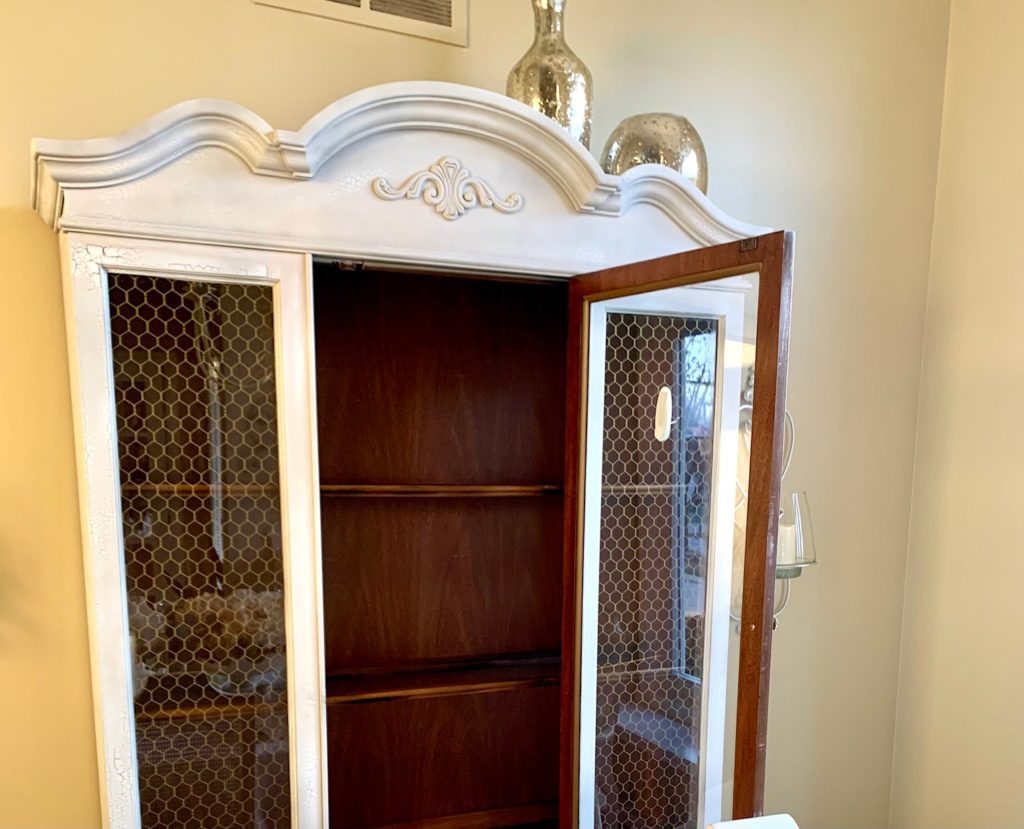 Many of you crafters may remember it was popular to crackle paint furniture. So I used the crackle spray paint on the whole outside of the cabinet and it worked wonderful!
But I don't know why I didn't paint the inside! It has bothered me for years the dark color of wood. I finally decided this is the update it needed, the inside painted!
The picture below is of the china cabinet from many Christmas's ago… sorry not the best picture. In this picture you can see how dark the inside of the cabinet is and you can't see the china very well. It all blends together with such a dark background.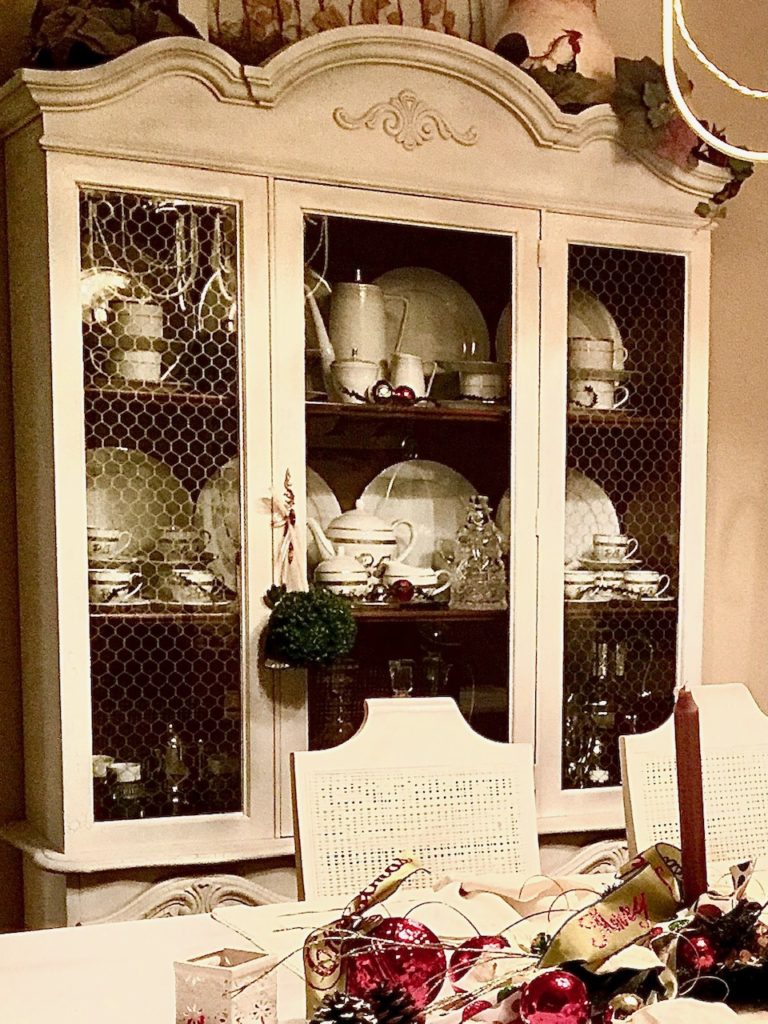 I had some paint leftover from my last week's project of my entertainment center. So on Friday evening I was home and my Mr fix it was napping in the chair, we have exciting Friday nights around here, Lol!
I cleaned out the china cabinet, got my paintbrush, leftover paint, and got busy to do the update!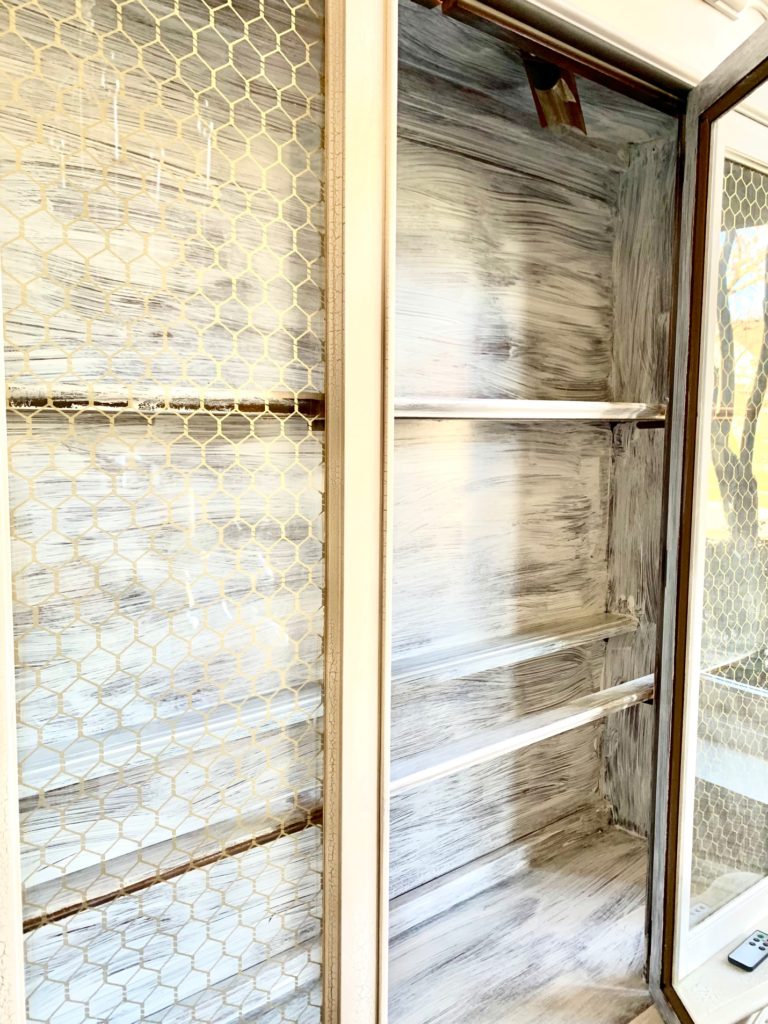 I took a few before pictures to share how the inside of the china cabinet looked before I painted it.
As I was painting I was thinking of my mother-in-law. She gifted me the china cabinet many years ago when she bought a new one.
I remembered being so worried about what would she think about me painting it with spray paint! After I had finished painting the cabinet we had her over. My husband brought her in our dining room and showed her what I had done… She loved it and laughed when I told her I was worried she'd be upset. She said it's yours to do what you want with it, and it looks so much better!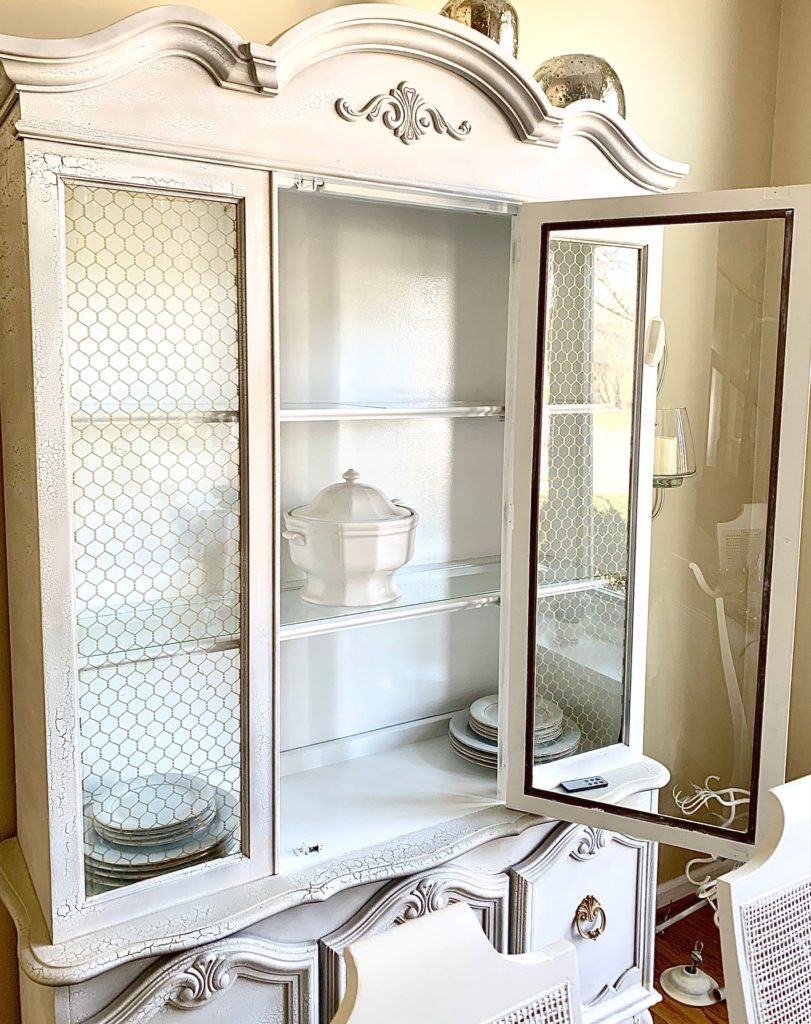 I was so happy she approved!
The scroll design on the top of the china cabinet is just so pretty It's my favorite part of the cabinet. I also like the chicken wire on the inside of the glass. Each door at the bottom also has a scroll design similar to the top of the cabinet.
Inside the cabinet there are three shelves, two are glass, there's also an area at the bottom of the cabinet to store extra items.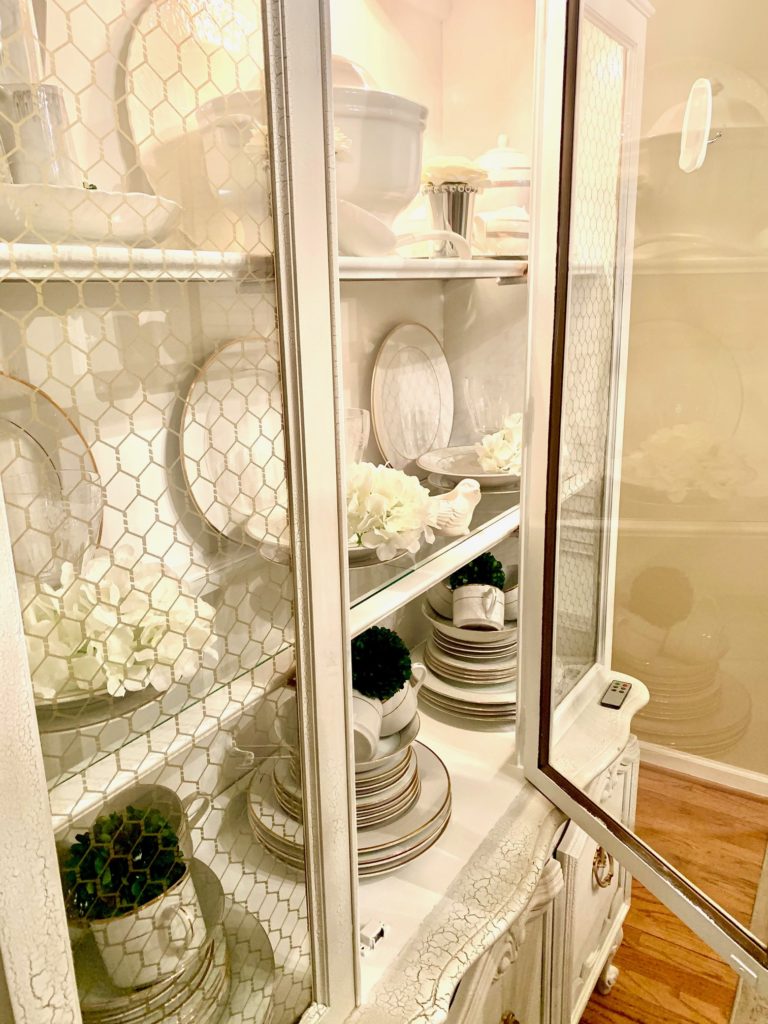 I started to paint thinking I'd be done that evening, and in the morning I would give my Vintage China Cabinet an update of the inside decor.
I primed the inside of the china cabinet first because the wood was so dark. After my first coat of paint dried I knew I would need to do a second coat of paint… Well I actually had to do three coats of paint! The drying time between each coat of paint took a few hours to dry.
I ended up spending all weekend painting the inside of the china cabinet! My time line turned out to be very different than what I originally thought, Lol!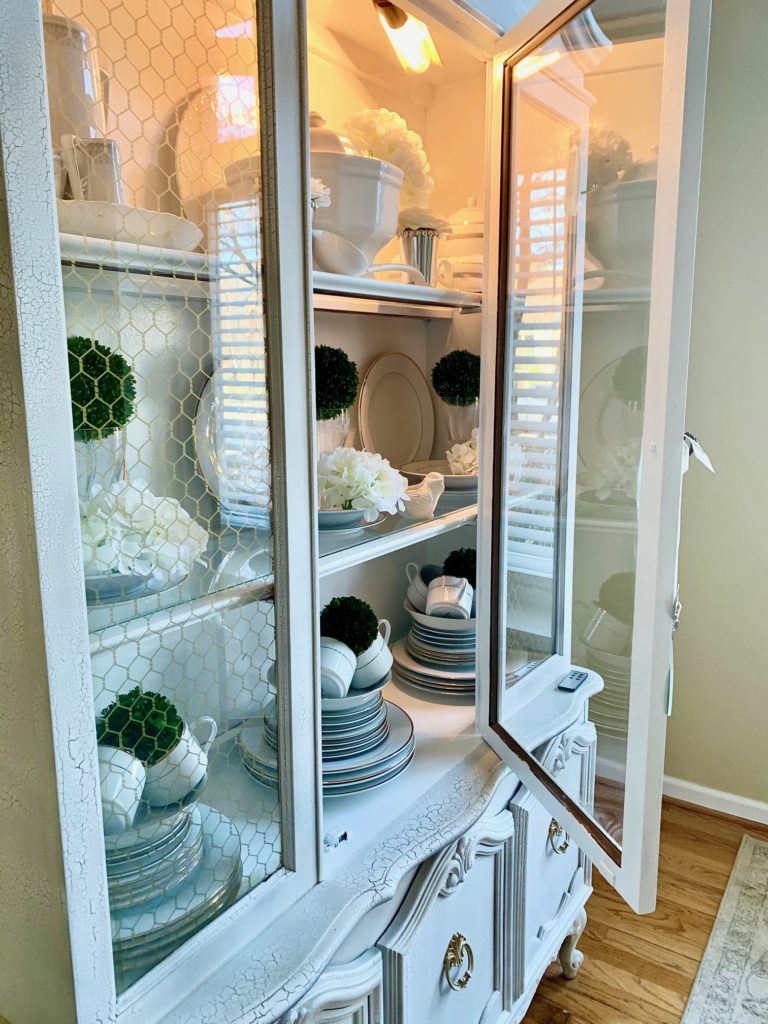 I'm so happy with how it turned out and I don't know why I waited so long to do it!
Look at how the dishes look with a lighter back drop! These are the same dishes in the Christmas photo. It looks so much fresher, cleaner, and brighter, I love it!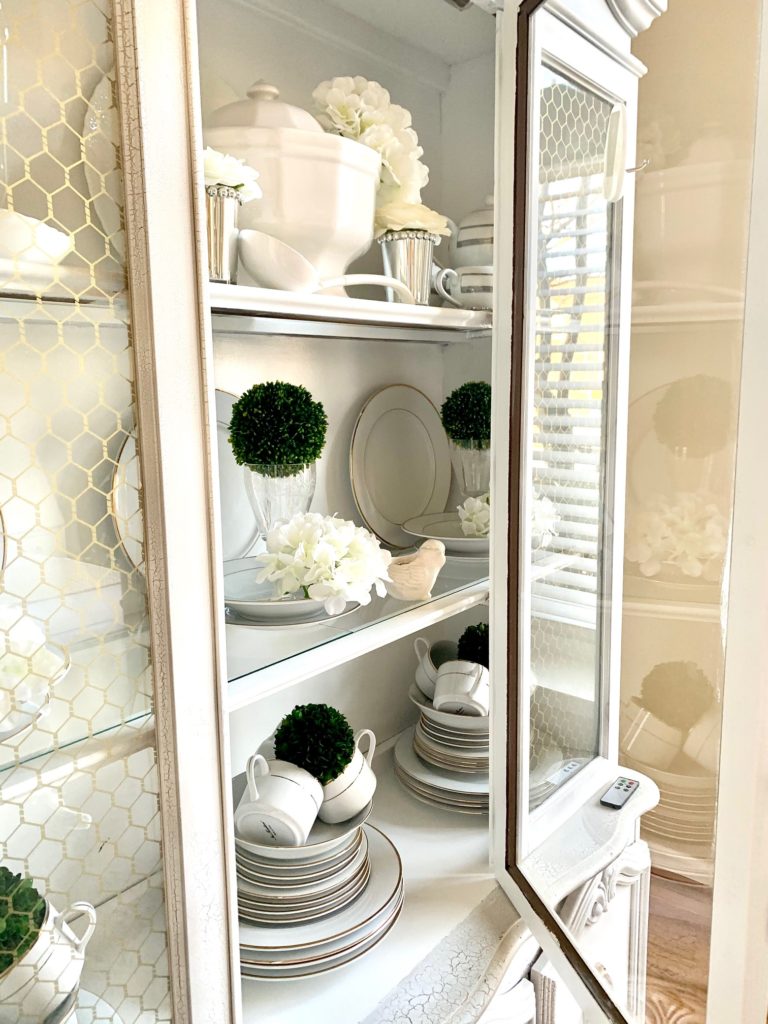 This year I'm keeping it simple for spring. I've added some flowers and a pop of color by adding some green topiary balls with the white florals!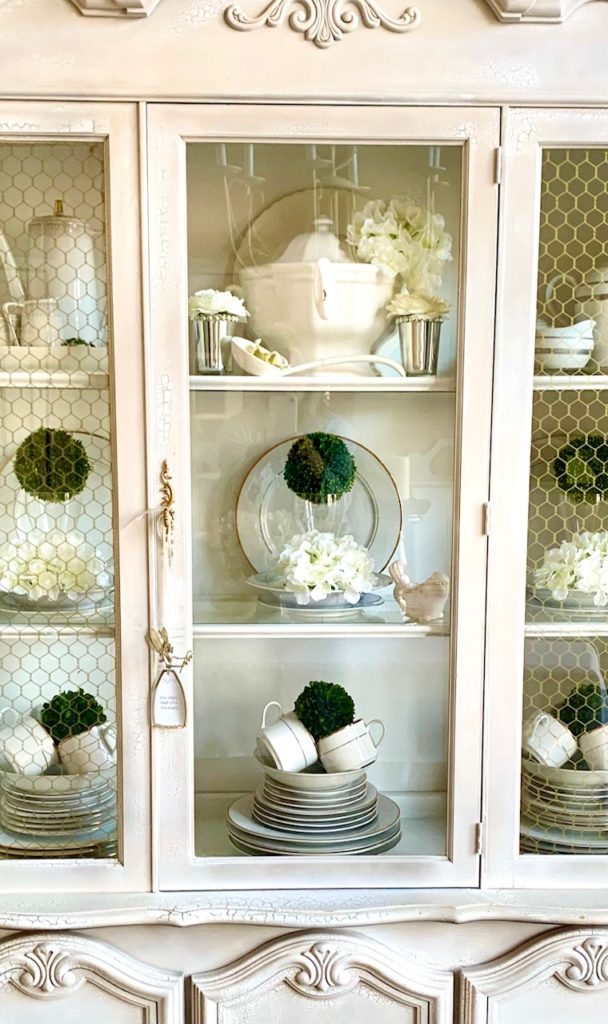 I also added two little flowers in little silver planters.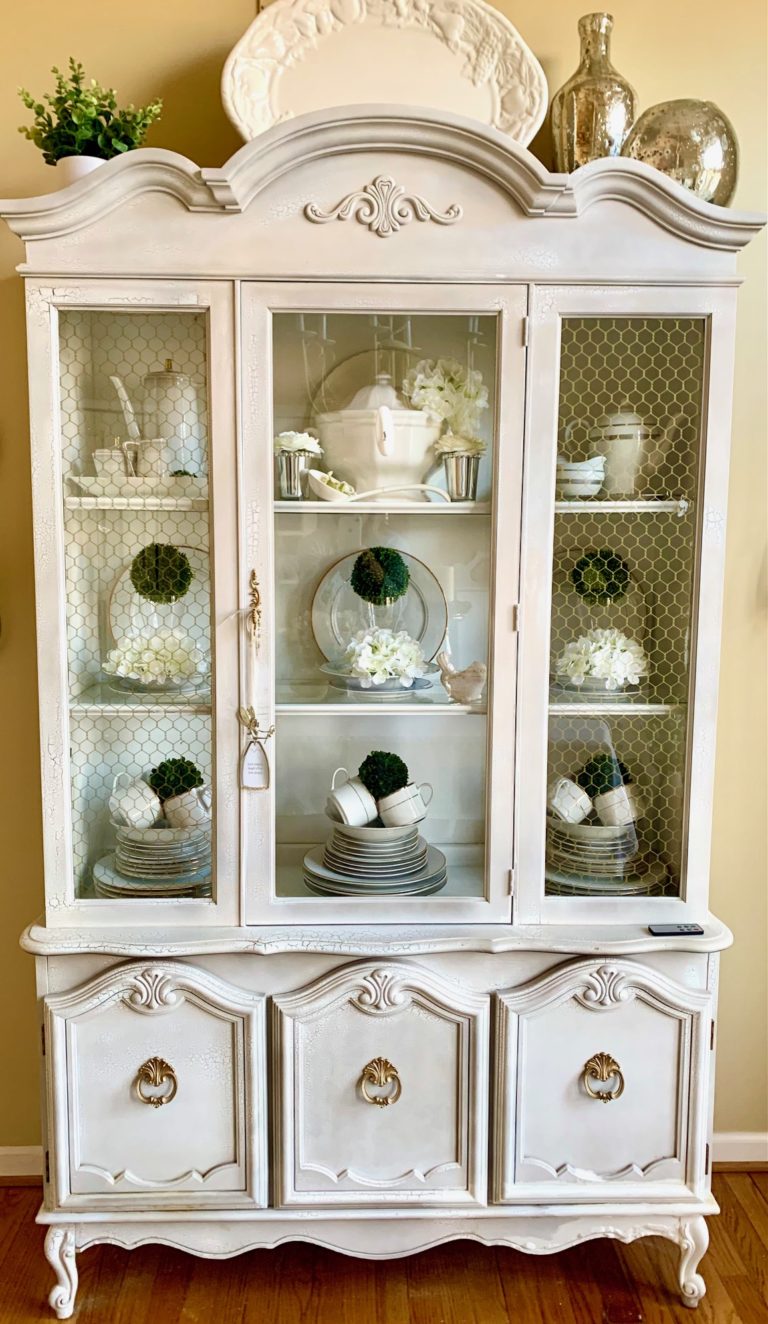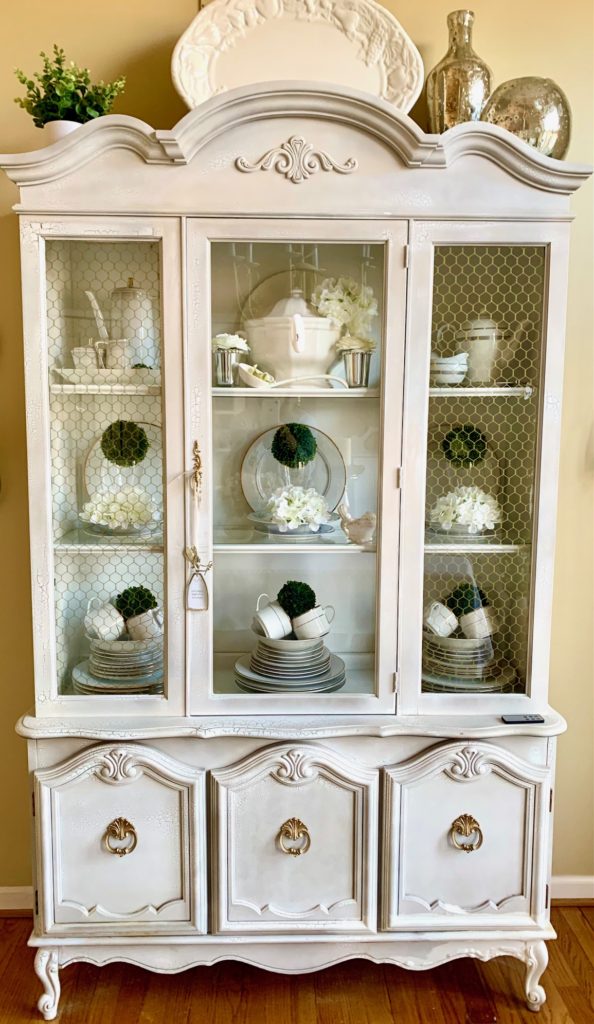 Just a little update with paint can make such a big change in a china cabinet!
I hope this post inspires you to create a little update too!
Thank you for stopping back by! Have a blessed week!
Mary Anne,