I'm all about budget decorating and I have 9 ideas to help you decorate for your fall table scape and stay within a budget!
I really enjoy decorating a fall table scape for fall! It's my most favorite season to decorate and soon it will be here!
Today on The Saturday Scoop 27 were talking all about fall table scape's!
So let's get busy with 9 decorating ideas for our fall table scape!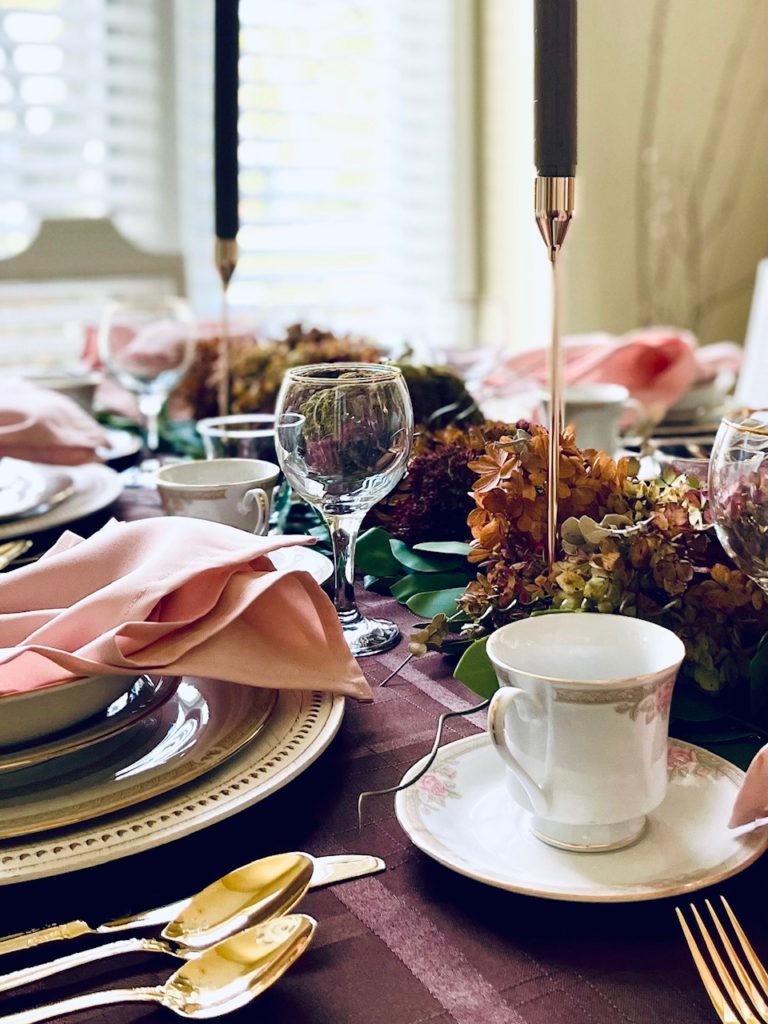 You can pull together a fall table scape by using items you already have. This will help to keep with in a budget.
Use a fall colored table cloth for a nice back drop. Add a swag or garland to the center of the table. Next gather some fall foliage from your yard, such as sticks, branches, and flowers. Use these to decorate the centerpiece of the table scape. Then tuck the pieces into the garland weaving the pieces in and out, laying them on top of and around the swag or garland.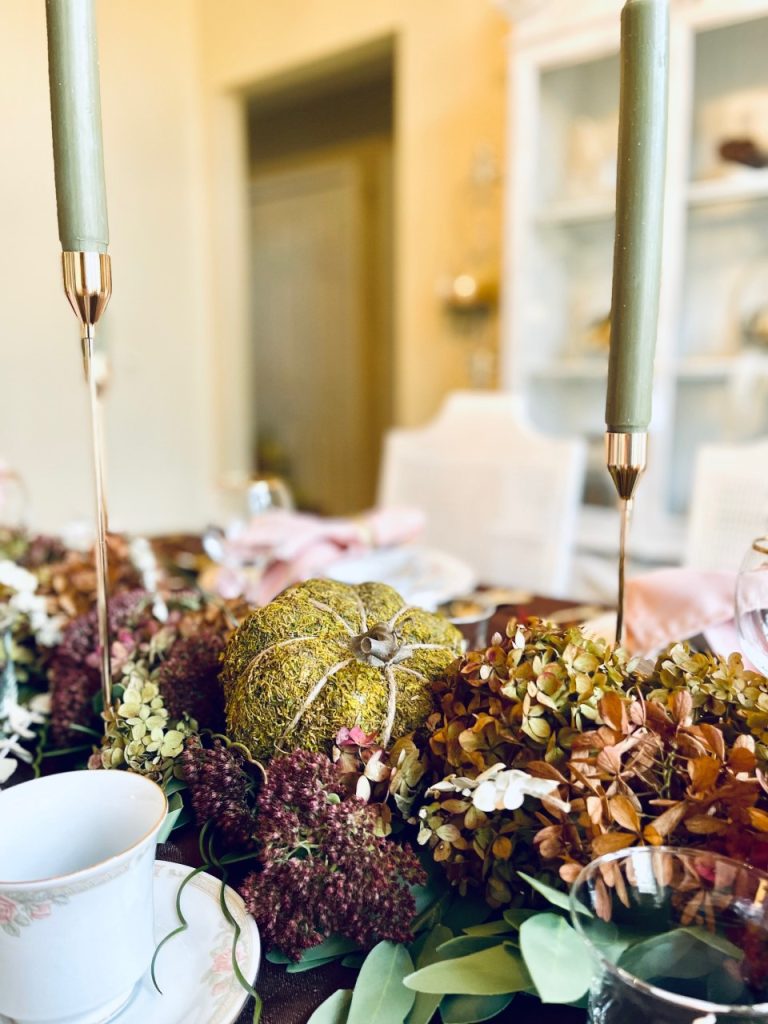 Adding Some Foliage
Eucalyptus, dried hydrangeas, berries and branches gave this fall table scape a beautiful fall look! All the foliage for this fall table scape I gathered from my backyard, all with in my budget lol! The table scape in the picture is from a Friendsgiving luncheon I hosted last year you can view it all here https://houseofmar.com/how-to-host-a-friendsgiving-luncheon/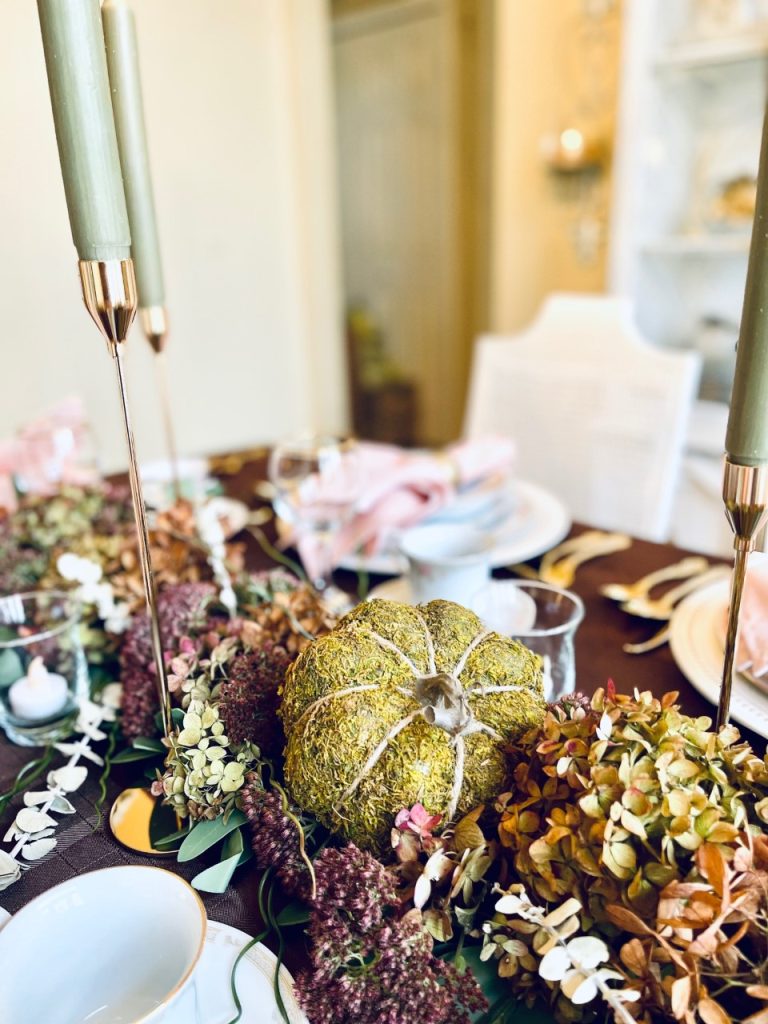 I then placed a green moss pumpkin in the center of the centerpiece. I thought it enhanced all the beautiful fall colors in this table scape! Mixing a few non traditional colors really accents all the vibrant fall color tones too! These pink napkins really play well in this fall decorated table scape.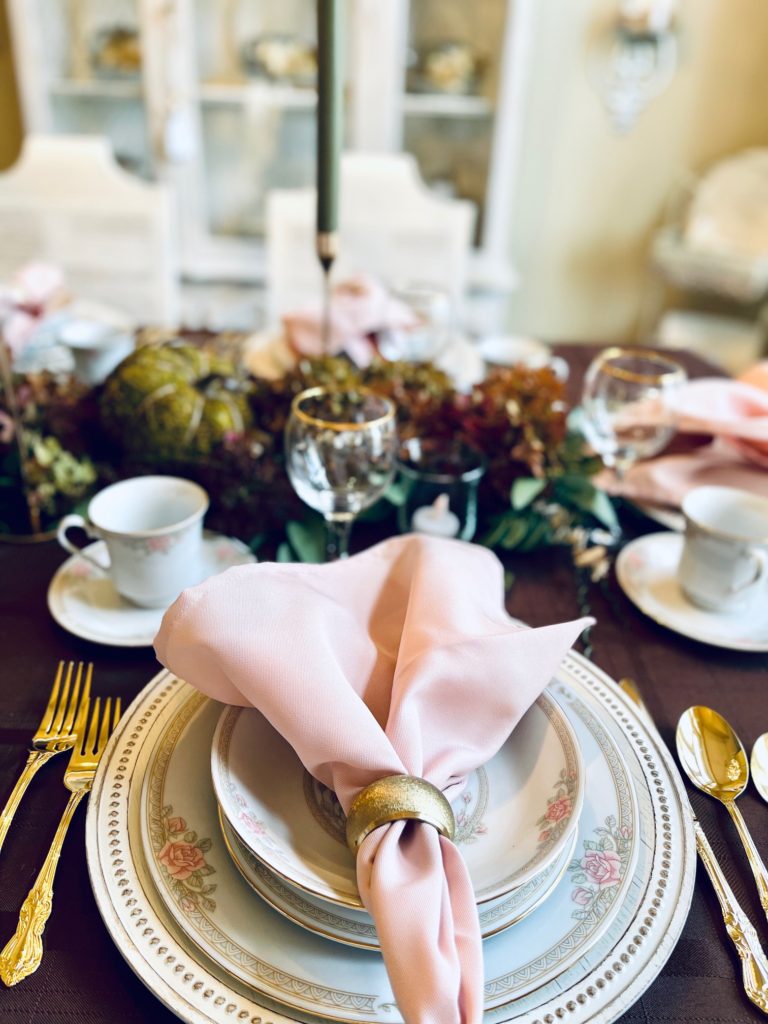 Who says you can only use deeper tones for fall decorating. Use whatever colors you have to decorate your fall table scape. Because fall has so many colors anything goes!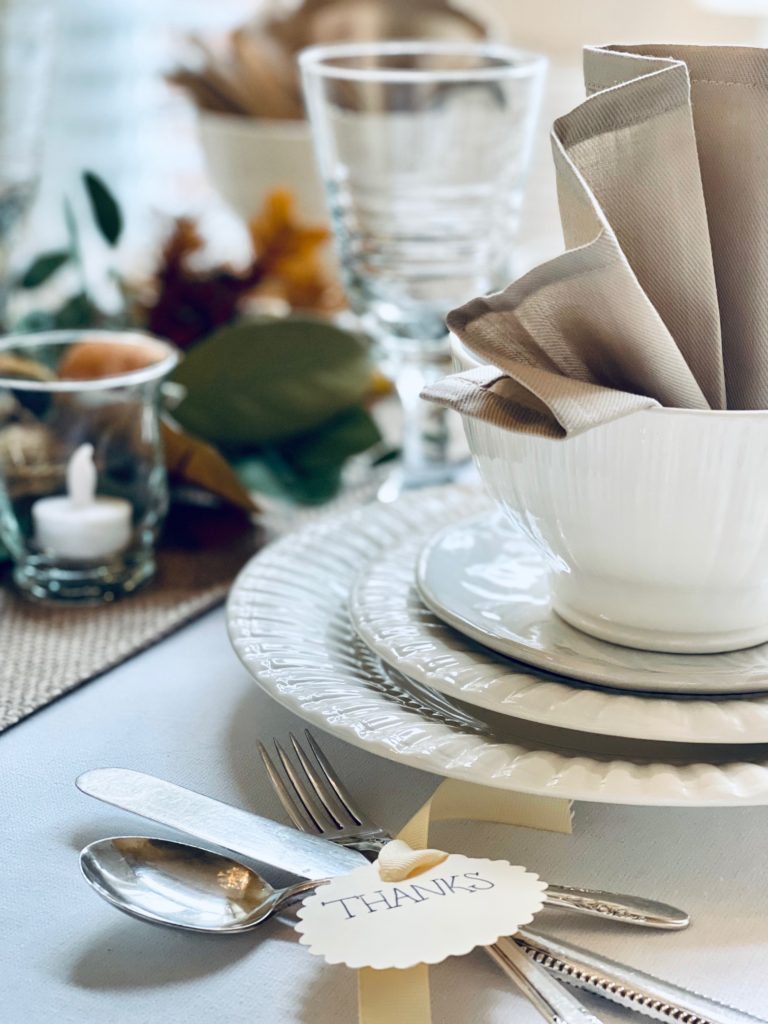 Make a fall little sentimental tag to hold your flatware together such as this thanks card! I used stock paper, cut the edges with fancy scissors, wrote a special message on the tag. I placed a hole at the top, pulled the ribbon through and tied it around the flatware.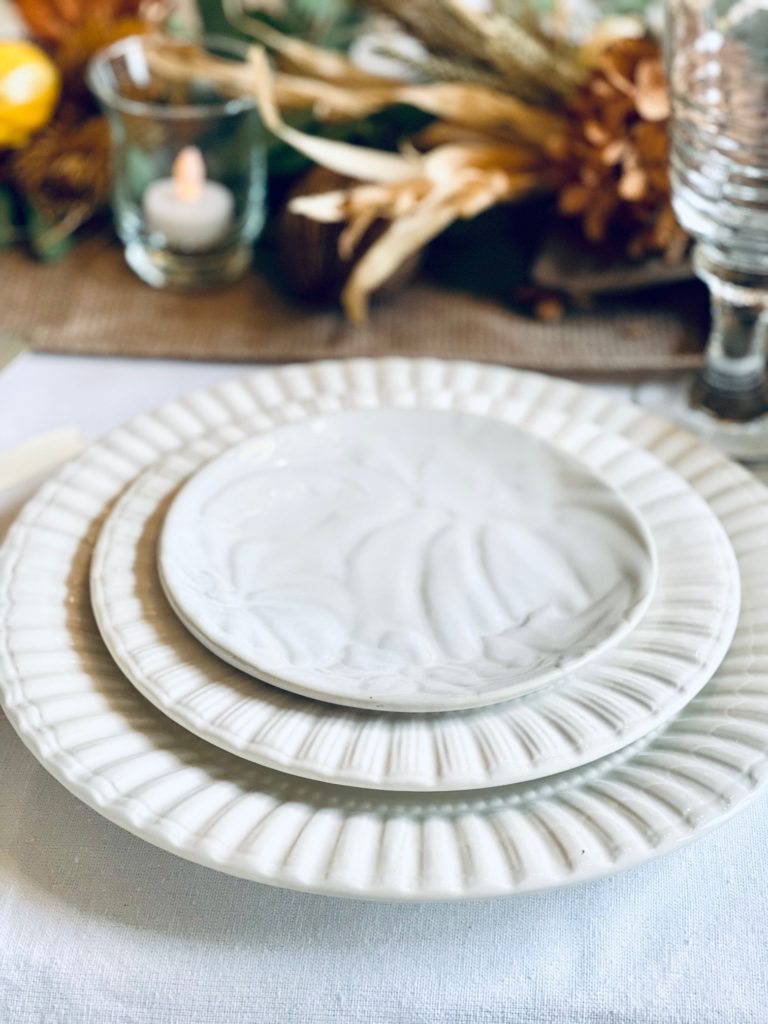 Including a fall bread plate to the table scape is another idea to use !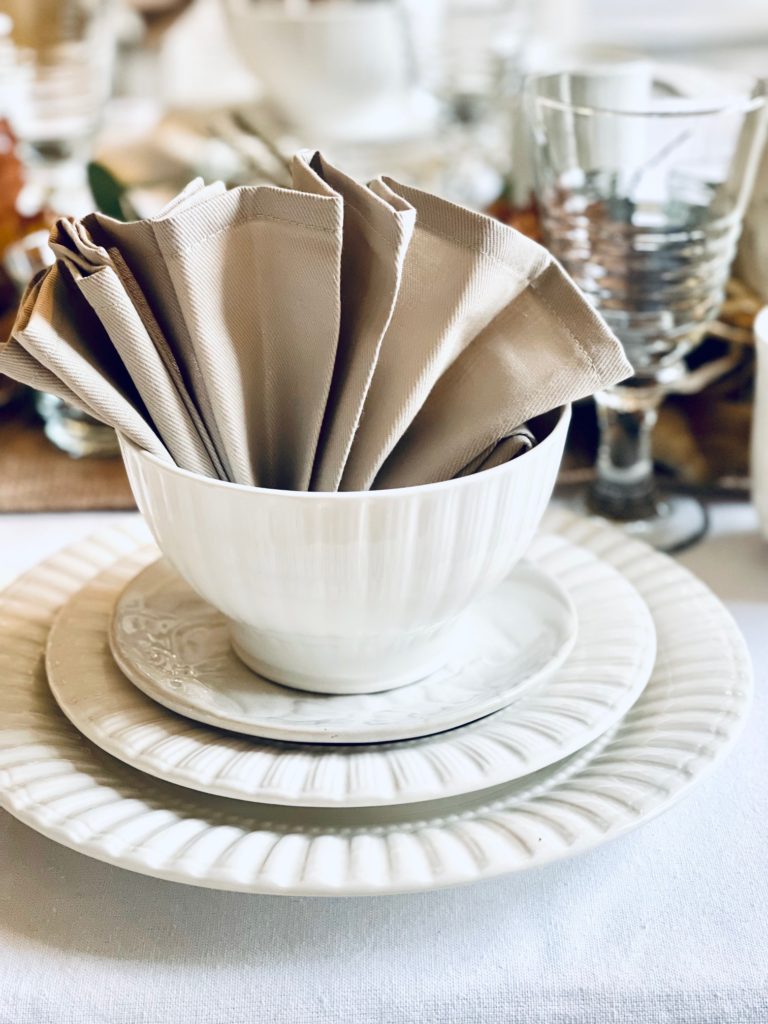 Add a neutral napkin to a fall table scape and place it in the bowl instead off to the side.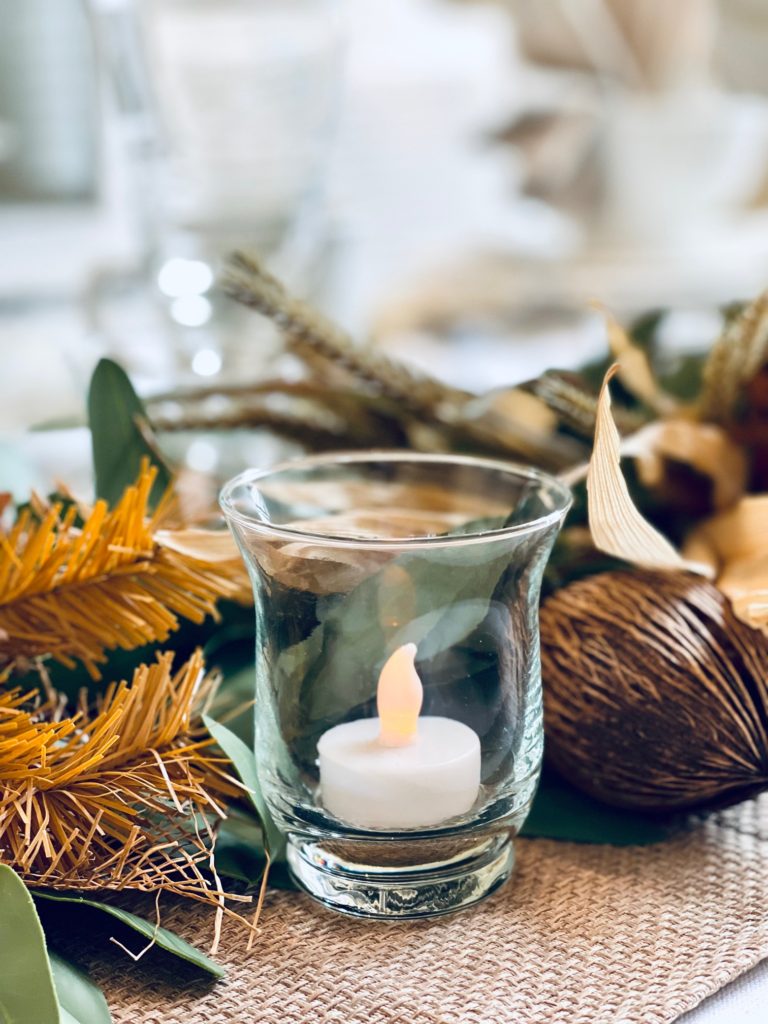 Candles really set the mood for this fall table scape and help to create a lovely fall evening! I used little battery operated votives for this fall table scape. When using real wax candles for a table scape make sure there not scented. The smell of a candle shouldn't overpower the smell of the food that is served.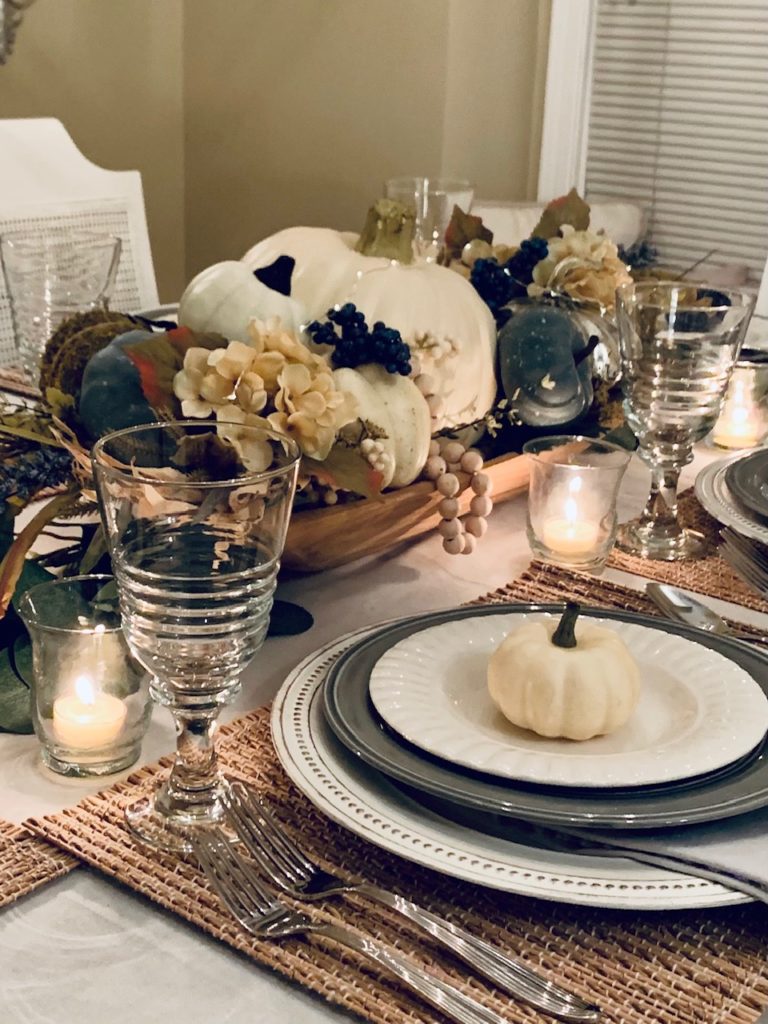 Adding creams, blue's and silver pumpkins to a dough bowl created a beautiful center piece for this fall table scape. The florals and pumpkins were all purchase from the dollar store to help stay with in a budget. The dishes are everyday dishes. I had an idea to placed a charger plate under each place setting, these were also purchased from the dollar store!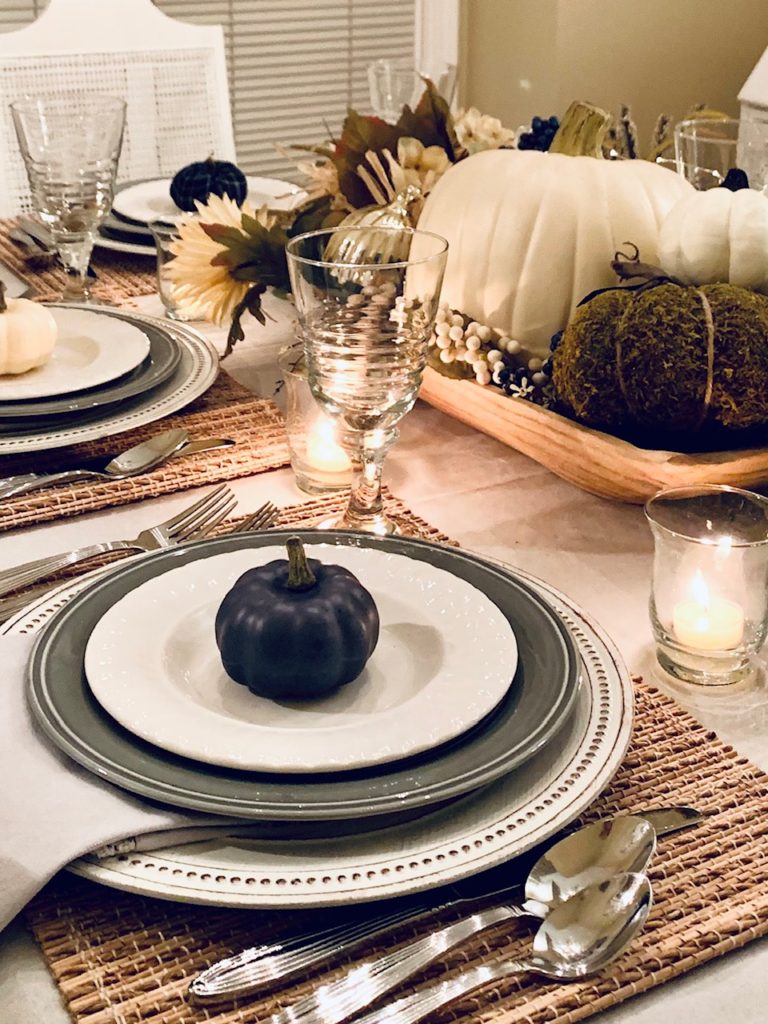 So many items I used for this fall table scape came from the dollar store which kept with in my budget. I also used many natural elements for this fall table scape, such as bamboo placemats, moss pumpkins, cream colored florals. Adding a little pumpkin to each plate I thought was a good idea for fall theme!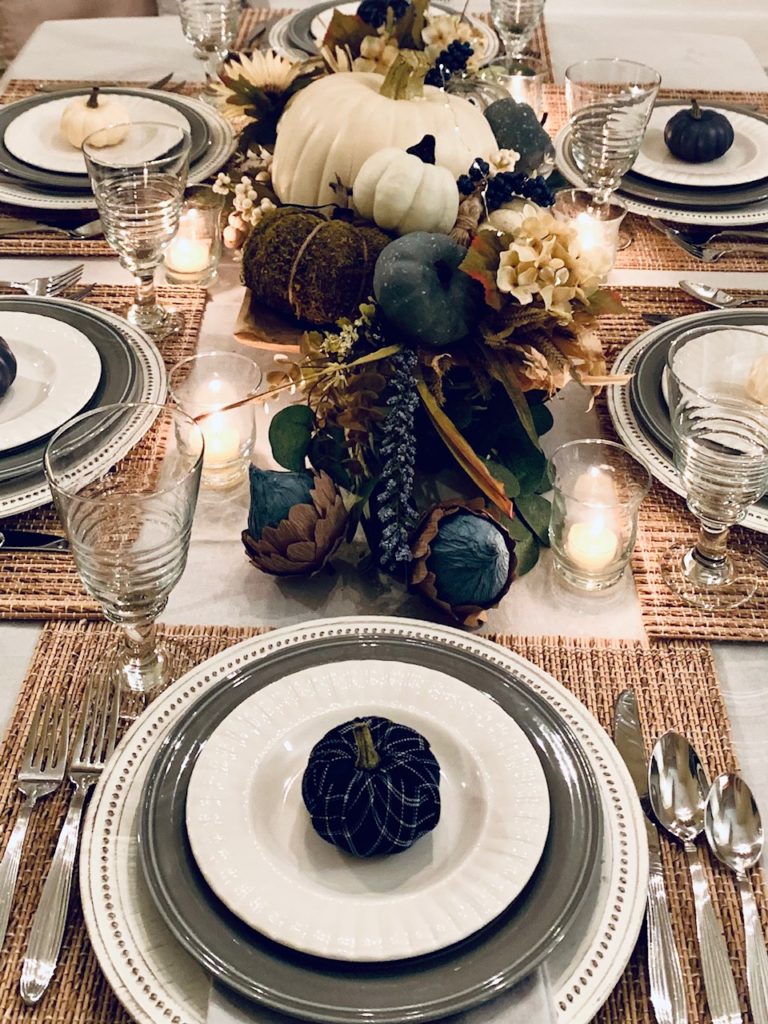 When I created this fall table scape I stayed with in my budget. I gathered inspiration and ideas from the dollar store! Using many items I already had at home to keep with in my budget. I find I'm much more creative when I set a budget.
9 Budget Fall Decorating Ideas For Your Table Scape
Ideas:
Table Cloth: Use a fall table cloth for a backdrop for your fall table scape.
Swag or Garland: A swag or garland placed in the center of the table is a great idea to add to your table scape.
Fall Foliage: Gather fall foliage from your yard to use in the centerpiece to stay in budget.
Pumpkins: Pumpkins real or faux are great to use in decorating a fall table scape.
Color napkins: Any napkin will work even non traditional fall colored napkins.
Tag: Create a tag for flatware or a napkin holder adding a sentimental word or words.
Plate: Adding a fall plate to your place setting adds to the table scape.
Candles: Votives and candles only enhances a fall table scape. It's a good idea to use non scented.
Discount finds: To keep with in a budget discount stores are a great resource, shop your home, and natural elements are great ideas to use when decorating for fall.
I hope these 9 budget fall decorating ideas help to make your fall table scape spectacular this season!
Because you may not have foliage in your yard I'm sharing some fall faux foliage.
Many of the items used for the table scrapes can also be purchase on Amazon at this link or in my shop my home page at the top of the blog, https://www.amazon.com/b?tag=houseofmar6-20&linkCode=ur1&node=5622719011
Dessert:
So to conclude our fall table scape we must also have dessert! Today I'm sharing a gluten free pumpkin Bundt cake recipe with you! There isn't anything better than pumpkin in the fall!!!! My gluten free pumpkin cake is so moist and yummy it makes for a perfect fall dessert!
Thank you for stopping back by!
Wishes for the best weekend!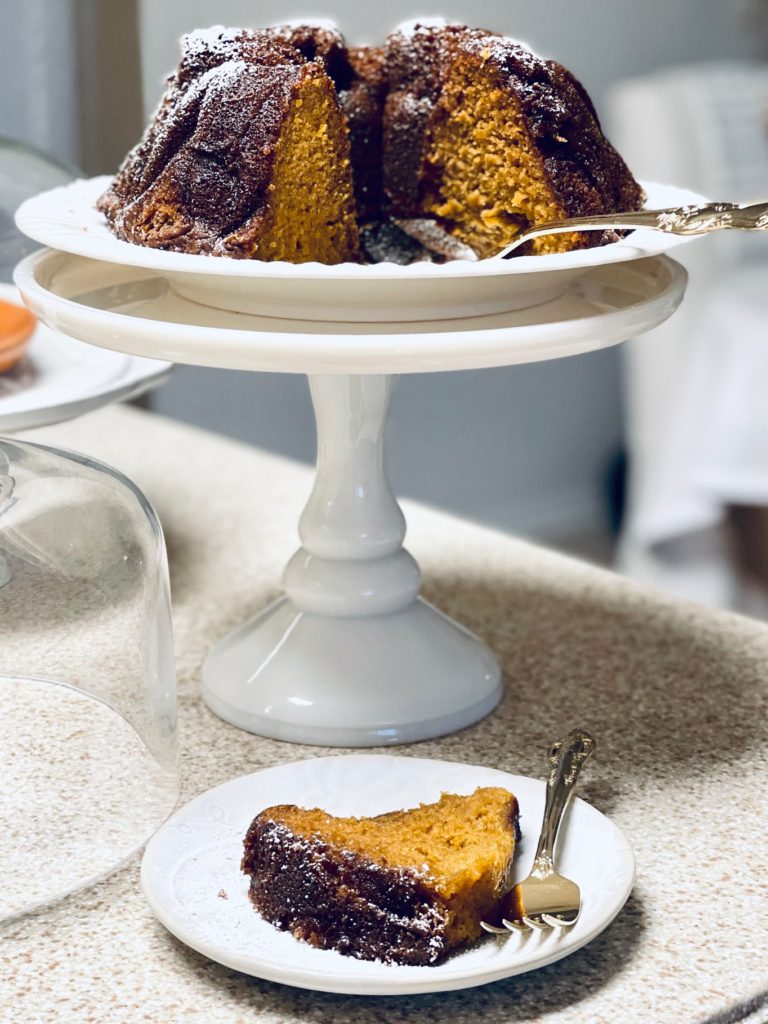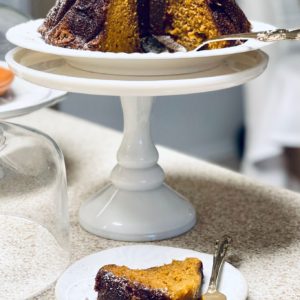 GLUTEN FREE PUMPKIN SPICE CAKE
GLUTEN FREE PUMPKIN SPICE CAKE
Equipment
BUNDT PAN

KITCHEN AIDE MIXER/ HAND MIXER

SPATULA

Spoon

MEASURNING CUPS

Measuring spoons

MIXING BOWL
Ingredients
2

CUPS

GLUTEN FREE KING ARTHUR 1:1 FLOUR

2

TSP

GLUTEN FREE BAKING SODA

1/2

TSP

GLUTEN FREE BAKING POWDER

1/2

TSP

CINNAMON

1

TSP

PUMPKIN PIE SPICE

1

TSP

GINGER

1/2

TSP

GROUND NUTMEG

2 1/2

CUP

BROWN SUGAR

3

LARGE

EGGS

1/2

CUP

SOUR CREAM

1

TBSP

GLUTEN FREE PURE VANILLA

1/2

CUP

CANOLA OIL

2/3

CUP

WATER

1

15 0Z

CAN OF PURE PUMPKIN
Instructions
GREASE THE BUNDT PAN WITH OIL AND DUST WITH COCOA POWER, POWDERED SUGAR, OR GLUTEN FREE FLOUR

IN A BOWL COMBINE ALL THE DRY INGREDIENTS, FLOUR, BAKING SODA, BAKING POWDER, GROUND CINNAMON, GROUND GINGER, NUTMEG, PUMPKIN SPICE. SET ASIDE

IN A MIXING BOWL COMBINED SUGAR AND EGGS, MIX AT MEDIUM SPEED UNTIL FLUFFY NEXT ADD SOUR CREAM, OIL, VANILLA AND PUMPKIN PUREE, MIX WELL

ADD HALF THE FLOUR AND 1/3 OF THE WATER TO YOUR WET MIXTURE ADDING 1/3 OF EACH AGAIN AND THEN THE REST WHILE MIXING WELL

POUR BATTER INTO THE PREPARED BUNDT PAN

TAP PAN GENTLY ON THE COUNTER TO REMOVE ANY BUBBLES

BAKE FOR 50-60 MINUTES ON THE CENTER RACK

COOL FOR 15 MIN BEFORE REMOVING FROM THE PAN

WHEN COOLED SPRINKLE POWER SUGAR ACROSS THE TOP OF THE CAKE
Notes
EGGS SHOULD BE ROOM TEMPERATURE  
DON'T USE REGULAR COOKING SPRAY, BAKING SPRAY CONTAINING FLOUR CAN BE USED
YOU MAY NEED TO BAKE YOUR CAKE LONGER DEPENDING ON YOUR TYPE OF OVEN