Welcome back to The Saturday Scoop 26 were talking the end of summer sales today!
Can you believe we've been meeting here for 26 weeks! I enjoyed sharing Saturdays with you!
Today's Saturday Scoop is about some really good summer sales! The end of Summer Sales!!! The best time to shop is at the end of the season for the best sales!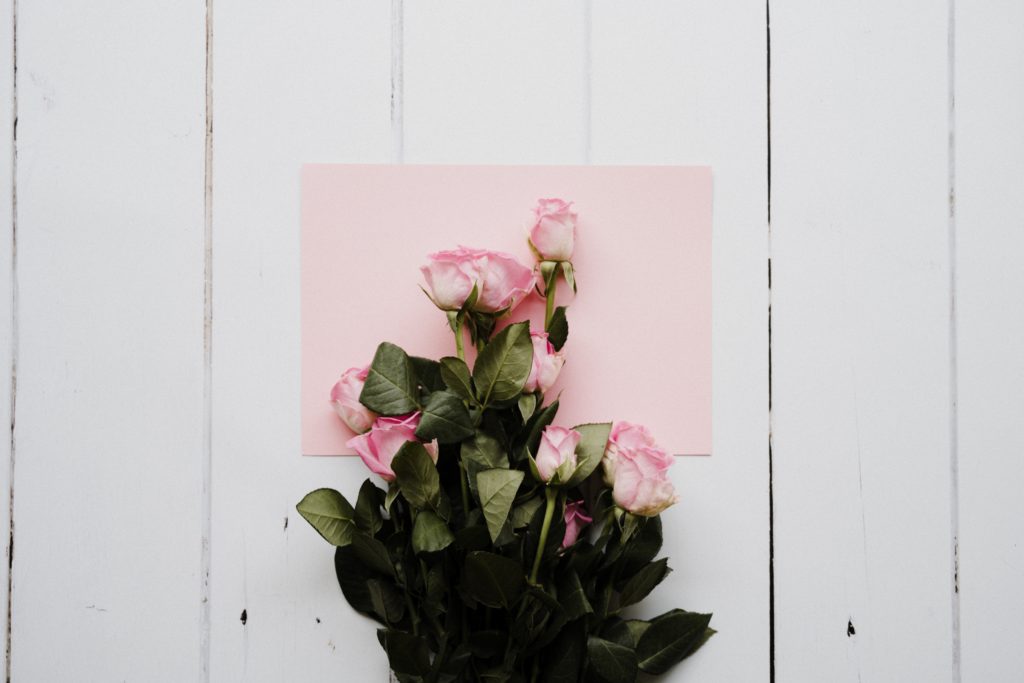 I usually don't share a lot of fashion on my site but today I couldn't resist! August has the best end of summer sales! I love to shop the end of summer sales in August! It's the best month to shop all the clearance items!
You may be thinking well I'm on to fall! I am too but… the deals at the end of Summer are to good to pass up! We still have the whole month of August and September to wear our new items and you can put them away for next summer! Also if your taking a vacation to a warmer climate this winter you'll have some new items to wear! We also know it's really hard finding spring and summer clothes in the dead of winter!
So let's get started, these are some of the items I bought!
I first found TJ Maxx sales and they have so many great clearance items! There are sandals for $7.00 and dress's under thirty dollar's! I even found the cutest straw bag for $16.00 and so much more!!!!
I found sales at Old Navy too! Their cotton dresses are great for summer! I picked up a few and received them in days! Not sure if you know about Cato's Fashion! We have a few stores in my area, well they are having an online sale too! Cato's also ships for a flat rate fee of $6.95 and it doesn't matter how much you order, the fee is a flat fee! Cato's also caters to all sizes!!!
Another place I like to shop is Belk's! They have some really awesome deals right now as well! I think the store is a lot like Steinmart! The table setting I shared on the Saturday Scoop 23 was all from Belk's! It cost $25.00 to put the whole table setting together. In case you missed it you can see it here! https://houseofmar.com/the-saturday-scoop-23/
I received a few emails asking me where I had gotten my little wicker bamboo glasses. A few of the pieces are old and I've pick them up here and there. The set below I found on Belk and they have more pieces to the set on sale as well!
Enjoying the last months of summer!!
Last night we had dinner out on the patio and I used my wicker glasses and dishware. The weather was so nice! I'm really trying to soak up these last few weeks of summer!!! I made a gluten free pasta salad with lot's of vegetables and seasonings! It was so yummy! It's a great way to use up the vegetables too! For dessert I served my gluten free peach cobbler! We really enjoy peach cobber this time of year! The peaches are so sweet and it's a great summer dessert! I've included the recipe at the end of the post!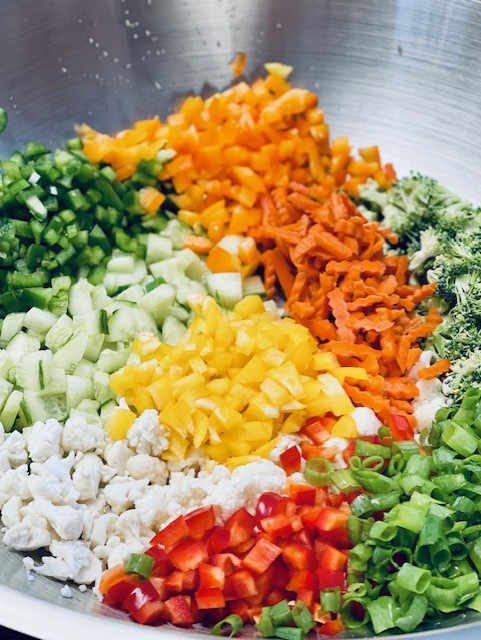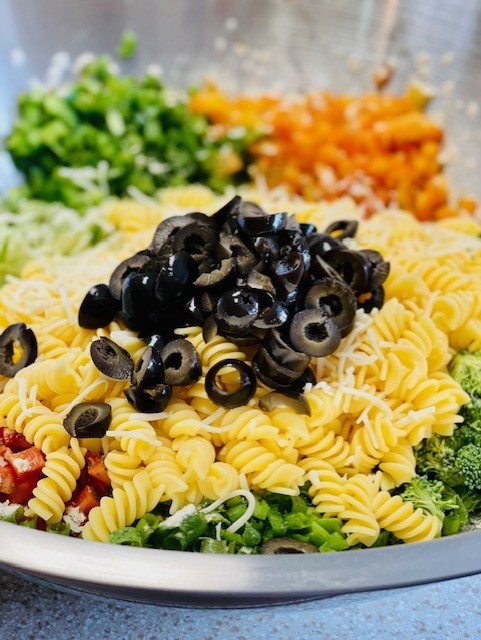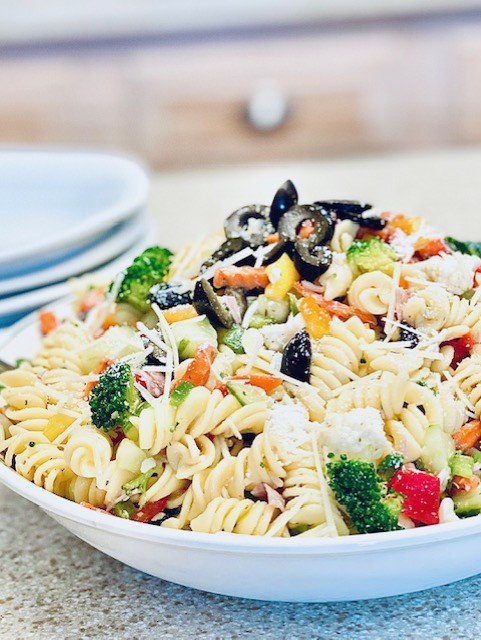 After dinner and dessert Mr. fix it and I watched a wonderful movie! The Age of Adeline with Blake Lively. It was a really good movie. It's from 2015 so it's been out for some time. I hadn't seen it, maybe you have. I thought it offered so many emotions all wrapped up in one movie! If your looking for a good movie to watch this is the one!!! Just in case your interested here's the trailer https://www.youtube.com/watch?v=qkZF8iTvZHE
We'll I'm off today from real estate and my daughter and I are going to try out a new gluten free restaurant! I'm so excited we're also going to try and stop by a few boutiques! I'll share in my stories if all goes well! Hoping neither one of us get's called to work!
As always thank you for stopping back by The Saturday Scoop 26 !!!!
I'm wishing you the best week!!!!
Don't forget to check out my stories on Instagram during the week! https://www.instagram.com/house.of.mar/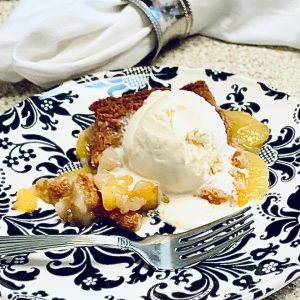 Gluten Free Peach Cobbler
Equipment
1 Large bowl

1 Small bowl

1 Spoon

1 Measuring cups

1 Measuring spoons

1 Small pan

for melting the butter

2 qt baking dish
Ingredients
4

cups

Peaches

Peeled and sliced

3/4

cup

Sugar

1/2

tsp

Gluten Free Vanilla

Using a good quality vanilla

1/3

cup

Butter

1/2

Lemon Juice

2

tsp

Baking Powder

3/4

cup

Bob's Red Mill Gluten Free Flour 1 to 1

1/8

tsp

Salt

1/4

tsp

Cinnamon

3/4

cup

Milk

I used lactose free skim milk
Instructions
Preheat the oven to 350
Make the peach filling In a large bowl, toss peaches with 1/4 cup sugar and vanilla extract, set aside.

Next melt your butter and pour the melted butter into a 2 quart dish.

 Mixing the gluten free batter

In a small bowl whish together gluten free flour, baking powder, salt, remaining sugar and cinnamon

Stir in the milk, pressing out the lumps until smooth

In the baking dish pour the batter evenly over the butter, Do not stir. Top with the peach mixture

Bake at 350 for 55 minutes or until the top is golden brown and the juices bubble around the sides of the baking dish.

For best results, let the cobbler stand for 20-25 minutes before serving. You can serve warm with vanilla ice cream.
Notes
I used real butter
Lactose skim milk
Bob's Red Mill Flour 1 to 1
Fresh peaches work best
A good quality vanilla enhances the flavor