Today I'm sharing some Fall Decorating Ideas for a small porch!
Although my dream porch would be large with rocking chairs and lot's of fall mum's, and pumpkins! It would be all decorated for fall and we could sit on the porch sipping apple cider!
I can just see it!
Well let me get back to realty because my porch is small!
Do you have a small porch, if so I have a few ideas for you, although you can use these ideas on a large porch too!
As you'll see in the pictures my porch is pretty small. I still have fun decorating my small porcini as my husband call's it!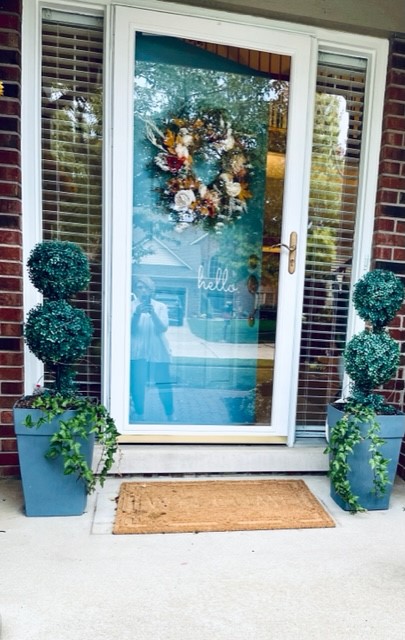 Each year I try to change my porch décor a little different from the year before. This year I've added some corn husk, fall mums, pumpkins, and ribbon. If you would like to see last years fall porch it's included in my fall home tour from last year just click the link here https://houseofmar.com/fall-home-tour-2/
I haven't decorated with corn husk's in many years and it may be because of the mess the corn husk's make in a car! Just maybe that's why!
When decorating I usually do it in steps.
1: The first thing I did was to clean the porch. I used dawn dish soap with a little bit of bleach, it cleans cement really well! I also cleaned the door, window, and ceiling making sure my porch was clean to decorate.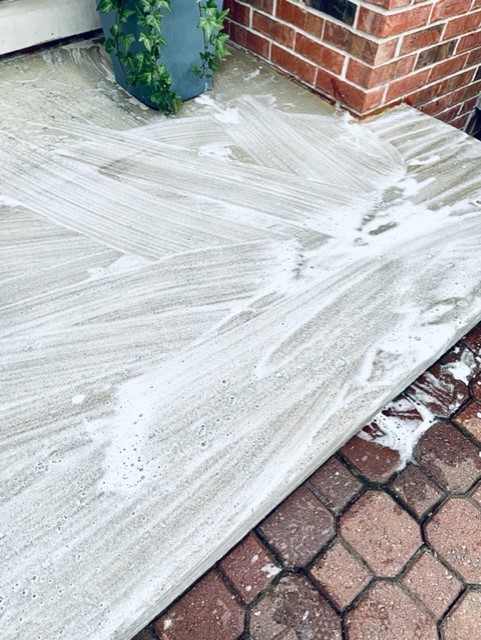 2:) Start with a focal point. The star of the décor. My focal point for the front porch will be the corn husk. But I have two topiary planters on the porch I'll need to incorporate into the décor. I tied each husk to the topiary's branch to include the topiary in to the decorating.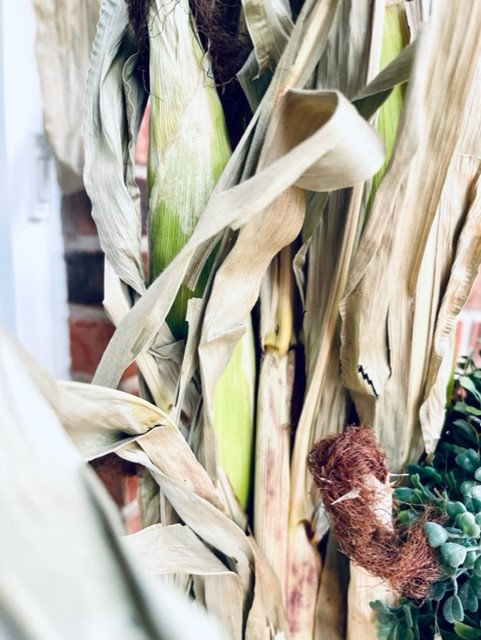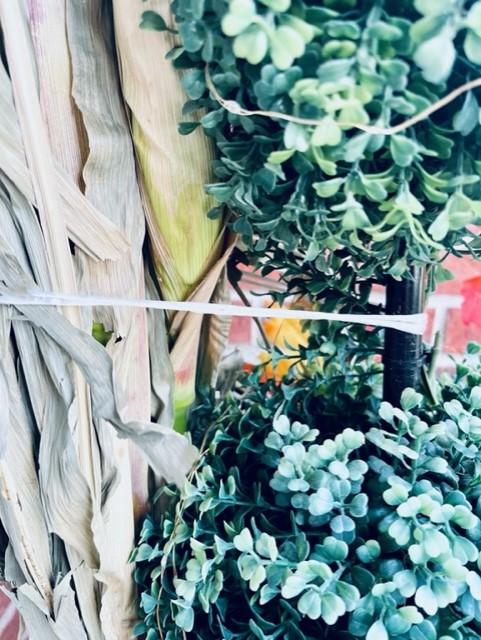 3.) Next I added some faux fall leaf vines and wrapped each one around each of the topiary and covered the dirt with coco moss.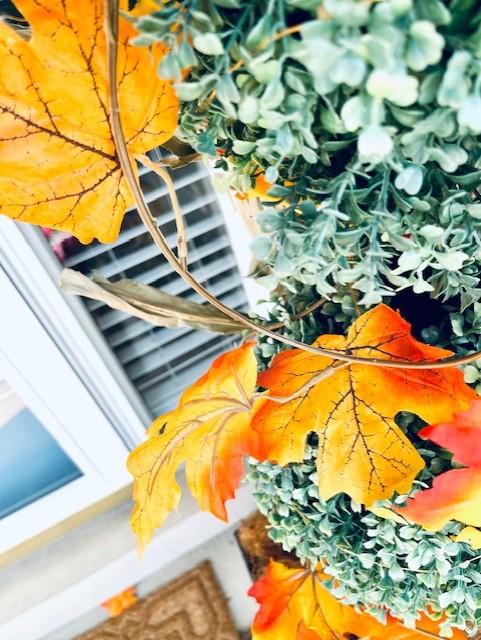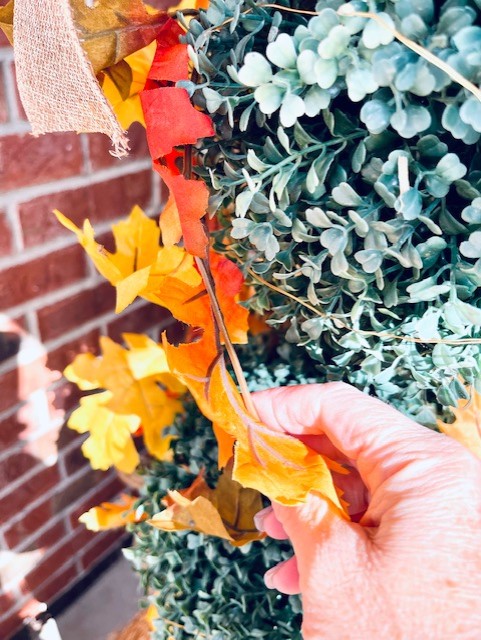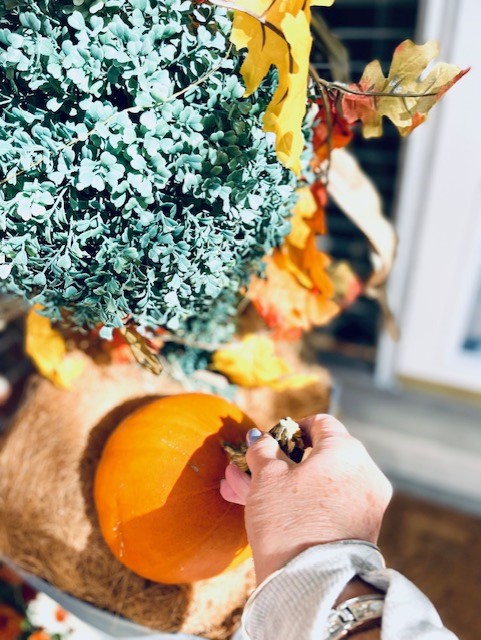 4.) I then began the task of making a bow for each corn husk. Using three different color ribbons I tied the ribbon around each corn husk. I used a simple tie and loop and looped a few more times and made a bow for each. These came out pretty good! I kept in mind the rule of three when decorating.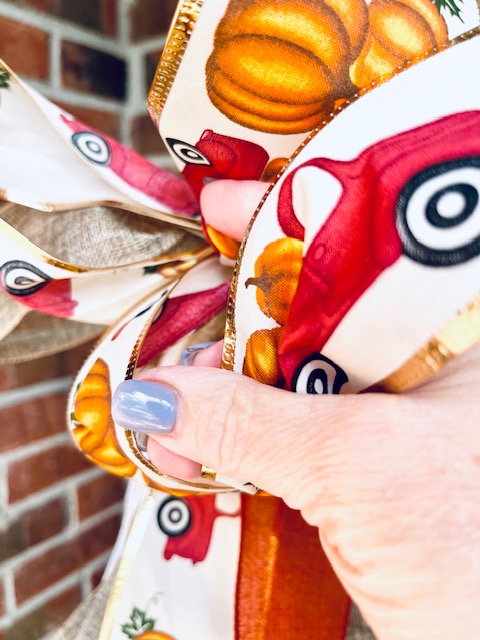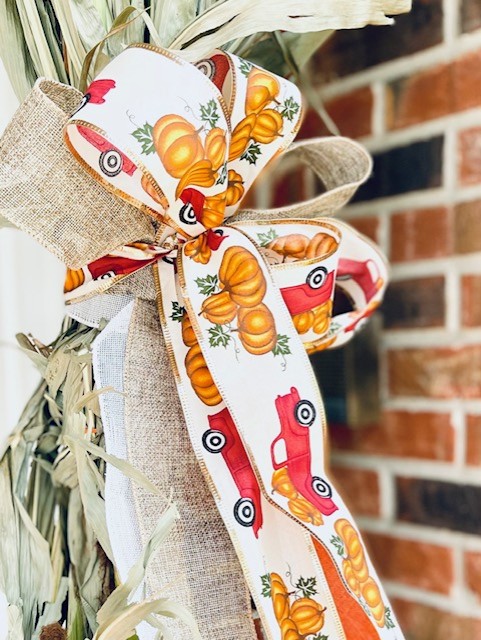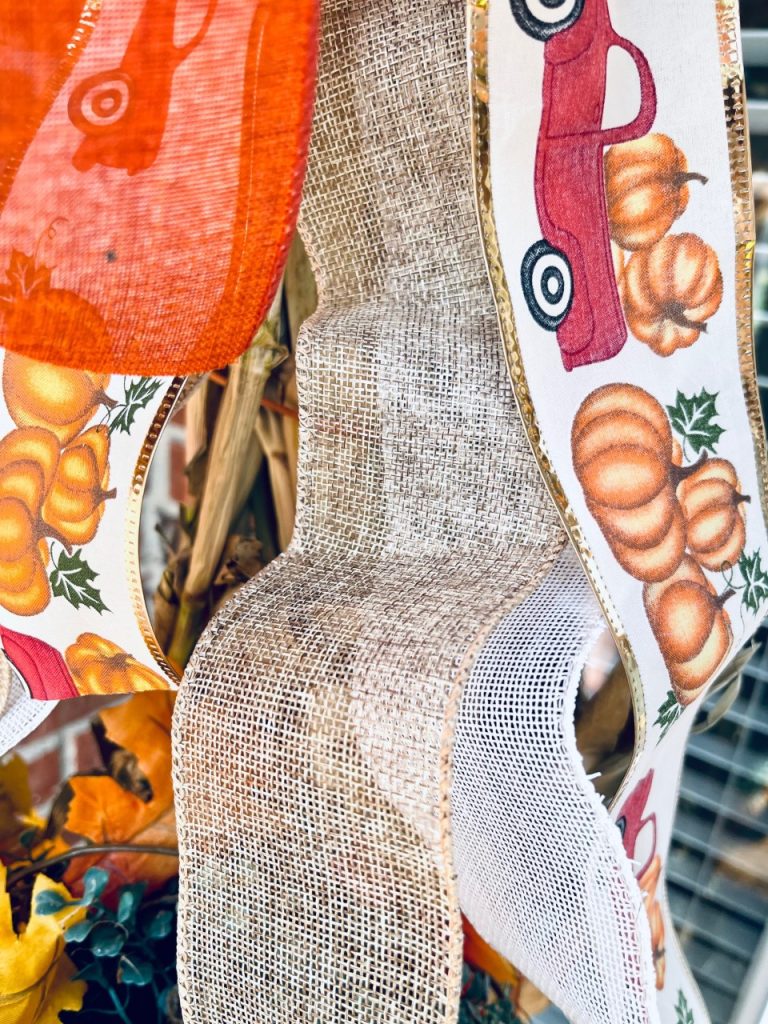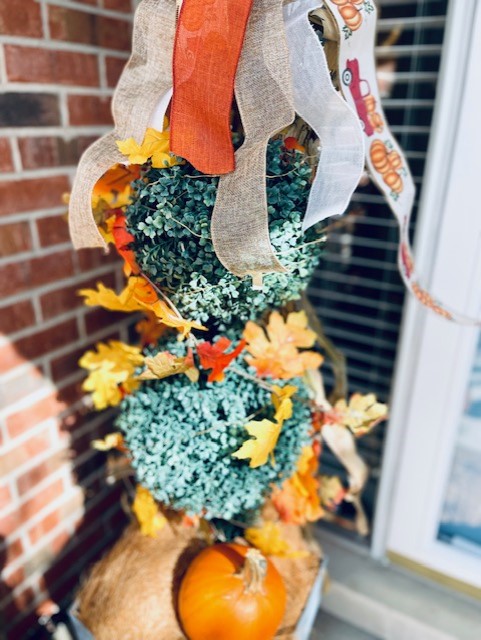 5.) Lastly I added the mum's placing one in a cute planter and filled in the spots with pumpkins through out the rest of the porch.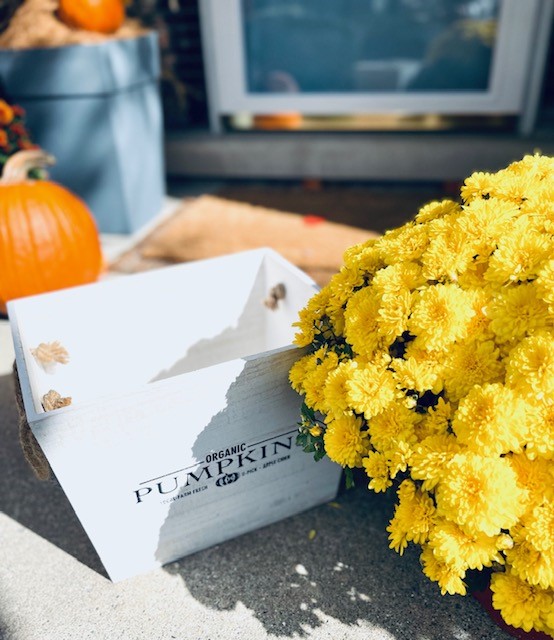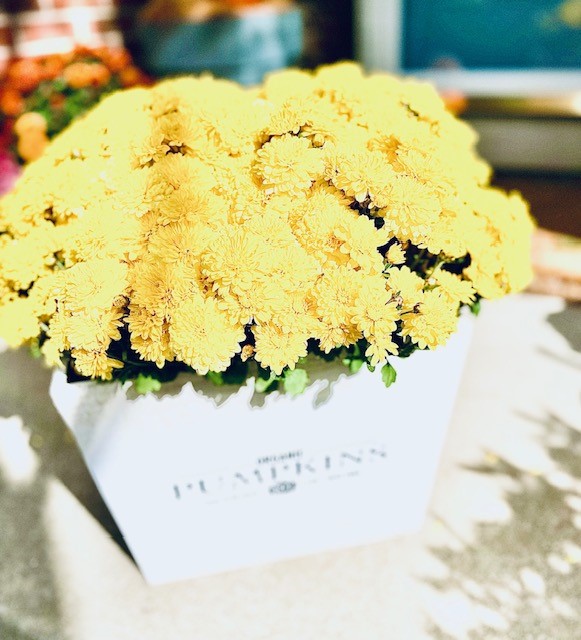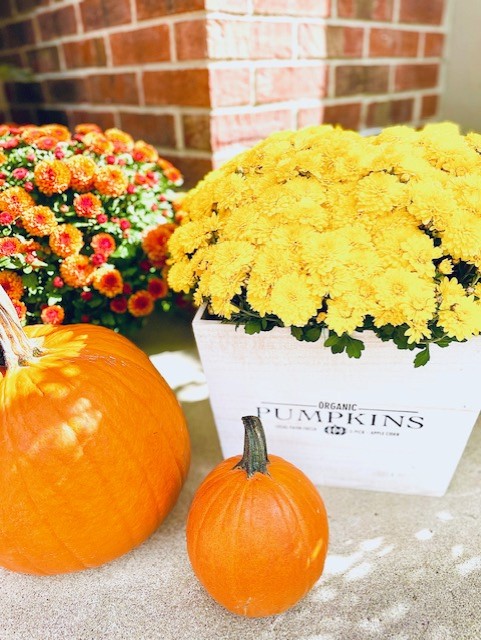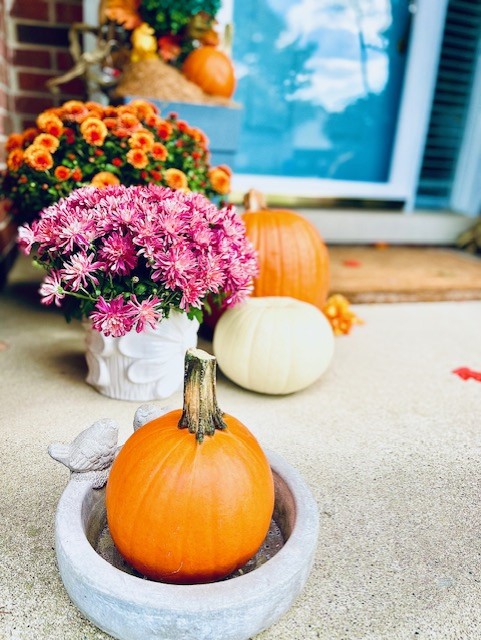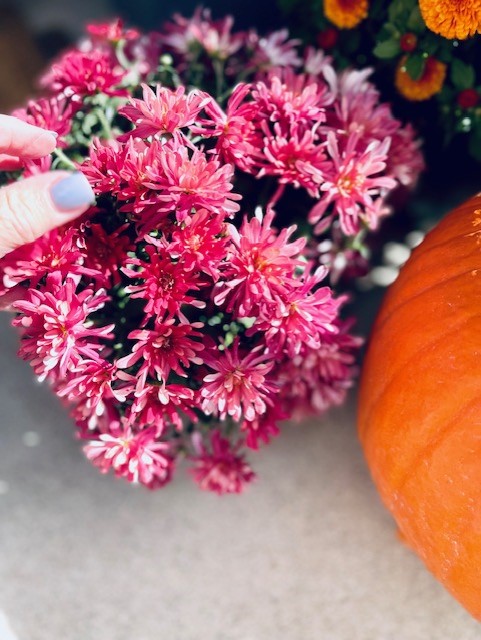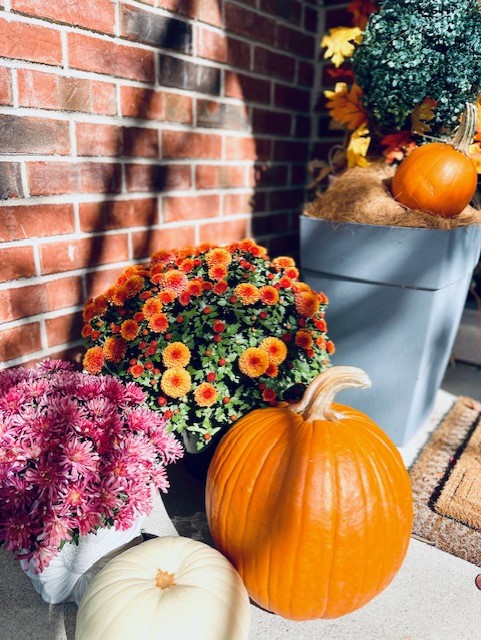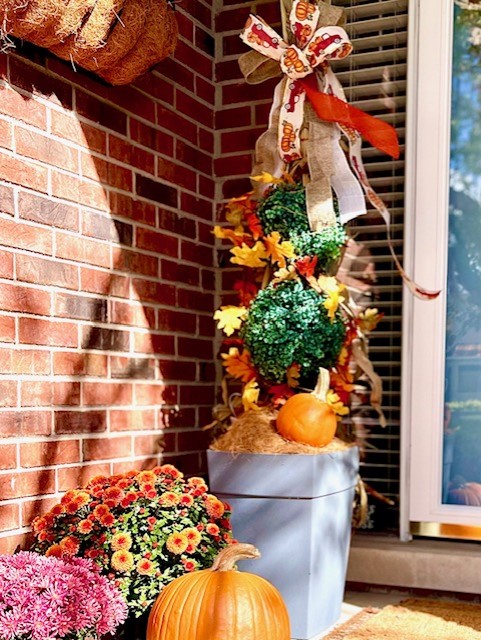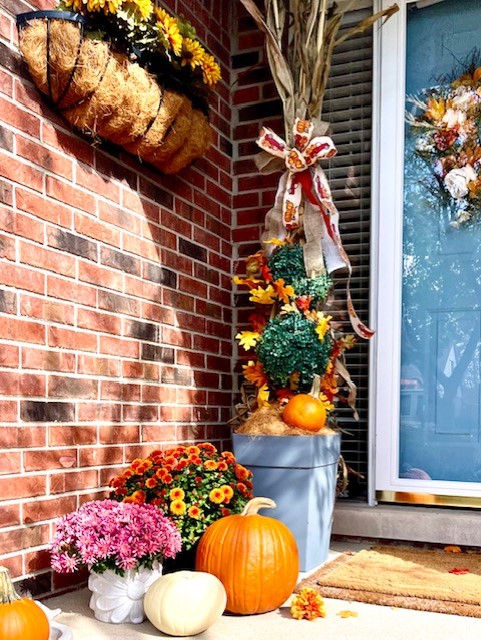 I'm really happy how it all looks! Also loving all of the fall colors of the ribbons, mum's, and pumpkins. The light brown corn stalk's add such a nice hue to the décor of the porch. All of these items fit so nicely on my small fall porch!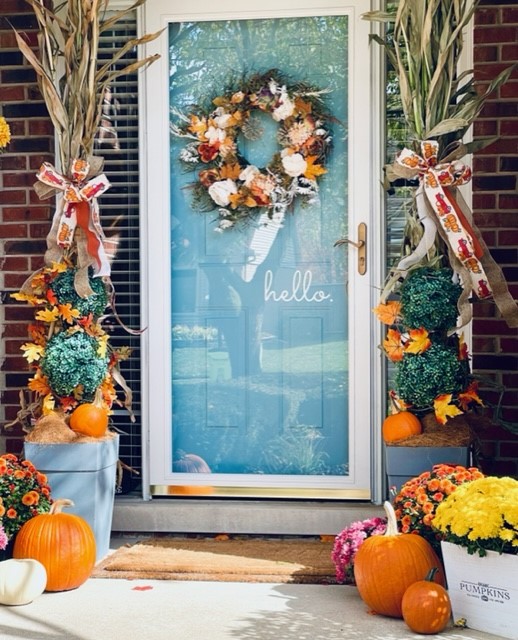 A Few Other Ideas for Fall Decorating For A Small Porch
Adding a few lantern's give's a beautiful obvious.
A small barrel of hay to the corner of the porch would fit right in with the fall décor.
Stack pumpkins on top of each other on the porch and steps.
Add a fall garland around the door. Taking up less space on a small porch.
A basket or two with pumpkin's and gourds set around the porch.
Basic Ideas to keep in mind for small porches:
When decorating a small porch you want to keep items porportianal size, such as planters. Play up the height of the porch by using taller narrow planters.
Another idea to use on a small porch could be to use the wall space and the door for decorative décor.
There are so many cozy ideas to decorate a small porch it almost makes me forgot about a big porch!
Budget Friendly Ideas for a small fall porch
I set a budget when I created my ideas for my fall porch. To keep with in a budget local farm's are great places to purchase pumpkins, mum's, hay and corn stalks for your porch. The prices are more with in a friendly budget and fall is a time that farmers earn their income. You will also help a small business, not to mention it's great fun to visit a farm in the fall!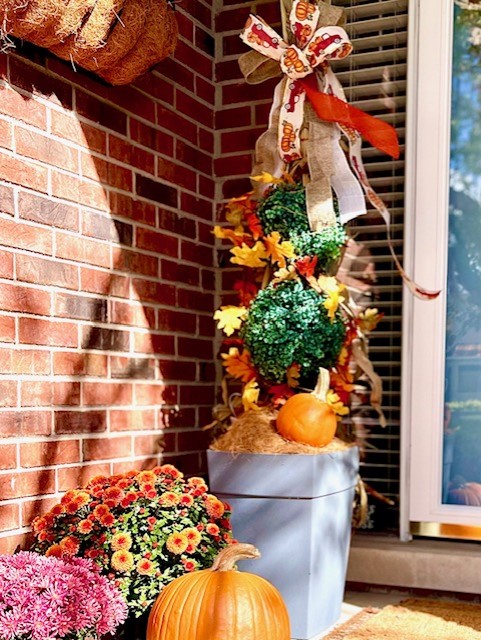 I'm so happy my porch is all ready for fall, I hope you were able to find an idea or two for your fall porcini!!!!
Blessings for a happy week!!!
Mary Anne,