We have been so busy trying to jazz up this house!There are so many updates I want to do! Either we haven't had the time, or the budget wasn't ready for it. Can you relate? Since the pandemic, we have had a little more time.
One thing that we had wanted to do was our kitchen sink. This has been on the list for a long time. We did the sink this past summer after much hesitation and trying to find a company to do the job. Finally, I found someone, after many months of searching, and I have to tell you, some of the pricing was outrageous!
I've wanted a farmhouse/ apron sink, well forever!
Our sink was built right into our Corian countertops. This was popular some years back.
It had started to crack from years of pouring hot water into the sink from pasta and boiled potatoes, actually, it was happening from any hot substance poured into the sink.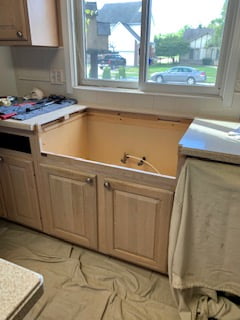 So I actually had to find someone that could replace the sink without replacing the countertops or the backsplash of tile.
I also needed a special farmhouse sink. Searching online for a farmhouse sink I found the company Sinkology. They sure have the sinks! So many styles, colors, sizes, you name it they have it!
I found out after talking with a few installers I would need to replace my sink with a top mount sink. The sink would need to have some support because the farm-style sinks are very heavy.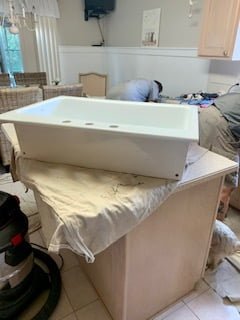 Many of these sinks are made from clay that's fired and glazed with a porcelain enamel and could weigh up to 200 lbs!
We purchased the Josephine sink from Sinkology. It comes with a lifetime warranty. The Josephine sink is guaranteed to not chip, crack, stain, or rust for life. This sink is a top mount farmhouse sink. It's made for projects like mine!
Because I needed a specific size and design this sink checked all the boxes. Sinkology has so many colors, styles, sizes, they carry it all!
This is not a paid affiliate I just found I love the sink and the company's customer service and want to share a good product with you all!
I was able to find the Josephine sink at my local hardware store, Home Depot! This made me so happy!!!!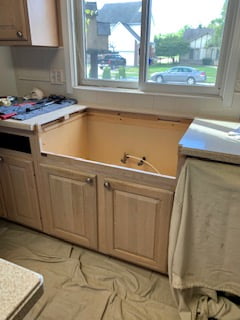 When we bought our home we had new counters installed but it was some years ago. I called the company that had installed our counters. The company was still in business, Yaaa! They referred me to a company that specializes in just what I needed! I felt so relieved because I was not having much luck with asking around. Call after call no one wanted to do it.
My husband had really wanted to do the project himself and felt pretty certain he could do the job. There are some great videos online and Sinkology has a video as well on how to remove the old sink and install the new sink.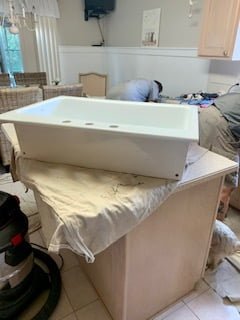 Our concern was our solid surface counters. I was afraid we would crack the counters. I actually read online it has happened to several people. When we had our meeting with the recommended company to replace our sink we just felt so secure to just let them install the sink. We decided not to take the chance.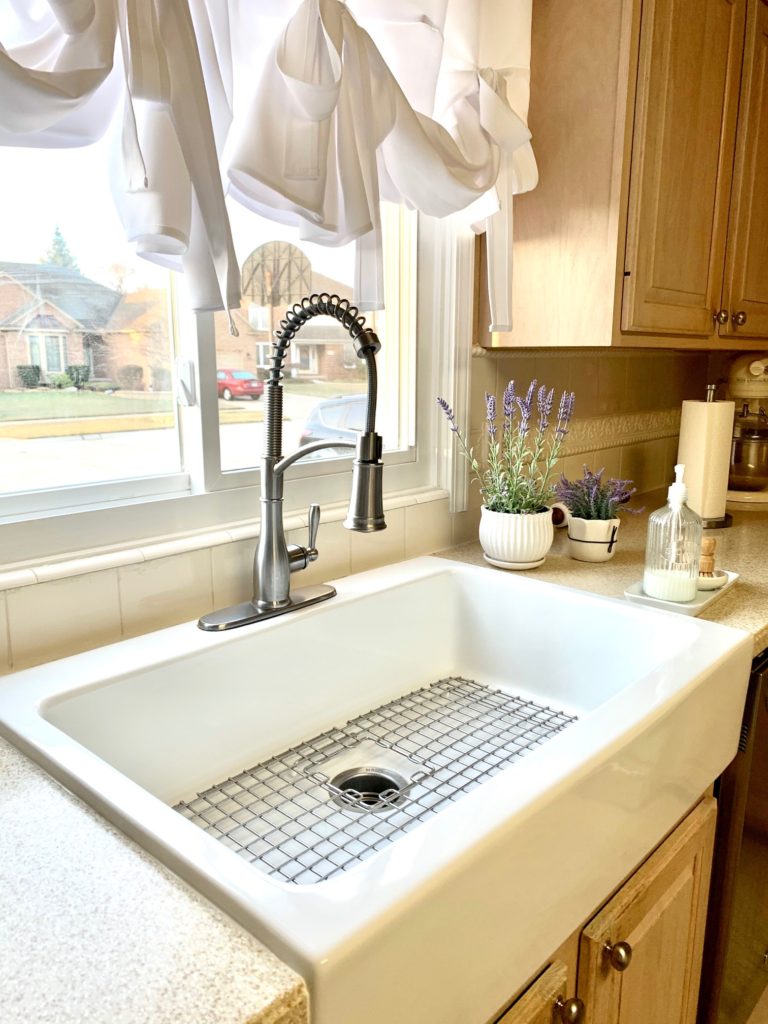 The company my husband and I hired did a fantastic job. The men were at our home for 3 hours, and then, it was done!
There was a little dust, it wiped up quickly. The sink was installed beautifully!
I am so happy we finally did it, and it's done!
I'm sharing a few pictures so you can see what they did. Don't look at the kitchen cabinets, they need to be updated badly! We are deciding which route we are going to take with these cabinets!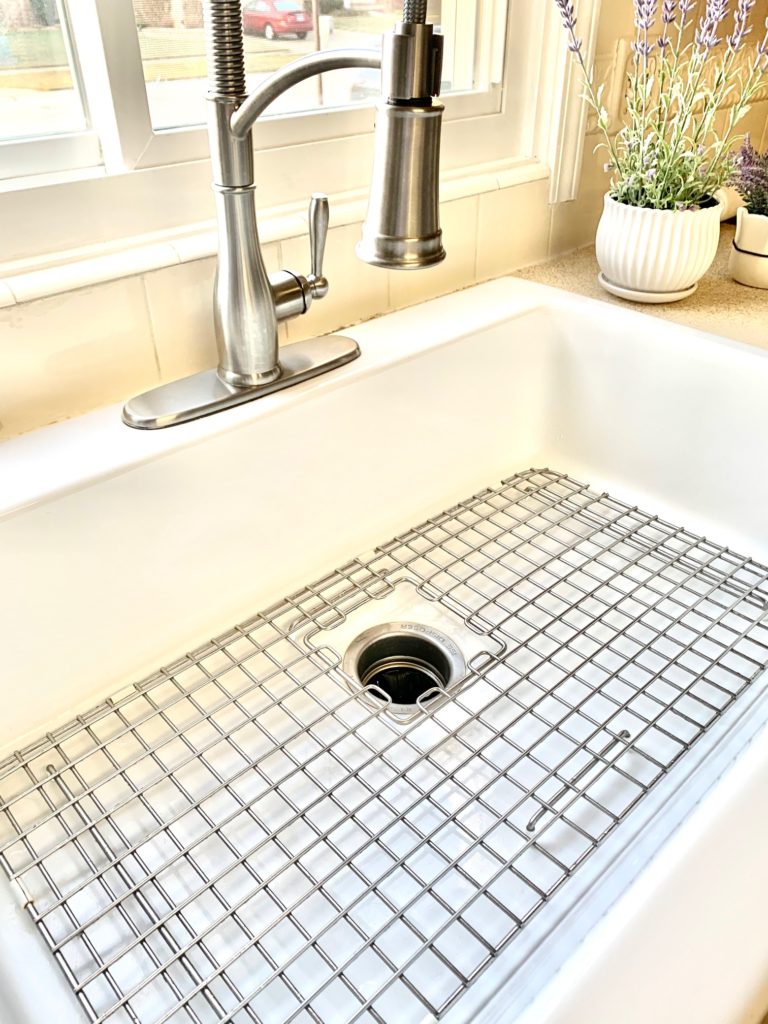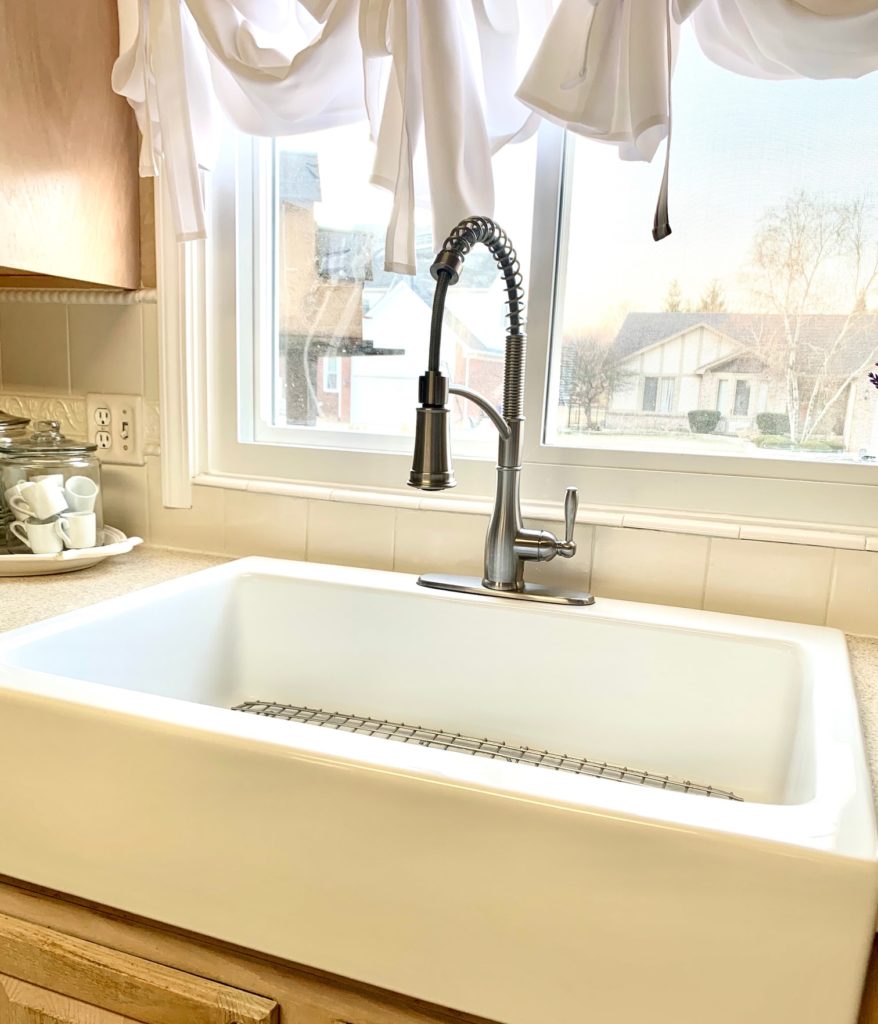 I just love it! I'm so happy with it! I love the look and using it everyday!
If you live in Michigan in the Metropolitan area and need a great company for sink installations or repairs, Dennis Coppa is the owner of Solid Surface Restorations. He and his technicians are so friendly, kind, and did a great job. He's located in Macomb Twp, Mi.
My sink did not come with the metal grate as many do. You can buy the Josephine packet and it comes with the metal grate and some other items. At the time it wasn't available and I purchased it separately. If you buy the package you do save a little money. I was able to order it online with sinology and it was delivered in less than a week.
It's highly recommended to use the grate to keep from scratching the sink, The dishes sit on the grate instead of the porcelain sink.
I also ordered the cleaner for my farm sink, you can purchase it right on the Sinkology site as well.
I did read you can use Bar's keeper to clean the porcelain sink I haven't tried this product, so I can't say for certain if it works.
I am so happy and excited to finally have my farm-sink, I wish we wouldn't have waited so long to do it. There was an expense for the installation but we feel it was so worth it!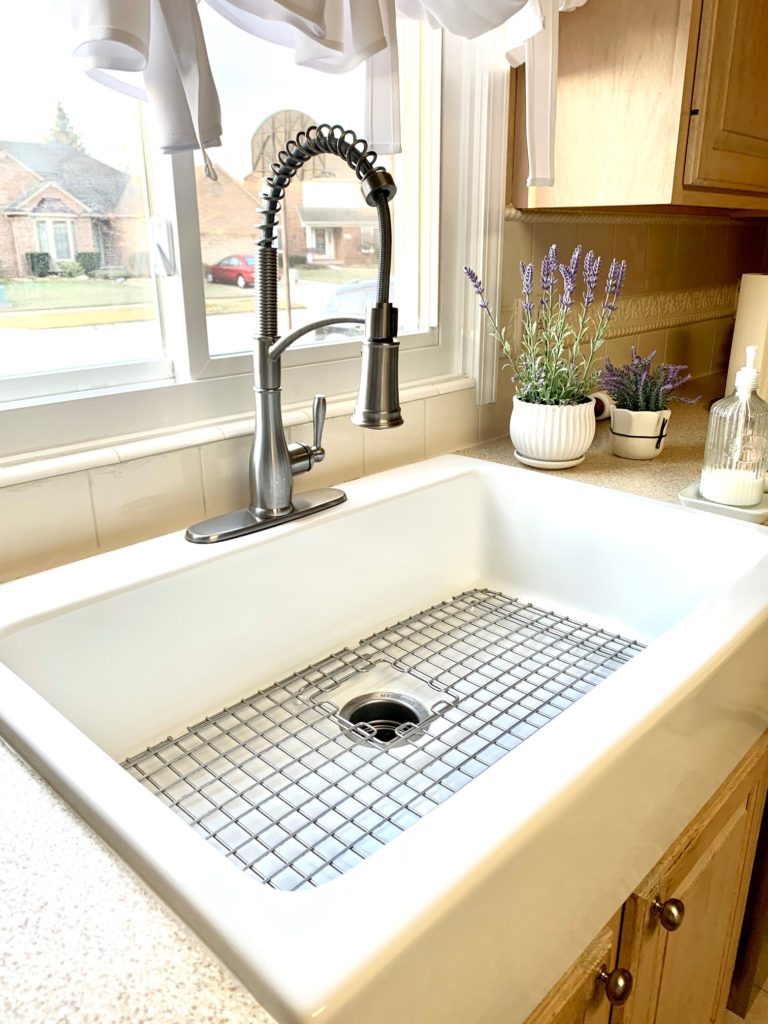 I hope this has inspired you to do a little home project of your own!