Oh my goodness I know it has taken me so long to finish this post! I have been waiting on bedding, carpet, lamps, and accessories! I've been so impatient, Lol! I want everything done yesterday!!! And you all know right now things are running behind and it's ok well get there! I want to give you a little bit of history about this room! My two younger son's shared this room growing up. It's the largest of the three upstair bedrooms but the smallest closet. Somehow we made it work.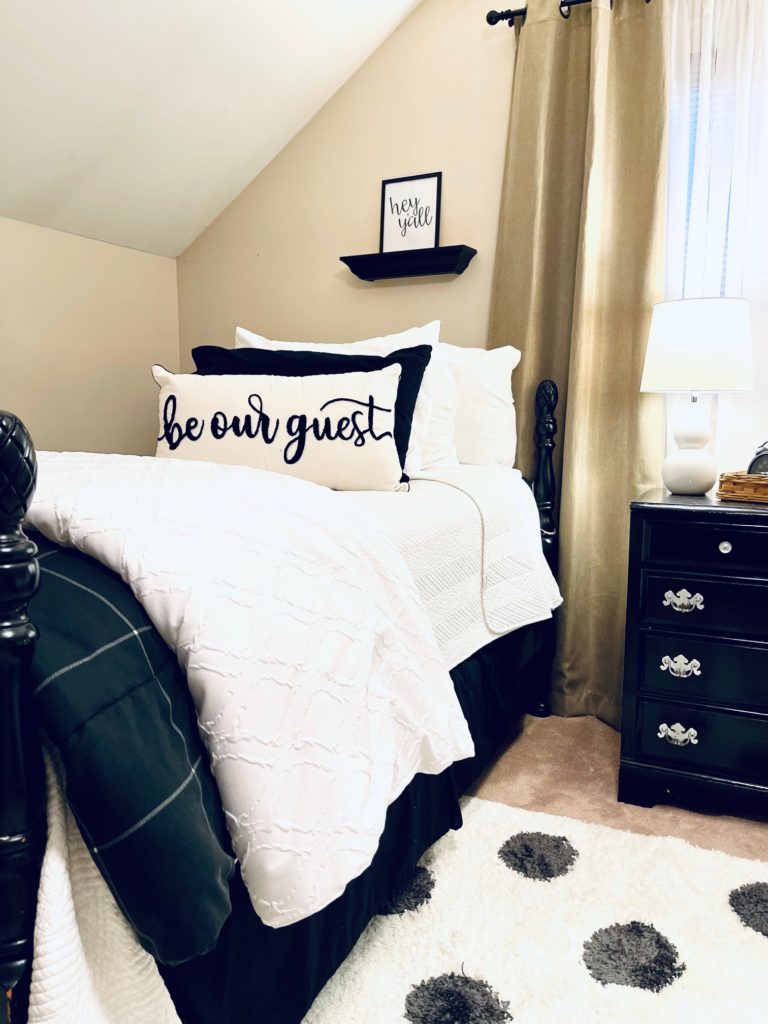 When walking into a room I like the focus to be the bed! It's all about the bed for me! It's the statement piece. This room has sloping on each side of the room so the only way to place the beds is in direct view of the bedroom door. I really don't like to place a bed in front of a window but in this room there is no other options so I have to make it work! This room has two twin beds that I just love!
A little story about the twin beds. There actually vintage extra long twin beds. One of the beds I found at a little resale shop up North and the other I found curbside in someones garbage a few weeks after buying the first bed! We were building a house at the time and I wanted a little something unique for the boys room. The beds are cherry wood and I had thought about staining them back to there original style but instead painted them black because it worked with our decor. I love these beds! Their a low four posted bed with beautiful pine cone detailing on each of the post. I also like the cut out of the head and foot of the bed. These beds have served the boys well.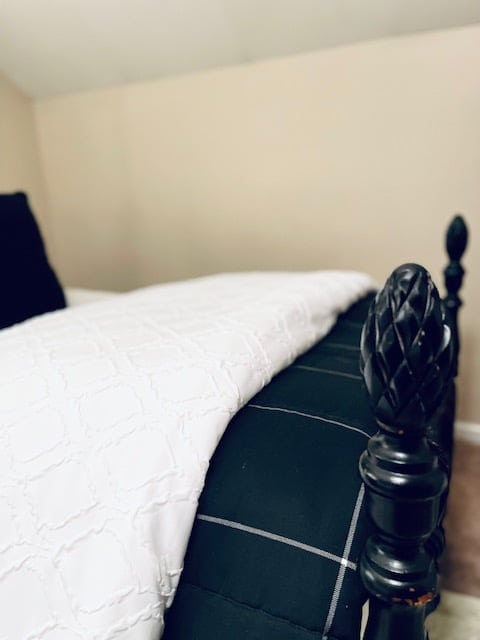 So now that both of my boys have homes of their own I've made the room into a guest room and added a few new touches to the room. I find I really like white cotton sheets the best, there soft and the most comfortable to sleep on anytime of the year! I also like to layer my beds. Mattress pads with some cushion is a nice touch to add to any bed, as well as good pillows. A top sheet as well as a fitted sheet and a light blanket are great to add. I also like adding a duvet to my beds. Duvets are an inexpensive way to re-style a bed through out the season's.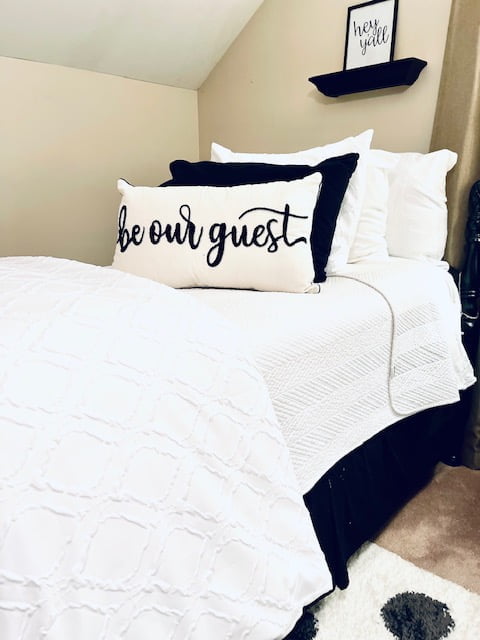 My family is from the south and growing up we had feather pillows on our beds. Because myself and my children have allergies we use a hypoallergenic type of feather like pillow. As you can see in the pictures I like pillows on a bed! Having a light comforter at the end of the bed as well is comforting for a guest. The guest can choose which blanket they prefer to use. My home is kept pretty cool in the summer, so they may want to use a blanket!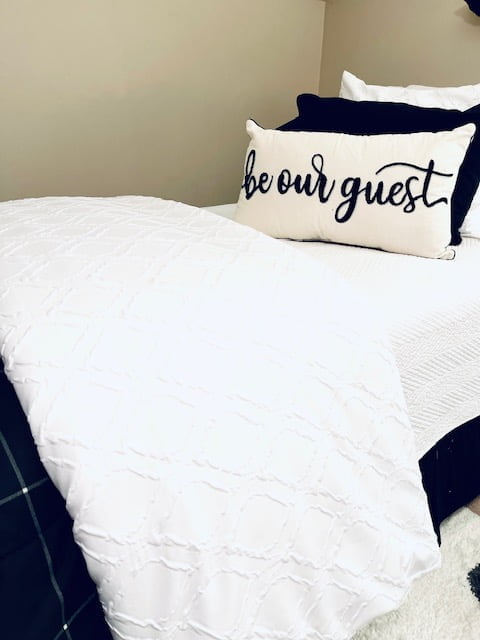 The duvets pattern is so beautiful and I really like the weight of the duvet. There light for summer but would also be fine for other season's as well. Mixing patterns is something I do often, blending with in the same color schemes brings a nice blended look. The rug… that I have been waiting for didn't disappoint! It's so soft on your feet, it has these little poke a dot like little circles that are so soft and fluffy!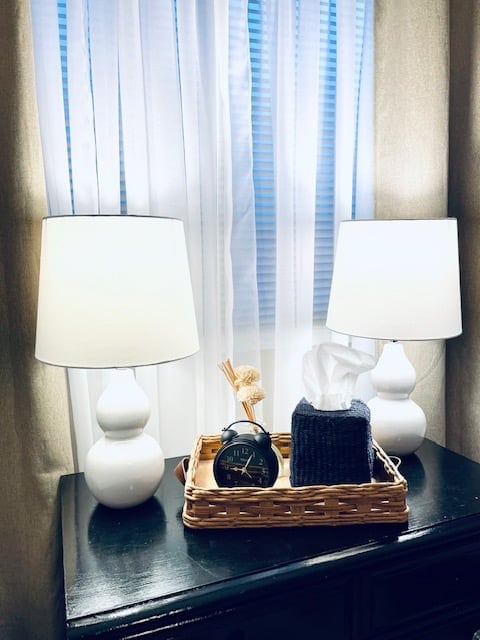 Oh and I added two new whitish porcelain lamps to the black dresser that I put back in the room. This little dresser has been with us for so many years! It has been many colors lol! I didn't have any art work for the walls so I printed these two little sayings off the computer and added them to dollar store frames. I placed them on the shelfs. These two little shelfs were white so I spray painted them both black. I added drapes to the room last year. I spray painted the rod black to match the curtain rings at the top of the curtain.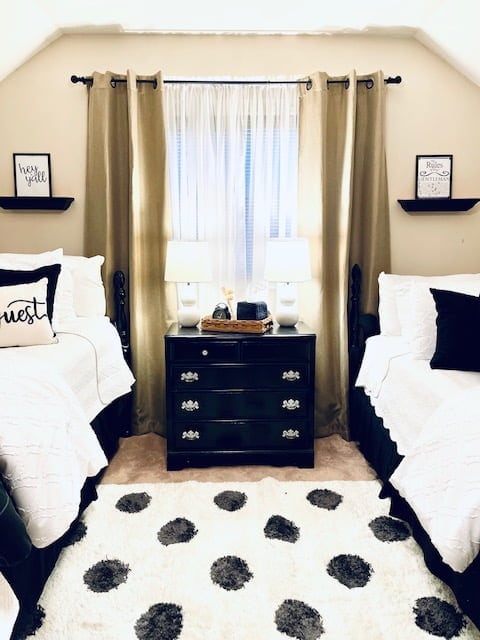 With the room being a guest room I added a little tray with an alarm clock, tissues, and a little diffuser. There are some extra pillows in the closet. We really want our guest to feel comfortable while they visit. I'm still working on a few other items in the room such as a highboy dresser. Still thinking of what color I would like to paint it. That will be for another post when I paint it…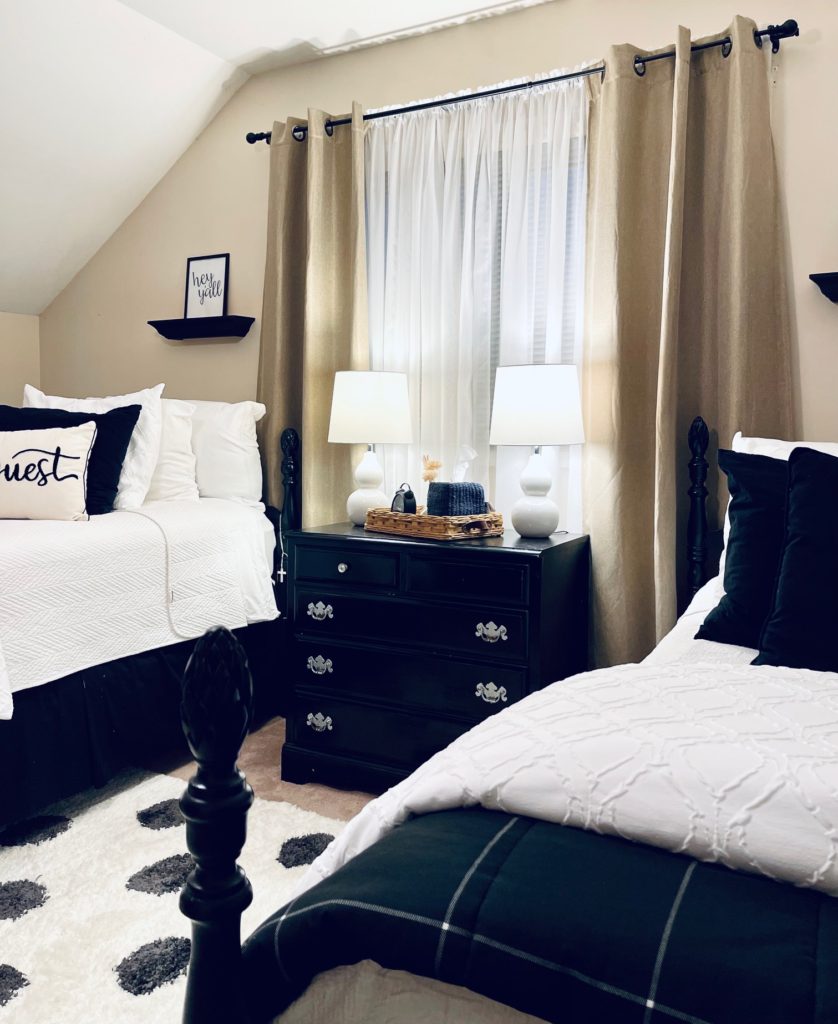 I hope this gives you some ideas on how to set up a space for your guest…