How to host a birthday party at home using paper products while adding an elegant touch!
The 30th Birthday Party!!!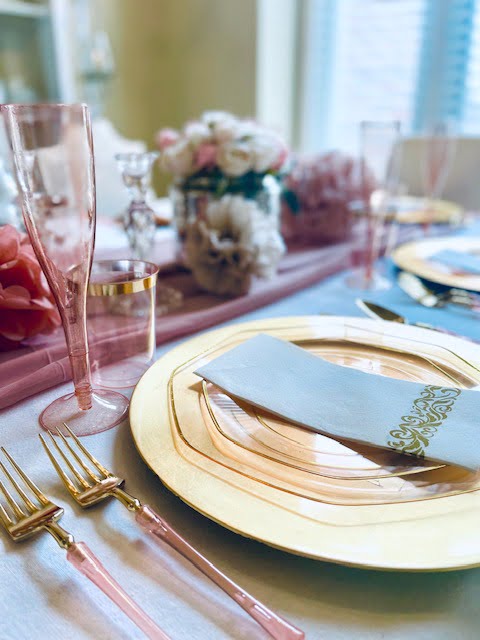 I've been planning my daughter's birthday party for a few weeks. I decided to host her birthday party at our home. Well I think I mentioned the plans had to change! We went from a Friday Evening Party to a Sunday afternoon party. So I felt the vibe changed a bit!
My daughter had her surprised get together with a few girlfriends on Friday evening. She said they had such a great time! They had dinner at a really cute place in a little happening town in the area, Ferndale! There's a cute downtown area in Ferndale with really good restaurants!
On Saturday we had planned a little spa day before the party that night! Well someone mixed the day and time, one of the new employee's so… this will be for a different day and time!
All About The Home Party!!!!
So this is how to host a birthday party at home!
I spent the weekend getting ready for our home party! I had ordered some of the catered food the week before. The birthday girl requested either mediterranean or pizza, her two favorites! I ordered a little of both!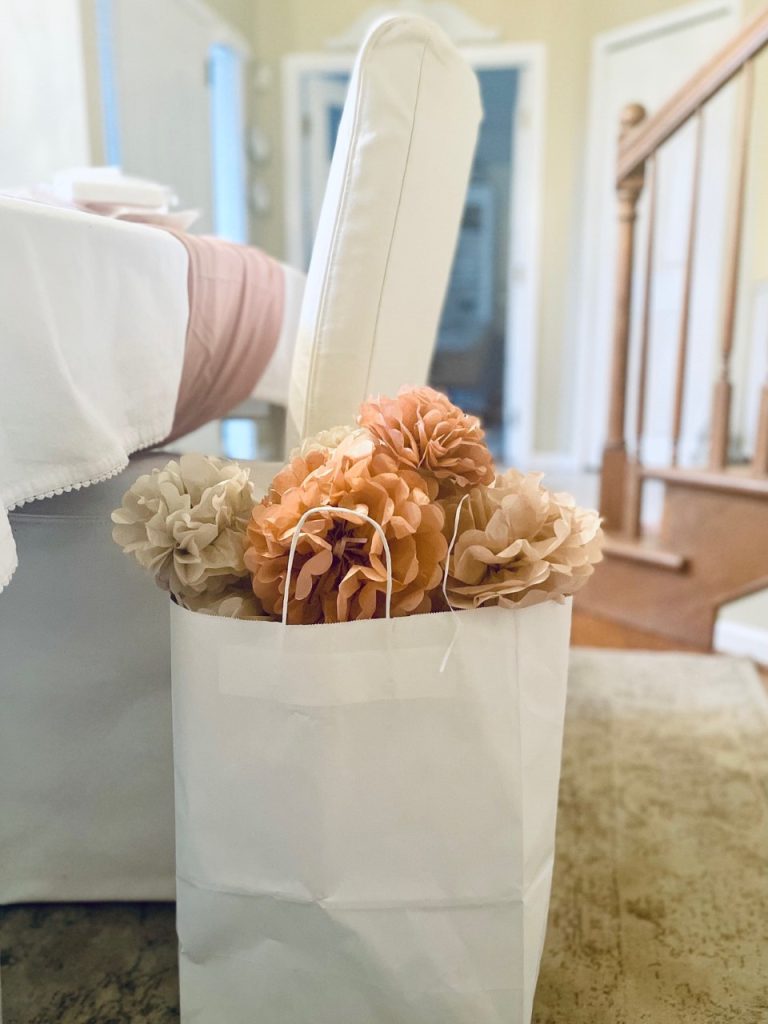 The cakes,
Yes cakes! We had two different cakes! One of course was gluten free Lol, the other was a cassata cake! An Italian favorite!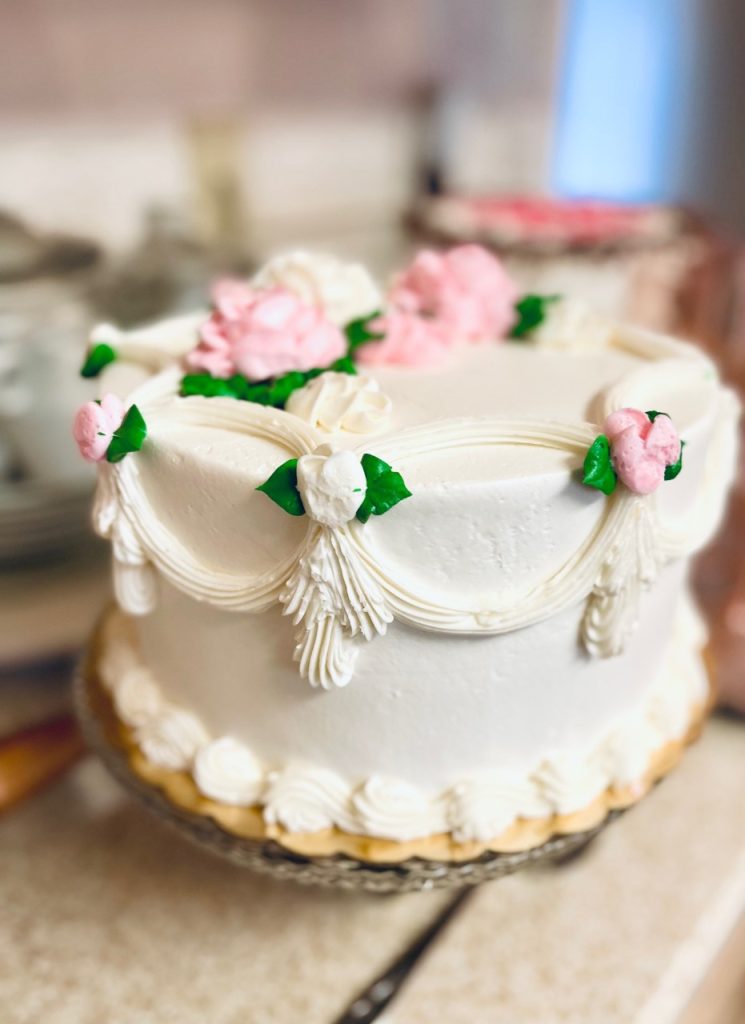 Cassata cake is a traditional cake from Sicily. Cassata refers to a layered yellow sponge cake soaked in rum or rum syrup, filled with fresh strawberries and custard, and typically beautifully decorated with sweetened whipped cream and sliced strawberries.
Traditional cassata cake, as it's made in Italy isn't anything like the version found in the United States.
My family likes a more minimal version of the cake. The cake is a three layer, yellow batter, with a sweet creamy ricotta filling, a hint of cinnamon, and pieces of the best sweet chocolates! The frosting is a rich whipped cream and shaved chocolates placed on the sides and top of the cake! These cakes were ordered from a local bakery.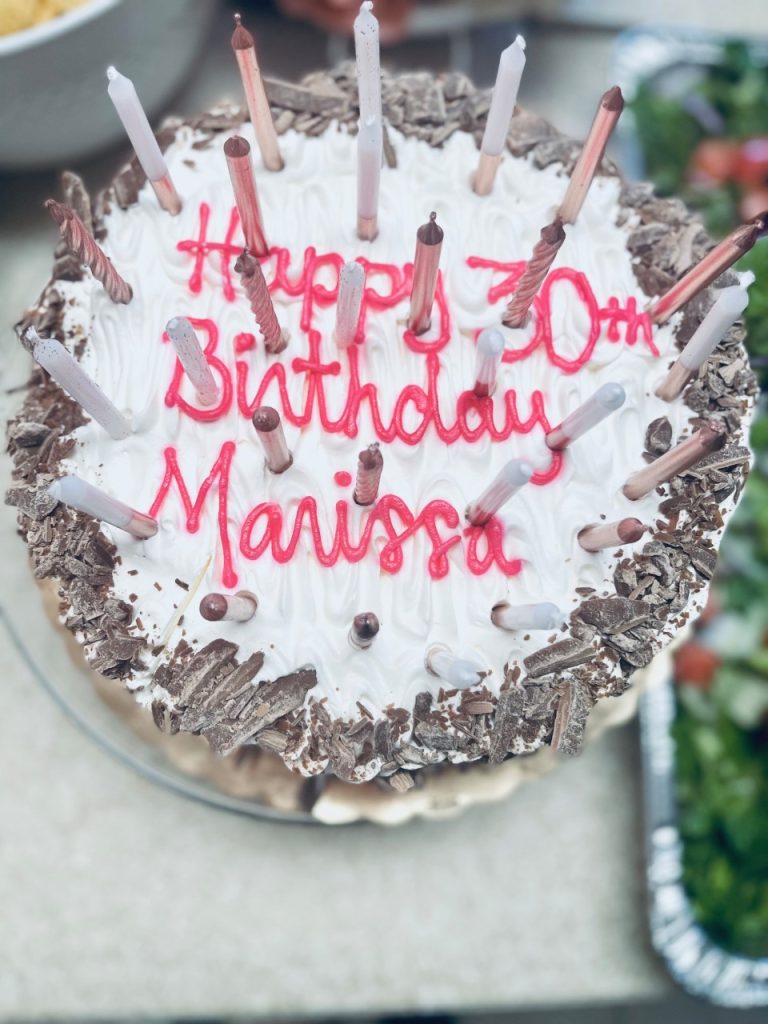 Using paper products
I decided to not use my china and crystal. I was really wanting a very easy clean up because the party was on a Sunday, paper products it was!
So I ordered, last minute from Amazon, place settings, stemware, napkins and silverware! Delivery was so quick! It was delivered the very next day!!!
Sunday morning I went about setting the tables.
I used white table linens on both tables. Added blush fabric to the table in the dinning room and tied it with a little gold ribbon. Usually when I have a party I host it in our basement. Since the pandemic we have been having our get together's upstairs due to the ventilation. I have high ceilings and can open windows.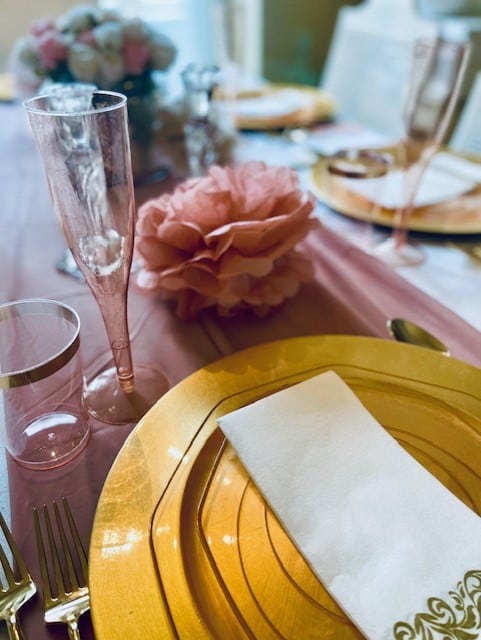 My gold chargers gave the plates a little more appeal and honestly the plates looked so cute with the chargers. The napkins had a little gold detailing which matched very nicely. When I ordered from Amazon you know how they show other items to go with the items you order… well I ordered some cute flower pom's.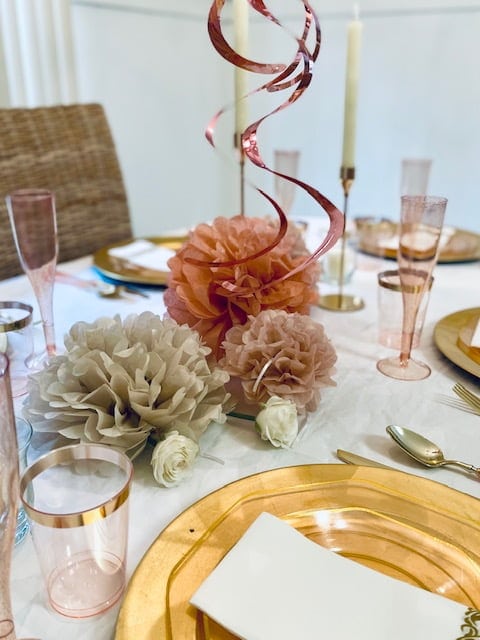 My daughter really likes a simple decor, so I tried to follow the lead with the way I decorated for her party. With simple pom's on the tables and candles for a centerpiece. The crystal candle sticks on the dinning room table were a gift from my mom years ago. Marissa was a grandma girl, so this was a special touch.
I did make up a little floral arrangement for the dinning room table and added it to a mercury glass bowl. I found a little pink ribbons and tied them to the chandelier.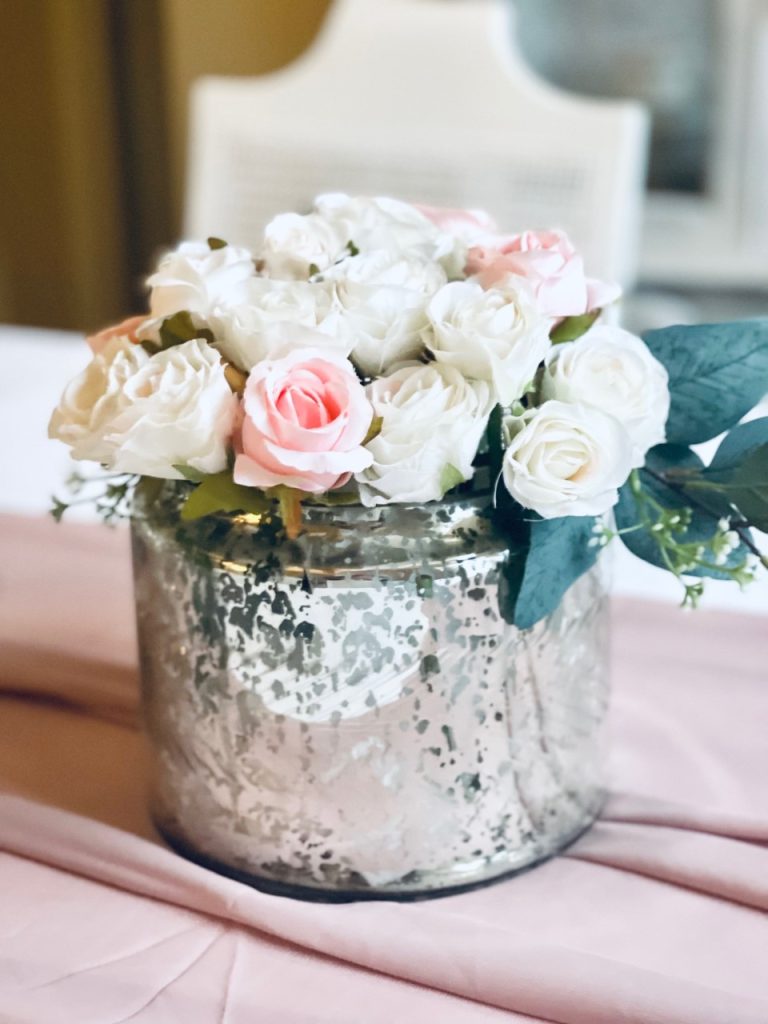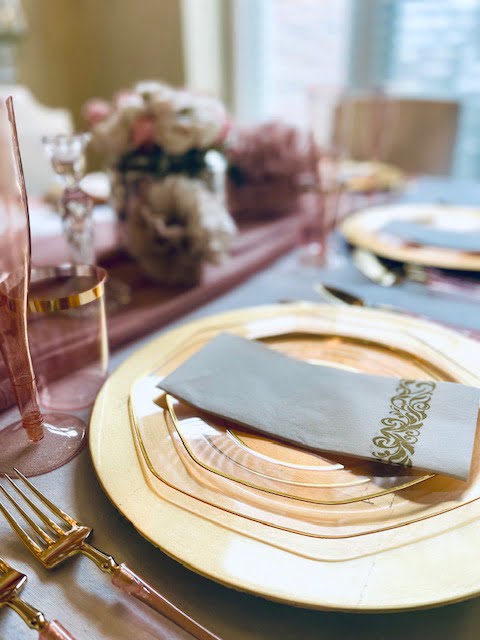 The kitchen table was done pretty much the same except for the rose gold twirl's hanging down from the chandelier.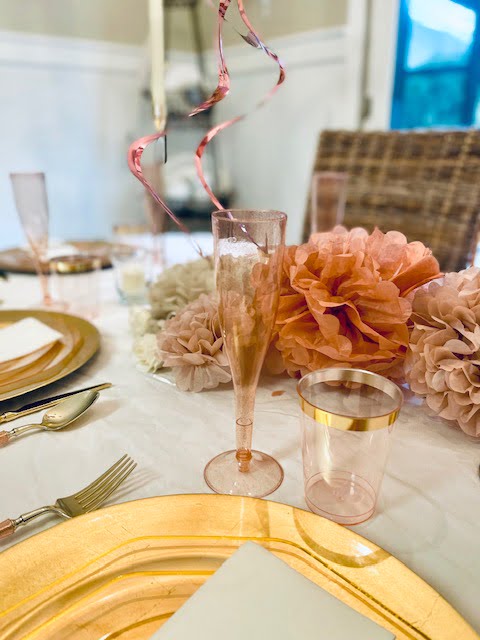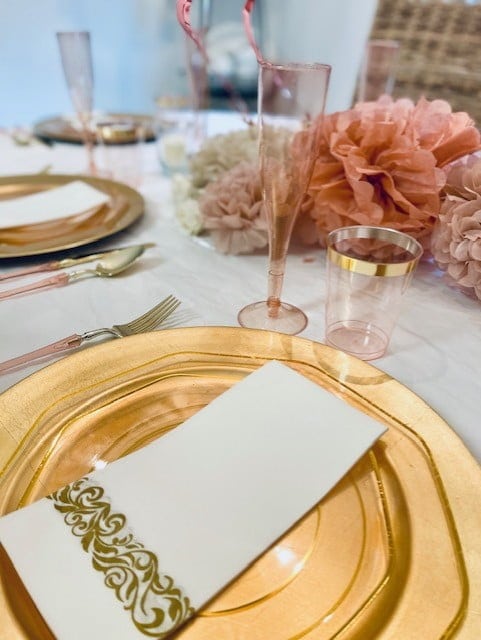 Tableware
I ordered all the tableware from Amazon. It was a cute set, the plates were trimmed in gold, and the flatware was gold with crystal and pink details. The set included napkins that actually were very thick and had nice detailing at the bottom. Following with my theme of easy I ordered champagne glasses in pink! They performed as one would expect a plastic champagne glass to perform, Lol! They were cute though! This little set also included a little cup with gold trim.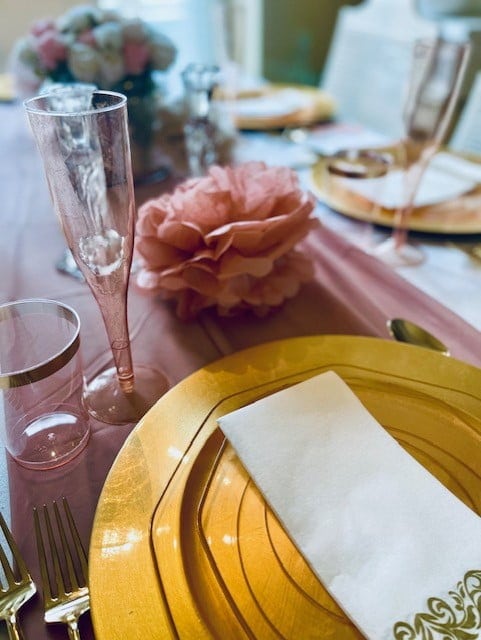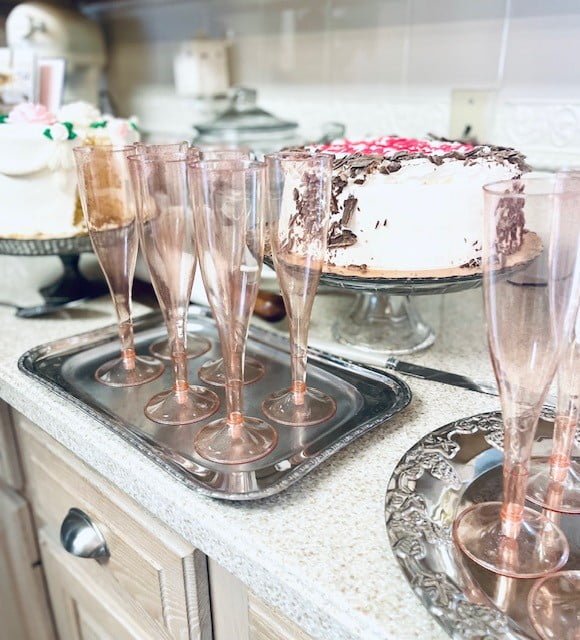 I added pink accents and rose gold also a happy birthday sign to the fireplace! I've always adorn our fireplace with some type of decor for birthdays, holidays or any festivity!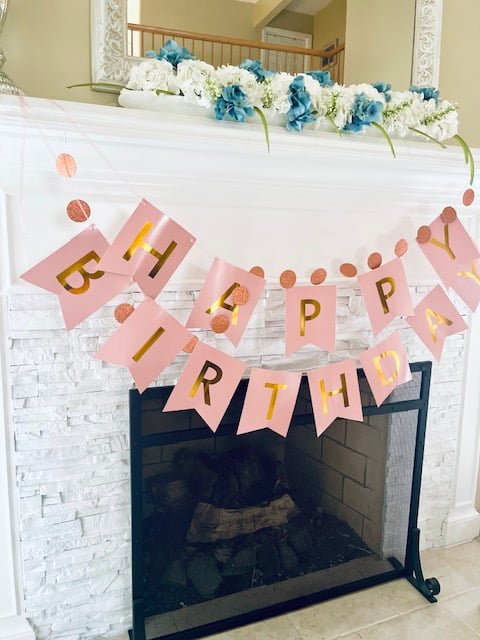 We had a beautiful toast to my daughter with our favorite blush colored champagne! Prosecco, it's bubbly, sweet, and it was the right color!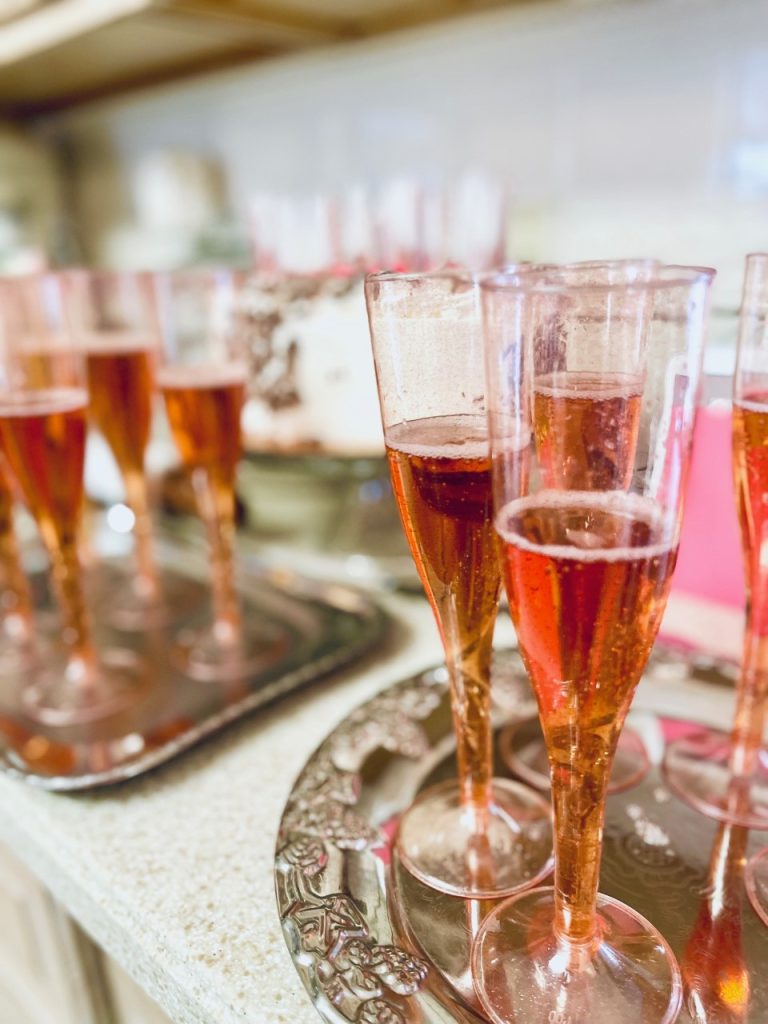 Actually Prosecco is really a wine… but we call it champagne! I guess we like it because it's flavor is sweeter,and fruiter than champagne!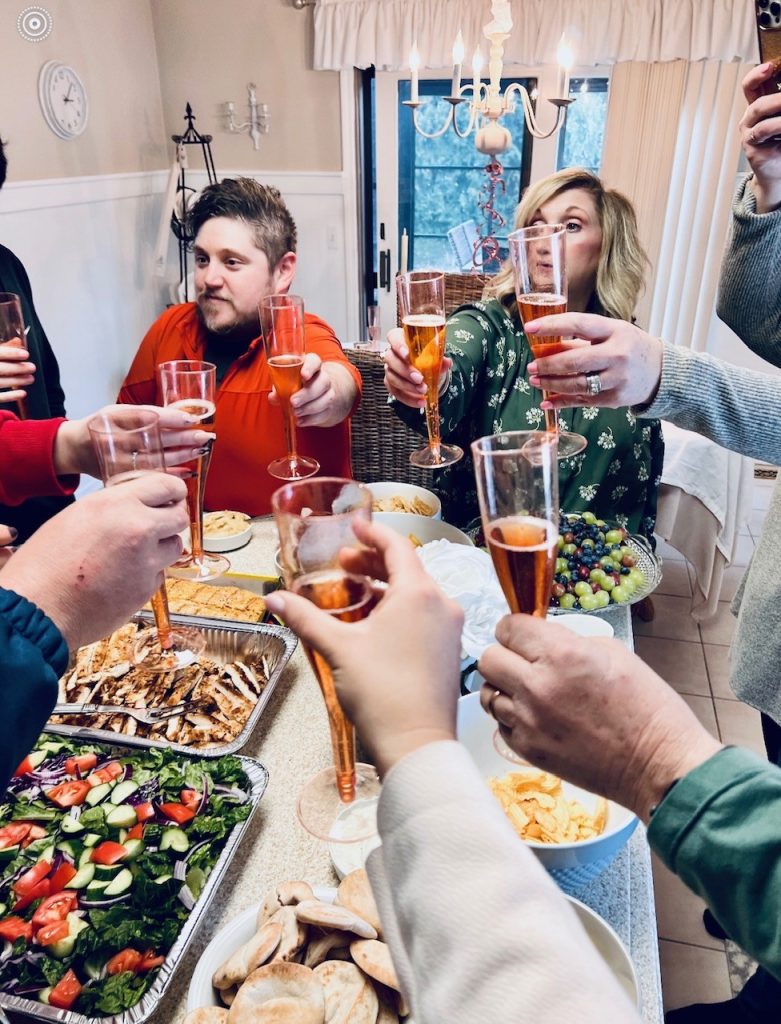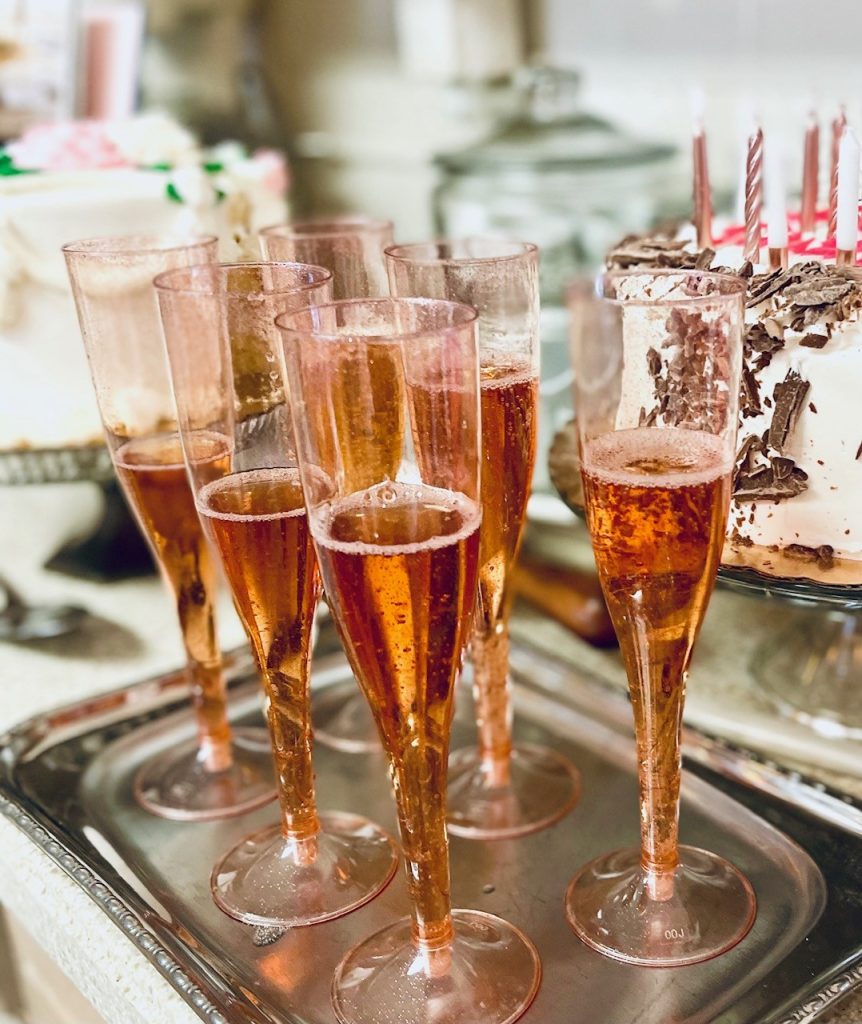 Dinner!
Our dinner was delicious! We had several different pizza's made of vegetables, cheese's, and meat's! A little variety for everyone's palate!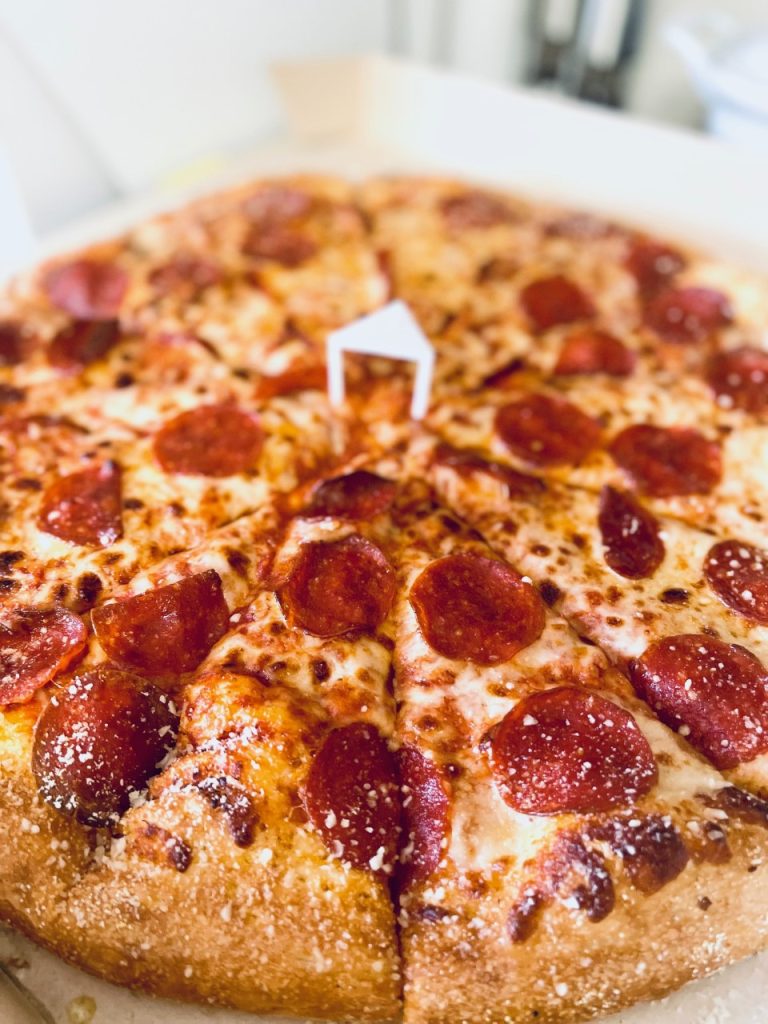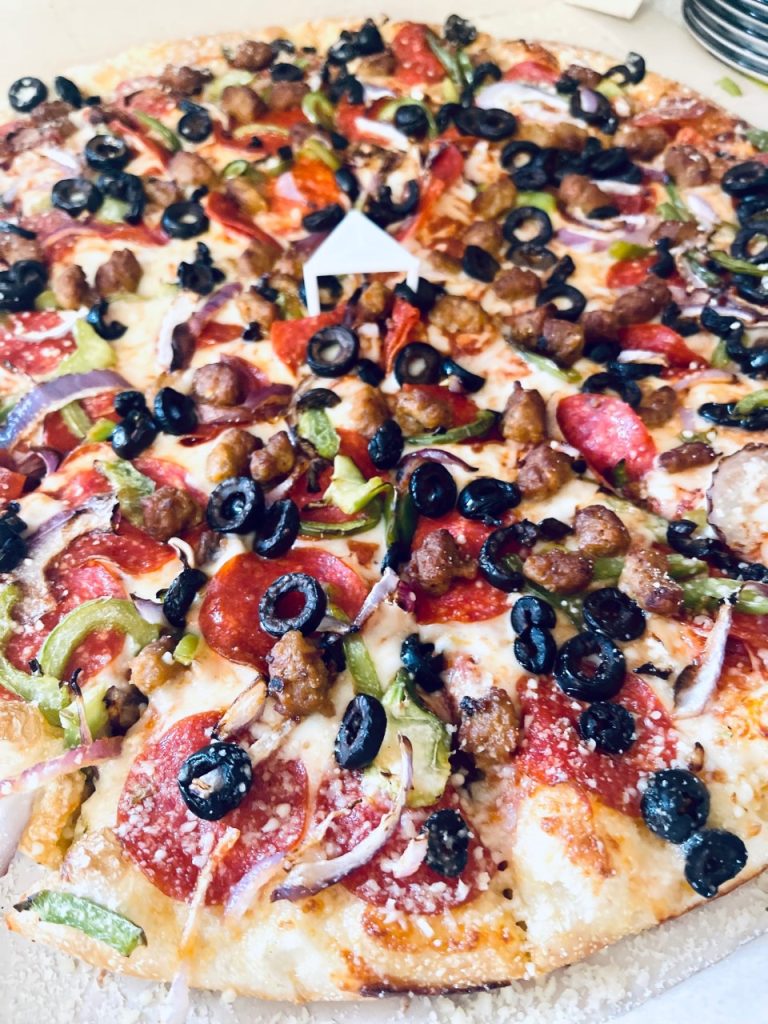 The fattoush salad had finely chopped Persian cucumbers, onions, tomato's and tossed with a zesty vinaigrette!!! Seasoned grilled chicken was added as well!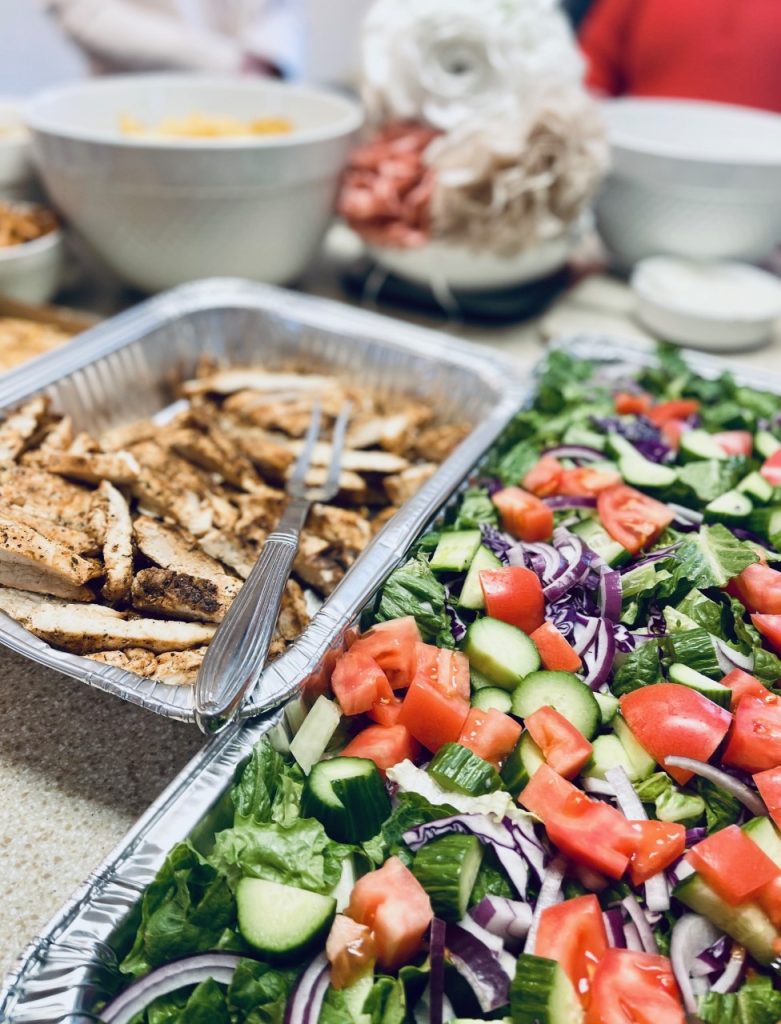 I also had different dips, salsa, hummus, garlic dip, and pita chips.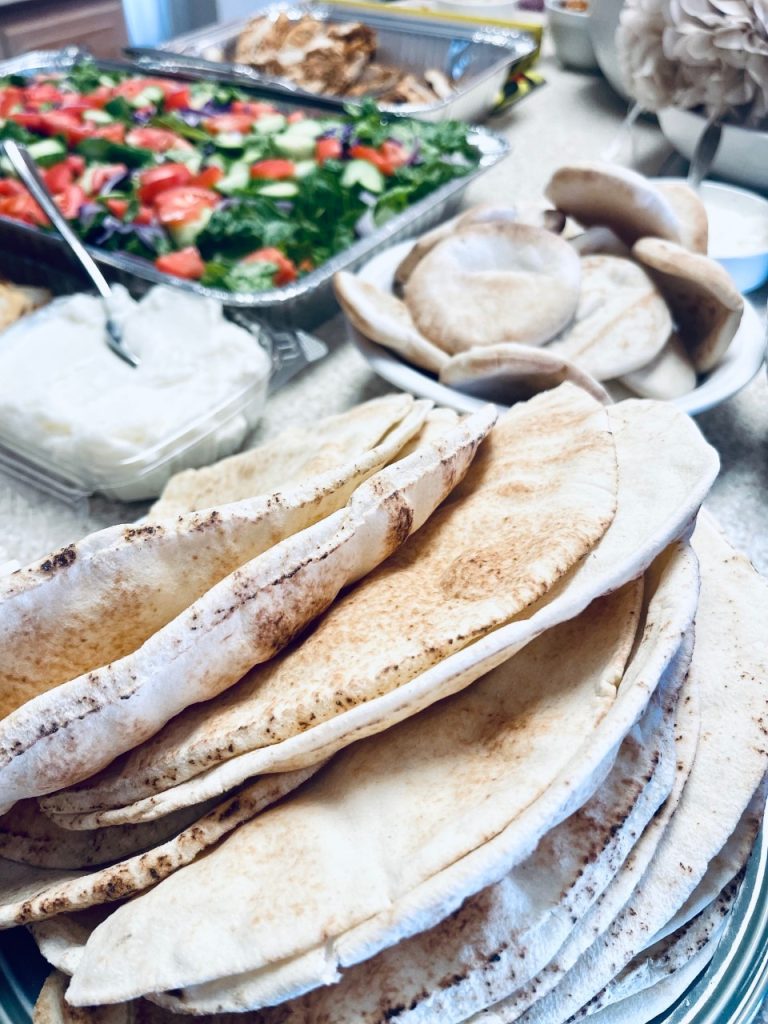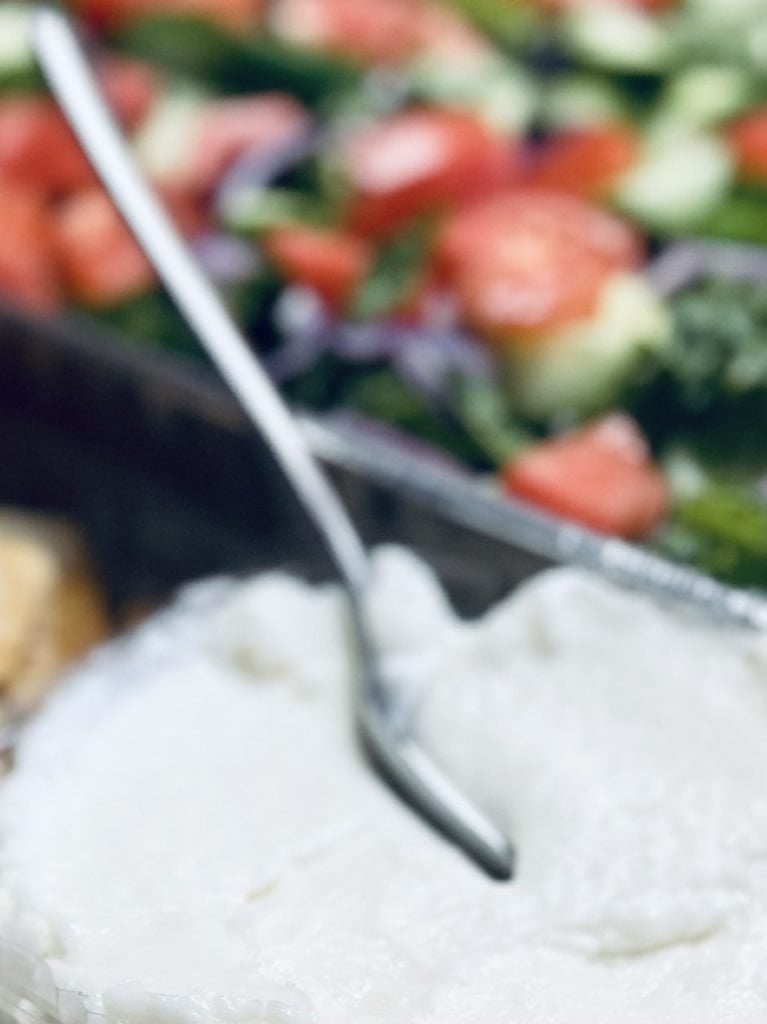 Oh and of course we had fruit, a mix of grapes and berries. This dish had an accident, added champagne! But let me say champagne grapes are delicious!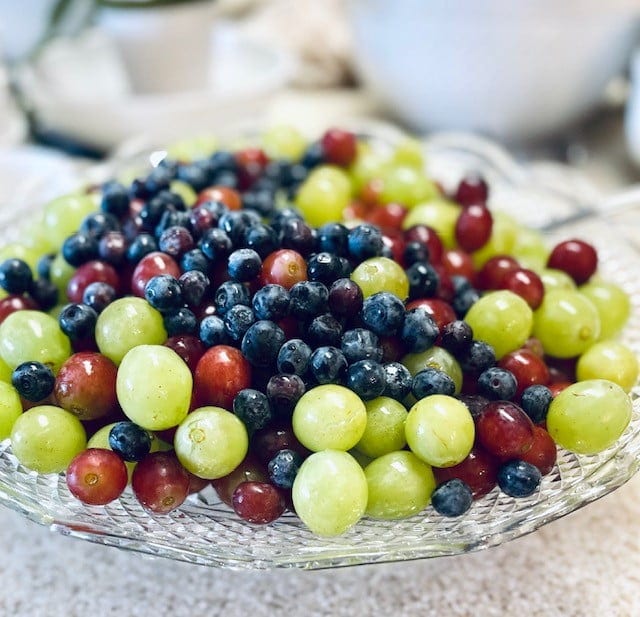 Our birthday girl felt so spoiled by everyone!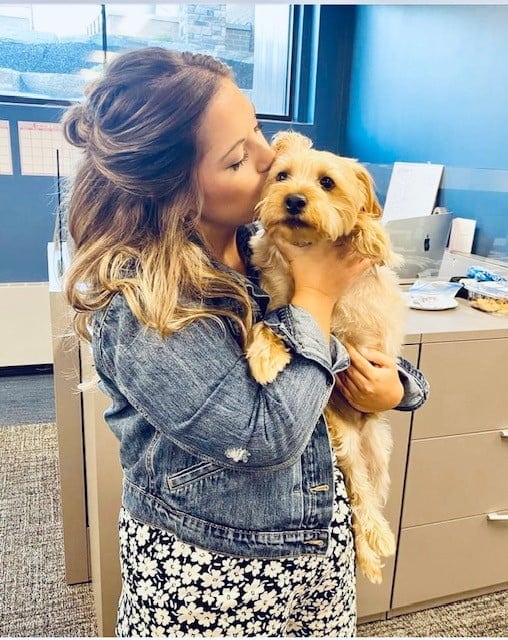 She received a Disney World trip from her God Parents, many books and gift cards!
This home birthday party turned out so nice, clean up was easy, and we all spent a fun time together!!!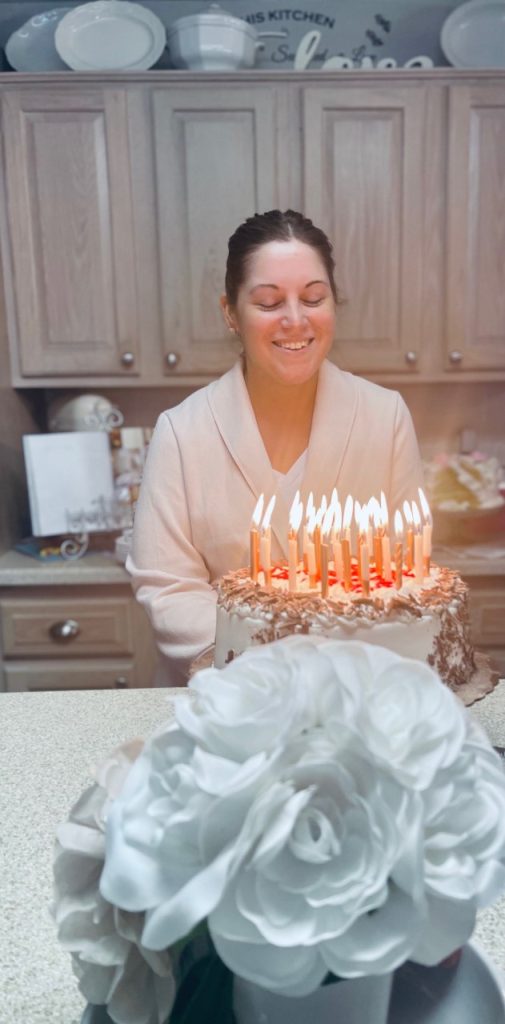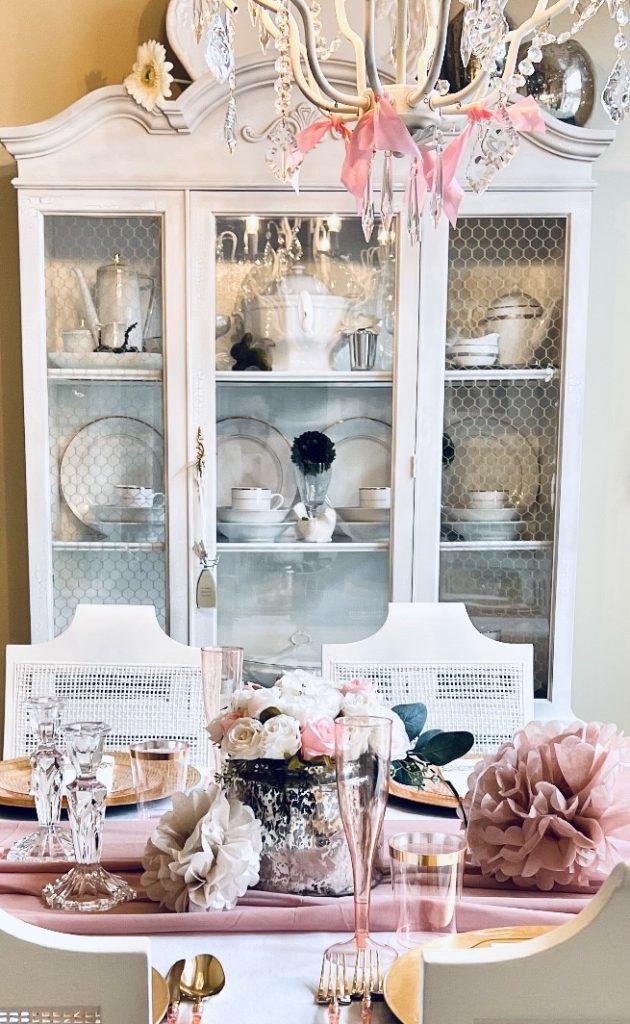 Thank you for joining me while I share How to host a birthday party at home!
For Resources
All resources for the paper products were purchased through Amazon.
Our dessert from Vito's Bakery in Clinton Twp
Leila's Kitchen made the mediterranean food, located in Clinton Twp.
Pizza was from Hungry Howie's in Sterling Hgts.
Amazon products