Updating an office on a budget and using what you have with a little paint and hard work it turned out so nice and bright!
Finally I'm sharing the updating an office post!
Do you remember the first picture of the den I showed you?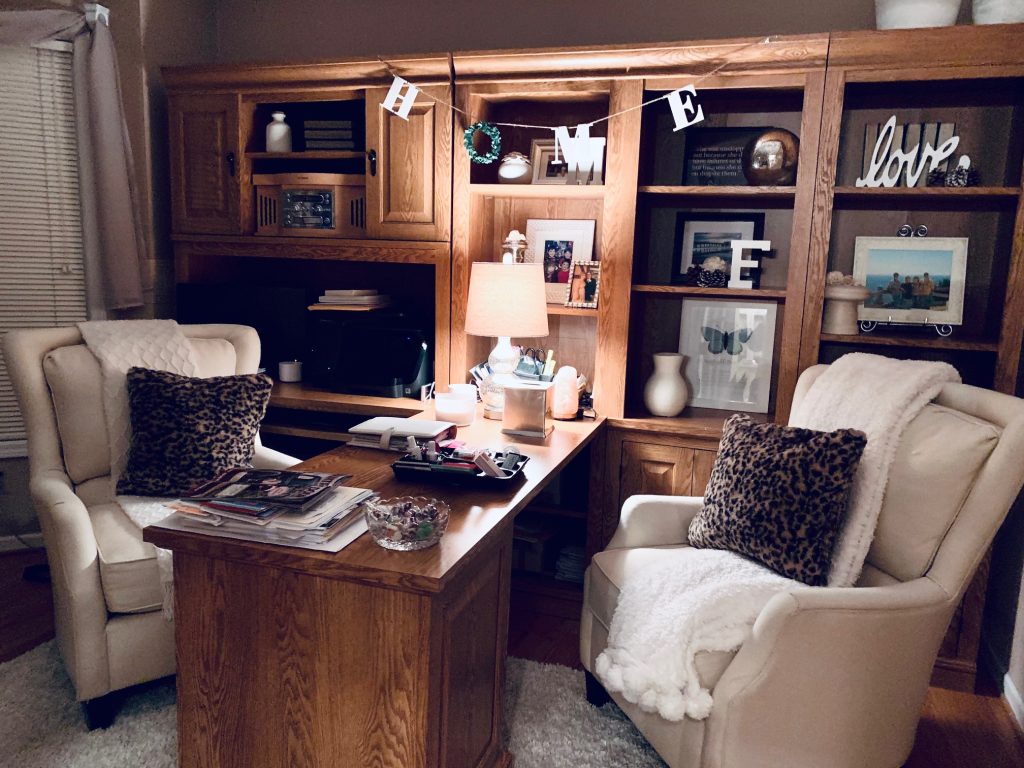 This one here!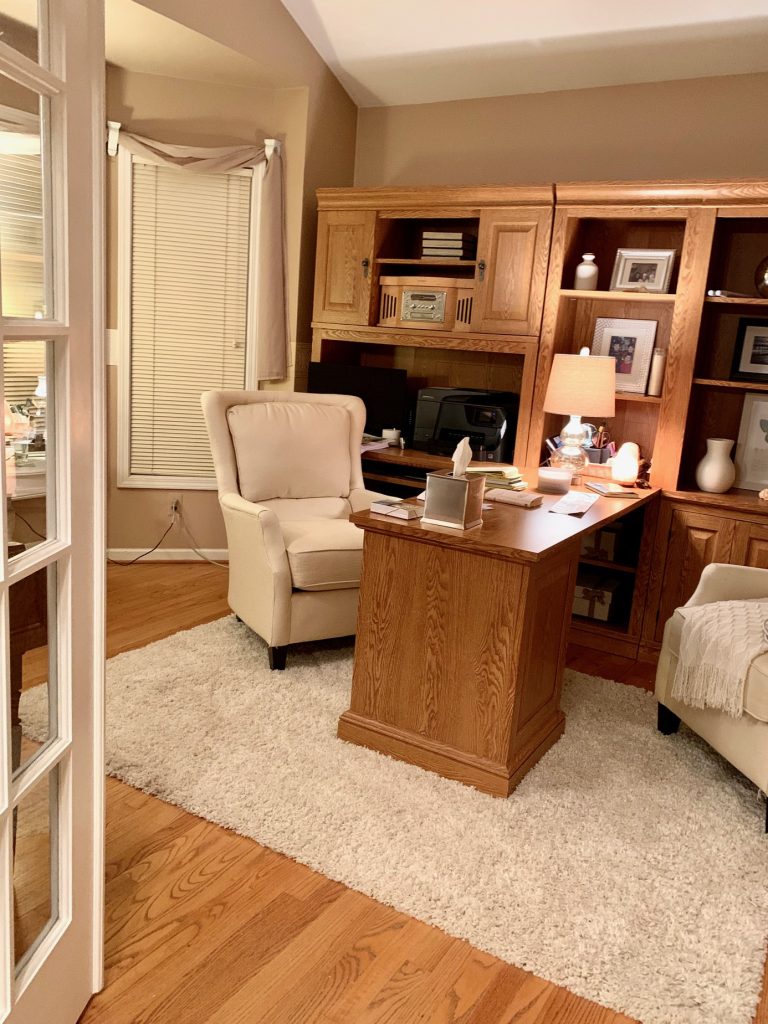 This one too!
I know it's been awhile!
Well, finally I'm starting to see the light at the end of this tunnel of my updating an office!
If you remember we painted the room first…
The walls already had a texture paper on the lower half with a border across the top.
I kept the border and texture paper because I do like the look! We just painted over it!
The whole room received a fresh coat of paint. I used Sherwin Williams Satin on the walls. Which will keep when I wash the walls.
On the trim work we used a high gloss Sherwin Williams white paint! I really like how a high gloss paint looks on the trim work. It makes the molding just pop and it cleans up well!
Office/Den
My goal was to lighten the office/den! When Covid started I decided to move my office to my home. Working in this room felt so dark to me, I actually wanted to fall asleep all the time!
Last year in March we had new windows installed and with that we decided to get new blinds. I ordered faux white wood blinds. I really wanted shutter's but… they really didn't fit in the budget. I'm really happy with the look faux blinds, so I ordered white for the whole house! This started the refresh of the whole house!!! That'll do it!!!
I painted the book shelves and desk.
This desk unit is from suader furniture and not full wood. I shared in a blog post how my husband and I re-did this unit. You can click here for the post.https://houseofmar.com/home-office-refresh/
We order a piece of glass to fit the top of the desk so it's easier to dust.
Window treatment's
Finally they came!!! I'm so happy with the drapes I found them online at Target!
I ordered a 95 inch length, I wanted the drape to puddle on the floor. I also hung the drapery 6 inches above the window molding for added height. A good rule of thumb to use when hanging drapes is to hang them 4 to 6 inches about the window molding.
Area Rug
The rug I ordered is from Way fair, after several returns I finally found one I'm very happy with!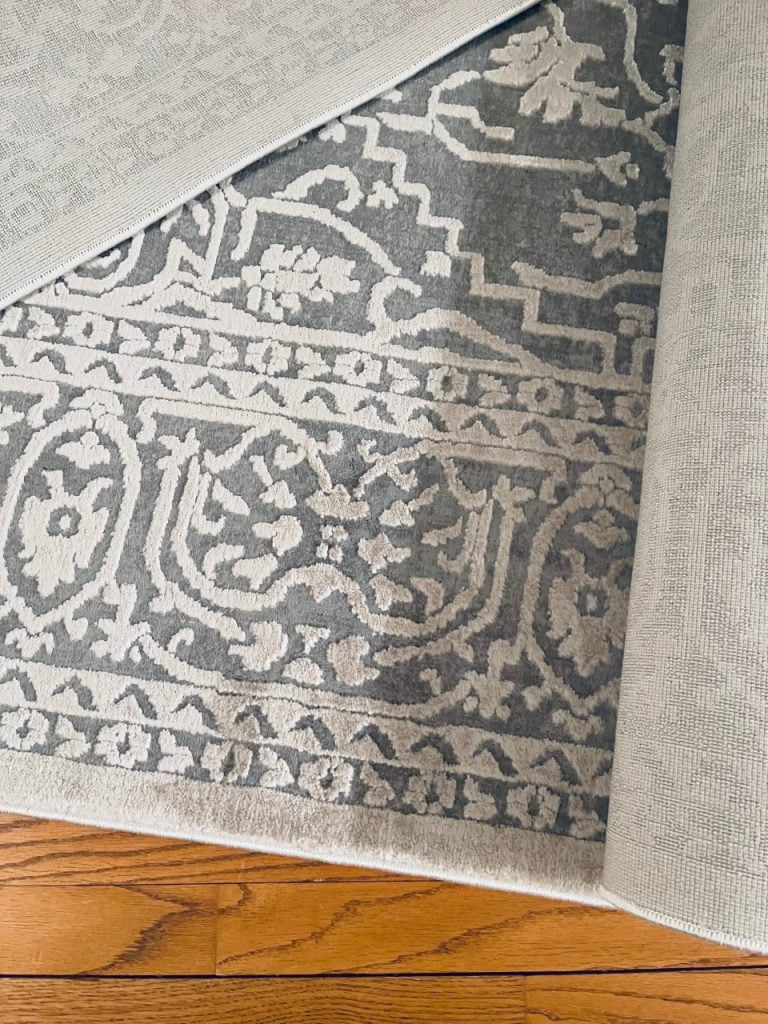 My office chair is from Pottery Barn and it's so comfortable and it's on wheels! Both dogs try to get in the chair with me!
I ordered a new scanner, printer, and copier
Of course I ordered it in white. https://amzn.to/3N6TbJF My other unit was much older and did not do all the things I needed. I ordered white to help with blending in with the bookshelf color.
Tada!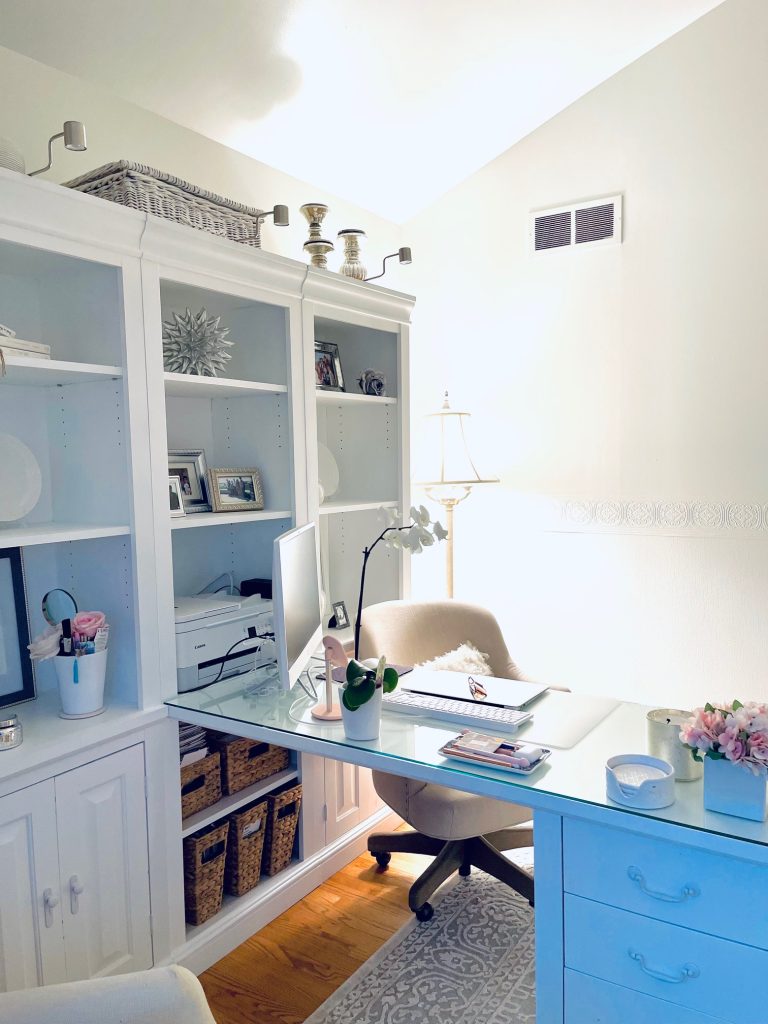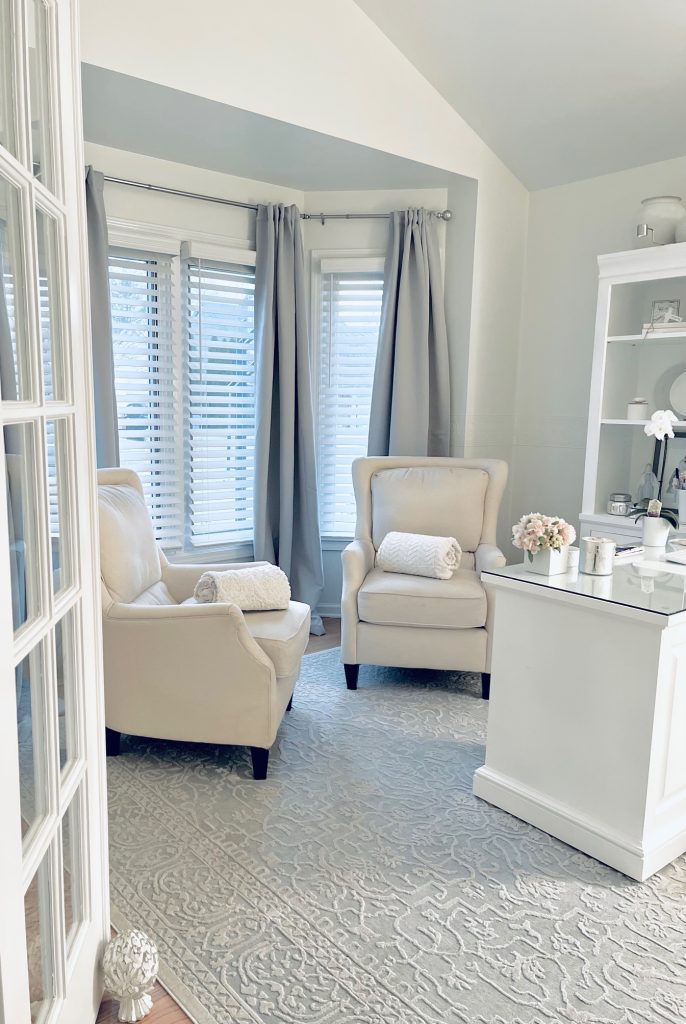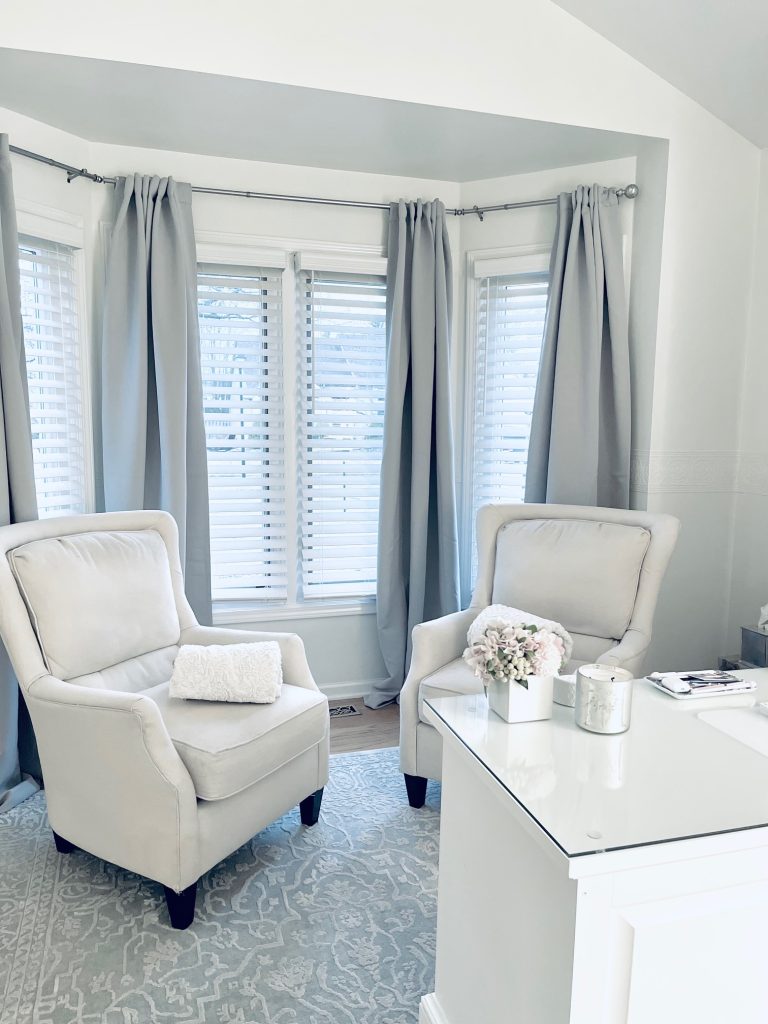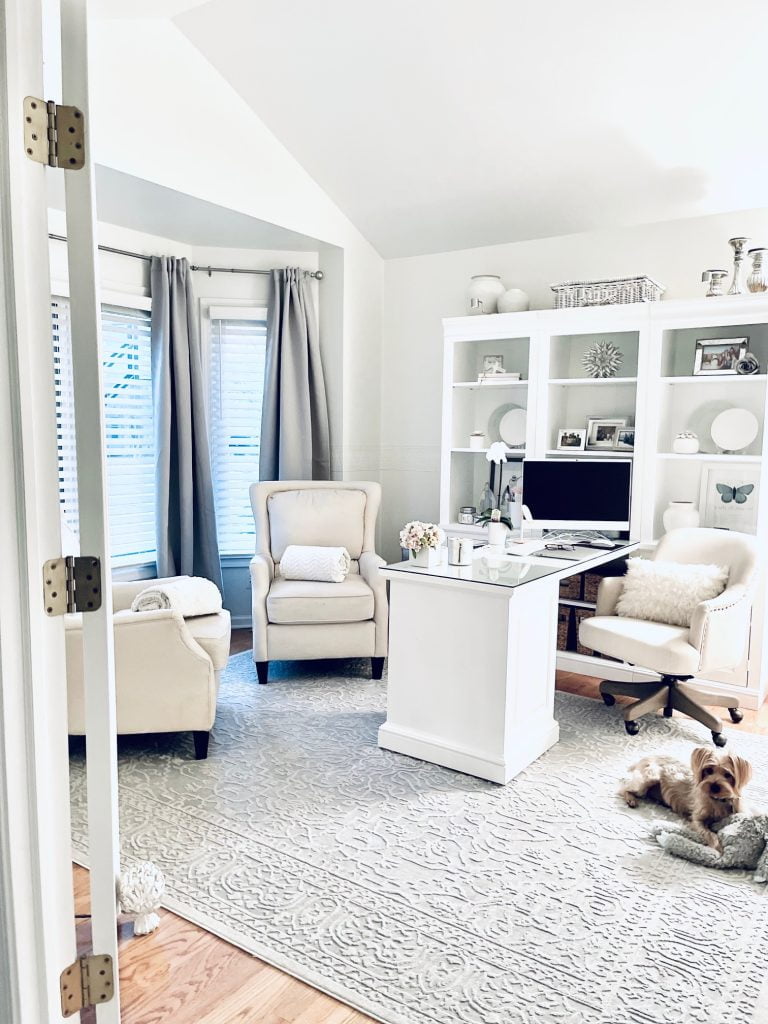 I'm really happy with the way it's turning out! I still have some odds and ends to add, like pictures on the wall's and I'm working on a side table and lamp. I just wanted to share with you where I'm at on the makeover. As you can see I have a very welcome visitor Lol! Scout just loves to be in this room! Mario does too! He spends a lot of time sitting pertched on top of the chair looking out the window! A dogs life!
I have all of the items linked in my shop my home page or you can click the link here!https://houseofmar.com/shop-my-house/
I appreciate you stopping back by!
Have a great day!!!