Updating an office on a budget and using what you have! I'm sharing some tips today on how to update an office on a budget!
When the pandemic came I moved my office home as many of us did! At first it was okay working from my home office and then I started having backaches! These chairs in the picture are very comfortable had been what I sat in. I really enjoy these chairs! There great for relaxing, reading a book, even taking a quick nap! But what I was using them for was hurting my back and posture. Leaning up, moving back and forth, turning sideways to reach the computer was all taking a tole on my back.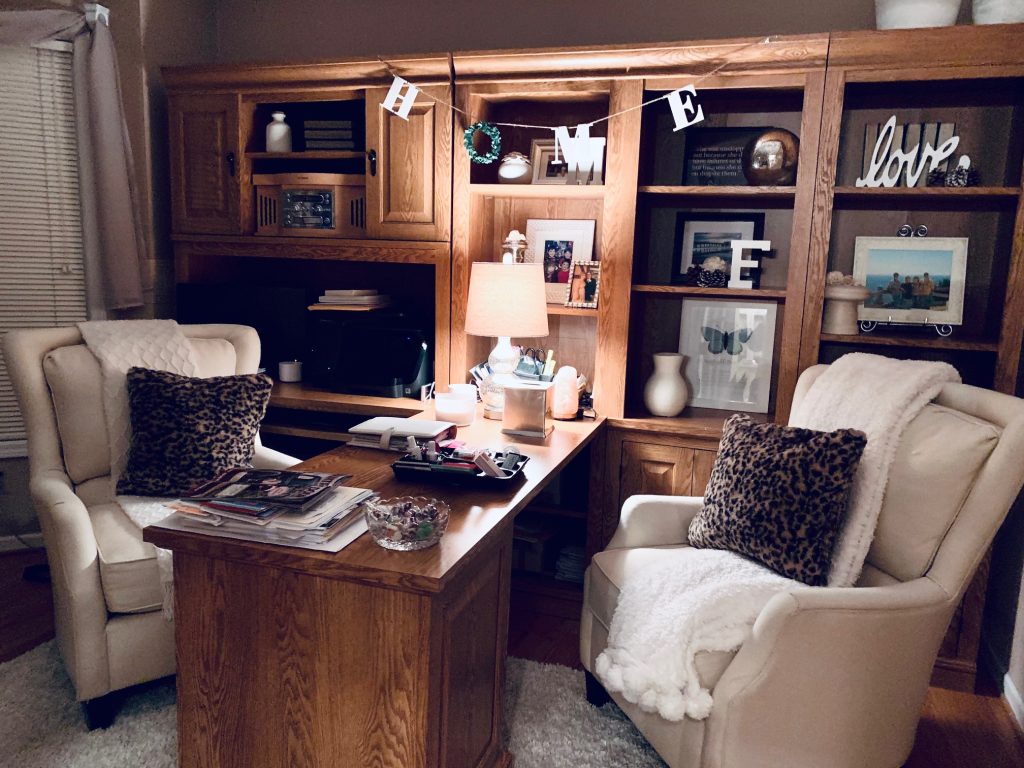 It wasn't only the chair, my office felt so dated and dark! It just wasn't functionally for what I now was using it for. I needed to update my office, I wanted lighter and brighter, but I would have to stick to a budget! So how was I going to do this and stay with in a budget!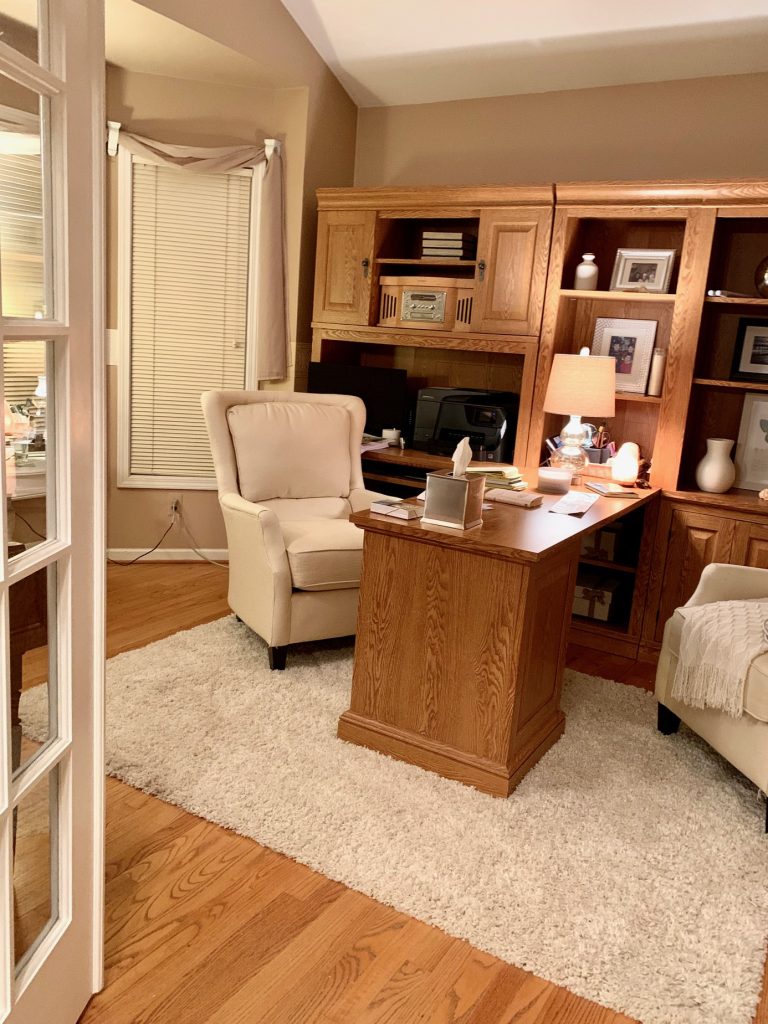 I knew I would need to keep my desk and bookshelf's, also the chairs if I wanted to stay in budget. I thought about where I could spend my money wisely.
One item that is inexpensive and you get the biggest bag for your buck is paint! Seeing as the desk and bookshelf are the largest and darkest piece of furniture in the room, this would need to change! Especially if I was trying for a lighter brighter feel to my office!
But there's an issue I thought I could encounter when painting the desk and book shelves. My desk and bookshelf are made by the furniture company Sauder. Which is a very nice brand for the money but most of their furniture is made with environmentally friendly material. It's called engineered wood. A combination of high quality hard wood and soft wood materials which are residuals of other lumber processes. The wood is made up of panels of particle board and laminates.
Laminate furniture usually has a little shine or sheen to them, as this set does. So sanding down this furniture could pose a problem. Because the veneer on these types of furniture are thin it may not be the best option. Instead I decided to use an oil based primer which are thick and sticky and it covers the furniture so you don't have to sand.
We, my husband and I decided to paint the set outside in the driveway and move it into the garage to dry. We made sure to remove the hinges and knobs. Wiped it down so there was no dust or residue. We painted on the primer with a good brush using 2 coats and let it dry thoroughly between coats.
Next we spray painted the pieces with two coats of a Sherwin Williams Alabaster White in a satin finish. Letting each coat dry completely between coats. Drying time was a total of 4 day's. With the type of wood we were painting we really wanted to make sure we took our time with the drying process.
During the dry timing for the desk and bookshelf's we painted the office. There was already a texture wallpaper on the walls and a boarder. I still enjoy the pattern so we left it on and we painted over it with a the satin paint. The ceiling was also painted, it's a little lighter than the wall color. The trim worked received an update as well with a high semi gloss paint!
In the mean time I did order a few baskets from amazon to place on the shelf for to place items in. I also ordered new drapery panels from Target. I used the curtain rods I already had. These were sprayed with silver spray paint. I placed the curtain rod 8 inches above the window. By placing the drapery rods 6 to 8 inches above the molding of the window it brings up the height and makes the room look more spaces.
Office/Den
My goal was to lighten up the office!
b
This desk unit is from suader furniture and not full wood. I shared in a blog post how my husband and I re-did this unit. You can click here for the post.https://houseofmar.com/home-office-refresh/
We order a piece of glass to fit the top of the desk so it's easier to dust.
Window treatment's
Finally they came!!! I'm so happy with the drapes I found them online at Target!
I ordered a 95 inch length, I wanted the drape to puddle on the floor. I also hung the drapery 6 inches above the window molding for added height. A good rule of thumb to use when hanging drapes is to hang them 4 to 6 inches about the window molding.
Area Rug
The rug I ordered is from Way fair, after several returns I finally found one I'm very happy with!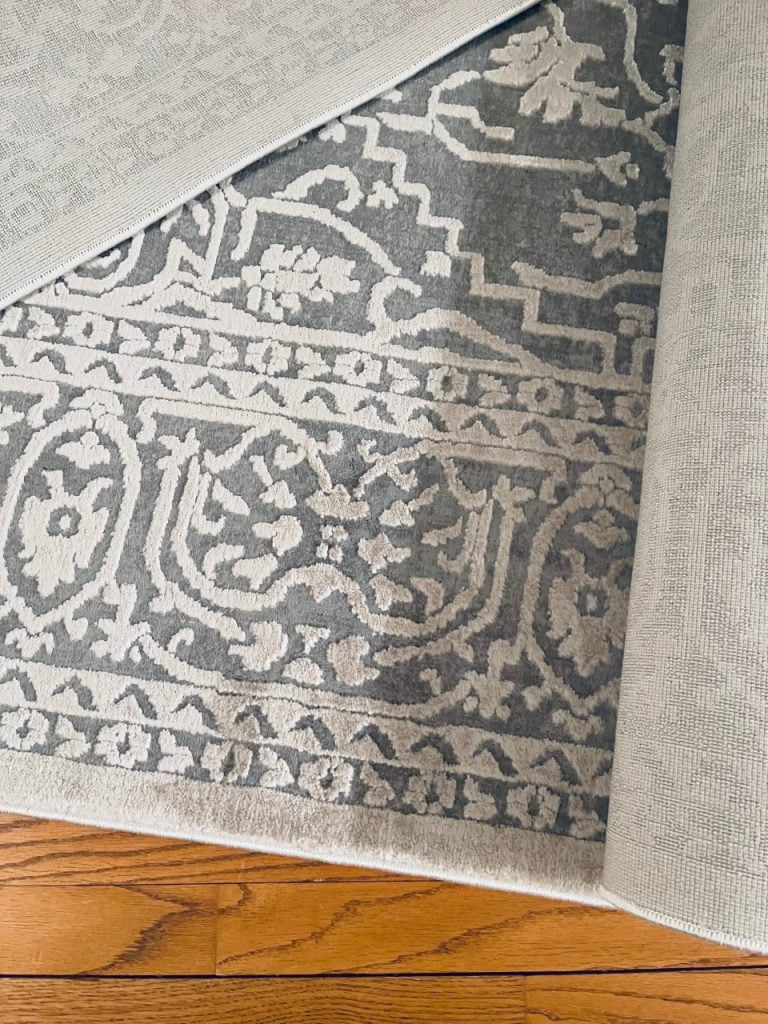 My office chair is from Pottery Barn and it's so comfortable and it's on wheels! Both dogs try to get in the chair with me!
I ordered a new scanner, printer, and copier
Of course I ordered it in white. https://amzn.to/3N6TbJF My other unit was much older and did not do all the things I needed. I ordered white to help with blending in with the bookshelf color.
Tada!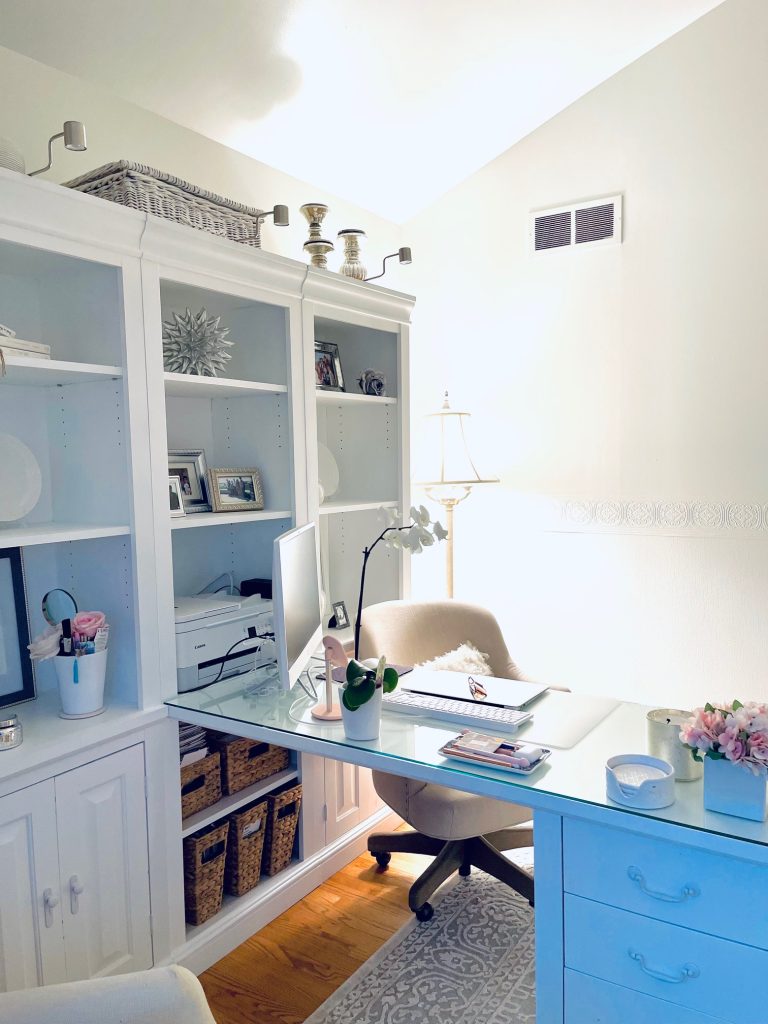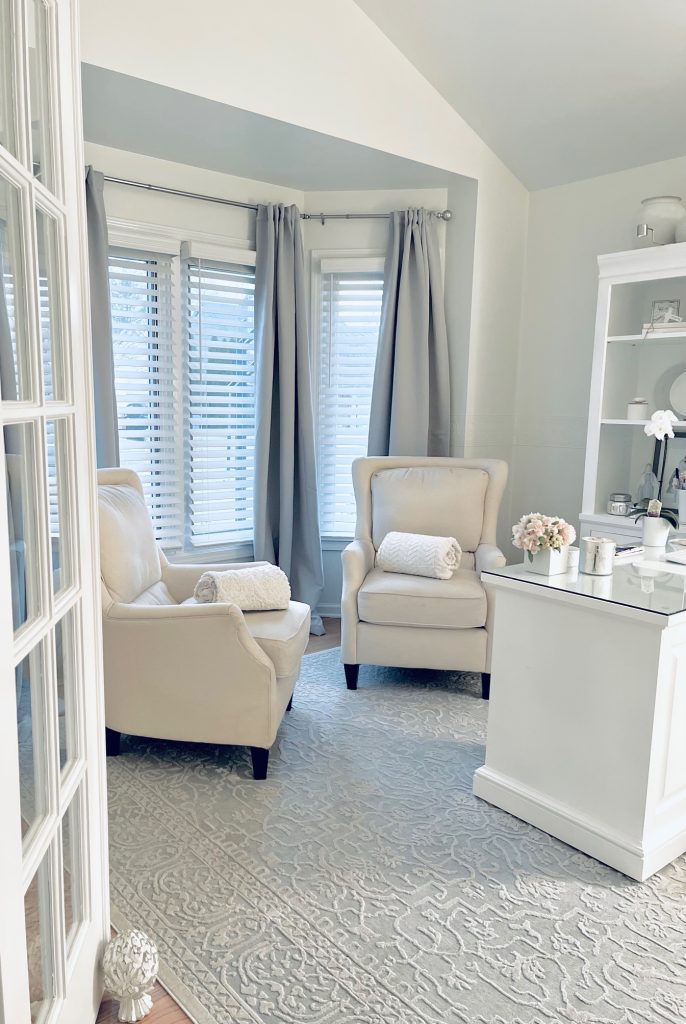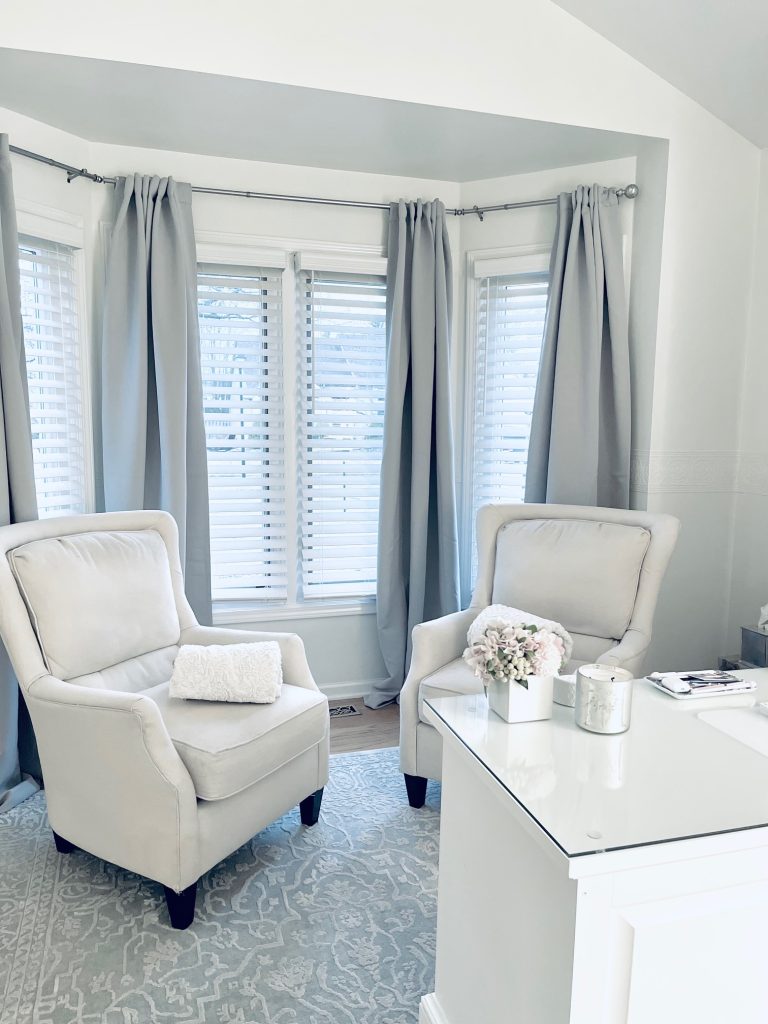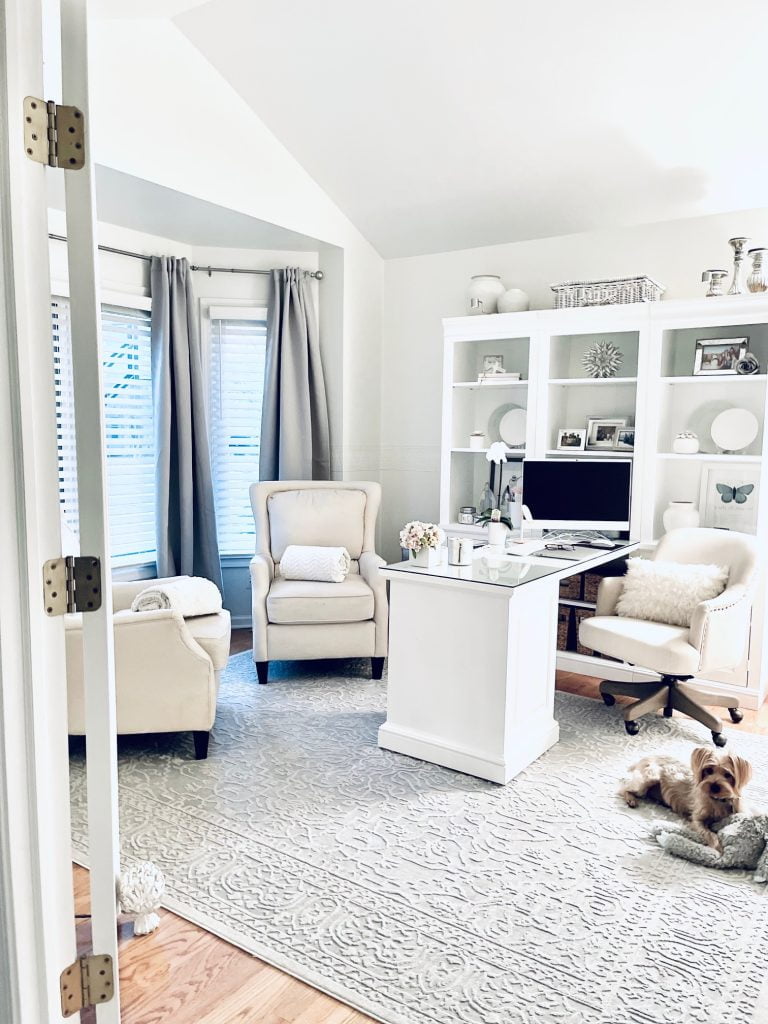 I'm really happy with the way it's turning out! I still have some odds and ends to add, like pictures on the wall's and I'm working on a side table and lamp. I just wanted to share with you where I'm at on the makeover. As you can see I have a very welcome visitor Lol! Scout just loves to be in this room! Mario does too! He spends a lot of time sitting pertched on top of the chair looking out the window! A dogs life!
I have all of the items linked in my shop my home page or you can click the link here!https://houseofmar.com/shop-my-house/
I appreciate you stopping back by!
Have a great day!!!