Gluten Free Southern Winter Cake
I'm so excited to share this gluten free southern winter cake with you! It's the perfect winter dessert. Your family will just love it, and it's gluten free!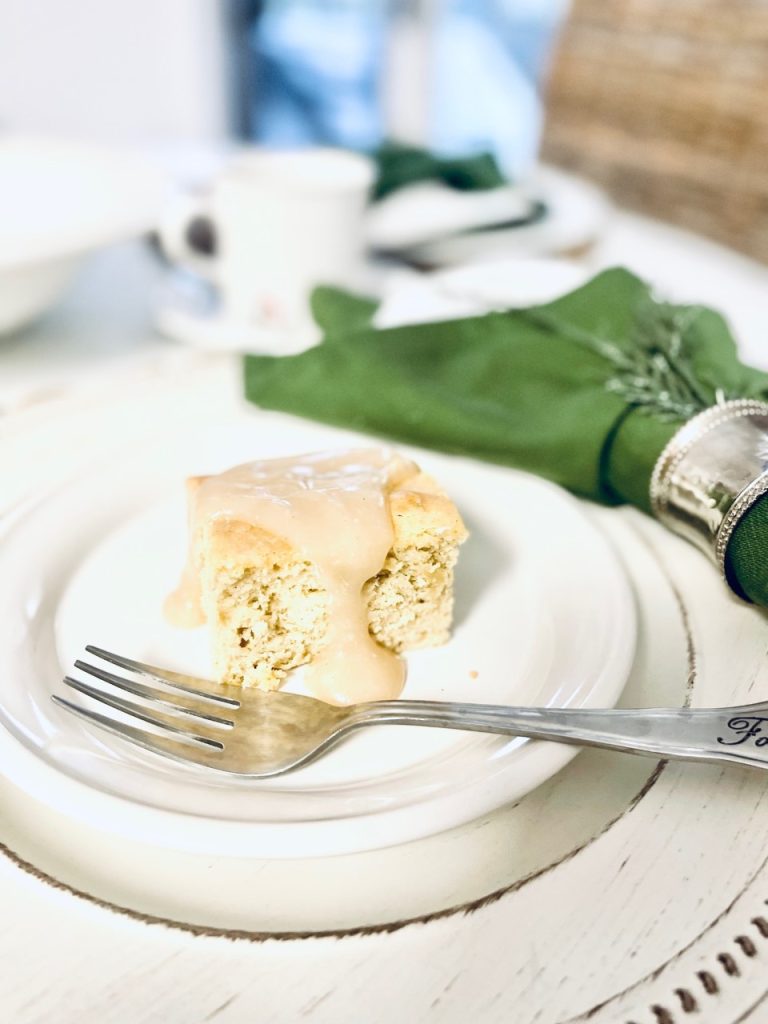 My mom would make this southern cake in the winter for our family. My brother, sister and I just love this dessert! This was a recipe from her mom, aka my grandmother who was born and raised in Kentucky… hence the southern cake. The cake is so easy to make and it's such a good dessert during the cold winter months!
My mom and grandmother used Jiffy cake mix and now I've turned it into a gluten free cake!!
Sometimes gluten free cakes can be very dense not this cake, it is so moist and yummy!
The frosting is what makes this cake so special! It's a thin sweet clear frosting that's drizzled over the top of the cake while it's still warm!
A Few Simple Ingredients
You'll need a few simple ingredients to make the cake. Krusteaz Gluten Free cinnamon swirl crumb cake mix. You'll follow the recipe on the Krusteaz cake box with omitting the sugar/cinnamon packet. Next you'll need a few items for the warm frosting such as egg whites, butter, vanilla, sugar and a little gluten free flour. If you like gluten free cake you might like this recipe too https://houseofmar.com/gluten-free-lemon-vanilla-cake/
What you will need to make this recipe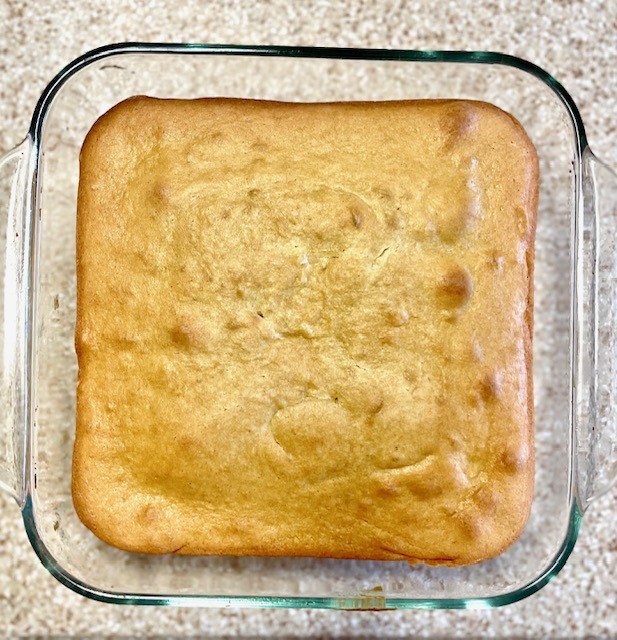 Cake
Krusteaz Gluten Free Cinnamon Swirl Crumb Cake Mix 1 box/ Omitting the cinnamon/sugar from the recipe. Follow the recipe on the back of the box.
Eggs- Large eggs
Vegetable Oil- Any brand will do
Water- Cold water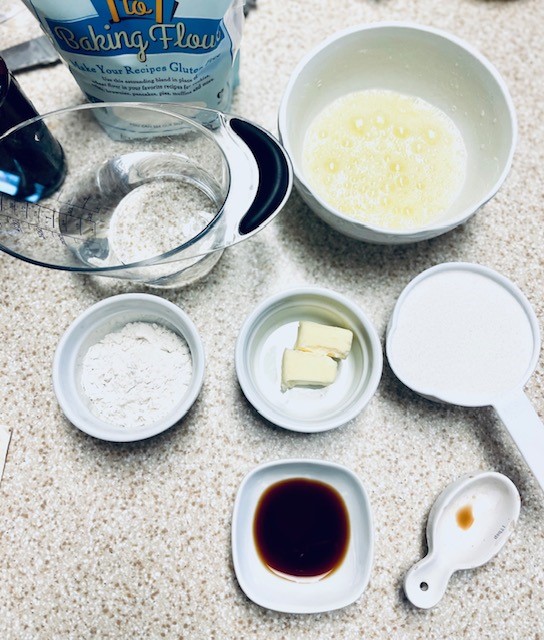 Frosting
Gluten Free Flour- I use King Arthur
Sugar- White granulated sugar
Egg Whites
Butter
Vanilla
Water-Cold water
How To Make Gluten Free Southern Winter Cake
In a large bowl add all the ingredients for the cake using the recipe on the back of the Krusteaz box omitting the cinnamon sugar packett.
Stir all of the ingredients together, eggs, vegetable oil, and water until well blended. Batter will be slightly lumpy.
Next spoon batter into a 8×8 greased metal or glass baking pan.
Bake at 350 for 40-43 minutes.
How To Make The Frosting For The Cake
In a medium pan on the stove at low to medium heat, add water, gluten free flour, whisk together, add in butter, and vanilla continue whisking as it will thicken slightly.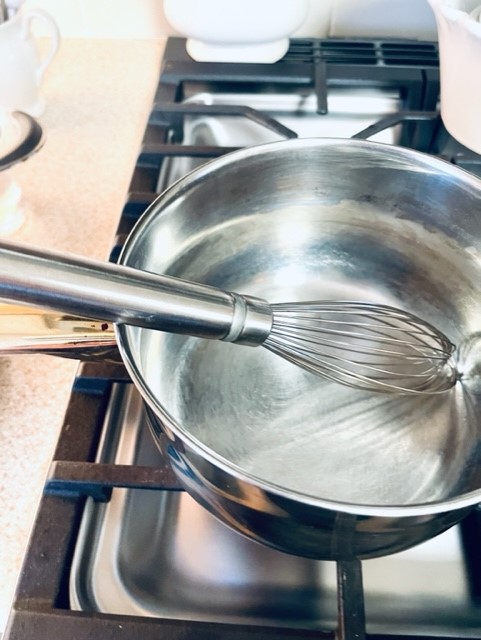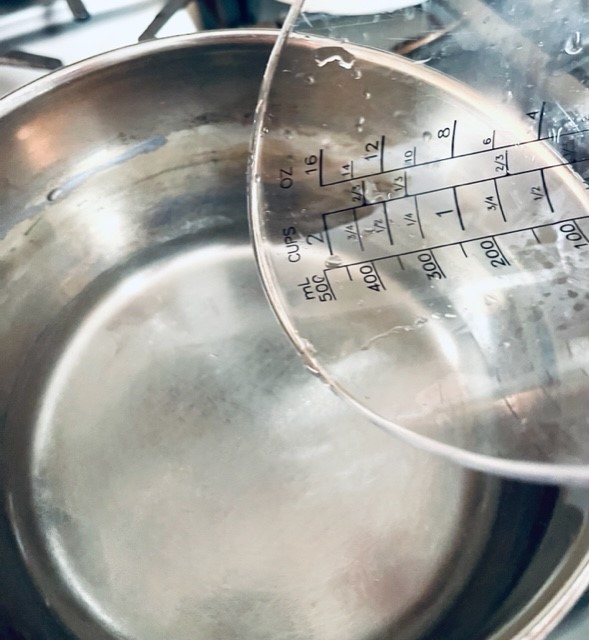 Next add in sugar and egg whites, one at a time, continuing to stir the mixture with a whisk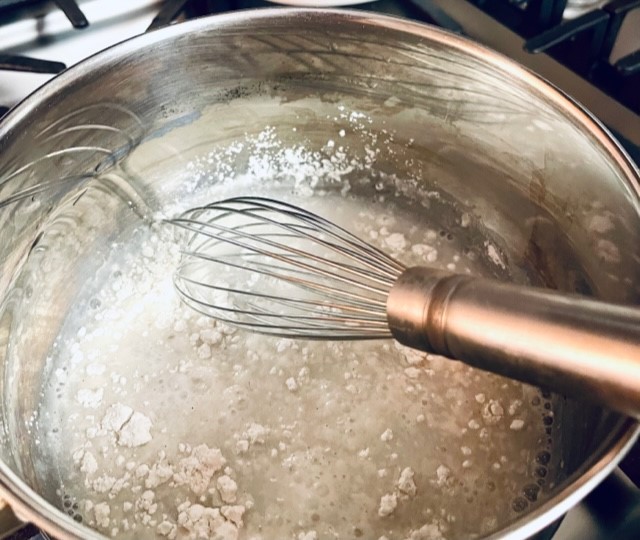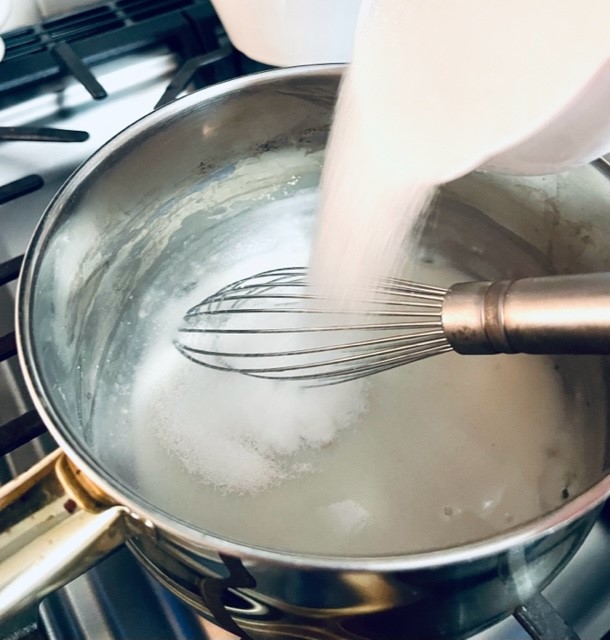 Cooking on low heat and continuing to whisk until a light thicken consisting then remove from the heat.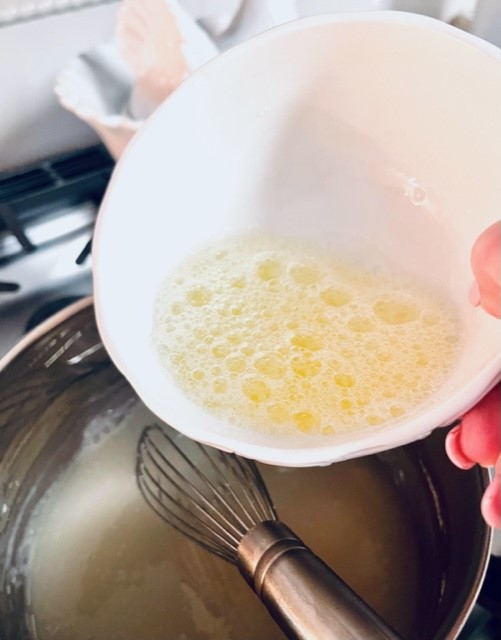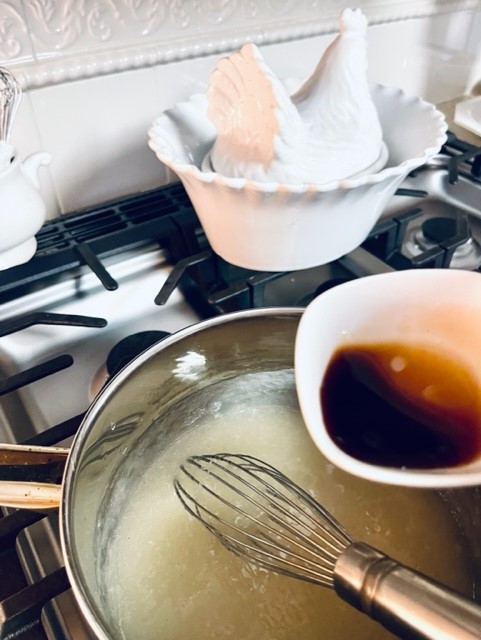 Let the frosting mixture cool for 10 minutes before serving over the cake. I use a spoon to pour over the top of the cake.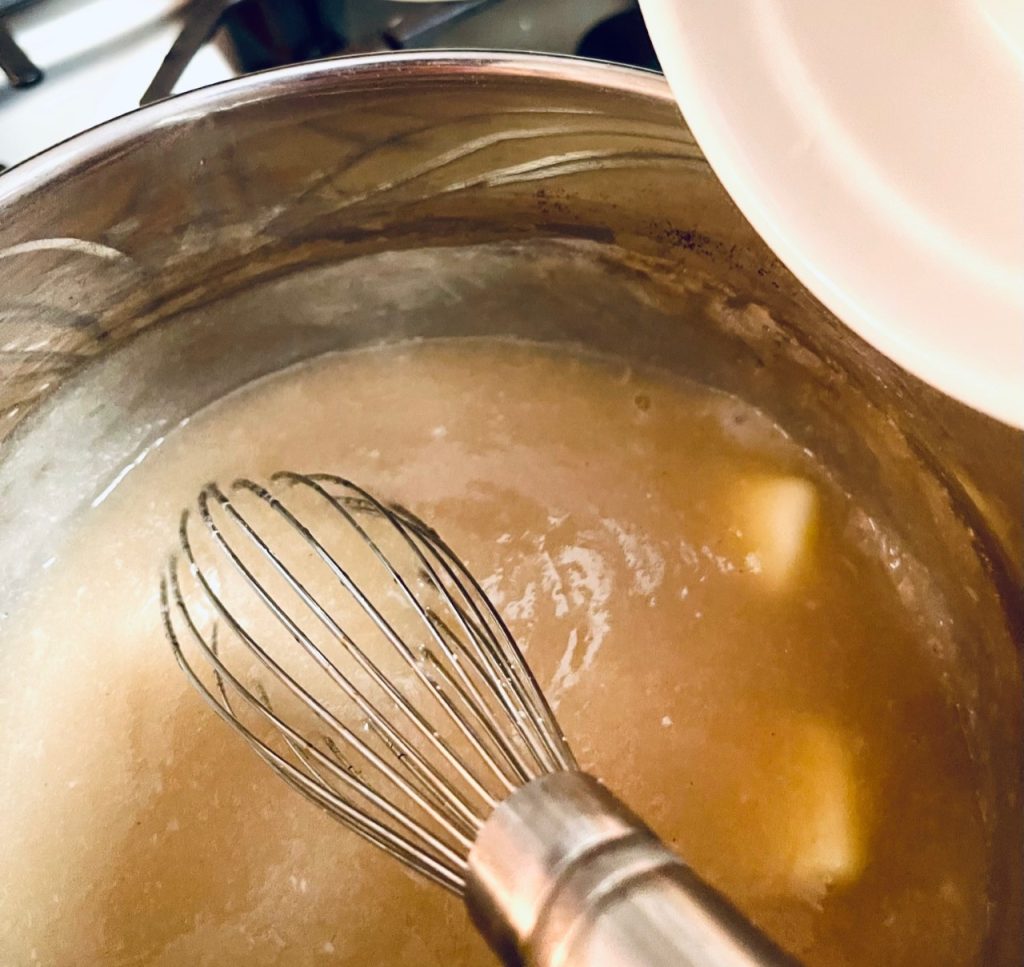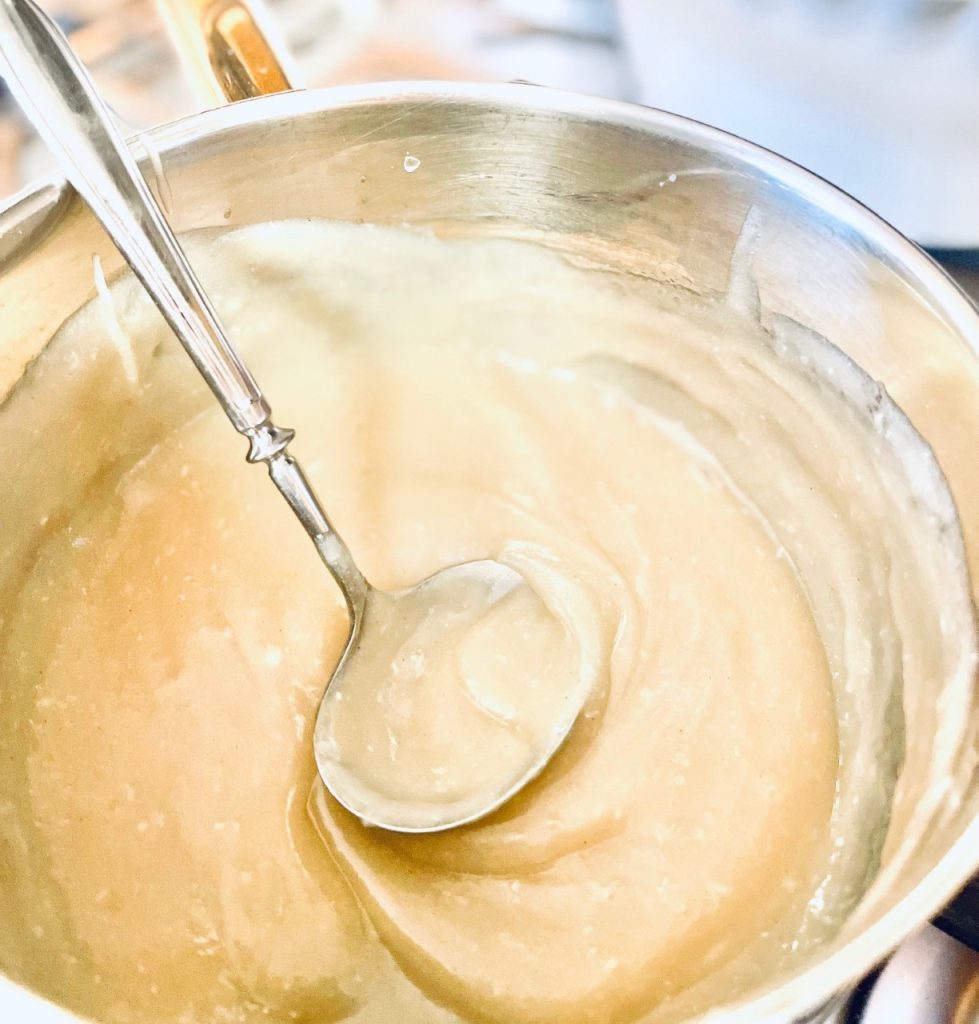 A few tips to make this Gluten Free Southern Winter Cake
Careful not to over stir the cake mix. Over stirring creates a tough cake.
The egg's and butter should be at room temperature. If you forget to take the eggs out of the refrigerator you can place the eggs in a bowl of warm water for 5 minutes. Place a towel over top of the bowl to help the eggs warm to room temperature.
To soften butter quicker cut butter into small cubes and let sit for 15 minutes.
The microwave method, place the temperature on defrost. Check butter at 15 seconds intervals keep checking the softness of the butter. Once the butter is soften not melted remove from the microwave.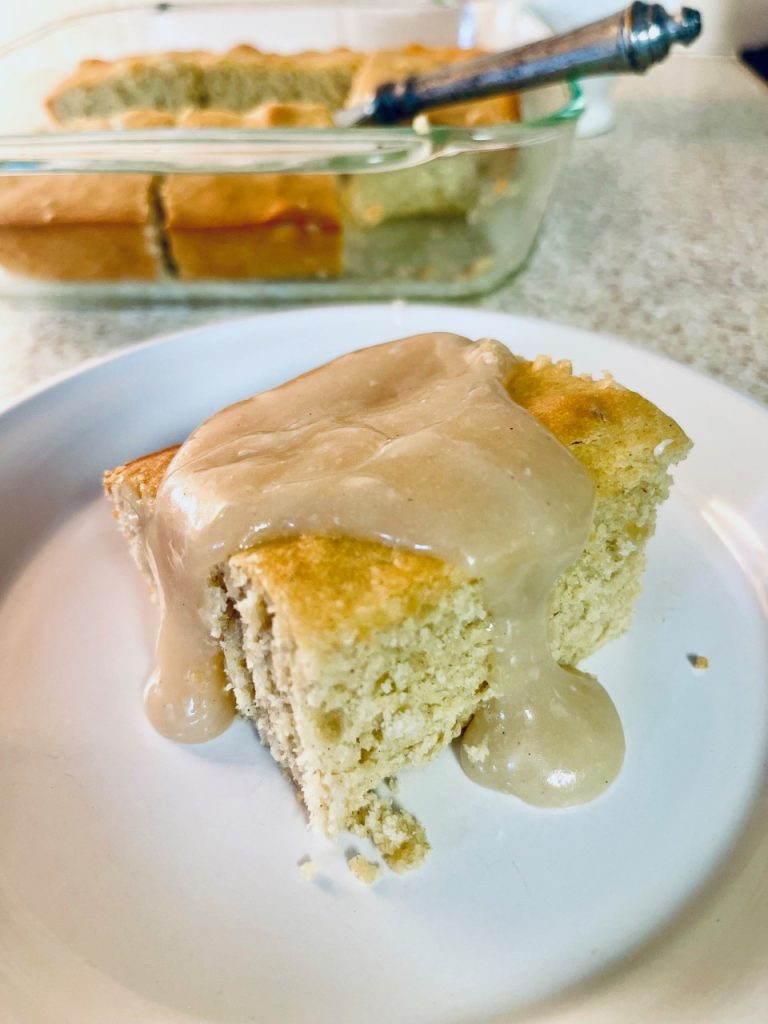 Leftovers of the cake
The cake keeps very well for left overs placed in the refrigerator for several days. Just place in a sealed container of a freezer bag sealed tightly.
Leftover frosting stays as well, just keep in a container with an air tight lid.
The frosting just needs to be re-heated on the stove in a pan on low heat or placed in a microwave for 40 seconds should do it!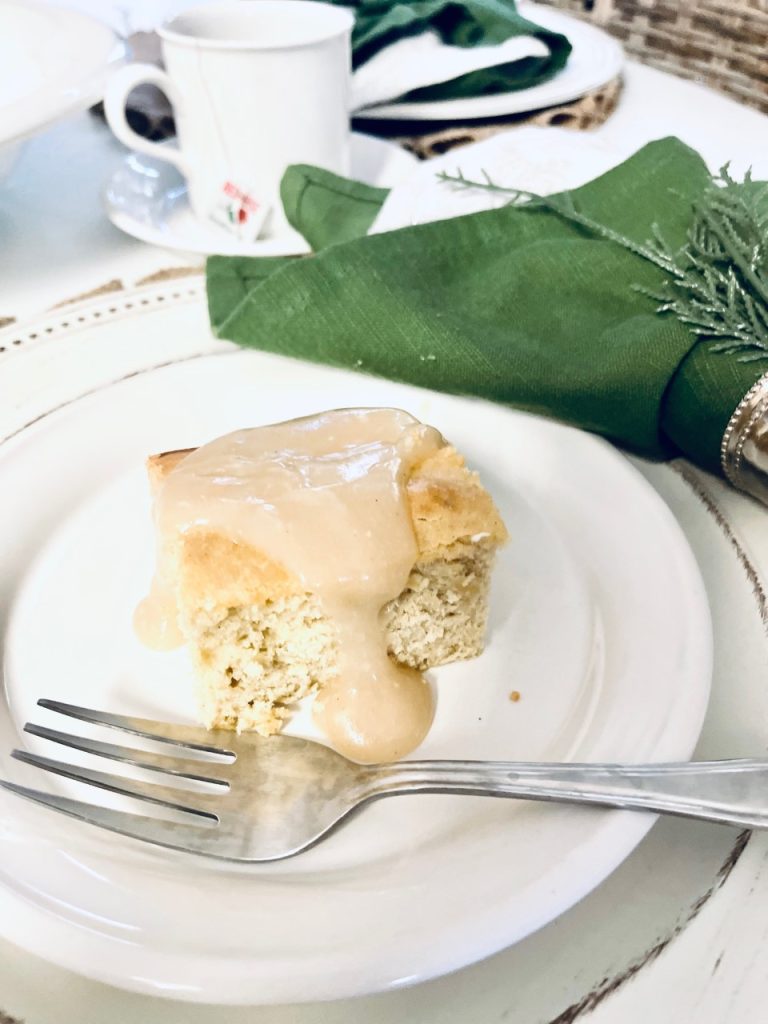 I hope you and your family enjoy this winter treat as much as my family and I do!
Recipe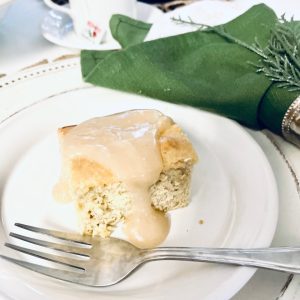 Gluten Free Southern Winter Cake
Equipment
1 Large bowl

1 Wooden Spoon

1 Measuring cups

1 Measuring spoons

1 8 x 8 baking pan

glass or metal work fine

1 Medium size cooking pot

1 Metal Whisk
Ingredients
1

Gluten Free Box Cake Krusteaz

I used the cinnamon swirl mix and omitted the cinnamon and sugar packet, follow the directions on the back of the box of

1/4

Cup

Water

1/3

Cup

Vegetable Oil

4

Large Eggs
Frosting
3

Tbsp

Gluten Free Flour

I used King Arthur

3/4

Cup

Cold Water

1

Cup

Sugar

3

Egg Whites

2

Tbsp

Butter

1

Tbsp

Vanilla

Pure is better but any Liquid Vanilla will work
Instructions
Spray an 8 x 8 baking pan with cooking spray

Follow the boxed Krusteaz gluten free cake directions on the back of the box, stir all ingredients together, (batter will be slightly lumpy)

Spoon the gluten free cake mixture into the cake pan and bake at 350 for 40-43 minutes or until a cake tester or tooth pick comes out clean
Frosting
In a cooking pot over medium to low heat pour in the water and whisk in the gluten free flour, continue to whisk mixture

Add in the sugar whisking into the mixture, add egg whites and continue to whisk, next add butter and vanilla continuing to whisk all ingredients together.

Frosting will slightly thicken, when small bubbles form around the sides remove from the heat and whisk a few more times, set aside to let cool.

Let the frosting cool for a good 10 to 15 minutes before spooning over the gluten free cake.

Enjoy!
Notes
Tips
Don't over stir the cake mixture this creates a tough cake.
Do spray the baking pan with cooking spray.
Use cold water for the frosting mixture 
When making the cake frosting make sure to continue to whisk and cook the mixture on a medium to low heat. You don't want to burn the frosting mixture.
When done let frosting set for 10 to 15 minutes so it's not to hot when you spoon over the cake.
Items I used to make the gluten free southern winter cake