Memorial Day is fast approaching!,
Can you believe it's almost here!
That means Summer is almost here too! So exciting!!!
Today I'm sharing some ideas of how I'm decorating my home for the Memorial holiday!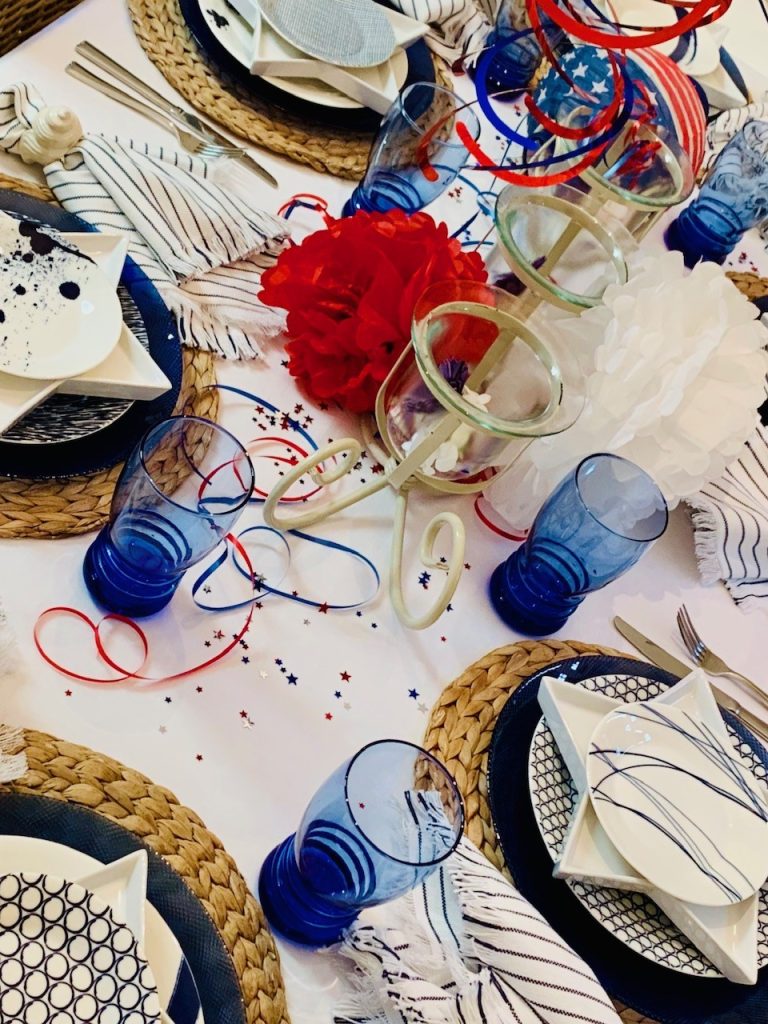 For me Memorial Weekend is the start of summer! I'm so excited for warm sunny days'! As well as days going to the beach, pool parties, and reading a good book! I'm especially excited for barbecue, picnic's, drinking fresh squeezed lemon aid, and pie too!!!
I really enjoying decorating for any holiday and that includes our patriot celebrations?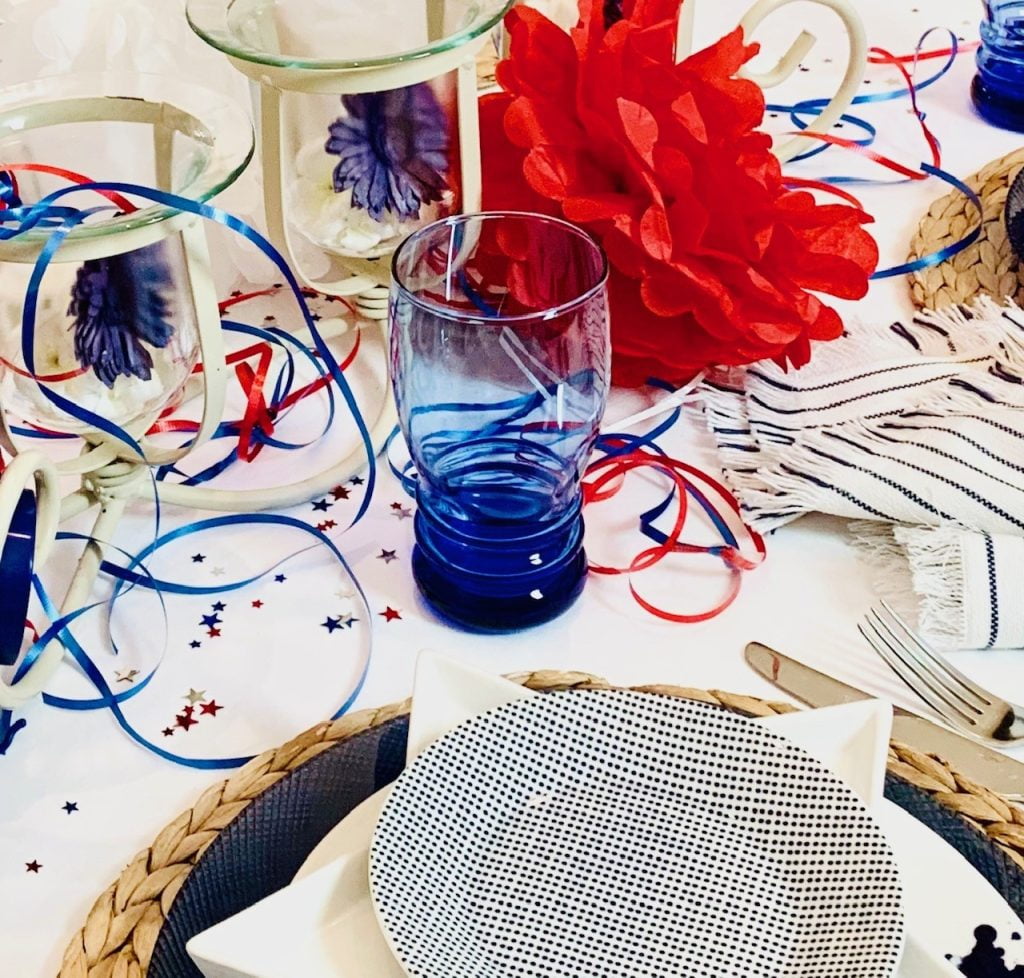 Most of the decorations for this tablescape I found on amazon. https://amzn.to/3MfHuzH
So let's get started!!!!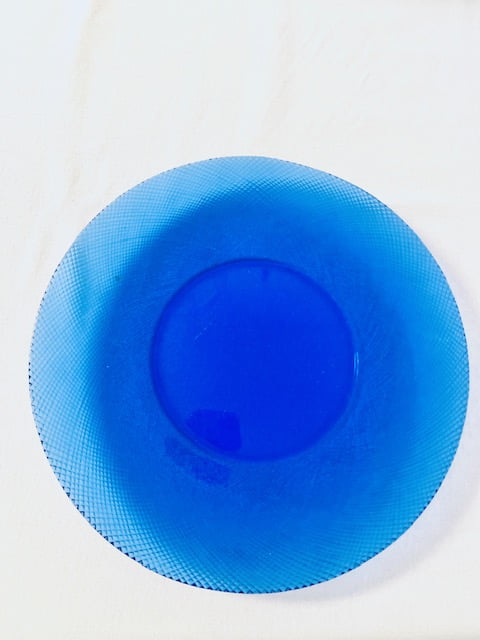 First I started with a blue charger plate.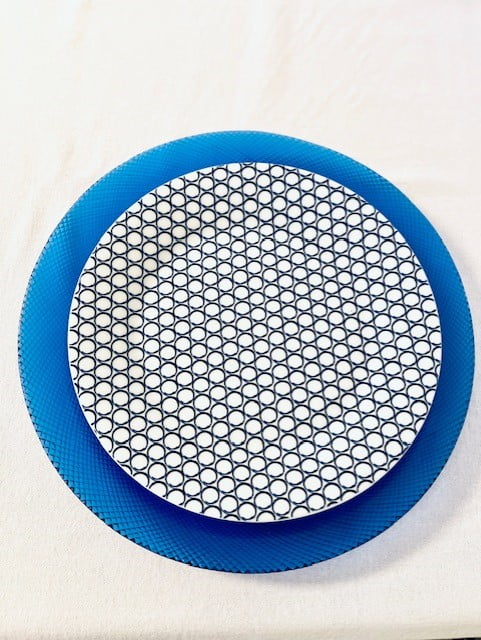 Next I add a dinner plate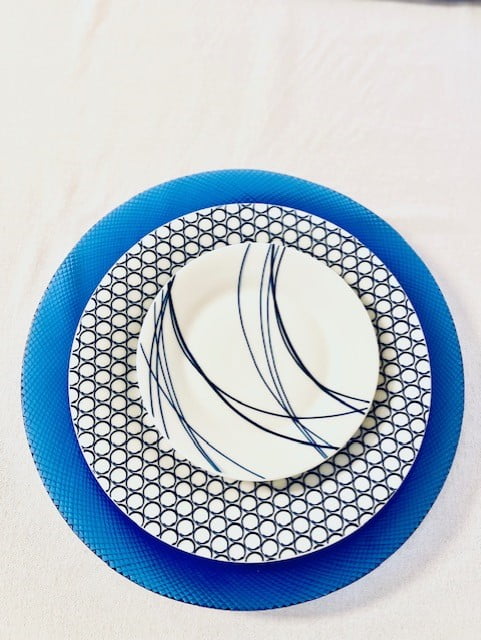 I then add a salad plate.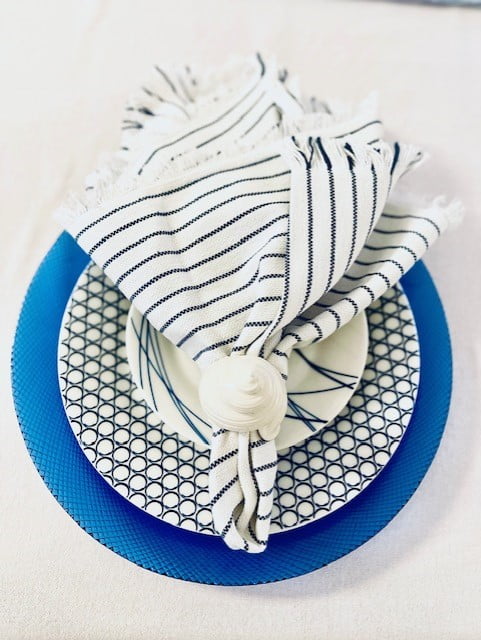 Then there's the linen napkin with a porcelain shell napkin holder, you could also use a blue or red ribbon or even a piece of fabric.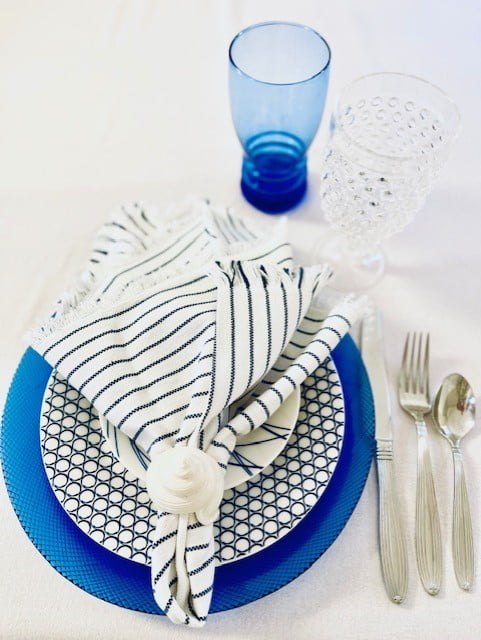 I've added a glass, stemware and silverware.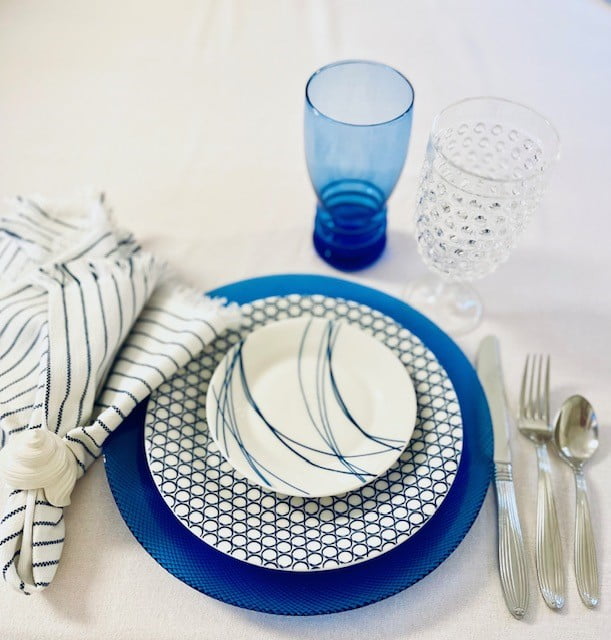 I moved the napkin to the side to see if I like it better.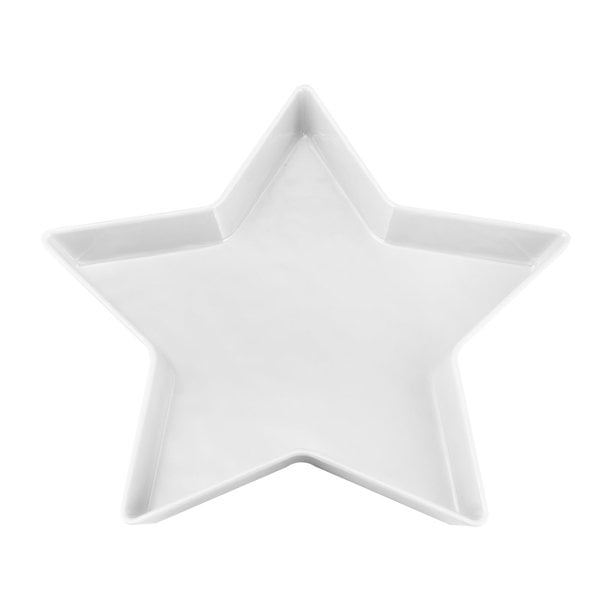 I decided to add a littl star plate to tie in the theme of stars and stripes! I've also added wicker placemats underneath each setting.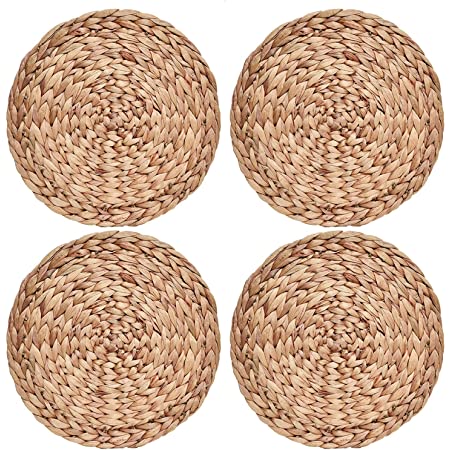 The wicker placemats add a touch of summer and placemats also help to keep the table cloth clean!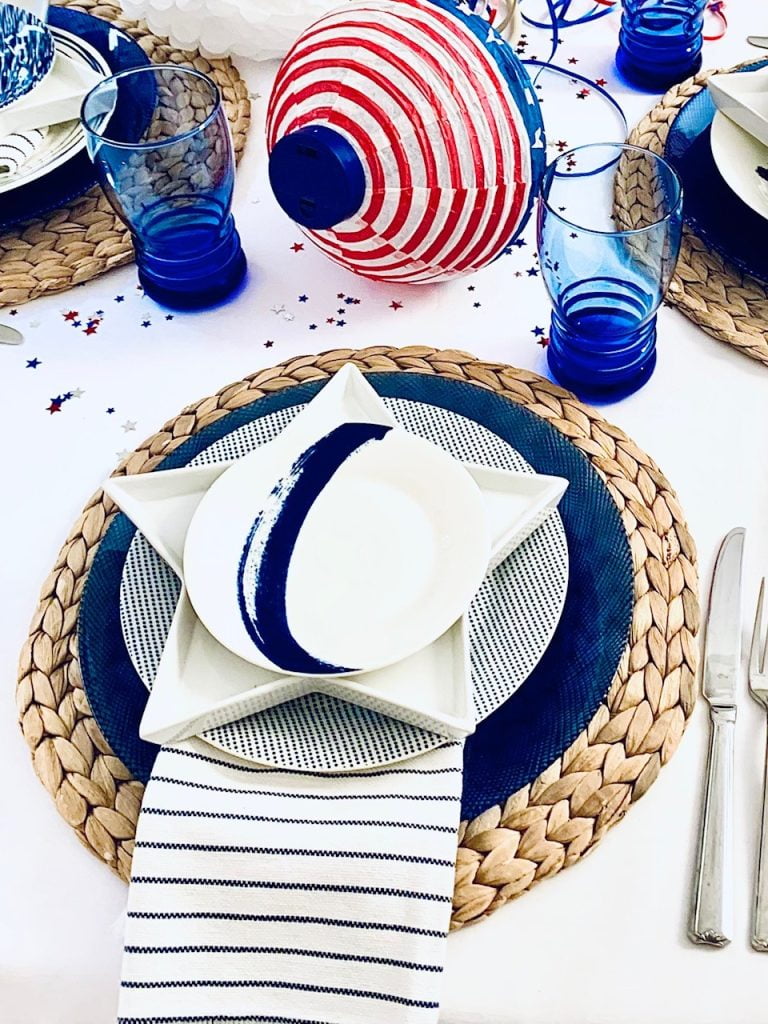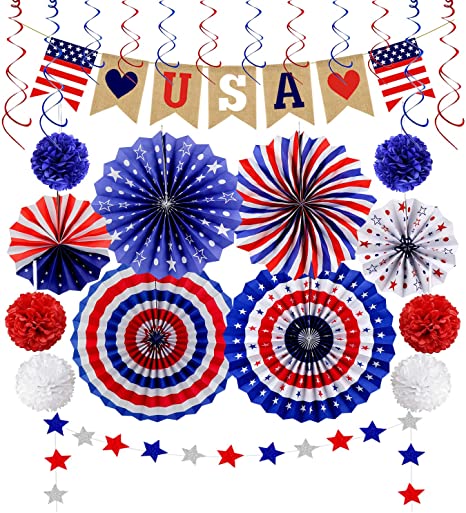 I used all of these decorations to add a festive feel to my table scape, foyer, fireplace, also adding touches all around my home! The set of patriot decor came from Amazon. It's a pretty box and there are so many items to use for decorating!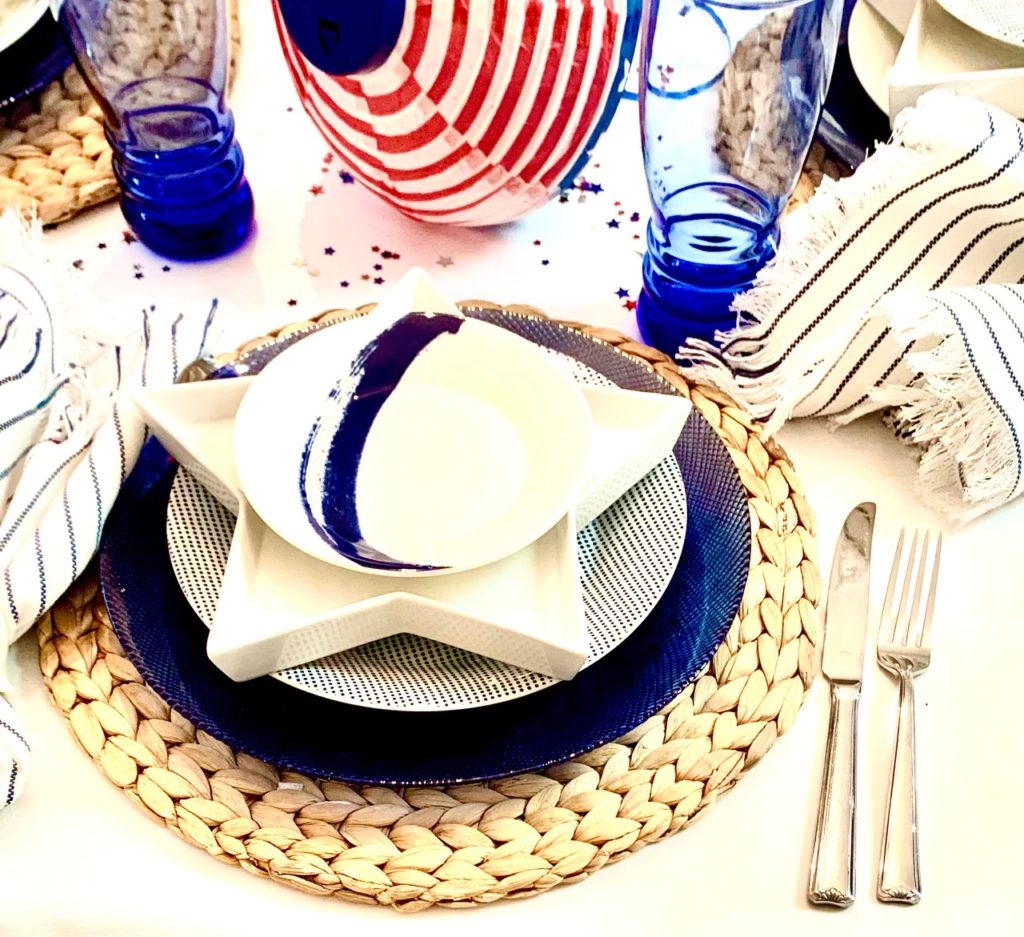 These cute dishes are from Amazon too! All of the plates have a different pattern! This is one of my favorite set's. The set includes plates, salad plates, bowls, and coffee mugs! You can find these dishes linked in my shop my house and linked here https://houseofmar.com/shop-my-house/
Oh and the star plates don't they make such a cute touch to the table scape! If your interested you can find these at this link at the bottom.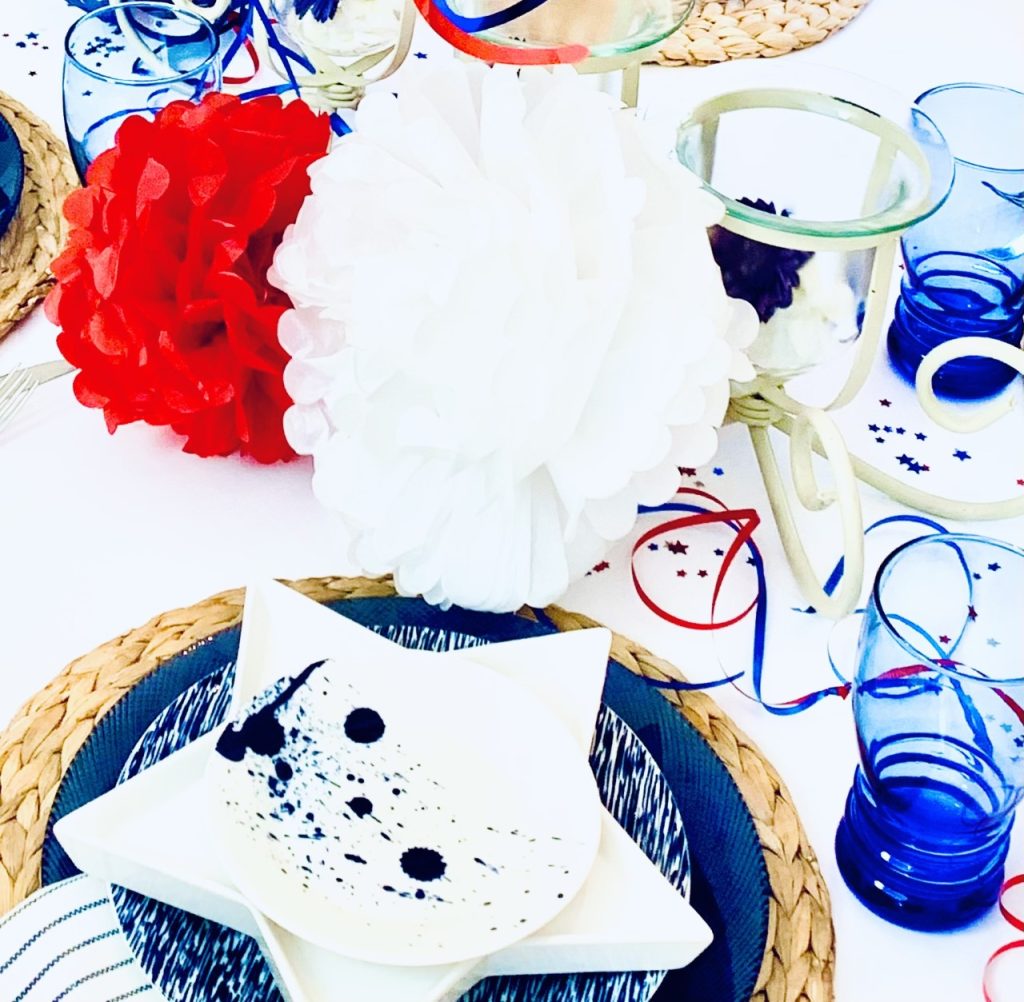 Oh an the glass blue chargers, I actually found these on the facebook marketplace! One of my favorite places to thrift shop! I found these very similar chargers online at Walmart.
I'm glad I decided to use the bamboo placemats I think it adds a little summer to the table. These are linked in my shop my home page as well. Just in case you're interested, https://houseofmar.com/shop-my-house/
These blue glasses I found those on Amazon as well. The blue and white stripe cloth napkins I found on line at Kirklands. I have all items linked at the bottom of the post just in case you are interested.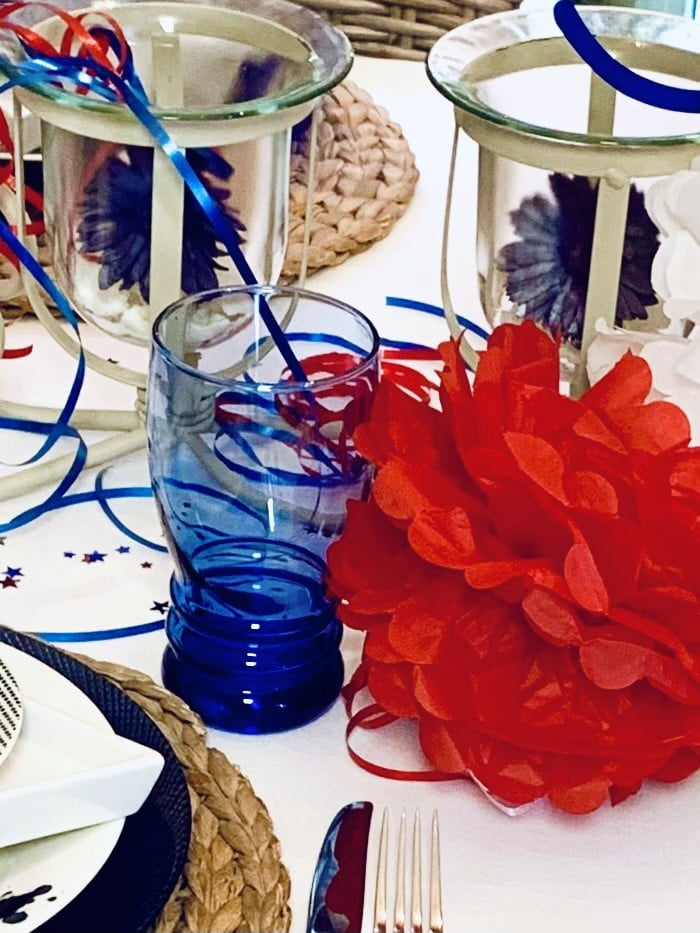 As you can see I really like to mix different dish patterns, it makes for a more interesting tablescape, don't you think!
Using a white linen table cloth helps to show off the colors of the dishes and all the decor!
Adding a little red, white, and blue confetti around the table gave it some bling!
Also these little red, white and blue lantern's on the table are battery operated lights! It gives the table setting such a nice glow. You can find these on Amazon and the dollar store carries them as well!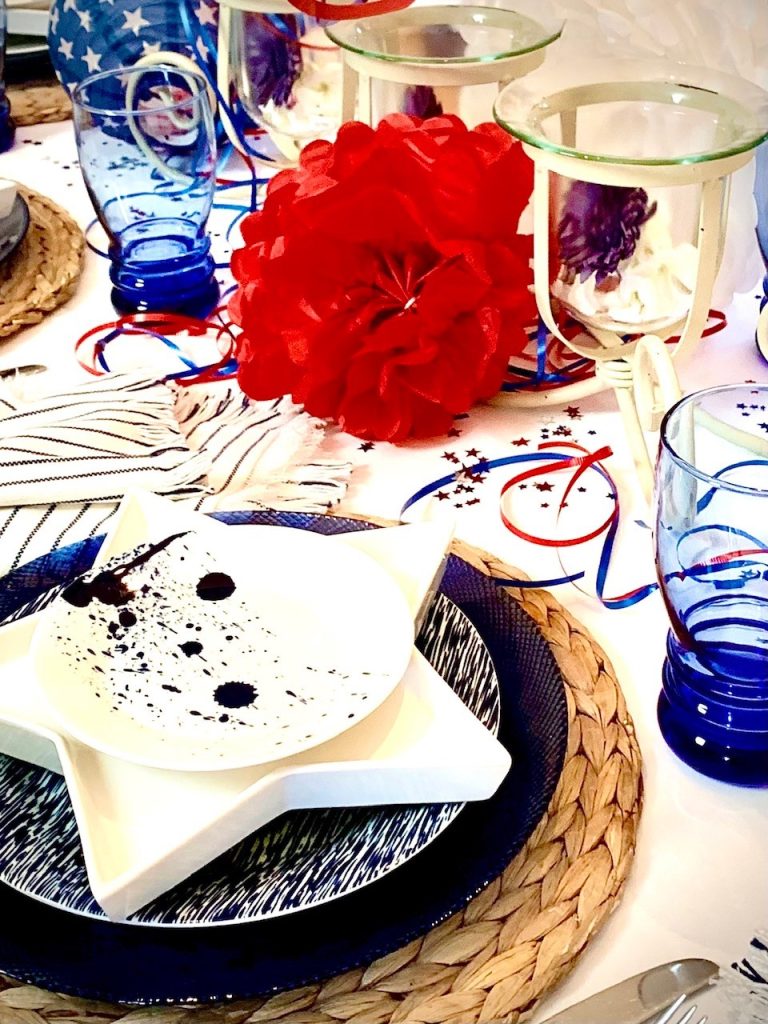 The little pom, pom's I placed in the center of the table to fill in the space. I added streamers and pom's to the chandler over the table.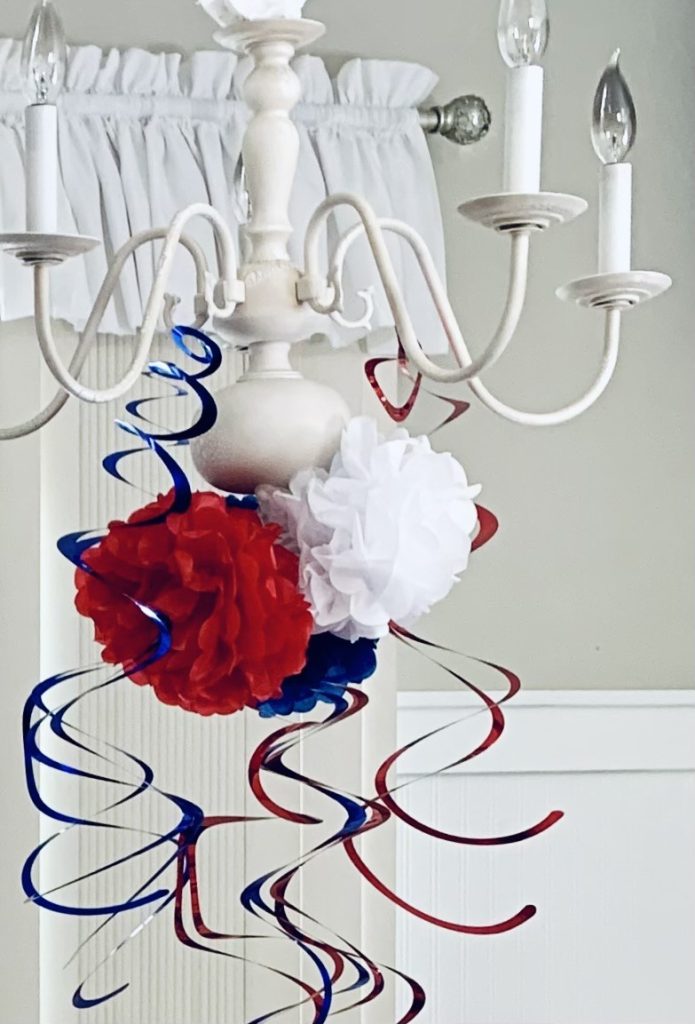 The Foyer
My foyer is also an area I like to decorate for all the holidays!
Look at how cute it turned out!
When I have a party I want my guest to feel the vibe as soon as they walk into our home!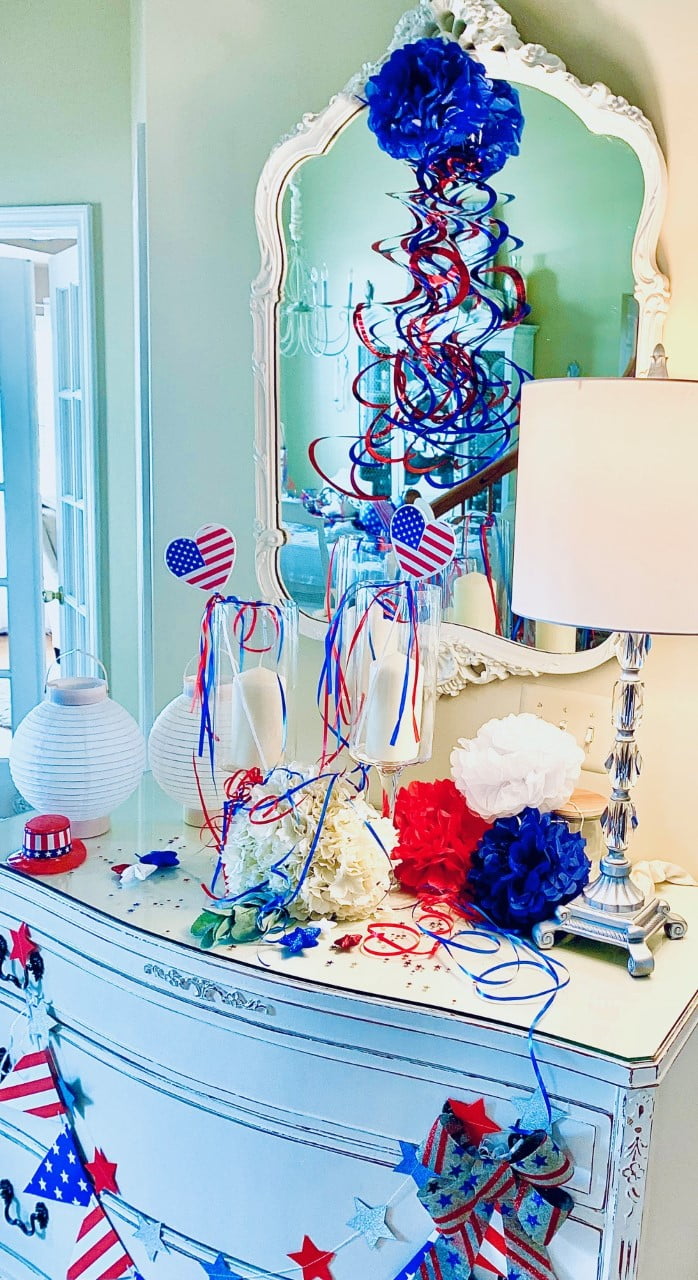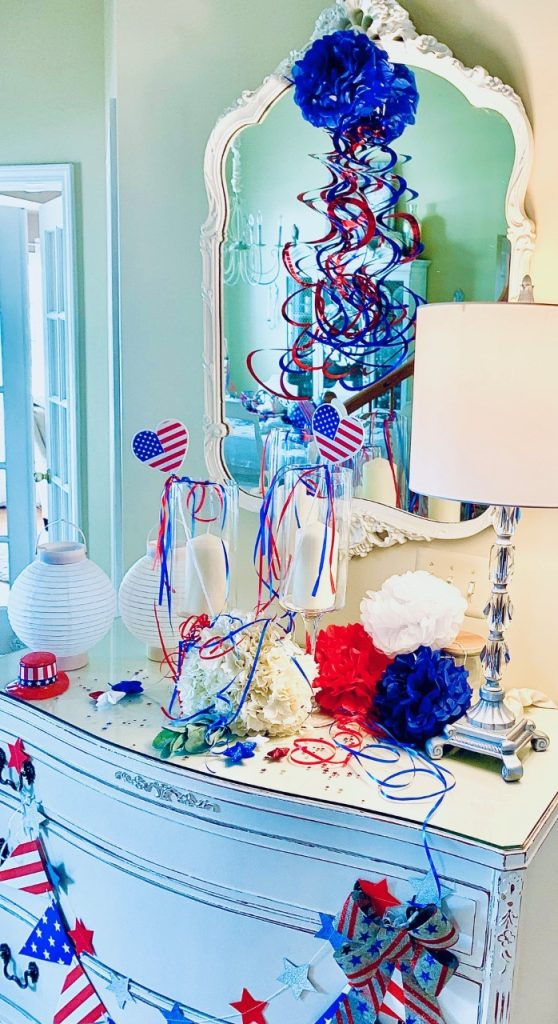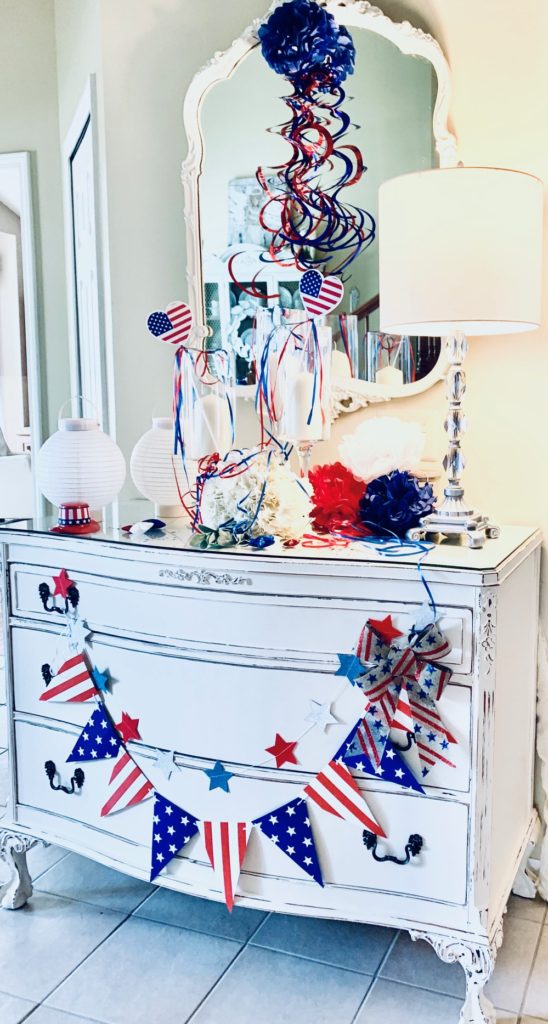 Adding a few items like the swags, ribbon, pom's, and lanterns to my credenza gave it that festive look!
It was also so much fun putting the tablescape together too !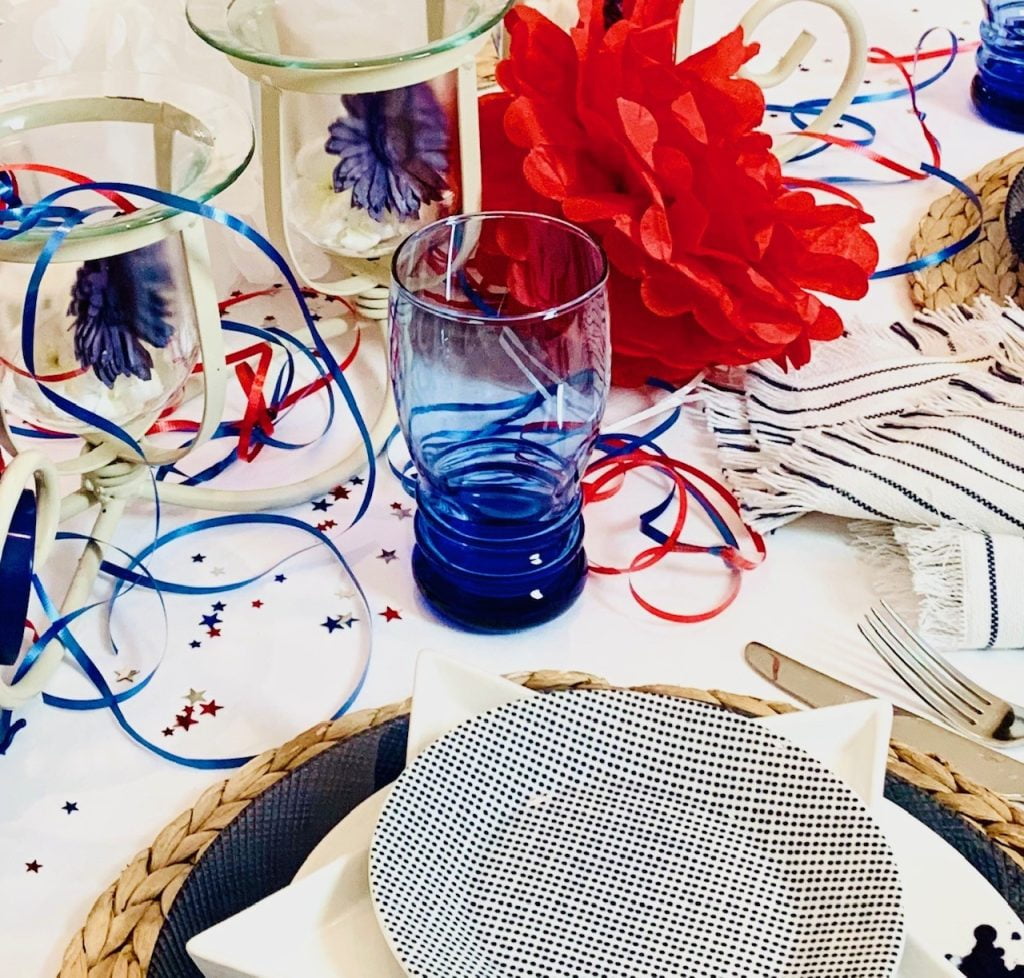 Do you see all of the sprinkles of confetti around the table? A little goes a long way!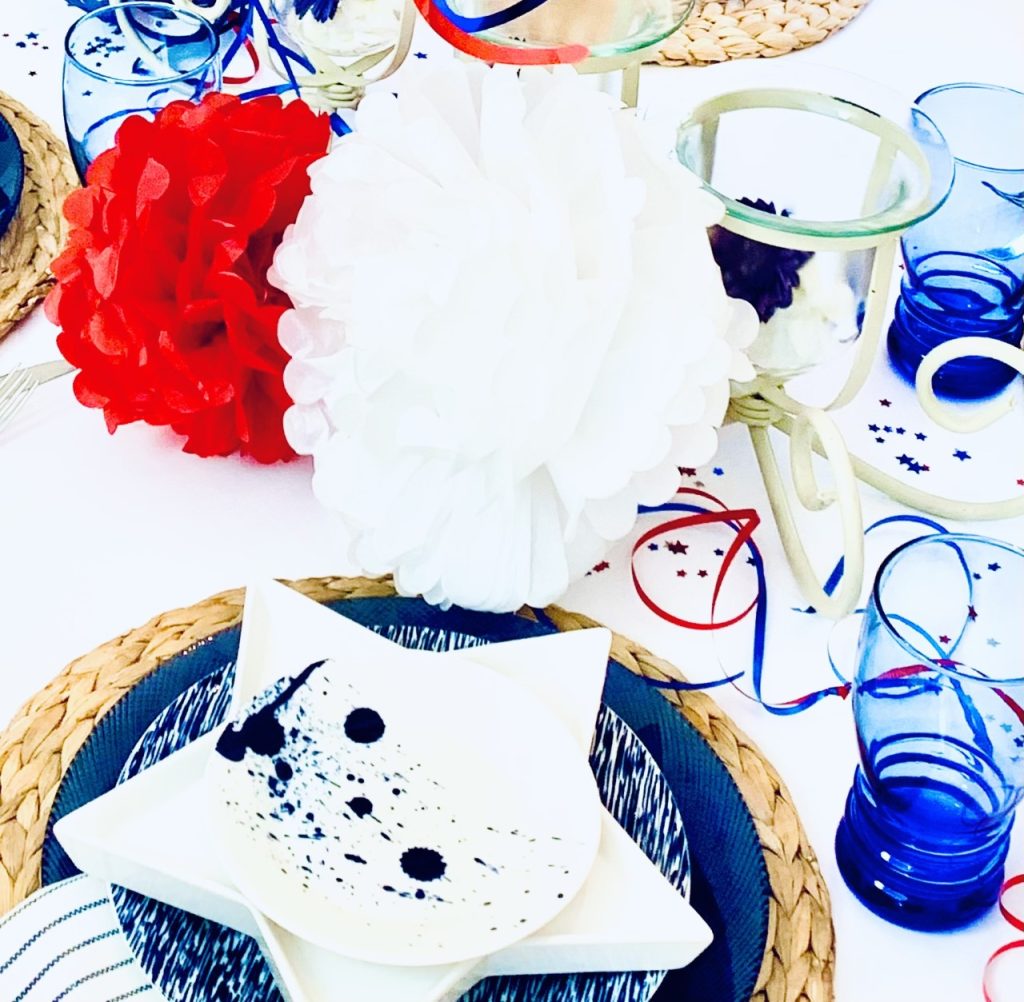 I think choosing the white linen tablecloth was a good choice, it's a nice contrast to the red, white and blue colors.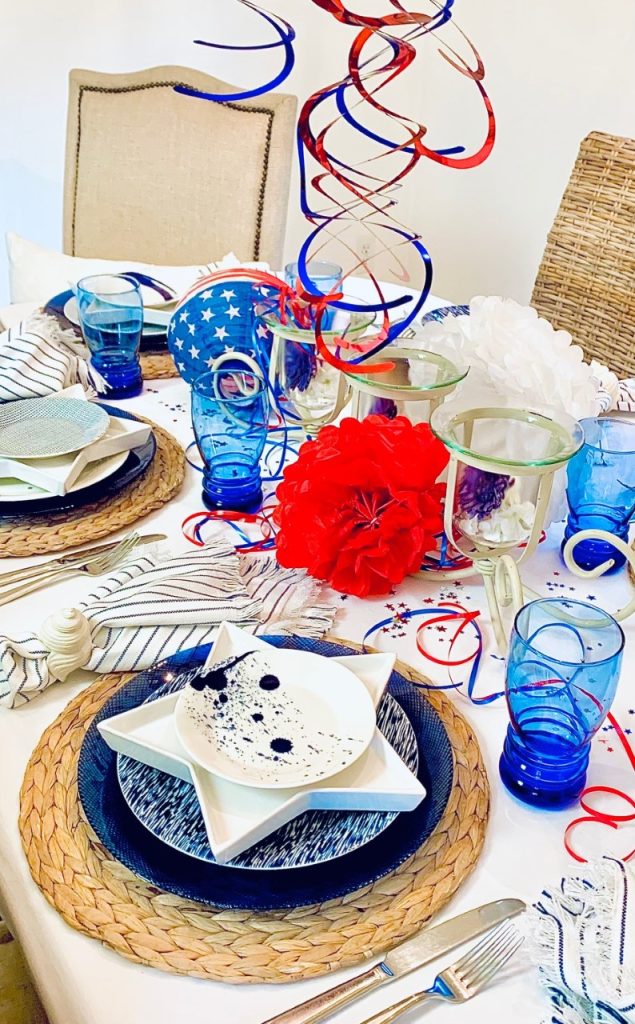 Finally my tablescape is all set and ready for our guest!!!
For the rest of the house
I added a little decor to the fireplace by adding several patriot fan's. First I taped each fan together and then stuck them onto the mirror. There are pom pom's on the mantel as well and two swags draped across the fireplace.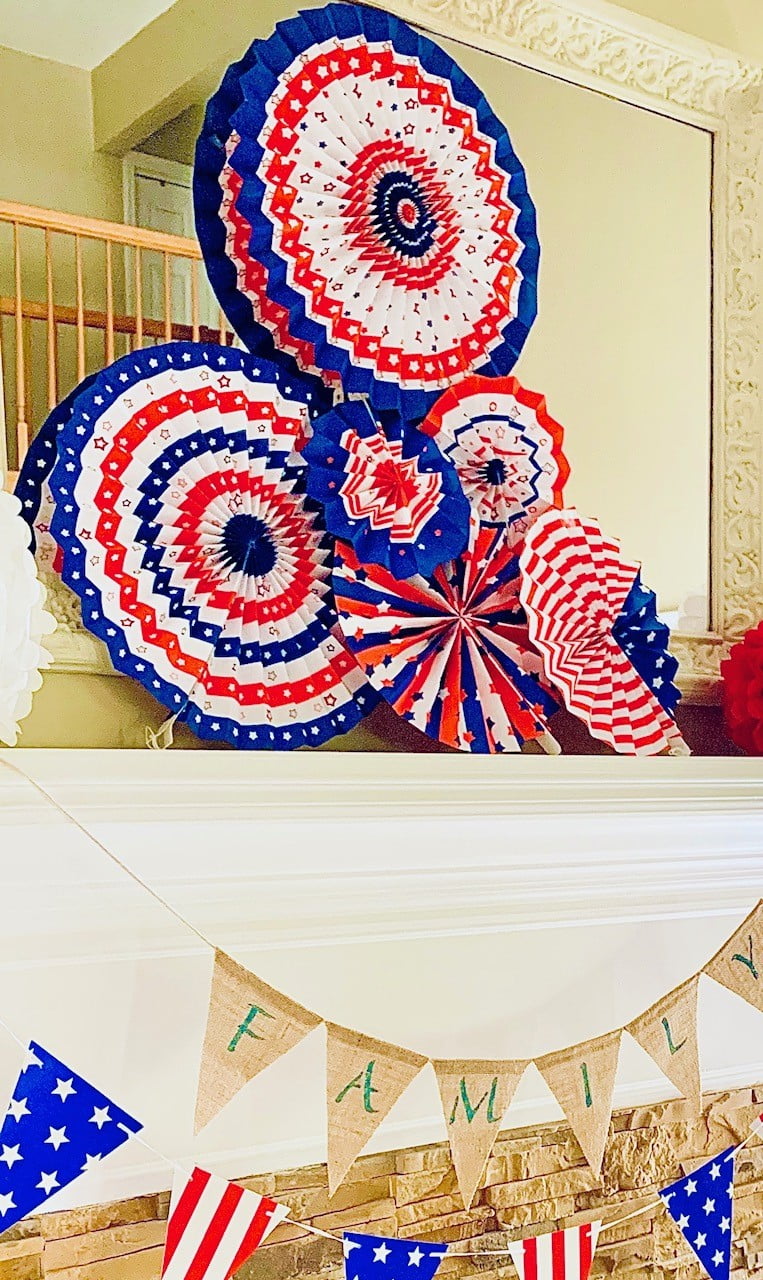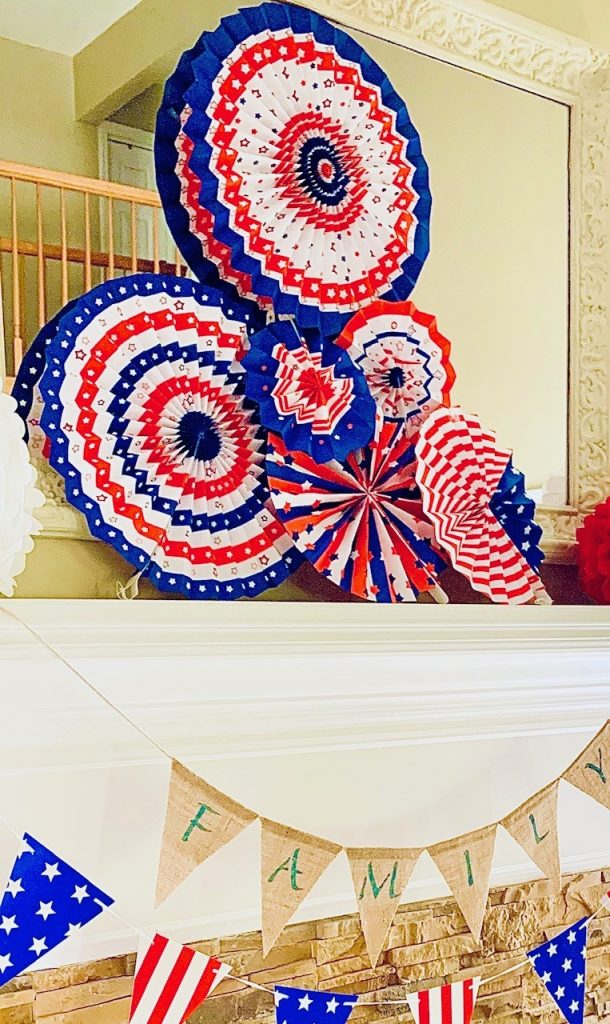 Taking the decorations throughout the house just adds to the celebration! I also added a few more swags around the house.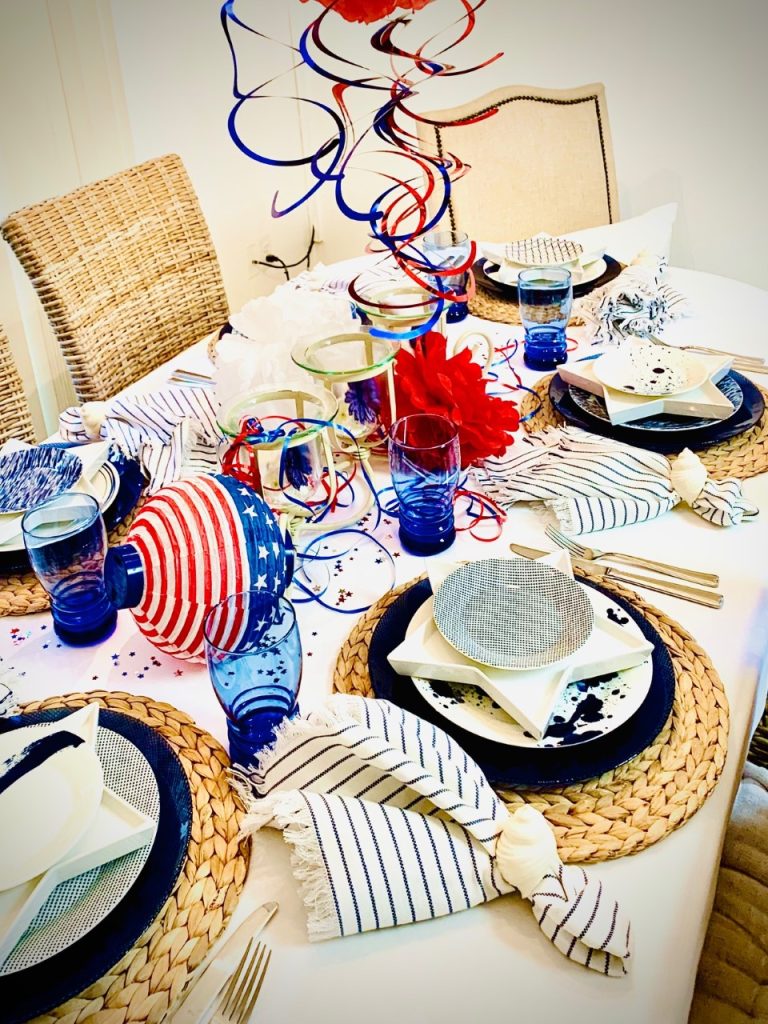 How ever you plan to enjoy Memorial Day I'm wishing you much fun and blessings!!!!
Happy Memorial Day!!!!
I've linked all items below just in case you're interested. Recently I've been receiving emails asking me where I've gotten some of the items I include in my post. Many times these items are also linked in my shop my home page at the top of my blog.
If you missed my post on how to decorate a table for Memorial Day you can catch it here https://houseofmar.com/how-to-decorate-a-table-for-memorial-day/
I would love to have you sign up for my emails and stop back by for my The Saturday Scoop!
disclosure: affiliate links are used in this post. Thank you so much for your support, Any purchase that you make will generate a small commission to me at no additional cost to you.