Happy Spring!
Thank you for joining me as I share my Easter Table Scape along with 11 other talented bloggers!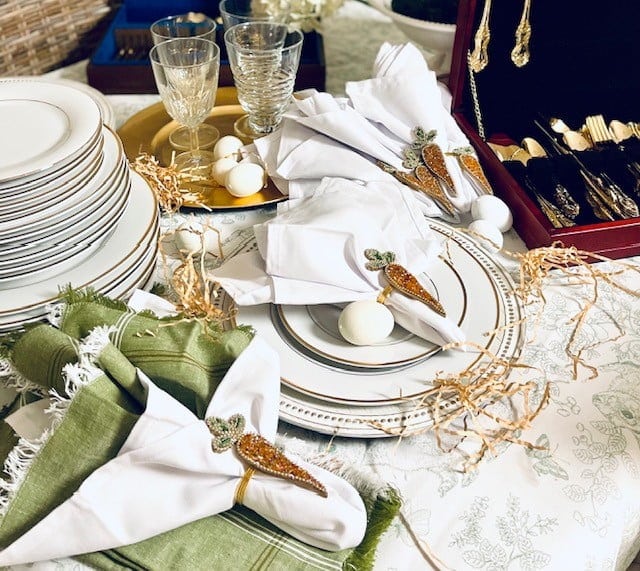 I am so excited you are here !
If you're coming from An Organized Season, talk about talent! Donna has such a beautiful blog and her husband Rich keeps it running smoothly! You can click this link and see their beautiful blog https://anorganizedseason.com/about-us/ and when your done stop by Make Every day an Event!
Annemarie and Matt are so creative and truly make every day an event! You can check out there blog here https://makeeverydayanevent.com/about/ and don't forget to check out all our bloggers Easter table scapes! It's all at the bottom of blog post!
Cindy from Cloches and Lavender is our host today and what a big thank you we own to her! She did all the hard work to make the blog hop happen! You can check out Cindys blog Cloches and Lavender here https://clochesandlavender.com/
Do you just love spring! The beautiful season of renewal. Where all things can spread and grow!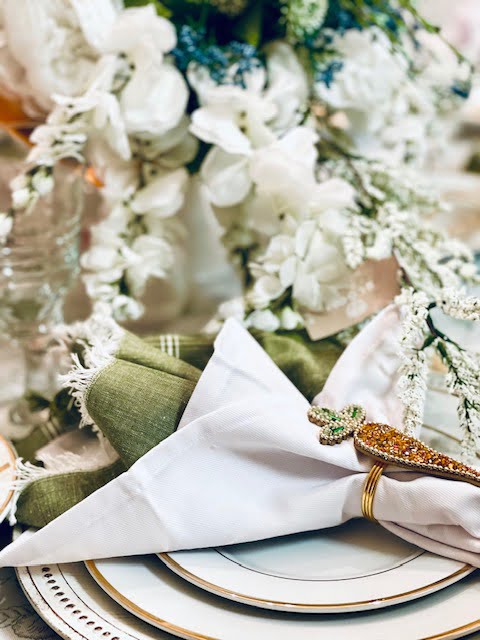 Spring is not simply the changing of a season but a celebration of the way Jesus changed the world. He offers us new and eternal life.
Celebrating Easter is the true meaning of unconditional love! Celebrating Easter is about rejoicing in the risen Christ.
My faith is so important to me, it's the way I live my life. God first, family second, and career third. It's how I live daily.
Easter is my favorite holiday if one could call it a holiday. It's a day to celebrate Jesus! During this season my family practice's lent, we share in the celebration of Holy Thursday and Good Friday.
It's a season of renewal for all!
Sharing a meal with my family on such a special day as Easter Sunday is a blessing and exciting to me!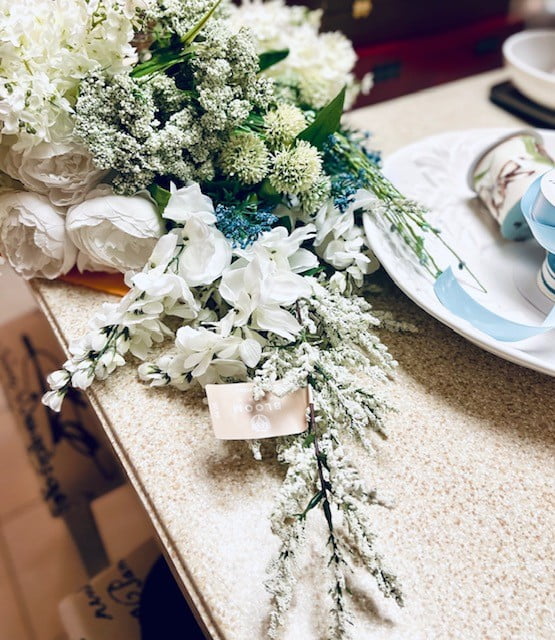 My table should represent this special day! I planned my whole table scape around these cute little carrot napkin rings my daughter found for me!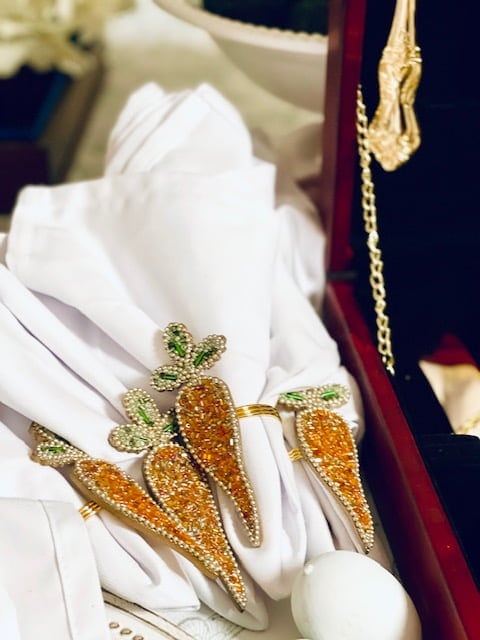 As you can see there's a little bling and they are so darling! There accented with gold and I have the perfect dishes to go with them!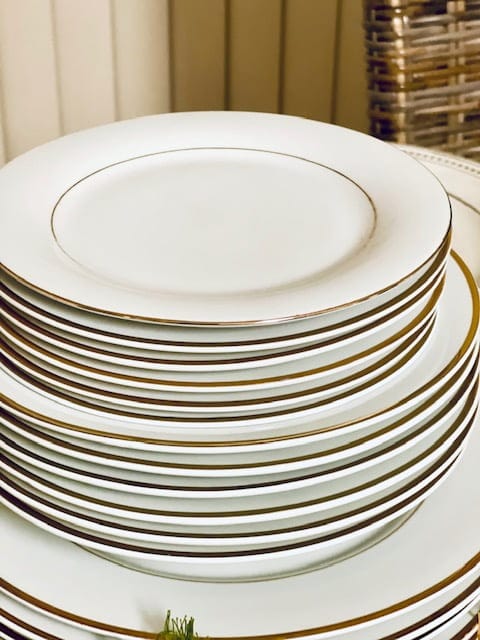 This year I'm serving a brunch for Easter! With a brunch you get the best of both! A little breakfast and a lunch combo! I think it's a win win!!! I'll share next week my menu for our Easter Brunch!
So let's get started on The Easter Table Scape!
I found the cutest bunny table cloth at Tuesday Mornings a few weeks ago! I thought it would look cute with the carrot napkin holders.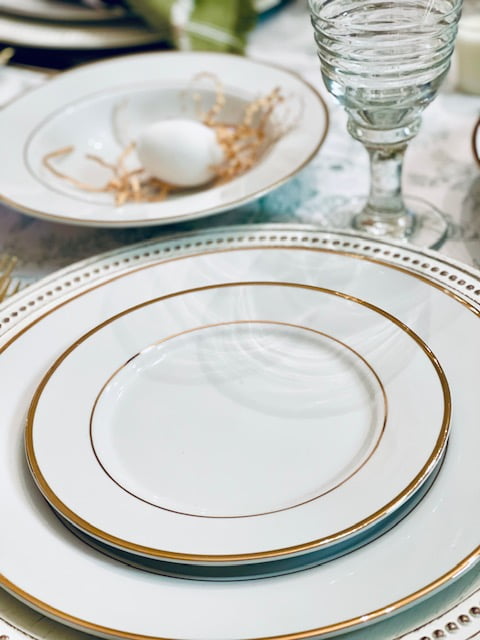 The green napkins I found at a little boutique and I had the white napkins.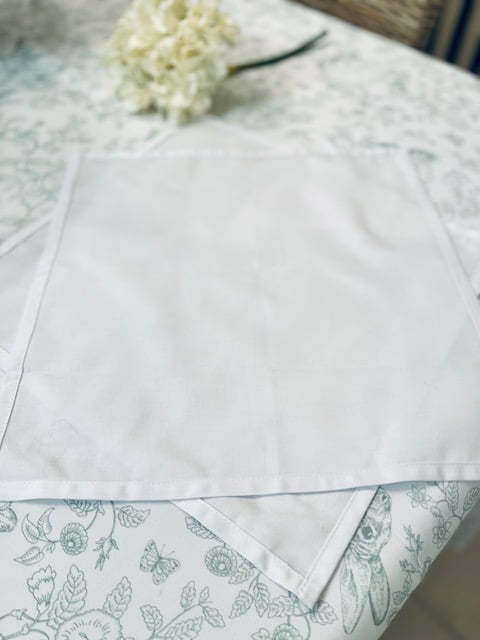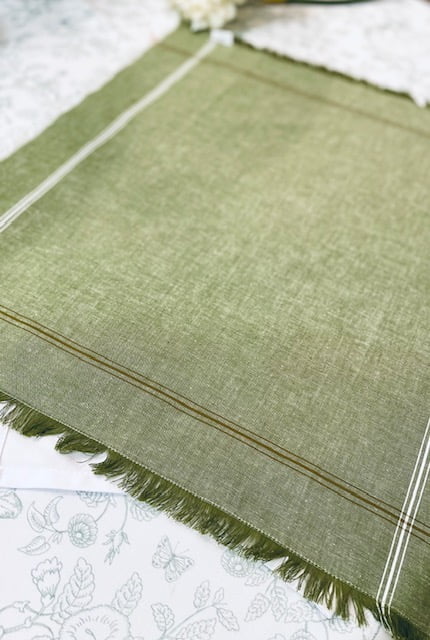 For this table scape I wanted a little elegance. After all we have bling!!!
I first started with ironing my tablecloth and napkins. I love to iron!
Gathering all the items I'll be using for my table scape a few days before Easter and setting the table saves me time. After I set the table I'll flip the glasses up side down and then cover the table with a long white table cloth to keep the dust off.
With this table scape I decided to use my off whitish plate chargers for balance and aesthetic's.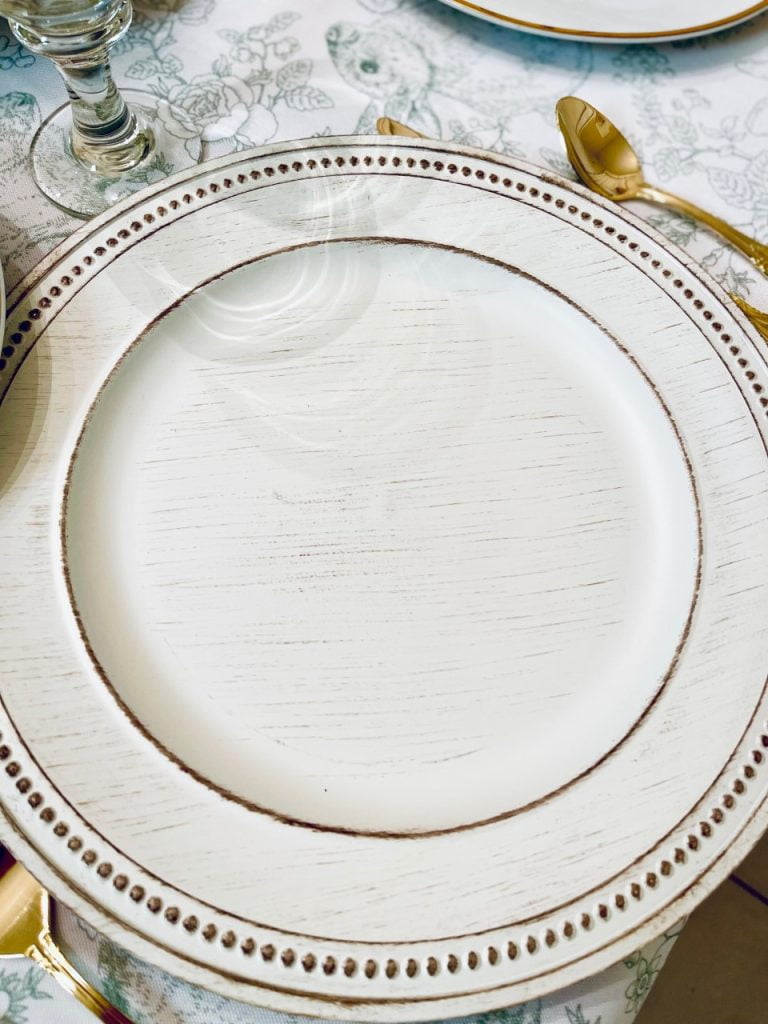 My white china dishes trimmed in 14 K gold coordinates well with the gold trim of the carrot napkin holders. I'm also using my gold flatware.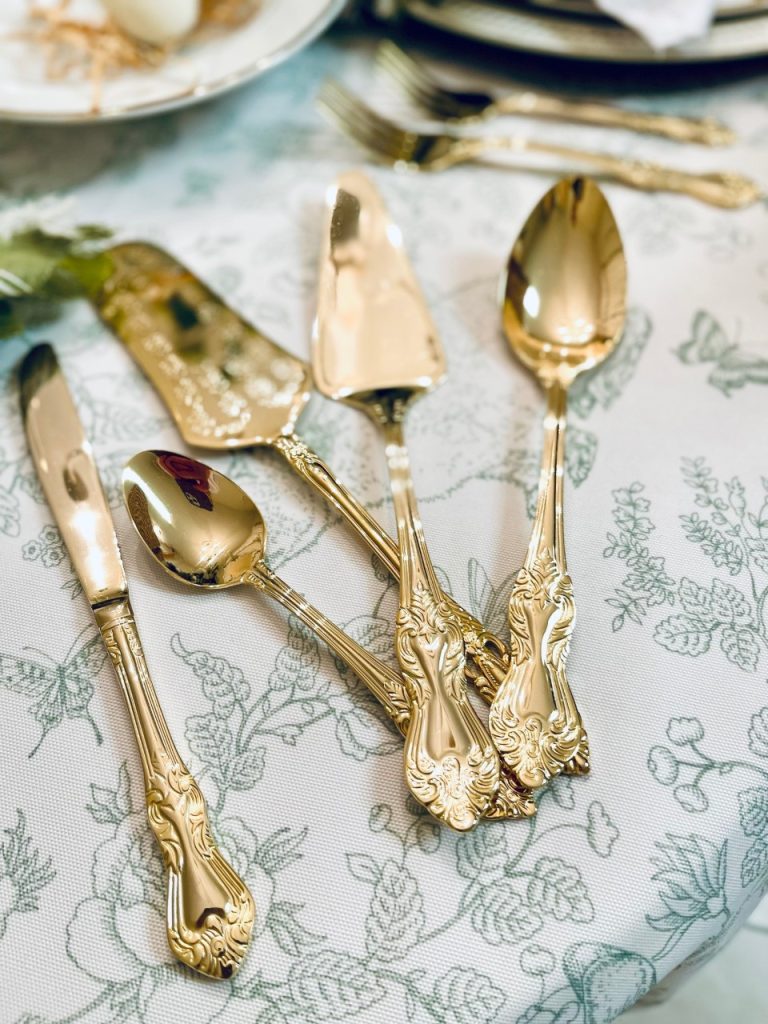 I don't use these items as often because they can't be put in the dishwasher they need to be hand washed.
When putting my napkins together I like to use two or three for fullness! Usually I use more than one napkin when I'm having a meal. So I want to provide enough for my guest.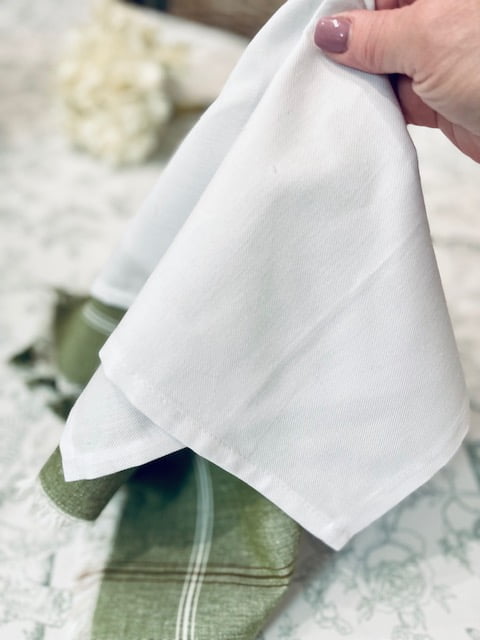 I'll criss cross the napkins over each other to gather fullness.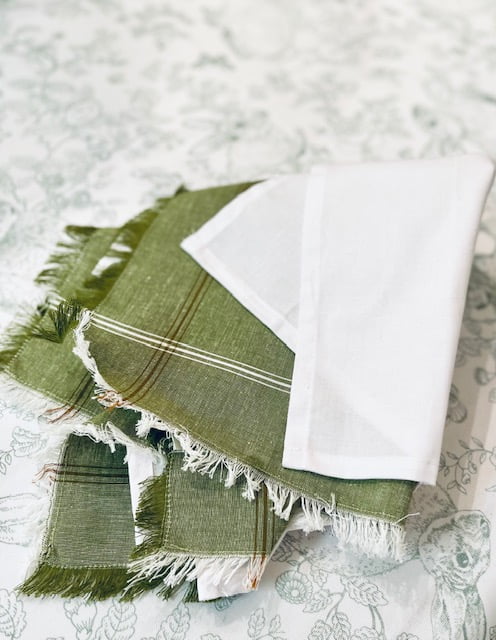 Arn't these these little napkin holders so cute!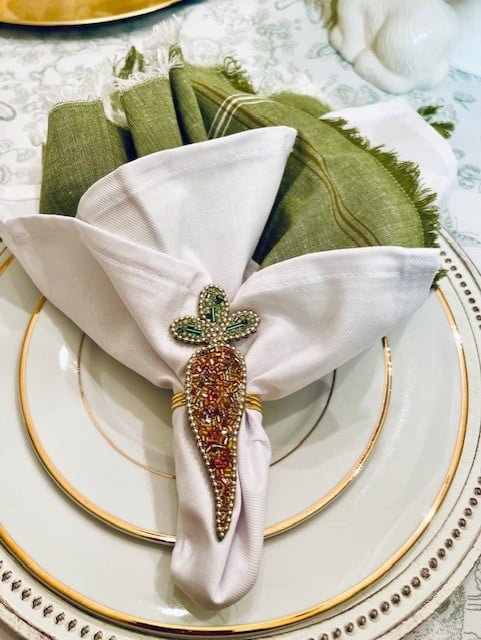 I had chosen to use a smaller goblet but I felt a larger one would look better! Also I like a nice size glass to drink out of!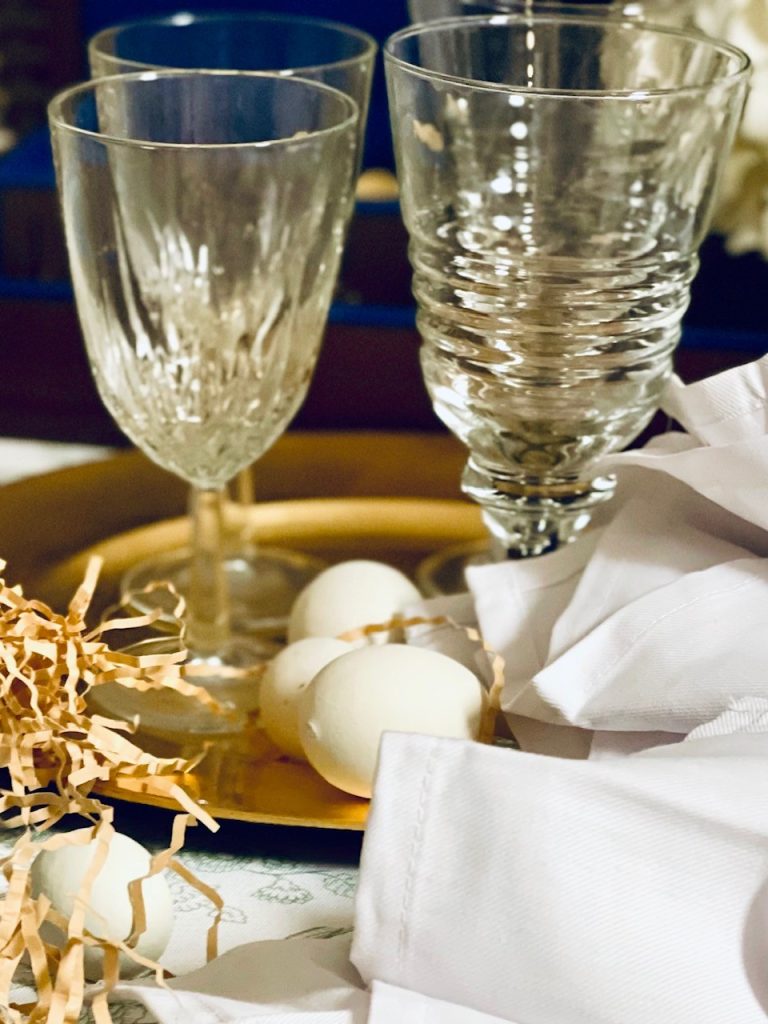 Adding a hard bowl egg to a bowl with a little paper grass I thought looked cute and gave the egg a little something. I colored each of the eggs in a pale yellow, only dipping for a few seconds.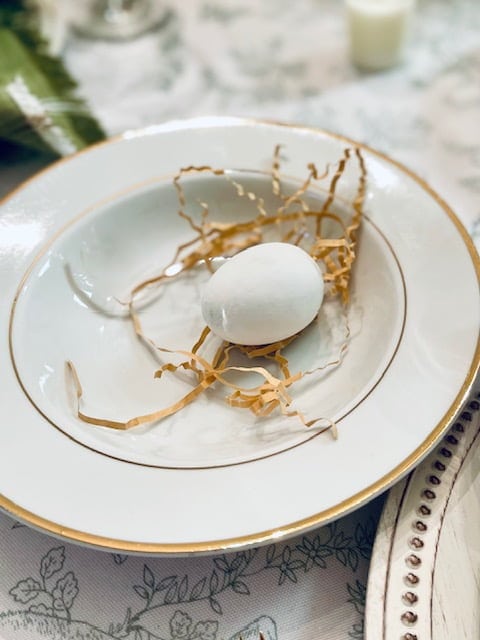 Next I made a floral table arrangement
I needed a center piece for the table and wanted it simple and removable while we have our meal. Joanne fabrics had 40 percent off all their florals, so I headed there!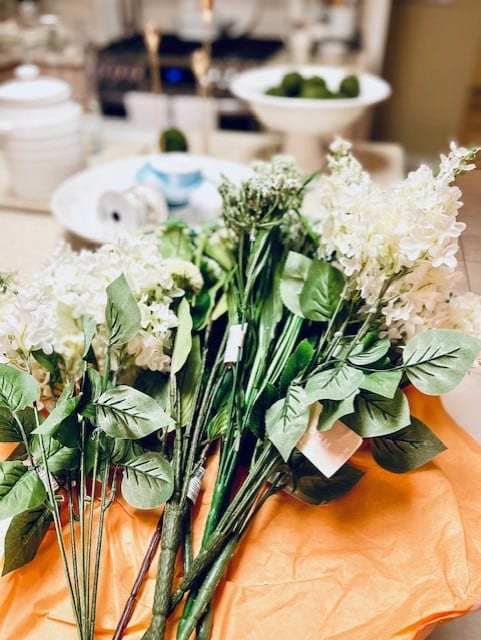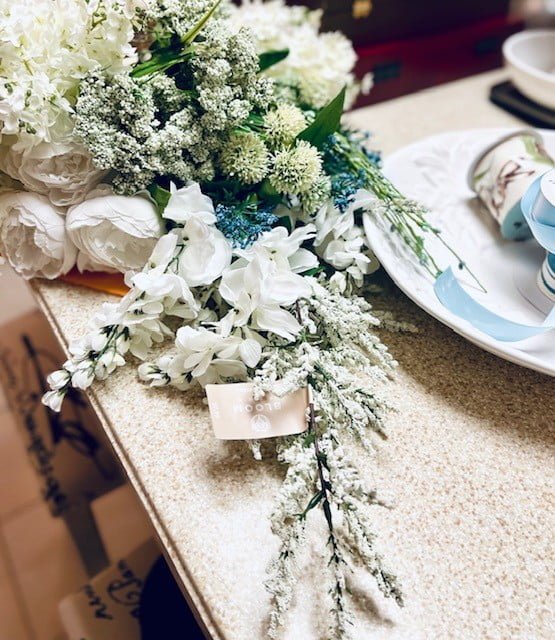 I started with a clear glass vase I had. Next I used faux green topiary balls to help hold my stems. Using a variety of florals in the same color tones and accents stems gives a good visual appeal.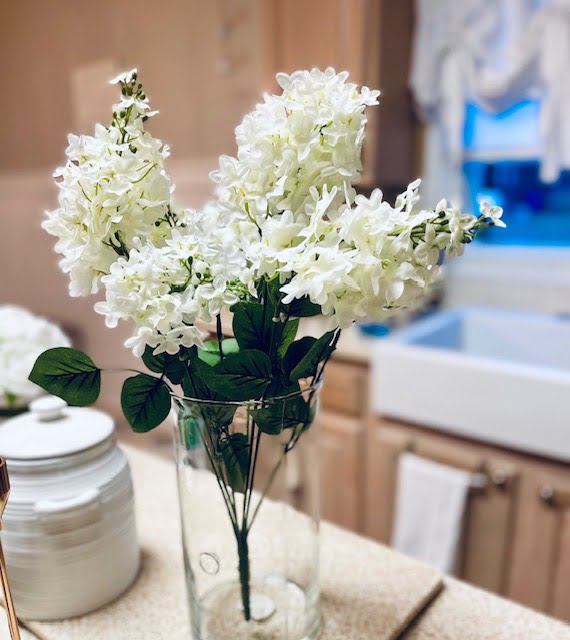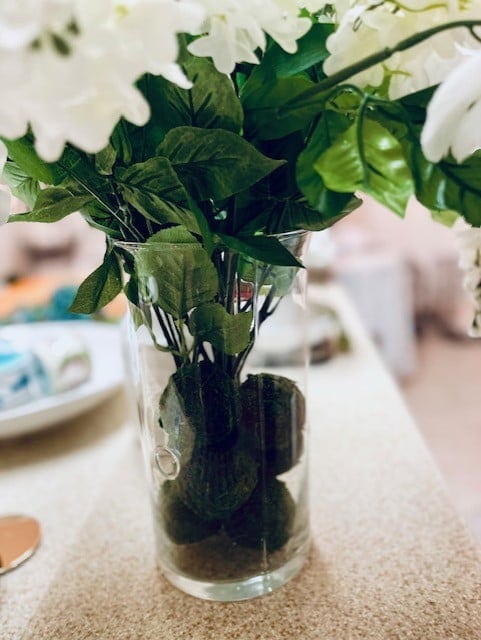 When adding the stems to the vase I bend and move the stems to create a fullness. Bending the leaves and flowers creates a more realistic look.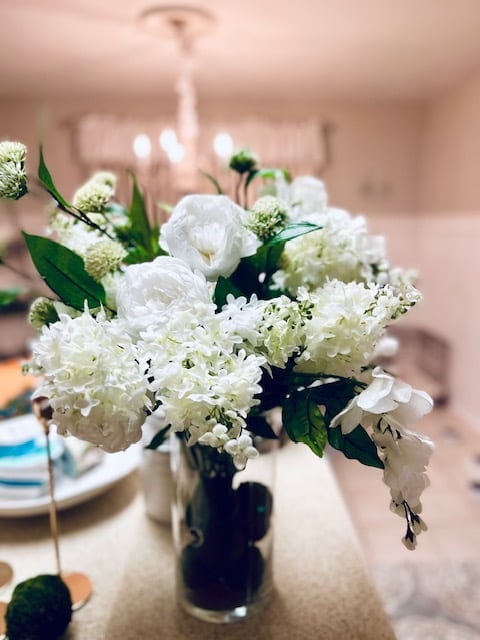 Did you know that on the stems of the flowers there are little indentations, you can bend or cut these and use the florals as a single flower instead of a group.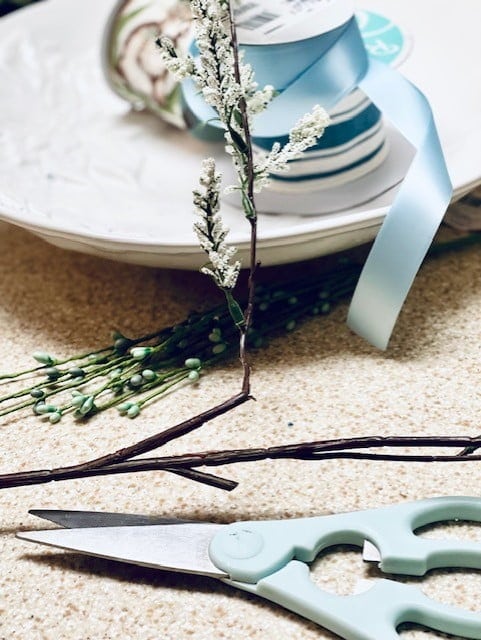 I like to do this so I can add a flower where it's needed. This was done with this arrangement.
Here's a good tutorial on arranging flowers for beginners https://www.ftd.com/blog/design/how-to-arrange-flowers
Once I had this is done I added it to the table. I decided to add a little bunny ribbon to the vase! Candles are a must! I added a few different heights of candles, pillars, and votives.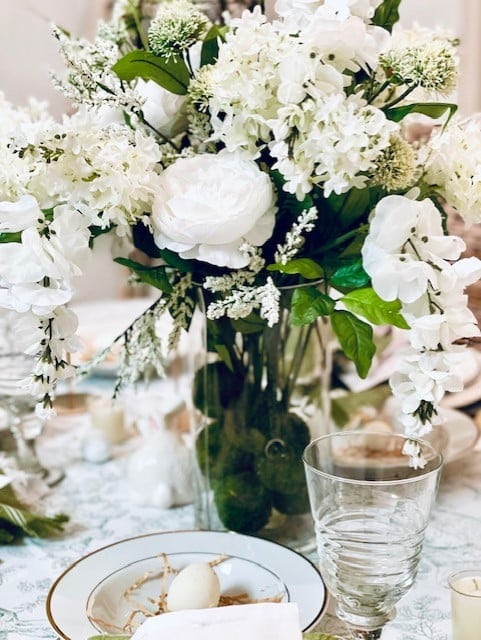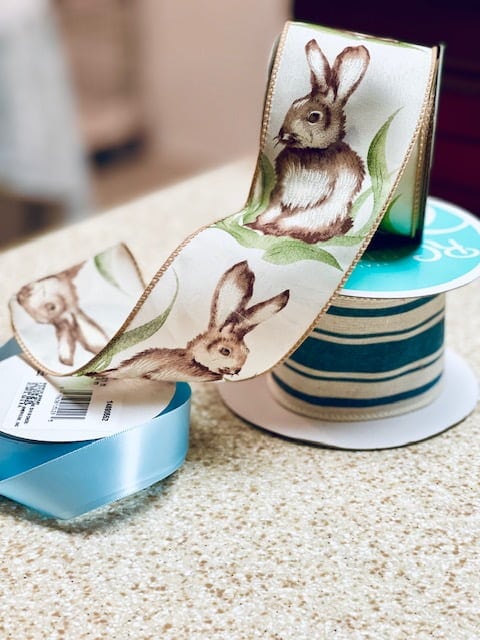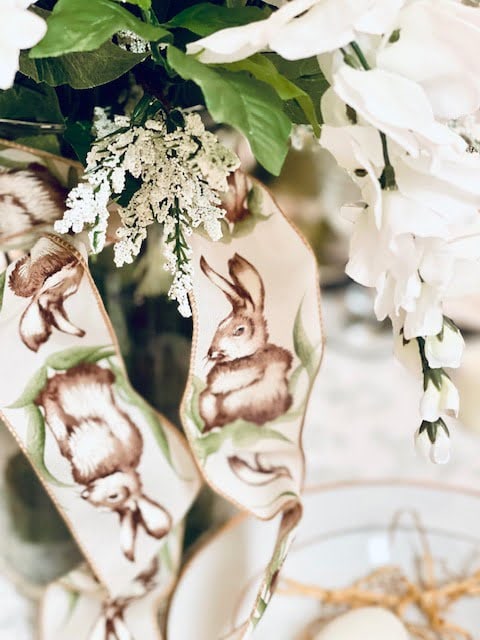 I used the wax battery candles that look so real and even feel real!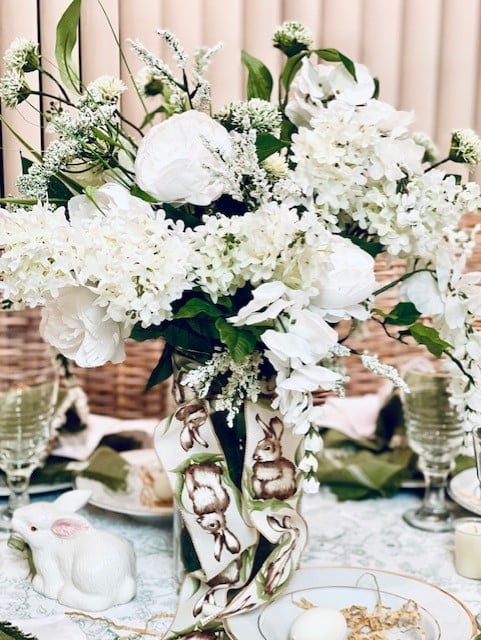 This look was so simple to put together with items I had a few new items. I'm so excited for Easter I can't wait for our brunch!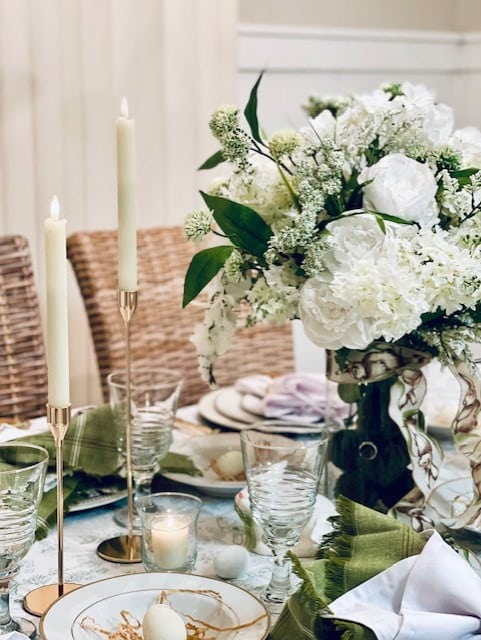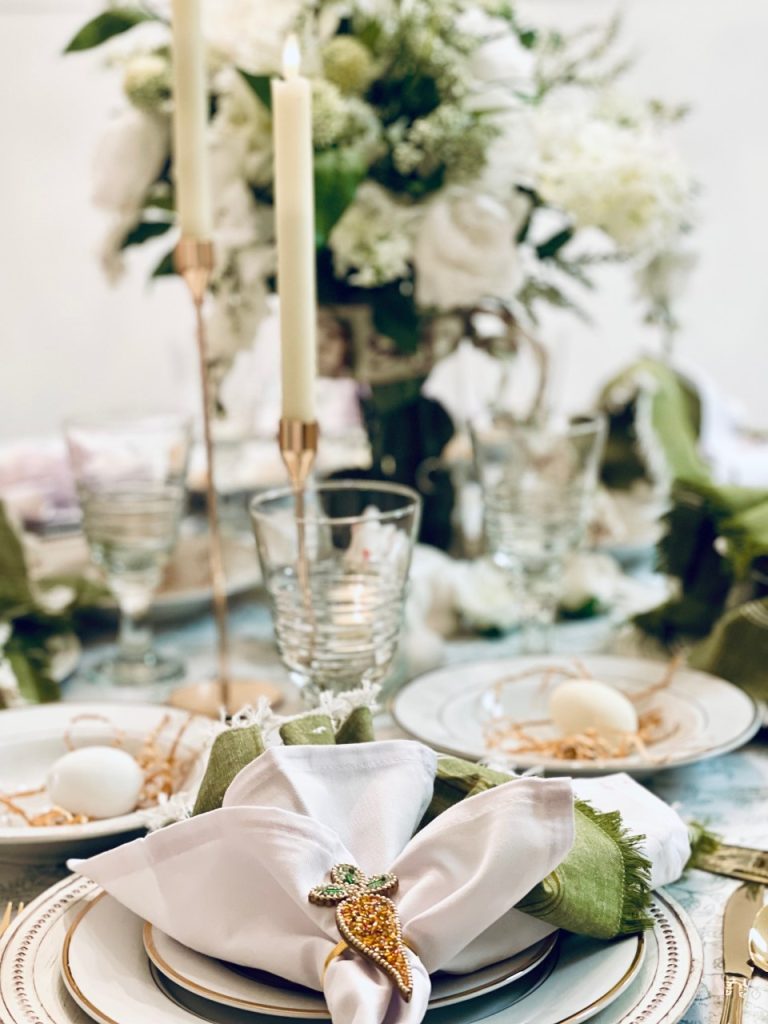 All items are linked in my shop my home or my favorite's page. You can find it at the top of my blog or click the links here!https://houseofmar.com/shop-my-house/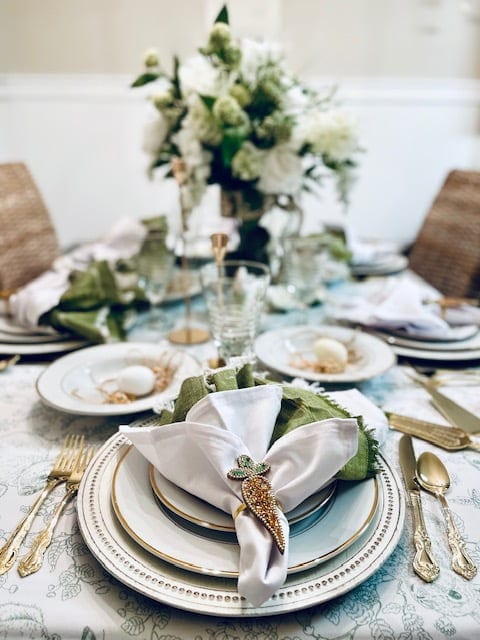 I hope you have a blessed Easter Season with family and friends!
You can click this link to view last years Easter Tablescape post https://houseofmar.com/easter-table-setting/
If you're interested in Easy Easter Egg Decopage click herehttps://houseofmar.com/easy-decoupage-easter-eggs
Thank you for stopping by! I really appreciate you! Please if you have some time check out the other talented bloggers at the links at the bottom of my post! They are sharing so much inspiration and ideas for your Easter Table Scape!!!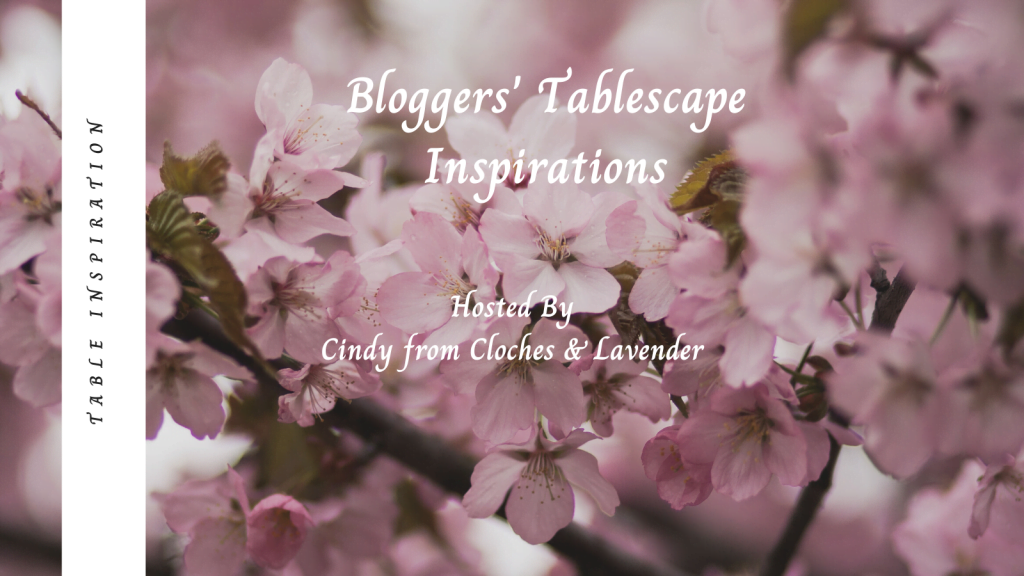 Spring Easter Tablescape Hop
This is a great time to see more Spring Table Ideas! Well today, we are sharing Spring Easter Tablescapes and hopefully you find some inspiration from these talented bloggers.
Click the links below the images to go straight to their posts. We hope this inspires you to create and get ready for the upcoming spring and Easter celebrations!